This article covers essentials, from housing and cost of living in Barcelona, to work and other necessities.
Living in Barcelona offers an opportunity to experience their dynamic culture and good quality of living. This Mediterranean treasure on Spain's northeastern coast attracts visitors and expats with its vibrant city life, stunning beaches, and broad foreign community. Barcelona has something for everyone, whether you're drawn to its ancient neighborhoods, vibrant job market, or Mediterranean lifestyle.
If you want to invest as an expat or high-net-worth individual, you can email me (advice@adamfayed.com) or use these contact options.
Living in Barcelona 101
Is Barcelona expensive? What's the cost of living in Barcelona like?
Barcelona is one of Spain's most costly cities, yet it's still cheaper than many other big European cities. Below are certain key points for the cost of living in Barcelona:
Rental Prices: Barcelona's appeal among residents and foreigners has raised rental prices. While it may be expensive compared to other Spanish cities, it can be more affordable than cities like Paris or London.
Quality of Life: Barcelona attracts expats with its good standards of living. The city has a good work-life balance, appealing outdoor places, a diverse and inviting culture, and many attractions and services.
Grocery Costs: Barcelona has lower grocery prices than Madrid. This may reduce city living costs.
Healthcare and Fitness: Spain offers free world-class public healthcare to citizens and expats. This can assist Barcelona residents greatly. Monthly memberships at adult fitness clubs typically average around 46 euros
Dining: A three-course lunch for two at a reasonably priced restaurant in Barcelona costs roughly 60 euros (63 USD). In a downtown café, you can have a cappuccino or a soft drink for under 3 euros.
Entertainment: "Booking a weekend tennis court usually comes to about 21 euros per hour, and the price of a movie ticket is 9 euros.
Housing: Barcelona housing costs vary by location. City center rentals are more expensive than rural places at 1,182 euros per month for a one-bedroom to 1,983 euros for a three-bedroom versus 905 euros and 1,413 euros. Barcelona apartments cost 3,447 euros to 5,285 euros per square meter to acquire.
Note that lifestyle and housing choices can greatly affect cost of living. Barcelona may be more expensive than other Spanish towns, but it's still reasonable for expats seeking a great quality of life in Europe.
Barcelona real estate prices have been shrinking by the end of third-quarter 2022 but has since recovered. Barcelona elicits optimism among real estate specialists for several reasons. The potential equilibrium of Barcelona property prices may be influenced by robust international demand, a flourishing technology sector, and limited supply.
In fact, the Catalan government has implemented a cap on rental prices amid soaring property costs, though as of early 2023 prices remained quite high and even climbed from the prior year, as per news reports.
The monthly cost of living in Barcelona, on average, might amount to 783 euros for an individual and 2,734 euros for a family, excluding rental fees.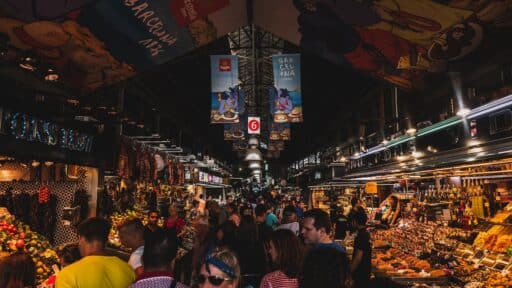 Is Barcelona safe for expats?
Barcelona, being a metropolitan area, exhibits higher rates of criminal activity in comparison to the smaller neighboring towns. The significant role of being a prominent tourist attraction evidently influences the occurrence of criminal activities, since tourists may inadvertently attract individuals involved in theft or robbery.
Having low rates of violent crime, crimes targeting specific racial or gender groups, and drug-related crimes. Crime involving firearms is quite rare.
How is Barcelona weather?
Barcelona boasts a Mediterranean climate characterized by mild, humid winters and hot, dry summers. Summer, spanning from June to August, marks the peak tourist season when the city experiences high temperatures and crowds, resulting in higher costs.
As autumn arrives, from September to November, Barcelona enjoys mild and pleasant weather. This season offers an excellent opportunity to explore the city as the crowds thin out, and the climate remains warm enough for outdoor activities.
Winter, covering December to February, brings mild yet humid conditions. It's the off-peak tourist season, often characterized by rainy and chilly weather.
Spring, from March to May, ushers in mild and sunny weather, making it an ideal time to visit. During this season, the climate is comfortable, and the city is less crowded compared to the summer months.
Accommodation in Barcelona
Expats who consider moving to Barcelona city or Barcelona province should prioritize securing housing in advance. Short-term rentals can be challenging to find, particularly in a city as popular as Barcelona, which also attracts numerous Erasmus students every year.
Renting from a private owner is an alternative. The majority of private landlords do not employ the services of real estate brokers when renting out their properties. However, without knowing how to communicate effectively in Spanish or Catalan might make negotiations difficult for foreigners.
It is important to note that real estate agencies dominate the Barcelona property market. You can take advantage of this by asking several organizations for assistance in locating a suitable dwelling. However, you need also budget for the agency charge, which is usually equivalent to one month's rent plus tax.
Can expats buy apartment in Barcelona?
Barcelona allows foreigners to buy property like the rest of Spain. Here are some important tips and things to keep in mind to make your purchase go smoothly:
Learn the Ropes: Understand the standard property buying procedure in Barcelona, which includes making an offer, signing a preliminary contract, and making a down payment.
Hire a Professional: If you want to buy or sell property in Barcelona, you need to use a real estate agent who is experienced in such deals. You should hire a lawyer if you want to be sure that your interests are protected during the entire process of buying property, not just in Barcelona but elsewhere in the world.
Obtain a financial number: Before buying, you'll require a financial number, which can be obtained by visiting a police station with your passport.
Obtain a Numero de Identificación del Extranjero (NIE) Tax Identification Number: Foreign nationals who wish to buy apartment in Barcelona are required to have an NIE.
Consider visa and residency requirements: Although there are no formal limits on property purchases by non-Spanish or non-EU citizens, it is wise to confirm that you do not require a visa or residency permit.
Do Some Budgeting: Budget for the property acquisition, including all applicable taxes and closing fees.
Choose the area or neighborhood: Find the neighborhood that suits you best by outlining the features and amenities you're looking for in a Spanish property. There are various online resources that may help you look for a home in Barcelona.
Consider getting a house survey carried out: This is done to evaluate the property's condition.
Be wary of property scams and do your homework: As the Spanish real estate market is not like that of other countries, be aware of property market swings, know the tax consequences of capital gains, and watch out for property frauds.
Can I get a mortgage in Barcelona?
Mortgages can be obtained in Spain by non-Spanish speakers, including those living in Barcelona. Keep in mind, too, that banks in Spain often have different rules for non-Spaniards than for locals.
Mortgages are available to those who aren't Spanish citizens, but the terms and conditions of these loans might vary widely from lender to lender. A greater down payment, often between 25% and 40% of the property's worth, is expected of non-resident buyers.
Mortgage qualification standards may also include a minimum income requirement and proof of adequate savings to support monthly payments. The requirement of a valid residency permit for non-citizens is also possible.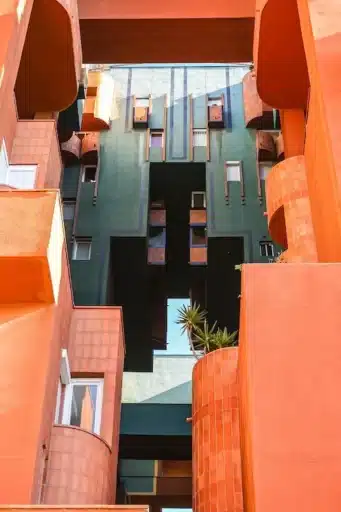 Best places to stay in Barcelona
Catalonia's capital, Barcelona, is a visually magnificent and culturally rich metropolis with seemingly limitless opportunities. The city's neighborhoods are extremely varied, alive, and full of local and foreign points of interest. With so many possibilities, choose a place to stay on a trip or to call home may be a fun and exciting endeavor.
One of the oldest neighborhoods in all of western Spain, El Born is an architectural treasure trove from the baroque, neoclassical, and even medieval periods. Exploring the metropolitan landscape in this area is a must. The neighborhood has an air of antiquity and personal closeness. It is like an outdoor gallery thanks to the abundance of museums and galleries, including the world-famous Picasso Museum. El Born also has a thriving bar and restaurant scene, with everything from chic eateries to intimate watering holes. It is also one of the city's best linked areas, being a short distance from both the Gothic Quarter and the beautiful Barceloneta beach.
El Poblenou is the place to live if you're looking for a hip, industrial-style community. There's a wide selection of bars and restaurants to choose from after dark. Poblenou has excellent transportation options, including subway and bus lines. The Glories Mall, the beach, and several local businesses and bakeries are all within walking distance. It's one of the greatest places in Barcelona to kick back, relax, and soak up the sun and sea because it's adjacent to the gorgeous Bogatell and Marbella beaches, far from the bustle of nearby Barceloneta.
The Eixample neighborhood has a convenient central location, beautiful geometric architecture, and some of the best shopping in Southern Europe. One of the most peculiar neighborhoods in the city, this district features long, straight streets and buildings arranged in a geometric grid. Eixample is, unsurprisingly, one of the best neighborhoods in Barcelona thanks to its position and convenience. It offers a lively nightlife, which may be a huge plus or minus for expats, depending on their preferences. Despite being one of the most expensive, it's one of the city's most secure neighborhoods too.
Sarrià-Sant Gervasi, one of Barcelona's largest but least well-known neighborhoods, is home to luxurious mansions with breathtaking views of the city and the sea. Located in what was once a distinct community in the hills above Barcelona, this area feels worlds away from the clamor and chaos of the city below. Even yet, the neighborhood's charming buildings, modest churches, and little shops make it a top choice for residents. Instead of looking like a typical city neighborhood, Sarrià-Sant Gervasi is more like a picturesque Catalan town. The one drawback, for some, is that public transit is subpar in this area, so having a car is recommended.
If you're looking for a hipster-friendly neighborhood in the Catalan capital, Sant Antoni is your best chance. Sant Antoni is a quiet residential district, and it's packed with cafes, brunch joints, and organic vegetarian restaurants of every stripe. Enjoy one of the best outdoor markets in the area, where you can get anything from locally grown produce to rare books. This community is perfect for those who value a low-stress, car-free lifestyle more than lavish amenities and who seek an international hipster vibe above affluence.
El Clot's center neighborhood offers numerous services and amenities to its residents. Despite its central location, this neighborhood is one of the cheapest in the city. El Clot is a tranquil community with tree-lined streets, lush parks, and orderly grids. It offers a more local feel, what with all the lively bars and eateries. El Clot is home to the Glories Shopping Center, home to various eateries and a Carrefour, a huge grocery store.
Once reserved for the city's elite, La Ribera is now a desirable neighborhood for foreign residents. Numerous restaurants, wine bars, cocktail lounges, nightclubs, and high-end stores can be found in this area. Its prime position provides easy access to all parts of the city and its many renovated historic buildings house several contemporary apartments.
La Zona Alta lies in the city's northwest, away from the main tourist areas, yet still convenient to anything you would need. It's one of the nicest neighborhoods in Barcelona, with towering apartment buildings and stately homes framing quiet tree-lined streets. Sarrià-Sant Gervasi, El Putxet, Les Corts, Tres Torres, Turó Park, and the affluent Pedralbes neighborhood are all part of Zona Alta, Barcelona's most affluent district. There are also some of the best international schools in the area. The result is higher-than-average house prices compared to other areas.
International schools in Barcelona
Numerous foreign schools in Barcelona serve American, British, French, and German expatriates. Saint Peter's School, American School of Barcelona, Santa Clara International School, and Benjamin Franklin International School are notable Barcelona international schools.
Due to its many high-quality private schools, Barcelona is great for families. Note that non-international schools may teach in Catalan instead of Spanish or English. Thus, unless your children know Catalan or you want them to, enroll them in an international or Spanish-speaking school.
Check out Les Corts, Gracia, or Sarria for convenient access to top schools. Outstanding schools and reputations characterize these locations.
With its diverse population, Barcelona is a great place for families. Many outstanding schools, family-friendly activities, and places for your kids to make friends await you.
When arranging your budget, include your school's tuition expenses because foreign education is expensive.
Opening a bank account
Establishing your money and bank account in Spain is essential upon arrival. Start by researching banks and account alternatives to find the greatest fit for your financial needs, whether you're looking for priority banking, private banking, or other expat services.
Next, you can open a non-resident bank account with a Spanish bank, a resident account (with the right documentation), an expat banking service from a global bank, or an online/digital account from specialized providers.
If you're ready to open an account, you can do so by bringing the necessary paperwork into a local bank location. Be sure to bring your passport or EU ID card as proof of identity and any other necessary paperwork before heading to the bank. A legitimate Spanish address, a fiscal identification number (NIE), and a social security number are also possible additional requirements.
Bank tellers that speak English are more common in major cities and locations with sizable expat communities. Choose a bank that provides services in English or investigate online banking alternatives to prevent communication difficulties.
Barcelona's major banks include Sabadell, Santander, Deutsche Bank, and Barclays. After completing the application and supplying all required documentation, your bank account will be opened, making financial management in Barcelona easy.
Be sure to check certain investments being offered by banks too, but be wary of fees. If you're interested, you can also check if investing in investment funds fit with your financial objectives.
Barcelona Transport
Barcelona's public transit system is efficient and affordable when you buy the proper ticket.
The Barcelona Metro is the fastest and cheapest city transportation. The 180 stations and 12 lines of this large network serve the city center and suburbs, with stops at the city's key attractions. From Monday to Thursday, the Barcelona metro runs from 5 am to midnight; on Fridays, until 2 am. The metro runs 24/7 on Saturdays and holidays, ensuring accessibility.
Barcelona has a diverse bus network with over 1,000 buses on 80 routes in addition to the metro. Both tourist and distant sections of the city are served by buses. However, most Barcelona bus lines start service between 4:25 am and 5 am and run until 11 at night. The Nit Bus service covers the city center and its metropolitan areas at night, making it easier for inhabitants and visitors to get around.
Night buses operate from about 10:40 pm to 6 am. You can catch any bus in the city at Plaça Catalunya.
In addition to connecting the city to its suburbs and neighboring areas, the central city of Barcelona is also served by the suburban train. This regional train system, Rodalies de Catalunya, is a quick and easy way to go about.
Rodalies de Catalunya trains follow the same schedule as the Barcelona Metro. On weekdays, trains depart at 5 a.m, while on weekends and holidays, they run until midnight. Trains operate nonstop on Saturdays and the evenings before some public holidays, and they stop running at 2 am on Fridays.
Barcelona Tram rides are an opportunity to learn about the city's layout and culture on the way to your destination. Although fresh lines have been built out into the city's suburbs, Barcelona's tram network is still somewhat limited.
Because of this, the majority of Barcelona's tram routes do not go near the city's famous monuments and museums. On Sundays and Mondays, the tram runs from 5 am until midnight. Tram service is extended to 2 am on Fridays, Saturdays, and the days before public holidays.
Taxis, despite being more expensive, are a quick and convenient way to get around the city. When you need to travel with luggage or at odd hours, they prove very useful. The roughly 10,000 cabs of Barcelona are easily distinguished by their signature black and yellow livery. You can hail a cab on the street if its rooftop light is green, or you can visit one of the city's many taxi stands.
Travel Tickets and Cards
Single Ride: A ride on Barcelona's public transportation system will set you back less than 3 euros. The single-ride nature of this ticket precludes its use for connecting services. A single ride ticket is available for purchase at ticket windows, ticket machines at metro station entrances, and from bus drivers.
The T-Dia ticket, valid from the moment it is validated until the end of service that day, grants single passengers unrestricted use of all of Barcelona's public transportation systems. Keep in mind that it is not good for a full day's use.
T-Casual: The T-Casual travel card allows for transfers within a set time range and gives 10 rides. This card allows you to switch between up to four different modes of transportation and three distinct stops.
The T-Familiar Card is the best option for groups of people who want to buy a single pass to use on several occasions. It's good for eight separate trips with valid 30-day transfer options. However, transportation from the Barcelona airport to the city center is not included in the cost of this card.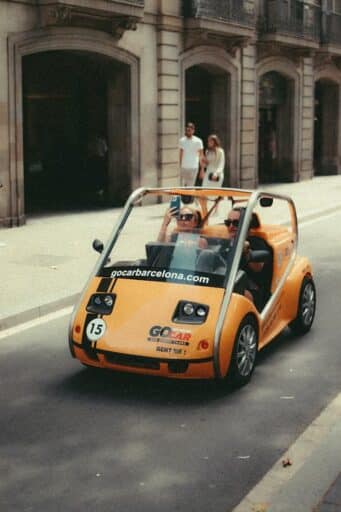 Can foreigners drive in Barcelona?
Yes, expats can drive in Barcelona. There are a few crucial things to remember while behind the wheel in the city.
To begin, those from other countries who have legal driving licenses are welcome to operate vehicles in Barcelona. Consider getting an International Driving Permit (IDP) for increased convenience. Carrying your passport while driving is advised. You can bring your own automobile to Barcelona, just have the registration documentation ready. You must have insurance as well.
Non-EU residents in Barcelona for over six months may need a driver's license. Additionally, equipment rules must be followed. Two red warning triangles approved by the Internal Ministry (Ministerio de Interior) and a set of replacement bulbs are required by law to be kept in your vehicle at all times per the Traffic Regulations.
You should know that traffic offenses in Spain are taken very seriously and can result in hefty fines.
How's the internet in Barcelona?
Barcelona boasts a robust internet infrastructure, offering various connectivity options throughout the city. The Barcelona WiFi service, provided by the City Council, enables residents and visitors to access the internet through WiFi access points strategically positioned across the city.
In terms of home internet providers, most companies, especially the larger ones, now predominantly offer fiber optic connections. Fiber optic internet is readily available in most areas of Barcelona, ensuring high-speed and reliable connectivity.
For those seeking additional options, libraries in Barcelona extend complimentary wireless internet access to their members. Joining your local library is relatively straightforward, making it a valuable backup plan in case of home internet disruptions.
When it comes to mobile internet, Barcelona provides several choices, including eSIM cards, public WiFi networks, and pocket WiFi solutions. These options cater to diverse connectivity needs, ensuring that residents and visitors can stay connected conveniently while in the city.
Dining and Entertainment
The city of Barcelona has a thriving food culture thanks to the influence of Mediterranean and Catalan cuisines. Here are some tips for city dining:
Tapas: Barcelona is home to a plethora of restaurants serving tapas, the delicious tiny plates typical of Spanish cuisine that are meant to be shared. Dishes like patatas bravas, pan con tomate (tomato bread), and spicy sausages in red wine are examples of such dishes.
In Barcelona, lunch is the main event, and it usually consists of three or four dishes. You can start with a salad or soup, then move on to your main dish of beef, chicken, or fish, and finish with a healthy dessert.
Due to its proximity to the Mediterranean, seafood features heavily in Catalan cuisine. The fish and rice in the popular dish paella is a delicious match.
Catalan cuisine is distinct from the rest of Spanish cuisine because it reflects the culture and history of Catalonia and Barcelona. Catalan food features a wide variety of fresh ingredients like seafood, beans, and fruits and vegetables.
Barcelona's local markets, such as La Boqueria and Mercat de la Concepció, are always teeming with activity. These marketplaces are great places to find fresh food and regional delicacies.
Desserts: The city is home to a wide selection of regional specialties. Churros con chocolate, a wonderful combination of fried dough pastry and hot chocolate, and Crema Catalana, similar to crème brûlée, are both popular options.
Beyond its culinary delights, Barcelona provides an array of entertainment options. Museums like the Picasso Museum and the National Art Museum of Catalonia cater to art enthusiasts. The city also hosts various food festivals, including the Barcelona Beer Festival, Wine Festival, and Chocolate Festival.
Barcelona's nightlife is vibrant too, with many different options for nightclubs, bars, and music venues to keep the party going long after the sun goes down. Barcelona provides a lively and fascinating experience, whether you're interested in sampling the local food, visiting museums, or partying the night away.
Healthcare and Insurance
Spain is a highly developed country with a top-notch healthcare system, making Barcelona an excellent place for maintaining your health and well-being when you move here.
After your arrival in Barcelona and the acquisition of the essential registration document for non-EU nationals, you become eligible to obtain your Targeta Sanitaria Individual (TSI) card. This health card grants you access to subsidized public healthcare, akin to the benefits enjoyed by Barcelona locals. The public healthcare system, known as CatSalut, enjoys a strong reputation.
However, it's worth noting that public hospitals can experience significant wait times, and clinics may be crowded. If your budget allows, it's advisable to consider obtaining private health insurance while in Barcelona, which offers access to private healthcare facilities.
The private healthcare sector in Barcelona is renowned nationwide for its exceptional quality of care, shorter wait times, and efficient services.
Barcelona hosts a substantial portion of Spain's private clinics and hospitals, making it the premier destination in the country for comprehensive and easily accessible private healthcare.
In most private clinics and hospitals in Barcelona, medical professionals and staff are proficient in English, ensuring clear communication. However, it's important to bear in mind that English-speaking doctors may not always be readily available in public hospitals, though the possibility exists on occasion.
Can I move to Barcelona with my pets?
It is possible to bring your pet to Barcelona; however, you must comply with certain immigration formalities that are standard practice when traveling with animals.
A pet passport and a health certificate are required to bring your canine or feline companion into Spain. In addition, your pet should be up-to-date on vaccines and have a microchip. Your dog must be registered with the Barcelona Register for Pet Animals and Wild Animals in Captivity upon your arrival in Barcelona.
It's important to be aware that Spain has blacklisted a number of dog breeds, meaning that stricter laws and requirements apply if you plan to bring one of these dogs into the country.
Jobs in Barcelona
Speaking Spanish will put you ahead of the competition for jobs in Barcelona. But because of the city's many global corporations, those who speak English do have some choices. Small and medium-sized businesses started by expats often seek candidates with excellent English skills.
A number of call centers, providing English and other language support, are located in Barcelona. Jobs for those with many languages are available at these facilities.
One viable career path in Barcelona is that of an English instructor. Many language schools in the city offer training for ESL teachers, such as the TEFL and CELTA. There is a high demand for English language courses in the summer, so you need have one of these credentials if you want to teach English in Barcelona.
Is a visa required for living in Barcelona?
Eu Citizens
The freedom of movement legislation inside the European Union provide residents with the benefit of not having a visa to travel between member states. EU citizens moving to Spain will need to apply for an NIE number, which can be used for both identification and tax purposes. When relocating to Spain from another EU country, the only visa required is this one little bureaucratic formality.
Non-EU
Those not from within the European Union who wish to relocate to Barcelona must first obtain the appropriate visa. The type of visa for which you should apply is situationally determined.
You can apply for a Work Visa if you have a job offer in hand in Barcelona. With this visa, you can legally settle down in Spain and start a new career.
If you don't have a job offer but want to live in Barcelona without working, apply for a Non-Lucrative Spanish Visa. You must show that you have enough money in your bank account or a stable salary to support yourself in Barcelona to qualify.
Applying for a Student Visa is a necessary step for any student wishing to enroll in classes in Barcelona.
Those considering a real estate investment in Spain may want to investigate the Property Visa program.
If you are married to a Spanish citizen or have close family links to a Spanish resident, you may qualify for a Family Reunification Visa.
After getting a visa and arriving in Spain, non-EU foreign nationals must apply for a TIE (Tarjeta de Identidad de Extranjero). Your ID and legal status in the country are on this card.
Pained by financial indecision? Want to invest with Adam?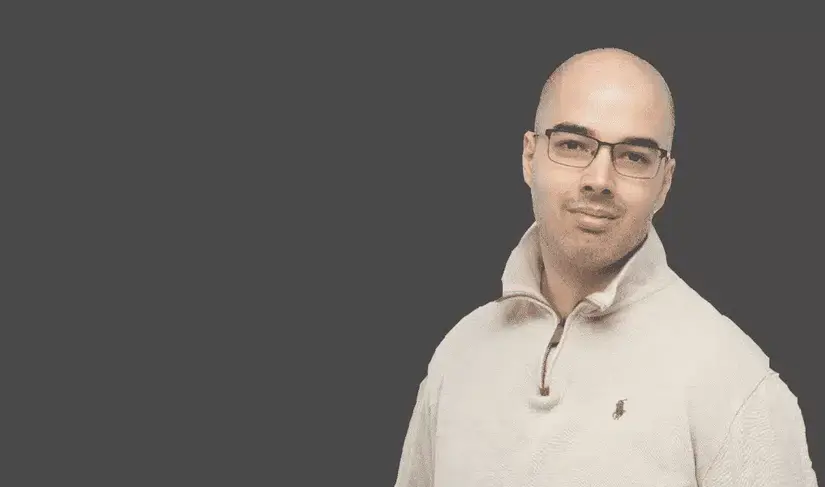 Adam is an internationally recognised author on financial matters, with over 694.5 million answer views on Quora.com, a widely sold book on Amazon, and a contributor on Forbes.