After previously speaking about the cost of living in Thailand the UAE, Qatar, China, Hong Kong, Costa Rica and Mexico this article will focus on Sakhalin in Russia.
It is home to many expat oil&gas workers and some others in different industries.
Our staff have also looked at some of the other aspects of living in Sakhalin, such as visas, housing and taxes, alongside the positives and negatives of living in the country.
Some of these factors might be affected by the ongoing pandemic in 2020, especially when it comes to visa processes and costs.
Needless to say, expat cost of living will differ considerably depending on your lifestyle, and be quite different to local costs.
For any questions, or if you are looking to invest as an expat, you can contact me using this form.
Introduction
Sakhalin is an island in the Far East, where about 400 thousand people live.
Together with the neighboring Kuriles, it is part of the Sakhalin Oblast, the only Russian region completely located on the islands.
There have been difficult periods in the history of Sakhalin: in the 19th century, convicts were exiled here, and after the Russo-Japanese War, Japan gained control of the island. 
Now the region receives the main income from oil and gas fields on the island itself and the shelf of the Sea of ​​Okhotsk. The largest national and foreign oil and gas companies such as Gazprom, Rosneft and Sakhalin Energy work and pay taxes here.
Sakhalin is not that popular place for expats, but in case life events brought you to moving to Sakhalin, in this article you can learn more about this island, how people live here, how much they earn, you'll know how much you will have to spend on housing, food and other things.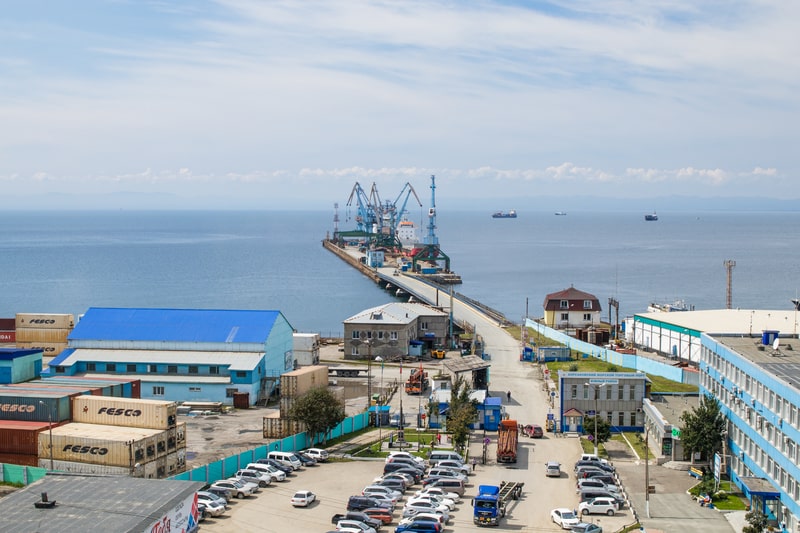 Life in Sakhalin
There are not many cities on the island, and the largest and most developed of them is Yuzhno-Sakhalinsk with a population of about 200 thousand people. Other cities – Kholmsk, Okha, Poronaysk, Korsakov, Aleksandrovsk-Sakhalinsky, Nogliki, Uglegorsk – are much smaller and look rather sad. Houses are often in poor condition, and if there is one building that has been tidied up, this contrast only emphasizes the unsatisfactory condition of the rest.
The city looks as if people came here every time with new ideas, they wanted to do something beautiful, but in the end it turned out to be a team hodgepodge
Even the regional capital, Yuzhno-Sakhalinsk, seems like a small and provincial town. It can be completely bypassed literally in 20-30 minutes, because there is no clear division into good areas and disadvantaged outskirts. It cannot be said that Yuzhno-Sakhalinsk has some kind of consistent architectural concept.
The city looks as if people came here every time with new ideas, they wanted to do something beautiful and comfortable, but in the end it turned out to be a team hodgepodge. Now they are trying to improve Yuzhno-Sakhalinsk, make new parks and squares, put buildings in order.
Tourists come here for the unique local nature. There are hills, waterfalls, mud volcanoes, mountain headlands. In winter, the strait between the island and the mainland freezes over, and people even skate on it. It all looks very impressive and works great in photographs. Mainly employees of oil and gas companies come here for a long time. Some, like Sakhalin Energy and ExxonMobil, even build cottage communities for their employees. But it cannot be said that
Yuzhno-Sakhalinsk is a rotational city. There are also many indigenous people here who were born on Sakhalin and are not going to move.
Sakhalin residents' income
The highest incomes, of course, are for workers in the oil and gas sector. If you look at the vacancies on the local site Sakh.com or Headhunter, then an engineer at Sakhalin Energy will receive from 100 thousand rubles ($1327.00). The bulldozer driver is paid from 80 thousand ($1061.60), the driver of a mining dump truck – from 140 thousand ($1857.80). Large companies also hire translators and administrative staff, but they often invite employees from other regions and countries to managerial positions.
In Sakhalin, residents receive northern wage supplements, so in many areas incomes will be higher than in central Russia. A doctor here can receive about 50 thousand rubles ($ 663.50), an accountant – about 80 thousand ($1061.60), a waiter – from 30 thousand ($ 398.10), a salesman-cashier – 30-40 thousand ($398.10 – 530.80).
Since many tourists go to Sakhalin, local guides make money on them. The island has its own dangers: off-road, bears – and the guides have big cars here, they know all the routes. Depending on the distance of the trip, one guided tour can cost from 5 to 10 thousand rubles ($66.35 – 132.70).
Housing
The houses here are mainly low-rise and panel. There is a private sector and several new residential complexes. At the same time, housing prices in Yuzhno-Sakhalinsk are high, they can be compared, if not with Moscow, then with St. Petersburg. In new buildings, a square meter will cost from 94 to 132 thousand rubles ($1247.38 – 1751.64). A good two-room apartment costs at least 6 million rubles ($79620.00). Prices for one-room apartments on the secondary market start at 3 million ($39810.00).
You can rent the cheapest apartment in Yuzhno-Sakhalinsk for about 20 thousand rubles ($265.40). But at the same time, there are proposals aimed at employees of oil and gas companies who come here. For example, you can find a two-room apartment with an area of ​​80 square meters with a good repair, which is rented out for 100 thousand rubles ($1327.00). There are also many offers for daily rent of apartments – prices for them start from 2 thousand per day ($26.54).
Food
Sakhalin has local retail chains, such as the First Family and Stolichny. Also in Yuzhno-Sakhalinsk there is a mini-market "Semerochka", which is very similar to the stores of the international network 7-Eleven. The assortment of local shops makes it completely unnoticeable that we are not on the mainland.
Simple yogurt will cost 150 rubles ($1.99), and a watermelon, even in season, will cost about 400 rubles ($5.31). There is everything here, and besides, there are Asian products: instant soups, which are much tastier and more satisfying than ours, lychee-flavored jelly, sets for preparing Korean dishes, alcoholic drink soju and Japanese ice cream.
But the remoteness from the mainland can be seen in prices: some of our products will be several times more expensive. For example, yogurt, which can be bought in Moscow for 50 rubles ($0.66), will cost 150 rubles ($1.99) on Sakhalin, and a watermelon will cost about 400 rubles (($5.31) even in season.
There are a lot of fish and seafood on Sakhalin. If you leave the city, you can see how shrimp in cups, like seeds, and cut crabs are sold along the highway. On the highway, the crab will cost about 900 rubles ($11.94) per kilogram, but it is better to buy seafood at the Uspekh market. There they will be more expensive, but fresher and tastier. At Uspek you can even find something that is rarely found on the mainland, for example, Sakhalin oysters or sea grapes – algae from the Sea of ​​Okhotsk. Already cut crab costs about 4 thousand rubles ($53.08), uncut – 2 thousand ($26.54).
Sakhalin is a rather rich country, you can find everything there, any food, for every taste and preference.
Transport
Buses and minibuses run in Yuzhno-Sakhalinsk, the fare for them costs 20 rubles ($0.27). There are no problems with public transport, even if a lot of snow falls, the roads will be cleaned and it will be on the route. Unless it is difficult to get to a far location there are taxi services such as Yandex, Uber and local dispatch networks. Since the city is small, travel is quite cheap. Usually, you can get from one end to the other for 170 rubles ($2.26), and at rush hour the price rises to 350 rubles ($4.64).
Cars on Sakhalin are not the same as in Moscow or St. Petersburg. They only drive big heavy SUVs here. This is due to the climate – winters are very snowy. You can get stuck in a small low car even in the city, and on the rest of the island there are roads not everywhere.
If you need to fly away, especially during the holidays, there will be no tickets at all, or they will be very expensive. Now only Rossiya Airlines flies to other cities in Russia, but Aeroflot should return soon. If you book in advance, then a ticket to Moscow will cost about 10 thousand rubles ($132.70).
Entertainment
Not far from the center of Yuzhno-Sakhalinsk there is the Mountain Air ski resort. The season begins in December and lasts until March – at this time you can stop by here after work and go skiing or snowboarding. Off-season in the "Mountain Air" playgrounds for summer sports is held, mass events are held. In addition, the entire city can be seen from the funicular. A one-time climb to the very top of Bolshevik Mountain will cost 300 rubles ($3.98), an hour of training with an instructor – 1,100 rubles ($14.60), and a ski pass for several hours – 600 rubles ($7.96).
Local cafes and restaurants mainly offer Korean and Japanese cuisine. Even fast food is here with a bias towards Asian dishes: Japanese donuts, ramen, pyan-se are sold in fast food cafes. A dinner for two in an average restaurant will cost 3,500 rubles ($46.45), in a restaurant it will be 5-6 thousand rubles ($66.35 – 79.62) more expensive. Sushi with sea urchin caviar can cost 400–500 rubles ($5.31 – 6.64) for two pieces, with tuna – from 300 rubles ($3.98). A plate of ramen costs between 500 and 1,000 rubles ($5.31 – 13.27), but the price is justified because the portions are very large. And in Korean restaurants, hemultan soup is served, which is taken immediately to a company of several people. A plate of ramen costs from 500 to 1,000 rubles ($5.31 – 13.27), but the portions are very large.
Tourists who come to Yuzhno-Sakhalinsk usually go to the local history museum. It is housed in a building dating back to the time when the island was under Japanese control. A ticket to the museum costs 200 rubles ($2.65), and next to it there is a beautiful garden where you can take a walk. There are only two theaters: the Puppet Theater and the Chekhov Center – but both are very popular. Sometimes it is even difficult to get tickets to the Chekhov Center for a tour performance. They will cost around 4 thousand rubles ($53.08), you can go to the performance of a local troupe from 350 rubles ($4.64). There are three cinemas in the city, you can watch a new film for about 300 rubles ($3.98).
Sometimes locals go to neighboring Japan and Korea, but this is not a very popular pastime. To do this, you will have to find budget tickets, and also get a visa for a tour to Japan. Basically, the rest of Sakhalin residents are associated with nature. In summer, people go to the beach, put up tents, grill barbecue, and if the weather is warm, they even swim in the Tatar Strait. From Yuzhno-Sakhalinsk you can get to the Sea of ​​Okhotsk in an hour, surf or swim on a SUP board. Every summer weekend, on the outskirts of the city, traffic jams are formed from those who want to relax in nature.
Moving to Sakhalin
You all know that Sakhalin is located in Russia, let's discuss how to move to Russia, its programs, fees, documents, as moving to a new place of residence requires careful preparation. It is necessary not only to organize the move itself, but also to collect an extensive package of documents, find work, housing and not be mistaken with the choice of the region.
Moving to Russia for permanent residence
Immigrants, whether they are migrants from Tajikistan or Germany or US, need to familiarize themselves with a number of standard rules. In order to obtain citizenship of the Russian Federation, it is required to live at least 5 years on the territory of the country, from the moment of obtaining a residence permit. A residence permit without benefits can be obtained one year after staying in the Russian Federation on a visa or other document permitting stay. But many categories of people can take advantage of the benefits.
For former compatriots and their families, there is a state program of assistance in resettlement in the Russian Federation. This program is useful in that it provides one-time customs benefits at the time of family relocation. According to the state support program, they are entitled to one-time payments, which fluctuate depending on the region of relocation (120-240 thousand rubles = $1592.40 – 3184.80).
IDP support program to Russia
This program guarantees state support for immigrants if they have Russian roots, had or have Russian citizenship, wish to reunite with their family or return to their homeland. To receive state support, you need to fill out a questionnaire, prove your ability to work and collect a package of documents:
The passport;
Certificate from the current place of residence outside the Russian Federation;
Employment history
Certificates of completed education
Under the support program, immigrants receive an allowance, exemptions on customs duties at the time of the move, access to public health services, the opportunity to receive education and help in finding a job. A residence permit is acquired under this program outside the quotas.
Stages of legalization in Russia
If the applicant is not eligible for a simplified citizenship, is not suitable for participation in the State Resettlement Program, then it is possible to move for permanent residence in the Russian Federation in the general manner. This means that you will have to go through several stages of legalization, receiving successively a temporary residence permit, residence permit, and then citizenship.
Even upon entering the country, foreigners fill out a migration card, which will later be needed to obtain a TRP. All foreigners fill out the card, with the exception of Belarusians – when entering the Russian Federation, they simply show their passports and do not fill out the migration card.
Within 7 days, a foreigner must apply to the Main Directorate of Internal Affairs of the Ministry of Internal Affairs and register for migration. An exception has been made for citizens of some countries. Ukraine can reside in the Russian Federation for 90 days without registration, citizens of Armenia, Kazakhstan, Belarus – 30 days.
Obtaining a temporary residence permit
The first step towards obtaining permanent residence is to obtain a temporary residence permit. A foreigner can apply for his extradition even before leaving his country by contacting the Russian consulate located in his home country. Also, an application for the provision of this document is possible upon arrival in the Russian Federation, for this you need to contact the Main Department of Internal Affairs of the Ministry of Internal Affairs.
Remember that foreigners can stay in Russia only during the period for which the visa was issued, if the entry into the country was carried out on a visa basis. For citizens of the CIS, visa-free entry is provided, but in total, the time of residence in the country is limited to 3 months. This means that a foreigner has only 90 days to legalize his residence, if he intends to stay in the Russian Federation further.
Obtaining a residence permit
12 months after receiving a TRP, it becomes possible to issue a residence permit (residence permit). It is issued for 5 years and further extended. To receive it, the applicant prepares a package of documents and transfers it to the Main Directorate of the Ministry of Internal Affairs.
After the issuance of a residence permit, which is a form of the established form, a foreigner is obliged to annually notify the authorities of the Main Directorate of Internal Affairs of the Ministry of Internal Affairs about his residence in the Russian Federation. Absence in Russia for more than 6 months leads to automatic cancellation of the document.
Having a Russian residence permit, a foreigner remains a citizen of his country (with the exception of certain categories of persons), but at the same time has rights and social guarantees similar to those of Russians.
General citizenship acquisition
5 years after living in Russia with a residence permit, a foreigner can apply for citizenship. For refugees and migrants who have received political asylum status, this period is reduced to 4 years. Servicemen can obtain citizenship after 3 years of service in the ranks of the RF Armed Forces.
An important point: you need to live in Russia permanently, and not come from time to time. Absence in the RF is allowed for no more than 3 months a year, otherwise the calendar year will not be counted.
To become the holder of a Russian passport, the applicant must have excellent command of the Russian language, have a permanent source of income and renounce previous citizenship.
Pension after moving to the Russian Federation
Not only young families and the hardworking population of other countries move to Russia, but also pensioners. The countries of the former USSR have signed the Agreement on Pensions. These are the Russian Federation, Ukraine, Belarus, Kyrgyzstan, Kazakhstan, Armenia, Moldova, Turkmenistan, Uzbekistan, and Tajikistan. In accordance with the main provisions of this Agreement, when changing the country of residence, the status of a pensioner is retained for a migrant when moving to another country that has signed the Agreement, and he is also entitled to pension benefits.
After moving and obtaining a residence permit or citizenship, you must contact the Pension Fund at the place of residence and take the documents with you:
Russian passport or residence permit;
Work book for requesting a pension file from the previous country of residence.
The pension is assigned after writing a corresponding application and receiving a response to the request by the Pension Fund. In this case, the payment of pensions is carried out according to the laws of the Russian Federation. The size of the pension itself is also being revised in accordance with Russian law.
It is important to understand that a foreigner who has moved to the Russian Federation has the right to receive a pension only if he has a residence permit or Russian citizenship. At the same time, pension payments at home are terminated.