Living in Doha as an expat offers numerous advantages, including a tax-free income, a high quality of life, and a vibrant international community. Let's find out more about moving in the capital city of Qatar in this guide.
If you want to invest as an expat or high-net-worth individual, which is what i specialize in, you can email me (advice@adamfayed.com) or use WhatsApp (+44-7393-450-837).
Is Doha a good place to live?
What's the weather in Doha?
Doha has a hot desert climate, with long, scorching summers and short, mild winters. May marks the beginning of Doha's summer season, which lasts until September. The city's winter months run from December to February. Spring and fall are fleeting seasons, yet they bring milder temperatures.
In particular, the summer months in Doha have high levels of humidity, which contribute to a more intense feeling of heat. In addition, Doha regularly experiences sandstorms during the summer.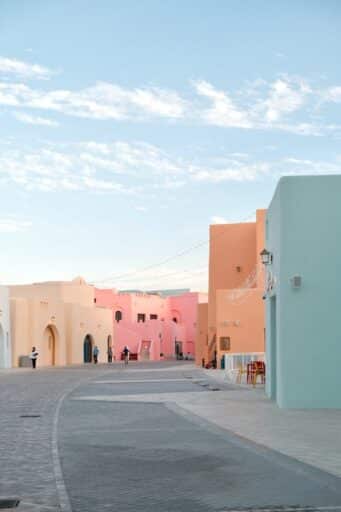 How's the property market in Doha?
The COVID-induced pandemic and an excess of available properties hampered the Doha real estate market. The property price index fell year over year by nearly 3% in first-quarter 2023. The housing in Doha has been under pressure from an oversupply of available properties.
The residential real estate market in all of Qatar is forecast to jump by more than 3 percent annually within the next five years.
Is Doha expensive to live in?
Without housing expenses included, the cost of living in Doha Qatar for a bachelor can hit roughly $930 a month.
The average monthly rent in Doha for a 1-bedroom apartment in the downtown area is around $1,796, while the cost for the same size unit in the suburbs is about $1,067. Apartments in the downtown area can cost as much as $4,335 per square foot to buy, while those located further from the city center can be had for $3,590 per square foot.
Food, clothing, and transportation costs also change frequently. A lunch for two at a mid-range restaurant will set you back around $55, whereas a meal at a cheap restaurant would set you back about $8. Some examples of clothing costs are a pair of jeans for $64 or $94 for a pair of shoes. A monthly pass for transportation costs $36.
While it's true that Doha has a somewhat high cost of living, it's sort of being balanced out by high wages and lack of a personal income tax.
Jobs in Doha for foreigners
The oil and gas business are Doha's most important economic drivers, and the city employs a huge number of foreign workers. However, foreign workers are also sought after for positions in fields like banking, construction, and the hospitality industry. The number of jobs open to expats in Doha has grown significantly in recent years because of the booming tourism industry.
Banking in Doha for expats
Doha Bank helps expats establish accounts in their home countries and send outbound remittances. This commercial bank is one of Doha's most international-focused, with branches in Dubai and representative offices in the UK, among other locations.
The wage protection system in Qatar requires foreigners working in Doha to register a bank account swiftly to get their salaries and wages in Qatari riyals. Banks in Doha offer current, savings, loan, and investment services. In major foreign currencies, certain banks provide expat savings accounts.
Many people who live and work outside of their home country need to send or receive money through international money transfers. A local bank account can streamline this procedure and save down on the costs of foreign exchange and wire payments.
Most financial institutions nowadays provide customers with digital or online bank accounts that can be handled wholly via mobile apps or internet banking services. Expats in Doha can benefit from these accounts because of the ease and convenience they provide when it comes to banking, such as the availability of instantaneous transfers and online bill payments.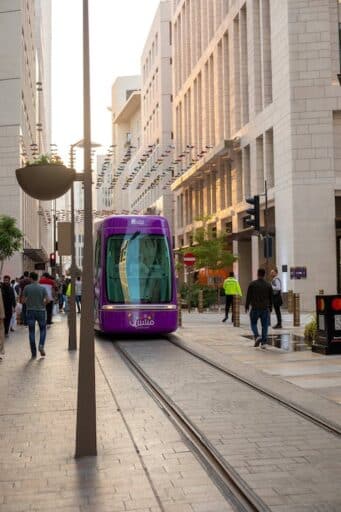 Transportation in Doha
Doha's public transportation system, including the metro and taxis, is run by the state-owned Mowasalat Karwa. The bus system is substantial, and it serves the majority of the city at a reasonable price. The Doha Metro is a convenient choice, with two lines that run all throughout the city, from the seaside to the cultural districts. The stations are always clean and staffed by helpful people.
Doha is serviced by Karwa Taxi, Qatar's state-run taxi company. Available for both Android and iOS, the Karwa Taxi app facilitates ride booking, payment, and driver monitoring. Finding a cab can be difficult due to a lack of available vehicles, though.
Mowasalat provides limo service, with both regular and VIP vehicles stationed largely at Doha International Airport and prominent hotels.
Doha's well-developed road network includes multi-lane, double carriageway freeways, making the city convenient for private transportation. A valid international driver's license or a Qatari driver's license will allow foreign nationals to operate a motor vehicle in Qatar.
Is Doha safe?
Expats can feel safe wandering about the downtown area of Doha. Even so, it's always a good idea to be on guard and mindful of your surroundings, especially while walking around late at night.
Both taxis and the public transit system may be safely relied upon. Use reputable cab services and avoid traveling at odd hours of the night if you care about your personal safety. You can have a more secure and pleasant time in Doha if you follow these safety measures.
Living in Doha as a woman
It is crucial to be respectful of local customs and dress modestly in Doha as the country adheres to Islamic values. Men and women should both cover their knees and shoulders. Men should also stay away from shorts, and ladies should leave the miniskirts and tank tops at home. Compliance to these rules will show respect for Qatari culture and customs.
International schools in Doha
Doha is home to a large expat population, so the city has a broad selection of international schools that follow several educational models (e.g., the American, British, International Baccalaureate, and French systems) for their students.
Doha International School, which offers classes from preschool all the way up to sixth grade with an American curriculum, is one such institution. The school places a premium on education and makes it easy for pupils to transfer credits from one school to another even if they attend a different country or follow a different curriculum.
Where to live in Doha as an expat
Education City, which has campuses of prominent international colleges like Carnegie Mellon and Georgetown, can be found in Al Rayyan, a peaceful and quiet neighborhood of Doha.
Expats looking for lavish housing, beautiful ocean views, and easy access to local markets often settle in West Bay.
Al Waab is a great place for digital nomads because it has numerous cafes and co-working spaces with high-speed Internet.
Al Sadd is well-known for its many shopping centers. It is a great destination for lone travelers who are eager to engage in some retail therapy.
Abu Hamour is a fantastic option for large groups, since it provides many services and facilities that are ideal for families and friends traveling together.
The Pearl is a couples' paradise with its plush accommodations, fine dining options, and lovely waterfront.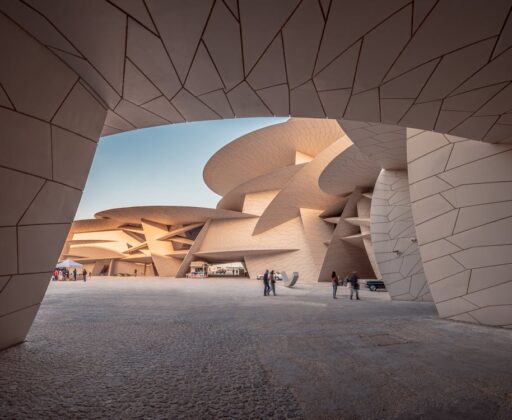 Living in Doha pros and cons
Living in Doha has several benefits. The high level of life and competitive pay and benefits for expatriates show the city's prosperity. The tax-free income policy helps expats save more, plus the low crime rate make it safe for families.
Doha offers a rare chance to experience both traditional Qatari culture and contemporary living. Many foreign schools in the city provide top-notch education for expat children. Doha's modern medical facilities and skilled doctors provide peace of mind too.
Doha's strong job market, especially in banking, construction, and oil and gas, offers many career advancement chances. These qualities make the city enticing to expats seeking a better life and intriguing potential.
On the other hand, cost of living in Doha is very high. Additionally, the climate can be a challenging adjustment for some.
Cultural adaptation can also pose difficulties, as acclimating to local customs and traditions may be a hurdle, with potential restrictions on certain activities. In terms of leisure activities, while Doha's entertainment options are expanding, it may not offer as diverse a range of recreational pursuits as some other major cities.
Furthermore, traffic congestion, especially during rush hours, can be a concern in Doha, and the road network may be perplexing for newcomers. Labor laws, though improving, can still present restrictions and challenges for expat workers, particularly in terms of changing jobs or obtaining exit permits.
Lastly, residency rules that tie expats to their employers as sponsors may limit their freedom to switch jobs or leave the country without their employer's consent. These are important factors to weigh when considering life in Doha.
How to move to Doha
Visa, residency and citizenship
Foreigners must get a Ministry of Interior resident permit with a specific validity time to live and work in Doha. A passport, work permit, and medical certificate are needed for this document.
Individuals from outside who have spent at least 20 years in Doha, speak Arabic, and have a clean criminal record may be eligible for permanent residency. The annual application limit is 100 visas, and holders can stay outside Qatar for over six months without losing their permit.
Expats who have lived in Doha for 25 years and have no criminal record may qualify for Qatari citizenship. But there is no formal citizenship application form, and the government plans to give only 100 permanent residences per year.
Foreigners seeking work in Doha must be sponsored by a local company. Visas and permits are obtained by the sponsor for the foreign national.
Moving dog to Doha
It is feasible to bring a dog with you when you move to Doha, but you will need an import authorization to enter Qatar with your pet. The Department of Animal Resources is where you can get this permission, which is good for 30 days.
The use of vaccinations is essential. The rabies vaccination must have been given no more than a year before the time of the pet's journey. Within 14 days of admission, a veterinarian must certify the pet's health and the lack of infectious parasites and diseases by issuing a Veterinary Health Certificate for Doha.
Tick and tapeworm treatments are widely available in Doha, so it is recommended that pets get them before they travel there.
Different airlines have different demands. While small pets can fly as checked or carry-on luggage, larger pets must be transported as manifested air cargo. Before making a flight reservation, you should check with the airline to find out their unique pet travel regulations.
In Doha, there are some breed limitations that you should be aware of, including bull mastiffs, bulldogs, pugs, and rottweilers.
Pained by financial indecision? Want to invest with Adam?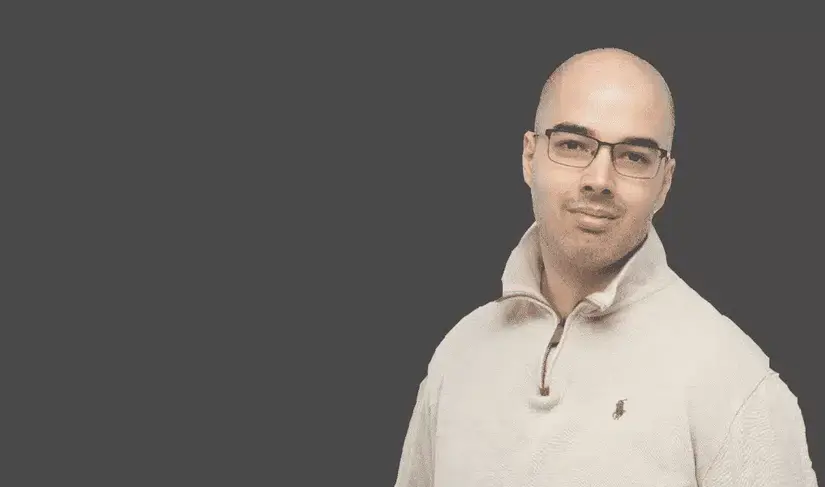 Adam is an internationally recognised author on financial matters, with over 693.5 million answer views on Quora.com, a widely sold book on Amazon, and a contributor on Forbes.