In the audio below I speak about three news articles:
The Ant IPO
Stocks soaring on news of vaccine hopes
Will technology fall relative to the general market
The articles referred to are below
China Merchants Bank Co. and other state-backed lenders have emerged as the biggest winners from new regulations that derailed Ant Group Co.'s massive stock listing, as China aims to level the playing field between fintech giants and traditional banks.
Merchants Bank, known as the retail bank king in China, has soared 19% in Hong Kong this month to a record high, its biggest seven-day advance in more than five years. Other Chinese lenders gained, including Agricultural Bank of China Ltd., while Alibaba Group Holding Ltd., an affiliate and one-third shareholder of Ant, lost 6%.
Chinese banks, trading near record low valuations, rallied after financial regulators last week proposed new rules to curb the rapid growth and leverage at the nation's more than 200 micro-loan lenders, putting a surprise halt to Ant's $35 billion initial public offering. The authorities on Tuesday turned up heat on internet giants including Alibaba with antitrust rules to curtail their growing dominance.
Ant and other fintech giants such as Tencent Holdings Ltd., using big data and cloud computing, have grabbed market share from commercial banks in the lucrative consumer lending space by providing easier access to credit for younger users online, many of whom have little income nor credit history.
"The regulations move the dial back in favor of banks," said Sanjay Jain, a Singapore-based head of financials at Aletheia Capital Ltd., Asia's biggest independent investment-research firm. "It seems the regulators are putting brakes on the extent of income that can be disintermediated out of the banking system."
Merchants Bank, based in the southern technology hub of Shenzhen, is one of the largest credit card issuers in China with 155 million consumer banking clients at the end of September. The bank derived about 57% of its net operating income from retail finance last year, among the highest in China. Along with other state-owned lenders such as Industrial & Commercial Bank of China Ltd., it has been battling Ant for customers in everything from payments to lending and wealth management, while leveraging its own digital platforms to acquire new users.
2. Coronavirus vaccine hopes spark global stock market surge = Sky News
The FTSE 100 and other global stock markets have rallied sharply on growing hopes of a coronavirus vaccine – building on gains in reaction to Joe Biden's US election victory.
The FTSE hit its highest level since August after US drug firm Pfizer announced that early data from phase three trials showed its vaccine was more than 90% effective against COVID-19.
It followed overnight gains in Asia, where Japan's Nikkei hit a 29-year high, after the confirmation of the US election result over the weekend which also bolstered values across Europe.
The FTSE closed 276 points or 4.7% up at 6,186 while the CAC in Paris was more than 7% higher – both coming off the boil slightly late in Monday's session.Advertisement
In New York, the S&P 500 opened in record territory in reaction to the vaccine developments.
The update on the Pfizer-BioNTech trial raises hopes that economic damage from the coronavirus crisis can be limited if populations can be widely protected.
Shares in video call operator Zoom, for example, were down 18% at the open with the wider tech-focused Nasdaq just 1% higher.
Listed US gun makers also lost value as vaccine progress was seen as making social unrest less likely.
In the FTSE's case, airline and energy stocks were the big winnerswhile Ocado shares were almost 12% lower.
It marked its biggest daily surge for the FTSE 100 since March with £70bn added to the collective market value of its constituent companies. However, it remains 18% down on where it started the year.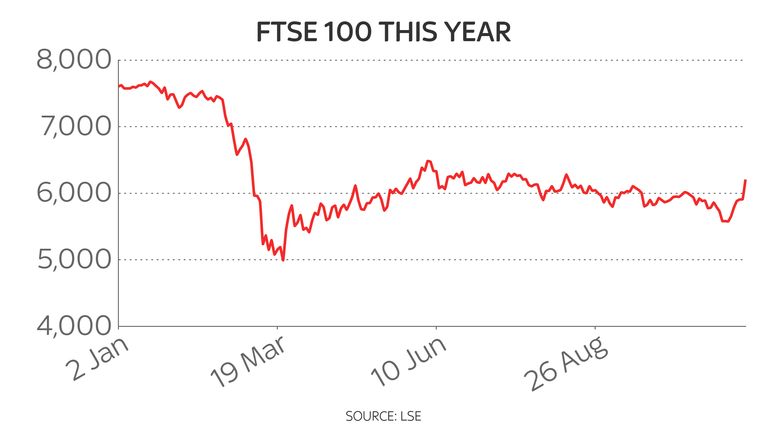 Pfizer rival AstraZeneca is the most valuable company on the index.
Its shares lost 2% while Pfizer's were 8% ahead in the US.
The domestically-focused FTSE 250 closed 5.2% higher.
Commodities also spurted with copper costs surging to its highest level in more than two years while a barrel of Brent crude oil was 8% up.
Mr Biden's defeat of Donald Trump contributed as it eased investor fears about a continuation of a damaging trade war between the US and China, the world's two biggest economies.
President Trump said of Pfizer's announcement via Twitter: "STOCK MARKET UP BIG, VACCINE COMING SOON. REPORT 90% EFFECTIVE. SUCH GREAT NEWS!".
Neil Wilson, chief markets analyst at Markets.com, said of the rally: "Whilst we are not there yet, news that this vaccine could be highly effective is the best thing markets could hope for.
"Public health officials will remind us there is a long road ahead, and many challenges will be faced along the way, but there is an enormous sense of optimism today."
Asia trading concluded ahead of the vaccine boost.
The Nikkei and China's Shanghai Composite were each up by about 2% while Hong Kong's Hang Seng and South Korea's Kospi each added just over 1%.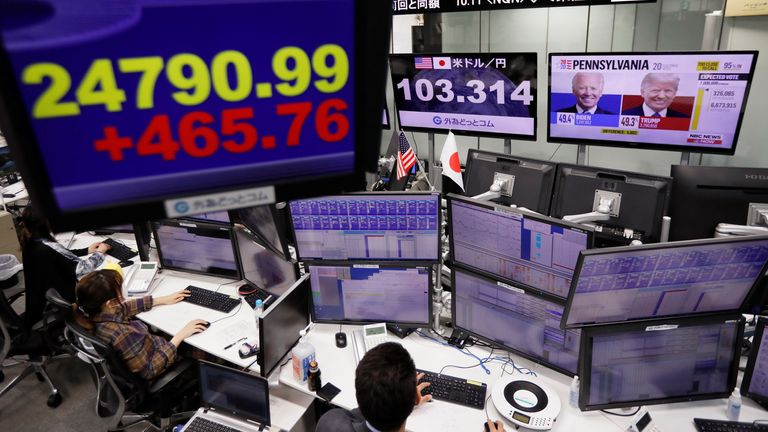 In London, the mood was also helped by an upbeat profit outlook from house builder Taylor Wimpey, which cited a quicker than expected recovery in the market from its coronavirus-induced slump.
That lifted its shares by 12%, pushing it to the top of the FTSE 100 risers' board at the open, and also propelling rivals such as Barratt and Persimmon higher.
Markets had already enjoyed a strong run last week as it looked increasingly likely that Mr Biden was on course to amass enough electoral college votes to defeat Mr Trump.
That had helped them to recover after a recent period when sentiment has been weakened by fears about the impact of rising coronavirus cases and new lockdowns.
Hopes that the new US administration can enact a fresh round of economic stimulus have been dampened by the likelihood that Congress will remain divided.
But on the other hand the absence of a "blue wave" sweeping Democrats to power in both the White House and the Senate means investors seem less likely to have to worry about higher taxes and tougher regulation for some big companies.
There is also the expectation that the US Federal Reserve, America's central bank, will continue to provide much-needed monetary policy help to the coronavirus-battered economy.
The Fed has already cut interest rates and pumped trillions of dollars into the economy.
3. Dow closes more than 250 points higher, but Nasdaq slides as investors rotate out of tech stocks – CNBC.
The Dow Jones Industrial Average rose on Tuesday, building on its sharp gains from the previous session as a market rotation out of names that thrived during the pandemic and into stocks linked to an economic recovery continued.
The 30-stock average jumped 262.95 points, or 0.9%, to close at 29,420.92. However, the S&P 500 and Nasdaq Composite struggled amid a sharp decline in major tech names. The S&P 500 closed 0.1% lower at 3,545.53 and the Nasdaq slid 1.4% to 11,553.86.
"This is a market in which a rotation is likely to continue into the end of the year," said Terry Sandven, chief equity strategist at U.S. Bank Wealth Management. "Technology, consumer discretionary and communication services remain our favorite sectors for the long term … but I think near term, with signs of economic improvement on the horizon, we're going to see cyclical companies outperform."
Amazon shares fell 3.5% after falling 5% on Monday. Zoom Video dropped 9%, adding to its 17% decline from Monday. Alphabet and Microsoft lost 1.4% and 3.4%, respectively.
Names that would benefit from an economic recovery rose on Tuesday. Chevron and Exxon Mobil climbed 4.6% and 2.2%, respectively. Boeing closed 5.2% higher.
"The 'stay at home' trade, which has led the market higher for most of this year, may be falling out of favor," said Lindsey Bell, chief investment strategist at Ally Invest. "There's still a good long-term case for tech, but it may not outpace the rest of the market like it has since March."
Both the Dow and S&P 500 hit intraday record highs on Monday before closing well off those levels as weakness in the tech sector put pressure on the broader market. The Dow rallied more than 800 points in the previous session.
While cyclical stocks led the market advance on Monday, the tech-heavy Nasdaq Composite fell 1.5% as investors dumped some of the popular stay-at-home plays such as Amazon, Zoom Video and Netflix. The Nasdaq finished Monday's session near its session low.
Those moves were sparked by U.S. pharmaceutical giant Pfizer and German biotech firm BioNTech announcing their coronavirus vaccine was more than 90% effective in preventing Covid-19. Investors also got some positive coronavirus news on Tuesday, after the Food and Drug Administration approved Eli Lilly's Covid-19 treatment for emergency use.
"The strong results from the Pfizer vaccine were better than most expected and means we could be opening back up sooner than expected," said Ryan Detrick, chief market strategist at LPL Financial, "Coupled with an economy that continues to surprise to the upside and the stock market is now pricing in the prospects of a much better economy in 2021."
Pfizer's big vaccine news came as the U.S. topped 10 million cases of Covid-19, a bleak milestone just 10 days after reaching the 9 million mark amid a record surge in daily infections. Many on Wall Street believe a viable vaccine would be crucial for the economy on its road to a full recovery.