Let's explore what it is like living in Toronto Canada, especially for foreigners. This city located within the Greater Toronto Area is one of the most popular and populous Canadian cities.
If you want to invest as an expat or high-net-worth individual, you can email me (advice@adamfayed.com) or use these contact options.
Is Toronto a good place to live?
One's requirements and circumstances can determine whether life in Toronto is a good one, yet many agree. Thinking of moving to Toronto? Note that the cost of living is frequently greater than in other Canadian cities, which we'll delve into later.
Is Toronto safe for expats?
Those looking to relocate abroad can feel safe in Toronto as it consistently ranks among the world's safest cities, albeit there are certain areas to avoid too as in any large city. You should exercise constant vigilance and common sense as you experience the Toronto life. Those who are concerned for their safety should stick to the more secure areas, especially downtown Toronto.
In addition, foreigners are urged to avoid the pitfalls associated with being a newcomer, such as carrying excessive luggage around and speaking in a foreign accent. People who want to see the city without worrying about their safety can make use of Toronto's reliable public transportation system.
How is Toronto weather?
In Spring (March to May), the city enjoys milder temperatures, but it's a rainy season with occasional snowfall in the early part of March, marking the transition from winter.
Summer (June to August) brings warmth and humidity to Toronto. It's a season marked by pleasant weather, but it also sees frequent thunderstorms.
Fall (September to November) is characterized by mild conditions. This season is relatively dry, with occasional rain and even some light snowfall in November as the city eases into winter.
Winter (December to February) is when Toronto faces its coldest and snowiest weather. Occasional freezing rain and ice storms can make this season challenging, but it's also a time when the city's winter wonderland truly shines.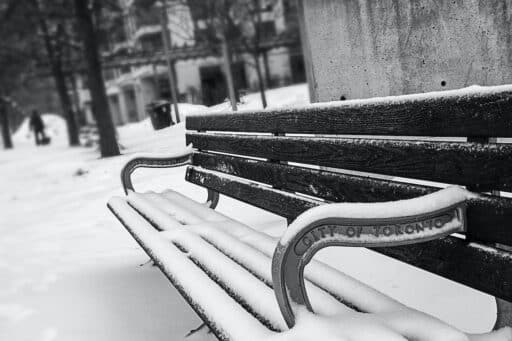 Accommodation
Although Toronto rental apartments have a reputation for being expensive, clever apartment seekers can find excellent deals by knowing where and how to look. Details on the parties involved, a description of the rental unit, rules governing modifications to the property, and the lease term length are all included in what looks like a standard lease for a property in Toronto Ontario Canada.
Key deposits, minor payments made to guarantee entry to the property, are somewhat less typical in leases. This is a special feature that some leases in Toronto may have.
In the end, if you're seeking for more affordable housing options in Toronto area, it may be best to go outside of the downtown core. Rental costs tend to decrease as one moves further from central Toronto.
Best places to stay in Toronto
To know where to stay in Toronto, consider the price, cultural diversity, accessibility, and safety when moving. There are various options for an area to settle in, so we'll name some below.
Kensington Market is a trendy Toronto neighborhood known for its diverse culture and quirky environment. Its name comes from the nearby open-air market, and its rich past is formed by immigration. Kensington Market is a hipster hangout known for its eclectic cuisine and colorful fruit and vegetable booths. Restaurants like Tibetan, Jamaican, and organic highlight the area's multiculturalism.
North Riverdale offers some of the most breathtaking views of the city, lush greenery, and an abundance of trees. However, these picturesque views and the natural surroundings come at a price. In North Riverdale, homes often come with a price tag exceeding a million Canadian dollars. Furthermore, you have the Don River to the west, along with the nearby Riverdale Park East and Withrow Park, providing excellent options for those who appreciate spending time close to nature.
West Queen West, often known as Queen Street, is a hip and active district in Toronto. You may create a great life without being a millennial here. A vibrant arts scene with many galleries is present. It's also home to stylish vintage apparel shops, unusual independent boutiques, and other attractions, so there's always something to do.
Bloor West Village offers the advantages of urban living while maintaining a laid-back ambiance and featuring unique businesses that you might not typically encounter in the city center. It's a perfect locale for leisurely walks. This district is renowned for its intriguing shops, diverse dining options, and a selection of inviting pubs and bars. For expatriates seeking opportunities to socialize after work and during weekends, this neighborhood proves to be an ideal choice for moving to Toronto.
What's the cost of living in Toronto?
A three-course supper for two at a mid-range restaurant in Toronto costs over a hundred Canadian dollars. Cappuccinos and soft drinks in downtown cafes typically cost C$5 and below.
One example of Toronto's entertainment scene is the C$74 cost of a monthly membership to an adult fitness club. Weekend tennis court rentals are C$27.5 per hour, while a trip to the movies will set you back about C$16.
Average Toronto apartment utilities cost C$210 a month, including power, heating, water, and garbage pickup. One-bedroom apartments in downtown Toronto cost C$2,587 per month to rent, while three-bedroom flats cost C$4,256. These rental prices are about C$2,307 to C$3,465.5 in the suburbs.
Without rental costs, one person in Toronto spends C$1,523 per month and a family C$5,513.
In mulling your options for moving, you should note of the pros and cons of living in Canada before anything else, and cost is definitely a major consideration. If you're on a budget, Toronto cost of living might be tough to meet. It'll be better to move to other Canadian cities or provinces like Alberta.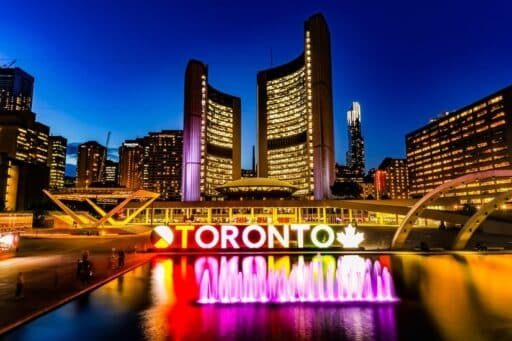 Can foreigners open a bank account in Toronto?
Foreign nationals are allowed to open bank accounts in Toronto. Non-residents who have valid temporary resident visas or permits can set up an account with various financial institution in-person, online, or over the phone.
The bank will use appropriate means to confirm the foreign individual's identification to assure the account holder's legality. It's crucial to remember that most conventional Canadian banks need foreigners to visit the bank in person to finish the account opening process, though others provide the option of starting the application online and completing it upon arrival in Canada.
Check with the bank if they provide the specific services you need, such as priority and private banking.
Transportation
Toronto boasts three primary public transportation systems: the subway, streetcar, and buses, all accessible through the Toronto Transit Commission pass.
Subway: The Toronto subway system consists of four lines that travel to various points across the city. When traveling north to south, take the Yellow Line; while traveling east to west, take the Green Line. The Scarborough Line and Sheppard Line provide further coverage. The subway network offers an efficient means of transportation for residents and visitors alike.
Buses and Streetcars: When the subway can't reach your destination, buses and streetcars provide extensive coverage. Streetcars operate 24 hours a day and require tokens or passes for travel. Buses have a similar token or pass requirement. You can visit the Toronto Transit Commission's website for updates on service changes.
Taxis and Ride-Sharing: Taxis, along with ride-sharing services like Uber Lyft, are available throughout the city, providing convenient but generally more expensive transportation options.
Bicycle-Sharing: For those inclined toward a more active and eco-friendly mode of transport, Toronto offers bicycle-sharing services. You can purchase a pass or become a member of Bike Share Toronto, granting access to a fleet of nearly 4,000 bicycles stationed at mor than 350 locations across the city.
Ferry: The Jack Layton Ferry Terminal in downtown Toronto is where you board a ferry to any of the city's islands. These ferries provide access to Hanlan's Point, Centre Island, and Ward's Island.
Can foreigners drive in Toronto?
Those with UK, US, or European driving licenses can drive in Toronto for 60 days. You must consider your options if you wish to stay longer. Your nation of origin may allow you to exchange your foreign license for a Canadian one.
The administrative burden of dealing with driving-related chores, such as license renewal, replacement, or payment of fines, can be conveniently managed online.
The Ontario 511 program also provides helpful real-time data on road conditions and traffic patterns, which can be used to monitor Toronto's notorious congestion.
Healthcare and Insurance
Toronto provides inclusive healthcare to expats. After three months in Ontario, you can get free healthcare. However, you must have adequate foreign health insurance to cover the first three months before qualifying for free treatment.
Toronto relies on taxpayer-funded Ontario Health Insurance Plan (OHIP) for healthcare. Family doctor visits, basic treatments, and emergency care are covered by OHIP.
You must apply at a ServiceOntario center to get your Ontario health card and enjoy free health services. Before getting a health card, you must live in Toronto for three months.
The following original documents are required when applying: a completed Registration for Ontario health insurance form, proof of immigration, and residency.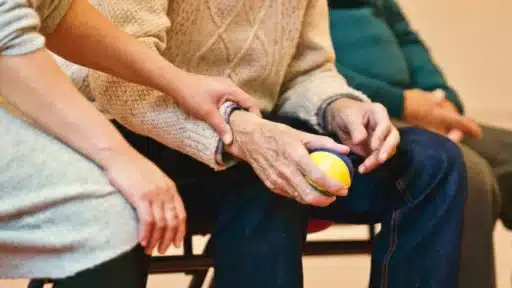 Are there international schools in Toronto?
There are at least 31 different types of foreign schools in Toronto. These schools offer many programs, including the International Baccalaureate. They are ideally located from the northern suburbs to downtown and east and west as well.
Among the many excellent foreign schools in Toronto are Urban foreign, Keystone, Bronte, and York. International schools provide a unique educational experience, which may include boarding options and a specialized focus on particular curricula. However, remember that expat children in Canada have the right to attend any public school without charge and benefit from an excellent standard of education.
Visa and Permanent Residency
One of your first steps if you're thinking of relocating to Toronto should be researching Canadian work permits and visas in case you'll need them during your time there.
You may need to submit to a Labor Market Impact Assessment (LMIA) if you want to find work in Toronto. Your potential employer must show that they made an effort to hire a qualified Canadian for the same post if an LMIA is required. They must also show that hiring a foreign worker will benefit the Canadian labor market. Your salary and perks should also meet federal and provincial regulations.
Those hired internationally through the International Mobility Program do not need an LMIA, but they do need a valid work permit. Workers covered by various free trade agreements, like the North American Free Trade Agreement and the Comprehensive Economic and Trade Agreement, are all included here.
A work visa is not required of clergy, religious workers, civil aviation inspectors, business visits, and investigators of aviation accidents and incidents. Before coming to Toronto, it's a good idea to research the rules and regulations that apply to the work or activity you want to do.
To make your move to Toronto more permanent, you can apply for citizenship so long as you are a permanent resident, have resided in Canada for at least three of the last five years, filed your taxes, and are proficient in English or French.
Submit an application, pay the fee, and take a citizenship test on Canadian history, geography, economy, government, laws, and symbols. The citizenship oath is the final stage if your application is accepted.
Pained by financial indecision? Want to invest with Adam?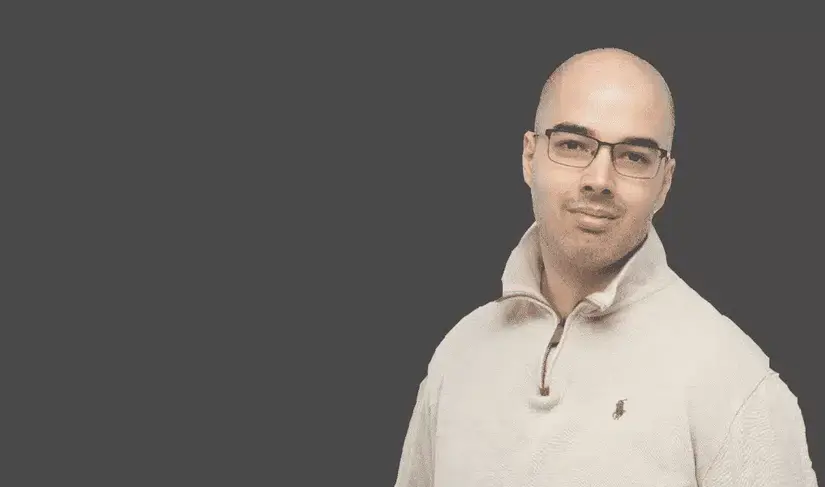 Adam is an internationally recognised author on financial matters, with over 694.5 million answer views on Quora.com, a widely sold book on Amazon, and a contributor on Forbes.