Learn about some of the top scuba diving destinations, from colorful coral reefs filled with fish to eerie shipwrecks in the Pacific, in this article.
It should come as no surprise that there are countless areas to explore in the deep given that oceans make up more than 70% of the Earth's surface.
But you have to know where to look to locate some of the top scuba diving destinations at approachable depths for leisurely enjoyment.
Top Scuba Diving Destinations
1. Great Blue Hole, Belize
Off Belize City's shore, near Lighthouse Reef, is where you'll find the Big Blue Hole. One of the top scuba diving destinations in the Caribbean is there. It can be seen from space and is the biggest ocean sinkhole in the world.
It helps to know what to expect while visiting the Big Blue Hole. This dive is tranquil, deep, and gloomy. The pit has giant stalactites and stalagmites and other unusual rock formations.
There are several species of sharks, including hammerheads, bull sharks, nurse sharks, blacktip tigers, and more. Pederson's shrimp, purple sea fans, angelfish, and other creatures are also present.
The Blue Hole isn't strictly a "color" dive, it's crucial to remember that. Although this won't be your standard coral reef dive, you could find elkhorn and brain coral in the shallower areas.
The ambiance has changed. It has been dubbed "gothic" by some. It is serene and profound. The dive is a little different, yet expert scuba divers may find all kinds of unique formations and landscape characteristics between 110 and 270 feet below.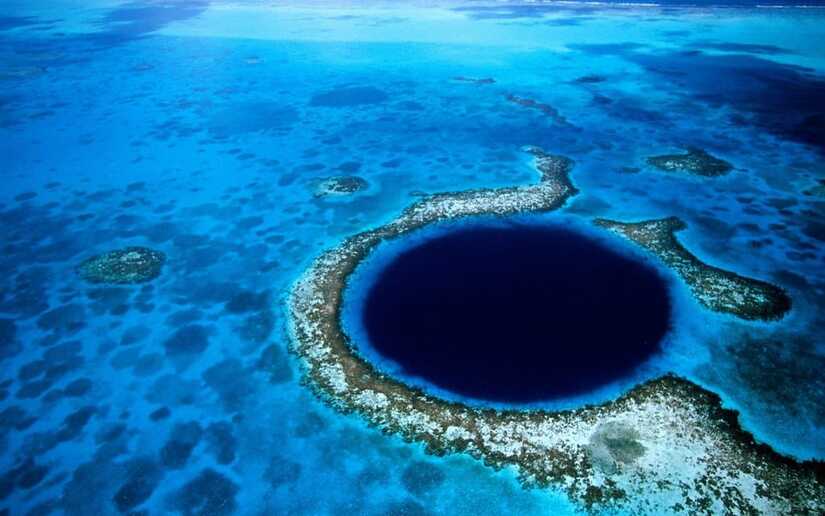 2. Anemone City, Alor, Indonesia
A vast field of anemones is ready for investigation beneath the unexplored seas of the little island of Alor.
Little volcanic stones covered with hundreds of individual anemones of diverse sizes, colors, and forms make up this singular location, which is very probably the largest of its type in the whole globe.
Several clownfish furiously defend their patch from an unknown menace as they dart back and forth between the fingers of the anemones that are softly moving. In this oddly captivating metropolis, it's simple to get caught up in the personal tragedies.
3. Los Islotes, La Paz, Mexico
The delight of diving among the sealions in Los Islotes in the south of Sea of Cortez is hard to match.
As they dart back and forth, tempting divers to play tag, these jokingly curious and frequently naughty critters give hours of pleasure.
While the sealions undoubtedly steal the show, a variety of shoaling species, such as sardines, angelfish, and surgeonfish, call the site's rocky promontories home.
4. Barracuda Point, Sipadan Island, Malaysia
Sipadan Island, a piece of Malaysia that is situated in the Coral Triangle, is where Barracuda Point is found.
A coral reef has developed here along the edge of a submerged undersea volcano, fostering the growth of a rich, diversified ecosystem in the clear waters.
These bustling waters are home to more than 3,000 different fish species and several varieties of coral.
Barracuda Point, one of the top scuba diving destinations is located in Sipadan. A wall dive turns into a channel with a strong current as the dive progresses.
The large barracuda school that gives the point its name is located at the far end. Just referring to it as a "school" doesn't give the look of it credit.
It is because of this vast, thronging whirlwind of glittering silver that underwater photographers from all over the world gather to Sipadan.
Even without the barracudas, reef sharks, scores of turtles, and other species make this region unique.
5. Wold and Darwin Islands, Galapagos, Ecuador
The isolated Galapagos archipelago's Wolf and Darwin Islands, which are located there, provide exhilarating opportunities to swim with sharks and other pelagic superstars, making them the first stunning huge ocean destination on the list.
Huge schools of hammerhead sharks, as well as frequent sightings of Galapagos, silky, and whale sharks, are among the rewards divers may expect for enduring the hard surf and strong currents. This website is a must-see for serious animal lovers who don't mind being in colder waters.
6. Melloy Yellow, Vatu-i-ra, Fiji
Mellow Yellow is one of numerous outstanding dive sites in the Vatu-I-Ra Passage in Fiji's Bligh Waters, which is situated in the center of the soft coral capital of the world.
A significant colony of yellow soft corals may be found at this location, as suggested by its name, and they thrive in the fast current of the channel. Millions of anthias are abundant in the water along the vivid reef, producing a magnificent underwater aquarium that must be seen to be believed.
7. Darwin's Arch, Galápagos
Regrettably, erosion has caused Darwin's Arch, one of the Galapagos' most well-known rock structures, to tumble into the water. See what the divers appreciated about this region by reading on.
Darwin began investigating natural selection due to being drawn to the island chain in the Galápagos, which permanently altered our knowledge of biology. He is remembered now by the large stone arch at the island's southeast point and by one of the islets.
Scuba divers have the good fortune to discover a wealth of marine life under the surface that even Charles Darwin could not have imagined.
Darwin's Arch is an islet that is home to a rich, teeming ecosystem of marine life, and it is situated off the coast of Ecuador.
In such nutrient-rich waters, a number of currents converge, bringing with them a variety of marine life, including dolphins, sea lions, green sea turtles, barracudas, eagle rays, moray eels, and sea lions.
Because there is so much to see here, liveaboards frequently schedule six or more dives. Since there is something fresh to view around every corner, it is difficult to become accustomed to a diving location.
Hammerhead cleaning stations—where the sharks rest outside the flow of the water while reef fish clean their mouths—might even be visible.
In addition to being an attractive sight, sharks being cleaned by divers are significantly less frightened of them, so they are less likely to swim away while you are trying to get a better look or snap a photo.
8. South Pass, Fakarava, French Polynesia
What better spot to dive with sharks than at the South Pass of Fakarava Island, one of the top scuba diving destinations in the world especially for shark diving, which is why French Polynesia is so well-known for it.
Many lemon, whitetip, and hammerhead sharks may be seen patrolling the confined sides of a submerged valley in an area known locally as Tumakohua Pass. Top-notch shark encounters are made possible by the superb visibility and spectacular topography.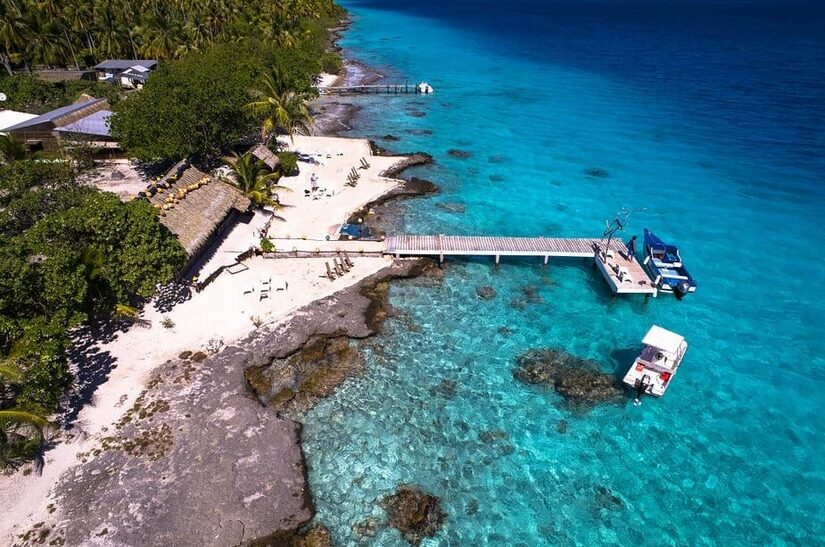 9. Blue Corner Wall, Palau, Micronesia
The Blue Corner Wall, with its sweeping currents and sheer drop-offs, is located on the southwest point of Palau and is home to the whole range of the region's marine species.
In addition to massive shoals of schooling barracuda, jack, and snapper, Napoleon wrasse, and several species of reef sharks, a wide variety of reef fish may be found here.
Eagle and manta rays frequently glide alongside turtles, tuna, and even whale sharks for divers who can pull their eyes away from the wall and out into the blue.
10. Maaya Thila, South Ari Atoll, Maldives
Maaya Thila is an excellent illustration of why the Maldives have been becoming more and more well-known as a scuba diving destination.
This dive location, which is a submerged island topped by a shallow top reef, is situated close to Maayafushi Island. You could swim around the circumference in a single dive because the region is just around 80 meters in diameter.
Due to the abundance of things to view in any given location of Maaya Thila, most people opt not to do that. In fact, most scuba divers stay in a limited area for the most of their dive.
There are various marine critters of every type in the caverns and coral outcrops surrounding the Thila. Usually found in areas with the highest currents, white tip sharks are widespread.
Cleaning manta rays could involve wrasse and shrimp. Also, you may observe enormous dog-toothed tuna, turtles, blue-faced angelfish, clown triggerfish, parrotfish, and other aquatic creatures.
The reef's real hues are shown at night. Maaya Thila offers all you need for an outstanding manta ray night dive. Also visible at night with the aid of your diving light are eels in coral reefs and sharks departing for their evening hunts.
11. Tiger Beach, Grand Bahama, Bahamas
The little sand flat of Tiger Beach, hidden in a remote area of the Bahamas, is known as the Caribbean's and maybe the world's premier location for tiger shark sightings.
On baited shark dives, divers get the opportunity to interact with a variety of these spectacular predators, as well as lemon sharks, Caribbean reef sharks, and several tropical reef species.
This shallow location features spotless, white sand and glistening sea, making for superb photographic circumstances and a number of noteworthy subjects.
12. Richelieu Rock, Andaman Sea, Thailand
The Andaman Sea is, without doubt, filled with life.
Richelieu Rock eventually attracts the majority of that life, maybe because it is the only neighboring peak.
This dive site is far from the next island and much more from the mainland, so any marine species in the region searching for refuge or food will congregate here.
During low tide, the top of the rock can be seen, but at high tide, it is generally totally submerged.
The top is covered in red and purple soft corals, and the crags and crevices are home to a variety of microscopic species, including pineapplefish, sea horses, harlequin shrimp,ghost pipefish, porcelain crabs, and more.
Filter feeders like as manta rays and whale sharks, as well as lionfish, bannerfish, and shovelnose rays, frequent the region.
Particularly close to the surface, the currents might be difficult. Waiting on a calm day to dive here may be a good idea if you have a tendency to descend slowly. In order to dive here, you'll also need a park permission. One may be bought on the Surin Islands.
13. Roca Partida, Socorro, Mexico
Roca Partida, the only location to appear twice on our list, is a magnificent dive site with the best large animal activity in Socorro.
While the conditions at this remote pinnacle are frequently difficult, the powerful currents and cool water upwellings draw large numbers of sharks such as silky, oceanic whitetip, Galapagos, and hammerhead, as well as whale sharks, dolphins, and enormous schools of barracuda and jack.
Divers daring enough to make the 24-hour voyage from the Mexican mainland will be richly rewarded.
14. Santa Rosa Wall, Cozumel
There are numerous reasons why Cozumel is one of the top scuba diving destinations, but Santa Rosa Wall is probably the most well-known.
The wall begins off rather shallow, at around 15 meters (50 feet), before descending dramatically. This is one of the greatest drift diving locations available because of the strong currents and stunning scenery; it almost seems like you're flying over a cliff.
Many coral species may be found here, along with large vividly colored sponges and sea fans. Turtles, scribbled filefish, huge parrotfish, French and queen angelfish, and a toadfish that is exclusive to Cozumel are among the amazing marine fauna.
Despite seasonal variations, the water's average temperature is often rather warm. It averages 75 degrees in the winter and 85 degrees during summer.
15. Blue Heron Bridge, Florida, USA
One of the top scuba diving destinations, the famous Blue Heron Bridge is situated in West Palm Beach's Phil Foster Park.
The lagoon's shallow waters are popular with divers and snorkelers both since they are home to a wide variety of marine life.
There are several macro creatures, including pipefish, nudibranchs, and seahorses, and the warm, protected waters provide a haven for innumerable young tropical fish. The location is simple to navigate and has diving opportunities for all levels of divers.
16. The Boiler, Socorro, Mexico
The world-famous dive location in Socorro is known for its beautiful encounters with some extremely calm manta rays.
The Boiler, as its name indicates, offers sometimes turbulent diving conditions, but as divers ascend to the top of the underwater plateau and swim with the manta rays at their cleaning station, all of this is forgotten.
These elegant animals appear to be playing in the exhaust bubbles released by scuba equipment as they swim just above the reef. It is a once-in-a-lifetime opportunity to engage with these gorgeous gentle giants, and the experience is mystical.
17. SS Thistlegorm Wreck, Egyptian Red Sea
The Thistlegorm is among the most recognizable and fascinating wreck dives in the world. Even though this 415-foot steamer wasn't intended for battle when it was commissioned in 1940, it was rapidly armed with antiquated weapons and put into service for the war effort.
Before the Luftwaffe sank Thistlegorm into the Egyptian Red Sea in October 1941, she had made numerous trips delivering supplies across the world.
The Thistlegorm was bombed to bits, yet despite being in two parts, its structure remains remarkably intact, as are the vehicles it was transporting, including trains, trucks, and tanks.
The stern is 105 feet long and is located to the port. This area includes the huge propeller, a few Mark II Bren Carrier Tanks, and a mass of bombing-related wreckage and debris. Also visible are the large anti-aircraft weapons that were fixed to the deck.
Divers may also come across the new inhabitants of the boat, which include include hawksbill turtles, soldierfish, sweepers, and crocodilefish.
It's not too far from the wreck. From Sharm el Sheikh, the boat ride takes roughly four hours. Despite the challenge in getting there, it is a very popular venue and may fill up very fast.
Consider going on a liveaboard trip and visiting the location early in the day while the day boats are still on their way if you want some extra space.
Spring, from March to May, or fall, from September to November, are the two greatest times to go scuba diving.
The water and air are both comfortably warm throughout the springtime.
18. Cape Kri, Raja Ampat, Indonesia
Cape Kri in the Dampier Strait has the world record for the most number of fish species identified in a single dive and is the jewel of Raja Ampat in all its incredibly diversified splendour.
With a wide variety of strange and amazing organisms seen on every dive, this area has the most astounding marine biodiversity on the globe. Even though currents might be fast, this encourages a variety of reef fish to play.
19. Magic Mountain, Raja Ampat, Indonesia
One of the top scuba diving destinations and most visited places in Raja Ampat's Misool district, Magic Mountain is a rainbow of color and a remarkable assortment of little and large animals.
The site is made up of graded ledges, each of which is its own microcosm and begins at a depth of only 18 feet (6 meters) below the surface.
Unique macro life may be found in hard coral gardens, and when the ridge ends and the currents build up, enormous pelagics and schools of fish can be seen in the distance. An itinerary for Misool must include this location.
20. SS Yongala Wreak, Great Barrier Reef, Australia
The SS Yongala, another well-known wreck dive, went down in 1911 after colliding with a storm off Cape Bowling Green. Around 12 nautical miles off the coast of Alva Beach, the 350-foot vessel is submerged on its starboard side 33 meters deep. It wasn't found until 1958 due to its isolated location.
There are several benefits to exploring the Yongala. To begin with, the wreck is astonishingly well-preserved. Explorers have the opportunity to board a ship that has existed since the turn of the twentieth century because it was built in 1903.
The shipwreck's status as the sole oceanic landscape landmark for a considerable distance in either direction is another major draw. It indicates that during the past 100 years, it has transformed underwater into a thriving coral reef that draws a variety of marine species.
Any marine life passing through these seas looking for food or refuge will stop near the wreck. It contains species like the Queensland groper, bull shark, chevron barracuda, and gigantic trevally.
Fans of rays may see marble rays, smalleye rays, and spotted eagle rays. You can also see a variety of marine turtles, including hawksbill and loggerhead sea turtles.
In the wreck, penetration dives are not permitted because oxygen from bubbles might destroy the structure. This regulation is enforced by dive operators (and harsh fines). Yet, the dive is still a classic since it takes place in one of the most alive underwater habitats.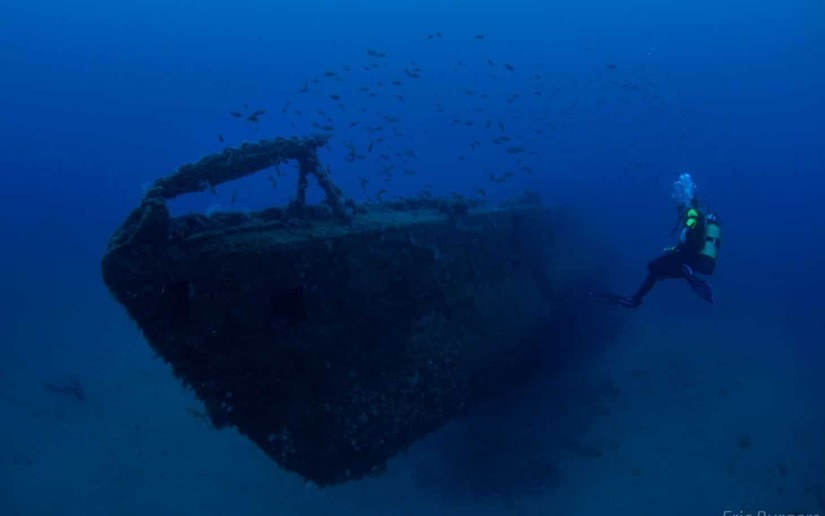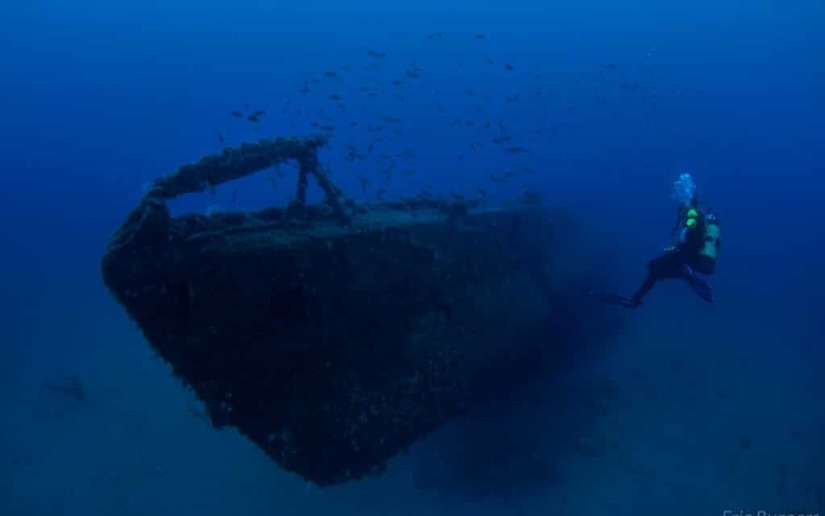 21. Rapid Bay Jetty, South Australia, Australia
This unassuming jetty doesn't seem promising at first, but hidden between the pier pilings is a multicolored aquarium filled with a school of fish and some quite unusual macro.
The leafy sea dragon, a beautiful cousin of the seahorse and pipefish that has evolved to blend in perfectly with its brown kelp home, may be spotted at Rapid Bay Jetty, one of the most dependable places in Australia to do so. The easiest way to locate these incredible but uncommon fish is frequently by hiring a guide.
22. Yolanda and Shark Reef, Egyptian Red Sea
In the Egyptian Red Sea, next to the SS Thistlegorm wreck, lies the Shark Reef and Yolanda Reef, which are both located in Ras Mohammed National Park.
These two reefs protrude from the water's surface at about 20 to 30 meters. These three things may be found together in this area: a steep wall, a sandy plateau, and a wreck.
The area is often visited by large schools of barracuda. Silky sharks are even visible in July and August. This region is where the gulfs of Suez and Aqaba meet, resulting in the coexistence of two distinct currents and two collections of unique species.
The wall is covered in soft corals, sea anemones, and parazoanthus. As the current subsides, the soft coral opens up, exploding color and life on the reef.
Yolanda is located at a shallower depth of 145–160 meters. In 1980, this Cypriot cargo ship became aground on a shoal. The wreck is now a popular tourist attraction because of its odd cargo and the fish, coral, and other aquatic life that thrive there.
As the ship sank, it was packed with toilets, pipes, and bathtubs, making this location the location of some of the most well-known toilets in the whole world.
23. Apo Island, Dumaguete, Philippines
The majority of tourists may come to Dumaguete for the renowned muck diving, but Apo Island, which is close by, is also a spectacular wide-angle dive with a great diversity of marine animals in all shapes and sizes.
Many animals, including crabs and eels, may be found in abundance on the steep cliffs covered in hard corals, while millions of colorful tropical fish dart between the coral heads.
A stunning spectacle of overpowering color and energy is completed by the enormous schools of jack that whirl above. Even the most ardent macro photographers will be impressed by Apo Island.
Pained by financial indecision? Want to invest with Adam?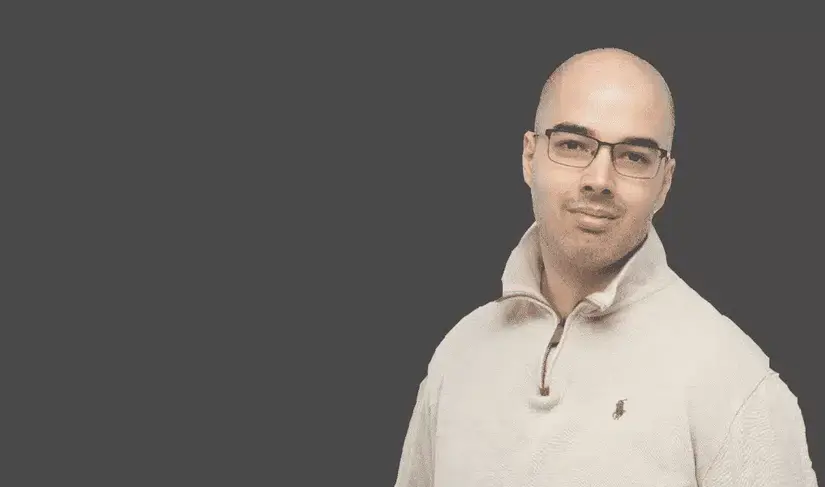 Adam is an internationally recognised author on financial matters, with over 669.2 million answer views on Quora.com, a widely sold book on Amazon, and a contributor on Forbes.
Tags
scubadiving in Anemone City
,
scubadiving in apo island philippines
,
scubadiving in Barracuda Point
,
scubadiving in blue corner wall
,
scubadiving in Blue Heron Bridge USA
,
scubadiving in Darwin's Arch
,
scubadiving in Great Blue Hole
,
scubadiving in Los Islotes
,
scubadiving in Maaya Thila
,
scubadiving in melloy yellow
,
scubadiving in Richelieu Rock
,
scubadiving in Roca Partida
,
scubadiving in Santa Rosa Wall
,
scubadiving in south pass
,
scubadiving in Tiger Beach bahamas
,
scubadiving in Wold and Darwin Islands
,
scubadiving SS Thistlegorm Wreck