Thanks to people working in China as an expat, China's labour market has demonstrated persistent expansion marked by rising employment levels over a considerable period.
It is important for expats to keep in mind that the ability to communicate fluently in the local language and the formation of professional networks can have a big impact on the trajectory of their careers in China.
This is something that they should keep in mind if they are considering the process of getting employment in China.
Establishing a pre-existing acquaintance within the target organization prior to making an application for a specific role is an efficient strategy for beginning a job hunt in China.
This should be done before submitting an application for the role itself. During the application procedure, it is possible that applicants will be required to disclose certain unanticipated aspects of their personal lives, such as the number of children they have.
Contributions paid into the Social Security system by employees, employers, and the government themselves provide the money needed to pay for the program.
However, it is essential to point out that owing to the novelty of the system, one should not rely on the smooth transferability of their contributions to a different work or geographical area.
This is because it is necessary to mention that due to the novelty of the system.
Due to the necessary visa and sponsorship criteria, the procedure of functioning as an independent expat involves a number of challenges and complications.
Despite this, a number of freelance experts from other countries have been successful in establishing their own businesses in China.
These businesses are known as Wholly Foreign-owned Enterprises, or WFOEs for short.
In addition, our handbook gives exhaustive explanations of the aforementioned topics, while also familiarizing readers with the current work culture and delivering insights into the anticipated character of typical workdays and average compensation.
If you want to invest as an expat or high-net-worth individual, you can email me (advice@adamfayed.com) or use these contact options.
What You Need to Know Before Working in China as an Expat
It is absolutely necessary to give serious consideration to a number of considerations before settling on the option of moving to China in order to take a job there.
To begin, it is important to determine whether one's motivation is primarily driven by the desired vocation or the desired geographical location inside China.
It is highly likely that those who aspire to pursue careers in the sectors of politics, technology, or finance would run into geographical limits.
These constraints are mostly confined to the prominent first-tier cities of Beijing, Shanghai, Shenzhen, and Guangzhou.
These urxban locations provide situations that are engaging and energetic, perfect for completely submerging oneself in the culture of contemporary China.
On the other hand, there are not nearly as many stunning rural landscapes or distinctive local customs in these regions as there are in other parts of China.
These regions are known for their prominence throughout China.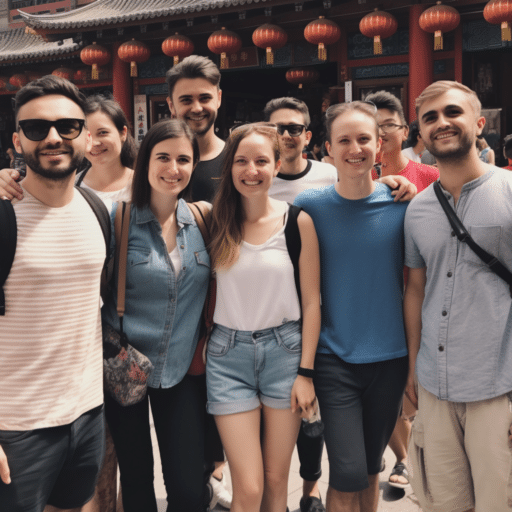 It is highly recommended that people interested in a more profound cultural immersion, who want to polish their proficiency in Chinese, or the propensity to reside in incredibly magnificent landscapes investigate their possibilities in rural places.
For those hailing from foreign nations, this typically includes working in certain jobs within non-governmental organizations (NGOs) or enrolling in classes to improve one's command of the English language.
In addition, it is important to keep in mind the potential differences between the culture of the workplace in China and the norms that are most familiar to you.
For instance, people in a work context may show less concern for their "personal time" as a result of the widespread use of the messaging application WeChat.
This could be owing to the fact that WeChat has been increasingly popular in recent years. It's possible that people in Western societies have varying opinions on issues like work-life balance, overtime, and availability.
The phenomenon that is the focus of this discussion comprises elements that might be viewed as beneficial as well as unfavourable.
The employment of the application raises the likelihood of receiving messages from coworkers at odd hours, such as eleven o'clock at night on a Saturday, but at the same time, it boosts the velocity and effectiveness of workplace communication.
It is interesting to notice the extent to which activities relating to work are carried out through the utilization of WeChat.
It is possible to manage all office processes, including transfers, bookings, and approvals, using a single integrated system, which can save a lot of time and effort.
In addition to these benefits, working in China comes with a plethora of additional perks.
As seen by the presence of a number of people who are in the process of starting their own businesses at the same time, the widespread notion that China is a nation that offers an abundance of chances is, to some extent, still accurate.
When compared to countries in the West, the level of bureaucratic red tape that must be navigated in order to launch a business in China is noticeably lower.
In addition, the can-do mentality that is common in China produces an environment in which individuals may encounter a greater number of exciting challenges within a month, as opposed to a year in Western nations.
This can be attributed to the fact that the average lifespan in China is longer than it is in Western nations.
How to Find a Job in China as an Expat
Anyone from outside of China who is interested in pursuing professional opportunities within the country has a multitude of work opportunities to choose from in China.
There are a great number of foreign nationals who are seriously considering making a career change to one that involves teaching in China.
It is important to note, however, that there is a wide variety of career prospects available to people from other countries in China.
These changes may be found in fields such as management, the media, information technology, and technology-related positions, among others.
When it comes to looking for work in China, job seekers typically have a choice between two different routes to take.
Working for a domestic firm that also has a presence overseas in the form of an office in China is one option among many others.
Upon arrival in China, one has the option of looking for work as a second course of action. This is an alternate course of action.
It is necessary that one familiarize oneself with certain crucial issues relevant to the process of getting employment in China.
This is the case regardless of whether the goal is to seek a part-time employment opportunity or to embark on a new and lasting professional trajectory.
It is anticipated that the implementation of these suggestions would improve your chances of successfully getting employment in the not-too-distant future.
How to Find an Expat Job in China from Abroad
The exploitation of online platforms for the purpose of carrying out job searches has shown to be an extremely efficient approach to locating employment opportunities within the Chinese labour market.
There are a great number of online platforms that are available on the internet today, and they serve job searchers both domestically and internationally.
One might further narrow down their search by looking for career opportunities inside a certain urban community of their choosing.
A different line of action you may take would be to contact the embassy of your home country or to get in touch with recruitment companies in order to acquire information regarding employment opportunities that are now accessible in China.
The country of China is home to a number of recruitment firms that are experts in providing employment opportunities to those who are looking for careers in nations outside of China.
Begin the process by generating an inventory of businesses that have offices physically situated within the borders of China, as well as an inventory of businesses operating outside of China that have established a presence in the Chinese market.
After that, visit the locations that catch your interest and hand out copies of your curriculum vitae to the respective organizations.
An employment opportunity with a foreign organization that has its headquarters in China may come with a number of attractive incentives, the most prominent of which is the provision of an expat package, which is typically made available to workers in such jobs.
Packages for expats are designed to meet the unique needs of persons who are moving to China in order to take advantage of career opportunities there.
These changes come with a number of advantages, such as access to medical insurance coverage, assistance with relocating fees, housing allowances, and payment of salaries in a foreign currency, to name a few of the perks.
Having said that, being employed by a Chinese company does come with several benefits in addition to those already mentioned.
One will immediately engage with the environment around them, consistently engage in language practice, and have a direct awareness of the culture of the local business.
As a result of the increasing number of international workers in China, a great number of Chinese businesses have adapted to the requirements and preferences of international workers by offering contracts that are tailored to the particular demands of international persons.
How to Find an Expat Job When Already in China
People who are already living in China have the ability to utilize the internet to hunt for work opportunities in their local area.
It is possible to find work just as effectively from within one's own country as it is from outside of it by using the Internet.
If you want to find out what occupations are available in foreign countries, you should look at websites that are written in English and are geared toward people who live abroad.
Explore other fields for work opportunities as well, particularly if you are willing to relocate to a new place.
Large cities such as Beijing, Shanghai, and Shenzhen may have a greater number of job openings, but there is also likely to be greater levels of competition for those openings.
This indicates that smaller communities are frequently looking for competent expats and are willing to provide lower prices in order to entice them to their areas.
Residents in small towns are better able to maintain a good mental and physical equilibrium as a result of the slower pace of life in their communities, which acts as a counterbalance to the stresses of metropolitan life.
Develop a good curriculum vitae (CV). If you want to find a job in China, your CV needs to accurately portray your education, qualifications, and language skills in a manner that is acceptable to Chinese companies.
Even while submissions written in English are acceptable, the only way to truly differentiate yourself from the other candidates is to submit your resume in Mandarin.
Expand your social circle: networking is beneficial in any country because it enables you to meet new people and provides information about job possibilities.
A person's network of connections in the business world is referred to as their 'guanxi' in China. Participate in meetings of people in your business, such as trade shows and conferences, to make the most of this chance and further your career.
It is important to carry business cards that are written in both English and Mandarin so that potential employers may learn more about your capabilities.
Users in China now have the ability to advertise their LinkedIn accounts straight from their WeChat pages, which is made possible as a result of the partnership that exists between WeChat and LinkedIn in that nation.
It wouldn't hurt to ask the folks you already know if they are aware of any work opportunities or if they know someone who might be.
How to Apply for a Job in China as an Expat
If you are not a native speaker of Chinese, finding work in China may present you with a substantial obstacle in the form of a language barrier.
This could be an issue if you are not fluent in the language.
While there are a variety of job platforms and classified adverts that are only available in the local tongue of the country, there are a number of companies that have made it a requirement for potential employees to have a fundamental command of the Chinese language.
As a result of the persistent emphasis placed on recruiting indigenous labour within the market, the conditions for foreign nationals who are interested in pursuing career prospects in China are extremely severe.
The applicants are needed to demonstrate their level of knowledge through the presentation of a variety of professional experiences, academic qualifications, and other kinds of accomplishments.
How to Build a Network in China
Establishing professional contacts in China can be of critical importance in gaining access to employment opportunities, regardless of a person's country of origin.
Therefore, being able to demonstrate that you have personal ties within the company that you are applying for work might provide a big advantage.
Networking is a strategic strategy for accessing employment possibilities, in which individuals leverage their professional connections to stay informed about job openings within their network and possibly gain recommendations from their contacts.
Individuals can access employment prospects through networking by leveraging their professional connections.
It is recommended that one begin the process of effectively establishing professional connections by first actively participating in discussion groups on job networking platforms and then making contact with persons who are currently employed in China.
Doing so will increase the likelihood of a successful outcome.
It is highly recommended that one participate in face-to-face networking activities in the city that they are interested in relocating to if they have the opportunity to spend some time there.
It is recommended that you make sure you have a sufficient quantity of business cards with your personal information written on them, with one side printed in Simplified Chinese and the other side printed in English.
This will make it easier for you to distribute the cards when appropriate situations arise.
How to Submit a Job Application in China
In the event that one is unable to obtain employment through the use of professional networking, it could be beneficial to investigate the opportunities that are available on internet job sites.
Internet platforms are being utilized by an increasing number of firms to advertise job openings that are currently accessible.
However, the vast majority of these websites are generally geared toward an audience in China, and they are not expressly specialized to fulfil the needs of expats.
As a result, it might be difficult for foreigners to find work opportunities. Therefore, having even a fundamental understanding of the Chinese language is going to put you in a much better position.
How to Write a Resume in China
When putting together a curriculum vitae, it is common practice to include certain personal facts such as the place and date of birth, marital status, and, in some cases, the number of dependents and ethnic origin.
Other details that may be included include educational attainment and professional experience. Including a photograph on a curriculum vitae (CV) written in the Chinese style is considered to be standard practice.
The schooling and work experience sections are presented in the opposite order of traditional chronology, with the education segment coming first and the work experience section coming second.
In the event that you come across a job advertisement that seems to be a good fit for your skills, it is recommended that you make use of your professional connections in China and make an effort to get in touch with a representative from the potential company.
It is anticipated that there would be a considerable bump in the likelihood of finding work. When performing a job search in China, it is essential to be aware that it is not a good strategy to send unsolicited applications to a number of different companies.
This is because sending unsolicited applications is not considered to be an effective strategy.
Individuals do, of course, have the option of uploading their information onto various professional networks and job search sites, after which they can take a more passive stance by adopting the mentality of waiting for the ideal career opportunity to present itself to them.
Through the utilization of this strategy, a few people now residing in foreign countries have been successful in acquiring employment prospects.
In spite of this, it is of the utmost importance to formulate a solid backup strategy in the event that the current course of action is not effective.
How to Write a Cover Letter in China
One thing to note about cover letters is that they are not utilized in China to the same extent as in other countries.
In contrast, the applicants reference their professional backgrounds in their curriculum vitae and provide in-depth explanations of the accomplishments that they have achieved over their careers.
People typically include a self-evaluation in the section at the end of their curriculum vitae that is designated for summary and reflection.
On a curriculum vitae (CV), the part of the document that discusses the individual's interests and hobbies might occasionally be replaced with a more common component, specifically references, which are typically considered to be superfluous.
How to Have a Successful Interview
It is recommended that a person assume a manner that is defined by politeness, formality, and modesty when they receive an invitation for an interview following the successful submission of their application and notification that they have been selected for further consideration.
It is essential to show proper deference to one's superiors while also conveying one's enthusiasm and talking about one's capabilities.
It is absolutely necessary to keep one's commitment to punctuality, always have business cards on hand, and steer clear of situations that could damage one's reputation.
Working in China as an Expat
Work-Life in China
If one decides to look for a job in China, there is a very good chance that they will be employed among people who are friendly and generous with their hospitality.
Even in establishments that are accustomed to hiring people from a variety of backgrounds, certain members of the local community may nevertheless feel a sense of excitement when they come into contact with people from other countries.
This can be true even in organizations that are accustomed to employing people from a variety of backgrounds.
These individuals might show a sincere interest in having talks about the differences in cultural practices and personal experiences that exist between us.
The extended working hours that are commonplace in Chinese businesses are a trait that, depending on the context, may be interpreted as inefficient and aggravating.
In many different types of workplaces, it is customary for employees to finish their shifts at noon and then have a lunch break that lasts for an hour and a half.
During this time, they eat lunch and socialize with their coworkers. In addition to this, they allow themselves brief stretches of relaxation throughout the afternoon, but then they put in longer shifts at work in the evening so that they can satisfy their professional responsibilities.
Hierarchical structures can frequently be seen in Chinese organizations, and these systems are often inflexible and intolerant of compromise.
You should take caution against businesses that knowingly delay the processing of visas and other formalities while simultaneously pushing their international employees to keep working.
The presence of uncertain circumstances that traditionally facilitated labour prospects for foreign individuals in China is rapidly disappearing, which is swiftly increasing and hence potentially engendering precarious circumstances.
People who are considering working in China should make certain that the company for which they are interviewing has a full understanding of the documents that are necessary for the application of a work visa.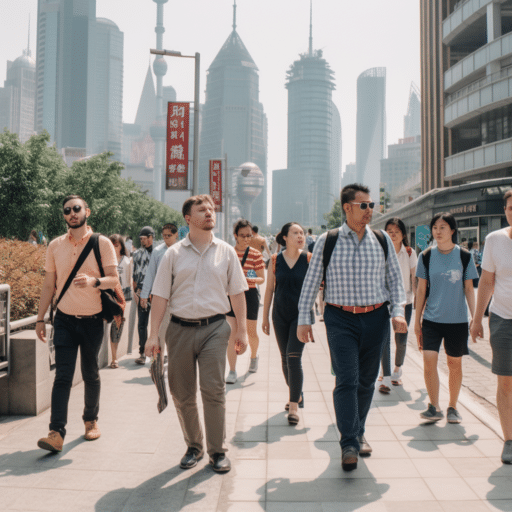 In contrast to the working conditions common in the West, the laws regarding annual leave in China appear to be significantly stricter.
There are a total of ten national holidays that are celebrated every year.
In addition, most employers provide their staff with an average of five paid vacation days each year; however, cases of employees receiving fewer number of days off are not unheard of and are not infrequently documented.
It is important to note, in the context of working for a Chinese company, that Western holidays, such as Christmas, are not recognized, which creates difficulties for workers who want to travel back to their families over the holiday season.
However, it is crucial to keep in mind that during the probationary period, which can last for up to a year, no annual leave entitlement is awarded to the employee.
This is something that must be taken into consideration when evaluating the annual leave policies offered by various companies to their foreign workers.
Average Salary for Expats in China
China's annual revenue, on average, has been on an upward trend for the entirety of this country's recorded history.
However, it is essential to keep in mind that one's expectations regarding income may change significantly based on the particular industry of employment and the geographic place of interest.
Because the government modifies the minimum pay based on the socioeconomic conditions that are prevalent in each community, the minimum wage in this jurisdiction is determined by the geographical region in which a person resides.
This is how it works in this jurisdiction. A worker's average monthly income is roughly 1,000 CNY in Hunan, whereas, in Shanghai, that figure is well over 2,000 CNY.
Hunan is one of the provinces in China with the lowest average monthly wage. There is typically a link that points in the direction of a positive relationship between the population of a city and the level of its minimum wage.
The general trend, on the other hand, makes it very clear that living wages are likewise continually rising.
If one is interested in the possibility of earning a "good" income in China, it is absolutely necessary to determine the precise place to which they wishes to move in order to make an accurate assessment of the conditions that already exist.
A single expat in Shanghai, where the average earnings are among the greatest in the nation, should have sufficient means to maintain a respectable quality of life with a monthly salary of 12,000 CNY, given that Shanghai's average earnings are among the highest in the nation.
It is essential to keep in mind, however, that the costs of living in urban areas are significantly higher in comparison to the costs of living in other parts of the country.
Student Pathway to Working in China as an Expat
A different strategy would be to start one's academic journey by enrolling in a university in China. This would be an alternative option.
To begin, it is important to bring to your attention the fact that it is possible that some businesses have a stronger propensity to examine individuals who have acquired their education from prestigious educational institutions.
Additionally, switching from a student visa to an employment visa is an alternative that is more convenient and cost-effective for your prospective employer when compared to starting the application process from scratch for an employment visa.
This is because switching from a student visa to an employment visa requires less paperwork and less time.
In addition to that, you will have the opportunity to fully immerse yourself in the culture of China, take part in interviews, make important professional connections, and talk to potential employers thanks to this experience.
Employment prospects for students are severely restricted under the terms of the Chinese student visa, which is one of the visa's limitations.
As a consequence of this, it is absolutely necessary for students to make certain that they have the financial means to make up for this limitation.
Because some international language schools in China have a more relaxed stance on the issue of work permits, they are able to offer abroad students and language instructors an additional way to make money.
However, many people who have moved abroad have reported having negative experiences with the language schools where they enrolled.
In addition, because of the questionable legal standing of this proposed remedy, we do not recommend that it be put into action.
Persons who are currently enrolled in educational institutions or who are in the early stages of their professional careers may find that engaging in an internship can serve as a valuable opportunity to make first connections and get access to their desired field of interest.
This is especially true for those persons who are interested in gaining entry into the medical industry.
A significant number of well-known Chinese businesses have a pattern of hiring interns, with the possibility of converting them into full-time employees if they do a good enough job.
English Teaching Jobs in China
Beginning their careers as language teachers, with an emphasis on the instruction of the English language, is the first step taken by a sizeable number of Chinese people who are temporarily or permanently residing outside of their native country.
Many teachers are able to learn about new employment prospects or make initial contact with prospective employers through the kids in their classes.
In addition, this line of employment offers a substantial amount of leeway and leisure time, both of which are beneficial when it comes to making new professional connections and participating in networking activities.
People who have a global view and are interested in engaging in a "trial period" to evaluate the viability of China as a potential destination are another group of people who have a strong interest in the profession of teaching English in China.
Unfortunately, language teachers don't make very much money to support their families. The compensation, in a number of situations, is not even close to being adequate to pay the costs of essential living expenses.
In addition, in order to work at a reputable language school, you will need to secure a Z visa. This is a requirement for employment.
Business Culture in China
People from other countries who work in China frequently report feeling disoriented due to the cultural differences between their home countries and China.
The term "foreigner" is still used in China in a widespread manner, a habit that some expats feel contributes to an exclusive atmosphere in the country.
When a person's command of the Chinese language is inadequate, the cultural divide between them and the natives is brought into sharper relief.
It is a typical behaviour that can be seen in several office settings where Chinese employees and employees from other countries choose to have their lunches apart from one another.
The fact that people have diverse tastes in their lunch options can be ascribed to this practice. However, it is also impacted by the reasonable tendency of Chinese employees to refrain from engaging in English discussions during their lunch break.
This is particularly the case if their counterparts have not shown any attempt to acquire proficiency in the Chinese language.
This is particularly the case if their counterparts have not demonstrated any effort to acquire proficiency in the Chinese language.
Additionally, it is essential to keep in mind that Chinese workers frequently receive significantly lower earnings compared to their overseas counterparts doing comparable occupations.
This difference in pay can impact the social activities that Chinese workers choose to participate in.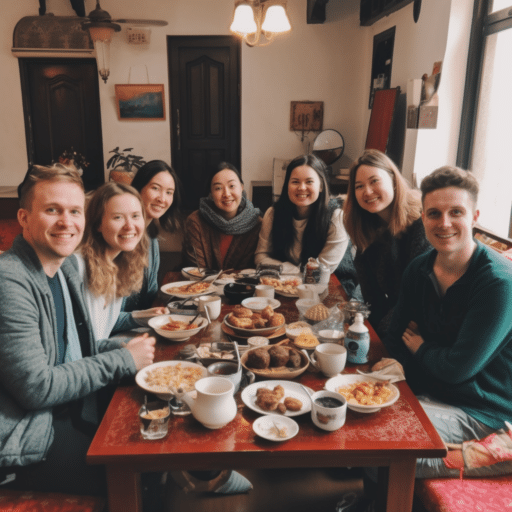 There are a significant number of foreigners working in China who are not fluent in Mandarin, and they make up a large portion of the labour force.
This is more feasible in major urban areas such as Beijing and Shanghai; but, even in these settings, people who speak only English are likely to run into difficulties.
When it comes to higher-level posts, individuals of foreign origin sometimes have a stronger chance of acquiring these roles even if they do not have a strong command of the Chinese language.
This is especially true in recent years. This is based on the premise that their professional background is of significant quality, which enables them to secure the assistance of local aides or interpreters.
Acquiring basic information prior to beginning a professional journey in China is, without a question, useful for people who are looking for entry-level positions and want to work there.
Working in China is notable for a number of reasons, but one of these reasons is the incredible efficiency with which one may place orders or acquire printed materials.
Using a mobile phone makes it feasible to efficiently manage the coordination of purchases and deliveries across the entire country, and the full process can typically be completed in a matter of days.
On the other hand, the fact that the content is only available in Chinese presents a problem for people who have a limited command of the language.
Final Thoughts
Working in China as an expat presents a distinctive and intellectually stimulating opportunity that entails a distinct set of obstacles and benefits.
The Republic of China's burgeoning economy, extensive cultural legacy, and varied geographical features provide expats with an active setting conducive to personal and professional growth.
Nevertheless, it is vital for expats to adeptly manage the intricacies associated with language, culture, and business protocols in order to guarantee a prosperous and gratifying sojourn.
Expats who arrive in China with a receptive mindset, flexibility, and a readiness to embrace the indigenous culture can optimize their experience by establishing significant relationships and acquiring invaluable perspectives that will profoundly influence their global outlook in the long term.
Pained by financial indecision? Want to invest with Adam?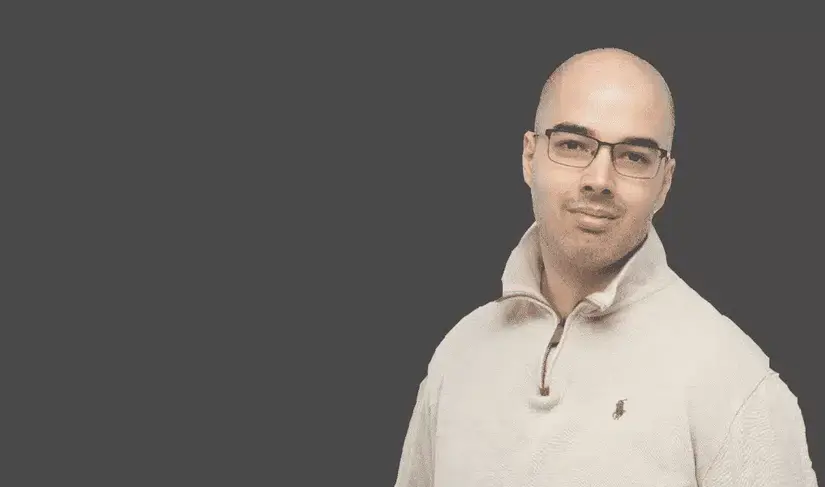 Adam is an internationally recognised author on financial matters, with over 694.5 million answer views on Quora.com, a widely sold book on Amazon, and a contributor on Forbes.