Working in Singapore as an expat provides a unique blend of opportunities and difficulties in a city-state noted for its incredible economic success and exceptional quality of life.
Singapore entices multinational firms and international professionals with the promise of employment opportunities, a high standard of life, and a dynamic multicultural environment.
Its remarkable reputation in industries such as banking, information technology, and commerce has made it a global talent magnet.
However, the high cost of living, restricted land area, and severe job market competitiveness are all obstacles that expats must overcome.
Understanding the complexities of work passes, from the renowned Employment Pass to the adaptable Work Holiday Programme, is critical for anybody hoping to enter Singapore's dynamic workforce.
Singapore's dynamic economy and diversified culture offer a unique expat experience worth investigating, whether you're looking for possibilities in finance, IT, tourism, or other areas.
If you want to invest as an expat or high-net-worth individual, you can email me (advice@adamfayed.com) or use these contact options.
Singapore
A sovereign island nation, the Republic of Singapore can be found in close proximity to the southernmost tip of the Malay Peninsula.
Following the nation's proclamation of independence the previous year from Malaysia, Singapore officially became the Republic of Singapore on August 9, 1965.
The climate of the region is characterized by a tropical and humid atmosphere, which causes it to feel like summer all year round.
As a result of these climatic circumstances, the region has a constant summertime feeling. Variations in temperature have been found to fall anywhere between 22 and 35 degrees Celsius.
It is not uncommon to get precipitation associated with the monsoon season during the months that range from September to January.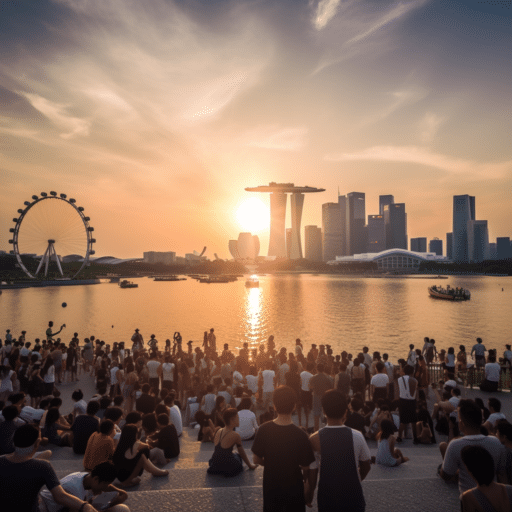 It is a point of great pride for Singapore to have such a broad and diversified population, one that is defined by the peaceful cohabitation of a variety of different racial and cultural groupings.
Chinese, Malay, and Indians make up the majority of Singapore's population, with Malays coming in second place.
As of the end of June 2017, more than 70 percent of Singapore's total population, which equates to 5.47 million people, is made up of citizens of Singapore and people who live there permanently.
In addition, there are around 1.6 million people who are considered to be temporary residents of the country.
The presence of English, Malay, Mandarin Chinese, and Tamil among the country's official languages is evidence of the nation's well-known reputation as a multicultural society.
These languages are Malay, Mandarin Chinese, Tamil, and English, respectively.
English is the language that is most commonly used in governmental and commercial settings, and it is also the language that is most commonly used as the medium of instruction in educational institutions located both in the United States and around the world.
What is the Quality of Life in Singapore
In spite of the fact that it has a relatively small land area, Singapore has earned a respectable position due to the robustness of its economy, friendly business environment, significant technical breakthroughs, and well-developed educational system.
In terms of its economic standing, the nation is in second place, behind only Switzerland, and ahead of countries such as the United States, the Netherlands, Germany, Norway, and Taiwan.
Switzerland is in first place. Transparency, simplicity of doing business, low bureaucracy, and global innovation are just a few of the areas in which Singapore is widely acknowledged as being at the forefront of development around the world.
The thriving economy of the region provides its residents with benefits, including improved access to high-quality health care, education, personal safety, and housing standards.
These advantages are made possible by the economy's contribution.
The Mercer 2018 Quality of Living Survey has Singapore at the top of the list of best cities in Asia, followed by Hong Kong, Seoul, Taipei, and Kuala Lumpur in that order.
The medical care delivery system in Singapore is comprised of a total of seventeen institutions, including nine public hospitals and eight private hospitals.
There are a total of eight national centres that are specialized and committed to the delivery of medical services in the fields of oncology, cardiology, ophthalmology, dermatology, neurology, and dental care.
This number represents a nationwide total. A large number of people from adjacent nations travel to Singapore in search of the country's renowned medical services.
This is due to the fact that numerous private healthcare facilities in Singapore offer services to patients from other countries.
What is the Expat Life in Singapore Like?
According to the findings of HSBC's annual expat survey for the year 2018, the country in question has once again achieved the highest ranking.
This conclusion is based on the responses obtained from a sample size of over 27,000 expatriates from 159 different countries.
Despite facing strong competition from other Asian countries like Hong Kong and Japan, Singapore continues to be a preferred destination for expatriates.
According to the survey findings, a majority of expatriate parents residing in Singapore, specifically 60 percent, perceive an improvement in the health and overall well-being of their children compared to their home country.
Out of the sample of 500 expatriates residing in Singapore, a majority of 59 percent who relocated to the city-state indicate that their current incomes facilitate savings for their retirement in Singapore.
Additionally, 45 percent of respondents report that their present earnings are sufficient to afford property acquisition.
Based on the 2017-2018 Global Competitiveness Index published by the World Economic Forum, Singapore occupies the third position among a total of 137 countries included in the ranking.
Hong Kong and Japan, both Asian nations, secure the sixth and ninth spots, respectively, making them the sole representatives from the region.
The nation ranks second in terms of its exceptional transportation infrastructure and efficient labour market, while its banking sector is widely regarded as well-developed, stable, and trustworthy, placing it third in this particular area.
According to the Business Environment Rankings of the Economist Intelligence Unit (EIU), Singapore continues to be recognized as the most favourable destination for investors in 2018.
According to data provided by the Singapore Ministry of Manpower (MOM), the number of foreign workers employed in Singapore in December 2017 was 1.21 million.
The working population of Singapore, comprising citizens and permanent residents (excluding foreign domestic workers), now amounts to 3.7 million individuals, constituting around 66% of the overall population of 5.6 million.
It is widely acknowledged that the job market in Singapore is characterized by intense competition. The exceptional reputation of Singapore, particularly in the fields of banking, commerce, and information technology, has garnered significant interest from multinational corporations and international professionals.
These entities are enticed by the potential career prospects, improved quality of life for their families, higher income options, and the opportunity for a transformative shift in lifestyle and surroundings.
The Pros and Cons of Living and Working in Singapore as an Expat
Working in Singapore as an expat necessitates settling down in a city that is known for having a high cost of living and then engaging in professional pursuits within that city.
Mercer's 2018 Annual Cost of Living Survey places the nation in question as the world's fourth most expensive metropolis, placing it behind only Hong Kong and Tokyo in terms of overall cost of living.
There is also the difficulty of accommodating a population of 5.6 million people within a limited land area of 721 square kilometres. This results in a population density of 7,796 people per square kilometre.
In Singapore, the cost of housing often constitutes the largest share of monthly living expenses, and this is especially true for homes located in the central business district (CBD), which is seeing strong demand.
In addition, aspects like transportation, healthcare, education, and child care can all play a role in pushing up costs to varying degrees.
Because doing so makes it easier to carry out monetary dealings, it is customary practice to advise incoming expatriates to open a bank account in Singapore before beginning their new lives there.
The process of opening a savings account, checking account, or account in more than one currency is made much simpler by the fact that numerous branches of foreign banks are located in Singapore.
This is especially helpful for people who want to make sure they always have a certain quantity of their home currency available for instant use.
Individuals looking for leisure opportunities will find a large variety of well-known brands from all over the world at any one of the several shopping malls.
The dining venues cover a wide variety, from hawker stalls that have been given Michelin stars to high-end restaurants that are managed by chefs who are recognized all over the world.
For the purpose of deriving pleasure and enjoyment, families have the chance to participate in a variety of recreational activities such as going to theme parks, open spaces, beaches, hiking trails, skate facilities, and other similar destinations.
The presence of a large number of low-cost airlines that operate flights departing from Singapore makes it possible to make convenient travel arrangements for a visit to a variety of locations within the Asian region.
The combination of Singapore's robust economy, high level of sanitation, and multicultural atmosphere contributes to the provision of a secure and culturally diverse living environment, enabling its citizens to experience a superior quality of life that encompasses the finest aspects of both Asian and Western cultures.
This is made possible by the provision of a living environment that is culturally diverse.
Working in Singapore as an Expat
What is Singapore's Employment Pass?
As a result of the advantageous geographical position it holds within the Asian region, Singapore has earned a well-deserved reputation as a preeminent hub for global finance.
As a direct result of this, a large number of the world's most successful multinational firms view Singapore as an excellent location in which to base their operations in the region.
As a result of Singapore's good image in terms of corporate integrity, decreased levels of corruption, and advances in technology, numerous businesses have chosen to relocate their critical staff to the country.
Before you begin the process of migrating to Singapore, it is of the utmost importance to give top priority to ensuring that your new place of employment complies with all of the regulations imposed by the Singaporean government.
The Ministry of Manpower (MOM) of Singapore is in charge of coming up with and putting into action the country's many labour policies.
At the end of 2017, the Ministry of Manpower (MOM) reported that around 72 percent of Singapore's workforce was comprised of foreign employees. This percentage does not include foreign domestic workers.
These include people who work in a wide variety of businesses, including finance, information technology, shipping, manufacturing, construction, and services, as well as other fields that are closely linked.
Individuals of non-Singaporean nationality who are interested in finding work in Singapore are required to be in possession of a valid work permit or work visa, as per the regulations that have been established by the Ministry of Manpower.
This regulation must be adhered to by all businesses, regardless of whether they are located in the United States or elsewhere.
At the moment, non-native workers can apply for permits that fall into one of several different categories.
Individuals from other countries who are employed in professional, management, or executive capacities are eligible for the Employment Pass.
Applicants for this pass are only considered qualified for it if they meet the requirements of having a minimum monthly income of SGD 3,600 and possessing the necessary qualifications.
The S Pass, on the other hand, is intended for people with intermediate levels of expertise and requires a minimum monthly salary of 2,200 Singapore dollars to qualify.
In addition, Singapore provides a program called EntrePass for non-Singaporean businesspeople who want to launch a new company in the nation.
There is a Personalized Employment Pass that can be acquired by people who already have an Employment Pass or by foreign professionals who have an income that is higher than the prescribed criteria for an Employment Pass.
The Dependent's Pass is a privilege that is given to wives and children of individuals who meet the requirements for the Employment Pass and the S Pass in order to enter Singapore legally.
How to Secure an Employment Pass?
Prior to preparing your luggage, it is vital to ensure that you possess a formal offer of employment and an authorized employment pass readily available.
In accordance with the regulations set forth by the Singapore Ministry of Manpower, individuals of foreign nationality seeking employment in Singapore are required to possess a valid Employment Pass.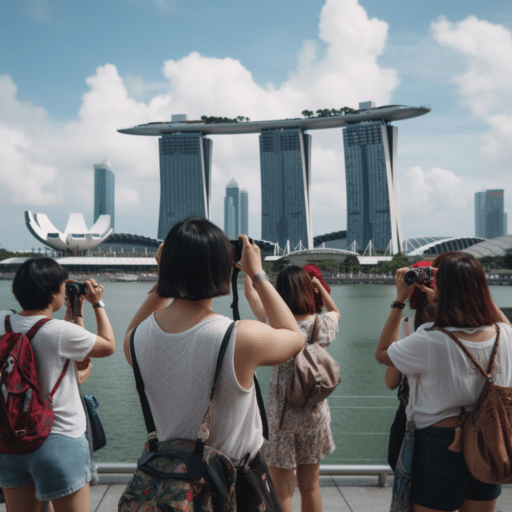 Both local and foreign companies operating in Singapore are obligated to adhere to this regulation, while individuals seeking employment must fulfil particular criteria in order to obtain the appropriate work visa.
There exist various categories of passes available for foreign employees, encompassing professionals as well as skilled and semi-skilled individuals.
These passes are contingent upon specific criteria and may or may not necessitate the involvement of a business or employment agency in the application process.
Based on the most recent guidelines issued by the Ministry of Manpower (MOM), the assessment of foreign individuals seeking to get the Employment Pass also encompasses an evaluation of their potential social and economic influence on Singapore and its residents.
What Type of Pass Do You Need?
The Employment Pass (EP) is the prevailing work permit for foreign professionals, primarily targeting individuals with advanced expertise, managerial roles, and executive positions.
To be eligible for the EP, applicants must demonstrate a minimum monthly income of SGD 3,600.
The validity period of the pass extends up to two years for initial applicants and up to three years for subsequent renewals.
Employers have the discretion to decide whether or not to offer medical insurance to EP holders. In this particular scenario, it is quite advantageous to get a foreign health insurance policy prior to undertaking the process of relocating.
Employment Pass holders are granted the opportunity to bring specific family members to accompany them in Singapore.
In the event that an individual relocates to Singapore utilizing an Employment Pass, it is possible for their spouse and any children below the age of 21 to accompany them by means of a Dependents' Pass, subject to the condition that the individual's monthly revenue amounts to no less than SGD 6,000.
Individuals who possess greater professional experience, higher levels of revenue, and seniority within their respective fields may meet the requirements for the Personalised Employment Pass (PEP).
This particular pass is good for a duration of three years, however, it is important to note that it cannot be renewed.
Additionally, the PEP has its own distinct set of criteria pertaining to income and eligibility. One of the requirements is to have a minimum monthly salary of SGD 18,000 from an outside source.
Individuals holding an Employment Pass and earning a consistent monthly salary of no less than SGD 12,000 have the option to opt for the Personalised Employment Pass (PEP) as an alternative.
The PEP has specific eligibility criteria that must be met. Individuals holding Employment Pass (EP) under the sponsorship scheme, as well as freelancers and foreign workers engaged in freelance labour, are deemed ineligible for the aforementioned benefits.
Individuals who are excluded from eligibility encompass professionals in the field of journalism, including journalists, editors, sub-editors, and producers.
Additionally, individuals who hold positions as sole proprietors, partners, or directors, and who also possess shares in a company registered under the Accounting and Corporate Regulatory Authority (ACRA) of Singapore are not considered eligible.
ACRA functions as the regulatory body responsible for overseeing and governing commercial companies, public accountants, and corporate service providers operating under the jurisdiction of Singapore.
According to a survey by the World Bank, Singapore ranks second globally in terms of ease of doing business in 2018, with the process of starting a firm taking a mere two and a half days in the country.
Additionally, the nation is positioned within the top 10 on a global scale in terms of safeguarding the interests of minority investors, facilitating the process of tax payment, and ensuring the effective enforcement of contracts.
The favourable economic climate in Singapore renders it highly appealing to overseas entrepreneurs, innovators, and investors seeking to establish and manage new enterprises.
Individuals who desire to do so have the opportunity to submit an application for the EntrePass, a visa that initially grants a one-year validity period and facilitates convenient entry and exit from Singapore.
Although EntrePass does not impose a minimum income criterion, it does include more rigorous criteria, particularly for individuals seeking to obtain the Dependent's Pass for their families.
One of the primary requirements is that the business must be incorporated as a private limited company and registered with the Accounting and Corporate Regulatory Authority (ACRA).
Additionally, securing the necessary finance is also crucial. If the company has already completed the registration process, it is required that the duration between the date of application and the completion of registration does not exceed six months.
Individuals who desire to obtain an EntrePass are required to furnish a range of documents, which encompass a business plan written in the English language.
This business plan should encompass the applicant's profile, specifically focusing on their professional experience, track record in fostering the growth of startups, any accolades or acknowledgements bestowed upon them by reputable organizations or prominent national bodies, as well as their academic qualifications, among other pertinent details.
The comprehensive business plan should encompass essential components, including the business concept, the range of products or services provided, a thorough market study, and supplementary documentation such as certifications, licensing agreements, and endorsements.
The final segment should encompass the implementation strategy, encompassing financial predictions and a comprehensive overview of the management team.
It should be noted that there exist specific types of enterprises that are not eligible for an EntrePass.
The establishments encompassed within this category consist of coffee shops, hawker centres, food courts, as well as bars, nightclubs, and karaoke lounges within the food and entertainment industries.
Additional examples of practices that are deemed inadmissible include foot reflexology and massage clinics, establishments offering Traditional Chinese medicine and acupuncture services, herbal dispensing firms, providers of geomancy services, and recruitment agencies.
Skilled and Semi-Skilled Workers Pass
According to data sourced from the Ministry of Manpower, it was observed that as of the conclusion of the year 2017, there existed a total of 187,700 individuals classified as Employment Pass holders, 184,400 individuals classified as S-Pass holders, and 965,200 individuals classified as Work Permit holders.
This figure encompasses foreign domestic workers as well as workers employed within the construction business.
Individuals with intermediate levels of abilities, irrespective of their nationality, have the opportunity to submit an application for the S-Pass.
This particular work visa necessitates a minimum monthly salary of SGD 2,200, which is comparatively lower, and imposes less rigorous standards in terms of skills and academic qualifications.
The duration of validity for the S-Pass is a maximum of two years. However, in the event that the pass holder changes employment, it is necessary for them to through a new application process for obtaining a fresh permit.
It is mandatory for employers of S-Pass holders to furnish them with medical insurance coverage.
Similar to the requirements for Employment Pass holders, anyone holding an S-Pass and desiring to obtain a Dependent's Pass for their family members must meet a minimum income threshold of SGD 6,000 in order to be eligible.
It is important to acknowledge that the issuance of this particular work pass is contingent upon quotas established by the Singaporean government, which mandate that enterprises must employ a specific number of local personnel prior to the approval of work passes for their foreign employees.
The Ministry of Manpower (MOM) assesses both the employing organizations and their international applicants by considering factors such as the salary packages provided, the applicants' pertinent professional background, and their academic credentials.
Presently, the Singaporean government is actively promoting the recruitment of the domestic workforce and facilitating their access to enhanced training prospects and positions inside organizations.
This endeavour aims to establish a more favourable proportion, hence enhancing the prospects of Singaporean citizens in securing sustainable employment opportunities.
In contrast, those employed in the construction, manufacturing, processing, marine, or services industries from other countries are obligated to obtain a Work Permit (WP).
The issuing of Work Permits is contingent upon quotas set for the aforementioned industries, and companies are obligated to remit a monthly fee and offer medical insurance coverage for each employee.
The validity of work permits can extend up to a maximum of two years, contingent upon the duration of the worker's job, the validity of their passport, and the presence of a security bond.
There is no stipulated minimum salary prerequisite for those seeking to access the Work Permit (WP) scheme.
However, it is important to note that they are ineligible to apply for the Dependent's Pass, which would allow their family members to accompany them.
The Employment Act of Singapore provides coverage for all employees engaged in contractual services within the country.
This legislation outlines the fundamental terms and conditions that govern the working relationship between employers and employees.
This encompasses those engaged in full-time, part-time, temporary, and contractual employment arrangements.
Likewise, individuals employed from abroad who possess an Employment Pass, S-Pass, or Work Permit are subject to the Employment of Foreign Manpower Act, which delineates the employer's duties and commitments in relation to the employment of foreign personnel.
Students and Foreign Trainees Pass
In addition, Singapore offers work passes to foreign professionals seeking practical training at their respective corporate offices.
These passes are also available to students between the ages of 18 and 25 who aspire to engage in a combination of work and holiday experiences in Singapore.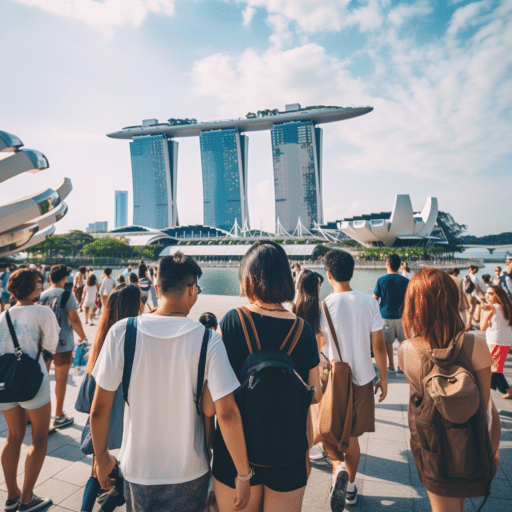 Furthermore, international trainees categorized as semi-skilled individuals are eligible for these work passes.
The Training Employment Pass is designed to cater to individuals from outside who are seeking to engage in training activities in Singapore for employment that are professional, management, executive, or specialized in nature.
The validity period of the Pass extends for a maximum duration of three months and is not subject to renewal.
Furthermore, it does not grant permission for the candidate's family members to accompany them in Singapore.
The Work Holiday Programme, administered by the Ministry of Manpower in Singapore, offers the opportunity for foreign undergraduate or graduate students between the ages of 18 and 25 to partake in a working holiday experience in Singapore.
Interested individuals may apply for the Work Holiday Pass to avail themselves of this opportunity.
In order to be eligible for the pass, it is required that undergraduate students have resided on campus and been enrolled as full-time students at the institution for a minimum duration of three months prior to submitting their application.
Individuals who have successfully completed their academic studies should have fulfilled the requirement of being both a resident and a full-time student at a university.
Students who meet the criteria for eligibility must originate from universities that are situated in and officially acknowledged by the governments of Australia, Germany, Hong Kong, Japan, New Zealand, Switzerland, the United Kingdom, or the United States.
The Work Holiday Pass program offers a limited number of 2,000 spots, granting successful applicants a non-renewable six-month validity period.
Conversely, those between the ages of 18 and 30 who possess Australian citizenship have the opportunity to get the Work Holiday Pass through the Work and Holiday Visa Programme.
Applicants are required to possess a minimum of a bachelor's degree or have successfully completed a minimum of two years of full-time undergraduate coursework at an accredited university.
The duration of validity for this specific Work Holiday Pass spans a period of 12 months. However, it is important to note that the Work Holiday and Visa Programme has a limited capacity, with only 500 positions available concurrently.
Dependent's Passes for One's Family
For the majority of individuals living abroad, the decision to move with their family is often deemed logical, particularly for those who have young children.
Numerous expatriates who have opted to remain in Singapore often highlight the pristine and secure environment, well-functioning public transit, and commendable educational systems as key factors influencing their decisions.
Individuals who own an Employment Pass or S-Pass have the opportunity to relocate to Singapore and, if desired, bring specific family members along by means of applying for a Dependent's Pass.
The Dependent's Pass is intended for the legally married spouse or unmarried children under the age of 21 of foreign workers.
It is required that the employer of the EP or S-Pass holder, or their chosen employment agent, submit the application on behalf of the dependents.
The validity period of the Dependent's Pass extends for a maximum duration of two years, correlating with the length of the employee's work pass.
Individuals holding a Qualified Dependent's Pass are granted the privilege to engage in employment within the jurisdiction of Singapore.
Individuals whose partners possess an Employment Pass, EntrePass, or Personalised Employment Pass may be eligible to get a Letter of Consent, enabling them to engage in employment within Singapore, provided they secure a suitable job opportunity in the country.
Dependents of S-Pass holders are obligated to submit an application for either a Work Permit S-Pass or an Employment Pass and must satisfy all the necessary eligibility conditions associated with these passes.
Upon obtaining an Employment Pass or S-Pass, individuals are obligated to terminate their Dependent's Pass.
Individuals who are dependents of S-Pass holders who choose to apply for a Work Permit should be aware that the duration of their Work Permit is dependent on the validity of the original S-Pass holder's permit.
Individuals who have an appropriate Employment Pass or S-Pass and desire to have their common-law spouse, step-child, or disabled kid accompany them in Singapore may consider applying for the Long Term Visit Pass (LTVP).
Parents can also accompany them using the same permit, provided that their monthly salary exceeds SGD 12,000.
Similar to the Dependent's Pass, the Long-Term Visit Pass (LTVP) application for the original Employment Pass (EP) or S-Pass holder must be initiated by their employer or a designated employment agent.
The Long-Term Visit permit (LTVP) is contingent upon the duration of the primary work permit, with a validity period of up to two years. It is possible to apply for a renewal of the LTVP six months prior to its expiration.
To access additional information regarding Singapore's work passes and permits for foreign individuals, kindly go to the official website of the Ministry of Manpower at http://www.mom.gov.sg/passes-and-permits.
How to Find Work in Singapore as an Expat?
When considering engaging in job search activities in Singapore, it is important to anticipate encountering significant competition.
According to the Ministry of Manpower (MOM), the services industry employed a total of 786,000 foreign workers in December 2017.
Additionally, the construction and manufacturing sectors employed 333,000 and 243,000 foreign workers respectively.
The finance sector in Singapore attracts a significant proportion of foreign professionals, with a notable influx from countries such as the United States, Australia, the United Kingdom, and many European nations, who seek employment opportunities in this field.
A significant number of prominent global financial institutions have made the strategic decision to establish a strong foothold in the Asian region, opting for Singapore as their preferred headquarters.
The demand for information technology expertise remains high in Singapore due to its consistent ranking in technical innovation.
The tourist and hospitality sector in Singapore is highly appealing, mostly driven by the country's exceptional image as a prominent location for sightseeing and the internationally acclaimed Singapore Changi Airport, which serves as the nation's gateway to global connectivity.
Singapore is renowned for having a highly active shipping industry, which ranks among the busiest globally.
The website of the Ministry of Manpower provides an online Self-Assessment Tool (SAT) that enables companies to assess if their overseas applicants meet the necessary requirements for obtaining the appropriate work pass.
Several Singaporean expatriates who have utilized the SAT instrument have attested to its accuracy.
In the event that the SAT results suggest the candidate's ineligibility, it is recommended that employers refrain from submitting the Employment Pass application to the Ministry of Manpower (MOM).
However, in the event that the SAT indicates that the candidate meets the criteria for a work pass, it is likely that a significant proportion of the applications will be granted approval.
It is evident that due to its exclusive online nature, the SAT fails to consider the unfavourable academic records of an individual or the questionable reputation of a firm.
Final Thoughts
You will never go wrong to consider working in Singapore as an expat.
Singapore's strong economy, efficient public transit, and high-quality living standards make it an appealing destination for professionals seeking professional advancement and a cosmopolitan environment.
However, the high cost of living, competitive labour market, and stringent laws for international workers all provide challenges.
Expatriates frequently find a safe and culturally diversified living environment in Singapore, benefiting from the best parts of both Asian and Western cultures.
Finally, deciding to work as an expat in Singapore requires balancing the advantages and cons, and for many, it results in a transformative experience with various prospects for personal and professional development.
Pained by financial indecision? Want to invest with Adam?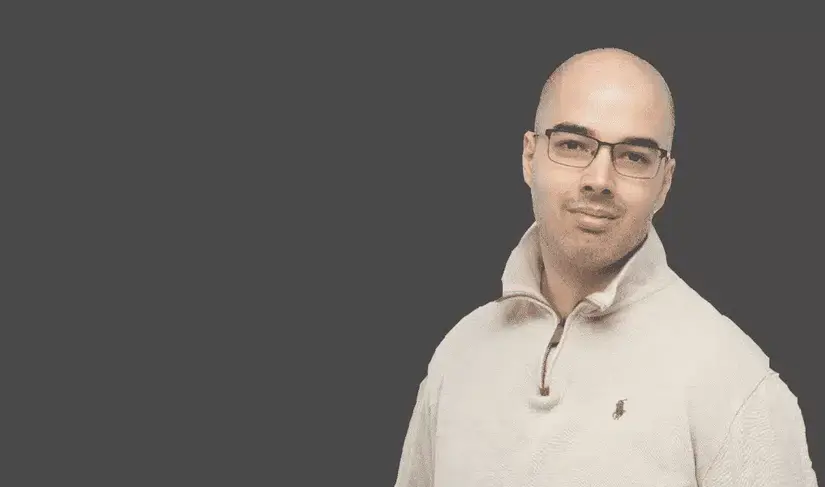 Adam is an internationally recognised author on financial matters, with over 694.5 million answer views on Quora.com, a widely sold book on Amazon, and a contributor on Forbes.