16 Best Places To Invest In Real Estate In UAE
If you are looking to invest as an expat or high-net-worth individual, which is what I specialize in, you can email me (advice@adamfayed.com) or use WhatsApp (+44-7393-450-837).
Introduction
Buying property in the UAE is now comparatively simple. Consequently, this article covers some of the best places to invest in real estate in UAE in 2022.
The United Arab Emirates' real estate market has grown significantly during the past several years. As a consequence, both domestic and international investors have more options to invest. Investors have a wide range of regions to pick from around the nation.
The coronavirus pandemic's impacts are starting to wear off on the UAE real estate market. Government measures like the extension of the 10-year "golden visa" program and other programs are to blame.
Experts predict a significant rebound in the real estate market. Most likely in the 18 months that follow, given how governments have responded to the epidemic and how far investors have been pushed.
The appropriate location is crucial to real estate investment since it can influence the future ROI you might anticipate. Here are the 16 best places to invest in real estate in UAE.
16 Best Places To Invest In Real Estate In UAE
1. Palm Jumeirah, Dubai
Palm Jumeirah is a highly sought-after destination for property investment in the United Arab Emirates.
This palm-tree-shaped archipelago is the world's biggest man-made archipelago. Palm Jumeirah is a two-kilometre-long trunk, 17 fronds, and a surrounding crescent on the Arabian Sea shore.
The trunk is lined with high-rise condominiums, while the fronds are bordered with glamorous villas and townhouses. Almost every house in the neighbourhood offers amazing ocean views and private beach access.
Living in Palm Jumeirah is a magnificent experience that no one should pass up. These distinctive man-made islands also include a variety of public amenities, including schools, hospitals, pharmacies, supermarkets, gourmet restaurants, and stylish cafés.
Palm Jumeirah offers a variety of stylistic options. Modern luxury villas, classic Arabic-inspired style residences, high-tech villas, elegant holiday homes, and world-class apartments are all available. Rental costs in this region are among the highest in Dubai, with a 3.2% ROI for villas and a 5.5% ROI for flats.
2. Jumeirah Village Circle, Dubai
Jumeirah Village Circle is still very well-liked among investors, which is not surprising given its fantastic position adjacent to Jebel Ali and the Dubai Marina. The average price of a one-bedroom apartment in this area is AED 740,000, while the average price of a two-bedroom apartment is AED 1.1 million.
3. Dubai Marina, Dubai
The most popular region in Dubai to buy flats is Dubai Marina. It is a precisely built artificial canal that runs for 3 kilometres along the Persian Gulf coast. The neighbourhood is recognised for its spectacular towers and is one of the best places to invest in real estate in UAE and one of the most exclusive areas to reside in Dubai.
The flats in the region provide exquisite amenities and cutting-edge technology. Most of the buildings offer fantastic views of the ocean. Tourists visit the neighbourhood because of the abundance of upscale restaurants, fashionable pubs, and shopping complexes.
A resort-style lifestyle awaits you if you live in Dubai Marina. Because it is close to the commercial sector, it is ideal for young professionals and small families.
Despite being an expensive area, Dubai Marina has something for everyone. Villas, two-bedroom apartments, and penthouses can be fairly pricey, while studio flats are reasonably priced. Investors may earn a 6.6% ROI on apartments in Dubai Marina.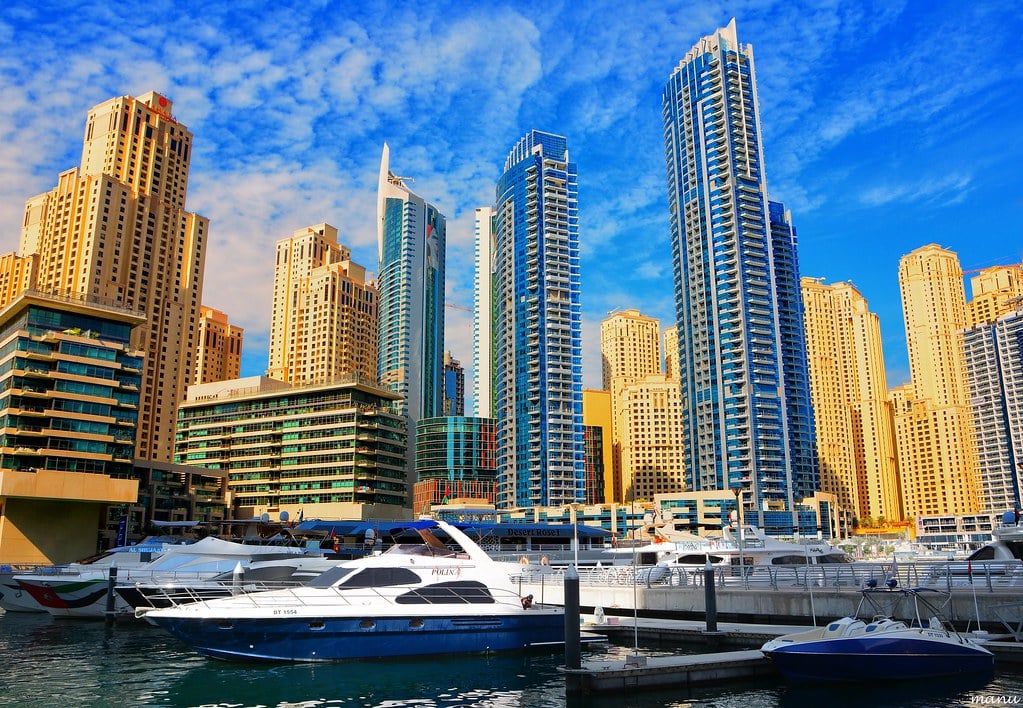 4. International City, Dubai
International City is a desirable community with homes, tourist attractions, and companies. It is well known for providing a very high rate of return. A typical price for a one-bedroom apartment is AED 305,000, while a two-bedroom often sells for AED 520,000.
5. Tilal City, Sharjah
This 25 million square foot mixed-use project has a total area. Emirates Road E611 is where Tilal City is situated. It is the first master-planned city in Sharjah and was created to promote a healthy sense of community.
If you're wondering what makes this development one of best places to invest in real estate in UAE, read on. Everything you need to know is provided here. Residential, business, entertainment, and retail are the four primary sectors of Tilal City.
The development is anticipated to produce a ROI of up to 10% with both freehold and leasehold options.
The plots for sale are not subject to any community or upkeep fees. In addition to residential real estate, you may also invest in land with mixed uses. Tilal City offers residential plots for as cheap as AED 500k. In Tilal City, a mixed-use block of land may cost more over 1.1 million AED.
A region's appeal as a place to reside and make investments is significantly influenced by the amenities present there and nearby. The Tilal City master plan is among the Best Places to Invest in Real Estate in Sharjah by 2022, along with the locations mentioned above.
Additionally, it offers a lot of room for amenities and conveniences for a good living. There are complicated retail belts, individual businesses, a mega-shopping center, as well as other establishments.
Investors will find heaven at Tilal City. You have a one-of-a-kind opportunity to purchase land in Sharjah thanks to this unique development. and to construct your ideal house there. In Sharjah, international investors may lease land for 100 years while GCC citizens may purchase it free and clear.
6. Al Reef, Abu Dhabi
Al Reef lies on the fringes of Abu Dhabi, close to Abu Dhabi International Airport, and is ideal for commuting to Dubai. Al Reef's rising popularity is due in part to its excellent location. It was the first development that was only aimed at middle-income workers.
As a result, living in Al Reef may be less expensive than in other districts of Abu Dhabi. Expats of various nations and Emiratis make up the community.
Al Reef is a bustling neighbourhood with a wealth of entertainment, eating, and shopping opportunities, making it a popular choice for young tenants and investors.
Parks, educational institutions, health clubs, and medical facilities are all abundant in the neighbourhood. Investors have a selection of flats, townhouses, and villas.
The villas and townhouses were built in a variety of themed architectural designs, such as Arabian, Dessert, Mediterranean, and Contemporary styles. For villas, the return on investment is 7.1%, whereas for flats, it is 8.6%.
7. Al Majaz, Sharjah
Along the Buhaira Corniche lies the lively neighborhood of Al Majaz. Due to its stunning and tranquil views of the pristine lake, it is well-liked by both tenants and investors. One of the most sought-after neighborhoods in the city right now is this one that is expanding. It is well-developed, serene, and welcoming to families.
There is a lot of open space in the area where residents may engage in outdoor activities. On the land are schools, nurseries, grocery stores, dining establishments, and retail malls.
Residents of Al Majaz are surrounded by tourist attractions because the city is mostly a vacation spot. Mamzar Beach, the Eye of the Emirates, and the Al Majaz Waterfront are a few examples.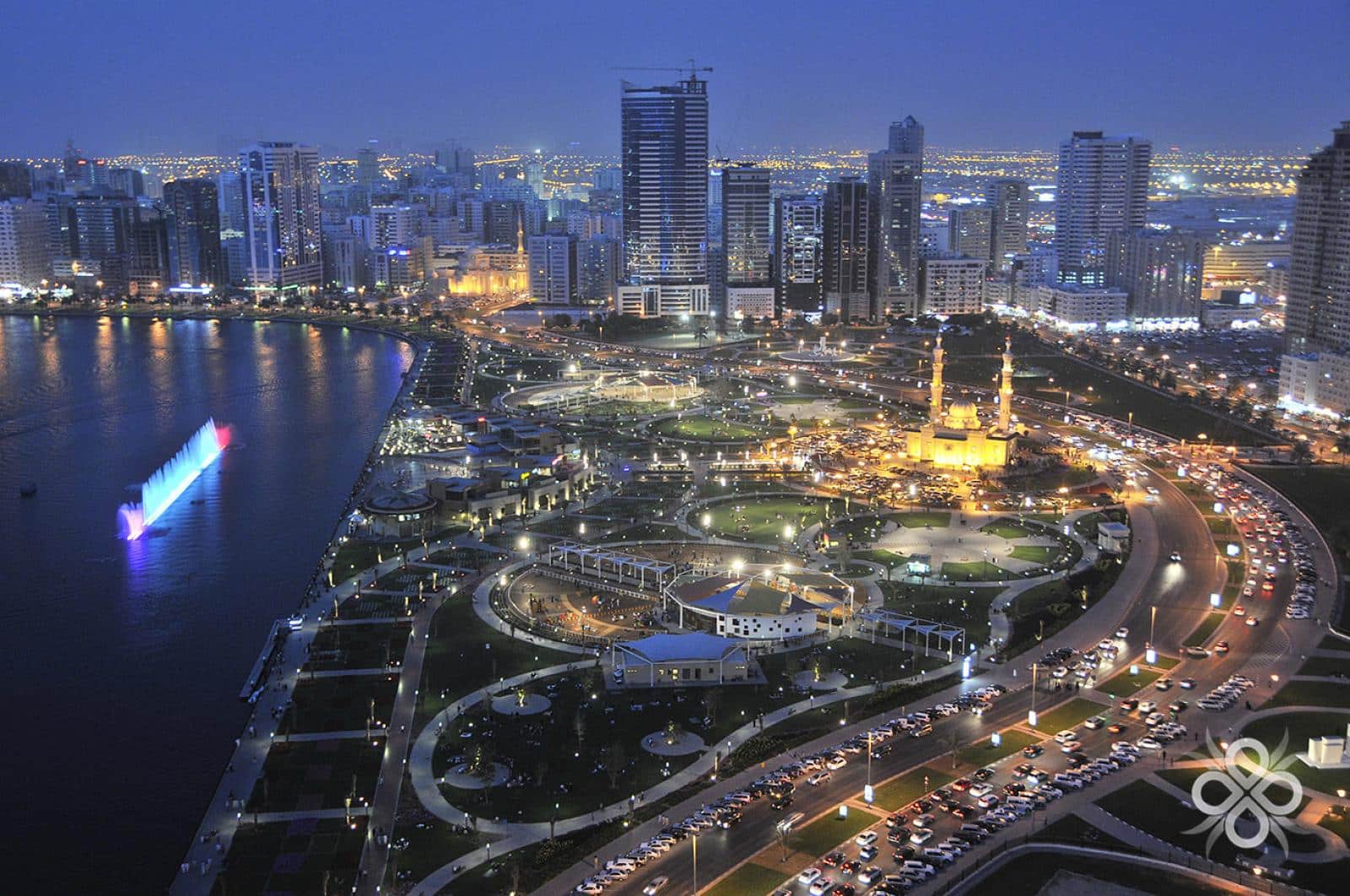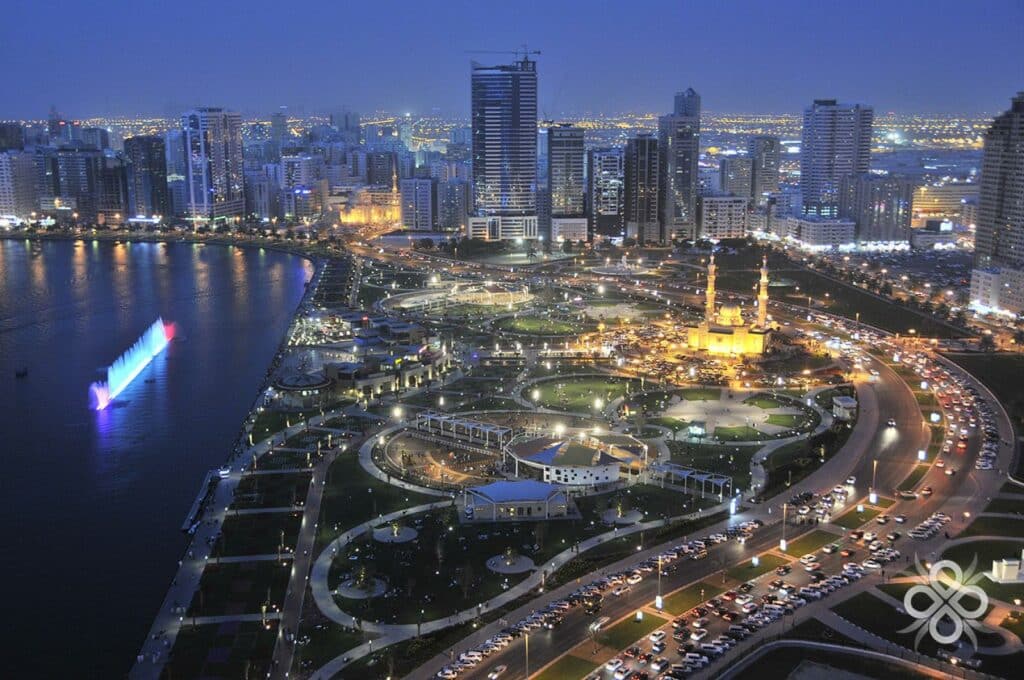 8. Business Bay, Dubai
A great development with a well-equipped infrastructure for boosting enterprises, commerce, and opulent living, Business Bay, Dubai is located in the center of Dubai.
Due to its special position near to the DIFC, freehold regions (where foreigners may purchase and rent property in Dubai), and the Burj Khalifa, the highest structure in the world, it is an excellent site for investment in Dubai.
If you're searching to buy or rent a commercial office, Business Bay in Dubai boasts over 240 furnished towers with either shell and core or semi-fitted offices in cutting-edge structures with excellent services. In addition, the majority of the towers provide exquisite garden villas, penthouses, and residential flats for rent and sale.
9. Al Khan's, Sharjah
Al Khan is well-known for being one of the best places to invest in real estate in UAE, Sharjah's most prominent waterfront neighborhood, and one of the oldest communities in the city. Rental prices there are greater than in other parts of the city due to its closeness to Dubai. Expats can choose from a variety of sizes and styles of high-rise and mid-rise luxury apartment buildings.
It does, however, come with all the greatest facilities. There are several supermarkets, schools with foreign curriculum, and reputable clinics are easily accessible. There are also many of recreational, shopping, and outdoor activities there.
10. Yas Island, Abu Dhabi
In Abu Dhabi, Yas Island is a thriving entertainment attraction. It is 30 minutes from the capital's core and has several tourist attractions, including Yas Marina, Viceroy Hotel, Yas Mall, Yas Waterworld, Yas Marina Circuit, and Ferrari World. Tourists, investors, and renters flock to this man-made island.
In fact, it is one of the best places to invest in real estate in UAE and one of the most popular destinations for Emiratis and expats in Abu Dhabi. Sports events and live performances are held in the region, including the well-known Abu Dhabi Grand Prix. It also has some of the greatest restaurants and hotels in the UAE.
Yas Island is regarded as Abu Dhabi's hub of luxury. The flats are furnished with top-notch facilities, and the villas are luxurious. Even though it is regarded as the most opulent neighbourhood in Abu Dhabi, the real estate there is a mix of expensive and reasonably priced.
It is simple to understand why it draws a lot of investors when you consider its long-term potential. On Yas Island, you can anticipate a return on investment of 5.1% for villas and 6.6% for flats.
11. Al Mamsha, Sharjah
Al Mamsha is a great place to start if you're a local or a foreigner in the UAE looking to acquire inexpensive Sharjah apartments. For as low as AED 330k, a lovely studio apartment is offered in Al Mamsha. Starting at AED 740k is a two-bedroom premium apartment.
Al Mamsha is a bustling Sharjah urban development district. It combines contemporary recreational and retail aspects with modern living. You may find a whole new range of Sharjah apartments for sale at this location.
The area also has unique neighborhoods, shopping centers, and entertainment hubs. These things are all factors in creating a desirable living space.
Sharjah International Airport is conveniently close to Al Mamsha in Muwaileh. It is without a doubt one of of best places to invest in real estate in UAE. The property is conveniently located close to University City.
This is where Skyline University College, American University of Sharjah, and other significant Sharjah universities are located.
Although the location is excellent, the property also offers a wide variety of community features and activities. You may have access to a variety of items by investing here.
For instance, shops, theaters, nurseries, educational institutions, and kid-friendly play areas. Swimming pools, cutting-edge gyms, and health club amenities are also available.
Everybody may find a house in this Muwaileh neighborhood, which offers contemporary and high-quality alternatives. Non-GCC people may acquire long-term rented properties in Al Mamsha, but only GCC nationals may purchase freehold apartments there.
The property provides opulent 1, 2, and 3-bedroom apartments. Additionally, studio apartments are available in a range of floor designs to accommodate the various demands of Sharjah real estate purchasers. If you're looking to make a greater investment, Al Mamsha has duplex apartments with two and three bedrooms that include gardens and private patios.
12. Downtown Dubai, Dubai
Due to the Burj Khalifa, the world's tallest structure, Downtown Dubai may be the most recognizable area in Dubai.
The area, which is referred to be the epicentre of luxury in Dubai, is just 10 minutes from Dubai International Airport and five minutes from the Dubai International Financial Center.
Its desirable position has made it a well-liked place to live, work, and have fun. The area draws residents as well as visitors from all over the world.
Living here means living in luxury since there are opulent malls, fine dining establishments, hip coffee shops, business centres, and state-of-the-art medical facilities.
Investors have the choice to invest in condominiums, penthouses, flats, and villas. The entire property is designed in a variety of architectural styles, each with its own distinctive features, such as contemporary villas and apartments with Middle Eastern influences.
The ROI for flats in Downtown Dubai is known to be approximately 5.6%, and property values there are highly stable and unchanging.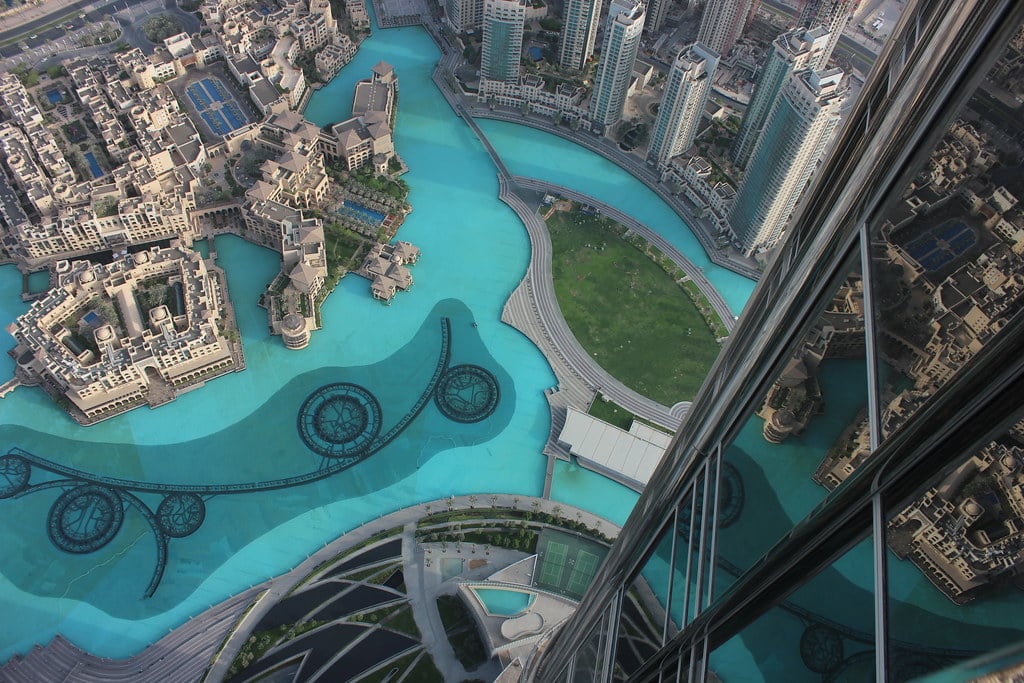 13. Al Taawun, Sharjah
Along the Dubai-Sharjah border, in the vibrant district of Al Taawun, there are beautiful waterfront residences.
Apartments for sale and rent are available in a number of mid- and high-rise buildings in this region. Most apartment buildings have shops and supermarkets on the ground floor.
Real estate investors and foreigners alike like visiting there. Despite being in demand, the area's apartments are nonetheless affordably priced and suitable for families.
Additionally, the area offers a lively street life and a healthy outdoor lifestyle. Families or individuals who like to live in small towns can consider Al Taawun.
14. Saadiyat Island, Abu Dhabi
Saadiyat Island is one of the best places to invest in real estate in UAE because of its breathtaking position. The region is referred to as the cultural centre of the city and is home to the Louvre Abu Dhabi as well as various international art shows.
For individuals who like stunning architecture, art fairs, and interesting museums, the neighbourhood is ideal. The neighbourhood is made up of foreigners, couples, and young families. Villas and flats are both available as completed homes as well as off-plan investments.
Even though this development is one of Abu Dhabi's newest, it offers a wide range of services, including supermarkets, churches, mosques, nurseries, and schools. On Saadiyat Island, the ROI for flats is around 8.7% while for villas, it is 4.6%.
15. Al Jada, Sharjah
This is one of the best places to invest in real estate in UAE. A 2-bedroom property in Aljada, for instance, costs less than AED 120k. For those of you who aren't interested in purchasing townhouses in Aljada.
Another enticing choice is the wide range of Aljada flats for sale. It is close to University City and the Sharjah Airport International Free (SAIF) Zone. It has become Sharjah's leading location for purchasing real estate.
Expats have successfully attracted Sharjah real estate, one of the Best Places to Invest in Real Estate in 2022, to this distinctive urban area. It does so because it offers a great mix of employment opportunities, entertainment, shopping, leisure activities, and living circumstances.
With services and facilities that support a stress-free way of life, this region is created for stress-free living. The area's buildings include mosques, clinics, outdoor sports venues, libraries, civil defence centers, post offices, hotels, and even offices.
As a foreign investor, you have access to all you need in this luxurious, half-completed neighbourhood to make sure your real estate investments optimize profits.
Aljada by Arada encourages an active way of life and offers luxurious living at a reasonable cost. By investing in high-end flats, townhomes, villas, or penthouses, you may diversify your real estate portfolio.
The starting price for studio flats in Aljada is AED 230k. The starting price for a two-bedroom apartment in Aljada is AED 670k. Villas for sale in Aljada begin at 1.2 million euros, while a three-bedroom flat would cost you at least 1.2 million AED.
16. Al Qasimia, Sharjah
Al Qasimia is named after the royal dynasty that has ruled Sharjah from 1600 AD. It is one of the best places to invest in real estate in UAE for foreign residents. Families and single people can both live in inexpensive flats in the area.
The flats are generally furnished with top-notch facilities and services. large bedrooms, parking, and security measures, for instance. Al Qasimia is home to a large number of shopping centers, shops, schools, and hospitals.
It is surrounded by a friendly neighborhood and tourism destinations. such as King Faisal Mosque, Al Majaz Waterfront, and Sharjah Beach.
Final Thoughts
The best places to invest in real estate in UAE now are the Aljada, Tilal City, and Al Mamsha projects. Anyone wishing to purchase a luxury apartment in UAE or any other type of property should consider those projects.
The market is really optimistic. For investors looking for more substantial residential properties, UAE's best villa communities provide a wide selection. Numerous residences there provide great returns on investment.
Pained by financial indecision? Want to invest with Adam?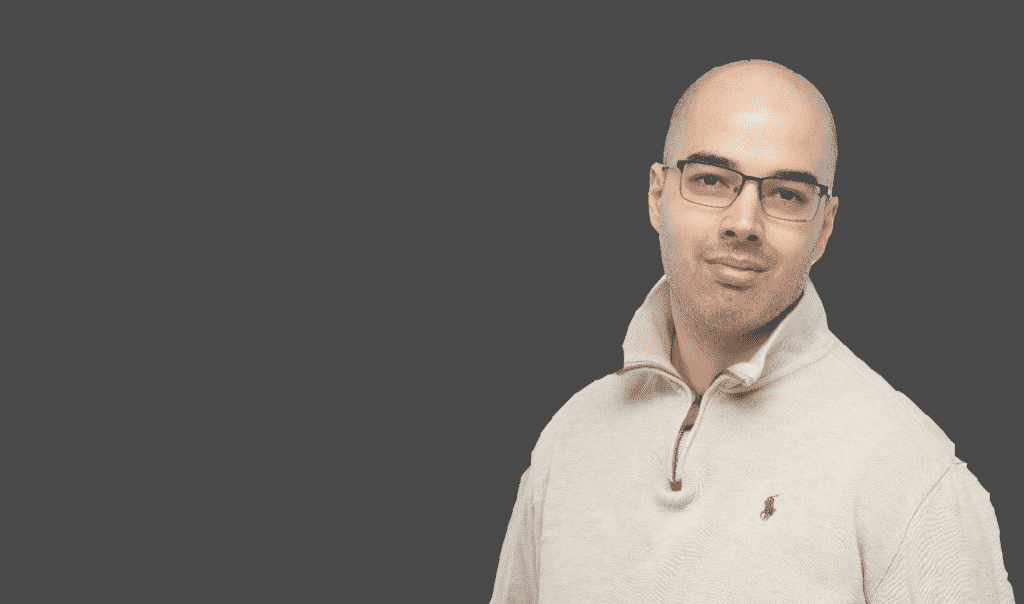 Adam is an internationally recognised author on financial matters, with over 496.3 million answers views on Quora.com and a widely sold book on Amazon