25 Best International Schools In Indonesia
If you are looking to invest as an expat or high-net-worth individual, which is what I specialize in, you can email me (advice@adamfayed.com) or WhatsApp (+44-7393-450-837).
The best time to invest, as a parent or teacher, is when you are moving countries.
You can also receive our free beginners guide for expat teachers to invest whilst living overseas by clicking here.
Introduction
When selecting the best international schools in Indonesia, parents must take a lot of factors into account.
It goes without saying that a child's education plays a significant role in determining their future, so parents may have particular standards when determining which school is best for their children.
Some parents may desire for their kids to pick up a new language, find a hidden talent, or focus their energies in extracurricular activities like sports and the arts.
25 Best International Schools in Indonesia
1. Green School Bali
The Green School, located close to Ubud and surrounded by lush green jungle, has developed its own distinctive curriculum using international best practices that have been proven through research. It is one of the best international schools in Indonesia.
It is specifically made to impart Green School knowledge through practical, outside experiential learning opportunities. By raising the bar for young people's environmentally friendly behaviors, the school hopes to inspire sustainability in education around the globe.
Pre-K through Year 12 students can take Bahasa Indonesia, while students in middle and high school who have completed the Bahasa Indonesia requirements can take Spanish or French. The average student population at the school is 520, and the maximum class size is 15 to 22.
Sports, gamelan, art, music, sports, Balinese dance, gymnastics, and surfing are examples of extracurricular activities offered by the BSSA.
For parents who would like a quiet place to work while their children are in school, the school also provides a coworking space called The Bridge with WiFi and collaboration spaces.
For the youngest students, tuition and fees range from IDR 167,000,000 to IDR 333,000,000, which covers tuition and instructional materials. Uniform wear is optional for students. Students from Bali can apply for scholarships.
2. Canggu Community School (CCS)
In the center of Canggu's thriving expat neighborhood is Canggu Community School, one of the best international schools in Indonesia. The International Baccalaureate Diploma Program and IGCSE are the results of student learning from Pre-K through Year 12.
The brand-new Junior School campus is outfitted with a 25-meter swimming pool, playgrounds, a soccer field, and an open-air canteen. 350 students attend CCS, and classes typically have 20 students. Additionally, there are many options for after-school activities, such as surfing classes, art, sports, and music programs, a coding club, Model UN, GIN, and TED Club, among others.
Up until Year 6, Bahasa lessons are required, after which students have the option of taking French or Spanish classes. Tuition and the capital levy are included in the fees, and there is also the option to apply for a scholarship.
Uniforms are required, and a warm and welcoming parental support group called FOCCS hosts numerous fundraisers all year long.
3. Australian Independent School (AIS)
The Australian Independent School, which opened its doors in 1996, provides a comprehensive Australian Curriculum (AC) for students in Preschool through Year 10. The school is one of the best international schools in Indonesia.
Senior students in Jakarta or Bali have the option of pursuing the International Baccalaureate Diploma program or finishing a Senior Certificate.
A 25-meter competition-standard swimming pool, a field for soccer, hockey, and rugby, as well as an 850 square meter multi-purpose court for basketball, netball, Taekwondo, hockey, volleyball, indoor cricket, badminton, and tennis are just a few of the top facilities available in Central Denpasar.
Additionally, there is an amphitheater, a cafe, a canteen, a library, science labs, play areas, and areas specifically dedicated to music, art, and drama.
That's not all, though. AIS also provides a wide range of extracurricular activities, such as art, sport, and dance classes, in addition to a wide range of educational options (anyone up for a coding class?).
Averaging 16 to 22 students per class, scholarships are offered. All subjects are taught in English, with the exception of Indonesian Studies, which is taught in the Indonesian language.
Japanese, French, Spanish, Korean, and Italian are among the language options available in secondary education. Tuition, a capital levy, and uniforms are all part of the fees.
4. Bali Island School
One of the oldest schools on the island was established in 1985 and is located in Sanur. It is accredited by the Council of International Schools (CIS) and the Western Association of Schools and Colleges, and is authorized by the International Baccalaureate to offer the Primary Years, Middle Years, and Diploma Programmes from Preschool to Grade 12. (WASC).
An expansive library, two sports fields, a 25-meter swimming pool, and a campus with a decidedly Balinese feel are just a few of the amenities.
There are 20 students in each class, with a total enrollment of 250. A variety of free after-school activities are available, including arts, lego, theater and drama, brain games, dance, and swimming to start.
School days last from 7:45 am to 2:45 pm. While there are scholarships available and uniforms are required from kindergarten through year 10, fees include tuition.
5. Dyatmika School
The Dyatmika School, located in East Denpasar near Sanur and Ubud, is accredited by the University of Cambridge International Examinations Board and uses internationally renowned exams and certifications. The school is one of the best international schools in Indonesia.
The best bilingual school in Bali (and largest international school) is Dyatmika, where classes from Primary Prep through Grade 5 are taught by one foreign teacher in English and one Indonesian teacher in that language.
Both languages are used for teaching science, math, and social studies. The school has a variety of spaces for teaching and learning, including music studios, sports facilities, science and computer labs, libraries, a playground, grassed playing fields, a sports hall, a yoga and dance studio, a canteen, and IT facilities in every classroom.
Parents also adore the sizable community garden, which frequently hosts pick-your-own-vegetable days, bazaars, and concerts featuring Balinese herbs and vegetables. Each class has a different number of students: playgroup has 20, kindergarten (TK) has 24, primary prep through Year 5 has 26, and Years 6–8 have 26.
Classes in Years 10–12 rarely have more than 15 students. Tuition, supplies, and admissions fees are all included, and uniforms are required for all students from Monday through Thursday.
6. Sanur Independent School
The Sanur Independent School, one of the best international schools in Indonesia, is a community-based learning center that offers a variety of educational programs from kindergarten through grade 7 that are based on the Australian Curriculum, Assessment and Reporting Authority (ACARA) and Cambridge Assessment International Education.
It is open to both international and local students. Registration, tuition, a capital and resources levy, as well as a short-term study program for international students, are all fees that are age-dependent.
7. Sunrise School
Children from 18 months to 14 years old attend The Sunrise School, a campus that places a strong emphasis on the community.
The school uses the British and international Early Years, Primary, and Middle Years Curriculums. Sunrise School, which is situated in the lush vegetation of Kerobokan, provides students with amenities like indoor and outdoor basketball courts, a grass field, a playground surrounded by green gardens, art studios, and a wide variety of after-school clubs, including arts and crafts, drama classes, cooking, basketball, badminton, soccer, science, singing lessons, guitar lessons, and EAL classes.
The school has a total enrollment of about 160 students, and classes typically have 10 to 20 students. Age affects the cost.
8. Gandhi Memorial Intercontinental School (GMIS)
A world school accredited by the International Baccalaureate (IB) that provides an international curriculum at a reasonable cost is The Gandhi Memorial Intercontinental School, located in Denpasar.
Wi-Fi, air-conditioned classrooms with Smart whiteboards, science and computer labs, a gym/multi-purpose hall, a library resource center, music studios, an arts and crafts room, and a canteen serving Indonesian, Chinese, Indian, Italian, and continental cuisine are all provided for.
GMIS offers instruction in Mandarin, Bahasa Indonesia, Hindi, and French in addition to the English that is used in the classroom. Sports and club activities outside of the classroom are also available in a variety. Age and year have an impact on fees. We need uniforms.
9. Lycée Français de Bali (French School Bali)
The French School in Bali, one of the best international schools in Indonesia, is hidden away in Kerobokan. LFB, which opened its doors in 1991, serves students in grades preschool through 12th grade.
It is recognized by the French Board of Education and collaborates with the Agence pour l' Enseignement Français à l' Étranger (AEFE).
LFB accepts students from 2 to 20 years old, whether they are native speakers of French or not, and prepares them for the French Baccalaureate, which when combined with TOEFL is a guarantee of uniform schooling and potential reintegration into any school system, whether in France or abroad.
There are many daily OPEX after-school activities that are optional and extra-charged. There are indoor basketball courts, a playground, a music room, a science lab, a library, and a computer room among the amenities.
Fees cover tuition, insurance, office expenses, school supplies, LFB sportswear (no other uniform is necessary), as well as out-of-pocket costs for field trips and other educational activities. French nationals are eligible to apply for scholarships.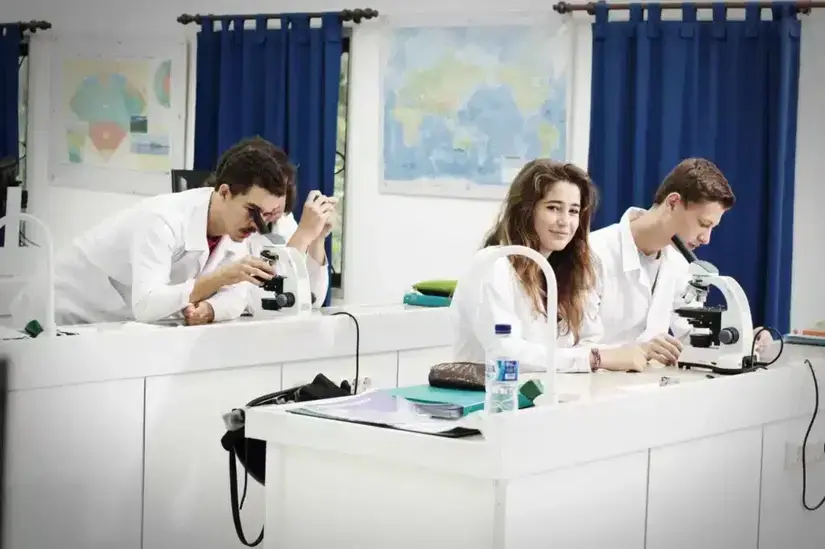 10. Montessori School Bali
From the age of six weeks to 15 years old, the Montessori School Bali provides special programs that support children's growth. Students are led down learning paths that are in line with their developmental stage and learning style.
These courses are taught by instructors who have received training from the Association Montessori Internationale, whose curricula incorporate elements like leadership, positive relationships, life skills, academic creativity, global citizenship, health and wellbeing, and experiential learning.
The campus building can house up to 280 kids and features traditional Balinese pavilion-inspired building designs that allow kids to move around freely while learning extends into nature. Large covered verandahs offer children plenty of space outside of the classrooms to work while protected from the sun and tropical rains.
Children in primary grades can participate in capoeira, Balinese dancing, choir, soccer, cricket, and other after-school activities. Age-appropriate fees start with infant programs and go all the way up to adolescent ones.
11. ProEducation School
Bali's ProEducation School is a distinctive international institution with a location in Umalas. It provides students from the age of five to nineteen with individualized instruction, a wide range of extracurricular activities, and on-site specialized support services.
Students at ProEducation School receive international accreditation through EdExcel, Primary School Achievement Test, IGCSE, and A Levels while following the British Curriculum.
For those with additional learning needs, ProEd can also offer the internationally recognized ASDAN curriculum as well as The Duke of Edinburgh's Youth Award, allowing for a customized schedule that builds on each student's strengths and addresses their individual needs.
There is a playground, an open pool on site, an open-air playing field, and a canteen among the amenities. Fees vary depending on grade.
12. School for the Blind (SLK) and Lollypop Preschool
Private Christian schools Sekolah Lentera Kasih (SLK) and Lollypop Preschool offer the National Indonesian Curriculum as well as the Cambridge Curriculum for Secondary, IGCSE, and A-Level.
In contrast to SLK, which offers primary, secondary, and junior college-level curriculum, Lollypop Preschool offers classes for toddlers, nursery, kindergarten, and children of preparatory age.
A 25-meter swimming pool, football field, playground, and library are among the amenities. Admissions are currently open for the academic year 2020–2021, and fees are dependent on age.
13. ACG School Jakarta
ACG School Jakarta (which is a part of the Academic Colleges Group), one of Indonesia's top international schools, takes pride in its qualified foreign instructors, purpose-built campus, and global education standards that both inspire and challenge students to reach their potential.
It offers an environment for inquiry-based learning that is as applicable to the "real world" outside of the school's walls as possible.
New families can take advantage of guided tours, and prospective students can sign up for a "student for a day" trial to get a feel for the ACG School Jakarta environment.
14. ACS Jakarta
Academic excellence is the goal of ACS Jakarta's education program, which is dedicated to upholding high standards. To help students reach their full potential, the school asserts that it represents each student's overall development.
The ACS educational philosophy is based on the notion that developing a child's character requires not only enhancing her mind, body, and spirit, but also her soul.
The educational program aims to promote the growth of empathy, consideration, respect, and openness. ACS offers extensive programs for, among other things, drama, sports, music, and the arts.
15. Bandung Independent School
Bandung Independent School is one of the best international schools in Indonesia with a long history, knowledgeable faculty, outstanding pupils, and solid ties to prestigious universities all over the world.
BIS students achieve excellent IB Diploma Program results and gain admission to top universities around the world, which is in line with the BIS mission, "through relevant, challenging and engaging programmes, we inspire every learner to become skilful and courageous, empowered to participate responsibly, successfully and with integrity in a global community"
16. British School Jakarta
British School Jakarta, one of the best international schools in Indonesia, provides top-notch educational opportunities that encourage students to be ready and well-equipped for the real world, in keeping with its mission to "inspire, challenge, and nurture for excellence."
BSJ is aware that students need to exhibit character, academic prowess, and a wide range of personal skills in order to be happy and successful after leaving school.
With the help of their team of qualified, committed teachers who provide both support and challenge, BSJ aims to incorporate the best international practices in teaching and learning.
The entire BSJ team is also urged to remember their motto of "continual improvement," which will enable a successful implementation of their guiding principles, such as the capacity to sustain its reputation for academic excellence, encourage students to be kind lifelong learners, and be widely acknowledged for its dedication to education for international partnerships.
17. Canggu Community School
Canggu Community School (CCS), which began as a class of ten students and two teachers in 2001, has expanded to become one of the area's most renowned international schools and recently graduated its first batch of IB diploma graduates with one of the highest averages in the world—35.
With their distinctive School-Wide Learner Expectations (SWLEs), which they use to gauge the success of their mission, CCS aims to shape its students into "confident, socially engaged, and globally responsible citizens." They expect their students to be academically excellent as well as effective communicators and socially responsible.
18. Deutsche Schule Jakarta
Deutsche Schule Jakarta (German School Jakarta) aspires to be one of the best schools in the archipelago with top-notch standards and holistic teaching strategies that will help students be "competitive in the age of globalization without having to deny their cultural roots."
Prior to the school-leaving certification exam, students must complete a 12-year academic program administered by DSJ that consists of primary level, secondary level 1 and secondary level 2. The school acts as a hub for cross-cultural communication and encounter.
The Standing Conference of the Ministers of Education and Cultural Affairs in the Federal Republic of Germany has granted Deutsche Schule Jakarta official recognition. Visit their website here.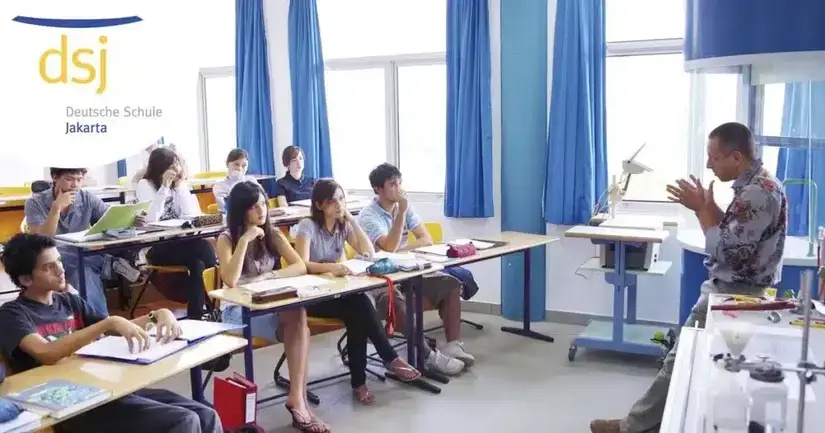 19. Global Jaya School
Global Jaya School (GJS), one of the best international schools in Indonesia, offers an international component to its curriculum that aims to ensure students take pride in and gain a solid understanding of local cultures and heritage. GJS offers three IB programs (Primary Years, Middle Years, and Diploma).
For Years 7 through 10, GJS offers dual language (English and Bahasa Indonesia) instruction in an effort to provide a well-balanced program that encourages excellent academic results while also supporting students as they engage in sports, leadership, and performing arts.
20. Ichthus School
"So that whoever comes will have a Transformed life"
The Ichthus School is renowned for its top-notch academics and education that places a strong emphasis on Christian values and character development.
The school supports entrepreneurship, sports and fitness, performing and visual arts, multiple intelligences, collaborative and cooperative learning, and community service.
The comprehensive and integrated Ichthus curriculum complies with the stringent requirements of numerous international standards, including those for ACSI and WASC accreditation.
The school's secondary curriculum is built around the International A Levels in Grades 11 and 12 and the Cambridge IGCSE in Grades 9 and 10.
21. Jakarta Intercultural School
The Jakarta Intercultural School (JIS), one of the best international schools in Indonesia, provides students with a global learning environment that prepares them for admission to the top universities in the world as well as for challenges in the real world.
With a student body of more than 60 different nationalities and a teaching staff hailing from 30 different nations, JIS has a multicultural community that fosters productive cooperation in the ongoing pursuit of learning that is consistent with the school's values.
JIS describes co-curricular programs that offer creative arts, student clubs, and athletics outside of the classroom, and service-learning is integrated into the curriculum.
22. LIFE School Jakarta (French Intercultural School of Jakarta)
The French Intercultural School of Jakarta (LIFE School Jakarta), one of the best international schools in Indonesia, has more than 350 students from 32 different nationalities and follows the French national curriculum for all grades (ages 3–17).
The school collaborates with the 535-school global network of the Agency for French Education Abroad (AEFE). There are more than 35 activities, 30 professional instructors, and 140 hours of activities available here after school.
The school prepares your kids for the English portion of the Baccalaureate, which opens doors to study at any university in the world. The outstanding outcomes in the Cambridge, IELTS, and Baccalaureate certifications attest to the high caliber of their instruction in modern languages.
23. Nord Anglia School Jakarta
The leading premium international school organization in the world, Nord Anglia Education, which has more than 60 schools worldwide, includes Nord Anglia School Jakarta.
The school in Jakarta provides Early Years and Primary students, ages 18 months to 12 years old, with a vibrant British international education. The school's friendly environment and lush campus in the center of Jakarta serve as a haven for their truly international community.
High expectations, key competencies, and knowledge and understanding are all emphasized in the blended curriculum used by NAS Jakarta, which is based on the English National Curriculum and the International Primary Curriculum.
It also promotes excellent learning attitudes and metacognition. As a Nord Anglia Education institution, the school only hires the very best foreign instructors to give the students meaningful learning experiences every day.
A curriculum that is current, in-depth, and rewarding is produced by their highly skilled and experienced international educators in combination with their excellent learning and teaching standards.
The institution's lifeblood is its incredible students. They represent the high aspirations of NIS as imaginative, creative, and enthusiastic young people who are hungry for knowledge.
The school is proud of the rich diversity of the school community, which includes families from over 30 different countries, and the school seizes every chance to celebrate the many cultures that are represented here.
24. New Zealand School Jakarta (NZSJ)
A close-knit neighborhood and international school, The New Zealand School (NZS) Jakarta is located in South Jakarta's Kemang district. NZS prioritizes students as the center of instruction and learning and views kids as complete human beings with academic, social-emotional, physical, and character-development needs.
The school's goal is to provide kids with the experiences and encouragement they need to develop into resilient, joyful young adults who are eager to learn, achieve, and be creative throughout their lives and who have the foundations necessary to find meaning in their later years.
To meet the educational needs of kids from 18 months (Pre-School) to 14 years old, the school uses the comprehensive New Zealand Curriculum, supplemented with other academic programs like the Cambridge International Curriculum (Grade 8).
The school's soon-to-be-opened Grade 9 class, which will develop into a high school through Grade 12 in the succeeding academic years, is now accepting "pioneers" for the 2020–2021 school year.
25. SIS Group of Schools
Learning in SIS, one of the best international schools in Indonesia, is all about motivating the student. Here, the school does not simply teach. Instead, in a holistic, nurturing environment, the teachers mentor, stimulate, provoke, and engage.
All children are innately curious; they just need to be motivated in ways that will help them identify their strengths and passions.
The school provides a homey atmosphere with a focus on academic achievement, but the school also enriches it with the arts and foreign languages to bring out the best in each student. At SIS, teachers don't just point out the way; they walk with the kids.
Respect, integrity, innovation, perseverance, and collaboration are five core values that SIS upholds, resulting in graduates who are prepared to face an uncertain future with courage and optimism, no matter what difficulties they encounter.
Pained by financial indecision? Want to invest with Adam?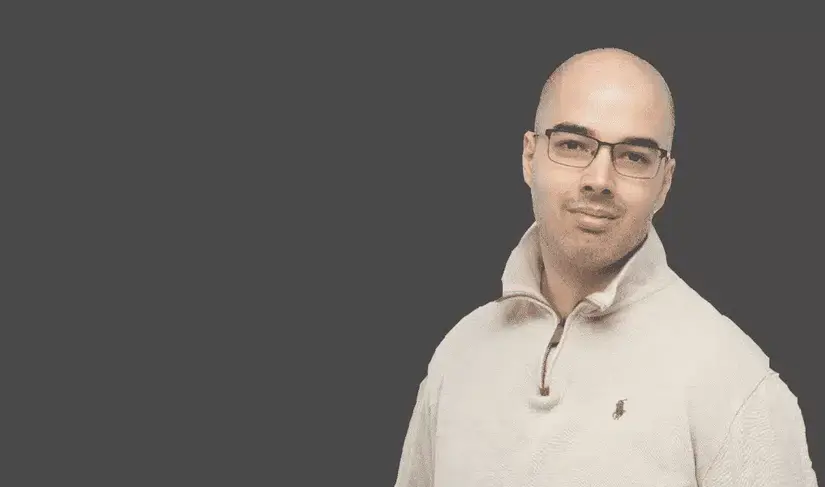 Adam is an internationally recognised author on financial matters, with over 668.9 million answer views on Quora.com, a widely sold book on Amazon, and a contributor on Forbes.
Tags
ACG School Jakarta
,
ACS Jakarta
,
Australian Independent School (AIS)
,
Bali Island School
,
Bandung Independent School
,
Best International Schools in Indonesia
,
British School Jakarta
,
Canggu Community School
,
Canggu Community School (CCS)
,
Deutsche Schule Jakarta
,
Dyatmika School
,
Gandhi Memorial Intercontinental School (GMIS)
,
Global Jaya School
,
Green School Bali
,
Ichthus School
,
Jakarta Intercultural School
,
LIFE School Jakarta (French Intercultural School of Jakarta)
,
Lycée Français de Bali (French School Bali)
,
Montessori School Bali
,
New Zealand School Jakarta (NZSJ)
,
Nord Anglia School Jakarta
,
ProEducation School
,
Sanur Independent School
,
School for the Blind (SLK) and Lollypop Preschool
,
SIS Group of Schools
,
Sunrise School