29 Best International Schools In India
If you are looking to invest as an expat or high-net-worth individual, which is what I specialize in, you can email me (advice@adamfayed.com) or WhatsApp (+44-7393-450-837).
The best time to invest, as a parent or teacher, is when you are moving countries.
You can also receive our free beginners guide for expat teachers to invest whilst living overseas by clicking here.
Introduction
The best international schools in India provide academic exposure for a global community. They typically serve children from both host country and expatriate households and are typically accessible in large areas.
British international schools are a popular choice for parents from the United Kingdom to send their children to, but there are also international schools connected to the United States, France, and Germany.
In order to define international schools, the International Association of School Librarianship (IASL) created the following criteria in 2009:
Children's education can be carried over to other foreign schools.
There is a community that is indeed in motion (more so than in state schools).
The student body is international and multicultural.
Students are instructed using a global curriculum.
Organizations that accredit schools around the world include the Council of British International Schools (COBIS) and the Council of International Schools (CIS) (CIS).
Schools don't have a strict admissions policy.
English is the primary or bilingual language.
20 Best International Schools in India
1. Ecole Globale International Girls' School, Dehradun
This School is without a doubt deserving of being at the top of the list of the best boarding schools for girls in Dehradun.
A Dehradun boarding school's support of the students and provision of a curriculum that is appropriate for 21st-century learners should be its top priorities. A student's needs are mandated by one of the best international schools in India, allowing their innate talents to shine.
They make use of innovation to comprehend the world outside the school grounds more deeply.
The provision of a secure environment for the students was a key factor in this school's success. The establishment of the training granted in the School's educational program is the key to having a discussion and remaining composed while doing so.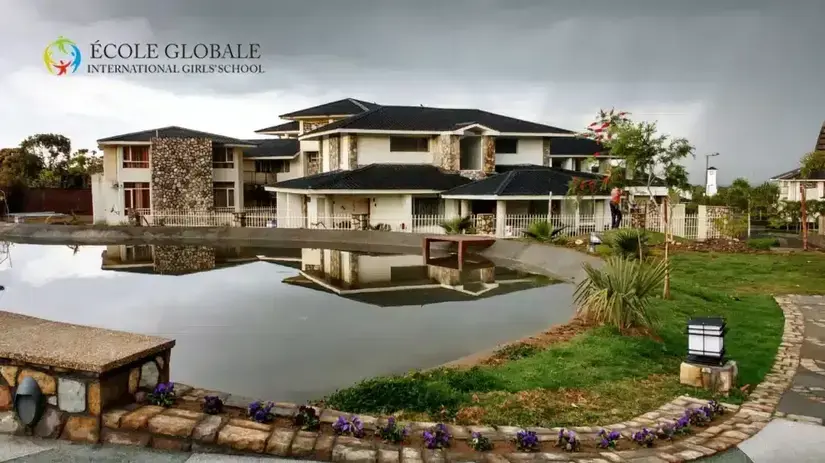 2. The Banyan Tree IB World School, Delhi
Since establishing Banyan Tree School in 1986, the Ram Krishan & Sons Charitable Trust has been at the forefront of exceptional education.
There are currently campuses for the renowned co-educational Banyan Tree School in Delhi, Lucknow, Jagdishpur, Chandigarh, Jaipur, and Bhopal.
A unique and innovative new education system is created by fusing cutting-edge learning strategies and concepts with a healthy dose of self-improvement, personal enlightenment, and a significant challenge.
Every aspect of the institution's operations embodies its educational motto, "In Pursuit of Excellence."
The most important objective of instruction, according to one of India's top international schools, is to inspire students to make positive lifestyle changes as they advance up the educational and informational ladder.
3. Pathways School, Noida
A group of international K–12 and preschool programs are offered in Delhi, Gurgaon, and Noida under the umbrella of The Pathways Group of Schools.
The Geneva-based International Baccalaureate Organization (IBOPrimary )'s Years, Middle Years, and Diploma Programs are all covered by the course outline.
When it comes to international schools in India, the school has made a name for itself and offers an outstanding curriculum.
In 2003, the first school to use the Pathways name was Pathways World School Aravali. It was the first day and boarding school in North India to offer the IB curriculum.
4. Manav Rachna International School, Delhi
One of India's top international schools stands out for its energizing atmosphere, technically gifted faculty, varied and innovative curriculum, and first-rate facilities (MRIS).
The excellent educational campaign started by MRIS's founder and visionary Dr. O.P. Bhalla, which has campuses in Faridabad, Noida, Gurugram, Ludhiana, and Mohali as well as some of the best CBSE school chains in the country, is truly being led by MRIS.
The educational institutions provide a safe environment for all children to learn in, allowing them to grow in a variety of ways.
At Manav Rachna International School, students are nurtured and supported through a unique synthesis of academic excellence, creativity, sports, theater classes, self-development, morals, and ethics.
5. The British School, Delhi
The British School is an international non-profit school located in Delhi's embassy district. The 58-year-old school improves the qualifications of both immigrants and the host community by utilizing the wonderful aspects of an affluent and historically diverse culture.
From EYFS through Year 9, they offer the School Curriculum of England, modified for an international setting, the IGCSE in Years 10 and 11, and the IB Diploma Course in Years 12 and 13. The school offers students from 66 different countries student-centered education in a dynamic environment.
Additionally, they are the first of the top foreign schools in India to be awarded a GRIHA five-star rating for their use of environmentally friendly building materials. utilizing wastewater recycling, recovery, and treatment; high-efficiency air conditioning units; renewable energy sources; double-walled construction for heat resistance. An air filtration system is present in every indoor space.
6. Dr. Pillai Global Academy, Mumbai
The Dr. Pillai Global Academy was founded by the Mahatma Education Society, a nonprofit organization committed to providing educational experiences with measurable outcomes.
Dr. K. M. Vasudevan Pillai founded the organization. He is a professor of education with 30 years of experience who is renowned for founding over 48 organizations, including schools, universities, professor training centers, and universities for architectural style, media, technology, telecommunications, and management studies.
Dr. Pillai founded one of the best international schools in India in the tranquil, seclusion-filled Gorai neighborhood of Borivali, in keeping with his mission of creating local acts that produce global options.
7. Rustomjee Cambridge International School, Mumbai
One of the best international schools in India has top-notch amenities to help students become better citizens. Excellent teaching strategies are used at this school to help students become better people.
The Cambridge Assessment International Education (CAIE) International General Certificate of Secondary Examinations (IGCSE) program, which is associated with the Rustomjee Cambridge International School, Mumbai (RCIS), an international co-educational institution founded in 2006, provides educational institutions with a competitive advantage on the global stage through an international perspective.
The school collaborates with renowned non-governmental organizations (NGOs), such as the Dignity Foundation, Goonj, and the Home for the Blind, to help students learn more about and support these causes. Visit the school website here.
8. Ecole Mondiale World School Mumbai
The International Baccalaureate offers four distinct educational programs for schools to select from (IB). A theoretically connected and unified instructional approach underlies all IB educational systems.
If the IB vision and mission are upheld, each program seeks to develop students through the characteristics of the IB learner profile. Continuum schools are institutions with at least three core programs on offer. École Mondiale World School, the only IB continuum school in Mumbai, offers four main programs.
They contend that the best schools encourage independent research and the growth of students' brains and behaviors into responsible adults. one that teaches kids the importance of self-reliance, intelligence, and diligence.
Students will find it easier to transition from primary to secondary school thanks to the education offered, which is that of one of the best international schools in India using the IB program structure. Parents may feel secure knowing that their children are receiving the best education possible.
9. Victorious Kids Educares, Pune
Victorious Kids Educares swears to produce exceptionally bright, informed, endearing kids who exhibit the spiritual qualities we all adore in kids. They also promise to teach them how to tackle problems head-on and find solutions.
At Victorious Kids Educares, one of the best international schools in India, the students, families, and teachers will all be employed as professional supervisors in 24 years.
They want to provide a top-notch education at the most affordable cost to middle-class families.
At this institution, students can study both the intellectual legacy of Vedanta and western science.
10. Indus International School, Pune
The Indus River flows through the Ladakh region of Jammu & Kashmir after rising at Lake Mansarovar on the Tibetan Plateau.
The name of the school was derived from the Indus River. One of the best international schools in India has top-notch amenities to help students become better citizens.
The school has a library with a sizable book collection. The library has a sizable collection of books on many different topics, from science and math to literature and the arts.
Additionally, it offers internet access to help students with their academic research. The school has a fantastic sports complex where students can take part in a variety of games and sporting events like football, cricket, etc.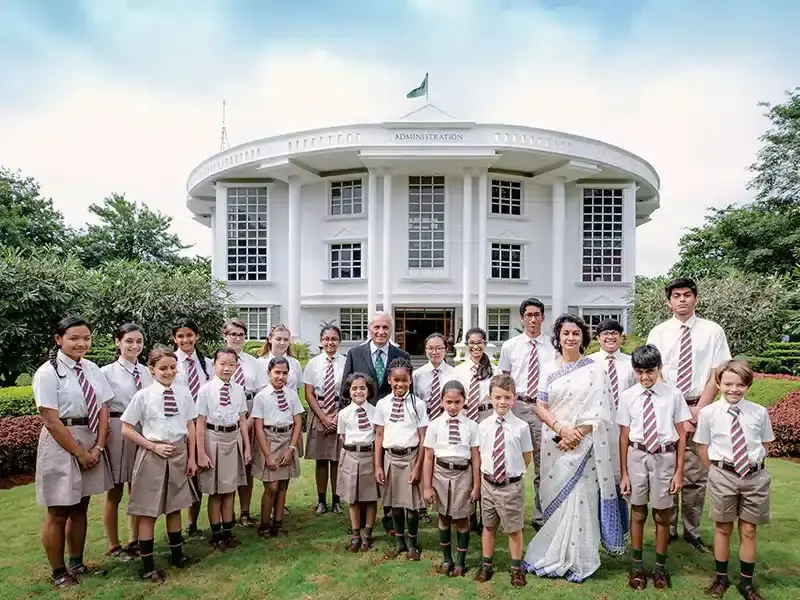 11. Treamis World School, Bangalore
One of the best international schools in India is Treamis. It is promoted by a variety of individuals with diverse backgrounds, including entrepreneurs, doctors, international educators, and executives in the information and biotechnology industries.
The curriculum is age-appropriate and child-focused, and it meets all students' academic and developmental needs.
Students' exploration and inquiry are used as a teaching strategy. Even though academics are the main focus, Treamis provides a robust curriculum that incorporates art, music, and sports.
The school provides the best curricula used in primary and middle schools all over the world. They provide options for Indian (CBSE) and Cambridge (IGCSE, International A Level) curricula in high school.
12. Ebenezer International School, Bangalore
The best co-educational, day, and residential school with top-notch modern amenities is EISB. The hallmark of EISB is providing excellent education in a comprehensive way while ensuring excellence in all areas of it.
The School is proving to be a change agent in the field of education. One of life's greatest challenges is molding the minds of young, impressionable people.
At EISB, the faculty wants to help their students develop into strong, open, discerning individuals with a global perspective, preparing them to make their mark in the global village that the modern world has become.
13. Greenwood High School, Bangalore
The Greenwood High International School is one of the best international schools in India and is ranked No. 3 in India, No. 1 in Karnataka, and No. 1 in Bengaluru. The top 20 ICSE schools in India according to a study.
The faculty at Greenwood High is highly qualified to give their students a broad and balanced course of study without compromising the fundamental morals and values of their culture. Along with 300 support staff, there are 250 experienced teachers in the administration.
14. JAIN International Residential School, Bangalore
The goals of JIRS include creating and delivering academic programs in cutting-edge fields that are pertinent to societal needs, equipping students with the knowledge, abilities, and mindsets they need to succeed as employees and business owners, fostering in them a sense of civic responsibility and high ethical standards, conducting research and development in key fields of national significance, and fostering and advancing intellectual discourse on issues that have an impact on humanity.
The school has a distinctive morning and evening schedule system. Besides the academic classes that start at nine in the morning. from a.m. to p.m.
Regular academic classes are held in all sections every evening from 5:00 to 8:00 with more than 70 teachers participating in lectures, exams, supervised study sessions, and remedial classes.
15. Neev Academy, Bangalore
One of the best international schools in India is Neev Academy. Since opening their preschools in 2005, they have been offering the Bangalore community a distinctive educational experience.
They established Neev Academy in 2011, and they're pleased to announce that it is an IB continuum school that offers the Primary Years Programme, Middle Years Programme, and Diploma Programme (PYP, MYP and DP)
16. Stonehill International School, Bangalore
As an IB World School, Stonehill International School is pleased to provide all three IB programs: the PYP, MYP, and DP.
Each student is challenged by the school to realize their full potential as a learner, a seeker of knowledge, a critical thinker, a risk-taker, and a communicator, as well as to be morally upright, compassionate, fair-minded, balanced, and self-reflective in everything they do.
In a welcoming, small-school setting, Stonehill International School provides an IB education while encouraging each student's pursuit of individual excellence.
The school offers boarding as well as day programs. The school is among the best international schools in India, they can proudly proclaim.
17. Candor International School, Bangalore
The first group of students entered Candor International School Bangalore in August 2011, and since then, the school has rapidly expanded.
Fourteen devoted educators and other professionals labored arduously to make sure that the school's first academic year began on August 1, 2011. The building process started in December 2010.
The young businessperson's dream came true. Today, Candor has staff and students from 18 different nationalities and is an authorized IGCSE and IB school in Bangalore.
18. The International School, Bangalore
TISB offers an international education while being located in an ideal Indian environment. Along with an all-encompassing intellectual, social, emotional, and physical education, the educational system promotes critical thinking, social openness, and purposeful research.
Students are given the chance to hone their skills and become knowledgeable about local, national, and international issues while contributing to the flourishing growth of the campus and community where they attend school.
19. Mallya Aditi International School, Bangalore
Mallya Aditi International School has expanded its horizons, altered traditional teaching norms, and created a truly integrated system of learning in just 32 years (1984–2016).
It has stuck to its strengths, which are teachers who encourage students to be creative and adapt to the rapidly changing world of today.
The Ujwal Trust, a pioneering organization led by Anne Warrior and Geetha Narayanan, first conceived of the idea and developed it into reality in 1984, marking the beginning of the school. In the school, there are about 570 students from sixteen different countries.
The School provides a system of global education, academic excellence, wholesome social values, creative freedom, and self-discovery, giving each student the tools they need to succeed anywhere in the world.
20. Bangalore International School, Bangalore
Many American families lived in the city in the 1960s and 1970s, but the local schools did not provide a North American model of instruction. Eloise R. Bennett and her family were against sending their kids to a boarding school (the founders of BIS ).
They made the decision to establish their own school in a garage on Millers Road, which later became known as Bangalore International School and later as the American Community School.
At Bangalore International School, which is now one of the best international schools in India, students are given the opportunity to express their creativity while also receiving a global education that gives them the necessary life skills.
21. Dhirubhai Ambani International School, Mumbai
As one of the best international schools in India, the name needs no introduction. The school, which was constructed by Reliance Industries, is situated on lovely lawns and has the most recent technological amenities.
It has maintained its ranking for two years running thanks to a variety of laboratories for all subjects as well as arts and culture centers.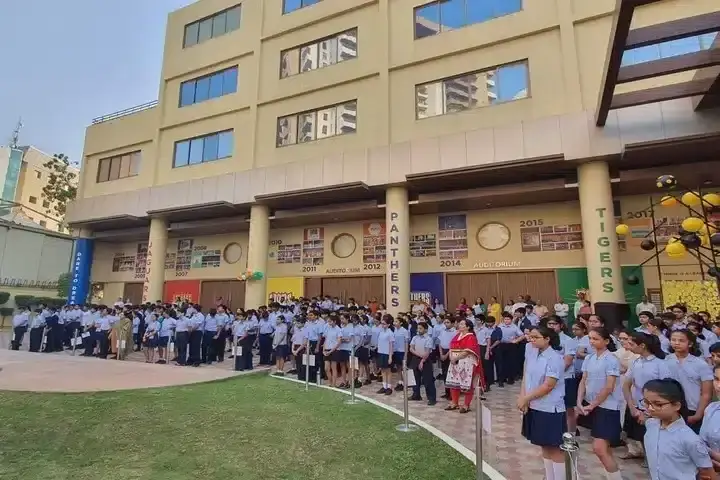 22. Oberoi International School, Mumbai
It offers students a global perspective thanks to a committed and knowledgeable faculty. In addition to emphasizing athletic prowess, it aims to foster the child's creativity. An internationally renowned architect from Singapore designed the school's contemporary setting.
23. Mercedes Benz International, Pune
The school, which is in the fastest-growing industrial city, has a vibrant international culture that is suitable for both Indian citizens and people of Indian ancestry. The students grow an independent intelligence by adjusting to the growth in the city.
24. Scottish High International, Gurgaon
The school's infrastructure gives off a very foreign vibe despite being built in a traditional Scottish style. The stunning architecture combines environmentally friendly classrooms with cutting-edge technology.
The institution offers training programs in collaboration with the British and American Libraries and is affiliated with Cambridge University.
25. The Asian School, Dehradun
One of India's most prestigious boarding schools and best international schools in India is The Asian School. In the year 2000, the Asian Educational Charitable Society founded this school. The Asian School is the most sought-after institution worldwide, not just in India.
This school offers classes from nursery through grade XII and adheres to the Central Board of Secondary Education (CBSE) curriculum. Students can receive ISA/ PMT specialized coaching at the Asian School for a better future. This school places equal emphasis on co-curricular activities and academic study.
The libraries, computer labs, and science labs at the Asian School are all well-kept and furnished. The Himalayas can be seen in all their glory from the school.
The Asian School offers the best residential boarding facilities with dining options; the South Indian, Punjabi, Continental, and Chinese cuisines are available in the school's kitchen.
26. St. Xavier's Collegiate School, Kolkata
Kolkata, India is where St. Xavier's Collegiate School is located. The Jesuits founded St. Xavier's Collegiate School in 1860.
This school only accepts boys and only offers instruction in English. Although it was originally built for Catholic boys, the school now accepts students regardless of caste, creed, or religion.
St. Xavier's School follows the West Bengal Board of Secondary Education, which oversees the exams after the 10th grade.
This School also follows the Council for the Indian School Certificate Examinations (CISCE) Board, which oversees the ISCE examination for the 10th and the ISC examination for the 12th.
Other extracurricular activities that St. Xavier's Collegiate school arranges for students include debate, sports, tests, scouts and guides, movie screenings, and many others. It has a library, science labs, and computer labs that are all well-kept and furnished.
27. Shree Swaminarayan Gurukul International School, Hyderabad
One of the esteemed schools in Hyderabad, India is Shree Swaminarayan International School. This school was established in 1994. Only boys are eligible for boarding and day boarding at Shree Swaminarayan Gurukul International School.
Classes are offered from I through XII at this school, which follows the Central Board of Secondary Education (CBSE) curriculum.
The 35 acres of land area that make up the Shree Swaminarayan Gurukul International School's lush green campus and international playground. Computer labs, science labs, and classrooms are all well-equipped at this school.
28. Bombay Scottish School, Mumbai
One of the best international schools in India is the Bombay Scottish School. The Scottish School is the common name for this institution, which was founded in 1847. Private, coeducational day school called British Scottish School.
The Council for the Indian School Certificate Examinations (CISCE) Board, which oversees the ISCE examination for the 10th grade and the ISC examination for the 12th grade, is used by this school.
Bombay Scottish School places a strong emphasis on students' personality development in addition to academics. For students connected to the US College Board, this school also offers the AP program.
In addition to having well-maintained classrooms, science labs, and computer labs, Bombay Scottish School also has a large and well-stocked library.
29. Emerald Heights International School, Indore
Emerald Heights International School is located in Indore, Madhya Pradesh, India. The institution, which opened its doors in 1982, is Madhya Pradesh's first coeducational English-medium school. Both academics and extracurricular activities are prioritized at this school.
The Global Young Group (GYG) Curriculum, the British Council School Award, the International Award for Young People (IAYP), the American Field Services (AFS), the Central Board of Secondary Education (CBSE), and the Cambridge International Examination (CIE) are all used at Emerald Heights International School.
Students at this school have access to a variety of facilities, including the swimming pool, gym, science and computer labs, auditorium, and more.
Pained by financial indecision? Want to invest with Adam?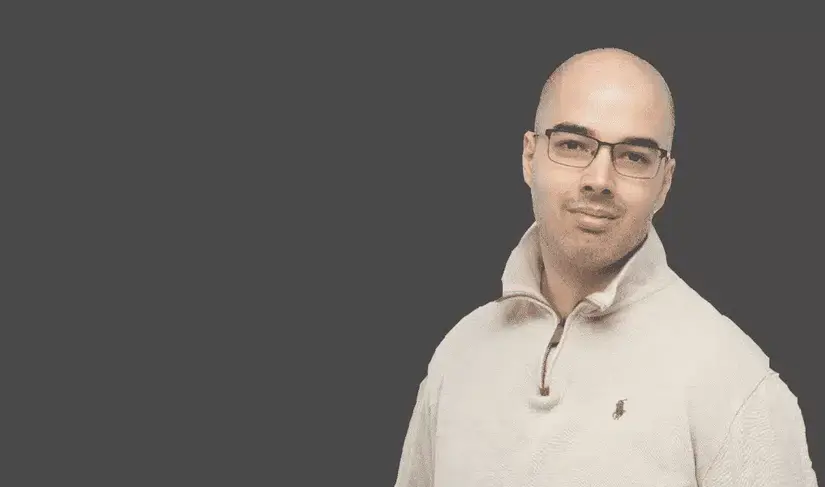 Adam is an internationally recognised author on financial matters, with over 694.5 million answer views on Quora.com, a widely sold book on Amazon, and a contributor on Forbes.