Living in Hanoi Vietnam can be a rich and culturally rewarding experience for expats. It's essential to stay open-minded, adapt to the local way of life, and be prepared for the occasional cultural differences.
In this Hanoi guide, we'll tap on various necessities to know about when moving to the Vietnam capital city
If you want to invest as an expat or high-net-worth individual, which is what i specialize in, you can email me (advice@adamfayed.com) or use WhatsApp (+44-7393-450-837).
Life in Hanoi 101
What is Hanoi known for?
The city of Hanoi has a thousand-year history. It has been Vietnam's political and cultural hub. The city has many historical landmarks and attractions that reflect its rich legacy. The lively Old Quarter, ancient Temple of Literature, and Hoa Lo Prison are famous.
Hanoi's street food is well-known worldwide. The city is a culinary paradise with a variety of traditional Vietnamese delicacies. Hanoi's street cuisine never disappoints, from the fragrant pho to the classic banh mi to the quirky egg coffee.
Hoan Kiem Lake, in the city's center, is popular with residents and expats. This peaceful paradise has lush parks, venerated temples, and a red bridge to the Ngoc Son Temple on a lake island.
Hanoi also has stunning French colonial architecture that reflects French reign in Vietnam. These architectural jewels reveal the city's diversified and historically interwoven identity.
What's the population of Hanoi?
There are about 5.3 million people in Hanoi this year, according to the World Population Review.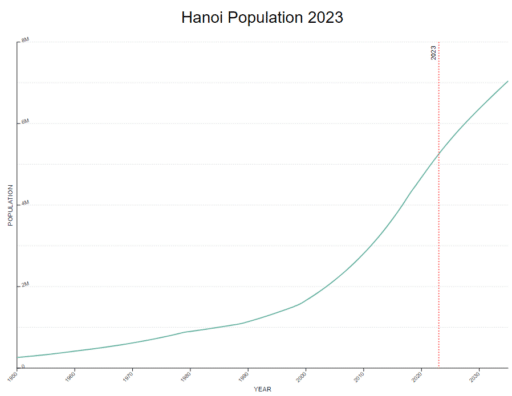 What's the cost of living in Hanoi?
Numbeo reports that a single person in Hanoi can expect to spend about $500 each month on without accounting for rent. When compared to New York, the living cost in Hanoi is 66.9% cheaper, excluding rent.
The average monthly rent for a studio apartment with 1 bedroom in central Hanoi is approximately $350. It's cheaper if you move to the suburbs.
The following are some representative samples of grocery prices in Hanoi:
$1.42 for one liter of normal milk
1 loaf of fresh white bread for $.14
One kilogram of white rice costs $1.01
$1.66 A dozen ordinary eggs
Price for a kilo of locally produced cheese $9.87
One kilo of chicken fillet costs $3.78
Back Leg Red Meat (or 1 kg of Beef Round): $10.5
$3.45 for one kilo of apples.
Price of a banana $1.13 per kilo
A person's real Hanoi cost of living may differ from these estimates due to factors including where they shop and how much they eat. In 2022, Hanoi was ranked as one of the cheapest cities in Asia to live.
Is Hanoi safe?
In crowded areas, pick-pocketing and bag-snatching might occur, so foreigners should be vigilant. Basic safety measures can prevent such occurrences, though.
Moreover, Hanoi's bustling streets are prone to traffic accidents, so pedestrians and motorcyclists should be cautious. Street sellers, taxi and bus drivers, and some hotel owners may swindle and overcharge travelers.
It's worth noting that sexual assaults are a concern in Vietnam, including in Hanoi, and visitors are advised to exercise caution, particularly when walking alone at night or in poorly lit and secluded areas.
Overall, Hanoi has a low crime rate and few violent crimes.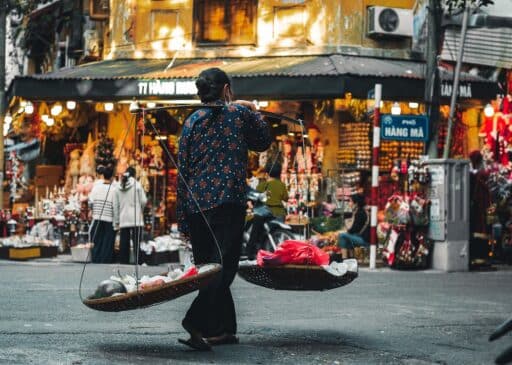 Weather in Hanoi
The climate of Hanoi city is humid subtropical, with four distinct seasons. The city experiences extremely hot and humid summers and relatively mild and dry winters. Rainfall in Hanoi is very consistent throughout the year, with the wettest months being May through September.
Transportation in Hanoi
Both residents and visitors to Hanoi favor using motorbikes as their primary form of transportation. They are available for low rental and purchase prices and are essential for navigating the city's crowded, winding streets. Motorcycle riders must use extreme caution when navigating the city's hectic and occasionally dangerous traffic.
Taxis are a cheap and easy way to move around Hanoi, especially for those who aren't confident riding motorcycles. All across the city, you may hail a taxi or reserve one in advance using a service like Grab.
Hoan Kiem Lake, the Old Quarter, and the Hanoi Train Station are just few of the popular destinations served by Hanoi's local bus system. The going rate for a seat on a standard bus in Hanoi is between 7,000 dong and 10,000 dong, and can only be purchased with hard currency. If you're going to be using the bus, it's better to have cash in smaller denominations. Overland links to other parts of Vietnam are also possible by long-distance buses.
Bicycle rickshaws, or cyclos, have become increasingly popular among visitors for quick jaunts around the city. They're slower than motorbikes and cabs, but they'll give you a taste of real Hanoi that neither of those options can.
Walking about Old Quarter and other Hanoi districts is a great opportunity to get acclimated to the city and soak up its enchantment at your own speed. Walking offers a break from the hustle and bustle of traffic and saves money on gas.
For those who like to see the city at their own leisure, Hanoi also offers the option of renting private cars. You may book them through a tour company or a ride-hailing service.
Working in Hanoi as an expat
Teaching English: Teaching English is a popular career choice for expats in Hanoi, with high demand at language centers and international schools. A bachelor's degree and 120-hour TEFL certificate are usually required to teach English in Hanoi.
IT and Engineering: Hanoi's IT and engineering fields are attracting Western specialists, mainly from Eastern Europe and Africa. Many IT and engineering expats have found jobs in the city as UI/UX designers or business analysts.
Hospitality and Tourism: Hanoi, being a renowned tourist destination, offers a plethora of employment opportunities within the hospitality and tourism industry. Some expats have chosen to establish their own restaurants and coffee shops, while others are gainfully employed in various capacities within hotels and travel agencies.
Banking and Finance: Hanoi is home to several global banks and investment firms, providing potential job openings for expats interested in the banking and finance sector. However, it's important to note that Vietnamese labor laws require employers to prioritize local job applicants, which may pose certain challenges for expats seeking employment in this industry.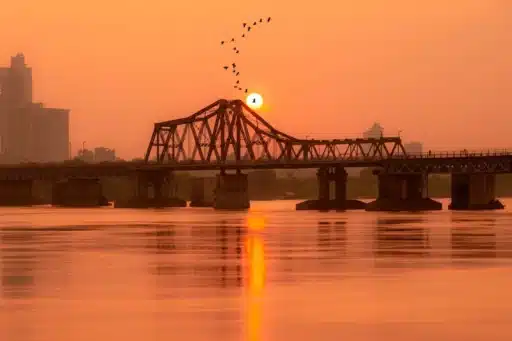 Expat banking in Hanoi
Expats in Hanoi should use the services of one of the many multinational banks having branches in the city. All of the branches of these financial institutions have personnel who are fluent in English, making it easy for expats to conduct their banking needs. They can also issue expats with ATM cards and supply extensive internet banking resources for more accessible and easy financial services.
Hanoi also provides private and priority banking services for foreigners who require more individualized and specialized banking needs. High-net-worth individuals are the primary target audience for these services, which are tailored to fit their specific banking demands, investing aspirations, and overall wealth management requirements.
Is health insurance required in Hanoi?
While health insurance is not mandatory to enter Vietnam, it is strongly advised to obtain either travel health insurance or specific health insurance for expats in Vietnam. Having such insurance is crucial to ensure coverage for any unexpected medical emergencies or unforeseen events that may arise as you live in Hanoi. This insurance provides peace of mind and financial protection in case of health-related issues, making it a wise choice for anyone traveling or moving to Vietnam.
Are there international schools in Hanoi?
Hanoi's public and private school systems both offer excellent opportunities for your children's education as an expat parent. Exams and essays take precedence over real-world experience in the Vietnamese school system, which has earned a reputation for its strictness.
Still, many international families living in Vietnam report being satisfied with their children's schooling. For families that cannot afford the high cost of private international education, good quality public schools are a good option.
UK, US, and International Baccalaureate curricula are used in Hanoi's international schools. Hanoi has some excellent international schools, but Ho Chi Minh City is Vietnam's international school hub. Hanoi's foreign schools, like many others, have high demand and limited availability, making it hard to enroll your child.
Best area in Hanoi to stay
Old Quarter: For its convenient location and glimpse into the city's thriving street culture, the Old Quarter in the Hoan Kiem District is a top pick for visitors and long-term residents. The area is known for its bustling street food scene and proximity to Hoan Kiem Lake. However, the constant activity may not be to everyone's liking.
French Quarter: This upmarket neighborhood features large boulevards and colonial architecture. This neighborhood has government offices, embassies, luxury hotels, and restaurants. Although more expensive than other Hanoi neighborhoods, it offers a polished lifestyle.
West Lake: Enjoy a peaceful, luxurious setting with stunning lake views and a range of rooms. It's perfect for city dwellers seeking peace and quiet. Expats, especially bohemians, love this district.
Ba Dinh: The Temple of Literature and the Ho Chi Minh Mausoleum may be found in the center area of Ba Dinh, which is also home to many other historical and cultural landmarks. It's a better option for families and individuals who want to be close to the city center without the crowds because it offers a quieter and more pleasant living environment than the Old Quarter.
Tay Ho: In the northern section of the city, Tay Ho is a popular expat area known for its peacefulness and proximity to West Lake. International schools, restaurants, pubs, and a vibrant expatriate community are here. Its flats and villas suit a variety of tastes.
Truc Bach: Nestled between West Lake and the Old Quarter, Truc Bach provides a quieter living environment compared to the bustling Old Quarter. It is an excellent choice for families and individuals seeking proximity to the city center while avoiding the crowds.
Cau Giay District: Situated to the west of the city center, Cau Giay is a burgeoning area with modern amenities. It's particularly popular among expatriates due to its nearness to universities and the Cau Giay IT Park. Housing options in this district range from apartments to newer residential developments.
Dong Da District: Dong Da offers a diverse mix of residential and commercial areas, known for its affordability and a wide array of housing choices, including apartments and houses. This district is home to the historic Temple of Literature and numerous educational institutions.
Long Bien District: Located to the northeast of the city center, Long Bien provides more spacious and budget-friendly housing alternatives, encompassing houses and apartments. While it may not be as central as other districts, it's an attractive option for those seeking a tranquil living environment.
Hai Ba Trung District: This is a central district with a blend of commercial and residential areas. It offers various dining options, shopping centers, and housing choices, ranging from apartments to condos.
Pained by financial indecision? Want to invest with Adam?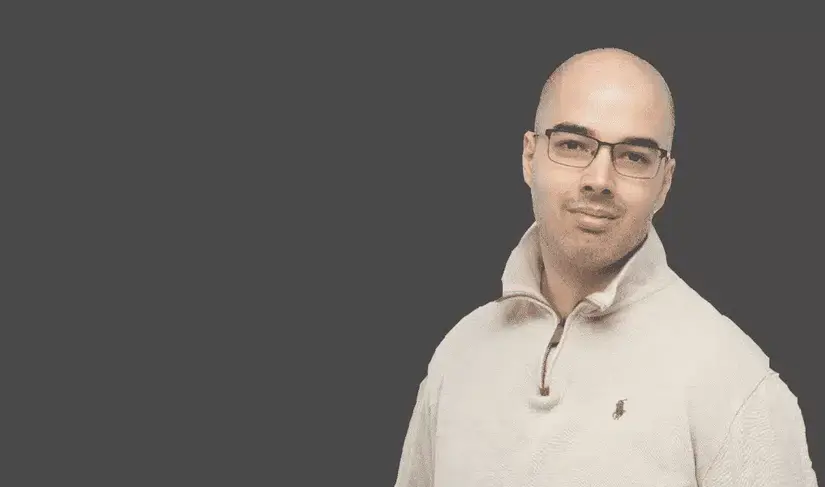 Adam is an internationally recognised author on financial matters, with over 694.5 million answer views on Quora.com, a widely sold book on Amazon, and a contributor on Forbes.