I have previously spoken about budgeting apps such as Emma and the best budgeting apps online.
In this article, I will list the best budgeting apps available in Singapore, even though not all of them will be "Singapore specific".
If you want me to review another budgeting app, or you are looking to invest, please contact me using this form, or by using the WhatsApp function below.
Introduction
Personal finance is the process of planning and managing personal financial activities such as generating income, spending, saving, investing, and protecting.
The personal finance management process can be summarized in a budget or financial plan. This article will analyze importance of personal finance and its planning, and also present you some of the best budgeting apps for Singapore residents that can become their financial advisors.
There are many reasons why you should plan your finances around your current and future lifestyle. You can draw up your financial plan yourself or work with a financial advisor or app to get more professional and detailed data.
Personal Financial Planning is an overarching concept that provides guidance and action plan for personal budgeting, savings, investment, insurance, and other financial elements. Basically, everything about finances related to your living expenses, savings and investments is part of your personal finances.
Having a financial plan does not require education. These are a set of concepts that are designed to impact your finances, and they lay a good foundation for your financial success.
Benefits of personal financial planning
Financial planning gives you various benefits. Some of them include
Personal financial planning helps you allocate money efficiently. You will gain a better understanding and value of budgeting. With a budget, you get a spending plan that structures your spending for the period you want. Budgeting allows you to track and record your expenses effectively.
Creating a well-documented budget gives you all the information you need to make smart personal financial decisions. Budgeting gives you a better understanding of what you can and shouldn't be doing. Another benefit is to save on emergency funds that could have been budgeted with a proper financial plan.
Creating a budget can be done simply using a budget app, spreadsheet, piece of paper, or personal finance consultant. But today we will be mainly focused on the best budgeting apps and talk about it later.
Budget execution always implies cost / cost reductions that are unnecessary or impulsive. By creating a budget plan, you will get a more detailed view of your savings, where your money is, and how to cut your spending.
With a budget plan, you define your core expenses and then budget for any other spending categories like entertainment, dining, shopping, groceries, etc. Taking stock of your budget will allow you to cut unnecessary expenses and limit shopping behavior.
By reducing spending, you free up more money from your budget, and this will allow you to lead a debt-free life with extra money in your savings.
Paying off debt and avoiding new ones
Sometimes getting out of debt seems like a daunting task, especially if it is related to the interest that eats up your current and future money. With more discipline in your personal financial planning, you can also create a payment plan that allows you to lower your obligations. Budgeting and cost cutting are some of the elements you can use to pay off debt quickly.
Personal financial coaching helps you plan your life effectively after retirement. No matter how much you earn, this is a very important social security plan that should not be overlooked. As we get older, it becomes even more important to save and plan for retirement.
Other important benefits of personal planning include:
Here is the part of the benefits you can get from right financial planning, but as already noted above, in this article we will talk about budgeting and accordingly about budgeting apps. So let's first become acquainted with the main idea of such apps, their advantages and disadvantages and after see what we've found.
Pros & Cons of budgeting apps
Budgeting is the easiest and most effective tool for managing your money. However, most people avoid it because it is an extra job, like mowing a lawn or renovating a roof. Budgeting also means you have to give up and stop having fun.
In fact, budgeting clearly shows you how you allocate money and gives you a choice of what to enjoy based on your financial constraints.
This will save you the grief of overspending and over-indebtedness. Budgeting doesn't stop you from enjoying things, it ensures that you enjoy things whenever you want.
Pros of apps and programs for budgeting
When technology works, it is a great solution for managing your money.
With many apps on the market, you can categorize your expenses, see your budget in real time, and take photos of your receipts for easy entry. Since we are all somewhat addicted to our phones, there is no excuse with the app for not keeping up with your budget because it literally is in your pocket all day.
Apps help you easily track your spending by automatically categorizing your spending so you can search for how much you spent on eating out, shopping, or traveling over any given period.
If you're self-employed, the technology can allow you to easily print out lists of expenses by category that you can pass on to your accountant at tax time (this will make you the CPA dream client).
Apps do cost more than a free DIY budget, but apps have some benefits that allow you to cut costs. For example, with YNAB, if you are a student, you can access the program for free. Other budgeting apps also offer free budgeting and also offer a free annual credit report, about which we'll talk.
Cons of apps and programs for budgeting
When technology doesn't work, this isn't the best solution for managing your money.
There is nothing worse than wanting to access to your budget and you can't find your phone or it fell face down in a puddle of water. (This is why keeping a backup of your budget is very important.)
The technology budget is large, but needs to be updated regularly. It is not enough to have an application on your phone or a program on your computer.
You must create positive habits about updating your budget to keep it current. If you stop updating, your budget will stop working.
Finally, many are concerned about the security level of applications and programs.
Some applications integrate with your bank and various other lenders, and while this is a good thing because it keeps your budget accurate, many fear security concerns about the company's access to your information.
However, you can rest assured, because all programs and applications use high-security encryption, just like your bank (not to mention that a security breach could not have happened).
So if you live, work or study in Singapore for a long time, you may need to use a budgeting app to plan all your personal finances. Here is a quick list of the apps that we will discuss:
YNAB
Zenmoney
Monny
Spendee
Seedly
TOSHL Finance
YNAB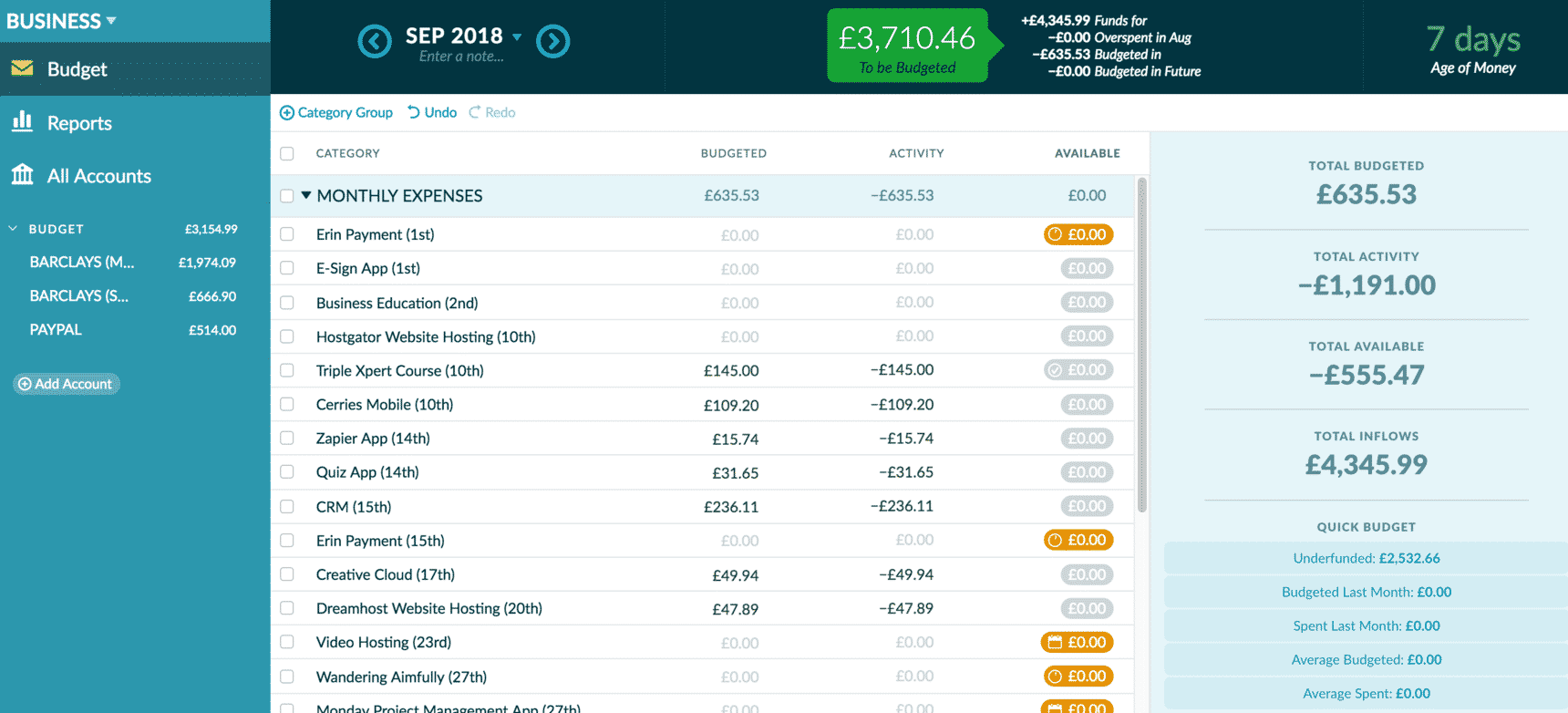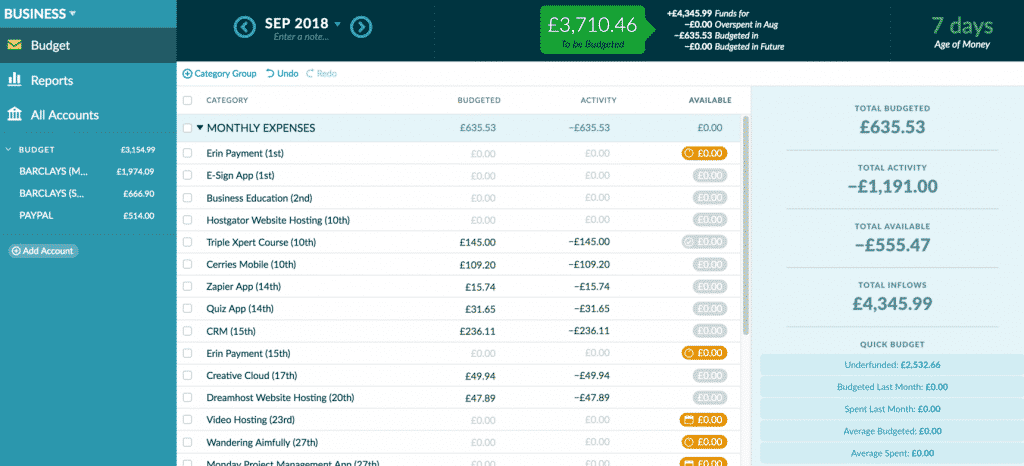 The first app on our list is YNAB. YNAB – which means "You need a budget" – has grown into one of the most popular budgeting software packages available. If you are looking for an efficient budgeting system, then YNAB may be the application you were looking for.
The app not only offers mechanisms for monitoring income and expenses, but also provides training support to help you deal with the root causes of financial distress. This is an example application that does one thing and does it very well.
YNAB is without a doubt designed for the dedicated user. It is based on a zero budgeting system, and users must plan for every dollar they earn. It also requires a financial investment of $ 84 per year or $ 11.99 per month after a 34-day free trial. (Students who provide proof of enrollment receive an additional 12 months free of charge.)
Those who pay this price can take advantage of many of YNAB's features. You can connect bank accounts, set goals, contribute to savings and customize expense categories. You can also access resources such as app user guides, budget tips, and free seminars.
YNAB lets you automate your budget and is now available online. The newest version allows you to take online courses to learn how it works. Here are some great features that YNAB has to offer:
Seamless sync. You no longer need Dropbox access to use YNAB; it is now completely web based.
Direct import. You can now import transactions from your bank to YNAB; You no longer need to go to your bank's website first to start the process.
Goals. YNAB will now provide budget guidance to help you achieve your goals, whatever the goal may be.
Category Inspectors. This includes more color codes to help you see when a category is underfunded or when there has been an overshoot. This will help you quickly visualize potential bottlenecks in your budget.
Inspector. This feature allows you to see a summary of your budget and also provides quick options. For example, he will tell you if you have budgeted enough for upcoming expenses or not.
ZenMoney
Zen practice supports the cultivation of mindfulness as the key to a more enlightened life. ZenMoney wants to take this philosophy and focus on your financial life.
Zenmoney is an expense tracker app that includes smart text recognition and self-learning technology, plus all the basic functions for keeping a finance journal in various categories (e.g. cash, credit cards, loans, bills, deposits, etc.)
As its name suggests, the app offers clean, no-nonsense layouts with a white background to better understand your finances. Colors are reserved for reports that have geometric shapes and graphics for maximum clarity. ZenMoney allows you to do everything from getting information about your spending to setting up individual budgets, scanning receipts and sharing reports.
Its ability to analyze and automatically log transaction records based on incoming text messages are a huge time-saver, ensuring you don't miss them.
ZenMoney can also forecast your future expenses according to your spending patterns, so you can plan and decide if you need to cut some expenses.
Key Features:
Text recognition technology. Recognize texts from your bank and automatically create transactions.
Available for both mobile devices and computers. Manage your money on the go or from the comfort of your large screen desktop.
Cost forecasting. This smart app is able to analyze and predict your spending for future financial periods based on your spending habits.
Money management for different types of accounts. Keep track of your finances or as a family with a personal or joint account type. Shared account management allows anyone with access to log in and enter data.
Monny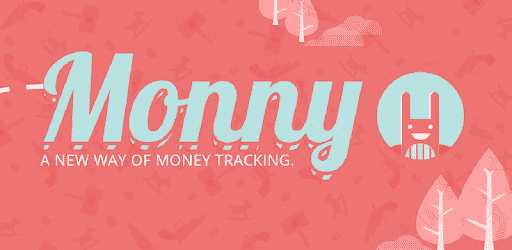 Featuring quirky scrapbooking artwork, Monny aims to give the game your personal financial enjoyment.
A budget app displays your finances such as expenses and charts with cartoon-themed cards – perhaps a good way to allay existential fear when you find yourself running over budget again? There's even a mascot, Monny Bunny, that challenges you for a bunch of money in a fun-filled theme park.
This Taiwanese-developed financial app (ah, that explains a lot) stands out for its cunning approach to what can be a problem for some.
Conveniently measure your expenses, income and balances with Monny, an in-game expense tracking app. Built with fun gameplay elements, Monny uses pop-ups and rewards to encourage users to reach their financial goals.
Key Features:
Analytical reports and graphs. Analyze your spending habits with monthly or yearly expense rating charts. You can also filter your spending by category to see where most of your money goes.
Key achievements. Get rewarded for new achievements in the app every time you complete a mini-task designed to help you achieve your financial goals.
Daily notifications. Use daily reminders to log in and record your expenses.
Data import and export. You have the option to import past data into the app or make a backup using various export options.
Spendee
One of the most popular financial management apps available today is Spendee, a full-service financial application that gives you all the financial tools and resources you need to be successful.
With a focus on ease of use, wide range of features and tiered membership, Spendee is changing the way consumers manage their money and track their spending.
Spending has never looked so beautiful. Spendee is a graphic designer's dream come true with vibrant colors and lush aesthetic designs that make you tune in and see what you're spending your money on. But this is not just a pretty face.
You can also set budget goals and manage bill payments, as well as track your crypto wallet and e-wallet. Like more advanced apps like Mint, YNAB and others, the paid version will also link to your bank accounts and provide a complete view of your financial activities.
First of all, the Spendee core directive gives you a perfect insight into your spending habits with beautiful charts, charts and colorful columns. It's intuitive and even lets you upload photos along with the budget items you're trying to save on.
It wants the user interface to be as pleasant and accessible as possible, so that even the most financial hardships of us understand our financial situation. Spendee is also available for iOS and offers a free basic version. The paid versions cost either $ 14.99 or $ 22.99 per year and include additional features such as the ability to link bank accounts. The app offers you:
Budgeting for different categories. Set your budget and set up alerts to notify you when you've reached your spending threshold.
Simple infographics. Understand your financial habits at a glance with visual charts and graphs.
Multi-currency tracking. Enjoy easy tracking of your travel expenses with the ability to set different currencies for each wallet, change exchange rates, and even view transactions in the default currency.
Scheduled Transactions. Set up to automatically include common activities such as rent, insurance, or mobile bills in your monthly expenses. You can also turn on notifications to remind you when these payments are due.
Shared wallets. Track your shared expenses with your loved ones or friends with this paid feature.
Seedly
Seedly is the first universal app developed in Singapore to help you manage everything from account balances to expenses.
One of the main features that sets Seedly apart from the competition is the ability to integrate transactions from banks such as DBS, POSB, OCBC, UOB, Citibank, Standard Chartered, American Express, and credit cards. This allows you to automatically categorize all your expenses in the app and view them quickly.
Key Features:
Expense counter. Keep track of your budget and track your monthly expense comparisons.
Budgeting tools. Set up a personal monthly budget for all types of expenses or sort them by category
Automatic synchronization. Keep track of all your transactions on various bank accounts in one application.
2FA and asymmetric encryption. Rest assured that your data and account access are protected by top-notch security features.
Minimalistic user interface. User-friendly UI / UX design allows users to easily navigate the application's functions.
Financial analytics. Stay up to date with the latest investment guides, stock analysis, retirement plans, and other personal finance topics from reputable contributors.
TOSHL Finance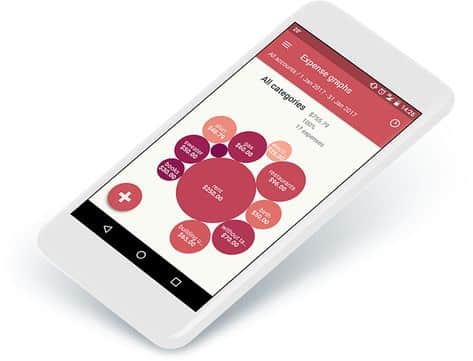 The last one on our list is TOSHL Finance. TOSHL Finance lets you keep track of all your personal finances in one app. It comes with a variety of features to help you consolidate and analyze your spending on a weekly, bi-weekly or monthly basis, presented in various visualizations.
Avid travelers and digital nomads can also track how much they spend while traveling, as TOSHL Finance supports all currencies, including 30 cryptocurrencies.
If you want advanced features like automatic bank sync, unlimited financial accounts and fingerprint scanning, you can consider its paid options, TOSHL Pro and TOSHL Medici.
Key Features:
Hassle-free data entry. Enjoy fast and easy 4-touch cost entry or data import from online banking files in the web application. TOSHL also provides integration with over 13,000 different bank accounts, credit cards, or financial services in the US and other countries.
Advanced data entry capabilities. Add detailed information to your records, such as multiple tags, financial account, location, description, recurring expenses, invoice reminders, and even photos.
Extensive data visualization. Pie charts, bubble charts, and an expense location map give you a quick overview of where your money is going each month. You can also analyze your monthly comparisons and filter expenses by category, tag, and location.
Multi-currency support. The app supports input in almost 200 currencies with the latest exchange rates, including 30 cryptocurrencies.
Auto sync with multiple devices. Your data is automatically synced and backed up across all your mobile devices and the web app.
Notifications. Get billing reminders and alerts when you are near your budget limit.
With modern technology such as a personal finance app, the concept of budgeting is simplified. It helps you maintain your online budget.
Unlike Microsoft Money, which provides limited options, many other listed above applications have entered the market that make budget planning easier. Each of these programs has its own advantages and features that can be helpful for you.
You can start your finance planning wherever you are and no matter what time is it. Just to be well informed of your expenses and revenues you can easily download one of the budgeting apps and start your journey.
Conclusion
Apps can offer advantages over traditional budgeting tools like pen and paper.
There are countless excellent apps available to residents of Singapore.
The best one will depend on your individual needs and what you want to get out of the apps.
Further Reading
What is income tax like for expats in Singapore? The country has a reputation as a low-tax country, but is it an accurate picture of the country?