Best Business Bank Accounts in Europe – Part 2
Introduction
In the previous article, I covered some of the European business accounts.
Today, I will cover some more business accounts available in Europe, which are among the best.
Disclaimer: I am not affiliated with any of these banks, nor would I endorse them.
The information is strictly provided for informational purposes and should be treated that way.
These are mostly business accounts provided by financial entities other than traditional brick-and-mortar banks.
Anytime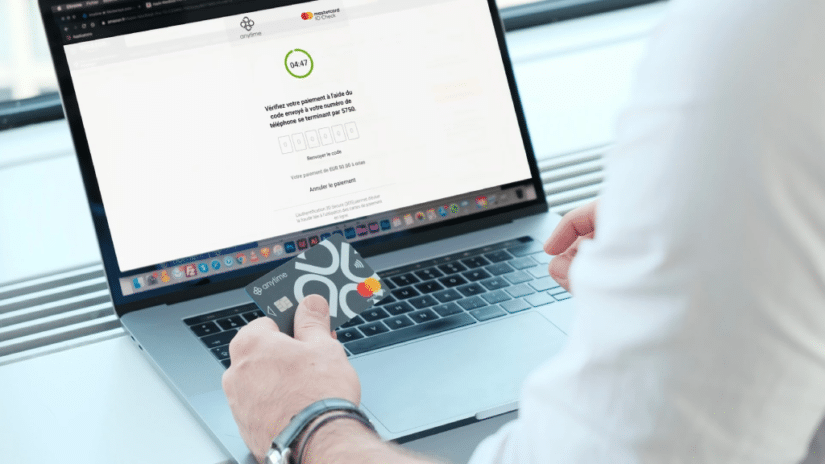 Anytime is an emerging neobank with a presence in Belgium and France.
It caters to businesses, expats, companies, and associations while blending traditional banking and modern neobanking.
Anytime offers a versatile banking solution for users.
Service Availability
The countries from which people can access the business banking services of Anytime are:
— Austria
— Belgium
— France
— Germany
— Ireland
— Italy
— Netherlands
— Portugal
— Spain
— UK
Pros
— Anytime provides:
• A choice between Belgian (BE) or French (FR) IBANs
• Assistance in the French company creation process
• Options for managing cheques and cash.
— Anytime's mobile app is well-designed and user-friendly, complementing the desktop experience effectively.
— Unlike some neobanks, Anytime offers the option to contact customer support via phone, providing a human touch when needed.
— Anytime's funds are protected through partnerships with Crédit Mutuel Arkea in France and Barclays in England.
— Additionally, customer funds are insured for up to €100,000 per person through FGDR.
Cons
— While Anytime may seem affordable compared to traditional banks in France and Belgium, it can be more expensive than other European neobanks like bunq or Revolut.
— Anytime provides just two IBANs, which may need to be improved for users who need to separate transactions for accounting or convenience.
— The app and website were initially developed with a focus on French, so English-speaking users may encounter some minor things that could be improved.
Pricing Plans/Accounts
Anytime offers four business plans with various features at different price points:
Start: €9.50 per month
Easy: €19.50 per month
Boost: €45.00 per month
The provided pricing assumes an annual subscription option, with monthly billing options typically about 30% more expensive.
Users should refer to Anytime's website for precise pricing details.
Features
Each Anytime business plan comes with its own set of features, including:
— The number of sub-accounts
— Shared access options
— Employee accounts
— Mobile payment compatibility
— Various fees and limits
These features cater to business needs, from small startups to established enterprises.
Customer Support
Anytime offers customer support through chat, email, and phone.
Chat support is available during specific hours on weekdays, while the telephone line operates during weekdays and Saturdays.
Support tickets sent via email typically receive responses the same day on non-weekend days.
What Do I Think?
Anytime is a versatile banking solution that appeals to SMEs, freelancers, and various businesses in Belgium and France.
Its comprehensive features and customer support options make it a competitive choice.
However, users should consider their specific banking needs and compare pricing to ensure it aligns with their requirements.
N26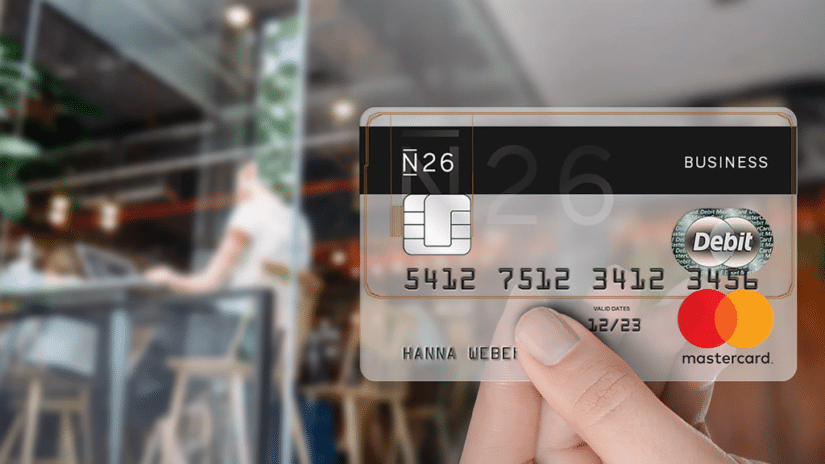 N26 is a digital fintech bank founded in Munich in 2013, offering personal and business accounts.
It operates primarily in Europe, with a headquarters in Berlin, Germany.
N26 is a fully licensed European bank regulated by the European Central Bank (ECB) and the German Federal Financial Supervisory Authority (BaFin).
This provides deposit protection up to EUR100,000 under the German Deposit Protection Scheme.
Pros
— N26 is a 100% digital bank offering convenient access to personal and business accounts through its mobile app.
— N26 complies with European regulatory requirements, ensuring a secure banking environment for customers.
— Customer deposits up to EUR100,000 are covered under the German Deposit Protection Scheme.
Cons
— N26 primarily serves European customers, which may not be suitable for businesses outside Europe.
— N26's customer support options may be limited for non-premium customers, relying primarily on the help center for assistance.
— Foreign currency conversions require external services like Wise, potentially incurring additional fees.
Pricing Plans/Accounts
N26 offers various business account plans, including:
— Business Standard (Free)
— Business Smart
— Business You
— Business Metal
These accounts cater to different needs and have varying features and pricing structures.
The pricing details vary for different European countries.
Features
N26 provides multi-currency accounts, enabling businesses to transact in various currencies.
Users can receive transfers in Euros via SEPA, MoneyBeam, and SWIFT systems, with instant transfers available within the SEPA zone.
Mastercard payment cards, including debit cards with cashback, are offered for global use.
Additional services include:
— CASH26 for deposits and withdrawals at retail stores
— Overdraft facilities
— Ability to make purchases directly from sub-accounts called "Spaces."
N26 collaborates with Wise for international transfers and foreign currency conversions.
Customer Support
N26 offers customer support through its help center, providing detailed FAQs.
However, options for direct contacts, such as phone numbers or email addresses, are limited.
Customers can access the chat feature once logged in.
Premium account subscribers may have access to additional support options.
What Do I Think?
In summary, N26 is a digital fintech bank primarily serving European customers with various business account plans and features.
It offers convenience and compliance with European regulations.
But businesses outside Europe or those requiring extensive customer support might explore other options.
Payoneer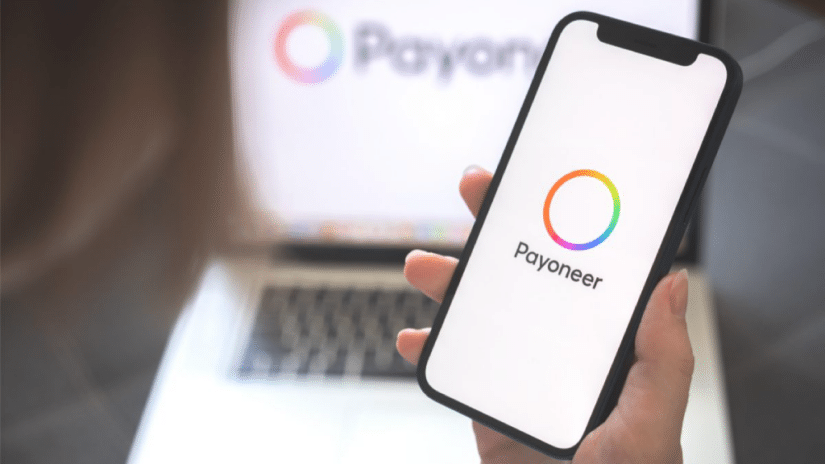 Payoneer is a payment platform that facilitates transactions between businesses and customers.
It allows businesses to request payments from customers, who can pay online through bank accounts or credit cards.
Payments are processed instantly within the Payoneer account, with withdrawal requests taking 2-5 days to reach the bank account.
Immediate ATM withdrawals are possible with a Payoneer Mastercard.
Service Accessibility
The funds in a Payoneer account can be accessed across 190 countries and 70 different currencies internationally.
Pros
— Payoneer is popular among freelancers, global businesses, and e-commerce platform users like Airbnb, Upwork, etc.
— It offers flexibility in payment processing, including:
• Credit card transactions
• ACH bank debit transactions
• Payments from other Payoneer users with no fees
— Payoneer handles local and international payments in various currencies.
— This lets businesses access sending and receiving payments globally.
— Payoneer provides a mobile app for both iOS and Android platforms, offering convenience for account management.
— Payoneer assists users with tax-related forms and provides tax reports through its automated record-keeping system.
Cons
— Payoneer lacks certain payment features, which might limit payment acceptance options, including:
• A payment gateway
• Virtual terminal
• Integration with POS systems
— Payoneer may freeze funds or terminate accounts if it suspects fraud, potentially causing delays and inconvenience.
— A fee of $29.95 for every 12 months of inactivity could be a drawback for users with infrequent transactions.
Pricing Plans/Accounts
Payoneer offers different pricing structures and fees based on various transaction types.
In all currencies, a 3% credit card transaction fee is applicable.
There is a 1% fee for ACH bank debit transactions, and prices ranging from 0% to 2% for sending payments from a Payoneer account.
A fee of $1.50 is applicable for transferring funds from Payoneer to a bank account, and a 2% fee for batch payments to up to 200 bank accounts.
Payoneer does not charge a monthly fee but imposes an inactivity fee after 12 months of inactivity.
Features
Payoneer supports payments in several currencies, including USD, EUR, GBP, CAD, AUD, JPY, CNH, CZK, PLN, RUB, and VND, for tax payment purposes.
Payoneer offers an integrated free invoice builder for generating professional invoices for customers.
Account holders can opt for a Payoneer Mastercard for making payments and ATM withdrawals.
Payoneer provides a mobile app for account management and transactions.
Payoneer is PCI compliant, follows anti-money laundering regulations, and offers fraud detection measures.
Customer Support
Payoneer offers customer support through phone, live chat, and email messaging.
Additionally, it provides an online knowledge base to assist users with common queries.
What Do I Think?
Payoneer is a versatile payment platform with global reach, offering multiple payment options and multi-currency support.
However, its limitations include the lack of certain payment features, and the possibility of account freezes.
Users should consider their specific payment needs when evaluating Payoneer as a solution.
Qonto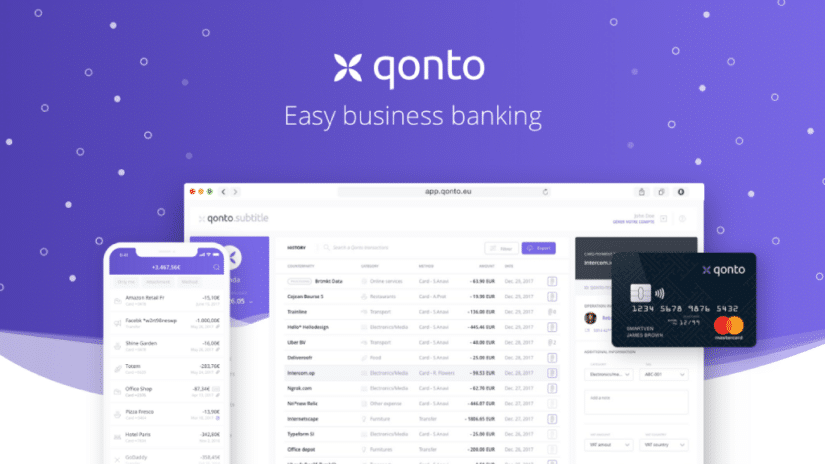 Qonto is a French fintech company headquartered in Paris, France. It targets young and ambitious startup founders, business owners, and digital entrepreneurs.
Service Availability
Qonto offers business banking services and is available to companies registered in France, Germany, Italy, and Spain.
Pros
— Qonto uses design and technology to provide entrepreneurs with a modern and user-friendly banking experience.
— It offers rich localization options to cater to the specific needs of businesses in different countries.
— It provides four different plans with varying features and pricing, catering to the diverse needs of businesses.
— Mastercard debit virtual cards with contactless payment options, supporting Apple Pay and Google Pay.
— Integration with various accounting and business tools to automate tasks and streamline financial management.
— Qonto allows businesses to set card transaction limits and provides real-time expense tracking.
— Offers a bank mobility service for professionals and dedicated "switch support" for larger companies transitioning to Qonto.
Cons
— If we talk about it technically, Qonto is not a bank but a payment institution, which is supervised by the Banque de France.
— It does not allow cash deposits, loans, or overdraft options.
— Qonto's pricing can be higher compared to some other digital-first banking options.
— While available in multiple countries, Qonto's focus is primarily on French-speaking users, which may result in some localization imperfections.
Pricing Plans/Accounts
Qonto offers four distinct business banking plans with varying features and pricing:
Basic: €9.00 per month
Smart: €19.00 per month
Premium: €39.00 per month
Enterprise: Customizable with tailored features, limits, and pricing.
Features
Provides IBANs for France, Italy, Germany, and Spain.
Offers 1 to 5 sub-accounts depending on the chosen plan.
Supports Apple Pay and Google Pay for mobile payments.
Provides Mastercard debit cards, virtual cards, and options for additional cards.
Charges foreign exchange fees, with varying rates.
Offers ATM withdrawal services with daily limits and associated fees.
Categorizes expenses for easier tracking.
Provides tools for efficient accounting and supplier management.
Does not offer interest on current or savings accounts.
User deposits are insured up to €100,000 by the
French Deposit Guarantee and Resolution Fund (FGDR).
Offers numerous integrations for automated financial management.
Customer Support
Qonto emphasizes digital-first customer support, with access to individual account managers for personalized assistance.
What Do I Think?
Qonto is a digital-first business banking solution available in select European countries.
It offers various plans to cater to the needs of different businesses. Still, it's essential to consider its pricing and focus on French-speaking users when evaluating its suitability for your business.
Holvi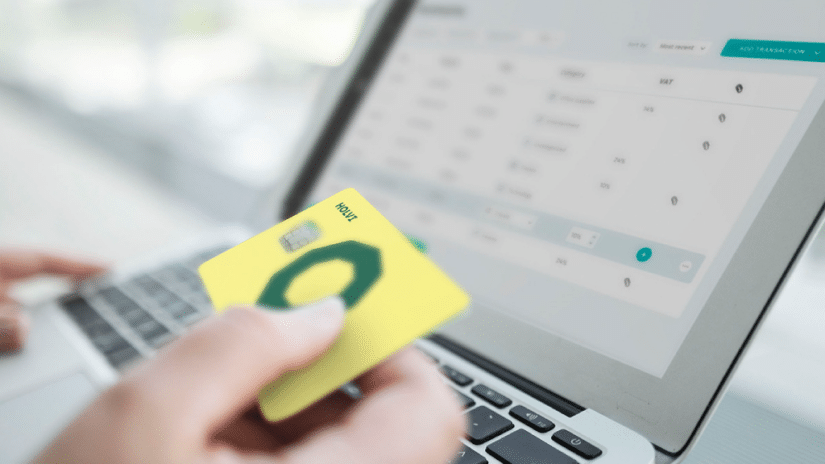 Holvi provides a business current account tailored for self-employed enterprises in Ireland and various European regions.
Additionally, they offer finance and bookkeeping management tools through their mobile application.
Service Availability
Holvi offers business current accounts in Ireland and several other European countries, including Finland, Germany, Austria, Belgium, and the Netherlands.
Pros
— Holvi Lite and Holvi Pro plans include a Business Mastercard, providing convenient payment options for business expenses.
— Holvi provides a suite of business finance support tools, including features like:
• Scanning and storing receipts
• Invoice management
• Expenses tracking
• Payment matching
• Bookkeeping assistance
— Offers online account management through their website, and a mobile app is also provided for easy access to account information.
— Provides a real-time view of cash flow, allowing businesses to monitor their financial health.
Cons
— Holvi operates primarily in Ireland and a few other European countries, which may limit its accessibility for businesses outside these regions.
— Holvi does not have physical branch locations, which might be a drawback for businesses that prefer in-person banking services.
— Customer communication is primarily through live chat within specific hours (10 a.m. to 4 p.m.) or via a contact form on their website.
— This may not offer the same level of support as traditional phone or in-person customer service.
Pricing Plans/Accounts
Holvi offers two business current account plans:
Holvi Lite Plan:
This account has a monthly charge of €6 and offers features like:
— Unlimited transfers
— Business Mastercard
— Scan and store
— Online account management
— Mobile app access
— Real-time cash flow view
Holvi Pro Plan:
There is a monthly fee of €12, and provides all the features of the Lite plan.
You also get additional tools to support invoicing, expenses, and bookkeeping.
It also includes the capability to prepare and export transactions for tax filing.
Holvi primarily focuses on offering business accounts with finance and bookkeeping tools.
It does not currently provide other business services beyond these features.
What Do I Think?
Holvi is a business banking solution primarily targeting self-employed individuals and small businesses.
It received various positive customer reviews and offers useful business finance tools.
Its limited geographic reach and communication options should be considered when evaluating its suitability for your business.
Monese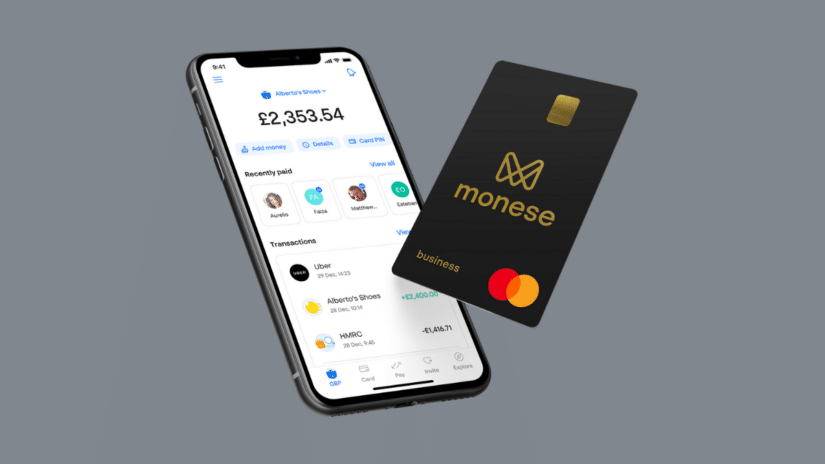 Monese was established in 2015 and introduced the UK's first 100% mobile current account.
Unlike traditional banks, it lacks physical branches and relies entirely on a mobile app for account and card management.
Monese caters to both personal and business account needs and is accessible to individuals residing in the EEA and the UK.
However, business accounts require UK business registration.
The Monese business account carries a monthly fee of £9.95, providing you with the following benefits:
Account:
A Monese business account, accompanied by a Monese Classic personal account.
Initially, the business account has a maximum balance limit of £50,000, extendable to £100,000 after three months.
Card:
A complimentary contactless business debit card delivered via mail is accepted widely as Mastercards.
App:
The mobile app consolidates your personal and business Monese accounts, offering instant balance updates and expenditure tracking.
Payments:
Local card payments and domestic money transfers incur no charges.
However, international card payments and foreign currency transfers are subject to currency exchange fees.
The currency exchange fee is 0.5% of the transaction value, with a minimum fee of £2 for foreign currency transfers.
Receiving international payments is fee-free.
The account includes six free ATM cash withdrawals monthly, with a £1 charge per withdrawal exceeding this limit.
Deposits at Post Offices cost £1 each, while PayPoints incur a 2.5% fee, with a minimum charge of £1.
Suitability for Businesses
Due to its balance limit, the Monese business account is most suitable for small and medium-sized enterprises.
It offers competitive transfers and card payment fees, making it an excellent choice for international transactions.
However, businesses anticipating minimal transfers and payments may find more value in free accounts with transaction-based fees.
Monese is not classified as a bank and there is no protection from the Financial Services Compensation Scheme.
Instead, it operates under the jurisdiction of the FCA as an electronic money institution.
Customer funds are kept in seperate accounts at licensed UK banks, ensuring safeguarding in case of Monese's insolvency.
Pros
— Quick and easy account opening without credit checks.
— Consolidated management of personal and business finances through a smartphone app.
— App features for budget management and balance notifications.
— The option to deposit cash at Post Offices and PayPoints.
— Competitive rates and fees for currency exchange, transfers, and international payments.
— Availability of the app in 14 languages.
Cons
— Businesses must be registered in the UK to open an account.
— Mandatory opening of a Monese personal account alongside a business account.
— Limited to six free monthly cash withdrawals.
— Lack of integration with accounting software like Xero.
— Traditional banks, such as check deposits, may be necessary for particular financial needs.
What Do I Think?
The Monese business account presents a viable digital-only banking solution for smaller businesses.
While it incurs a monthly fee, it eliminates individual transaction charges for UK bank payments and direct debits.
However, it does not integrate with accounting software, has limited free ATM withdrawals, and does not support check deposits.
Monese offers competitive fees, streamlined setup, and cost-effective international transactions, making it a strong contender among traditional business accounts.
Important Details
Getting a Euro Business Account
For those seeking a more streamlined approach to conducting business in Europe, it's advisable to consider a euro business account.
This is also known as a multi-currency business account.
A euro business account enables you to do the following things:
— Maintain balances in euros
— Conduct international transactions
— Simplifying trade with European nations
Eligibility for EU Bank Account
The criteria for opening a euro business bank account can vary among banks.
Some banks extend this opportunity to both EU residents and non-residents.
However, most businesses should possess a physical address or be registered within any European country.
European business accounts are accessible to:
— Digital nomads
— Freelancers
— Expatriates
— Non-EU and offshore companies
— International enterprises
— Businesses with European clientele
The Single European Payment Area (SEPA)
SEPA, or the Single European Payment Area, encompasses 28 member states within the European Union.
It was initiated in January 2008, including member states like Switzerland, Iceland, Norway, Andorra, Liechtenstein, Monaco, and San Francisco.
SEPA has significantly simplified European business transactions, enabling customers to conduct cashless payments using debit and credit cards.
Bottom Line
Always ensure you opt for a business banking solution that provides all the necessary features.
It is wise to go ahead with a neobank as you can save on the fees compared to a traditional brick-and-mortar bank.
Some of the advantages of digital banks are listed below:
— 24/7 Access to your bank
— Automated payments
— Variety of money management tools
— Better rates
— Lower fees
— Integrations with e-commerce platforms
— Various currencies are supported
If you are an expat looking for streamlined financial solutions and investment needs, please contact me.
Over the past decade, I have helped several expats and high-net-worth individuals get the best financial solutions.
That being said, I strongly hope the information provided in this article was helpful.
Pained by financial indecision? Want to invest with Adam?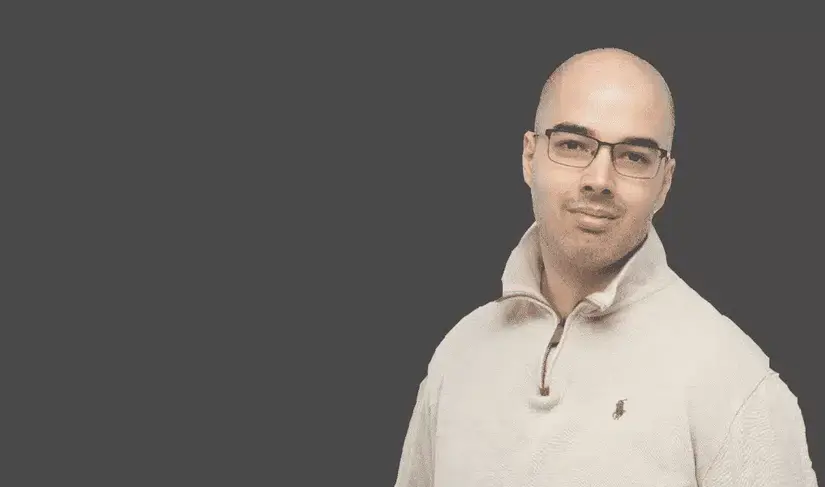 Adam is an internationally recognised author on financial matters, with over 694.5 million answer views on Quora.com, a widely sold book on Amazon, and a contributor on Forbes.