Canadians Moving to Panama: What to know
If you are looking to invest as an expat or high-net-worth individual, which is what I specialize in, you can email me (advice@adamfayed.com) or WhatsApp (+44-7393-450-837).
Introduction
Canadians Moving to Panama won't have much problems so long as they are eligible for immigration and complete the necessary measures to obtain a visa in the country located in Central America.
Can you tell me about the prerequisites for Canadians moving to Panama?
To enter the country temporarily for tourism purposes, citizens of Canada and the US do not require a visa. All you need to present are:
A passport that was issued by your home country and is still valid for a minimum of three months prior to your entry to Panama.
Documentation demonstrating that you have access to a minimum amount of 500 US dollars. The proof can be any of the following:
Bank or credit card statements for the past three months
A verified bank check
Tax returns from the previous year
In Panama, the maximum number of days you can remain as a tourist is 30, but in some situations, Panama could issue a visa extension of up to three months. You are permitted by law to leave the nation at the conclusion of your tourist visit, remain abroad for a total of three days, and then come back into the country for an additional 30 to 90 days as a tourist.
Work permits are typically valid for a period of one year and can be renewed annually provided that the holder continues to be employed.
Because it is so easy to migrate to Panama as a tourist, this is the route that many expats choose to take when they first arrive.
However, travelers are not permitted to seek employment with employers in Panama. If you want to work in Panama, you will need to obtain a job with a company that is permitted to hire foreigners and then request for a work permit through the assistance of a Panamanian immigration lawyer.
Canadians Moving to Panama: Permanent Residence
What do I need to obtain a visa allowing permanent residency in Panama?
You are required to consult with a licensed immigration attorney. You can get assistance in locating a Panamanian attorney to manage the move from the Panamanian embassy or consulate office in Canada.
Furthermore, officials working at the offices are able to provide answers to particular issues concerning the immigration process.
For Canadians moving to Panama, you'd need to meet the requirements for one of the following categories so as to be eligible to apply for permanent residence visas in Panama:
Pensioner
If you're a retiree who receives a minimum of 500 dollars a month, you may be eligible for permanent resident status. If you are taking your spouse with you, you must have a combined monthly income worth a minimum of 600 dollars in order to qualify for the move. You will be required to show bank statements as well as evidence of continuous payments, such as a letter that has been notarized, from the government agency or private firm that is responsible for paying your pension.
Reforestation Investors
Anyone who invests a minimum of 40,000 dollars in a recognized reforestation project in Panama can earn permanent residency status, including for their spouses and children.
You will be granted a visa that is valid for a period of five years and will have the opportunity to apply for citizenship at the conclusion of such time. Citizenship can be obtained in just one year for those who make an investment of at least 80,000 dollars.
Citizenship can be obtained in just one year for those who make an investment of at least 80,000 dollars.
Retirees Living Off of Private Income
Retirees who get a certificate of deposit (CD) from a Panamanian bank with a deposit large enough to earn a minimum of 750 dollars in interest annually are eligible to apply for a renewable five-year residency visa in Panama. In most cases, the face value of the CD must be a minimum of 170,000 dollars for sufficient interest to be accrued.
Commercial Property Owners
If you create a business in Panama and employ at least three natives of the country, you may be eligible for a resident visa that is valid for one year and can be extended for additional years. Those who immigrate to Panama using this category of visa are eligible to apply for citizenship after a period of five years.
This type of visa can be applied for under one of two categories: either business or small business. The minimum investment required for the normal firm is 150,000 dollars, whereas the minimum investment required for the small business is 40,000 dollars.
Those who hold a visa for a small business are need to renew it a total of three times before it is considered permanent, but owners of large businesses only need to renew their visas once before receiving a permanent one.
The Visa for So-Called Pensionados
The government of Panama actively invites retirees from other countries, notably those from Europe and North America, to move to the country.
The Pensionado program in Panama is one of the most extensive programs that exists in Latin America once you have obtained the necessary visa. It provides an extensive assortment of benefits and advantages, such as reductions in the cost of electricity bills, healthcare, airline tickets, and a great deal of other things. Importation taxes do not need to be paid by retirees in Panama who hold this particular visa.
In recent years, retirees from all over the world, including those from the Canada, Spain, Portugal, and the US have been flocking to Panama because of this scheme.
Does Panama issue visas for digital nomads?
Foreign nationals can visit a country on the basis of a digital nomad visa, which enables them to continue working for their previous employers remotely while they are there. There is a digital nomad visa available in Panama for stays of up to 90 days.
The initial visa is valid for nine months and is renewable once, for a cumulative stay of up to a year and five months. In order to submit an application for one, you will be required to speak with a Panama immigration lawyer.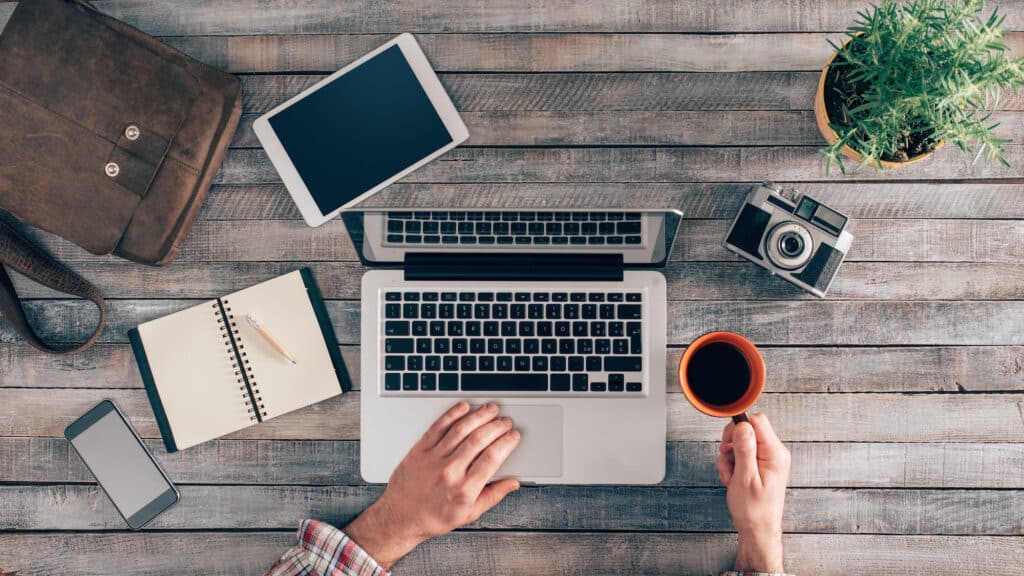 On Becoming a Non-Resident for Canadians Moving to Panama
What happens if you become a non-resident of Canada?
If you intend to make Panama your permanent home, it is highly possible that you will lose your Canadian residence status in the near future. You will be considered a non-resident of Canada if you do not have a principal residence in the country, if you do not have strong ties to it, and if you are absent from the country for 183 days or more.
You will continue to get the pensions you are entitled to from the government, but you will no longer be eligible for healthcare in Canada.
If you have investments in several parts of the world, choosing a non-resident status may provide you with significant tax advantages. Residents of Canada are subject to taxation based on their income from all sources.
The tax system in Panama is territorial, meaning that residents are only subject to taxation on income generated within the country.
After spending one full year outside of Canada and establishing permanent residence in Panama, and after determining that you do not have a primary location to call home in Canada, you just need to have a Canadian accountant lodge a non-residency document with the Canadian government on your behalf. You are exempt from the obligation to file tax returns with Canada.
Canadians Moving to Panama: Safety
Is Panama safe for Canadians and expats in general?
It depends on where you reside in Panama how safe it is to call that area home. Due to the active drug trade and human trafficking that occurs in these regions, the United States Department of State advises tourists and expats to steer clear of the Mosquito Gulf region along the northern Caribbean coast and the Darién Region along the southern border.
Canadians Moving to Panama: Healthcare
Does Panama have a good healthcare system?
Although Panama has significantly increased the amount of money it invests in medical care over the past 20 years, the country is still struggling to meet the needs of its population with high-quality medical treatment.
According to research carried out by Statista, an online resource for market and consumer data, the quality of Panama's health and healthcare systems was ranked 35th overall in the world. For comparison, Canada outranks the Central American country by nine places.
Panama's Social Security Fund, or Caja de Seguro Social, provides medical services to the vast majority of Panamanians. Registration for the system is mandatory for anyone working in Panama, regardless of whether they are employed by a private company or a government organization. The Ministry of Health provides medical attention to all of Panama's other residents.
Medical attention can be obtained at public hospitals and clinics by expats. Public facilities typically charge patients for medical care, but overall, the costs of providing healthcare are quite low.
Public hospitals are notorious for their lengthy wait periods, though, and the vast majority of patients are forced to share rooms with one other individual amid overpopulation. A lot of the time, the quality of care at public facilities are lower than what you might be used to in Canada.
Because of the poor quality of the public hospitals, many rich Panamanians and expats find it more convenient to seek medical attention in a private hospital. These establishments are typically found in metropolitan locations, with Panama City being home to some of the finest examples. Care received at private clinics and hospitals can be cheaper for
individuals who have private health insurance or for senior citizens.
Canadians Moving to Panama: Weather
How's the weather in Panama?
The climate in Panama is tropical, and there are two distinct seasons. The dry season begins in January and continues through April, whereas the wet season begins in May and continues through December.
Temperatures across the country range from 88 to 94 degrees Fahrenheit (31.1 to 34.5 degrees Celsius) on average. Storms of a severe nature are possible as well.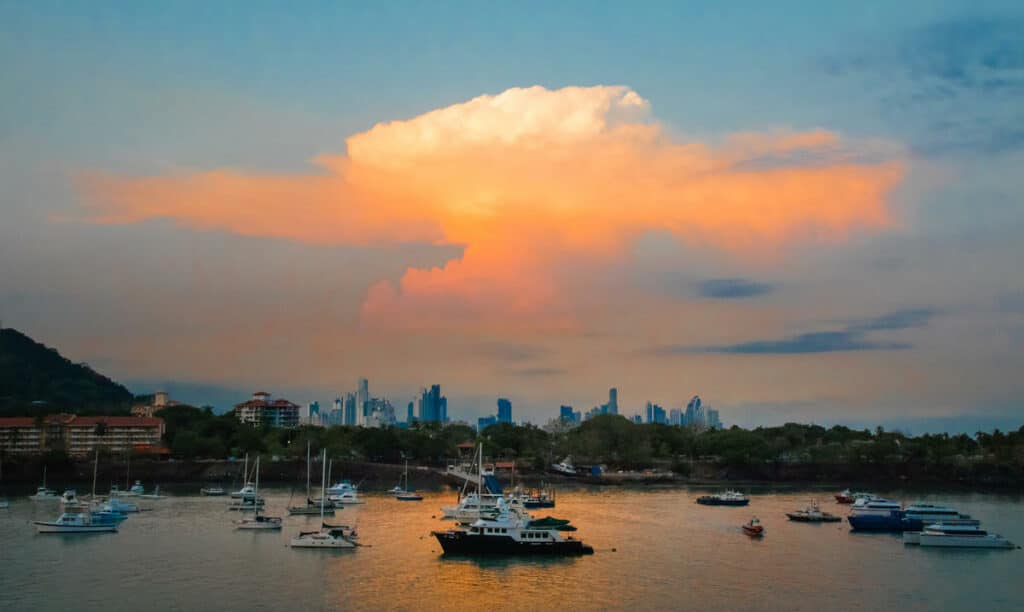 Canadians Moving to Panama: Driving
Are expats allowed to drive in Panama?
The majority of foreign residents in Panama think that driving is the most practical method of transportation, particularly outside of the country's major cities amid the limited public transportation.
The bus and the taxi are the two most popular modes of public transit in Panama. Obtaining a card to use either the Metro or the Metrobus in Panama City is as simple as going to any of the stations. There are buses that run between cities, and the Panama Canal Railway offers transportation between cities and through places that are popular with tourists.
If you prefer driving, a valid driver's license from Canada or the US can be used in Panama within 90 days. After that period, you will be required to make an appointment in order to have your license transformed into a Panamanian license. This service has a total cost of about a hundred dollars, in addition to an additional dollar for every page of documents that needs to be copied as part of the procedure.
Before you may convert your license, you will be required to go through a physical examination that will be performed by a Panamanian physician if you are over the age of 70.
Canadians Moving to Panama: Quality of Life
How would you rate the standard of living in Panama?
Panama took the 37th rank based on the rankings of 146 countries from the 2022 World Happiness Report. The country placed lower than both Canada and the US, which came in at 15th and 16th, respectively.
Its position in the rankings can be attributed, in part, to the prevalence of poverty as well as the quality of social assistance and services. Expats from North America frequently have a higher standard of living overall than many Panamanians largely due to the fact that they are more likely to be economically secure.
Canadians Moving to Panama: Living Costs
According to Numbeo, the whole monthly cost of living in Panama for one person can reach about 661 dollars on average, excluding rent. Meanwhile, the average monthly cost for a family of four, excluding the cost of rent, could hit 2,387 dollars.
It is anticipated that a lunch at a restaurant with low prices in Panama will cost 7 dollars, while a restaurant with a more moderate price point may charge 45 dollars for a three-course supper for two people.
The average cost of a one-bedroom apartment for rent in Panama's city center is about 746 dollars per month, whereas the average cost of such an apartment outside of that area is approximately 443 dollars.
The cost of purchasing an apartment in Panama's city center can reach approximately 1,828 dollars per square meter, while the cost of purchasing an apartment outside of the city center can reach roughly 1,219 dollars per square meter.
Canadians Moving to Panama: Best Places to Live in Panama
Where in Panama can you find the most desirable real estate options?
Your age, career situation, income, whether you are married and have children, and your personal choices and way of life all play a role in determining which areas of Panama are the ideal for you to live in as an expat.
San José de David (David)
David, Panama's second largest city, may be a wonderful place to live for retirees who are looking for quick access to excellent private hospitals as well as recreational opportunities. In addition to a large number of retail malls, restaurants, and automobile dealerships, the region is home to a major international airport. The cost of life in David is far less expensive than it is in Panama City.
Volcán
Located in Chiriqui Province, Volcán is a town surrounded by rainforests and could be an attractive option for retirees who enjoy the outdoors. Even though this is a popular place for hiking, you won't be cut away from the conveniences of city life thanks to its location. There are a great number of food stores, restaurants, and other enterprises in the town because it is a popular destination for travelers.
Panama City
Because of the enormous number of career opportunities, the high-quality hospitals, and the international schools, this city is one of the most popular destinations in the world for expat families. The existence of English-speaking populations, shops, public parks, and restaurants contribute to the desirability of this place.
Coronado
Being a beach town, Coronado is frequently chosen as the new home of expats who wish to be near the water. In this region, there are a lot of families who reside in gated condominium complexes.
Additionally, there are a lot of stores and restaurants here, as well as a few private schools. Because Panama City is only approximately an hour's drive away, local families have easy access to the city's numerous cultural offerings as well as its advanced medical facilities.
Chitré
If you are a young adult who is fluent in Spanish, you could find it enjoyable to live in Chitré. Despite the size of the city, there are a good number of restaurants, stores, taverns, and clubs in the surrounding area.
It is known for throwing spectacular holiday events, which offer supplementary forms of entertainment. The cost of living is significantly lower here than it is in Panama City, which means that young people who are unmarried may even be capable of affording to live right on the beach.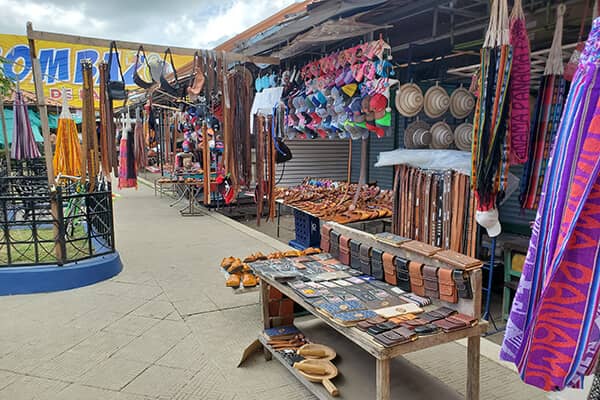 Pros and Cons for Canadians Moving to Panama
The Pros
Secure for Expats
As a general rule, people in Panama prefer to avoid conflict. There is some crime in Panama, as there is elsewhere in the world, but it is typically shoplifting. You just need to exercise the same level of caution and common sense that you would in any other location in the world, and you will be OK.
The US dollar is the currency used
Living in Panama and conducting business there are both simplified by the country's use of the dollar as its primary currency. Several types of credit cards issued in the US do not levy any additional fees when used to make transactions in Panama, using ATMs is straightforward, and purchasing real estate is uncomplicated.
Cheerful Locals
The people of Panama are known for their infectious smiles and deep affection for their nation. Even if you don't speak Spanish, they will make an effort to assist you in any way they can.
Reasonable Living Costs
The cost of living in Panama is significantly lower than the cost of living in the majority of other countries. However, the amount of money you spend on creating your ideal lifestyle is entirely up to you and can be as little as zero or as high as infinity.
Medical Care is of a High Standard
The medical system in Panama is widely regarded as among the most advanced in all of Latin America. The cost of medical care is significantly lower than that in North America, and the level of service is significantly higher.
The Infrastructure in Panama is Up to Date
There is a constant emphasis placed on the construction and upkeep of new roads and bridges. In most parts of Panama, you'll be able to get potable water straight from the sink faucet, and the country as a whole has access to fast, dependable internet as well as reliable cell phone connection.
The Cons
Panama Embraces the "Mañana" Principle
Until you have adjusted to the pace of life in the host country, this mentality may prove to be one of the most challenging aspects of expatriate life to adjust to. Therefore, in order to drop your blood pressure, take a few deep breaths. It will be completed at some point, just not today.
Bureaucratic Challenges
It takes a lot of patience and time to get anything done in a government office in this location. If you want to avoid being let down by the way things are handled in Panama, you shouldn't evaluate them in comparison to the United States. There are some things that go slowly in Panama, and bemoaning the slowness will not make them move any faster for you.
Pained by financial indecision? Want to invest with Adam?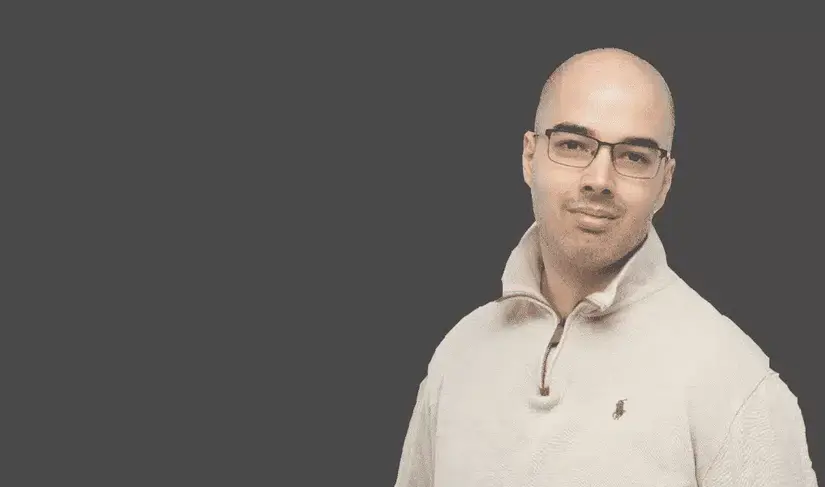 Adam is an internationally recognised author on financial matters, with over 588.1 million answers views on Quora.com and a widely sold book on Amazon and a contributor on Forbes.