Interested to bank in the Cook Islands? Check out this Capital Security Bank review. We'll not only discuss the product offerings of this bank, we'll also get an overview of the banking sector in this South Pacific country.
If you have any questions or want to invest as an expat or high-net-worth individual, you can email me (advice@adamfayed.com) or use these contact options.
Cook Islands Banking Backdrop
There are four domestic commercial banks in the Cook Islands, three of which are authorized to conduct international banking business.
The Cook Islands does not have a central bank, so the Financial Supervisory Commission takes on the role of the main regulatory authority that oversees the financial sector.
According to a 2019 report from the Asian Development Bank, the Cook Islands do not yet have a real-time system for the clearing and settlement of electronic payments between banks. Furthermore, there is no interbank integration across various payment systems.
The report said the government is considering adding the Bank of Cook Islands to the New Zealand monetary system to remedy this issue. An in-house electronic clearing system in the Cook Islands would be more expensive than this alternate approach, ADB noted.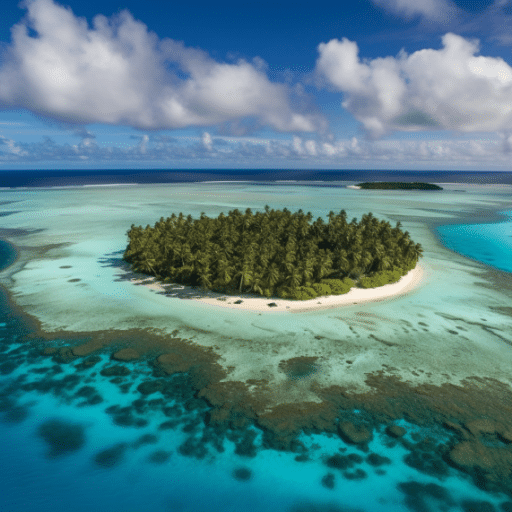 Who is Capital Security Bank?
Since its founding in 1997, Capital Security Bank (CSB) has catered primarily to the requirements of professionally administered family trusts. However, after 25 years in business, the bank is now offering services for individual businesses as well. CSB's current mission is to be the best provider of Private Banking services in the industry.
While Capital Security Bank's primary clientele are foreign nationals, the bank also provides domestic banking services in addition to its private banking products. Unlike many multi-national banks, CSB operates under a single set of laws and is in full compliance with international banking regulations because it is based entirely in the Cook Islands. The judicial system and regulatory compliance framework in the Cook Islands are both highly effective.
Client confidentiality is protected while still meeting all legal requirements, according to Capital Security Bank's practices and the laws of the Cook Islands. CSB protects customer information and only shares it with authorized parties for the purposes of identification and transaction verification.
Instead of concentrating on Retail Banking, Capital Security Bank's puts its efforts on Private Banking. Customers who typically bank with this institution are those who are high net worth, who prioritize long-term financial security over meeting immediate needs, who value discretion and privacy when it comes to money matters, and who favor individualized service and conservative investment strategies.
Professional indemnity insurance worth 5 million US dollars is maintained by CSB through the services of insurance companies Willis Towers Watson and AXIS Specialty Limited (Singapore Branch).
Consistent with its careful stance, CSB deals in safe commodities including hard currency and precious metals. CSB offers a Trading Account and a Managed Investment Account, each of which keeps the client's assets separate, to those who are looking to maximize their earnings.
CSB takes a cautious approach to investing and capital placement, avoiding investments denominated in different currencies and working to minimize exposure to currency fluctuations. Client funds are invested in high quality OECD financial institutions in the form of fixed interest bonds or deposits.
Capital Security Bank Cook Islands Review: Products and Services
Online Trading Account
Capital Security Bank's trading platform connects to more than 40 exchanges globally, giving clients more asset-trading opportunities. The custodian places a premium on customer privacy and segregates all client accounts for maximum security.
Customers may easily keep tabs on their holdings and execute trades with minimal effort thanks to the CSB Online platform. They can rely on daily revaluation and end-of-day fixed value updates within their CSB Online account, providing a comprehensive view of their CSB Portfolio. Clients may easily evaluate their portfolio performance by viewing all of their accounts in one place.
To access this service, customers must pay two primary costs. There is an asset-based account fee, as well as transaction charge for buying and selling investments, which vary with the type of trade and the trading platform used. Account or security value and applicable exchange are two of the variables that affect the charge structure.
When a customer opens an account with Capital Security Bank, at their request, they are given access to an Online Trading Account, which streamlines the process by mimicking the simple steps required to register a standard bank account.
Clients can expand their financial horizons thanks to Capital Security Bank's trading platform, which provides access to multiple markets. These markets include the NYSE MKT, NASDAQ, and the New York Stock Exchange.
Cash Account
Capital Security Bank offers an extensive menu of banking options to cater to a wide selection of customer requirements. Customers benefit from a streamlined and adaptable banking experience through their cash account, which allows them to manage numerous currencies, fixed deposits, and international money transfers under a single account number.
Current accounts, fixed deposits, foreign currency, and low-risk investment alternatives are just some of the banking services this institution provides.
Clients can transact in British pound, euro, Swiss Franc, and US, Australian, New Zealand, and Canadian dollars. Anyone can open an account with Capital Security Bank, from individuals to corporations, trusts, partnerships, and foundations. Additional documentation, such as articles of incorporation and information about the ultimate beneficial owner that can be traced back to a natural person, is needed for entity accounts.
Clients of CSB can be any nationality, including those of the Cook Islands. Albeit encouraged, they can open accounts without visiting a branch.
However, there are stringent procedures in place to ensure the correct verification of given documents if an account applicant is not physically present in the Cook Islands. The initial account setup cost is 250 USD, and ongoing maintenance costs are a percentage of the client's account balance each month.
For international corporations and individuals who are not nationals of the Cook Islands, the minimum net worth required to enter into a banking relationship with CSB is 250,000 USD or the equivalent in other currencies.
Customers who deposit above 500,000 USD or its foreign currency equivalent at Capital Security Bank can take advantage of attractive fixed deposit alternatives, including higher rates of return. The bank provides fiduciary deposit placements, which give even more attractive returns, to clients who deposit more than 1 million USD or the equivalent in foreign currencies.
Precious Metal Account
Gold, Silver, and Platinum are just some of the precious metals that customers of Capital Security Bank can obtain access to through their Precious Metal Account. These metals are stored in CSB's secure vault located in New Zealand.
Customers can liquidate their metals at any moment following the purchase date, which is a major benefit of this account type. All metals purchased through CSB are actual physical metals, and they are all 100% allocated to the account user, making the Precious Metal Account an attractive investment option for some.
If you'd like, Capital Security Bank can offer you with specifics about the metals in your account, even down to the serial numbers.
Pre-Paid Debit Card Account
Capital Security Bank's Prepaid Debit Card Account allows customers easy access to their money using a USD debit card that can be used at so many e-commerce sites, physical stores, and ATMs.
When many people need to sign for a bank account, they can each request their own debit card. If there are many signatories on the account, Capital Security Bank can issue a prepaid debit card with a unique account number for each person.
There may be issuing restrictions based on the cardholder's country of residence. Clients are advised to contact CSB's banking team.
There are specific limits and guidelines associated with the Pre-Paid Debit Card Account. The maximum card balance is set at 10,000 USD, ensuring that clients can manage their funds effectively. ATM withdrawals are limited to 500 USD and point of sale purchases to 10,000 USD per transaction.
Meanwhile, the maximum daily load and accumulated load per year for the card is 5,000 USD and 80,000 USD, respectively. These limits help maintain security and control over card transactions while providing flexibility for clients' financial needs.
Fiduciary Deposits
Fiduciary Deposits are a type of fixed deposit agreement in which Capital Security Bank puts client funds with certain counterparties on the client's behalf. Clients' cash investments are protected and diversified by being stored in a trust account that is not included in CSB's balance sheet.
Clients can diversify their assets and perhaps increase their profits by choosing the counterparties and terms for their Fiduciary Deposits. Opening a Fiduciary Deposit Account with Capital Security Bank is as straightforward as opening a regular bank account.
Current CSB customers can easily inquire about rates and terms by contacting their account manager or the Banking Team via CSB's Online Banking portal.
Fiduciary deposits can be made in a number of different currencies, and particular currency alternatives can be made accessible to existing clients upon request. Clients can see their balances, interest earned, and fees charged on their monthly CSB account statements, just alongside their standard fixed deposits.
A single Fiduciary Deposit must be at least a million US dollars or its foreign currency equivalent.
An initial placement fee equal to the total interest accruable over the deposit's term is due at the time the Fiduciary Deposit is established. This charge is made in the currency of the interest and cannot be changed, refunded, or reversed under any circumstances, including the early termination of the Fiduciary Deposit.
How to Set Up a Capital Security Bank Account
The procedure for opening a Capital Security bank account is quick and painless. You can fill out the online opening form on their website, as you can see in the image below: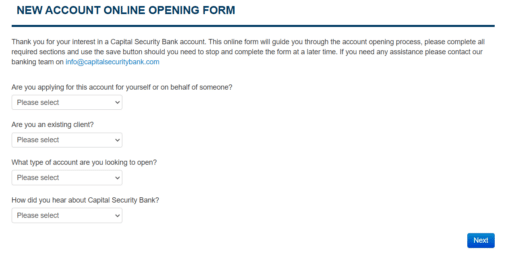 When you're done answering the questions, proceed to submit your application. Once your account registration is approved, it's time to add funds to your Capital Security Bank Account.
With your Capital Security Bank Account set up and funded, you gain access to over 40 global exchanges, covering various asset classes.
Tax Considerations
The tax climate in the Cook Islands is beneficial for both individuals and enterprises. There are no taxes on capital gains, inheritance, stamp duty, capital transfer, gifts, or wealth in this jurisdiction.
Assets and income generated outside of the country are also free from income tax. Earnings in excess of 24,000 New Zealand dollars are taxable at a maximum rate of 30% for tax residents.
Thanks to these favorable tax policies, the Cook Islands is attracting people who are looking to minimize their tax burdens.
Pained by financial indecision? Want to invest with Adam?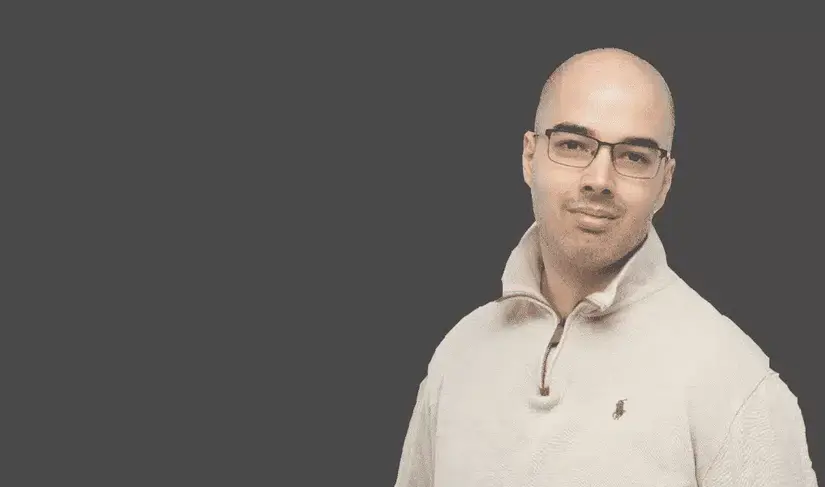 Adam is an internationally recognised author on financial matters, with over 693.5 million answer views on Quora.com, a widely sold book on Amazon, and a contributor on Forbes.