Hong Kong and Singapore have long been considered two of the four Asian Tigers. Many questions arise because of their similarities.
However, these two cities vary in many ways. These differences impact which area people choose to reside in. So, if you're here to ask, "Is Singapore more expensive than Hong Kong?" or "Is Hong Kong more expensive than Singapore", then you found the perfect guide to walk you through about what to expect in terms of prices.
If you want to invest as an expat or high-net-worth individual, which is what i specialize in, you can email me (advice@adamfayed.com) or use WhatsApp (+44-7393-450-837).
How's the cost of living in Singapore vs Hong Kong?
In real life, it's difficult to distinguish which one is better between Singapore and Hong Kong. There are so many parallels and discrepancies. However, both Singapore and Hong Kong are cities. This means there are a lot of other residents residing in metropolitan areas that offer abundant opportunities that would foster and aid your financial needs.
Singapore or Hong Kong: Which is better?
We must be precise when assessing the relative prospects between two nations. Both cities have high living costs. However, Hong Kong is 8% cheaper than Singapore.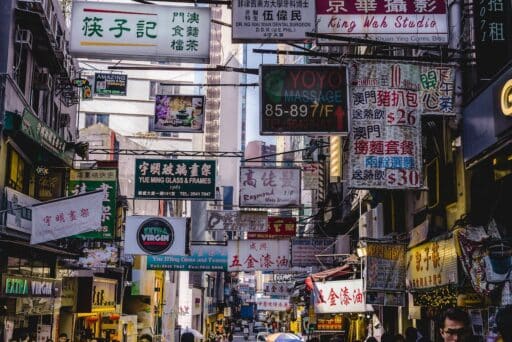 Hong Kong vs Singapore Salary
In terms of average earnings, Hong Kong outperforms Singapore. Total pay for financial experts is 55% greater in Hong Kong than in Singapore, thanks to an 88% increase in salary and a 4% increase in bonus.
Singapore vs Hong Kong Rent
Singapore is positioned as the more expensive choice when it comes to housing. Renting a furnished flat in a prime district in Singapore that is 85 square meters (900 square feet) in size would cost you SGD 6,035. However, they are very comparable when compared to Hong Kong, which requires HK$34,554 (approximately SGD 6,051) due to its extravagant property market.
On the other hand, there will be a noticeable difference if you choose a comparable house in a typical region. It is SGD 4,737 in Singapore and HK$23,437 in Hong Kong, indicating a notable 16% difference.
Singapore costs SGD 300 for utilities for a couple in an 85-square-meter apartment, but Hong Kong charges HK$1,581, meaning that there is a 9% premium in Hong Kong. This indicates that the cost of utilities is much greater in Hong Kong, which is in line with the city's reputation for having high living expenditures.
If you're looking for something smaller, a furnished apartment in a pricy part of Singapore costs SGD 4,643 per month. This similar option costs HK$19,616 in Hong Kong, which is a significant 36% differential between the two locations. The rent for the same studio in a typical neighborhood is SGD 3,317 in Singapore and HK$13,797 in Hong Kong, representing a 38% difference.
Another example of an economic difference is the utility bills for a 45-square-meter studio in Hong Kong (HK$994), which are 19% more than in Singapore (SGD 207).
In terms of pricing for consumers, a 40-inch flat-screen TV costs HK$4,281, which is somewhat less than SGD 756 in Singapore. When it comes to kitchen equipment, Singapore wins out! A microwave from comparable manufacturers costs SGD 189, while in Hong Kong, the identical item costs HK$1,875, or 42% higher.
The price disparity decreases when it comes to everyday necessities. The price of laundry detergent in Hong Kong is HK$96, which is 26% cheaper than in Singapore ($12). However, Hong Kong has a 47% higher hourly charge for cleaning assistance, at HK$96, indicating a substantial difference in labor expenses between the two cities.
Hong Kong vs Singapore Economy
At any worldwide standard, Singapore's economic and human growth rival Hong Kong's. We have less than 50% property ownership, compared to 89% in Singapore. Public housing houses 80% of Singaporeans. Singapore now possesses the world's freest economy. This has surpassed Hong Kong's record after 53 years.
Cost of Living in Hong Kong for Single Person
In Hong Kong, the monthly cost of living for an individual is a substantial HK$18,669. This budget covers rent for a one-bedroom apartment outside the city center, food, utilities, clothing, and exercise. This estimation only includes necessary living costs, not healthcare, leisure, or savings. In one of Asia's most active and cosmopolitan cities, recognized for its high cost of living, this estimate shows the financial challenges residents face.
Food Prices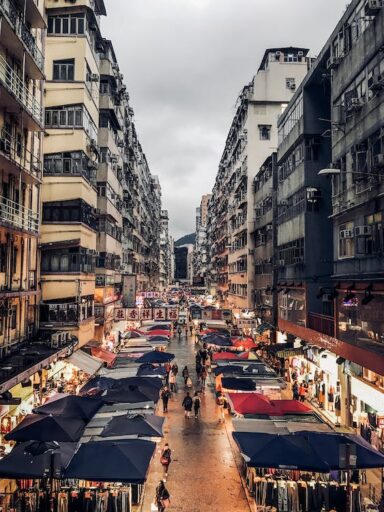 Hong Kong has more affordable restaurants than Singapore. Food prices in Singapore are quite astounding.
An economical restaurant supper in Singapore costs SGD 13 (HK$74.39). However, in Hong Kong, it costs SGD 10.48 (HK$60).
A two-person, three-course lunch at a mid-range restaurant in Singapore costs SGD 100 (HK$572.25). And this is just SGD 87.37(HK$500) in Hong Kong. This means you can come up with 12.6% savings if you're in Hong Kong.
Even McDonald's combo meals are 21.4% cheaper in Hong Kong. It only cost SGD 7.86 (HK$45). Compared to Singapore, it costs around SGD 10 (HK$57.22).
Hong Kong has 12.6% cheaper beer prices than Singapore too, with a 0.5-liter draft costing SGD 8.74 (HK$50). A normal cappuccino costs SGD 6.91 (HK$39.53) in Hong Kong. However, it's around SGD 6.18 (HK$35.38) in Singapore. In general, Hong Kong has more affordable dining and fast-food alternatives.
Housing Cost in Hong Kong vs Singapore
Singapore and Hong Kong have costly residences.
One-bedroom apartments in Hong Kong's city center cost SGD 3,194 (HK$18,279). This is 22.9% less than in Singapore (SGD 4,145). On the other hand, Singapore is 22.5% more costly than Hong Kong for non-city center homes. It costs around SGD 2,960 (HK$16,938). Hong Kong has a 24.3% pricing advantage over Singapore for three-bedroom apartments outside the city center and 25.4% within.
A real estate purchase is different. Hong Kong's city center apartments cost SGD 41,842 (HK$239,442) per square meter, 50% more than Singapore's SGD 27,890. Hong Kong has 66.7% higher price per square meter outside the city center than Singapore, at SGD 27,691.25 (HK$158,462.50) vs. SGD 16,610. This is a big difference in housing prices, with Hong Kong's market far more expensive.
While renting residential properties in Hong Kong is cheaper, buying a property has become more costly, making the housing cost in Singapore a better alternative for buyers.
Transportation
Both cities have good public transportation, although commute costs vary. Hong Kong's one-way public transportation ticket costs SGD 2.10 (HK$12). This is 10.4% higher than transport cost in Singapore, which come in at SGD 1.90 (HK$10.87).
Hong Kong's monthly pass for standard public transport is SGD 87.37 (HK$500). This shows 31.7% less than Singapore's SGD 128 (HK$732.48). Therefore, it is a cheaper alternative for frequent commuters.
The beginning taxi fare in Hong Kong is SGD 4.72 (HK$27). It's 15.1% more than Singapore's SGD 4.10 (HK$23.46). Hong Kong cab fares per kilometer are SGD 1.75 (HK$10), much more than Singapore's SGD 1 (HK$5.72). This indicates a 74.7% gap. Remember that Singapore's SGD 20 (HK$114.45) and Hong Kong's SGD 19.92 (HK$114) for an hour's waiting are just slightly different.
Singapore costs SGD 2.88 (16.49 HK$) per liter for gasoline, but Hong Kong charges much more. This is a 36.8% premium. The biggest difference, however, becomes apparent when thinking about buying new automobiles.
For example, the price of a Volkswagen Golf 1.4 90 KW Trendline or a comparable model in Hong Kong is SGD 45,399.93 (259,800.00 HK$), which is 74.8% less than what it costs in Singapore. Similarly, at SGD 44,951.76 (257,235.35 HK$), the Toyota Corolla Sedan 1.6l 97kW Comfort or its equivalent is 71.1% less costly in Hong Kong, making it a far more affordable choice for vehicle purchasers.
While Hong Kong's taxi industry and public transportation provide financial advantages, they could be outweighed by the increased price of petrol. The biggest savings are seen in the significantly reduced costs of brand-new automobiles, which makes Hong Kong a more appealing option for prospective car buyers.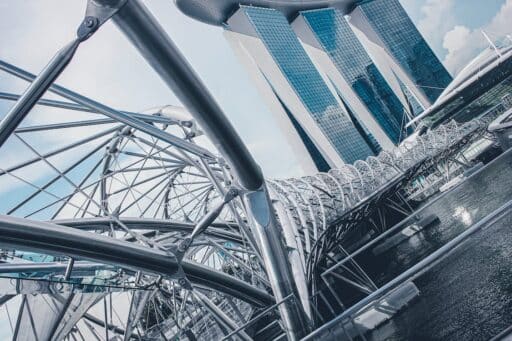 Education
If you're a student who considers studying abroad, determining the educational costs will help you prepare and determine what school really fits your financial limits.
International School Fee in Hong Kong
The cost of education ranges from HK$1515,000 for G11/12 and G12/13 pupils to HK$150,500 for KG1 and KG2 students. The application form is filed with the HK$900 non-refundable application fee. Unless they are covered by a debenture, newly enrolled students must pay a non-refundable capital fee of HK$39,000.
Tuition Fee in Singapore
Students are choosing more and more to pursue higher education in Singapore because of the renown and caliber of universities like NUS, NTU, and SMU. It's crucial to comprehend the financial costs associated with pursuing higher education in this city-state before diving deeply into university life.
The entire cost of tuition for a four-year undergraduate program at a local institution for Singaporean nationals ranges from SGD 22,500 to SGD 54,000, with an approximate average of SGD 38,250.
Internet
Hong Kong internet services are at a far lower cost than Singapore. A high-speed internet connection in Hong Kong that offers unlimited bandwidth over cable or ADSL and speeds of 60 Mbps or greater costs SGD 32.23 (184.42 HK$).
In comparison to the internet cost in Singapore, where the identical service costs SGD 47.28 (270.57 HK$), this is a significant cost savings of 31.8%. This pricing difference demonstrates how competitive and inexpensive internet services are in Hong Kong, which makes them a more cost-effective option for locals looking for dependable and quick online access.
Is healthcare free in Hong Kong?
There are two components to Hong Kong's healthcare system: private medical care and state healthcare. You do not need private Hong Kong health insurance if you decide to use the public healthcare system. All public healthcare services are provided by the government, either at no cost or for a small price.
However, the kind of service and location of the visit determine the cost of healthcare in Hong Kong. General practitioner (GP) visits cost $25–$50, depending on the institution and complexity. Simple health screenings may cost $25, while more complete ones might cost $400, depending on the number and kind of tests. Public hospital Accident & Emergency (A&E) departments usually charge around $121 for visits.
Depending on the physician and kind of visit, fees for specialist consultations at public hospitals may vary from $39 to $161. However, there are a number of variables that you also need to keep in mind. The kind of facility, whether private or public, the particular services required, and any health insurance coverage might affect the cost of healthcare.
In Hong Kong, private healthcare services are also offered. This is because their prices may range greatly from those of the public system. This certainly makes sense when considering getting the right health insurance coverage in order to control medical costs.
Health insurance cost in Singapore
It was calculated that the typical individual with at least one dependent would need protection against mortality equal to nine or ten times their yearly income. Naturally, this varies by individual.
Foreigners' health insurance prices vary on age, lifestyle, and medical history. Singapore's average health insurance cost for nonsmokers over 45 is SGD 132. For 75-year-olds, the average premium is SGD 69–SGD 1,063.
Bottom Line
Fragrant Harbor vs. Lion City—these two countries have been fighting for years in areas like the economy, education, and quality of life. Many factors must be considered while deciding between Singapore and Hong Kong. Depending on your ideals, the cost of living in the two countries will help you choose the best country for you.
For investment guide, read one of our articles here.
Pained by financial indecision? Want to invest with Adam?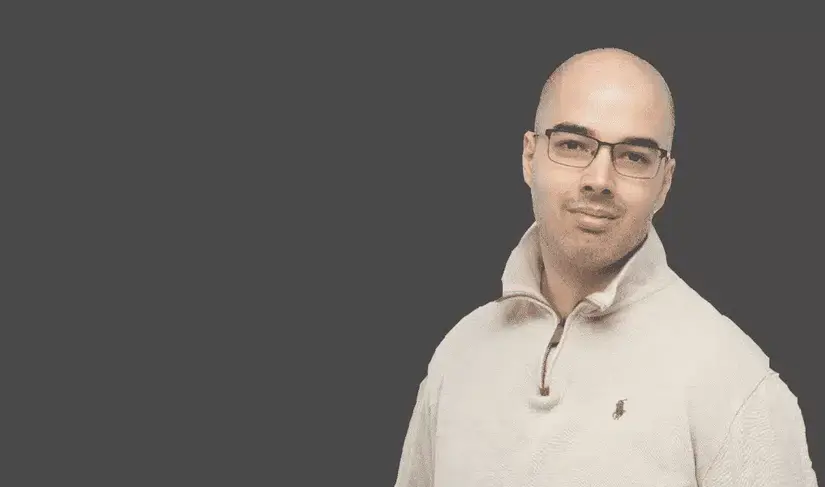 Adam is an internationally recognised author on financial matters, with over 693.5 million answer views on Quora.com, a widely sold book on Amazon, and a contributor on Forbes.