Emma Budgeting App Review 2022 – that will be the topic of today's article.
As I have mentioned before, it is possible to become a millionaire on a middle-income and be low-wealth earning a lot of money.
As more people have learned these facts, there has been an increase in demand for budgeting apps.
This article will therefore review the budgeting app Emma, which is one of the most popular apps of its kind globally in 2020.
For any questions, or if you are looking to invest, you can contact me using this form, or by using the WhatsApp function below.
Introduction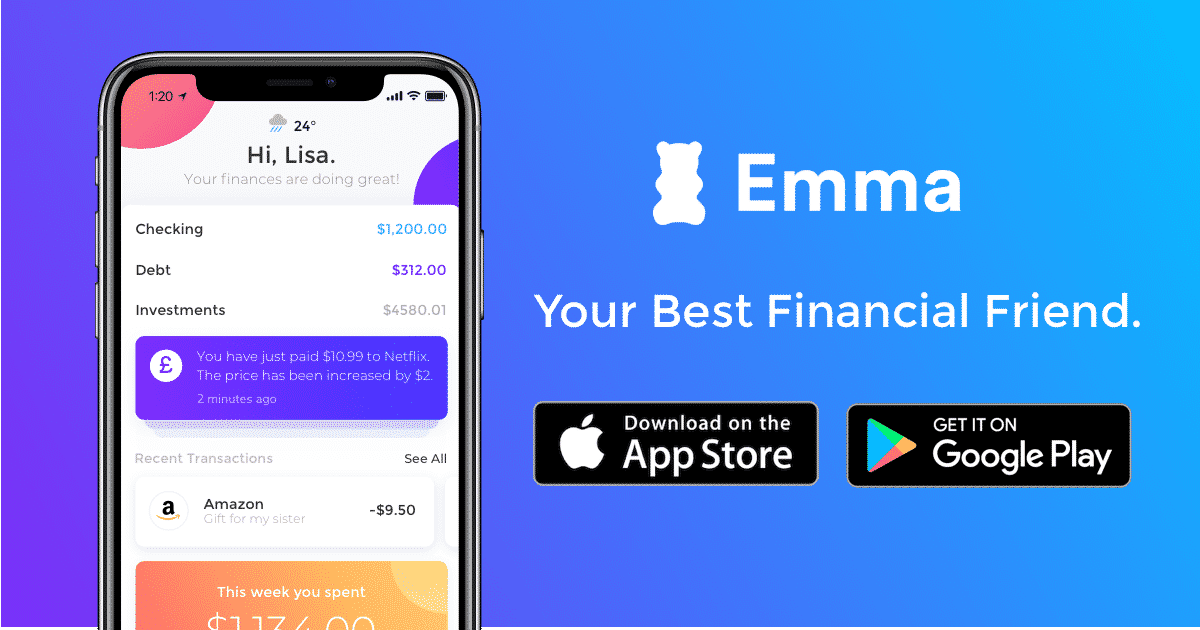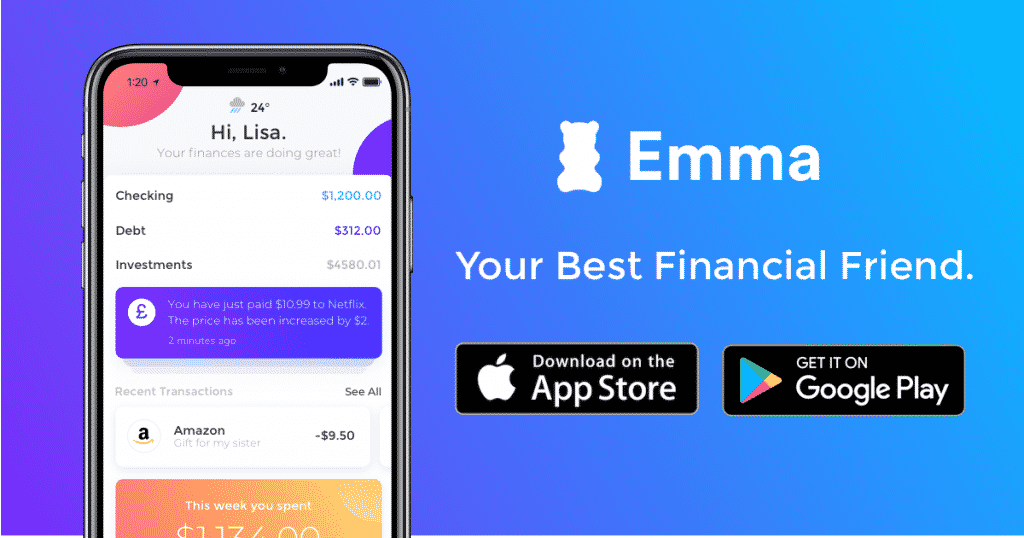 If you only have one hour a month to improve your finances, how will you spend it? One of the best ways to use this hour is to organize your finances.
Determine your income and expenses and make a plan for how to use your money.
Deciding how to organize your finances can be a major challenge, especially for people who aren't accounting professionals or financial nerds.
Struggling to get an idea of ​​your financial life? The Emma app can be a great place to start. Here's what you need to know about the app. See how Emma can be useful for you and learn about this app main features.
Let's start with a quick overview of this money management app and other important points.
Emma is a money management app that uses open banking to aggregate information from all of your bank accounts, savings accounts, credit cards, and investments.
Emma was launched in 2018 by co-founders Edoardo Moreni and Antonio Marino, and in June 2018 it raised around £ 500,000 in its first round of funding.
The co-founders came up with the initial concept while studying together at the University of Manchester, forming a close friendship, in part because they were the only two Italians on the course.
They moved to Berlin after their studies to start work on Kiria, the predecessor of Emma, ​​but she struggled to make an impact and faced problems with German banking law.
Due to the weakening of laws in England, they dropped the word "Kiria" and moved to England to develop what we now know as Emma (name made from the initials of the co-founders).
On June 11, 2019, Emma became the first UK money management app to launch in the US and Canada.
So who can use Emma app? Anyone with a smartphone and struggling to keep their finances up to date can use it. Emma's largest audience is people aged 25-35, followed by people aged 18-25.
However, you shouldn't be put off if you don't fall within that age range. However, they are aimed at a younger audience, but with the vibrant colors and the main gummy bear logo, at times it feels like you're downloading a game for a 5-year-old, not an app that will revolutionize something just as serious, how are your finances.
Now let's talk about some important pros and cons that Emma has;
Pros
Grouping all your accounts in one simple app will make budgeting easier
Stylish app with a range of budgeting features
The monthly savings tip can help you save an affordable amount each month.
Can integrate with all major banks and several growing digital banks such as Monzo and Starling.
Track your crypto currency balances alongside your more traditional bank accounts
Cons
There is no weekly or monthly comparison function. Makes it harder to track changes in spending habits
Like most other budgeting apps, it is read-only, so you cannot transfer money between accounts or make payments yet.
Emma supports a few financial institutions and investment accounts, and most of these are only in certain countries.
It isn't a global solution in some ways. If you are living in Pakistan, Chile or South Africa, you might not see the same benefits using this app compared to somebody living in the US or UK.
How does Emma work?
Co-founder Edoardo Moreni describes Emma as a "fitness tracker for money," and it's designed to keep your budgets in sync with payday and keep track of all your payments throughout the month, while keeping you informed of your future commitments.
By syncing all your checking accounts, savings accounts, credit cards, and investments, you can get real-time information as well as easy access to historical data.
Emma brings all your bank accounts and credit cards together in one app. Here are the other budgeting and money management features it offers:
Breakdown of subscriptions. It separates recurring payments like subscriptions and bills from daily expenses. This makes it easy for you to find out which subscriptions you are paying for and cancel the ones you are not using.
Cost categories. It breaks down your spending by category and vendor so you can see exactly what you are spending your money on.
Commission tracker. The app allows you to track exactly when and why major banks charge you a commission. The fees he tracks include overdraft fees, fixed account fees, and overseas transaction costs.
Budgeting tools. Tell the app how much you want to budget by category. The app sends you notifications if you follow.
Savings advice. Using smart technology, it tells you the available amount to save for at the end of each month.
Integration of crypto currency. Easily track your crypto currency balances. Supported crypto currency exchanges include Coinbase, Bittrex, Bitstamp, Kraken, Bitfinex, and select Bitcoin and Ethereum addresses.
The setup is pretty simple: you search for your bank / credit card / investment provider in the app and link them, logging in as usual and providing the appropriate security details.
If you are not used to logging in over the Internet, this can be frustrating, as in order to sync the application, you will need access to all login information through your bank / credit card / online investment account and security data.
What will you get?
Once you've downloaded the app and linked your accounts, you have five navigation sections, which are summarized below.
Feed. A main channel similar to Facebook or Instagram where you can scroll down to access expense summaries, subscriptions and reminders
Analytics. A more detailed breakdown of your current income and expenses across all your accounts. You can access your budgets and look at the current month, or go back to previous months.
Save money. Here you can compare insurances, credit cards, mortgages and more.
Accounts. Divided into four sections: "Daily", "Savings", "Investments and Loans", and this is where you can access your individual accounts from one screen.
What Financial Institutions Emma supports?
Emma supports dozens of banks from all over the world and of course some investment accounts, so you have to check the list before signing in Emma. Among the banks there are;
American Express
Bank of Scotland
Barclaycard
Barclays
Capital One
Chip
Clydesdale Bank
Danske Bank
First Direct
HSBC
Halifax
Lloyds Bank
MBNA
Marks & Spencer
Monzo
Nationwide
Natwest
Paypal
Revolut
Royal Bank of Scotland
Sainsbury's Bank
Santander
Starling Bank
TSB Bank
Tesco Bank
Transferwise
Ulster Bank
Vanquis Bank
Virgin Money
Yorkshire Bank
Emma also lists a number of investment accounts that are not currently supported. Clicking on one of the following (Nutmeg, Wealthsimple, PensionBee) will be followed by a pop-up message saying 'This provider is currently not available.
They either don't have a public API or haven't been able to provide one'. You are then encouraged to Tweet the provider. Anyways, here is a list of supported investment accounts;
Freetrade
Hargreaves Lansdown
MoneyBox
Moneyfarm
Vanguard
Wealthify
Emma's outstanding features
Budgeting – In the analytics section, you can select "Budgets" and set a budget amount for all of your categories such as bills, transport, groceries, etc. You have the option to select a budget in two modes: from payday to payday or month, from the beginning to the end of the month.
Whichever budgeting method you choose, you can set a Total Budget for the month and use it to track your expenses and achieve your savings goals. If you choose to set an individual budget, you can move it up and down whenever you like by clicking on the plus or minus in the different categories.
The app will show you your average expenses in each category to help you, which is helpful, but keep in mind that it looks at your total expenses.
In the transport section, for example, you are planning £ 300 a month, but the app suggested that it should be £ 450 as it included the lump sum you paid for a particularly expensive service that you had a while ago.
Quests – this is Emma's approach to gamification that encourages you to research the app in exchange for badges and badges. This is a neat approach to what is essentially a feature or FAQ section, and it means you have learned more than usual, although the final badges will only go to those keen to shout Emma's name from the rooftops as this is highly referral oriented.
Real-time balances – the "Payment Period" section displays your account balances in real time. It does this by taking your income, subtracting your verified expenses (which are not just your direct debits, since the app is smart enough to notice recurring obligations), subtracting the actual expenses (after deducting your projected expenses), and then tells you what is left.
Daily balance – an interesting feature that is very useful is the ability to receive daily updates on all of your balances. It is presented as an easy-to-understand notification that is sent every morning.
Sort out your money – Emma has a clever feature to eliminate internal transfers between your accounts to avoid confusion. This can include transferring money to a savings account or paying off a credit card. As long as the account to which you are transferring money is added to the application, the transaction will be excluded, the money will simply be displayed in the right place.
The only downside is that Emma does not currently have a Savings or Credit Card category (as the app has access to your savings and credit cards and therefore just updates balances accordingly). This approach works great for people with only one account or credit card, but others with multiple savings accounts or credit cards may find it confusing, especially if the bank or credit card provider is not supported by Emma.
Histograms – in April 2020, Emma introduced bar charts that allow users to easily see how their expenses are changing over time. With a bar chart, users can easily compare their spending across different categories over time.
Rewards – Emma allows you to earn rewards by subscribing to products and services through the app. These are affiliate deals in which you, as a consumer, will make money by purchasing a product or service. Emma has made it clear that she is not receiving any money from the affiliate deal and is passing it on to the user.
This is a pretty standard feature, similar to other budgeting apps, although others that combine online bank accounts go a little further and give you money back on spending at certain retail stores. It disappoints me that Emma's Rewards are paid out via PayPal and not directly into your account.
Bank payments – Emma presents a summary of all bank fees and is aiming to reduce the £ 10 billion in revenue that banks receive from these fees. Bank fees can be difficult to understand and can often be hidden among other fees, so the summary Emma provides can be a useful reminder to check the fees your bank charges.
Save money – Emma has partnered with a number of vendors to help users save money in a variety of areas of their finances, including insurance, investing, pensions, credit cards, loans, and savings. The partners are Money Supermarket, Confused.com, Money Guru, Monevo and PensionBee.
*More about application design and navigation
From the very beginning, opening Emma, ​​it can remind you of Clarity Money (if you have used it before). The app's Ribbon tab has several widget-style sections, each with eye-pleasing color schemes. Plus, most of these widgets are pretty handy.
Starting at the very top (well, after the aforementioned balance section) are recent transaction cards that you can flip through. This is where another comparison of Clarity Money comes in: the use of company logos.
For the vast majority of your transactions, Emma showed the merchant's logo, making it easier to spot certain purchases. Both functionally and aesthetically – and it looks like Emma feels the same way as they include a way to send a company Twitter account so the app can update their logo and name information.
This is a smart crowdsourcing idea that produces compelling results for users.
Some of the other useful tools in the feed include an expense chart, where you can quickly see how your current expenses are in different categories compared to the previous three months. Another suggests looking for transactions from some of your top sellers.
Finally, the 'Subscriptions' section might be one of your favorites as it shows you a list of your current and inactive recurring subscriptions collected from your transaction data.
In case Emma missed a recurring subscription and you want to add it to the list (or want to remove something from the list), you can do so by clicking on this transaction and enabling the option "Repeat payment".
This feature is great, because it not only alerts you to upcoming spending commitments, but also provides you with a generic list of subscriptions, making it less likely that you will forget about them.
In general Emma has a very comprehensive and easy interface and is very beautifully designed as well. It is a total pleasure to use it, as along with a good design and interface it provides very useful features.
How much does the Emma app cost?
The main features of Emma are free, including all the features mentioned above. The app also offers a premium version which is called Emma Pro, which you can pay for monthly or annually. You get a 7 day free trial and the option to subscribe for 1 month, 6 months or 1 year.
1 month is £9.99
6 months is £39.99 or £6.66/month
12 months is £59.99 or £4.99/month
The updated version allows you to create custom categories, update expenses (useful when you need to keep the ledgers for your business), split transactions, and customize transaction names. It is not recommended upgrading unless you've spent some time using the free version. People who like the free version may think the $ 50 / year cost is worth it.
About canceling Emma Pro
If you want to end your Emma Pro trial before your free week expires, or need to take a short break, canceling your subscription is easy. For iOS users, you will be able to cancel by going to Settings, selecting iTunes and App Store, pressing your Apple ID and scrolling down to Subscription. From there, you can not only cancel your current subscription, but also view other renewal options.
Is Emma safe?
Emma has bank-grade encryption, so you need to make sure your data is stored securely. It is registered with FCA and ICO, and the app has read-only access, which means no one can touch the money.
Emma also notes that there are people on their team who have built security systems for companies like Google, so they seem to take security very seriously. Emma also does not keep any bank details. This means that your account cannot be hacked at any given time, even if their servers are compromised.
What Emma offers to its users?
Bank-grade encryption
Registered by FCA
ICO registered
Read-only access
Data is not transferred to third parties.
Should you use Emma to manage your finance?
Literally a lot of people are impressed by Emma. Most of the time, you have to spend more than an hour to get a financial app to give you meaningful insights or to simply understand how it works or how to use it.
With Emma, you can complete all your transactions and other financial activities within 20 minutes. That's amazing! Getting your financial life organized is critical to making financial traction, and Emma delivers on that front.
But is this the right app for you? Generally, the answer depends on what you want from an app. If you want a great visual representation of your financial life, Emma is an excellent app. If you want a budgeting app, Emma is decent (though others work well too).
If you want a tool to track your net worth, Emma works, but others are better. Need a credit score tracker or you want heavy customization? Emma isn't for you (try other apps instead).
Conclusion
The Emma app looks good, is handy and easy to use and offers some really useful features, most notably its ability to track your subscriptions and track your crypto assets as well as your regular bank accounts. Emma offers a fast setup process, a smooth user interface, and an impressive feature set.
The design theme is top, that's a great plus, especially when you consider what you get for a free app. It is a powerful tool that can help you sort out your finances and save money right away.
On the other hand, more visuals and graphics could be added, and some of the more flexible features are only available to premium users, which is not ideal. Some of Emma's competitors like Yolt and Money Dashboard are better at this point.
Emma is best described as a budgeting app, but "personal finance app" is also a good label. That doesn't mean its budgeting tools are inadequate, but the way Emma displays information about your purchases makes them more useful to money-less people.
However, Emma is a really good budgeting app. It is a really smart tool for organizing your money, allowing you to manage it more efficiently and ultimately save more.
Further Reading
Some people with good spending habits are looking to retire early. We will probably be in a recession for a few months or years due to lockdown and covid.
Therefore, is it possible, or even desirable, to retire during a recession?
The article below will look at that question.
Tags
best budget planner for beginners
,
emma app supported banks
,
emma budgeting app
,
Emma Budgeting App Review 2020
,
Emma Budgeting App Review 2020
,
Emma Budgeting App Review 2021
,
Emma Budgeting App Review 2022
,
Emma Budgeting App Review Emma Budgeting App Review
,
Emma Budgeting App Reviews
,
emma pro
,
emma technologies ltd
,
emma vs mint