I regularly conduct podcasts and produce videos which look at news stories from around the world, where I analyse them and look at the wider picture.
On today's podcast I speak about three news articles which caught my eye:
The trend towards environmental and social governance (ESG) investing is gathering pace in Asia, after it started in Europe and the US. What are the treats associated with trying to catch trends?
Taiwan is one of the success stories of the coronavirus period. It is now going to open its borders gradually, especially for vaccinated travellers. What does this show and could tourism get back on its feet this year?
E-commerce has been a winner in the last few years and indeed decades, yet could it have its wings clipped in the US, China and Europe? Some people certainly think "big tech" could be targeted after the Jack Ma/Alipay issue.
I have copied the articles below with links to give credit to the original authors.
ESG-related ETF assets in Asia to rise 20% in 2021: BI
ETF growth in Asia still lags behind Europe, North America
China is set to post the fastest growth in Asia for environmental, social and governance investments after the country boosted exchange-traded fund assets 18-fold in the past two years, according to estimates from Bloomberg Intelligence.

China's push for renewable energy and electric vehicles will spark more fund flows into ESG-related ETFs, contributing to a 20% growth in assets across Asia this year, according to BI analyst Esther Tsang.

"We are seeing a surge there," Tsang said. "China is going to dominate."

Even with the asset growth in the past two years, China only accounts for a little over 10% of Asian ESG ETF assets under management. Japan leads the pack, accounting for about 80% of the $40 billion in ESG funds that trade on exchanges. Asia lags behind North America and Europe, accounting for less than a fifth of the $218 billion in global ETFs in this sector, according to Bloomberg Intelligence estimates from Tsang and Adeline Diab.

Strong performance is adding to China's asset growth, along with fresh investment inflows. The KraneShares MSCI China Environment Index ETF that trades in New York jumped 132% in the past 12 months, lifted by its holdings of electric vehicle makers Nio Inc. and Byd Co., along with Xinyi Solar Holdings Ltd. The Global X China Clean Energy ETF in Hong Kong has also more than doubled in the past year.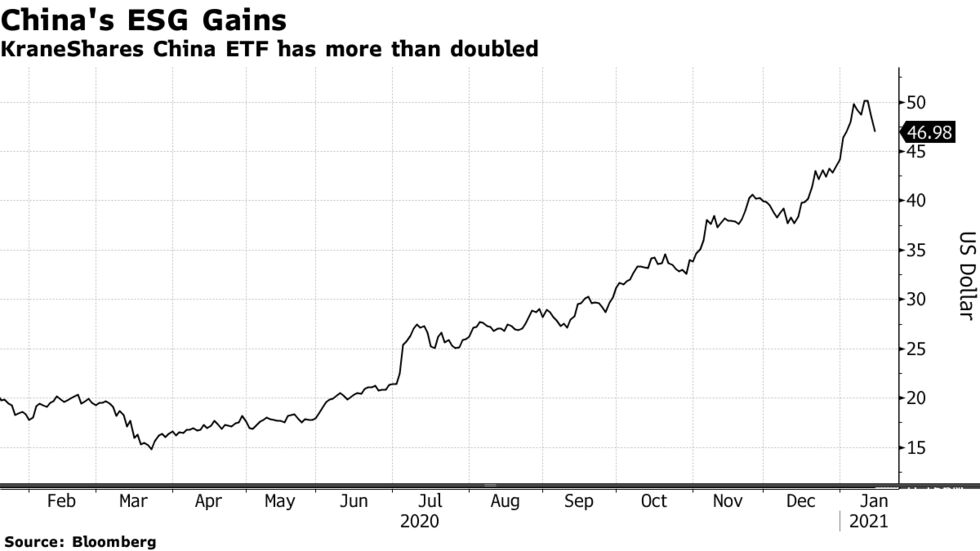 Solid returns, along with the need to build a more resilient portfolio, are attracting investors to the sector in Asia, said Amy Lo, co-head of Asia-Pacific wealth at UBS Group AG in Hong Kong. The Swiss bank's surveys have shown that three-quarters of family offices are making some sustainable investments already.

"ESG has become increasingly compelling for investors," Lo said at the Asian Financial Forum Monday. "This is a real game changer."
2. Taiwan's Success Battling Covid-19 Has It Ready To Plan A Reopening Of Its Borders
Taiwan is working on a way to reopen borders for limited international travel through a system that would require confirmation that travelers had received a vaccine, tested negative for Covid-19 prior to their journey among other conditions, Health Minister Chen Shih-chung said in an interview.
Chen's government has gained worldwide acclaim for its response to the pandemic. Taiwan has managed to keep its Covid-19 caseload down to just 842 across a population of nearly 24 million. Halting flights from China early on and the implementation of strict quarantine rules combined with careful contact tracing helped keep the virus from spreading. Taiwan further ensures adequate supplies of protective equipment. As cases of Covid-19 spread to other locations, Taiwan closed to nearly all inbound foreign visitors by March.
Government officials are now devising a system to evaluate Taiwanese citizens as well as foreigners who want to visit the island without the normally required 14-day quarantine period, Chen said. They hope to reach a "regional consensus" that would involve evaluating travelers based on the overall conditions of the pandemic where they now live plus the results of individual screenings. Health checks would likely require proof of an approved Covid-19 vaccination and negative test results for the virus itself. Quarantines could be shortened or eliminated based on results.
"In the process of figuring out how to issue verifications for whether people have been vaccinated, we will consider how we can reach a consensus with other countries so that, in the region, we have mutual recognition," Chen says. "Then, we would be able to open up again, up to a point."
Verification at home is a policy priority for the first half of 2021, he says.
Although Taiwan's $605 billion economy relies mainly on manufacturing, its tourism sector makes up about $15 billion of that total every year. Taiwanese who normally reside offshore for work, study or other reasons must go into quarantine every time they return.
The island would start accepting foreign travelers only after mid-February when the Lunar New Year passes, he adds. Taiwanese normally fly back for the holiday from overseas posts in order to visit family members.
Singapore said last month it would allow in a limited number of business, official and high economic value travelers from all countries to come to the city-state and stay at dedicated facilities under a "bubble" arrangement. Under separate agreements, Singapore allows in other travelers from Australia, Brunei, Malaysia, New Zealand, Taiwan, Vietnam and parts of China.
Other places that have explored opening travel corridors with specific countries, eliminating quarantines for both sides, include Australia and New Zealand as announced in December. Japan had earlier allowed business travelers from 11 countries and regions, all parts of Asia with relatively low Covid-19 caseloads, but a rising wave of cases in the country forced the government to tighten its border controls.
3. Bad Times For China E-Commerce?
Readers of this column will know that I am a longtime bull on China e-commerce.
To my mind, e-commerce is one of the great success stories of the modern era, and in China, it reflects an embrace of both technology and internationalization, strengthening the purchasing power of consumers, improving the national logistics infrastructure, and allowing smaller merchants to compete on a more equal footing.
There are many strands to the story, but the gist of it is that China e-commerce firms lead the world not just in sales volume but also in innovation, pioneering same-day delivery, live stream marketing, as well as augmented reality and virtual reality showrooms.
But is the shine starting to come off? Recent events have begun to cast a shadow over China's e-commerce sector.
Last November, Chinese regulators blocked the public listing of Ant Financial. Though technically not an e-commerce firm, Ant is an integral part of the Alibaba ($BABA) empire, and grew to become the largest non-bank bank in the world. It started out facilitating e-commerce transactions and then expanded into lending, insurance and wealth management.
Then in December, China's anti-monopoly regulators posted a notice on Xinhua, the Chinese government news agency: "China's State Administration for Market Regulation [SAMR] has started investigating Alibaba Group for alleged monopoly conduct including implementing an 'exclusive dealing agreement'." An exclusive dealing agreement is an arrangement that provides privileges to a vendor if it takes all of its business exclusively to one platform.
Also in December, e-commerce platform Meituan ($MPNGF) was hit with a similar allegation in an antitrust lawsuit that claimed Meituan was abusing its market power by excluding Alipay as a payment option on its main app.
Pinduoduo ($PDD) has also come under fire for the deaths of two of its employees.
A female employee collapsed while walking home with colleagues at 1:30 a.m. on December 29, which renewed criticism of the long working hours at Chinese internet companies, the so-called 996 schedule that requires staff to work 9 a.m. to 9 p.m., six days a week. Another Pinduoduo staff member jumped to his death on December 9. The reason for the apparent suicide was not disclosed, although local media reports said it may have been related to his work.
All of these recent events raise important questions about the e-commerce sector. In my view, the anti-monopoly issues are legitimate questions for the regulators, and this is true in every market.
Coke cannot promise a merchant better pricing if Pepsi is kicked out of the stores. If one platform insists on exclusivity for a product or offers preferred terms for the same, this is monopoly power and should be stopped. In other words, if a platform told Nike it would have a privileged position during a holiday promotion, but only if it did not participate in the promotion on another platform, this is an abuse of power.
The best known example of this issue in the U.S. might be when the Justice Department took action against Microsoft for improperly "bundling" its Internet Explorer web browser with its Windows operating system that allowed the tech giant to dominate the market for web browsers. I can not speak to the details of the SAMR statement regarding Alibaba, but the underlying principle is sound.
Size and market share itself is quite a different matter. Simply because a platform has grown or has a large market share is not intrinsically objectionable, in my view.
In a sense, platforms are natural monopolies or quasi-monopolies. Didi and TikTok (Douyin) are natural monopolies in mobility and in short-form videos. Similarly, social media platforms are by definition quasi-monopolies in that users gravitate toward a few favorites and would prefer not to have to use, say, seven platforms to connect with friends. So the fact that Alibaba, JD.com ($JD), and Pinduoduo have significant market share to my mind is not inherently a problem.
I would make a similar point regarding growth or size of the company. Indeed, growth in the e-commerce sector is very much in China's interest. If you want your firms to become global leaders, you should welcome scale. Amazon is able to lead in many markets around the world because of its dominance in the U.S. Some of the Chinese tech firms should be able to do the same. Europe decided not to foster a large-scale tech sector, and as a result there are few global tech leaders from Europe.
The recent events involving the staff from Pinduoduo requires that authorities carry out a full and prompt investigation. Workplace rules and fairness are important regardless of the company or the level of competition within the industry. Pinduoduo should welcome and assist the investigation, and do everything within its powers to make sure such tragedies are not repeated in the future.
Yes, large companies in all industries seek to gain competitive advantages that at times create unintended effects that need to be regulated. And quite often, regulators have trouble keeping up with the fast pace of innovation in the tech industries.
Some people think that Amazon (or Alibaba) is the problem. I tend to view them as the solution, providing significant societal benefits. And I hope both firms continue to improve their services and solutions in the years to come.
Further Reading
I regularly writer on Quora.com, where I am the most viewed writer for financial matters globally, with 223 million answer views.
On the article below, taken from my online answers, I speak about:
What is the worst investment over long periods of time? Cash? Oil and commodities? Gold? Collectables? How do different asset assets perform over the long-term?
Is there one thing that will make somebody wealthy or is it more complicated than that?
Many people worry about retiring one day after a Lehman-brothers style market crash. Is this something to worry about in reality? On the answers below I speak about why you shouldn't worry about this with a specific example – retiring one day after the 2000 crash and 8 years before 2008-2009.
How can people outside of the United States invest in the New York Stock Exchange and other US investments? I compare the situation depending on where you are located.
Is it really still possible in 2021 to live like a king for $1,000 a month in some parts of South East Asia, Latin America and Africa as an expat?
To read more click below: