Expat cost of living in Laos in 2022 – that will be the topic of today's article.
Nothing written here should be considered formal tax, financial, legal or any other kind of advice advice, and is written for entertainment purposes only.
For any questions, or if you are looking to invest as an expat, you can contact me using  this form, or email me – advice@adamfayed.com
The best time to review your situation is often when you are moving to a new country.
Introduction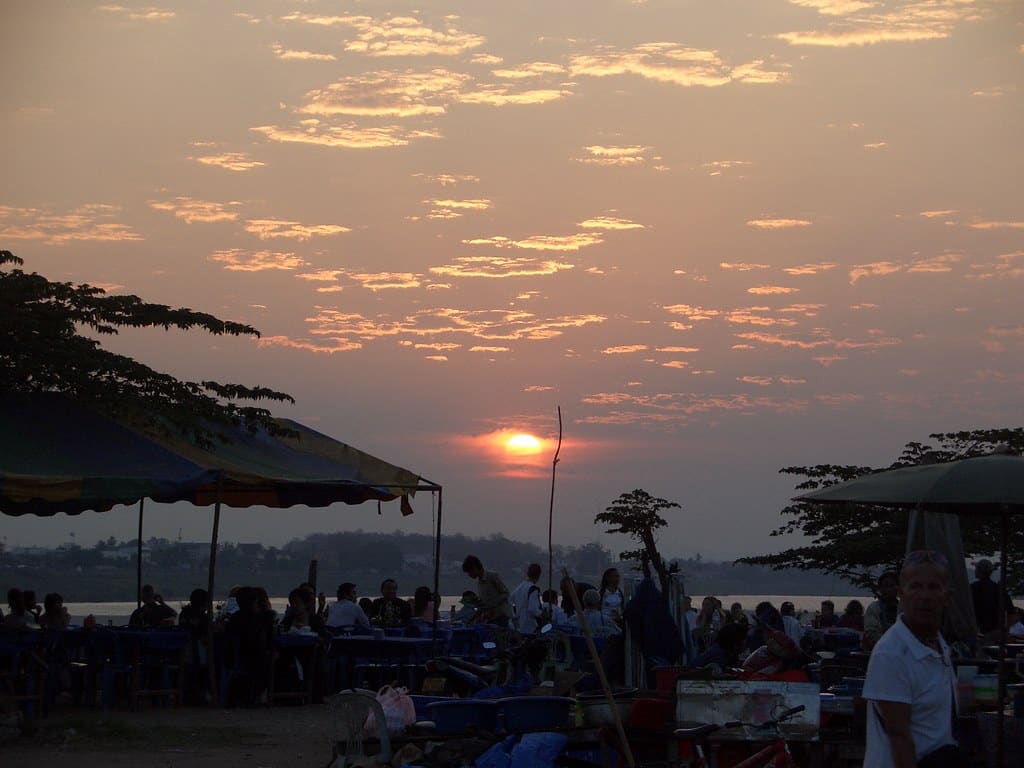 Laos is an exotic wild country with its location in East Asia. On the western side, the state borders on Thailand, on the east – on Vietnam, on the north – the border with China, and on the south – on Cambodia. The capital of Laos is Vientiane.
Laos people are very peaceful and friendly citizens. They calmly and respectfully treat other people's traditions and customs. To cope with everyday difficulties and problems they are helped by an excellent sense of humor, which is possessed by almost all the inhabitants of Laos. If newcomers come up to them with a smile, they will certainly respond in kind.
You should never expect aggression or rudeness from a Lao with a smile. Laos has a population of over 5 million. This number includes approximately 70 ethnic groups living on the lands of this state. Most Lao people prefer to practice Buddhism.
According to the customs of this religion, every man is obliged to spend at least a few years of his life at the monastery. This is what explains the huge number of monks who can be found on the roads.
Laos climate
The climate of Laos is monsoon, subequatorial. The year is clearly divided into a rainy season (May to October) and a dry season (November to April).
The highest temperatures are on average in April and May: the heat is up to 35 degrees Celsius, and in May it is also humid. In December and January, the average temperature is 20 degrees Celsius.
The situation is slightly different in mountainous regions: there is a lot of precipitation, there are frosts.
Thus, if you go to the valley, it is better to do it in November – February, and to visit the mountains – in November – July.
Safety in Laos
Despite its bloody history, Laos is now a fairly safe country. The mentality of the local population did not fade after the invasions and disasters, the level of crime did not become critically high. It is worth remembering the basic rules of conduct that will help a traveler avoid danger in Laos:
beware of unfavorable areas: there is still theft;
carry a photocopy of documents with you;
to leave basic values ​​in the hotel;
try not to travel near the border with Cambodia without a decent escort;
avoid dangerous areas: there are non-mined fields in the country;
carry medications for prophylaxis against malaria;
drink only bottled water.
Unfortunately, due to the history of Laos, full of disasters, the beautiful and mysterious Valley of Jugs, which is under consideration for inclusion in the UNESCO World Heritage List, is now inaccessible to tourists.
This valley is a large area covered with thousands of stone vessels, the origin and purpose of which has not yet been established. According to some legends, giants lived here, according to scientists, jugs are vessels for water or the burial of the dead.
But at present, you can visit only a small part of this valley, you should definitely do it with a competent guide and in no case visit dangerous, closed areas.
Economic, social and political life of Laos
The socio-economic direction of Laos is focused on eliminating the backwardness of the country's national economy, raising living standards, and reforming small farms. Agriculture employs 80% of the population.
The use of market leverage began in the 1980s. The entire banking system has undergone a reformation. The same can be said for taxation. Recently, much attention in the country has begun to be paid to social, labor and legal relations.
Among the sectors of the economy, the entrepreneurial direction, the industrial and agricultural sector has strengthened. Inflation has gradually decreased. All these changes were partly due to the inflow of foreign capital into the Lao economy in the form of direct investment. According to the International Monetary Fund, as of 01.01.2020, they amounted to USD 1.128 million. The main investor is Thailand.
One of the most problematic economic sectors in Laos is transport. There is no railway connection in the country. Mainly used by road, water transport and air travel. The only international airport is located in the capital of the state.
In Laos, telephone communications, a telegraph have been established, computers are widely used, and a post office is functioning.
The service sector and tourism began to develop rapidly. The banking system expanded widely, including the Central Bank and its branch network. Foreign trade deserves special attention.
Standards of decency in Laos
As in other states, the inhabitants of Laos have developed certain standards of decency.
Laos people are very strict about the choice of clothing. It is strictly forbidden to wear too revealing clothes. For example, shorts are only allowed to be worn in a hotel or on the beach.
When visiting public places or temples, the length of the skirt / shorts should be such that the ankles are covered. Conservative views on clothing are barely softened only in large cities.
Tourists should take this issue seriously, so as not to deserve the indignation of the local population.
When talking with someone from Lao, do not try to touch or pat them on the head. This even applies to a child. In these parts of you it will be perceived as a personal insult. It is also considered unacceptable for a man and a woman to show their affection for each other in public.
When you are about to greet a stranger, you shouldn't try to hug or kiss them. It will also be perceived as disrespectful and humiliating.
If you want to photograph someone, you should ask the person's permission to do so. If you receive a refusal, do not try to insist or offer money. They absolutely do not like it.
In general, Lao people try to treat everything very calmly, without straining and with a smile.
In terms of security in Laos, there is nothing to worry about. This is a very calm and quiet country. Lao people are very fond of tourists and are happy when they visit their homelands. If you want to please the Lao people and earn their favor, keep a close eye on what and how they do, and try to repeat everything exactly.
If you happen to be invited to visit someone, never refuse fruit or tea that is offered to you. This will be seen as a lack of courtesy. At least try what is brought to you. Most often, this will be enough for the owners.
Transport prices in Laos
Let's now review some of the basic costs in Laos, as transport after some food or cafe prices:
A ready flight from your country to Laos – from $ 400-600
Bicycle rental – $ 1/day
Motorbike rental – from $ 9/ day. In some cities, the price goes up to $ 20.
1 liter of gasoline – $ 1
1 liter diesel – $ 1
Travel by city bus in Vientiane – $ 0.5
A trip by tuk-tuk – they ask tourists even for a short trip from $ 1-1.5, you need to bargain.
Bus Vientiane-Luang-Prabang – from $ 50
Bus Bangkok-Vientiane – from $ 30
Food prices in Laos
The price of food and drinks in shops and supermarkets in Laos:
Beer 0.6l. – $ 1.02
Local alcohol Champa 0.3l. – $ 0.86
Water 1.5l. – $ 0.53
Softdrink (Cola, Sprite, etc.) 1.5L. – $ 0.86
Softdrink (Cola, Sprite, etc.) 0.5l. – $ 0.42
Croissant in a bakery 1pc. – $ 1.07
Bread 1 loaf – $ 1.07
Mango 1 kg. – $ 2.5
Pomelo 1 pc. – $ 2
Pitahaya 1 kg. – $ 1.5
Mandarins 1 kg. – $ 1.8
Potatoes 1 kg. – $ 0.86
Lipton black tea 25 sachets – $ 2.02
Local coffee beans 400g. – $ 5
Fruit prices vary greatly according to the ripening season.
Laos Real Estate
Real estate issues are regulated by the laws of the country. Land owned by Laos can be leased for a period not exceeding 30 years. If the site is not used for private construction, but is taken for a business, then a lease period of 50 years is allowed. The possibility of prolongation is not excluded. Rent 1 sq. m. of land can be about $ 10.
Real estate prices in Laos are low. For example, a house can be rented for $ 700 a month. Well, you can buy real estate at completely different prices, starting from 10-50 dollars and more. The pricing policy for real estate in Laos is unpredictable. It should be borne in mind that in the absence of funds, it is quite possible to find cheap real estate and be 100% in the win.
The unpredictability of property prices can be attributed to an unformed market and a lack of regulatory mechanisms. Moreover, no changes are expected in this area, at least in the next 5 years.
Education in Laos
Oddly enough, illiteracy still exists in Laos. In order to eliminate this phenomenon, courses were organized, taught by people who can read well and are fluent in writing. Anyone could attend these courses. More than 750,000 people have been trained.
In addition, evening schools were created in Laos, in which about 400 thousand people received knowledge.
Teaching in the country is free of charge. In elementary school they study for 5 years, in incomplete (secondary) school – 3 years, complete secondary school – for another 3 years. For social disciplines and the exact sciences, new textbooks are gradually being published or textbooks in an updated edition are issued.
The Lao authorities began to pay special attention to the development of vocational education and training of specialists. In this case, the goal is to avoid a shortage of qualified personnel.
In connection with this trend, the number of specialized middle-level institutions, vocational schools and institutes is increasing in the country.
Medicine in Laos
Unfortunately, the healthcare system in Laos is poor. The hospital business in the country is developing gradually. Some clinics are located exclusively in big cities, and the primary task is to train qualified personnel. There is no maternal and child welfare service in Laos. The main emphasis in clinics is on minimizing infectious diseases.
Responsibility for the health of people living in Laos is borne by: the main hospital of Laos (Magasot), a hospital in Vientiane with 100 beds, and several hospitals with 40-50 beds in small provincial towns. In small hospitals, there are hospitals, but medical care from specialists in large clinics is provided only for those citizens who are able to pay for it.
A significant advantage of the Lao healthcare system is the presence of the Red Cross and similar voluntary medical organizations. This explains the fact that the provision of medical care in Laos is mainly free of charge.
On the whole, there is a serious shortage of high-quality medical equipment and medicines throughout the country. Moreover, this problem also affected private medical institutions.
The fact that medical care in the country is not at the proper level is evidenced by the high infant mortality rate, in some regions it reaches 35%, and the short life expectancy of the population is 53 years. Among the most common diseases among children are malaria, frequent cases of pulmonary pneumonia, diarrhea, and a number of others.
Pharmacies in Laos
There are not enough pharmacies in Laos. However, they operate on the basis of public hospitals around the clock.
At the same time, the prices for medicines in such pharmacies are an order of magnitude lower than in private ones. But private pharmacies are more stocked with drugs and the choice is much wider.
Visas to Laos
Many representatives of foreign countries can visit Laos without a visa. This concerns the possibility of a short stay in the country. Some European countries are among these countries in 2021. A tourist trip involves a visa with a maximum period of two months. You should apply for a visa at the Laotian embassy. This can be done both immediately and after arrival in the country.
The second option is possible in case of arrival through the airports with their location in Pakse, Vientiane or Luang Prabang. Visa processing on arrival is also possible when crossing the border with Cambodia.
However, you cannot move to Laos for permanent residence or for the purpose of employment on a tourist visa. In this case, we are talking about issuing long-term visas, the category of each of which is determined depending on the purpose of the trip.
Types of visas
A tourist visa to Lao PDR can be obtained directly at the country's consulate or at the border upon arrival. With this permission document in hand, you can stay in the country for 30 days.
The law allows a double extension of a tourist visa for 15 days. The cost of issuing a document for Europeans is 30 US dollars.
Depending on the purpose of the trip, the following types of visas can be issued:
Private.
Privileged. The period of stay in the country is from half a year to 12 months. Drawn up when implementing projects of a social and social nature. Suitable for delegations where there are agreements regarding the exchange of cultural property.
Commercial in nature. The presence of such a visa makes it possible to find a job.
Transit. Issued for up to 7 days. A penalty of $ 10 will be charged for each day overdue.
The amount of the visa fee may be different and depends on the country from which you plan to leave.
Living standards in Laos
Laos is an exotic country neighboring Thailand and Vietnam. Due to the abundance of mountains and dense forests, the population density is insignificant – 17 people per square meter.
Vientiane is the capital of a small country where most of the population lives. 1/3 of the population lives on the edge of poverty, the standard of living has not yet reached a decent level.
The official language is Lao, but outside the capital, residents speak dialects and ethnic languages. Among the educated population, French and English are spoken.
Agriculture is developed in the republic, where 80% of the population is employed.
The tourism industry and services are developing rapidly. The average salary is $ 210-220.
Comparing the GDP of some European or Asian countries and the tropical republic, the per capita indicator is 7 times lower. At the same time, the citizens of Laos do not need winter clothing, heating or insulation of houses.
Almost everyone with an average income is capable of acquiring personal real estate, because the cost of a one-room apartment is several times lower than in other countries.
The republic creates the most comfortable conditions for doing business for Western citizens: upon providing all the necessary papers, individual entrepreneurs can freely open a business, hire employees and maintain accountability.
Surprisingly, by age standards, cities and villages are inhabited by people under 62 years old, which indicates the minimum number of pensioners.
In order to eradicate illiteracy, the government has expanded the educational base: there are technical schools, evening schools, professional courses, institutes.
Only two universities graduate pedagogical and medical specialists. An acute shortage of qualified personnel has increased the flow of foreign students.
How to get permanent residence and residence permit for immigrants?
It is not so easy to obtain the status of permanent residence in the Laotian republic. Based on the current legislation, applicants can be:
foreign citizens who have lived in the country for about 10 years legally, leaving annually for no more than 2 months;
specialized qualified specialists, scientists, engineers;
foreigners who have made a significant contribution to the development of the republic;
foreign businessmen who have lived in the country for more than 5 years.
A temporary residence permit is issued to migrants who came to the country on a certain type of visa and can live, find a job, do business, and share cultural experience for 360 days. At the end of the visa, it can be extended for a similar period.
Rules of behavior in Laos
Laos has some special unspoken rules of conduct that even foreigners should adhere to:
Here it is believed that the soul lives in the head, so you cannot touch this part of the body, especially the head of a child.
Women are forbidden to communicate and even more so to touch representatives of monasticism.
When entering the temple, you should dress in modest clothes that cover your shoulders and knees, and remove your shoes.
You should not show feelings of love in public – hugging, kissing.
Away, in order not to offend the owners, you need to accept all the treats.
You cannot take pictures of people without their permission – however, this rule works everywhere.
Advantages and disadvantages
If you are thinking about moving to Laos – we have collected all the advantages and disadvantages of this direction. The indisputable advantages include:
Picturesque nature – rivers, caves, lakes, mountains.
A large number of cultural monuments of Buddhism.
Favorable weather conditions – it is never cold here, you just have to not choose the rainy season for your trip.
Relatively cheap accommodation, food and travel around the country.
A small number of tourists, which means that the country has not lost its identity.
The good disposition of the Lao people, who treat people from the countries of the former USSR with special warmth. The fact is that the states have developed good relations, many Laotians at one time studied at Soviet universities, and the Russians helped to raise the economy of Laos.
Ease of obtaining a visa – for a stay of up to 15 days, it is not needed, and for a longer period, a simplified system operates.
Calm, safe environment, almost complete absence of crime.
The disadvantages include insufficiently established infrastructure, transport interchanges, medical services, the Internet and mobile communications.
Also, Laos does not have sea coasts that attract tourists so much, and therefore the weather can sometimes seem too hot. The prices, although lower than in most countries, are still higher than in Vietnam and Thailand.
Pained by financial indecision? Want to invest with Adam?
Adam is an internationally recognised author on financial matters, with over 259.7 million answers views on Quora.com and a widely sold book on Amazon