Expat Financial Advisors in Anguilla – that will be the topic of today's article.
I will compare some of the options available locally, alongside more portable, online, and international options like what we offer.
It makes sense to have a portable option as an expat, as opposed to a localized one, and that is something we specialize in.
If you want to invest as an expat or high-net-worth individual, which is what i specialize in, you can email me (advice@adamfayed.com) or use WhatsApp (+44-7393-450-837).
Introduction
Anguilla is a British Overseas Territory that is 16 miles long and 3.5 miles wide. Having worked on this beautiful island a few years ago, we will share in this post all the pros and cons of living in Anguilla and talk about financial advisors in Anguilla.
The advantage of living in Anguilla is that the island is beautiful and sunny, with world-class cuisine and a stable currency. On the downside, the disadvantages are that the island is small, prone to hurricanes, has no public transportation and no international airlines flying to the destination.
Pros of living in Anguilla
Anguilla currency is stable
The official currency of Anguilla is the East Caribbean dollar; however the US dollar is widely used on the island for most transactions. The East Caribbean dollar has been pegged to the United States dollar (US) since 7 July 1976 at a rate of US$1 per XCD $2.70.
This currency is also used by seven other islands in the Eastern Caribbean and is administered through a regional central bank based in St. Kitts. If you are considering moving to Anguilla, you don't have to worry about huge currency transfer losses.
The island is safe with amazing beaches
Anguilla is a stunning, peaceful, and safe island with beautiful beaches and great diving. One of the most popular and beloved beaches on the island is Shoal Bay East Beach. This beach is a long strip about 2 miles long with perfect white sand and clear blue water.
Other notable beaches on the island are Sandy Ground Beach and Rendezvous Beach. Crime on the island is very low and I felt very safe moving around the island during the day. As with any other destination, precautions must be taken at night. In addition, the island is very easy to drive due to its flat terrain.
Easy access to Saint Martin/Saint Martin
Although it is difficult to find certain specialty items on the island, Anguilla has easy access to the neighboring island of St Martin/St Martin. It is easy to find a wide variety of goods and services in Saint Martin/Saint Martin. Be sure to check the visa requirements.
Cons of living in Anguilla
No direct international flights
At the time of writing, no international airlines such as British Airways, Virgin Atlantic or American Airlines fly to Anguilla. So international travelers fly to Antigua or St. Martin and change to smaller airlines like Seaborne or Winair in Anguilla.
However, American Airlines has announced plans to open direct flights from the United States of America to Anguilla in December 2021. This will make it easier to travel to the island and possibly increase the number of visitors to the island.
In addition, even smaller carriers do not provide frequent flights to the island.
If you are traveling to the island, make sure you have the necessary items in your hand luggage.
No public transportation system
Unfortunately, there is no public or private bus transport on the island. Therefore, if you are moving to an island, purchasing a car should be considered for convenience. There are private individuals who provide taxi services on the island, but these can be expensive.
The cost of living is high
Anguilla is an arid and dry island, so the soil is not suitable for growing a lot of fruits and vegetables. As a result, most of the food consumed on the island is imported. This significantly increases the cost of goods and services.
The island is located in the hurricane belt
Despite having lower rainfall than other Caribbean islands, Anguilla is located in the hurricane belt and is home to its fair share of catastrophic storms. The last destructive storm to hit the island was on September 6, 2017, when Category 5 Hurricane Irma caused extensive damage to hotels, restaurants, homes, and other buildings on the island.
Why Anguilla is a good place to live?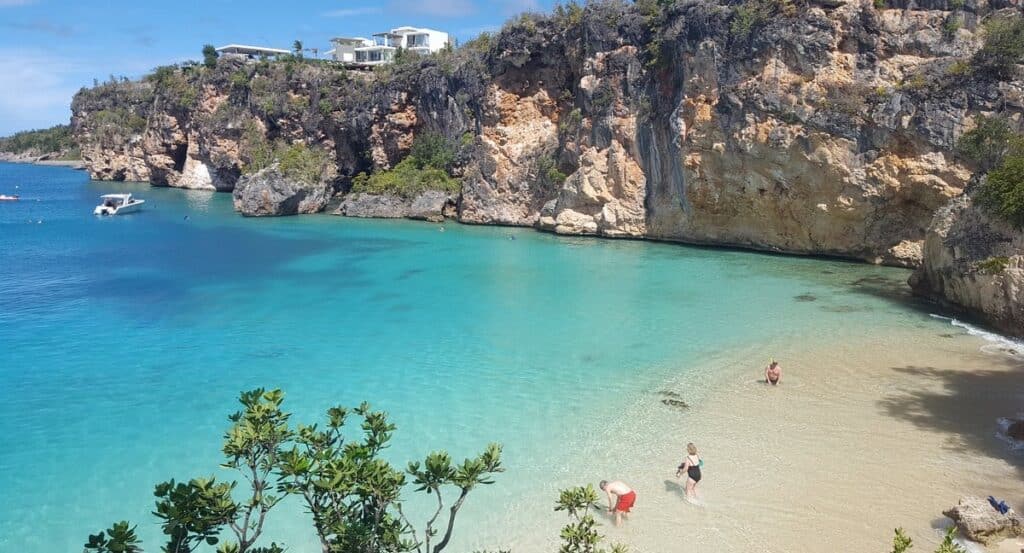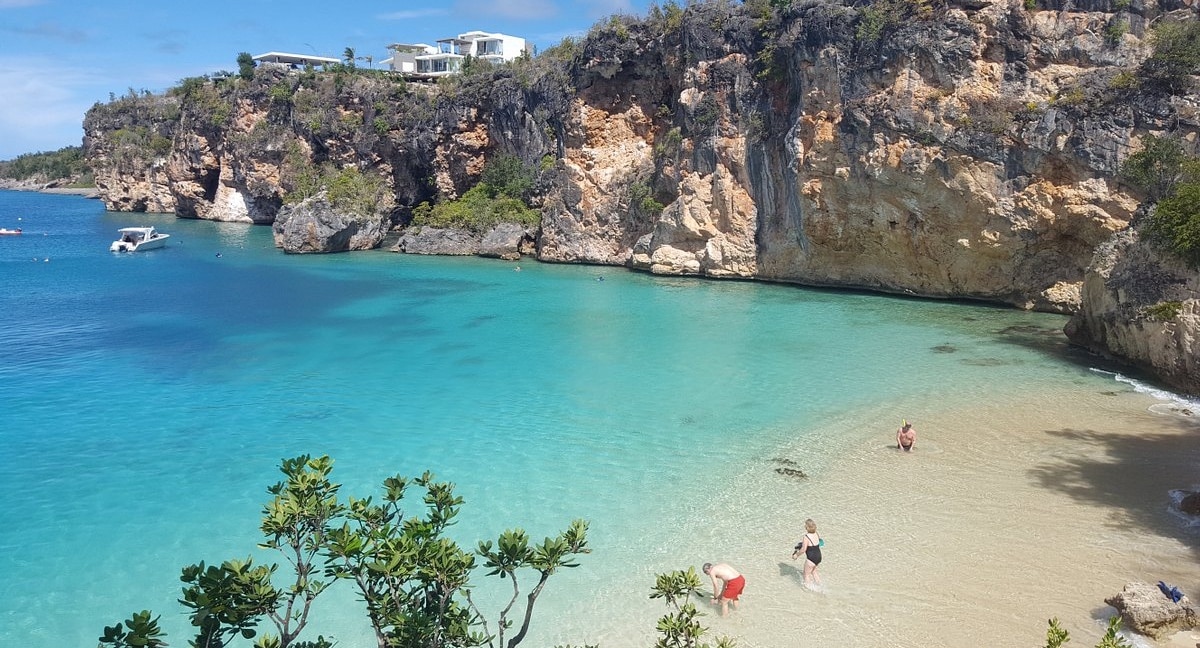 Anguilla citizenship may not be in the first place for everyone, but given the allure of moving to Anguilla, perhaps it should be. Here we take a closer look at the Anguilla Citizenship and Anguilla Residence Requirements. If you move to Anguilla, you will live on a warm and tropical island in the Caribbean, and this is just the beginning.
Anguilla is a British Overseas Territory and part of the Lesser Antilles. Anguilla is a beautiful secret that many have not even heard of. But for those lucky enough to know the secret and want to move somewhere sunny and warm, this hidden island offers great opportunities. People move to Anguilla for many reasons.
Cheap housing, low crime rates, English as the official language, and perpetual sunshine are just some of the factors that draw people from all over the world to this Caribbean haven. The living requirements in Anguilla are also clear and achievable. Local food is tasty and cheap, property tax is low, there is no income tax.
And although Anguilla is just a small island with a population of 15,000 people on an area of ​​91 sq. km, it has a rich culture and identity.
The country is a very attractive destination for digital nomads, independent businesses, freelancers, and others who simply need their laptop to be able to work from anywhere in the world. Lunch breaks are a good opportunity for snorkeling or swimming, and if you're looking for a little more fun on the weekends, Saint Martin is only half an hour away by boat.
Health care on the island is well developed, people are friendly, and the UK, as well as the UN, provides various economic and social programs to support the island.
Buying property in Anguilla
The British Overseas Territory of Anguilla, with an area of ​​just 35 square miles and a population of approximately 15,000, boasts 33 pristine, unspoiled and uncrowded white sand beaches leading to seductive, crystal-clear turquoise waters and spectacular coral reefs.
With world-class beaches, spas, and very high-quality sports and sailing facilities, this quiet luxury retreat attracts an elite crowd, from visiting Hollywood stars to some of Wall Street's biggest names.
What sets this British Caribbean Island apart is its exclusivity? Unlike the nearby islands, which receive hundreds of thousands or even millions of visitors a year, Anguilla is a quiet haven, practically reserved for its small group of dedicated fans. No cruise ships, no casinos, no big high-rise hotels.
Like nearby St. Barts, Anguilla's real estate market is geared towards the luxury end of the market, with luxury villas and cozy apartment complexes occupying coveted spots along soft beaches like Meads Bay and Shoal Bay East.
Homeowners from Europe and North America tend to fly to nearby Saint Martin, which is only 5 miles away, and get there by boat or air bus.
Foreigners can buy property in Anguilla and the Anguilla government welcomes investment from overseas buyers. To purchase property in Anguilla, non-citizens must first apply for a Alien Land Ownership License, which is subject to a US$400 registration fee.
There are some restrictions for foreign buyers. For example, non-citizens are allowed to purchase up to half an acre of land and must build a property with a total outside area of ​​2,000 square feet within 18 months from the date the alien's land license was issued.
In addition, non-citizens are not allowed to purchase property along the sandy beach, as the best land on the coast is reserved for tourism projects and commercial development. However, foreign buyers may purchase homes located along rocky coastlines or cliffs or inland.
Property purchase process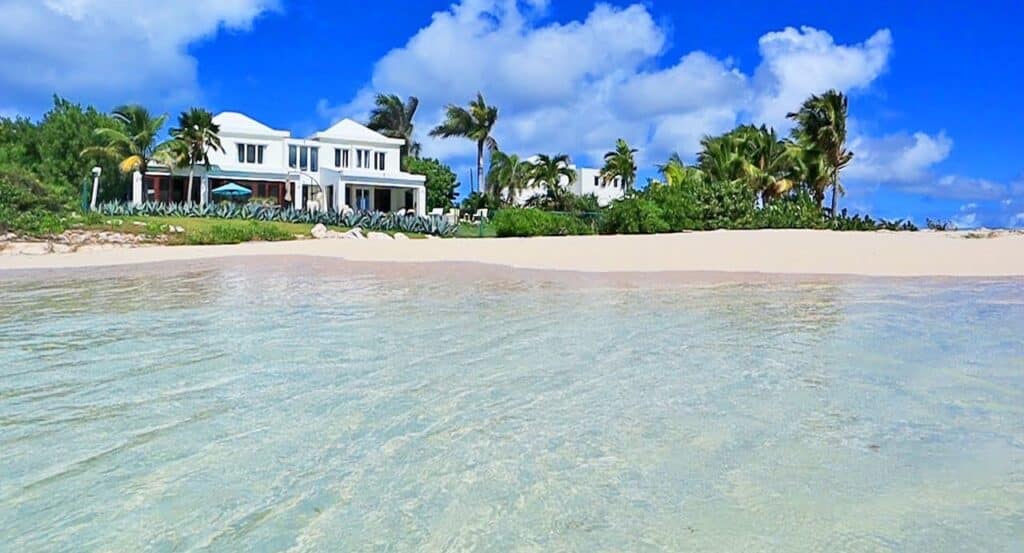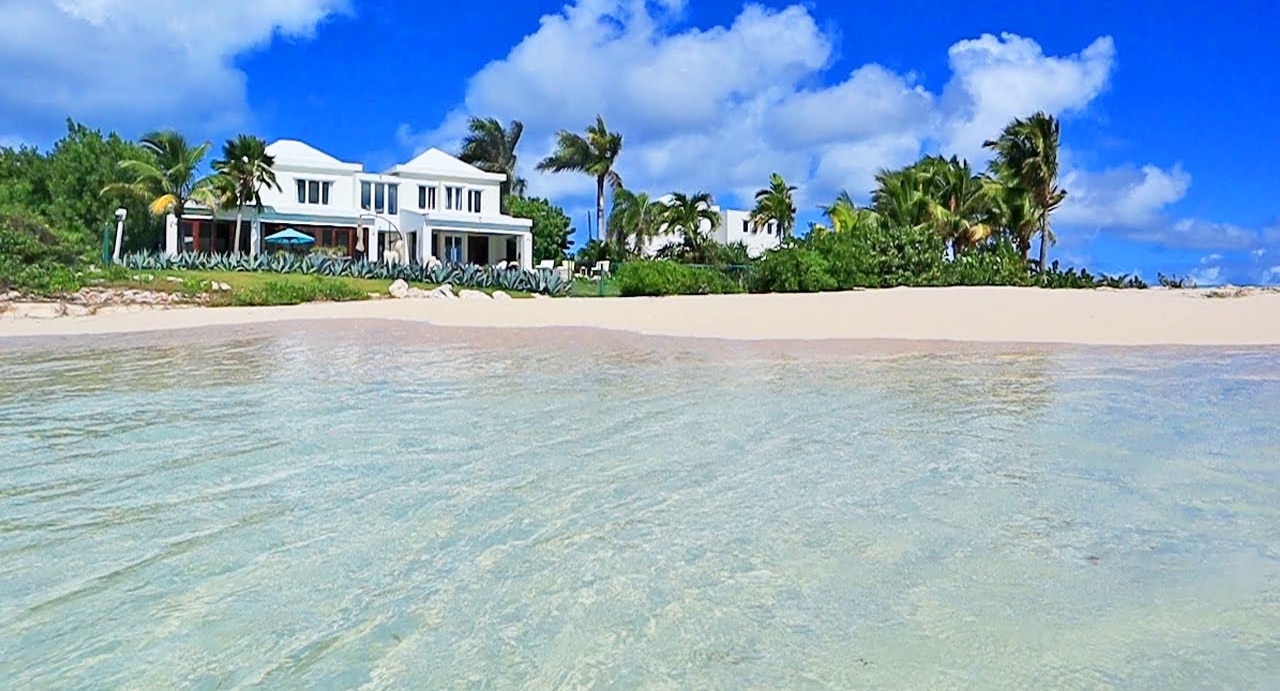 Buying property in Anguilla is a relatively simple process that usually involves the following steps:
1. Start your property search.
2. Find a real estate that is matching your needs and make an offer.
3. If your offer is accepted by the seller and you are not a citizen of the country, you will need to apply to the Department of Lands and Surveys for a license to own land by a foreigner. A foreigner's land ownership license is required for all non-citizens buying property in Anguilla.
4. To qualify for an Alien Land Ownership License, applicants must correctly complete the application form, provide various references, and pay a $400 application fee.
5. A brief interview with a government representative is required and a decision on approval is usually made within 3 months.
6. Once your Alien Land Ownership License has been approved and obtained, it must be submitted to the Lands and Surveys Department along with Land Transfer Forms RL1.
7. Pay all required taxes to the Treasury.
8. Provide Lands and Surveys with a receipt from the Treasury to verify that taxes have been paid and the property will be transferred to your name.
About fees and taxes in Anguilla
Citizens/residents of Anguilla: Stamp duty reduced from 5% to 2.5% effective January 1, 2017 for a period of three years.
Non-Citizens/non-residents: Stamp duty reduced from 12.5% to 5% for built properties and 6.25% for vacant land for a period of two years.
In any case, in any foreign place you will need the help of a financial advisor, whether you are an investor with large free funds or a simple intermediary who moved to Anguilla to earn more.
Who is a financial advisor?
A financial advisor is a financial professional who helps clients with matters related to their personal finances. While financial advisors are generally viewed as working with individuals, many financial advisors also provide services to institutional clients such as pension plans, charities, municipal governments, and corporations. Some even advise other financial advisors. However, in this article, we will focus on three different types of financial advisors that you can find in Anguilla.
All financial advisors help clients with money problems, but the specific services they provide will depend on their specialty and experience. More broadly, there are two types of financial advisory services: financial planning and asset management. Some advisors do only one of them, while others do both.
One of the services that many financial advisors provide is financial planning. Financial planning usually refers to the non-integral aspects of wealth planning.
This can mean a lot, but some of the services you can look forward to including:
• Tax planning – to help you minimize your tax payments and possibly actually file your tax return.
• Estate planning – help you keep your property in good condition and with minimal tax for your family when you die
• Retirement planning: make sure you save enough to retire so you can retire when you're ready
• Charity planning – help get money back through tax savings
• Insurance planning. Make sure you have sufficient insurance and choose the best option for your situation.
• Budgeting. Make sure you know what you need to spend and save each month.
As noted earlier, financial advisors are not required to hold a certain degree to call themselves financial advisors. However, many receive specialized certification training in topics such as accounting, investing, and life insurance. Some of the most common certifications are Certified Financial Planner (CFP), Certified Public Accountant (CPA), Pure Financial Analyst (CFA), and Certified Life Insurer (CLU).
How can a financial advisor help you?
Our finances affect almost every aspect of our lives. Thus, working with a financial advisor can positively impact your own financial well-being, as well as those of your loved ones, future generations, and even your community.
A financial advisor can approach you closer to the future, you see for yourself in a variety of ways, from creating tailor-made strategies for all your short- and long-term goals, choosing the right investment products and working on real estate and configuration, to insurance coverage for you and your loved ones.
But the most important benefits don't necessarily lie in the details of the strategy and investment. We believe the real difference lies in finding a consistent and reliable partner who understands what matters to you and why.
Your financial goals and investment strategies should be as unique as you and your goals. By listening to your unique story, your financial advisor can help you develop sound conclusions and sound foundational strategies to help you move towards your future vision.
We are committed to your life path so you can be sure you have someone to help you adjust to your life. Whether you're looking to retire, ensure your children or grandchildren are out of college debt, travel the world, or build great wealth for generations to come, we can partner with you to make it happen.
Local Financial Advisors
There are many misconceptions about the role of a financial advisor and the differences between financial market professionals. The reality is that having an expert to help you focus on the financial market and select nutritional investments based on your individual needs can be extremely beneficial in the long run. Especially local fiduciary consultants who are required by law and ethics to always put you first.
Many people prefer a local financial advisor because of the convenience, interaction, and more. Here are the main reasons and benefits of choosing a local consultant:
One-on-one communication
Yes, some people just trust a personal person, especially when it comes to money. If you are not comfortable doing business online, a local financial advisor may be a good fit for you.
Many people prefer face-to-face, face-to-face interaction – especially older generations who grew up in another way rather than doing business online, so a local financial advisor is the type of advisor of choice.
In addition to managing your investment portfolio, the benefits of traditional local financial advice include the ability to discuss your questions and concerns the way you want, where you want, anywhere.
Initial meetings can help you clarify your expenses and goals, schedule an appointment for a meeting, and schedule regular reviews. All consultants are individuals, so it's important to research and ask questions carefully to find the right one for your individual needs.
Local experience
Anguilla is a foreign place and for many the financial world may be different, including investment options, savings accounts and more may require different skills.
The key solution is a local financial advisor. They are usually educated and focused on the laws and regulations they follow in the country. As such, they are an excellent resource if you are looking to invest locally to spur growth in your area, city, or state.
Keep in mind that local investments can earn you two rates of return – one directly for your portfolio and one through your community. There is mounting evidence that compared to their non-local counterparts, local businesses have two to four times the impact on local economic development for every dollar spent on them.
So, if you have an investment portfolio that includes local businesses, your dollars will continue to circulate and improve the well-being of your community, creating new jobs, increasing income, and ultimately supporting funding for schools, parks, police. and fire services; and safe and prosperous areas.
An expert, local financial advisor can help you take the proper care to make sure your local investments make sense.
Online Financial Advisors
Here is the main aspect of the services we can provide, and if you are looking for a good online consultant, apply here.
Online financial advisors have grown in popularity over the years and for a variety of reasons.
One of the first reasons people started working with virtual financial advisors was to buy time in the old days as they didn't have to get in a car or be stuck in traffic to meet their financial advisor when the phone calls or meetings are just getting closer.
For people who travel frequently or plan to move to another part of the country (or live abroad), working with an online financial advisor also ensures that your relationship doesn't end where you are.
Perhaps the most significant advance accelerating the trend towards virtual financial advice is the ability for financial advisers to specialize in maintaining their niche, which would be counterproductive if they were limited to working with clients in their hometown.
Thus, you have the opportunity to hire a financial advisor who truly understands your individual needs based on their education, experience, and commitment to helping you the way you are.
Location is the main advantage
Investors seek to hire a consultant in high-cost cities, often trying to find a consultant who is available or accepts them as clients if they do not meet the requirements based on their minimum assets.
Having a virtual relationship allows investors from, say, San Francisco or New York to hire a consultant in Delaware or Mississippi who is likely to be more accessible and have a lower declared minimum asset, even if they have the same experience and level of service.
Increase your chances of finding the right consultant
Often, due to the definition of limitations, people choose financial advisors that are not right for them. Instead of focusing on finding a trustworthy consultant who cares about your interests and caters to your special needs, physical limitations may encourage you to hire a low-quality consultant who may live nearby. The ability to find a working consultant practically expands the pool of potential candidates, so you can find the most suitable one for you!
Financial advisors come from a variety of backgrounds and the value they add can vary greatly. Even if a consultant is paid, it does not mean that he has the same level of expertise, offers the same services, or serves the same types of clients.
Once you can be sure that your potential online financial advisor has the right experience, you will need to evaluate whether their experience is right for your needs and your investment. The value expected of a consultant has changed dramatically over the past few decades.
In the past, the price of advisors was their ability to try and beat the market by picking stocks, bonds, or mutual funds on your behalf. Technological and innovative products have combined many of these objectives with more passive and cost-effective investment vehicles such as index funds or ETFs. An online financial advisor practice can provide an interactive service already redesigned to work virtually with its clients.
Pained by financial indecision? Want to invest with Adam?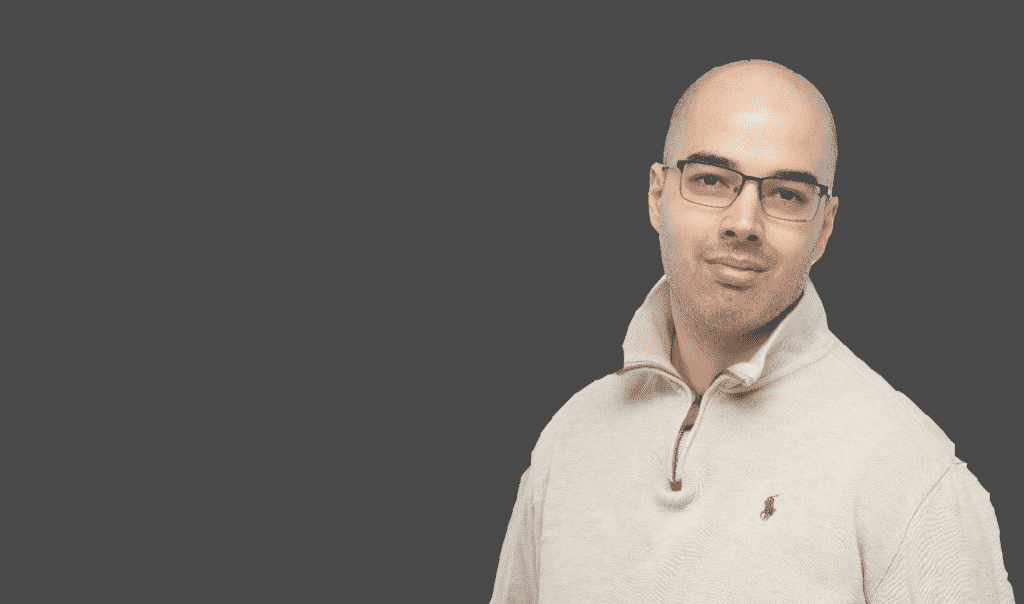 Adam is an internationally recognised author on financial matters, with over 694.5 million answer views on Quora.com, a widely sold book on Amazon, and a contributor on Forbes.