This article seeks to give priceless insights into the subtleties of moving to Siem Reap.
Aspiring expats may approach their Siem Reap voyage with a more well-rounded knowledge by exploring both the spellbinding allure and the practical intricacies, creating a smoother transfer and a more satisfying experience all around.
For many Westerners, the temptation of living in a tropical paradise like Cambodia, especially in a lovely location like Siem Reap, is obvious.
It might be alluring to consider living among beautiful environments, rich cultures, and a slower pace of life.
With the magnificent Angkor Wat temple complex and a growing expat population, Siem Reap appears to provide an idyllic getaway from the Western world's routines.
The reality of expat life in Siem Reap, meanwhile, frequently presents difficulties and complexity that weren't foreseen.
Although a tropical paradise has a tremendous draw, settling into expat life in Siem Reap might reveal difficulties that go beyond the allure.
The initial exhilaration may be rapidly subdued by issues including cultural disparities, language hurdles, and negotiating administrative processes.
Finding appropriate housing, creating a social network, and getting access to high-quality healthcare might prove to be more challenging than anticipated responsibilities.
However, a feeling of adventure and personal development may be found amid these difficulties. 
If you have any questions or want to invest as an expat or high-net-worth individual, you can email me (advice@adamfayed.com) or use these contact options.
Things to Know Before Moving to Siem Reap
Cambodian Visa
When travelling to Cambodia, the vast majority of visitors opt to receive a tourist or business visa valid for a period of 30 days upon arrival.
This type of visa is typically provided as a visa on arrival for a number of different countries. These two things have a combined price of $30, which must be paid in United States dollars upon arrival. Payment must be made in advance.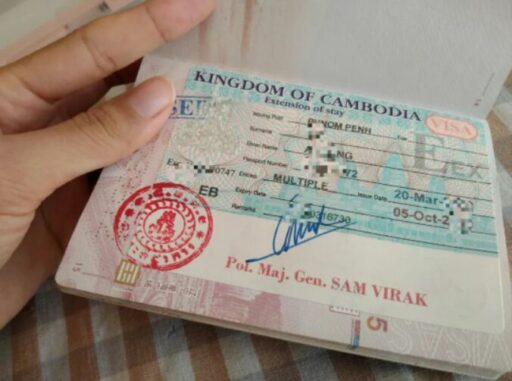 The length of time visitors visiting Cambodia on a tourist visa can stay in the country has been increased by 30 days.
However, before beginning their trip, those who have the long-term goal of making Cambodia their permanent home should give serious consideration to submitting an application for an extended E Visa.
The E visa allows for extensions that can last for an endless amount of time and comes with a charge of $35 for a period of 30 days.
The price of extending a business visa for an additional year to a period of about one year is around $300.
This should be taken into consideration when making future plans. While the first 30-day term is winding down, it is also possible to make an application for a multi-entry visa that is good for a total of six months.
This visa is valid for a total of six months. The visa in question is one that is designed only for those who will be working within the boundaries of the country and has a processing time that is normally somewhere around five days.
It is important to produce an official letter indicating the intention to remain in Cambodia for employment-related reasons in addition to possessing a passport that is still valid at the time the application is submitted.
The visa in question is one that allows numerous entries but does not have a status that allows it to be renewed.
Consequently, visitors who wish to remain in the country for longer than six months need to start the application procedure for a different visa at least one month before the existing visa they hold is set to expire.
Extended options include the 6-month to 1-year Multiple Entry "EB" Business Visa, which can only be obtained with the authorization of a domestic employer (carrying annual costs of $100 in addition to a fee of $30 for the online application and an additional agency fee of approximately $70 if a third-party service is used).
Alternatively, those under the age of 55 can apply for what is known as an "ER" visa, which serves the purpose of a retirement visa and does not allow for employment
It is vital to give evidence of one's income in order to provide support for the latter argument. The time required to complete visa applications in Cambodia might take up to one week or even longer in some cases.
Because of this, it is highly recommended that you leave yourself a fair amount of time before your intended trip in order to finish the procedure for applying for a visa.
Cost of Living in Siem Reap
When compared to a number of other prominent worldwide destinations for digital nomads, the cost of living in Cambodia for permanent residents is significantly lower.
Siem Reap's rental rates are, on average, far more affordable than those in Phnom Penh, the country's main city.
In addition, necessary expenditures such as food, transportation, and eating out are all available at prices that are somewhat lower in Siem Reap.
The higher expenses seen in Siem Reap in comparison to those seen in other cities in Cambodia may likely be ascribed, in the majority of cases, to the more westernized aspects of the region.
However, it is quite possible for a digital nomad to spend a month in Siem Reap while sticking to a budget of less than $800 if they want to live in this city.
If, on the other hand, one plans to indulge in spa treatments, expensive eating venues, and pricey gym memberships, a budget of one thousand dollars might be more reasonable.
People of Siem Reap
The locals in Siem Reap are known across the world for their warm and welcoming demeanour, a trait that is shared by the Cambodian populace as a whole.
Individuals are likely to acquire direction from friendly inhabitants, which will facilitate their navigation towards the targeted destination even in circumstances in which they are geographically isolated and unfamiliar with the language.
This is because the nation demonstrates a collective disposition of hospitality, which ensures that individuals will be able to do so.
Because of the city's high population density and the existence of a sizeable community of backpackers and digital nomads, the people who live in Siem Reap are known for their kind and welcoming demeanour.
These are only two of the possible explanations for this phenomenon. those in Siem Reap, Cambodia often have a higher level of skill in the English language as compared to those in other parts of Cambodia, with the exception of Phnom Penh, which is the capital city.
The Cambodian people have a strong feeling of national pride, which frequently manifests itself in their propensity to share personal tales and offer helpful ideas to aid tourists in navigating their experiences while they are in the country.
It is common practice, particularly in the city of Siem Reap, to make friends with local Cambodians and take part in unplanned outings with them.
These outings typically include visits to a variety of notable monuments and restaurants, as well as other opportunities to learn about the cultural history of the Cambodian people.
The city of Siem Reap in Cambodia is well-known for the substantial contribution that its handicraft industry has made to the culture of the surrounding area.
Residents may be seen frequently engaged in the activity of carving various items while reclining along the sidewalks of the city.
This is a regular sight. In spite of the fact that members of this group might not always have an advanced level of English language proficiency, a kind and affable facial expression combined with a rapid demonstration might give valuable comprehension of their way of life, obviating the need for verbal ability.
When compared to neighbouring countries and locations such as Thailand and Vietnam, Cambodia sees a proportionally lower number of international visitors.
As a consequence of this, members of the Khmer community have a propensity to demonstrate an increased level of appreciation toward those who have chosen Cambodia as their temporary or, more typically, permanent site of residence.
The conduct of the vast majority of people in Cambodia may be characterized as friendliness and dependability.
However, just as in other parts of the world, there are a few people who participate in dishonest acts with the intention of cheating people from other countries.
Even though they are uncommon, incidents of this kind do occur every so then. The practice of charging exorbitant prices for transportation services and the practice by certain local guides of falsely advertising services that they are unable to provide both fall under the category of common fraudulent actions that take place in this region.
There are further fraudulent actions that require vigilance, even though they are not very common.
One example of this kind of scam is the supply of massages that are carried out by a large number of different women, who then increase the price of the service depending on the number of masseuses engaged.
Another type of con involves the illegal drug known as "Jabba" (also spelt methamphetamine), and it is strongly recommended that you stay away from it in order to protect yourself from the possibility of damage.
It is important to remember that, as was said earlier, Cambodia is considered to be a developing nation.
As a result, the country is defined by low wages and a high frequency of scams that are led by situations that are desperate for money.
It is possible that the financial well-being of drivers' families might be improved by providing them with greater remuneration or by using their services more frequently. This would ensure that drivers had a consistent source of income.
How to Find an Apartment in Siem Reap
If one is equipped with the appropriate information and capabilities, the process of looking for an apartment in Siem Reap may be made much more manageable.
When compared to destinations such as Thailand, where the chore of beginning the search becomes quite difficult, the process of picking a neighbourhood in this city is made much easier due to its small size and friendly attitude.
The vast majority of people start making their hotel reservations in Siem Reap through the use of the social media network Facebook.
There are well-known Facebook groups that are devoted to making it easier to find roommates or personal lodging in Siem Reap, Cambodia.
It is possible to meet a range of people within the housing market who engage in the practice of renting out extra rooms in their homes, in addition to professional brokers who offer aid in the process of discovering acceptable apartments.
Whatever the case may be, you should never depend solely on the claims of a stranger you met online; rather, it is essential to physically check the home you are considering purchasing.
Before moving to Siem Reap, it is essential to ensure that you have a complete understanding of the terms and circumstances, despite the fact that people in this setting may not intentionally abuse others in any way.
To make it easier to examine a large number of properties in a single outing, the real estate agents working at this office are prepared to provide transportation services.
Taking this strategy provides a potentially fruitful path for discovering other apartments and houses that have not yet been posted on Facebook.
This topic is about the differences and similarities between homes and apartments.
Flats often have greater expenses, but they provide the benefit of increased security measures and other amenities, such as swimming pools and sometimes even workout facilities.
Flats might be advantageous for these reasons despite the higher costs.
Apartments generally include backup generators, which is a characteristic that is not universally accessible in residential dwellings in Siem Reap as a method of addressing the issue of power outages in the city.
It is quite undesirable to have to deal with nighttime sweating due to frequent power outages if one lives in an area with a climate as warm as Siem Reap since the environment is so warm.
When looking for an apartment in Siem Reap, it is important to keep certain considerations in mind as you look at different options.
To begin, it is recommended to do a thorough examination of the neighbourhood in order to determine the closeness of different facilities to the place in question.
These amenities may include the coworking facility, the chosen café, the fitness centre, preferred dining establishments, and other relevant establishments.
It is recommended to do an evaluation of additional aspects, such as the performance of the air conditioning system, the accessibility of parking conveniences, and maybe even the personalities of the people who live nearby.
The presence of noisy kids, rowdy animals, or noisy chickens in the neighbourhood may quickly detract from the desirability of an otherwise perfect piece of real estate.
The rapid urbanization of Siem Reap is accompanied by an increase in the number of construction projects that are being carried out all around the city.
It is essential to verify the existence of any current construction activities in the neighbourhood before committing to any agreements, in order to limit the risk of being disturbed early in the morning by noise caused by drilling or banging.
This risk may be mitigated by verifying the presence of any continuing construction activities in the neighbourhood.
Last but not least, when searching for an apartment, it is recommended to participate in some form of bargaining.
Although it is vital to avoid taking advantage of the situation or offering amounts that are too low, it is generally anticipated that some degree of haggling will take place by most brokers and landlords.
The first pricing in this context tends to be higher than the real worth of the property. This assertion may also be seen in the company's ads.
Healthcare and Insurance in Siem Reap
It is recommended that digital nomads who will be staying in Cambodia for any length of time look into purchasing both travel insurance and health insurance for themselves and their families.
It is essential to be aware that certain insurance companies may be reluctant to provide coverage for expensive medical procedures.
This is something that policyholders should keep in mind. In addition, the degree of care provided by alternative medical institutions in Siem Reap and Cambodia as a whole could not be up to the level expected by Western hospitals and other types of medical facilities.
A significant number of people who participate in digital nomadism frequently make the decision to get travel insurance from reputable suppliers like World Nomads or Safety Wing.
However, before making a purchase of any insurance policy, it is very necessary to examine the terms and conditions of the policy in great detail.
It is in your best interest to confirm that a medical evacuation provision is included in your health insurance policy whenever you make a purchase.
This clause assures that the insurance carrier will, in the event of a serious sickness, reimburse the costs connected with transferring the covered individual to another country, if that nation is judged required.
This technique has the potential to represent the best strategy for ensuring the delivery of outstanding medical treatment in times of emergency circumstances.
The Royal Angkor International Hospital is widely regarded as the most reputable medical institution in Siem Reap.
This is due to the fact that it houses a multi-ethnic medical staff that has received training in a variety of countries, and it provides outstanding levels of both treatment and patient care.
The prices that are supplied at this site are competitive with those that can be discovered in countries located in Europe, and the medical staff here is both proficient in the English language and has a good degree of training.
Khmer, English, Japanese, Thai, Chinese, French, and Vietnamese are some of the languages that people in this region are able to communicate in.
This medical facility has the potential to handle patient transfers to the Bangkok Hospital Medical Centre using multiple modes of transportation, such as helicopters, charter aircraft, or commercial planes, in the event that a patient suffers from a serious injury or sickness.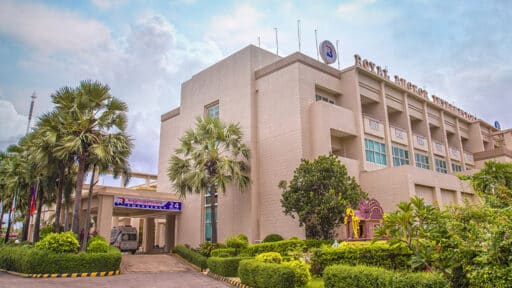 These transfer options are available in the event that the patient requires medical care at the Bangkok Hospital Medical Centre.
The Angkor Hospital for Children offers medical care of an exceptionally high degree, which is mostly appropriate for the treatment of less severe wounds.
Neak Tep Hospital, Angkor Japan Friendship International Hospital, and Ly Sreyvyna Clinic are some of the other medical institutions located in the area.
It is important to note that the ownership of the latter establishment is credited to doctors who are originally from both Singapore and the United States.
Settling in Siem Reap
Expat Jobs in Siem Reap
The town of Siem Reap is well known for being home to a sizable community of digital nomads.
A sizeable percentage of the expatriate population living in this area is involved in performing work remotely over the Internet.
People who are not fluent in Khmer have a difficult time finding lucrative work in the setting of a nation that is still growing since there are not many options available to them.
In Cambodian companies, the percentage of foreign workers that can make up more than ten percent of the overall workforce is capped at ten percent.
The ability to communicate fluently in English is typically required for employment in a variety of Cambodian industries, including tourism, hospitality, and education; hence, a considerable percentage of people who choose to work in Cambodia are engaged in these fields.
Many people from other countries who do not work in the internet industry typically find work in educational institutions, where they teach English language skills to those who are not natural speakers of the language.
The central region of the city is home to a variety of businesses, including hotels, restaurants, and hostels, which collectively employ a sizable number of people.
If you are a foreign national seeking employment in Siem Reap, you will need to ensure that you have the appropriate visa as well as permission status.
It is necessary to acquire a work permit and an employment card from the Ministry of Labor and Vocational Training (MLVT) before beginning any kind of job in Siem Reap. This is required in order to legally participate in the labour market.
The annual fee for a work visa is typically approximately one hundred dollars. It is strongly recommended if at all possible, to send in the application prior to the beginning of the calendar year.
This is due to the fact that a work visa retains its validity until the end of the calendar year in which it was issued, regardless of the day on which it was actually issued.
People who are interested in finding jobs in Cambodia typically rely on referrals received through word of mouth and the network of expatriates in the country to help them find appropriate positions.
Employment possibilities are made available through the British Chamber of Commerce in Cambodia, which is a valuable resource.
This group routinely hosts events with the purpose of fostering professional relationships, and as a result, it serves as a significant economic advantage for expatriates originating from other countries.
Staying Fit in Siem Reap
The city of Siem Reap contains a wide variety of gyms and other places to work out that are distributed across the metropolitan environment.
In addition to traditional fitness centres in the city that provide facilities for cardiovascular and strength training, there are also specialist institutions in the city that cater to particular sports and their respective training regimens.
On the other end of the spectrum, luxury fitness facilities offer an unrivalled chance to delve into the world of Cambodian physical fitness.
These facilities typically include spas, saunas, and jacuzzis, all of which add to an atmosphere that is calming and restorative.
When compared to other regions in Southeast Asia, the gyms in this area have fairly reasonable prices.
The only gyms in this area that charge prices that are more than or equivalent to those observed in Western nations are the high-end fitness facilities.
Siem Reap is home to a number of well-known gyms, including Angkor Muscle Gym and Siem Reap Fit, both of which charge a nominal fee of only one dollar in order to enter their facilities.
In addition, SC Sports Club Fitness Gym separates itself from the competition by supplying a sizable training area and charging a minimal price of $0.50 for each session.
Although the more reasonably priced fitness centres might provide fewer alternatives when it comes to cardiovascular equipment, these centres are typically quite well equipped for general workout reasons.
The Angkor Fight Club is a specialized venue that is dedicated to Khmer boxing as its primary activity. If someone is looking for a workout experience that is more conventional, they may consider looking into other fitness choices.
In addition, those who are interested in a thorough wellness experience may find that the facilities at the Raffles Grand Hotel d'Angkor or the Sokha Angkor Resort are acceptable alternatives to consider.
Are you interested in identifying anything or some idea that lies inside a range or location that is considered to be intermediate?
The session charge at Angkor Inter Fitness is $5, and patrons have the opportunity to sign up for longer-term subscriptions at discounted rates.
This fitness centre offers fantastic possibilities for partaking in aerobic activities, weight training, and participation in a wide variety of fitness programs.
The majority of these fitness facilities provide additional activities in addition to their primary services. Some examples of these supplementary activities include yoga, pilates, aerobics, and other similar options.
Activities You Can Do in Siem Reap
Visit to the Angkor Archaeological Park
Angkor Wat, which is known as the world's largest religious structure in terms of the amount of area it occupies, is regarded as having tremendous cultural and historical significance in Cambodia.
It is widely recognized across the Southeast Asian area as a significant archaeological site of the highest significance.
In conclusion, it is essential to ensure that you set aside at least one day of your schedule in Siem Reap to go sightseeing at the world-famous Angkor Wat.
The beginning of a day trip to this area takes place before sunrise in order to take advantage of the best lighting conditions for photography during the early morning hours of the day, and the trip comes to a close in the afternoon.
Join us on a guided excursion to go on a tour that is thorough yet manageable; otherwise, an individual can find oneself devoting several days to the endeavour of attempting to see all facets of the location.
It is strongly suggested to tour the huge Buddhist temple complex to the maximum possible degree within the restrictions of one's available time. The complex consists of a lot of different buildings.
Visit Old Markets
No matter what time of day one chooses to begin an excursion through the city, Siem Reap is home to a myriad of bustling markets that are well worth seeing.
The local community relies on these marketplaces as a significant source of subsistence, and visitors have the unique opportunity to acquire Cambodian wares while also partaking in the age-old tradition of exchanging goods like apparel, accessories, and electrical devices for one another.
Because a market is referred to as a "Phsar" in the Khmer language, the presence of this sign indicates the vicinity of a wide variety of goods and prospects for investigation.
There are a number of noteworthy marketplaces in Siem Reap, such as Phsar Chas, which is known as the first Old Market, the Made in Cambodia Market, and Phsar Leu Thom Thmey, which is renowned as the largest market in the city.
The Angkor Night Market, the Noon Night Market, and the Angkor Handicraft Association are three of the most famous night markets in Angkor that are well worth checking out.
Discover Siem Reap's History and Culture
The investigation of the eventful historical past of Siem Reap is undeniably a worthwhile task. It is commonly regarded as a vital component of one's trip to this city, as it enables one to have a thorough grasp of what the city is all about.
Siem Reap and the surrounding area of Cambodia are home to a plethora of museums, each of which offers visitors in-depth insights into the region's and city's respective history.
The Angkor National Museum, together with the War Museum Cambodia and the Cambodia War Remnant Museum, are three of the museums in Cambodia that receive the greatest number of visitors each year.
One may continue their exploration of the cultural legacy of Cambodia by spending a day at the Angkor Silk Farm or at ArtBox, which is known as the largest-scale trick art museum in the world.
Temple-Hopping
Siem Reap is home to a wonderful collection of temples that can be seen in the area surrounding Angkor Wat.
A substantial number of these temples have a rich historical legacy that spans several centuries and is accompanied by intriguing storytelling.
The great architectural magnificence of Preah Khan is highlighted by the fact that it is encircled by a large moat and ornamented with walls that have intricate carvings.
In the 10th century, the Hindu temple known as Prasat Banteay Srei was built out of pink sandstone and included elaborate three-dimensional ornamentation.
Its construction dates back to that time period, and its beautiful designs can be seen even now.
In the event that one is ready to travel farther, Koh Ker reveals itself to be the second most extensive temple city after Angkor, with the ruins of around one hundred different temples.
When compared to the price of entry to Angkor Archaeological Park, the charge required to enter this area is a great deal more reasonable.
Drink on Pub Street
Pub Street is always bustling with activity and full of life because of its electric and energized vibe.
It is advised that a person who is interested in participating in Siem Reap's lively nightlife investigate the various bars that are located in the surrounding region.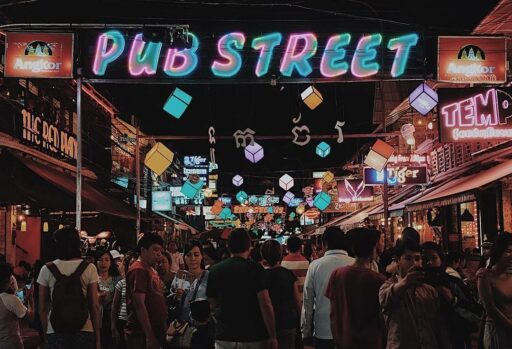 The process of moving from one club to another, supported by the fluid integration of musical tracks, contributes to the atmosphere as a whole.
The fact that beverages may be purchased at reasonable prices is another factor that contributes to the overall satisfaction of this event.
Due to the fact that it focuses on Western-style music, beverages, and prices, Pub Street is an excellent place to meet other digital nomads.
This makes it an exceptionally convenient venue. This path is replete with a wide variety of backpacker-friendly taverns and bars, lively nightclubs, and different restaurants serving cuisine from around the world, which substantially increases the possibility of having a good time along the way.
Watch the Phare Circus
There is a strong connection between Cambodia and the circus. Phare, The Cambodian Circus, is widely regarded as the finest example of Cambodia's rich cultural heritage in the field of traditional circus arts. It is fortunate that one can easily witness this remarkable phenomenon in Siem Reap.
It is a captivating and lively evening of entertainment that includes dynamic performers, astonishing feats, and beautifully choreographed presentations.
These presentations incorporate elements of theatre, music, dance, and contemporary circus arts, all of which collectively narrate distinctive Cambodian narratives.
The Phare Circus is a community project that was created with the intention of assisting children in Cambodia in both the development of marketable talents and the acquisition of financial resources.
This phenomenon, by virtue of the support it receives, not only offers insightful viewpoints on an unconventional method of performance but also makes a significant contribution to the expansion of the nation's economy.
Go on a Day Trip
Technically speaking, it is feasible to spend a significant amount of time in Siem Reap without exhausting the variety of activities that are now on offer there.
However, Cambodia as a nation displays extraordinary diversity and grandeur, which suggests that if you want to have some of the most unforgettable experiences inside its boundaries, you should travel outside of the metropolitan centres.
There are a number of other interesting day trips that can be reached with relative ease.
These include the Tonle Sap Lake, which can be reached in a quarter of an hour by car and provides visitors with the chance to witness one of Cambodia's extraordinary natural phenomena.
In addition, there is the remote floating town of Kampong Khleang, which allows visitors to see additional dwellings that are supported by stilts.
Phnom Kulen is the holiest mountain in Cambodia; it is often referred to as "Lychee Mountain." One may want to think about continuing their journey to Phnom Kulen.
Alternately, one may choose to head in a westerly direction and spend a day seeing Battambang, a town known for its colonial French architectural influences, significant locations such as the killing caves, and the one-of-a-kind form of transportation provided by the bamboo trains.
Bicycle Around
In Siem Reap, there are a number of companies that can be booked to provide guided day excursions.
These trips highlight the top sights in the area while using bicycles as the medium of transportation.
One more option is to go it alone and explore the metropolitan scene by renting a bicycle and stopping at places that look interesting along the way.
There are specialist journeys that concentrate on various areas such as the gorgeous countryside and villages, gastronomic experiences, or historical places.
In addition, there are general tours that offer a complete overview of numerous attractions.
These day tours offer a great opportunity for people who have travelled to Siem Reap on their own to meet locals who share their passions and interests, which is especially beneficial for those who came to the city alone.
Attend Traditional Cooking Classes
Lessons in Cambodian cuisine may be a fun and interesting experience, even for those who do not generally consider themselves to be passionate cooks.
This is especially true for persons who want to learn more about Cambodian cuisine. The vast majority of the sessions that take place at this establishment begin with a trip to the neighbourhood farmer's market in the early morning hours.
During this excursion, participants have the option to pick a wide variety of fresh produce, which may include fruits, vegetables, and other necessary components.
After that, a wide range of traditional Khmer culinary masterpieces are made with the usage of these different ingredients.
Acquire knowledge about the traditional Cambodian culinary methods for the preparation and cooking of food with the objective of impressing acquaintances at a later event in the hope that this will help you.
Especially for those persons who often engage in the activity of cooking using raw foods, this event is a perfect opportunity to gather knowledge regarding the best sources for acquiring vegetables.
Is Siem Reap Good for Expat Families?
Siem Reap does not hold the title of being the most family-friendly location in Southeast Asia; nonetheless, it does provide a number of options for international schools in Siem Reap, entertainment, and activities that make it easier for families to go about their everyday lives with children.
Siem Reap is home to a wide variety of international educational institutions, the majority of which utilize English as their primary language of instruction.
The preschool, kindergarten, and elementary school that goes by the name Tree House is widely considered the most prestigious educational facility available to young children (ages 0 to 7).
As a result of this, St. George's International School (SGIS) and the International School of Siem Reap (ISSR) have gained a reputation for being two of the most notable educational institutions that a kid may attend during the last years of their formal schooling.
The Ecole Francaise de Siem Reap is an educational institution that has been around for a very long time and is known for its high-quality education and instruction in the French language.
On the other hand, the USA International School (USAIS) offers a curriculum that includes components from both the Australian and American educational systems in order to provide students with exposure to a wide variety of academic areas.
Siem Reap has a range of activities that are appropriate for children, and the city itself is particularly favourable to pedestrian exploration; stroller use is even permitted in several areas.
Young people who have an interest in the arts will find Siem Reap to be a highly welcoming and supportive environment thanks to the existence of craft activities.
In addition, it is probable that youngsters who have watched the movie Tomb Raider will have a strong desire to spend the day exploring Angkor Wat.
This is because the film is set in this region of the world. Because Cambodians have a propensity for affection for children, particularly those with blonde hair, it is possible for children to receive a lot of attention and presents while they are participating in public events. This is especially true for children who have blonde hair.
Many people believe that Siem Reap, which is located in Cambodia, is one of the best places in the country for families to settle down since it provides easy access to important facilities such as medical supplies and pharmacies, in addition to conveniences like diapers and infant formula.
In addition, it is not difficult to find sunscreen and insect repellent that is appropriate for use on children in this specific environment.
However, if you want to leave Siem Reap and travel to other parts of Cambodia beyond the metropolitan centres, it is strongly recommended that you stock up on sufficient quantities of the products listed above.
This is due to the fact that other sections of the country do not have the same level of infrastructure development that Siem Reap has.
Final Thoughts
For those wanting a different pace of life, moving to Siem Reap provides a special combination of historical charm, lively culture, and a laid-back lifestyle.
For both foreigners and travellers, the city's rich tradition and modern conveniences provide a welcoming and interesting setting.
Siem Reap is enticing for many reasons, including the magnificent Angkor Wat, lively marketplaces, and welcoming inhabitants.
Accepting this alluring location ensures not only a wonderful experience but also a chance for personal development and exploration.
Pained by financial indecision? Want to invest with Adam?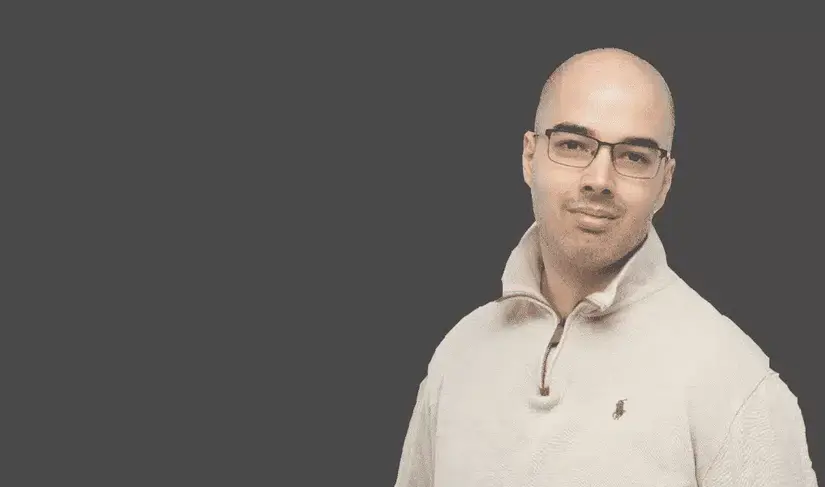 Adam is an internationally recognised author on financial matters, with over 693.5 million answer views on Quora.com, a widely sold book on Amazon, and a contributor on Forbes.