Skrill Money Transfer Review 2022: is it safe and reliable? – That will be the topic of today's article.
This comes after writing a review of Western Union and asking whether MoneyGram is safe.
For any questions, or if you are looking to invest, you can contact me using this form, or use the WhatsApp function below.
Often times, especially for expats, it makes sense to invest money in a portable way, as opposed to sending money home to invest.
Introduction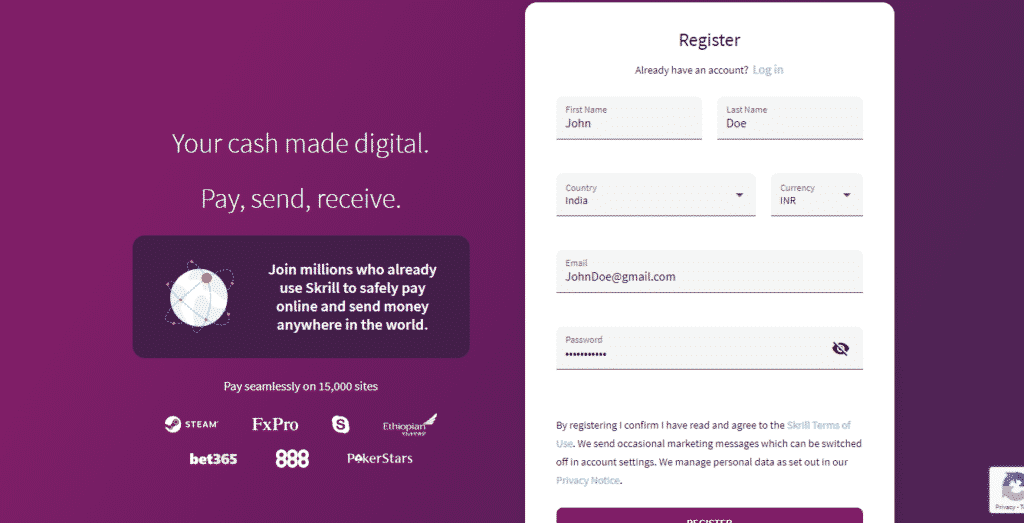 You have probably come across Skrill when shopping online. Since it is a popular payment processor, you might be wondering if Skrill is a safe and legal payment processor. On the other hand, maybe you have heard that Skrill is a scam that should be avoided?
Here is what you will learn in this article. We will reveal the pros and cons of Skrill and take a look at any security issues you may have with their services and surely talk about the service in detailed, so those who are interested in Skrill money transferring option, were aware of everything.
At the end of this article, you should have a good idea of ​​whether you should consider using this digital payment service. So let's start with a quick overview of the platform.
Like PayPal, Skrill is a digital wallet. Users can deposit funds to it and spend it anywhere Skrill accepts payments, or send money to each other.
Founded in 2001, the company was originally called Moneybookers. At first, it was mainly used as a platform for storing and transferring gaming funds on the Internet.
While gaming transactions still make up a fairly significant part of their business, Skrill has diversified its services over the years.
It has evolved from a betting app to a fully functional digital wallet commonly used for international money transfers, online purchases, and even cryptocurrency trading.
Even though the adoption rate is much lower than PayPal, Skrill has 40 million registered unique users and supports 150,000 merchants, which is still impressive.
But does this mean that they are legal and can you trust them with your money? In case you have any doubts, we're here to find it out together.
Skrill now
The Paysafe Group, a large payments group that provides payment services online, in person and through other channels, currently owns Skrill. As already noted, Skrill started out as an e-commerce payment gateway specializing in gambling, but has now expanded its services to include an online service that allows you to send money around the world, Skrill Money Transfer.
Opening an account with Skrill gives you access to this service as well as the Skrill wallet (an overview of which you can find at the end of the page). Skrill money transfers are fast, easy and inexpensive due to very attractive prices, exchange rates and fees.
You can send money abroad via Skrill Money Transfer and make payments by credit card, debit card, SOFORT or bank transfer, depending on where you are and what currency you are using. The recipient can choose to receive funds directly into their bank account, although receiving money in a mobile wallet is also an option in a small number of countries.
According to customer reviews posted online, Skrill is a great money transfer service. It is very often the cheapest option and provides very competitive fees and rates, is easy to use, fast and is a long established company that is trusted by a large number of customers who give a lot of positive reviews on TrustPilot.
Skrill mobile apps have excellent ratings in the Apple App Store (4.5 / 5 stars out of 2,900 ratings) and the Google Play Store (4/5 out of 74,758 ratings). With Skrill mobile apps, you can make online payments, send money abroad, and exchange cryptocurrencies.
Pros:
Both personal and business options available
Ability to work with Forex and online gambling accounts
No fixed transfer fee when you send money directly to a bank account
Send money easily to an email address or phone number linked to a bank account
Buy and sell crypto currency
Offers a prepaid card powered by MasterCard
User-friendly mobile app
Secure, fast and convenient transfers through Skrill Money Transfer
Many glad customers
Cons:
Getting fully operational can be tedious
Difficult fee structure
High currency exchange fees for "Skrill to Skrill" international transfers
Currently available in only a limited number of countries
Sending money abroad with Skrill Money Transfer
Skrill Money Transfer allows you to send money to the recipient internationally. You can send money directly to a bank account or mobile wallet. Usually, to transfer money, you just need to indicate the recipient's name, address and account details.
To use Skrill Money Transfer to send money abroad after opening a Skrill account, you can simply go to their official website and click "Get Started".
Alternatively, on the Skrill Wallet website, click Send, then Send from Bank Account or Credit Card to Bank Account or Mobile Wallet, or Send to Bank Account in the Skrill Mobile App.
It is highly recommended using Skrill money transfer service to send money abroad instead of Skrill to Skrill service, which has poor customer reviews and is much more expensive, slower and less convenient.
How does it work?
Step 1. Create Skrill account
Sign up for Skrill in just a few minutes with your first name, last name, email address and password. That's all.
Step 2. Go through the verification process
When you create an account with Skrill, you will need to verify your identity. This verification process may vary slightly depending on where you are, but you will usually need to provide:
Personal information including full name, address, date of birth, and government identification number, such as social security or government insurance number.
You may also need to answer a series of knowledge-based questions.
You may also be asked to provide additional information to verify your identity, including:
A color copy of your ID, such as ID, driver's license or passport.
A photo of you holding an identity document next to your face
Proof of address, such as a utility bill or bank statement, issued within the last three months.
Step 3. Set up the transfer by specifying the recipient's details
After entering the amount and currency, you will need to specify the following information about the recipient:
Their full name and address.
Your bank code, which you can get from the beneficiary. In most cases, this will be their business identification code (BIC), although in some countries the national bank code may be listed instead.
IBAN (International Bank Account Number) or Account Number: The IBAN is a set of alphanumeric characters that help identify accounts opened anywhere in the world. Some recipients may only have an account number depending on their bank.
Country of their bank. The holding bank of your recipients' account may not always be the same as the bank in their country of residence.
Amount of payment
Any link or message to the recipient.
The reason for the payment, if applicable.
Final step. Click send, pay and wait for confirmation
Fund your transfer with your preferred payment method (debit / credit card or bank transfer) and wait for confirmation that your transfer has already been sent.
What types of transfers does Skrill support?
If you are trying to deposit money into your account or withdraw money after receiving it, Skrill offers you several options to choose from.
Deposit of funds
The skill allows you to make deposits in the following ways:
Transferring ACH (Automated Clearing House)
Bank transfer
Credit card MasterCard or Visa
Paysafe Card
There is no Skrill deposit fee for US residents, but your credit card or bank account may have their own fees.
Withdrawal of funds
US residents have only one way to withdraw funds:
Bank account via bank transfer
Since Skrill uses bank transfers and not ACH to withdraw funds, please be aware that your bank may charge fees for incoming bank transfers. Contact your bank directly to see if this fee will apply to you.
Pricing
It is no secret that commissions and benefits are important factors in decision making when choosing an online service like Skrill.
Now, while opening a Skrill account is free, there are many other fees (besides transfer and exchange fees) that you should be aware of to avoid unexpected surprises.
Nevertheless, while you cannot completely knock off the commissions, you can save a cool bunch by signing up for their loyalty and affiliate programs: VIP Program, VIP Ambassador Program, Paysafe Affiliates.
Here we break down the complex Skrill fee structure to make it clear for regular account owners.
Deposit fees
Regardless of which deposit method you choose to fund your account, you will be charged a convenience fee (excluding the US).
Go to the "Deposit" section of your mobile or online account to find out about the fees associated with your chosen deposit method.
Withdrawal Fee
Withdrawal fee depends on the withdrawal option. This is how it looks in the euro area:
Withdrawal to a bank account – a flat fee of 5.50 euros.
Withdrawal to VISA – 7.5%
Withdrawal to a mobile wallet – 1.45% (min.0.50 euros)
Withdrawals from ATMs with Skrill Prepaid MasterCard – 1.75%
Fee for sending money
Skrill usually charges 1.45% of the transfer amount for sending money to another Skrill account, but this can vary from country to country. However, direct transfers to bank accounts via Skrill are free.
Skrill also charges a 3.99% markup over the Reuters exchange rate if you use Skrill to Skrill for international payments.
Skrill money transfer may be the best option in this case (no currency surcharges). If you are initiating many international transfers, you can check our International Money Transfers section.
Cryptocurrency fees
Buying and selling cryptocurrency will also incur a commission depending on the amount of the transaction. You can usually expect to pay between € 0.99 and € 1.99 for transactions between € 1 and € 99. Transactions over € 100 are charged a flat fee of 1.5% of the amount.
Please also note that if you do not have an account in EUR, Skrill will charge a currency exchange fee when buying or selling cryptocurrency.
Account maintenance fee
A Skrill account is free if you make at least one transaction per year. However, if you are inactive, expect to pay around € 5 in service fees (deducted from your account).
Other fees
In addition to the service fees mentioned above, Skrill may also charge you for prohibited transactions (for example, transferring funds on behalf of a third party or using Skrill to deposit cash to your credit card), chargebacks, canceling an invalid transaction, etc. Some of these fees are quite high (up to € 150), so you should definitely read the fine print.
Is Skrill Safe?
Before we dive into the features and offerings of Skrill, let's try to establish if Skrill is safe and legal as a business.
Since 2015, Skrill has been part of the Paysafe Group along with Paysafecard and Neteller, a former digital wallet competitor.
Skrill has also been registered with the UK Financial Conduct Authority since its inception. In addition, they have a European e-money license that allows them to operate anywhere in the world outside of the United States. In the US, they are also licensed in all 50 states.
So, as far as legitimacy goes, Skrill is obviously the real deal, and there is no question that this is the real company. Even their shares are listed on the London Stock Exchange.
It's safe to say Skrill has taken due diligence to protect your funds and data. Skrill is fully authorized by the UK Financial Conduct Authority (FCA) and the US Treasury Department's Financial Crimes Network (FinCEN).
Skrill relies on the same security requirements as conventional banking and exchange websites.
Skrill also uses a two-factor authentication method to protect your money and confidential information. In addition to your personal security PIN, your account login, personal data and transaction data are secured by SSL using a VeriSign certified 128-bit encryption method.
Finally, Skrill never shares your bank or card details with merchants and recipients when you initiate a payment.
How fast is Skrill?
Payments
Skrill does not do any service to itself with a fee structure, but users only vouch for the transfer rate. Both Skrill to Skrill and Skrill Money Transfer for domestic payments are instantaneous. However, sometimes it depends on the country and when the payment was initiated.
International transfers using Skrill Money Transfer (available to both existing and existing customers) and bank transfers funded by Rapid Transfer usually take 2-3 business days.
Skrill also refunds money pretty quickly for failed transfers – you can expect the money to return to your digital wallet within 1-2 business days.
And do not forget to follow the payment limits, which depend on the country. This will be shown to you when you initiate a transfer.
Withdrawal of funds
Withdrawal times also vary by country and Skrill may apply withdrawal limits to your account.
It usually takes 1 to 5 business days for funds to be transferred to your bank account or Visa card. No need to worry, Skrill will notify you of the processing time the moment you initiate a withdrawal from your bank.
Tip: make sure your bank account number, sort code, IBAN and / or BIC / SWIFT are correct when withdrawing funds, if you do not want to pay a refund fee (usually € 25).
Customer Reviews
Skrill Money Transfer has an exceptionally high TrustScore of 9.5 out of 10 based on over 1,200 customer reviews, with 97% of customers rating them as "excellent" or "excellent". This is one of the highest ratings we've ever seen for a money transfer service!
The vast majority of Skrill Money Transfer customers praised Skrill Money Transfer's extremely competitive fees and exchange rate, ease of use, and speed of money delivery. As usual, very few clients were disappointed with the documentation required to verify their identity for legal reasons.
Also, Skrill is rated 4.5 / 5 by Trustpilot with over 8000 reviews, which is considered "Excellent". Most of their clients are delighted with the fast and secure currency transfer services and the intuitive app.
But you can only appreciate the true value of the service by delving into the real-world customer experience. That's why we've looked at hundreds of Skrill user reviews on Trustpilot.
But nothing is that perfect. Anyways there are some bad reviews most of which are due to their tedious verification process and unexpected account freezes when large amounts are deposited into a digital wallet.
Skrill asks you to deposit funds into your account before you can proceed with verification. In fact, you can continue to use their payment services without even checking your account as long as you stay within the prescribed payment and withdrawal limit (which varies by country and can be verified in your account settings).
However, if you wish to send and withdraw larger amounts, Skrill requires you to complete the verification process. In addition, as a fully authorized and regulated financial institution, Skrill also verifies transactions they deem unusual to prevent fraud and theft (this is quite common for regulated financial authorities).
This means, you have to be ready to jump over some obstacles to launch your shiny new regulated and potentially very rewarding service. Do not wait for verification after registration and read the fine print to avoid bitter experiences. Moreover, it never hurts to double check your documents before submitting them for review.
Skrill Mobile Application
Skrill provides a mobile app for smartphones on iOS and Android platforms so you can access your Skrill account and wallet wherever you are.
The Skrill mobile app is easy to use:
Log in and select "Send money".
Enter the recipient's email address and billing details
Select your currency and amount
Confirm and send
You can also use Skrill's online money transfer service, which is quick and easy to use.
The application allows you to:
Manage your Skrill Visa card. Check your balance and fund your account on the go.
Log in using biometrics. You can use face and fingerprint recognition to log in.
Check exchange rates on the go. Current exchange rates and commissions can be found in the app.
Send and receive money. Transfer money to friends and family with just a few taps.
Track your transfer. Real-time transaction notifications are available through the Skrill mobile app.
To conclude
Currency exchange with Skrill is not cheap, and the fee structure seems to be geared towards your convenience rather than simplified to minimize costs.
However, Skrill has evolved to offer a useful suite of services, and these fast transfers are potential participants in transactions.
Skrill bridges the gap in the market by offering a fast, reliable and often great alternative to PayPal.
Basically, it all comes down to what you are looking for in an online payment system and in a digital wallet.
If you are just looking for a money transfer service, prepaid debit card or multi-currency account, we think you can probably do better.
It's free to open an account with Skrill, and it might be worth registering to see if it's right for you or your business.
Cannot be indifferent to so many positive reviews, which definitely are not fake, so Skrill is really safe and reliable, it's free with competitive fees and commissions. So the conclusion is that Skrill is pretty good money transfer service which can provide you with rapid transfers and withdrawals.
Further Reading
This article spoke about a money transfers, but one country has always been difficult for that …….China.
Getting money out of China has never been easy in recent years, and it is an ever changing situation.
This has been a source of frustration for many expats living in Mainland China, and for former expats and Chinese living overseas who have left China but have kept some money in the banks there.
The article below therefore investigates different options for sending money out of China in 2020-2021, including traditional ways (Western Union) and non-traditional apps.
We also look at how you can "kill two birds with one stone" by investing money directly from China as an expat;
The article is also regularly updated as the facts on the ground change.
We expect more changes in 2021 and 2022.
Tags
is skrill safe
,
is skrill safer than paypal
,
skrill fees
,
skrill money transfer limit
,
Skrill Money Transfer Review 2020
,
Skrill Money Transfer Review 2021
,
Skrill Money Transfer Review 2022
,
Skrill Money Transfer Reviews
,
Skrill Money Transfer Reviews
,
Skrill Money Transfer UK
,
skrill moneybookers
,
skrill review south africa
,
skrill supported countries