Here's the list of the top mountains to climb around the world.
Remote and breathtaking, alluring and difficult. People become intrigued by mountains, which fosters a lifelong fascination with them as well as a sense of wonder and purpose.
They are some of the most amazing places on earth, drawing people in with a compelling gravitational pull and inspiring a drive and energy for success that are rarely matched elsewhere.
The possibility of reaching a mountain's summit, though it may seem intimidating to some, motivates many to put forth months or even years' worth of effort, grit, and resolve to undergo demanding training and at times agonizing ascents because the results are simply worth it.
The peak of any climber's journey is standing atop a peak, gazing down on the world from which you have ascended, and taking in the beauty of the surroundings. The inherent benefits and sense of accomplishment are unmatched by any other combination.
Looking for the next big adventure can always be motivating, whether you're an amateur mountaineer just starting out or a seasoned veteran of many of the world's highest peaks. Here are the top mountains to climb around the world.
Top Mountains To Climb Around The World
1. Mount Kilimanjaro, Tanzania
Elevation: 5,895m (19,341 ft)
As Africa's tallest mountain, Kilimanjaro, is always covered in snow at its summit and stands in stark contrast to the dry savannah below, some people prefer it hot and cold. It is one of the top mountains to climb around the world.
The mountain, which is made up of the extinct volcanoes Kibo, Mawenzi, and Shira, is situated on Tanzania's northern border with Kenya. Do not be alarmed, though; the last significant eruption occurred more than 360,000 years ago.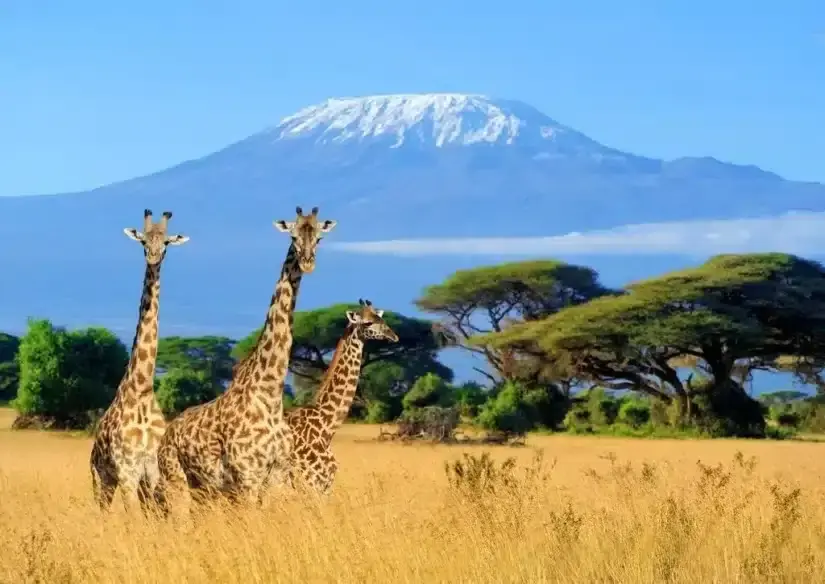 2. Licancabur, Chile/Bolivia
Elevation: 5,916 m (19,409 ft)
It doesn't get more volcanic than Licancabur, a stratovolcano that rises above the turquoise waters of Laguna Verde.
This hike would be more of an expedition because of the mountain's remoteness and harsh surroundings; Incas may have once used the mountain for sacrifices because there are still ruins on the summit. Definitely not your typical stroll through the park, gentlemen.
Most people travel to Licancabur via a tour of the Salar de Uyuni, which is highly recommended in and of itself, because it may be challenging for foreigners to reach the remote location. Don't forget to buy your permit to the area from the Campament Secundario office in Laguna Verde.
3. Mount Toubkal, Morocco
Elevation: 4,167 m (13,671 ft)
Toubkal, the highest mountain in North Africa, is extremely rocky and presents additional difficulties in the form of snow in the winter and loose scree and dust in the summer.
There is no other option but to aim for the summit given that Marrakesh is only 60 kilometers away. It is one of the top mountains to climb around the world.
Depending on their experience and how well they can handle the mountainous environment, climbers can choose to extend their ascent by 2 or 6 days while hiking through traditional villages.
4. Mount Stetind, Norway
Elevation: 1,392 m (4,567 ft)
It's no surprise that this mountain, which is Norway's national peak and has the shape of an obelisk, is both alluring and difficult to climb. It is one of the top mountains to climb around the world.
The Norwegian mountaineering's British founder, William Cecil Slingsby, was reportedly quoted as saying that it was the ugliest mountain he had ever seen. This is likely because he was unable to reach the summit.
The mountain is easily accessible with parking and a rest area at the base, and the nearest large towns are Narvik to the north and Bod to the south. It's a mountaineering experience unlike any other because June and July are snow-free and have the midnight sun the entire time.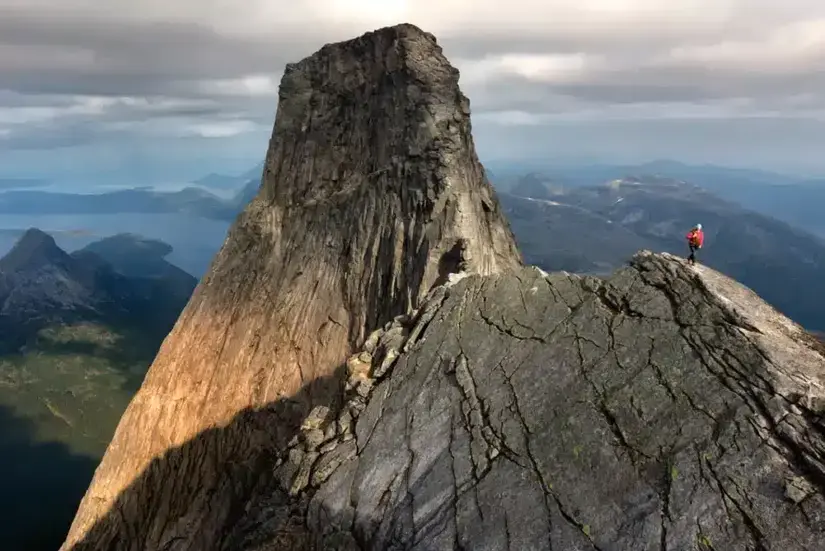 5. Table Mountain, South Africa
Elevation: 1,085 m (3,558 ft)
Table Mountain's distinctively level feature has earned it the title of most recognizable landmark in South Africa. The plateau, which towers over Cape Town, is bordered by the impressive cliffs of Lion's Head and Devil's Peak to the east and west, respectively.
With half a billion years in the making, there is no reason why any man shouldn't climb such a famous example of nature's creation, just as the first person to do so was the Castilian-Portuguese sailor António de Saldanha in 1503.
6. Mount Fuji, Japan
Elevation: 3,776 m (12,389 ft)
One of the most famous volcanoes ever photographed, Mother Nature's volcano has a nearly perfect cone shape. Mount Fuji is one of the top mountains to climb around the world.
Fuji, Japan's highest mountain and only 60 miles southwest of Tokyo, is described in Japanese as "a man with a certain status."
Understandably, many have found the courage to climb the once-forbidden volcano, which now welcomes about 300,000 climbers of all levels of experience every year and is an iconic symbol of Japan and its natural beauty.
7. The Matterhorn, Switzerland
Elevation: 4,478 m (14,692 ft)
The first ascent was made on July 14, 1865, by English mountaineer Edward Whimper and his group. The precariously beautiful mountain resembles a chiseled pyramid, which has no doubt made it an attractive climb for many.
The Matterhorn, located in the Swiss Alps, is the most famous summit in Europe and the site of the invention of mountaineering.
8. Mount Fitz Roy, Chile/Argentina
Elevation: 3,359 m (11,020 ft)
The glacier at the base of this magnificent mountain, which is located in El Chalten, Argentina, is retreating as a result of climate change. Fitz Roy is referred to by locals as Cerro Chaltén, or "smoking mountain," because of the frequent cloud cover that covers its summit.
It is still one of the most technically difficult mountains on Earth for mountaineers, having been climbed for the first time in 1952 by French alpinists Lionel Terray and Guido Magnone. Additionally, since the weather is so erratic, be ready for anything while climbing.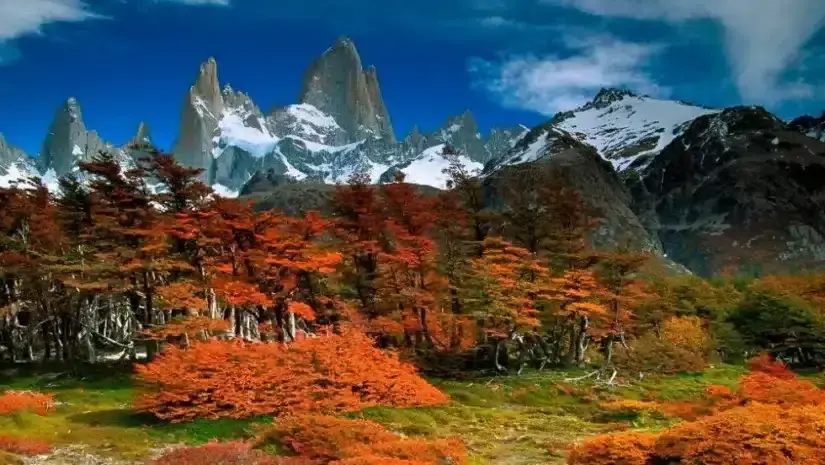 9. Half Dome, Yosemite National Park, United States
Elevation: 1,444 m (4,737 ft)
The enormous granite rock formation, which is located in one of the best climbing regions in the world, isn't technically a mountain but it presents a difficult ascent for seasoned mountaineers because of its sheer face.
Avoid going on a hike between December and March if snow isn't your thing. If it is, you'll probably enjoy California's long summers. The rock formation is in Yosemite National Park.
10. Kala Patthar, Nepal
Elevation: 5,645 m (18,519 ft)
Kala Patthar, which means "black rock" in Nepali and Hindi, is the next best thing for those lacking the courage to climb Mount Everest because it provides breathtaking views of the mountain from a more secure vantage point. It is one of the top mountains to climb around the world.
It is the perfect hike for ardent photographers who have always wanted to see and photograph the tallest mountain in the world. It is one of the top mountains to climb around the world.
The only real way to get to Kala Patthar is to take the same trail that leads to Mt. Everest base camp from the airfield in Lukla, a small town that can be reached from Kathmandu.
Pained by financial indecision? Want to invest with Adam?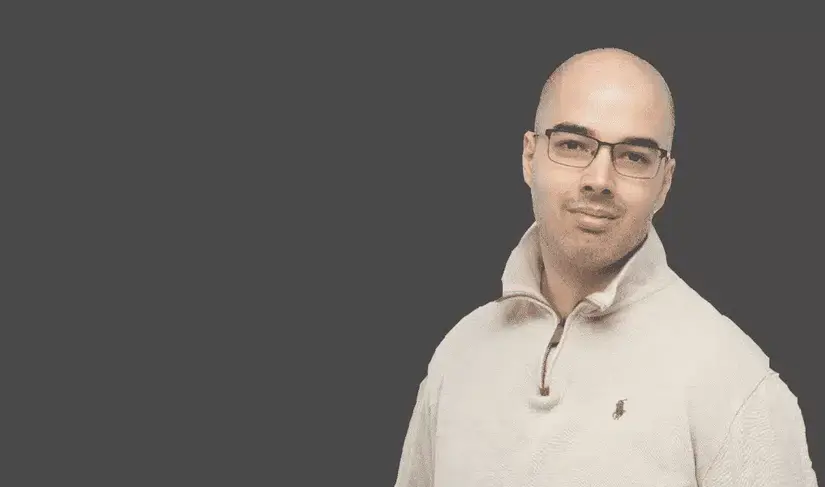 Adam is an internationally recognised author on financial matters, with over 693.5 million answer views on Quora.com, a widely sold book on Amazon, and a contributor on Forbes.