Working as a digital nomad in Siem Reap offers a captivating blend of rich cultural experiences, vibrant communities, and awe-inspiring historical wonders.
The picture-perfect city of Siem Reap, which can be found in the centre of Cambodia, calls with its bewitching charm and offers a way of life that is unlike any other.
Siem Reap shines as an example of an excellent spot to call home within this dynamic nation since it is a haven of peace and opportunity for people who are looking for such a place.
Siem Reap emerges as the ultimate choice, giving an array of compelling reasons that make it an enticing destination, whether you are a local resident exploring new horizons or an expatriate in need of a sanctuary to settle down in.
This is true whether you are a local resident exploring new horizons or an expatriate. Siem Reap has carved out a position for itself as an exquisite destination that is worth considering due to its extensive cultural history, magnificent scenery, flourishing communities, and numerous options.
In this article, we dig into the various elements that contribute to Siem Reap's attractiveness, throwing light on why it continues to catch the hearts of both locals and visitors and why it may very well be the greatest place for you to live in Cambodia if you are thinking of working as a digital nomad in Siem Reap.
If you have any questions or want to invest as an expat or high-net-worth individual, you can email me (advice@adamfayed.com) or use these contact options.
About Siem Reap
Siem Reap, whose official name is Krong Siem Reap, is a mesmerizing tourist attraction that is distinguished by its gorgeous landscapes of rice terraces and old temples.
Siem Reap is officially known as Krong Siem Reap. This site, which can be found in the northwest corner of Cambodia, has recently seen a surge in interest from a large number of digital nomads and travellers.
The fact that Siem Reap serves as the primary entry point to the world-famous Angkor Archaeological Park is primarily responsible for the city's widespread reputation as an important travel destination.
It is a remarkable setting that attracts people who have a passion for cultural encounters, historical investigations, aesthetic appreciation, and gourmet pleasures.
It is estimated that there are roughly one million people living in Siem Reap Province, and the province experiences an annual growth rate of approximately 2.5%.
During the high season, the number of people present in any metropolitan location that provides tourist services will undoubtedly be much higher.
Nevertheless, despite the fact that the city is swarming with tourists, it nevertheless manages to maintain an atmosphere that is evocative of a tightly-knit community.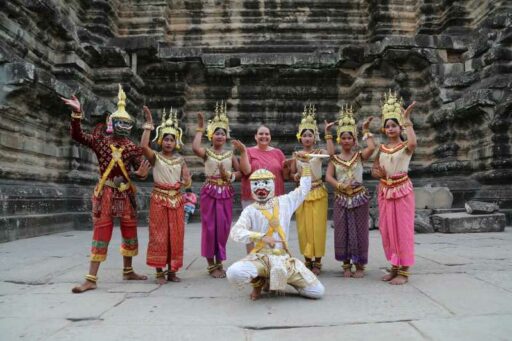 Siem Reap is home to around 95 percent of people who identify with the Khmer ethnic group.
The remaining 5 per cent of the city's population hails from a variety of cultural and racial origins, including Vietnamese, Chinese, and Cham people.
The community of digital nomads in this place is made up of people hailing from a wide variety of countries all over the world, with significant numbers of people hailing from France, the United States of America, and Australia.
As a consequence of the sad events that transpired in its past, Siem Reap's population has a considerably lower percentage of old people in comparison to that of other cities.
Only 34% of Siem Reap's population was under the age of 17 according to the city's demographic composition just ten short years ago.
Only a minuscule proportion of the population, amounting to a meagre 5%, is above the age of 65. This percentage is expected to continue to decline.
This suggests that Siem Reap has a contemporary vibe and a focus on the years to come as its defining characteristics.
The city has both a strong ecosystem for new businesses and a populace that speaks English as their primary language.
Due to the fact that it possesses a significant number of important qualities, it is an excellent destination for people who lead the lifestyle of a digital nomad.
It is not difficult for digital nomads to maintain a high quality of life while working and travelling in Siem Reap.
When compared to the prices found in other parts of Southeast Asia as well as those found in other parts of the world, those found in this particular location offer a better value proposition.
In addition, the people who live in the country have a kind demeanour, which contributes to the fact that they are willing to offer aid to tourists.
An appealing destination for digital nomads looking for a revitalizing change of atmosphere inside Cambodia, Siem Reap is a city that is well-known for the range of its cultural offerings.
Where to Find Cheap Accommodations in Siem Reap
Because Siem Reap is known for its affordability, it may be more difficult to discover expensive hotel options than it is to track down lodgings that are kind to one's wallet when trying to find a place to stay there.
This suggests that upon first arrival in the city, one may easily uncover a wide variety of cost-effective choices, relieving concerns regarding lodgings of a lower level or uncomfortable sleeping arrangements.
Moreover, this suggests that one may rapidly locate a large array of cost-effective alternatives. Angkor Heart Bungalow, Bun Kao Guesthouse, and Oral D' Angkor are just a few of the low-cost hotels in the centre region of Siem Reap that are quite popular among tourists.
Siem Reap is home to a large number of hostels, each of which provides a unique environment to accommodate guests with a wide variety of tastes.
Due to the fact that these lodgings are, for the most part, reasonably priced, selecting them is an excellent option for acclimating oneself to a new metropolitan environment.
White Rabbit Hostel, Onederz Siem Reap, Golden Mango Inn, Lub D Cambodia, and Hideout Hostel are just a few of the peaceful options available in the city, despite Siem Reap's reputation as a destination for rowdy tourists in search of exciting nightlife.
If folks are unsure about where they will be staying upon their initial arrival, they may want to think about picking one of the hotel choices that have been shown above.
These hostels, which are distinguished by their energetic ambience and clientele that is predominately comprised of younger people, provide a fantastic opportunity to make new acquaintances within the city and to further investigate the compelling appeal of Siem Reap.
Best Places to Live in Siem Reap
During one's time spent in the region, one may take advantage of the comfortable accommodations in a central location that are offered at reasonable prices in Siem Reap.
Even though there are a number of different areas in Siem Reap, the majority of the city's activities are concentrated in the area known as Central Siem Reap.
People who are interested in finding possibilities for social contact will find that Central Siem Reap, also known as the Old Market Area or City Centre, is a wonderful place for meeting other people.
Pub Street, which is famous for its Angkor can be found in this city. bar, in addition to a number of other markets and a large number of other retail enterprises.
Working as a digital nomad in Siem Reap is strongly suggested for anybody looking to improve their quality of life in terms of convenience.
While one is looking for suitable rental housing, the presence of a large number of hotels and hostels in this region makes it much simpler to become familiar with the surrounding area.
Sivatha Boulevard
Sivatha Boulevard, which is part of the Old French Quarter, is a street that comes highly recommended to people who have a somewhat larger financial allocation and a preference for building designs that are visually beautiful.
The Old French Quarter is easily recognizable by the magnificent architecture that was built during the colonial era.
This neighbourhood is known for its visually pleasing location, and as a result, it is home to some of Siem Reap's trendiest vintage and luxury fashion stores.
If you are thinking about going to an area that is considered to be more expensive, you might want to think about going there with the intention of doing some window shopping or making some lavish purchases.
Wat Bo Road
Wat Bo Road, which is located on the other bank of the river, used to be quite popular among tourists who were watching their spending.
However, in recent years it has undergone a metamorphosis in order to cater to the desires of visitors with higher incomes and to provide more premium lodgings.
In this area, it is still possible to get lodging at a reasonable price; however, it is not as economical and is not located as conveniently as the communities that have been discussed previously.
If one is seeking a higher degree of calm or is travelling with children, it may be more beneficial to use Wat Bo Road as an alternative to the busy core of the city. Wat Bo Road is located on the river.
Wat Damnak
To the south of the area encompassing Wat Bo Road is where you'll find the little yet imposing site of Wat Damnak.
Even though it has a calm and peaceful atmosphere, it is nonetheless located in close proximity to Pub Street as well as several other notable areas.
Individuals who are looking for a central hotel choice that provides closeness to a number of attractions without being immediately positioned in the middle of hectic activity will find this location to be an ideal midway point to meet their needs.
Taphul Village, which is located in the western neighbourhood of the Old French Quarter, is generally acknowledged as a sought-after residential area in Siem Reap, particularly among families, particularly those with young children.
This is because Taphul Village is situated in close proximity to the Old French Quarter.
Even while neighbouring areas are not known for having a reputation for having unusually high crime rates, it is important to point out that this area is known for having an exceptionally high degree of safety.
In addition, the available housing alternatives in this region are often more suited to accommodate groups of people, particularly families, than they are to accommodate individuals.
Working as a Digital Nomad in Siem Reap
Even though Siem Reap may not have as large of a selection of coworking spaces as some of the other more popular locations in Southeast Asia for digital nomads, the facilities that are now available are more than capable of accommodating a variety of different types of remote work.
In addition to the co-working spaces that are located around the city, there is a vast range of coffee shops and cafés that are able to easily accommodate those who are working from laptops.
These locations offer strong WiFi connectivity and strong coffee, making them ideal for people who are involved in meetings that last the entire day.
Coffee shops and cafés, on the other hand, are distributed around the city, ensuring that they are in close proximity to residential neighbourhoods. The vast majority of the shared office spaces in this region are located in the urban core.
Best Co-Working Spaces in Siem Reap
AngkorHUB
AngkorHUB is strategically located within close proximity to Sok San Road, making it an enterprise that is particularly suitable for collaborative work thanks to its handy location in close proximity to the road.
An excellent example of a coworking space in the city, AngkorHUB caters to those who are looking for a setting that allows them to concentrate on their work without being disturbed by outside distractions.
It provides a number of conveniences, such as high-speed access to WIFI, international power outlets, powerful coffee, private booths for use with Skype, and effective air conditioning.
If you want a less formal setup, you can opt to work diligently while seated at a desk or select a more casual atmosphere, such as a hammock or garden, in which to do your work.
Due to the fact that it draws a steady stream of telecommuting workers looking for possibilities for collaboration, this shared office space is also a good location for making professional connections with like-minded individuals. A pass good for a single visit costs $5, while entrance to the facility on a monthly basis costs $89 per month.
Footprint Cafe's Hub
The Footprint Cafe's Hub is a recently opened co-working space in Siem Reap. It features an extensive collection of facilities that are necessary for a productive workplace.
The business in issue is a shared office facility that was designed and built with this activity in mind from the very beginning.
It was originally a café, but later it expanded its operations to include a separate co-working space.
This area features pleasant air conditioning, a wide variety of beverages that are refreshing, and longer hours of operation.
One should go to the Hub at Footprint Cafe not only for the aim of working but also to take advantage of the opportunities for networking that it provides.
The venue hosts a number of Enterprise Talks and other events on a regular basis with the intention of becoming a centre for both traditional and social forms of business entrepreneurship in the not-too-distant future.
Tea, coffee, and other hot and cold refreshments are provided free of charge to members of the facility in exchange for a membership fee of either $5 per admission or $65 per month.
There are a number of coffee shops, including Bang Bang Bakery and Cafe, The Little Red Fox, Noir la Paix, Brown Riverside, and Romsai, that come highly recommended for use in the course of professional endeavours.
BioLAB Coffee and Office
The decor of BioLAB Coffee and Office is modern and unpretentious, and it finds a balance between the formality of an office setting and the desired laid-back vibe preferred by digital nomads.
This institution is well-known for excelling in two important areas, namely providing outstanding office facilities and supplying high-quality coffee.
It is situated in a prime location and enjoys a stellar reputation for both of these accomplishments.
The well-known business that is BioLAB Coffee and Office is frequented by a varied audience that includes people from the surrounding community as well as travellers, expats, and digital nomads.
As a direct result of this, the atmosphere is defined by lively and thought-provoking conversations that take place in its surroundings.
The facility offers both indoor and outdoor seating choices, in addition to printing and scanning capabilities.
In addition to this, it has private rooms that may be rented out for business gatherings. Using the shared workstations available at this location will set you back around $75 per month in fees.
Garage Society
Garage Society maintains a network of co-working spaces that are strategically positioned throughout many locations in Asia.
As a result, the company is in a position to have full information regarding the fundamental requirements for individuals who are involved in remote work across a number of countries.
The scenic Wat Bo Village neighbourhood is where you'll find Garage Siem Reap. It's also at a handy location close to the Siem Reap River.
This restaurant features a number of different seating arrangements as well as conference rooms that are suited for hosting large events.
In addition to offering a wide variety of food and beverages, high-speed internet access, printing and scanning capabilities, as well as a plethora of other basic conveniences, the company also provides services related to the management of mail.
This site is an ideal choice for rerouting any incoming deliveries for anyone who is currently living in temporary housing or who has just recently migrated to the metropolitan region.
Transportation System in Siem Reap
Because of the city's compact size and pedestrian-friendly infrastructure, finding one's way to Siem Reap is a task that can be accomplished with relative ease.
Allowing oneself to wander without having a specific destination in mind is one of the most efficient ways to discover Siem Reap, and it is also one of the most enjoyable ways to do it.
However, in the event that the amount of sunshine and high temps gets excessive, there are a variety of additional ways to study one's surroundings that are inexpensive, uncomplicated, and somewhat risk-free.
Tuk-tuks
Tuk-tuks, which are indigenous to Cambodia and are also known as Remorks in some circles, are easily available throughout the city of Siem Reap.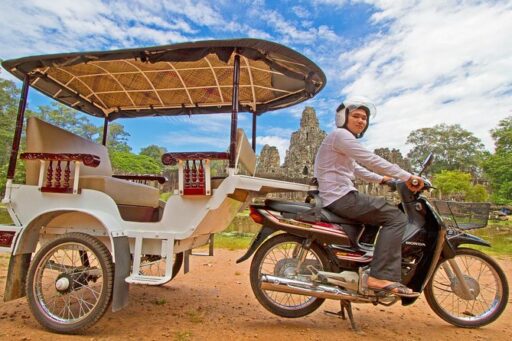 Tuk-tuks are simply motorbikes that have trailers attached to the back of them. Because they can seat up to four people, they are a fantastic way to get across the city while also visiting the area around it.
In this part of the world, tuk-tuks are known for their low fares, which are open to discussion and bargaining.
It is common practice to flag down a tuk-tuk while traveling down a road, and a sizeable percentage of the drivers have at least a fundamental understanding of the English language.
Tuk-tuk rides for individuals often cost between $3 and $5, although renting a tuk-tuk for the entire day typically costs approximately $40. The cost of individual rides is determined by the distance travelled.
There are certain hotels that offer their own tuk-tuks for their guests' convenience, and the drivers of these tuk-tuks typically have a higher level of fluency in English and sometimes other languages as well.
On the other hand, it is important to highlight that the expenses connected with these services are slightly higher than average.
Bicycles
The utilization of cycling as a time-saving means of transportation is made easier in metropolitan areas that are physically condensed, although this might lead to increased sweat.
There are many hotels and guesthouses to choose from, and many of them provide bicycle rentals at reasonable prices or sometimes for free.
In the event that your place of lodging does not provide bike rental services, the city centre is home to a number of different businesses that offer such services.
The daily expense of riding a standard bicycle, which includes the cost of a lock and a helmet, is around $2 on average.
Cabs and Taxis
In Siem Reap, both motorcycle taxis and taxis driven by private automobiles are common sights everywhere you go in the city.
Grab is a ride-hailing app that is popular in this part of Southeast Asia and is seen as a very desirable option for tourists visiting the area.
This is similar to its use in other parts of the region. There aren't any recognizable companies or organizations in this area that are connected to the taxi industry, which is unfortunate.
On the other hand, it is important to point out that the vast majority of drivers uphold a high standard of safety, and the number of incidents involving illegal activity is still very low.
Nevertheless, if you want a more streamlined and convenient alternative, you might choose to make a reservation for a motorbike or vehicle with Grab.
This alternative is more handy than the other two in terms of both physical protection and one's bank account.
When making payments for transportation services, there is a greater chance of experiencing fraudulent tactics due to the low presence of well-established institutions in Siem Reap; this makes the possibility of meeting such acts higher.
In most cases, the fare for a quick ride on a motorcycle is somewhere around one dollar, whereas the fare for a ride in a car often ranges between three and six dollars.
The sole case in this area in which a fixed fee is charged is for transportation from the airport to the central business district, and the cost of this ride is ten dollars.
It is important to determine the total cost of your trip before you set off on your journey. It is a good idea to negotiate the price if it seems to be exaggerated, and you should do so whenever possible.
Motorcycle for Rent
Self-driving is not as popular of a habit in Siem Reap as it is in the countries that are located in Siem Reap's immediate vicinity.
Motorcycles could not be rented out to tourists for personal use before the year 2016, as this was against the law.
Despite the fact that it is no longer illegal, very few people choose to do so. Especially in situations when personal transportation is not only easily accessible but also relatively inexpensive.
In the case that one is considering renting a motorcycle, it is essential to be in possession of a valid driver's license as well as a helmet of the highest possible quality.
Local law enforcement conducts surveillance operations on a regular basis in order to keep an eye out for cases of illegal driving committed by tourists.
The daily rental fee for a standard scooter normally varies from $13 to $15, with higher prices applying for larger or faster models.
If you want to hire a scooter, you should look into it. Before beginning operations, it is essential to perform a thorough inspection of the bicycle.
Additionally, it is critical to take photographs documenting any existing dings or scratches on the bicycle on the day that it is rented out.
Food and Culture in Siem Reap
Rice and noodles are staples of Siem Reap's cuisine, as they are throughout the rest of Cambodia, and Siem Reap's culinary traditions reflect this.
However, as a result of the considerable influences that Chinese and French inhabitants brought with them, one can easily find remarkable examples of the cuisines of both countries inside this urban region.
In addition, there is a diverse selection of exceptional restaurants here, each one showcasing a different culture and country from across the world.
Fish is a big part of the diet for many people in Siem Reap as it is one of the most popular types of food eaten there. It is commonly made in traditional culinary forms, such as Prahok, which involves the fermentation of fish coupled with sugar, garlic, and cold rice.
Prahok is one of the most common ways that it is prepared. Another well-liked meal is called Amok Fish, which consists of fish that has been wrapped in banana leaves and fried in a sauce made of yellow curry.
Lap Khmer is another well-known food in the region that is based on fish, and it is prepared in a manner that is analogous to ceviche.
Beef and chicken are two types of meat that are frequently used in the culinary traditions of Siem Reap.
Moreover, for visitors to Siem Reap who are looking for a more exotic eating experience, there is a possibility that they will come across meals that include chilli-fried insects while they are there.
Due to the city's lengthy emphasis on veggies, and carbs, and the production of unique, healthy culinary creations, a trip to Siem Reap would surely be quite enjoyable for anyone who adheres to a vegetarian or vegan eating plan.
Malis Restaurant, The Kitchen Charcoal, and Hunkaar Table & Lounge are just a few examples of illustrious restaurants in Siem Reap that have earned a reputation for serving authentic Cambodian food.
Nevertheless, Siem Reap is home to a wide selection of extra restaurants as well. There is a vast selection of dining opportunities available in a number of places around the city, satisfying a variety of tastes, preferences, and appetites.
This region is home to a number of well-known restaurants, such as Georges Rhumerie, a well-respected French establishment that is especially suited for hosting celebratory gatherings or other significant occasions.
In addition, WILD Creative Bar & Eatery is well-known for the extensive variety of Asian food it serves, which is matched with an excellent selection of beverages.
Furthermore, HAVEN is generally regarded around the city as the best venue for people who adhere to vegetarian or vegan dietary habits.
History
It is impossible to understate how important the country's history is.
Before travelling to Cambodia, it is strongly advised that in-depth research on the Khmer Rouge be conducted in order to have a better understanding of the country's recent history.
Nevertheless, in the case that time restrictions prevent such preparations from taking place, it is important to keep in mind that Cambodia has a plethora of opportunities for gaining information on the historical topic at hand.
Culture
Anyone who has an interest in adventuring and immersing themselves in a wide variety of cultural experiences will find Siem Reap to be an amazing travel destination.
In general, Siem Reap has a reputation for having a laid-back and peaceful attitude due to the fact that it is a combination of old Khmer culture and the religious influences of Buddhism and Hinduism that come from India.
The city is home to a wide variety of artistic, musical, historical, and cultural attractions, all of which should be acknowledged and appreciated for what they bring to the table.
Siem Reap is frequently considered to be the cultural heart of Cambodia due to the abundance of fascinating attractions that can be found in the surrounding area and the relative ease with which they can be visited.
Architecture
Anyone who has an appreciation for architectural beauty and compelling design should consider making Siem Reap their next vacation destination due to the city's rich colonial past.
The exploration of Cambodia's rich historical legacy is a riveting activity since it comprises a broad variety of architectural wonders, ranging from wandering through the busy streets to seeing ancient temples and ruins.
These monuments, which are known for their unusual architectural details, provide a fascinating look into the history of the nation. Discover a multitude of unique places to see by making your way around the main district.
Art
The art scene in Siem Reap is seeing substantial expansion as a great number of young artists are making their mark by employing both ancient Khmer techniques and contemporary ideas.
Siem Reap is home to Angkor Wat, one of the world's most important archaeological sites. It is common knowledge that Siem Reap is the most important centre for creative activities in the country.
This is especially obvious in the presence of renowned art establishments such as One Eleven Gallery, Mirage Collective, and TRIBE Urban Art Gallery.
Music
When compared to Phnom Penh, Siem Reap's music culture pales in comparison to what can be found in the nation's capital city of Phnom Penh, which boasts a far more robust music community.
On the other hand, Siem Reap's live music bars provide visitors the chance to witness the skills of some of the most renowned musicians in the country.
Those who have an interest in music will find that 60 Road Studios, which is situated in close proximity to the ancient ruins of Angkor Wat, provides an excellent chance to get a more in-depth comprehension of the local music culture that exists inside the city.
Nightlife in Siem Reap
Siem Reap is the location in Cambodia that is most suited for one to go to in order to participate in social celebrations.
Pub Street, the city's most famous thoroughfare, is the epicentre of nightlife in Siem Reap and serves as a major gathering place for nocturnal activities.
Siem Reap is well-known among backpackers and provides a wealth of nightlife choices across its many districts.
The neighbourhood's nightlife culture offers a wide variety of alternatives, many of which can be had at prices that are reasonable and are not difficult for people of all socioeconomic levels to acquire.
In most cases, one does not need to dress formally unless they plan on going to a location that is known for its exceptional elegance.
It is common practice to find beer in Siem Reap priced at no more than one dollar, with the possibility of significantly cheaper costs, in particular during times that are specifically designated as happy hour periods.
It's possible to make the case that Siem Reap is the kind of place where there's never a bad time to indulge in some friendly drinking competitions with your neighbours.
As the day draws to a close, the facilities that are often known as bars begin to take preparation actions in expectation of the nighttime that will soon follow.
Around four in the morning is the typical time when the events in this place come to a close. Both persons who partake in the activity of staying out till morning and digital nomads looking for a relaxing drink might find what they're looking for in Siem Reap.
Nightlife on a Budget in Siem Reap
It is generally agreed upon that the bar is the most notable establishment in the city. It is famous for the popularity it enjoys among a varied customer that is predominately made up of persons from outside the city.
This specific pub has had the distinction of being the first business ever to be located on Pub Street ever since it first opened its doors in 1998.
As a result, it has attracted the interest of tourists as well as inhabitants of the immediate area.
In addition to these reasonably priced watering holes, this area is home to the Picasso Bar, Soul Train Reggae Bar, and Laundry Bar.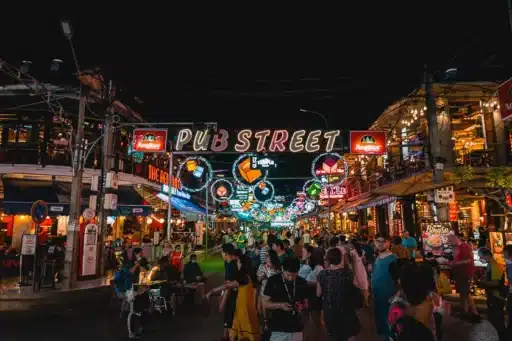 Pub Street is home to a large number of well-known drinking establishments, and during the evening hours, many of these establishments take on a strikingly similar appearance.
Starting at one end and working your way to the other is a basic way to ensure a stress-free evening at this location.
Along the way, stop at any place that looks to attract a sizable crowd or has musical entertainment that is of a high enough quality to merit your attention.
Upscale Nightlife in Siem Reap
The nightlife in Siem Reap is not limited to the standard pubs catering to travellers on backpacking trips.
There are a number of options available to people who are looking for either a more sedate setting in which to interact with friends or a more upscale institution that serves alcoholic beverages of a high quality and attracts a customer that is commensurate with that level of sophistication.
Because of the low cost of living in Siem Reap, even the most upscale eateries in Siem Reap do not have to charge obscenely high prices for their speciality drinks or admittance fees.
It is commonly acknowledged that the Elephant Bar, which can be found on the premises of the Raffles Grand Hotel d'Angkor, is one of the most upscale venues that can be found in Siem Reap.
This bar is well-known for its outstanding assortment of alcoholic beverages and cigars, in addition to its architectural design from the 1930s that is evocative of the colonial era.
This institution provides its customers with a choice of bourbon, cognacs, and single malt whiskies, in addition to a wide range of cocktails that are served in a variety of unique glassware.
Both FCC Angkor and Miss Wong Cocktail Bar are world-famous venues that are recognized for the superior quality of their cocktail menus.
Siem Reap is home to a plethora of after-dark activities, many of which may be experienced even with a restricted intake of alcoholic beverages.
Karaoke, or what is more popularly known as "KTV" in Cambodia, has a large level of popularity across the area.
As a result, the city centre is home to a number of places that include lively musical accompaniment.
High Zone Family Karaoke, which can be found right next to the Central Market, is a well-known business that is distinguished by its considerable size and widespread popularity, both of which are highlighted by the presence of colourful neon lights and enticing flashing signs.
In addition, it is very likely that one may come across traditional nocturnal activities in this location, such as Apsara dance shows, the Phare Cambodian Circus, indigenous people playing drums and flutes, and itinerant sellers providing native culinary delicacies for people to try.
Final Thoughts
For individuals looking for an economical yet fulfilling living experience, working as a digital nomad in Siem Reap appears as a good move.
Both tourists and foreigners may find affordable lodging alternatives in the city, including guesthouses and hostels.
The active living conditions in the downtown sections, such as Pub Street and Old Market, encourage interactions with residents and other travellers.
For digital nomads and remote workers, Siem Reap offers a variety of excellent co-working facilities that combine cutting-edge conveniences with a peaceful environment.
With its easy public transit system, which includes tuk-tuks and bicycles, Siem Reap locals can easily tour historical temples, marketplaces, and other attractions.
Regarding cuisine and culture, Siem Reap is a feast for the senses with delicacies that capture the essence of Cambodian cuisine.
The city's food scene offers something for everyone, from traditional Khmer delicacies to foreign pleasures.
Working as a digital nomad in Siem Reap is a genuinely engaging and unforgettable experience because of the city's rich cultural past, which provides a tapestry of events, from vivid festivals to complex artwork.
Pained by financial indecision? Want to invest with Adam?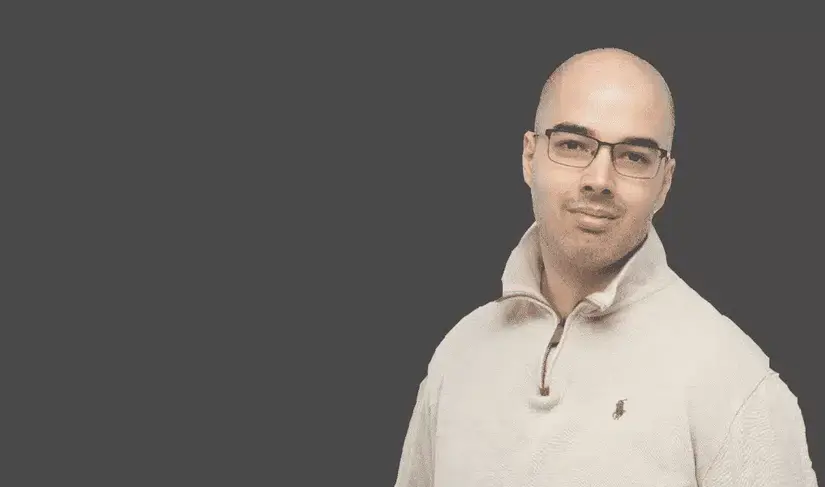 Adam is an internationally recognised author on financial matters, with over 694.5 million answer views on Quora.com, a widely sold book on Amazon, and a contributor on Forbes.