Here is the list of 15 most expensive watches in the world.
Luxury watches are most often associated with the word expensive. The most thrilling, expensive, and extravagant timepieces in the world are multi-million dollar works of art that are destined for museums or fiercely guarded private collections.
The top 15 most expensive watches in the world are listed below:
15 Most Expensive Watches in the World
1. Graff Diamonds Hallucination: $55 million
Graff Diamonds created the most expensive watch ever made The Hallucination is as stunning and brilliantly fantastical as its name would imply.
The Hallucination brings high-fashion to the world of watchmaking with its kaleidoscopic array of 110 carats of various colored diamonds in a variety of cuts set into a platinum bracelet. It's almost simple to forget that this timepiece can keep time, but there is a tiny dial in the center of all that sparkle, making it about as far from a tactical watch as you can get.
The Hallucination is the result of countless hours of labor from a group of designers, gemologists, and skilled craftsmen. It was initially unveiled at Baselworld in 2014 with an eye-wateringly high price tag of $55 million.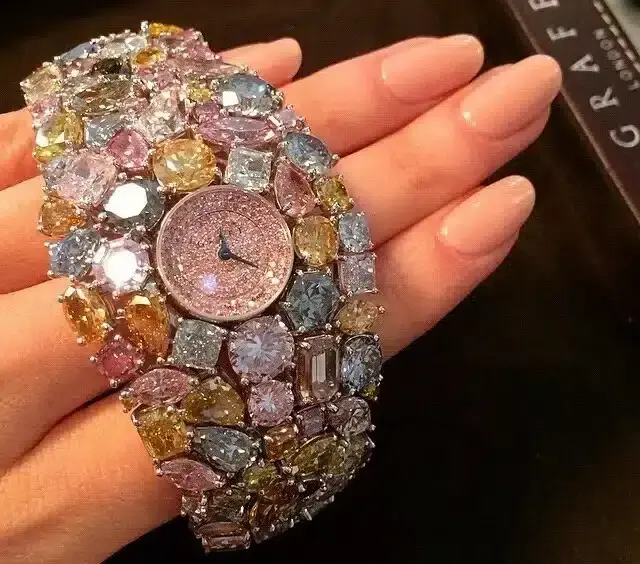 2. Graff Diamonds The Fascination: $40 million
The Fascination, created by Graff Diamonds, a British jeweler brand famous for obtaining and polishing some of the most famous diamonds in the world, is in second place on this list of the most expensive watches in the world.
The Fascination is not only a unique example of diamond mastery but also a masterpiece of horological craftsmanship. Undoubtedly one to compete with all other women's watches.
The 152.96 carats of white diamonds in this timepiece are surrounded by a 38 carat pear-shaped diamond dial that can also be worn as a ring. Double the value for your money—all $40 million of it—with a convertible watch.
3. Patek Philippe Grandmaster Chime Ref. 6300A-010: $31 million
Knowing you are getting two watches for the price of one is a bonus if you are going to spend $31 million on a timepiece. Two dials, one on the front and one on the back, are on this watch.
The Grandmaster Chime, the most costly watch ever sold by Patek, features 20 different complications, including five different chiming modes (hence the name), as well as an acoustic alarm and date repeater.
Both dials are blue opaline with gold-applied numerals and dial plates made of 18K solid gold. White gold is used for the case, and navy blue alligator leather is used for the strap.
4. Breguet Grande Complication Marie Antoinette: $30 million
According to legend, one of Marie Antoinette's lovers originally ordered this watch for the famous French queen and lover of the finer things in life. She was assassinated before the work was finished, which only added to the romance and mystery of this legendary timepiece. It took about 40 years to craft this exceptional piece.
It has every complication available at the time, including a perpetual calendar and thermometer, and is housed in gold. The watch, which was stolen in the late 1900s, is now securely stored in the LA Mayer Museum but can be bought for $30 million.
5. Jaeger-LeCoultre Joaillerie 101 Manchette: $26 million
You might have an idea of what to expect if we told you that prestigious brand Jaeger-LeCoultre created this intricate timepiece as a gift for none other than Queen Elizabeth II to commemorate her 60th year in power.
In fact, this watch deserves to be worn in the chambers of historic palaces and to exclusive state functions due to its completely unique profile, white gold construction, series of polished and diamond-set links, and miniature caliber 101 movement (one of the smallest in the world).
6. Chopard 201-Carat: $25 million
Even though it isn't subtle, this Chopard timepiece is undeniably bold. This 25 million dollar watch is likely the pinnacle of the Swiss watchmaker, a favorite of royalty and A-list celebrities alike, with 874 diamonds totaling 201 carats and a rainbow of spectacular colors.
For their engineering and technical skill, high-end watches appeal to some people. Others are content with bling alone. The latter is probably the case with this Chopard watch, which features a 15-carat pink diamond, a 12-carat blue diamond, and an 11-carat white diamond.
Then again, why not if you can afford it? Having a timer built in is just an added bonus.
7. Patek Philippe Henry Graves Supercomplication: $26 million
This Patek Philippe gold pocket watch was originally created in 1933 for Henry Graves, a wealthy American banker. At the time, watchmaking relied on skilled craftsmen rather than computers for calculations.
Its impressive list of complications makes it one of the most expensive pocket watches in the entire world, hence one of the most expensive watches in the world.
These complications include a perpetual calendar, a minute repeater with Westminster Chimes, sunrise and sunset times, and a celestial chart based on the night sky as seen from Graves' New York City home.
The complex timepiece was purchased by an unidentified bidder after a 15-minute bidding conflict between some of the top watch collectors in the world. Any fan of pocket watches would adore having this in their collection.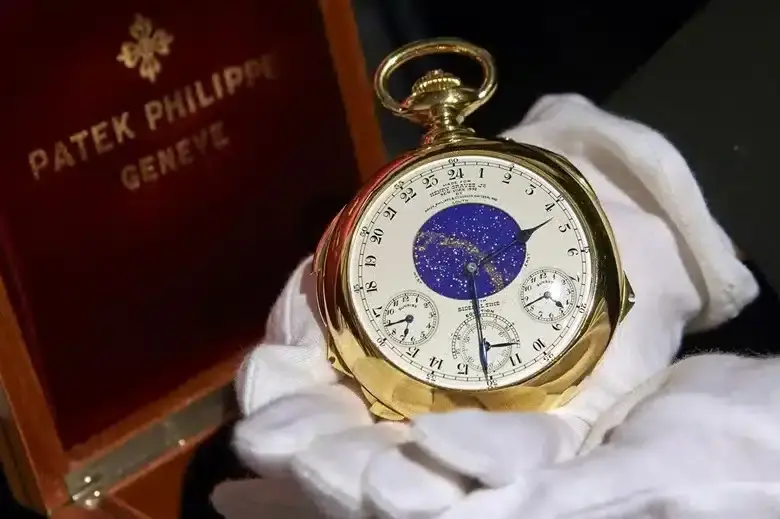 8. Rolex Paul Newman Daytona Ref. 6239: $18.7 million
Paul Newman, an actor and heartthrob, was well-known for his appreciation of high-end watches and for his passion for racing.
Therefore, his wife Joanne Woodard had the words Drive Carefully engraved on this watch when she had it made in 1968.
The Paul Newman Rolex Daytona Ref.6239 is a unique timepiece with a black and cream exotic dial that appeals to both watch enthusiasts and those who enjoy Hollywood memorabilia. It also has an elegant Art Deco design. It is one of the most expensive watches in the world.
The watch was sold to the highest bidder over the phone after only 12 minutes of the auction. It should come as no surprise that Rolex is one of the most well-known luxury brands in existence, in addition to being the most well-known watch company in the world.
9. Jacob & Co. Billionaire Watch: $18 million
The Jacob & Co. Billionaire watch is the most appropriately named luxury timepiece ever. It is one of the most expensive watches in the world.
With 189 carats of Akosha diamonds set into it, which are cut in a way that makes each stone appear 30% bigger than a typical emerald-cut diamond, it certainly lives up to its name. Then there is the skeleton face, which allows you to see the 167-element and 18-jewel tourbillon movement, which is extremely complex and hand-crafted, in action.
A final rose-cut jewel on the crown is the icing on this astronomically expensive cake. The bracelet and dial are seamlessly integrated and made of 18k white gold. This explains why Floyd Mayweather made the purchase.
10. Patek Philippe Stainless Steel Ref. 1518: $12 million
The main draw of this particular watch, which is one of a limited edition series of four pieces, is its case. It sets itself apart from other Patek Philippe luxury watches, which are typically made of yellow or rose gold, thanks to its high-grade stainless steel case.
The Patek Philippe Ref.1518 made horology history when it was first unveiled in 1941 as the world's first perpetual calendar and chronograph, which is yet another factor that attracts collectors to this timepiece.
It's also challenging to find high-end watches made of steel, despite the common misconception that steel makes watches less valuable than gold. Always, rarity drives up prices.
11. Patek Philippe Gobbi Milan 'Heures Universelles' Ref. 2523: $9 million
This list demonstrates Patek Philippe's expertise in producing watches that collectors will fight over, and this double-crown world timer is just one more illustration. It is one of the most expensive watches in the world.
It doesn't take a watch expert to recognize this timepiece as special because of its gorgeously striking blue enamel dial and opulent 18k pink gold case.
It includes the world time system known as Heures Universelles, which was created by horological legend Louis Cottier and patented in the 1930s. Furthermore, it is the only instance of reference 2523 that is known to bear both Patek Philippe's and Gobbi Milano's signatures.
12. Vacheron Constantin 57260: $8 million
This Vacheron Constantin timepiece, a commission for a private client, contains 57 different complications, is made up of 2826 individual components, and has 242 jewels.
It is the most complicated watch in the world. Ten of those complications were brand-new timepiece innovations when they were created. It is also one of the most expensive watches in the world.
What is one of its most extraordinary features? The Judaic calendar, a "night mode," and a chronograph with double retrograde split seconds.
Because of how uncomplicated and straightforward the case is, the outstanding mechanics can take center stage. Given that the design and production of this watch took three watchmakers eight years, it seems fitting that it sold for about $8 million.
13. Patek Philippe Stainless Steel Ref. 5016A-010: $7.9 million
This Patek Philippe timepiece is an exquisitely intricate and dazzlingly expensive design that is based on the company's reference 5016. Ref. 5016 production ceased around 2011, but the company chose to bring it back for this event.
Since this one-off is completely unique and the reference is already extremely rare, watch enthusiasts are willing to go to great lengths to acquire it.
Three of the most prized watch complications are included in the timepiece: a minute repeater, a tourbillon, and a perpetual calendar with a backward date. The movement is housed in a compact 36.8 mm case, and it also has a distinctive blue dial made of Grand-Feu enamel.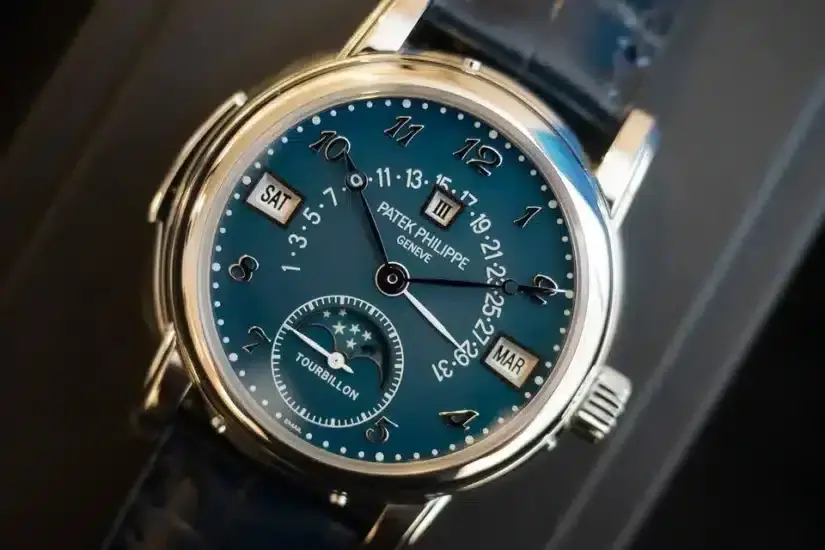 14. Patek Philippe Two-Crown Worldtime Ref. 2523 Eurasia Dial: $7.7 million
This Patek Philippe timepiece, known as the "grail" watch, is one of the most mythical and legendary in the horological world, fitting for a company that has produced some of the best men's watches ever made. It is highly coveted and exceedingly desirable.
The Silk Road 2523 is the name of the timepiece. A dial with an image of a map of Eurasia is its most notable feature. Additionally, it has a dual crown, a 41-city ring, a world-time complication, and is both intricate and instantly recognizable.
Because there are only three yellow gold 2423 world timers with this specific dial, collectors are willing to spend more than $7.5 million to own one.
15. Patek Philippe White Gold Calibre 89: $6.9 million
The Calibre 89 is also referred to as the world's most complex wristwatch. It is one of the most expensive watches in the world.
The watch, which was initially designed by Patek Philippe for the company's 150th anniversary, features an almost absurd amount of complications, such as a second-time zone, sunrise and sunset timer, perpetual calendar, century leap year correction, solstice and zodiac indication, and an unusual Easter date indication.
The difficulty in creating the latter complication, which is determined astronomically and varies annually, is particularly noteworthy.
This astronomical watch is an impressive 88.2 mm in diameter and 41.07 mm thick—a true behemoth—which is understandable given the extensive engineering going on inside the case.
Pained by financial indecision? Want to invest with Adam?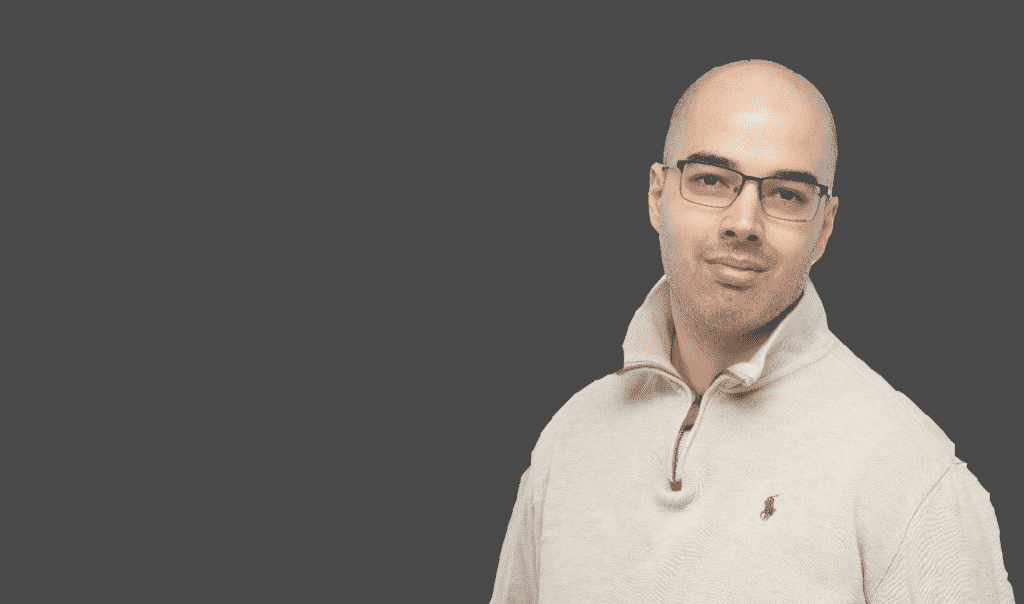 Adam is an internationally recognised author on financial matters, with over 584.2 million answers views on Quora.com and a widely sold book on Amazon and a contributor on Forbes.