In today's podcast I discuss some of the biggest news stories of the last few days:
For your convenience, and to give credit to the original writers, I have included links to the articles I referred to and copied them below.
A bill that threatens to delist Alibaba stock, JD.com (JD), Nio (NIO) and other China stocks from U.S. exchanges within three years cleared the House with a unanimous voice vote Wednesday evening.
President Donald Trump, who has no desire to make nice with China in his final weeks, is expected to sign the Holding Foreign Companies Accountable Act, which cleared the Senate in May.
China stocks have been under a cloud since Monday. Alibaba (BABA) fell 1% in Wednesday's stock market trading, bringing its loss to 5.5% for the week. E-commerce rival JD.com stock is down 5.6% this week, but Pinduoduo (PDD) is now even, after rallying 5.5% on Wednesday. Nio stock is down 11.2% this week, despite rebounding 5.8% Wednesday amid strong November EV sales numbers in China. But Nio has been on a huge tear for months.
The biggest loser, by far, is electric-vehicle maker Kandi Technologies (KNDI), which has tumbled 38.6% since getting hit by fraud allegations on Monday.
Those allegations come at an especially sensitive time, as the U.S. decides how firm of a stand to take on Chinese accounting transparency. Wall Street stands to lose billions in investment banking and trading revenue if China stocks are sent packing.
Under the Holding Foreign Companies Accountable bill, China stocks would face delisting within three years, unless their auditors come under supervision of the Public Company Accounting Oversight Board.
Yet Beijing has made it illegal for Chinese auditors to submit to such scrutiny from an overseas regulator, seeing it as an impingement of national sovereignty. China's hard line would seem to doom the U.S. listings of China stocks with a combined value of more than $2 trillion.
However, Congress may not have the last word, says Derrick Scissors, resident scholar at the American Enterprise Institute. "Treasury controls implementing regulations for whatever Congress passes," Scissors told IBD.
China Stocks Delisting: What Will Yellen Do?
In August, a policy group led by Treasury Secretary Steven Mnuchin offered a more lenient approach. To get around Beijing's refusal to let the PCAOB review the work of Chinese auditors, Mnuchin would permit Chinese firms to engage a U.S. accounting firm to do the job.
Critics of Mnuchin's approach argue that U.S. accounting firms couldn't vouch for the accuracy of the secondhand data they would get to review.
In coming weeks, Securities and Exchange Commission Chair Jay Clayton may bring Mnuchin's more flexible approach up for a commission vote.
But the big question is what Janet Yellen, the incoming Treasury secretary, and President-elect Joe Biden think.
Mnuchin "would have attempted to strike a 2021 deal with China" to avoid the scheduled delisting, according to Scissors. "I don't know how Yellen and Biden view this," he said.
Fraud Allegations Hit Another China Stock
To the extent that Yellen and Biden are still weighing the issue, Kandi fraud allegations may help make a case against half measures.
On Monday, Hindenburg Research published a detailed report on alleged self-dealing by the EV company: Kandi: How This China-based Nasdaq-Listed Company Used Fake Sales, EV Hype to Nab $160 Million From U.S. Investors.
Investors took the allegations seriously. Kandi stock tumbled 28% in Monday stock market action.
Exposure of fraudulent financial reports by Luckin Coffee in April helped push the Senate to take up the Chinese stock listing legislation, first proposed in 2019. Now the once-hot Chinese stock has been delisted.
The China stock accountability legislation also would require Chinese companies to provide assurance that they are neither owned nor controlled by a foreign government.
How To Buy China Stocks In The Future
In 2013, the PCAOB agreed to let Chinese companies access U.S. capital markets without fully meeting required levels of disclosure and transparency. That paved the way for a big crop of Chinese IPOs like Alibaba and JD.com.
From 2013 to now, Chinese firms raised about $60 billion through more than 140 new offerings. Yet the PCAOB says China hasn't held up its end of the deal, leaving regulators unable to protect investors from fraudulent accounting.
If China stocks lose their U.S. listings, American investors could still buy Chinese stocks via mutual funds and ETFs.
Yet the era of U.S. investors choosing among the best China stocks, providing easy access to the Chinese e-commerce boom and rising consumer economy, may be winding down. That's a big deal.
Three of the five top-rated stocks in IBD's Retail-Internet Group hail from China: JD.com, Vipshop (VIPS) and Alibaba. Vipshop and Futu Holdings (FUTU) hold spots in the premier IBD 50 stock list. Meanwhile, JD.com and Pinduoduo stock rate among top-performing stocks on IBD Leaderboard, which highlights elite stocks near a buy point.
Nio stock and other Chinese EV stocks have been among the biggest market winners in 2020.
IBD's SwingTrader portfolio just added Pinduoduo stock on Dec. 2.
Several Chinese companies that initially listed in the U.S. are now also listing in Chinese markets. Alibaba and JD.com stock both have Hong Kong listings.
2. Covid-19: Pfizer/BioNTech vaccine judged safe for use in UK – BBC
The UK has become the first country in the world to approve the Pfizer/BioNTech coronavirus vaccine, paving the way for mass vaccination.
Britain's medicines regulator, the MHRA, says the jab, which offers up to 95% protection against Covid-19 illness, is safe to be rolled out.
The first doses are already on their way to the UK, with 800,000 due in the coming days, Pfizer said.
Health Secretary Matt Hancock said the NHS will contact people about jabs.
Elderly people in care homes and care home staff have been placed top of the priority list, followed by over-80s and health and care staff.
But because hospitals already have the facilities to store the vaccine at -70C, as required, the very first vaccinations are likely to take place there – for care home staff, NHS staff and patients – so none of the vaccine is wasted.
A further 648 deaths within 28 days of a positive Covid-19 test were recorded in the UK on Wednesday, with another 16,170 cases reported.
Prime Minister Boris Johnson urged the public not to get "carried away with over optimism or falling into the naive belief that our struggle is over".
He told a Downing Street news conference that, while the "searchlights of science" had created a working vaccine, significant logistical challenges remained.
The Pfizer/BioNTech jab is the fastest vaccine to go from concept to reality, taking only 10 months to follow the same steps that normally span 10 years.
The UK has already ordered 40 million doses of the jab – enough to vaccinate 20 million people.
The doses will be rolled out as quickly as they can be made by Pfizer in Belgium, Mr Hancock said, with the first load next week and then "several millions" throughout December.
Scottish First Minister Nicola Sturgeon said the first people in Scotland will be immunised on Tuesday.
Welsh Health and Social Care Minister Vaughan Gething said the rollout of the Pfizer jab to care homes would be particularly difficult because of how it needs to be stored.
Mr Gething said that it was not possible to transport the Pfizer vaccine to more than 1,000 care homes across Wales.
The bulk of the rollout across the UK will be next year, Mr Hancock said, adding: "2020 has been just awful and 2021 is going to be better."


There is a clear priority list for who gets the vaccine first – and care home residents and staff are top of it.
But operational complexities mean the reality will be somewhat different.
When the vaccines arrives, it will be sent straight to major hospitals who have the ultra-cold facilities to store it.
From there it can be moved just once – and when it is, it must be kept in batches of 1,000.
That means sending it out to care homes, where there may be only a few dozen residents in some places, would lead to a huge amount of vaccine being wasted.
Because of that, the NHS, which is in charge of distributing the vaccine, will run clinics from hospitals at first.
This will allow NHS and care home staff to get immunised first as well as, perhaps, some of the older age groups who come into hospital.
It looks like it will not be until much more of the Pfizer vaccine is available or the Oxford University one, which is easier to distribute, is approved that care home residents will be able to get it.

While Mr Hancock said that the government does not yet know how many people need to be vaccinated before restrictions can start being lifted, he added: "I'm confident now, with the news today, that from spring, from Easter onwards, things are going to be better. And we're going to have a summer next year that everybody can enjoy."
Mr Johnson added: "It's the protection of vaccines that will ultimately allow us to reclaim our lives and get the economy moving again."
Downing Street press secretary Allegra Stratton said Mr Johnson would not rule out receiving the vaccine jab live on television, though she said he would not want to take a jab meant for someone more vulnerable.
The free vaccine will not be compulsory and there will be three ways of vaccinating people across the UK:
Hospitals
Vaccination centres "a bit like the Nightingales project and including some of the Nightingales", said Mr Hancock
In the community, with GPs and pharmacists
Around 50 hospitals are on stand-by and vaccination centres – in venues such as conference centres or sports stadiums – are being set up now.
It is thought the vaccination network could start delivering more than one million doses a week once enough doses are available.
NHS England chief executive Sir Simon Stevens said the health service was preparing for "the largest-scale vaccination campaign in our country's history".
But experts said people still need to remain vigilant and follow rules to stop the virus spreading – including with social distancing, face masks and self-isolation.
"We can't lower our guard yet," said the government's chief medical adviser Prof Chris Whitty.
The order in which people will get the jab is recommended by the Joint Committee on Vaccinations and Immunisations and decided by the government.
Mass immunisation of everyone over 50, as well as younger people with pre-existing health conditions, can happen as more stocks become available in 2021.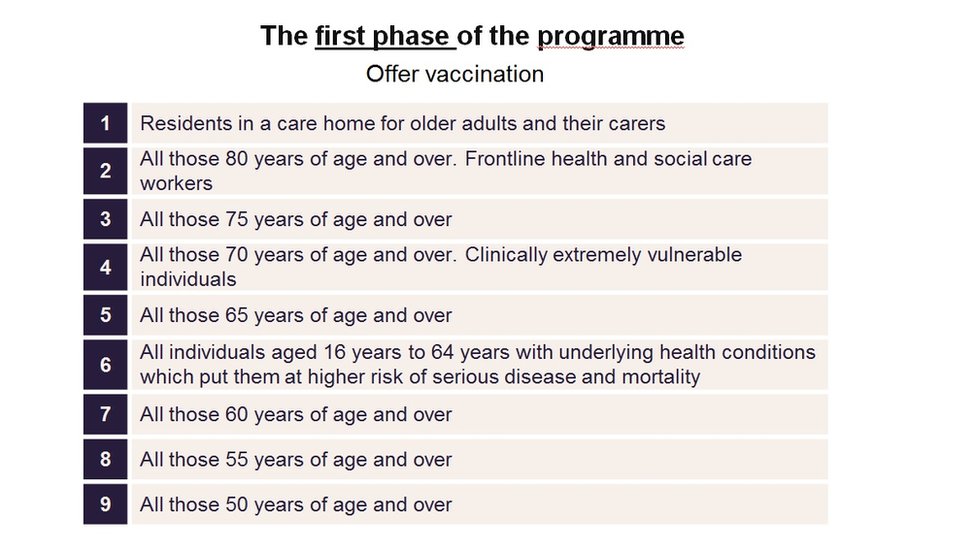 Pfizer confirmed that the first stocks of the vaccine will be for the NHS, which will give them out for free based on clinical need. People in the UK will not be able to bypass this and buy the vaccine privately to jump the queue.
The vaccine is given as two injections, 21 days apart, with the second dose being a booster. Immunity begins to kick in after the first dose but reaches its full effect seven days after the second dose.
Most of the side effects are very mild, similar to the side effects after any other vaccine and usually last for a day or so, said Prof Sir Munir Pirmohamed, the chairman of the Commission on Human Medicine expert working group.
The vaccine was 95% effective for all groups in the trials, including elderly people, he said.
The head of the MHRA, Dr June Raine, said that – despite the speed of approval – no corners have been cut.
Batches of the vaccine will be tested in labs "so that every single vaccine that goes out meets the same high standards of safety", she said.
Giving the analogy of climbing a mountain, she said: "If you're climbing a mountain, you prepare and prepare. We started that in June. By the time the interim results became available on 10 November we were at base camp.
"And then when we got the final analysis we were ready for that last sprint that takes us to today."
The Pfizer/BioNTech was the first vaccine to publish positive early results from final stages of testing.
It is a new type called an mRNA vaccine that uses a tiny fragment of genetic code from the pandemic virus to teach the body how to fight Covid-19 and build immunity.
An mRNA vaccine has never been approved for use in humans before, although people have received them in clinical trials.
Because the vaccine must be stored at around -70C, it will be transported in special boxes of up to 5,000 doses, packed in dry ice.
Once delivered, it can be kept for up to five days in a fridge. And once out of the fridge it needs to be used within six hours.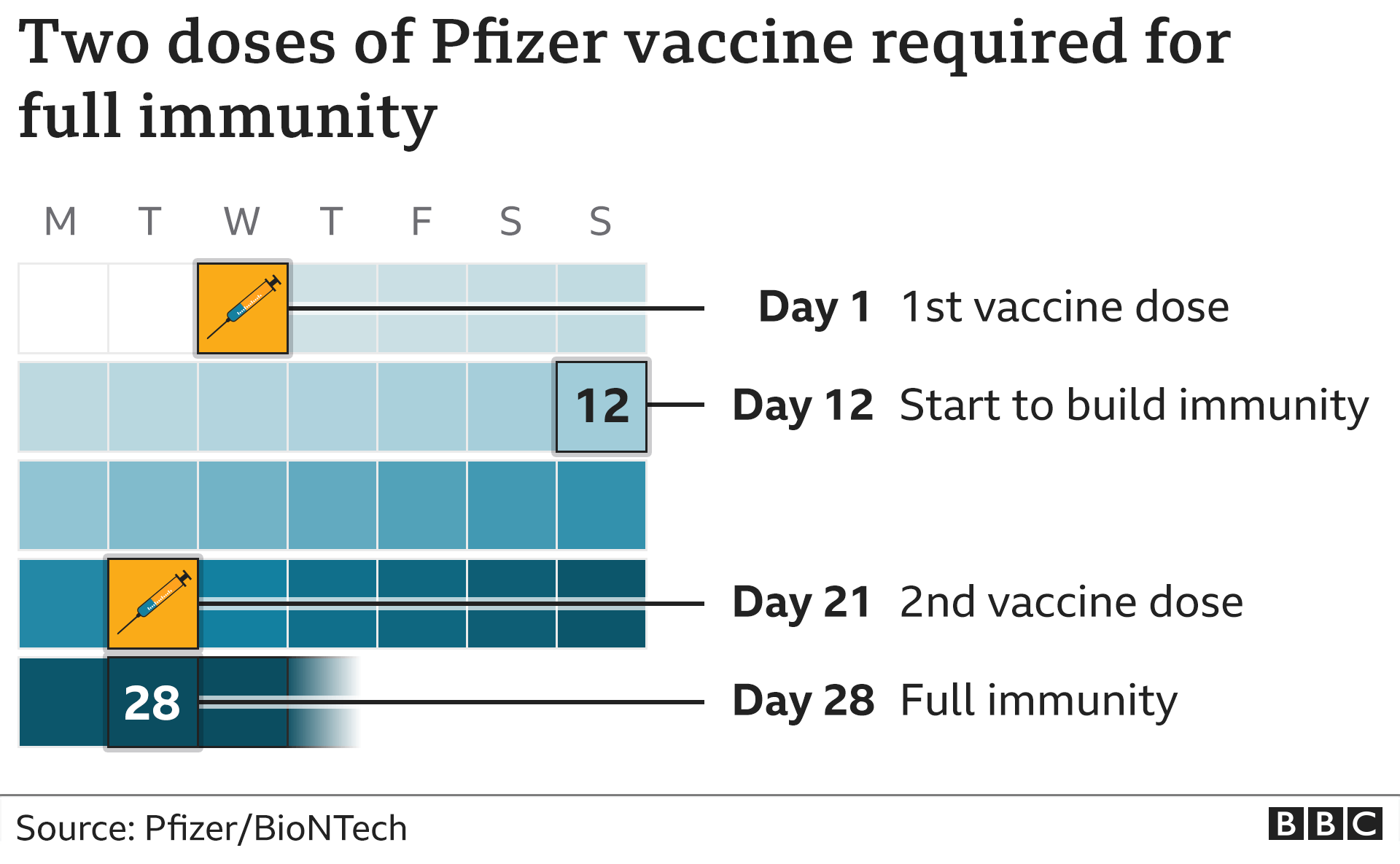 Other coronavirus vaccines are also being developed:
One from Moderna uses the same mRNA approach as the Pfizer vaccine and offers similar protection – the UK has pre-ordered seven million doses that could be ready by the spring
The UK has ordered 100 million doses of a different type of Covid vaccine from Oxford University and AstraZeneca
Russia has been using another vaccine, called Sputnik, and the Chinese military has approved another one made by CanSino Biologics.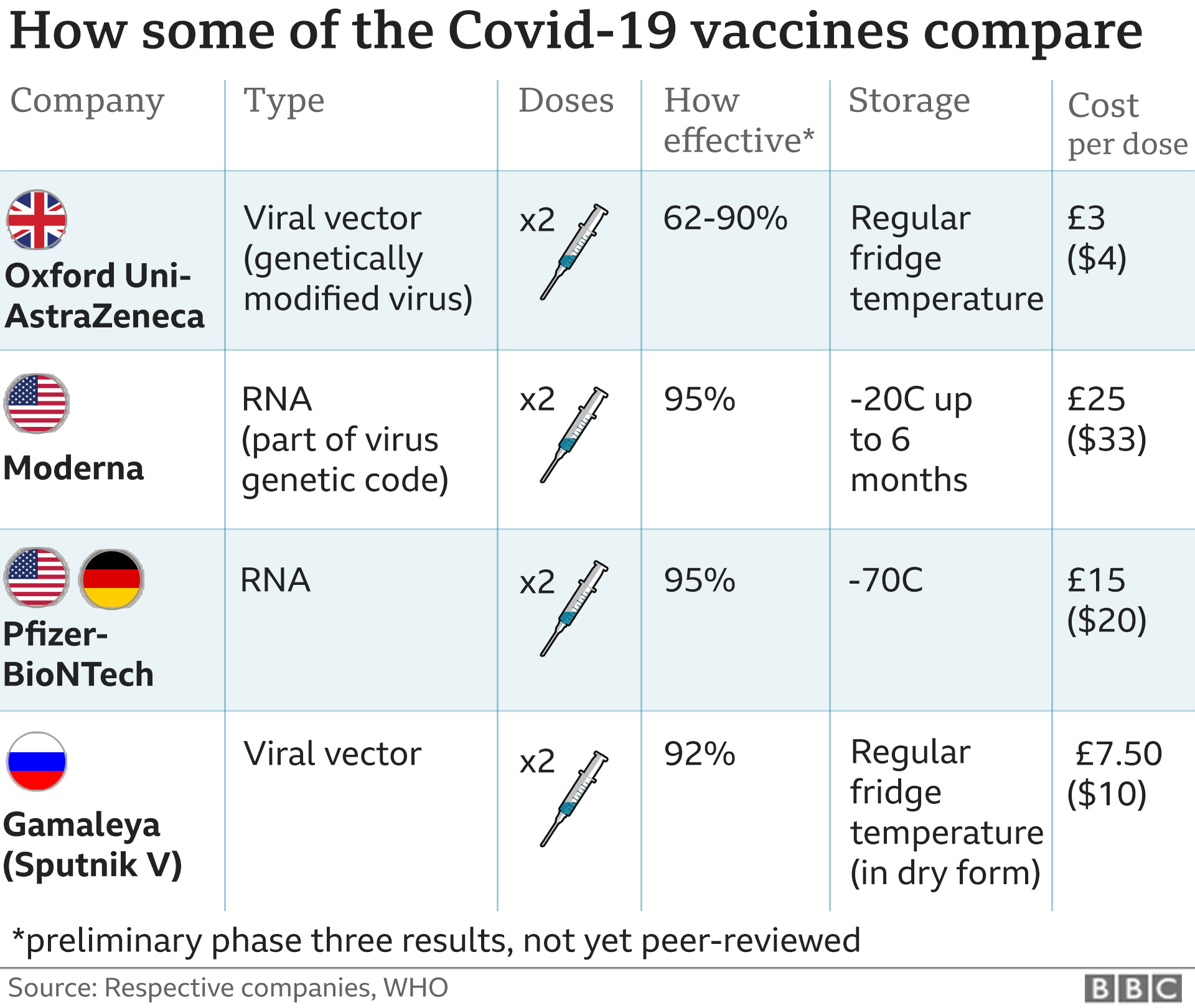 The World Health Organization's Dr David Nabarro said the Pfizer vaccine would not replace the other measures "for a number of months, even a year, so we'll have to keep doing physical distancing, mask wearing, hygiene and isolating ourselves when we're sick".
He told BBC Radio 4's World at One programme "the vaccine will only start to dent the size of the pandemic somewhat later in the year".


The pace has been breathtaking.
From an unknown virus at the start of the year to a vaccine approved by the regulator and ready to use in early December is an unprecedented timescale.
At the Downing Street briefing, the MHRA's chief executive said it was like climbing Everest, with preparations starting in June and a team working "night and day" assessing early data and reaching "base camp" by early November when Pfizer/BioNtech published the trial results.
At the same time, the MHRA was adamant that the process had been robust with safety considerations paramount. A rapid emergency approval process was used by the UK regulator.
The European Medicines Agency is taking longer to reach a view and there has been some sniping from European politicians arguing their processes are more reliable and authoritative.
But the MHRA is an internationally respected independent watchdog and for now those about to receive the first jabs will rely on its ruling.
3. The Stock Markets Have A Steep Hill To Climb In 2021
November was a historic month for stocks. The Dow Jones Industrial Average, S&P 500 and Nasdaq Composite rose 11.8%, 10.8% and 11.8%, respectively. Driven largely by multiple positive coronavirus vaccine announcements and partially by the Presidential election going to Joe Biden, it was the Dow's strongest month since January 1987.
A few of the charts from a 102 page presentation and a weekly report by Goldman Sachs GS +2.4% Chief U.S. Equity Strategist David Kolstin shows that the stock markets are at high valuations, but Kolstin still expects solid returns in the S&P 500 Index the next two years. He sees it hitting 4,300 next year and 4,600 in 2022, increases of 16% and 7%, respectively.
One of the key aspects for such a rally in the face of a third wave of Covid-19 leading to higher counts of cases, hospitalizations and deaths is the expectation that earnings next year will bounce back. While this will certainly occur to some degree, the big question is how robust will they be even with a vaccine. There will be some impediments such as how widely the vaccine is accepted (non-vaccinators and people being reluctant to take it so soon after being available) and will at least some industries incur additional expenses to run their businesses post-Covid-19.
S&P 500 earnings, price and valuations
Kolstin expects the S&P 500 companies to earn the following through 2024.
2019 actual: $165 up 1%
2020 estimate: $136 down 17%
2021 estimate: $175 up 29%
2022 estimate: $195 up 12%
2023 estimate: $207 up 6%
2024 estimate: $218 up 5%
When you combine his S&P 500 price targets with these earnings estimates the Index's PE multiple is projected to remain around 22x. This would be close to its recent high and not far from what it reached during the tech bubble. One major difference that does account for this is the current ultra-low interest rate environment.
To provide another perspective on valuations is to look at the highest and lowest valuation metrics. What pops out is that the quintile (20%) of the highest valued portions of the S&P 500 are trading at a 35x PE multiple, higher than during the tech bubble.
Hurdles include recovering profits, margins and sentiment
The most obvious hurdle for stocks to continue their hot streak is the high valuation levels they are trading. However, there are also some short-term and mid-term speed bumps besides just valuation.
Kolstin is projecting S&P earnings to hit $175 vs. the current consensus of $169. While this wouldn't take a lot to have the consensus move higher, it typically fades as the year goes by. Additionally, to get to even the consensus number revenues and margins will have to recover to pre-coronavirus levels and then exceed them.
Net profit margins peaked at 12.0% in the September 2018 quarter and fell to 11.5% in the September 2019 quarter, almost six months before Covid-19 hit the U.S. Additionally they decreased year over year in every quarter from 2018 to 2019. It doesn't seem likely that given the economic environment the U.S. and globe is experiencing that margins should rebound all the way back to 2019 levels.
Kolstin also has a sentiment indicator for stocks. It measures stock positioning across retail, institutional, and foreign investors versus the past 12 months. He writes, "Readings below -1.0 or above +1.0 indicate extreme positions that are significant in predicting future returns." As you can see stocks are in a very stretched position.
Peel the onion for a bit of positive info
John Butters, FactSet Senior Earnings Analyst, calculates that the portion of the S&P 500 without the oil, airlines and hotel industries would have posted a 4.3% increase in earnings vs. the 6.3% total decline in the September quarter. This does show that the segments of the economy that are not being decimated by Covid-19 are doing pretty well given the challenges and increased costs from the virus.
Another interesting chart in Kolstin's package is short interest in stocks. Part of the read from this is that investors who go short are not taking large bets about the markets declining. The other aspect to keep in mind is that shorts' buying back shares to close their position is a positive for stocks. When there isn't much being shorted, there isn't that much to be bought back.