Deutsche Bank Review part 2 – Part one is here.
Deutsche Bank Products and Services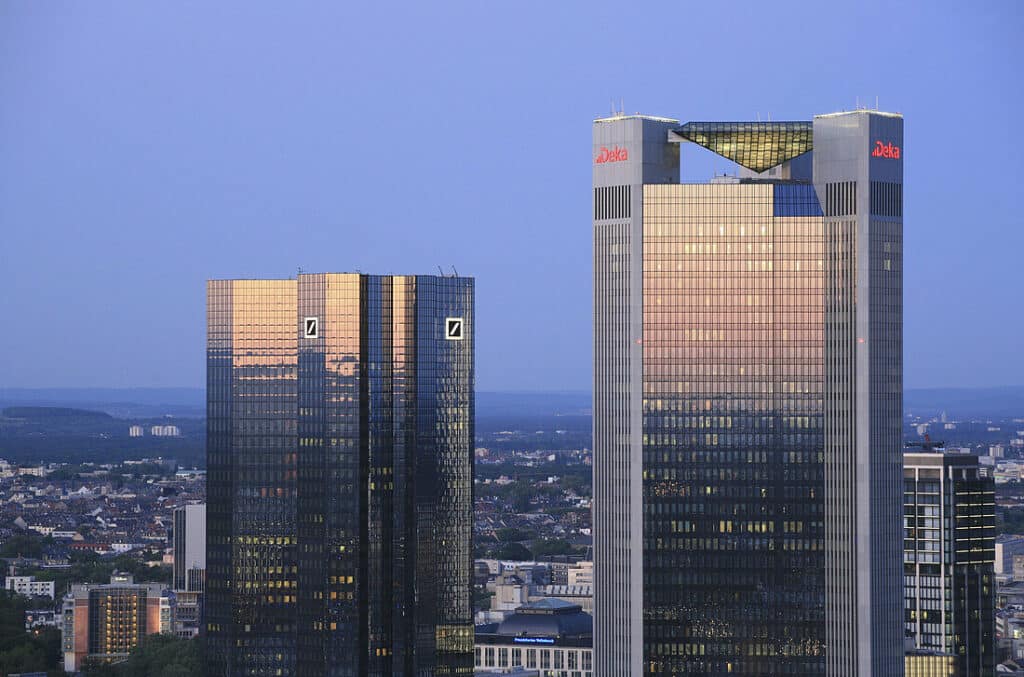 The bank's structure includes four divisions that have good growth potential:
The Corporate bank as a single window for corporate and commercial clients. The bank's global network of approximately 8,000 employees serves clients in over 150 countries.
The Investment bank focuses on its traditional strengths in financing, advisory, fixed income and currencies. It continues to provide strategic advice to corporate clients, including in the areas of equity capital markets,
The Private Bank is focused on private clients in all segments, as well as business clients. It will strengthen its position as a market leader in Germany, a committed bank in Europe and a highly competitive asset manager.
The Asset Manager DWS continues to pursue its goal of becoming one of the top 10 asset management companies in the world by investing in growth areas and playing an active role in the consolidation of the asset management industry.
Corporate bank
Deutsche Bank's Corporate bank serves the needs of corporate clients, financial institutions, investors, and issuers in three segments.
1. As part of Corporate Treasury Services, the bank provides corporate clients with solutions for liquidity management, currency exchange, payments, trade finance, and lending. These services are organized by the Treasury coverage team, which works closely with the Investment Bank to ensure consistency across departments.
2. The Institutional Client Services provide financial institutions, investors, and issuers with institutional money management, trust and agency solutions, and securities services.
3. In Germany, the Business Banking segment supports small businesses and business owners with payment and credit solutions and other banking services under the bank's three brands Deutsche Bank, Postbank, and digital bank FYRST.
Corporate Bank Solutions
The DB Corporate bank offers a wide range of services, here they are:
Cash management
The global money management services, based on cutting-edge technology and the experience of their teams, enable both corporations and financial institutions to achieve synergies through greater efficiency and automation. Results include improved control and cost-effectiveness across borders, currencies, and payment types.
Foreign exchange
Deutsche Bank is a recognized leader in foreign exchange transactions. The bank's approach meets the needs of clients across a range of products, from spot market liquidity to innovative derivatives solutions for asset and liability managers.
Securities Services
Corporations and institutions investing around the world need to keep pace with the changing regulatory landscape as well as changing market infrastructure and new technological innovations. They need customized solutions focused on their specific post-trade goals and data that will enable them to improve efficiency and processes.
Sustainable finance
Integrate sustainability into your finances: they support you on your path to sustainable development, working together to transform the economy towards the Sustainable Development Goals and climate targets.
Trade finance
The movement of goods and services across borders and within supply chains is very complex and exposes counterparties to a wide range of risks, especially non-payments. Trade Finance provides fast, efficient, reliable, and comprehensive solutions for every step of a client's trade value chain to support their external and internal trading activities.
Trust and agency services
The ban offers also a range of services tailored to meet the requirements of the clients, from complex securitization or project finance to syndicated and bilateral loans, debt swaps, and restructuring, as well as more versatile products such as medium-term bonds and commercial paper. They also specialize in the management of cross-border equity structures such as American and Global Depositary Receipts and Transferable Depositary Receipts (TRACRs).
Investment Bank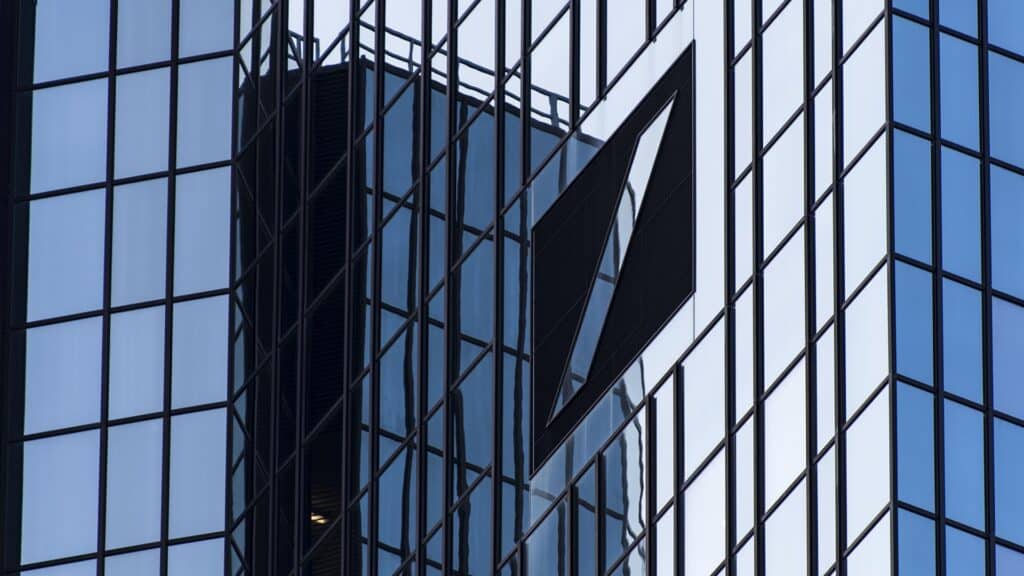 The investment bank brings together Deutsche Bank's fixed income and currency divisions, creation and advisory, and Deutsche Bank research. It focuses on its traditional strengths in finance, advisory, fixed income, and currency. It provides strategic advice to corporate clients and includes a focused equity capital markets business, equity, and macro research capabilities, and a dedicated equity sale team.
The Fixed Income and Currency Fund brings together senior institutional sales professionals, world-class research with trading and structuring experience in FX, Rates, Credit, and Emerging Markets. The Fixed Income and FX division enables Deutsche Bank to respond to growing automation, regulatory expectations, and client needs for standardization and transparency in the execution of fixed income, FX, and emerging markets operations.
Origination & Advisory is committed to building long-term, trusting, and mutually beneficial relationships with major corporate clients, financial institutions, financial backers, and sovereigns around the world.
Deutsche Bank Research is responsible for macro and microanalysis within the Deutsche Bank Group and acts as an advisor to the bank, its clients, and stakeholders. They analyze the current trends for the bank in the financial markets, in the economy, and society and highlight the risks and opportunities. Deutsche Bank's research department provides high-quality independent analysis and actively supports public debate on the economic, fiscal, labor market, and social policy issues.
Investment Bank Solutions
The DB Investment bank offers a wide range of services, here they are:
dbSelect
dbSelect is a market-leading, unique solution for accessing alternative strategies in a cost-effective and flexible way. The most common strategies are managed futures, global macro strategies, forex, commodity premiums, and risk premiums.
Value for institutional investors
Access to a range of strategies such as managed futures, forex, systematic risk premiums, overlay strategies.
Security, transparency, governance. Deutsche Bank is responsible for all non-investment aspects, including means of delivery, corporate governance, operational control, regulation and compliance. The Asset Manager is responsible for trading the portfolio within the risk and operational scope of the platform.
Flexibility of payouts and investment vehicles such as DB or third party certificates/notes, OTC derivatives, capital protection bonds, option payouts, individual funds
Online portfolio management, risk and profit and loss reports
Value for investment managers
Trade customized investment strategies such as managed futures (e.g. CTA, Macro), self-designed risk premium strategies, overlay strategies (e.g. overwriting options, smart currency hedging)
Open a single trading account with Deutsche Bank offering operational setup and account maintenance. Access investors globally in their preferred investment format through Deutsche Bank
The platform has an open architecture for execution. Trade with existing manager brokers with access to Prime Brokerage and Clearing from DB.
Online portfolio management and reporting for managers
Equity capital markets
Equity capital markets (ECMs) provide primary equity products, including IPOs, follow-on offerings, rights issues, block deals, accelerated book formation, and equity-related products. Deutsche Bank is the only company to have the five largest IPOs in history: Alibaba, General Motors, Agricultural Bank of China, Industrial and Commercial Bank of China, and AIA Group.
Foreign exchange
Deutsche Bank is a recognized leader in the field of foreign exchange transactions. The client-centric approach helps to meet the needs of the clients across a range of products from basic liquidity provision in the spot market to innovative derivative solutions for both asset and liability managers.
Debt capital markets
Debt Capital Markets (DCM) combines the Bank's regional treasury services with debt raising, structuring, syndication, and issuance and loan portfolio products to provide the clients with a wide range of solutions.
The Group provides a full range of financing, risk management, and treasury products to corporate clients, financial institutions, government and agency clients.
The debt syndicate experts manage new issuance of investment grade, high yield, debt capital markets, and private placements for corporate, financial institutions, sovereign, supranational, agency, and emerging market issuers.
Deutsche Bank has built a world-class leveraged franchise business that combines a prime business in the high-yield bond market with a variety of debt financing opportunities. They can evaluate, structure, underwrite and distribute senior, mezzanine, and high yield deals in all major financial centers. The group includes the rating advisory and liability, management teams.

Private Bank
Deutsche Bank's corporate arm combines the private banking experience of the Deutsche Bank and Postbank brands in Germany, as well as International Private Bank's global network, which includes its global business with high net worth clients as well as retail clients and enterprises (SMEs).
Both in the German domestic market and abroad, Private Bank offers its customers high-quality financial services from a single source. These range from comprehensive services for private clients and support for demanding entrepreneurs and their families, to solutions for small and medium-sized companies in the important markets of the Eurozone.
The private bank is one of the four pillars of the Deutsche Bank group, along with the Corporate Bank, Investment Bank, and DWS, the institution's asset management arm. Deutsche Bank is Germany's leading bank with a global network and strong European roots.
DWS
DWS is one of the world's leading asset managers. Based on over 60 years of experience and an excellent reputation in Germany and Europe, DWS is recognized by clients worldwide as a trusted source of integrated investment solutions, stability, and innovation across the entire spectrum of investment disciplines.
DWS offers individuals and organizations access to its powerful investment opportunities across all major asset classes and growth trend solutions. The company's diverse experience inactive, passive, and alternative asset management, as well as a deep focus on the environment, social, and governance, complement each other to create targeted solutions for clients. The experience and practical knowledge of economists, research analysts, and investment professionals is combined into a single global CIO vision that guides his strategic approach to investment.
DWS is committed to innovating and shaping the future of investing: With a staff of 35 nationalities, speaking more than 75 languages ​​from 22 countries, DWS operates locally but is also a united global team. There are different investment types, let's see each of them.
Active
The bank believes in proactive investment management and uses the deep market experience to create innovative solutions for its clients.
Passive
Based in the world's largest financial centers, DWS offers transparent and cost-effective passive investment products for institutional and private investors.
Alternatives
DWS is one of the world's largest alternative investment managers, offering innovative and customized investment solutions across the entire spectrum of alternative investments.
Sustainable products and investment strategies
First and foremost, responsible banking means creating value and contributing to society. Clients who want to invest their money responsibly and manage their assets in a sustainable manner will find a wide range of options at Deutsche Bank.
Pained by financial indecision? Want to invest with Adam?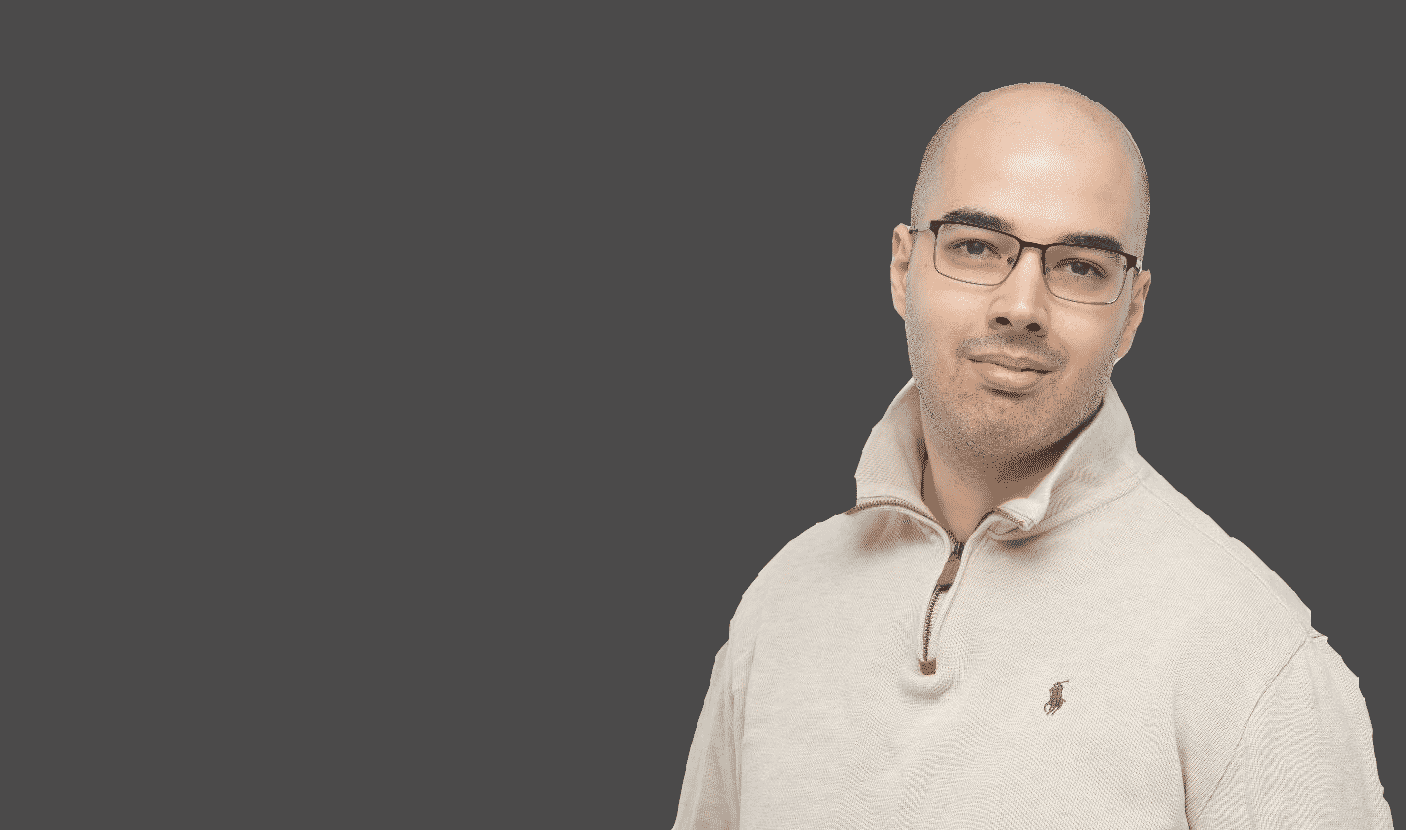 Adam is an internationally recognised author on financial matters, with over 357.8 million answers views on Quora.com and a widely sold book on Amazon