This article was updated on January 4, 2022
Emirates NBD Smart Saver Account Review 2022 – that will be the topic of today's article.
During the course of the article, we will be discussing the positives and the negatives associated with these accounts, and asking whether it really makes sense to save (and not invest) in this low-interest-rate environment.
It also continues our reviews of savings accounts after I looked at Marcus by Goldman Sachs and an expat-specific solution.
For any questions, or if you are looking to invest, you can contact me using this form, or email me – advice@adamfayed.com.
Introduction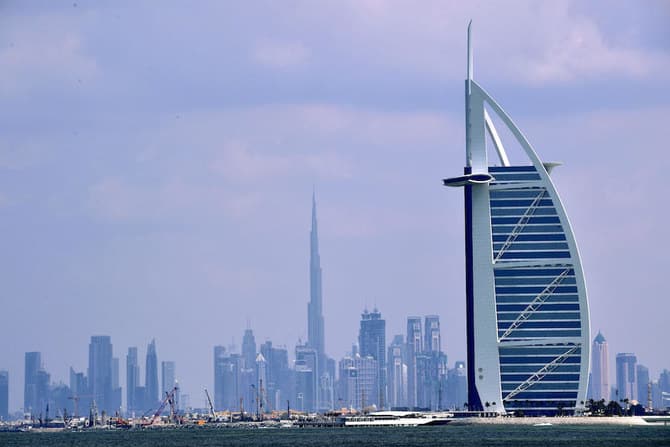 According to UAE banking news, there are about 46 banks in the United Arab Emirates, and these banks located in two most powerful cities Dubai and Abu Dhabi, manage about 90% of UAE banking sector assets.
Starting from 2003 the UAE authorities made a lot of effort to show their serious goals and responsibility to enter the global financial market. Now all banks of UAE are divided into four main categories depending on the type of the service they offer to their clients:
Islamic banks – offering different financial services but all is being done in accordance with religious beliefs
Investment banks – trading stocks
Industrial banks – supporting production
Commercial banks – offering funds for different commercial activities
In UAE there are many banks, but the most powerful and most influential ones are; Emirates NBD, National Bank of Dubai, First Gulf Bank, National Bank of Abu Dhabi and Abu Dhabi Commercial Bank.
In this article we will review and get acquainted with Emirates NBD, and more detailed, the bank's saving account, but first of all let me briefly introduce the bank and only after dive into the details.
Emirates NBD, a leading banking group in the MENAT region, was formed on June 19, 1963, when His Highness the late Sheikh Rashid bin Said Al Maktoum signed the Charter establishing the National Bank of Dubai (NBD), which became the first National Bank to be established in Dubai and the United Arab Emirates.
The bank has a significant retail banking network in the UAE and is a key player in the global digital banking industry, 94% of all financial transactions and inquiries are made outside of its branches.
The bank operates in the UAE, Egypt, Turkey, the Kingdom of Saudi Arabia, India, Singapore, Great Britain, Austria, Germany, Russia and Bahrain, and also has representative offices in China and Indonesia with 944 branches and 4262 ATMs.
Emirates NBD is an active participant and supporter of major development and community initiatives in the UAE, closely aligned with the strategies of the UAE government.
But what does make this bank so competitive? The answer is its saving account's interesting and useful features about which we will talk later.
Emirates NBD offers both Traditional and Islamic Savings Accounts that will suit their customers' lifestyles and help them maximize their savings. The bank has basically 9 savings account options:
Standard Savings Account
Saver Smart Account
Shake n 'Save Account
Foreign Exchange Passport Savings Account
Manchester United Savings Account
Multi-Tier Savings Account
Fitness Account
Family Savings Account
Mudaraba Savings Account
Each of the Emirates NBD Savings Accounts offers attractive incentives and interest / return rates for their account holders, making them the best savings account in the UAE.
Emirates NBD Smart Saver Account Overview.
As you can see this bank shines with its huge variety of saving account options, for different cases, different needs and different clients.
But in any case the Smart Saver Account stays in the leading position due to its numerous features.
First of all there is a choice between three main currencies USD, GBP and AED AND your accounts can be opened in the preferred currency. Besides, the bank offers a very serious interest rate which depends on your account balance.
Like for amounts ranging from AED 25,000 to AED 100,000, they offer a monthly interest rate of 1.50%. A monthly interest rate of 1.25% applies for balances between 100k and 2M AED.
Aside from interest income, if you want the best online banking experience in Dubai, the Emirates NBD savings account is a good option for you.
Their Smart Saver Account is also the best savings account in Dubai that offers excellent interest rates on total account balance.
Another advantage worth mentioning is that the account holder can view and download his account statement via the Internet bank.
In addition, this Emirates NBD savings account offers the account holder the flexibility to electronically transfer funds to the account through online banking and ATMs for cash deposits.
It also offers a user-friendly online interface for managing your account from the comfort of your home.
It is not for nothing that Emirates NBD is considered one of the leading banks in Dubai.
Pros:
The account can be opened in three currencies; USD, GPB, AED.
The minimum balance requirement is low enough.
You can deposit your funds to the account electronically, through Internet banking and ATMs.
To reward recurring savings, no ATM cards or checkbooks are offered in Smart Saver account.
E-statement available through online banking.
There is no monthly fee, unless the balance is less than the minimum balance. A fee of AED 25 will be charged.
Online banking.
Cons:
There is a minimum balance of AED 3,000 required to open a saving account.
The interest rate will only be paid above the AED 25,000 deposit and will vary depending on the amount, but can go up to 2.00% depending on the tiered structure.
This account has no rewards.
The customer support is not that super supportive, there are a lot of complaints considering this.
The online-banking is available and very difficult to navigate and the interface is confusing.
How to Open a Smart Saver Account?
Making money from the money you earn is the smartest way to increase your wealth. Take the first step towards this and open an Emirates NBD Smart Saver savings account and earn interest on your savings in your accounts.
If you are sure you want to be a part of Emirates NBD, here is a quick guide how to open an account and what documents you will have to provide while applying.
It's very easy to create an Emirates NBD account. Just visit any of their affiliates or visit their website and ask their representative to contact you and your account will be open within two business days. What you need to provide to open an account?
Copy of passport or passports and original passport(s) for verification,
Sponsor's letter of no objection,
Certificate of wages (in the case of payroll accounts); in the absence of a salary certificate, you can get any of the following documents:
Appointment Letter
Payslip (3-month-old)
Consolidated letter from HR for bulk accounts
The most recent statement of account where customer's salary is being transferred
These were the main documents for individuals but if you are a non-individual you have to provide also the following documents;
Commercial / Federal Registration Certificates (if applicable)
Certificate of commencement of activities (for joint stock companies)
Not applicable for a company under formation
Power of attorney, if applicable
Copies of passports of authorized persons
Resolution of the Board of Directors indicating the titles / designations of the officials authorized to open / manage the account, as well as the degree of their powers and the method of managing the account
Memorandum and Articles of Association to determine the period of the company
For public joint stock companies – a list of names and addresses of shareholders whose share exceeds 5% must also be provided.
* additional documents may be required in accordance with the bank's policy.
Long term saving accounts = Investing accounts.
In this article I would also like to focus on some important things which will help people to choose the way they want to earn money.
I am sure you all are informed about investment accounts and know that long term saving accounts will never beat investing money.
Why? Let's see the difference between these two types of accounts and the final decision is up to you.
Today, one of the main trends is a decrease in the key rate of banks and, as a result, a decrease in the profitability of traditional banking products.
If five years ago the deposit was a priority product, since it could bring a sufficiently high income per year, now it is being replaced by savings accounts and investment products.
Interest in complex, but potentially more profitable products is a very positive factor in terms of developing a financial culture.
Clients are looking for more profitable investment opportunities and are ready to choose not only risk-free or low-risk products. Investment account is a tool that provides a significant degree of freedom in choosing a strategy. You can choose a conservative approach and invest in government bonds, or you can diversify your portfolio and invest in funds that manage foreign real estate.
The rate cut has awakened interest in investments and financial products fundamentally different from deposits. But this affects the structure of bank liabilities.
Deposits and savings accounts are still popular, but all the evidence suggests that rates in the economy will continue to decline in 2020. And the deposit or traditional account becomes the client's entry point into the bank, after which he starts using other products.
This requires constant analysis of customer experience and a targeted offer that takes into account risk appetite, choice of currency for investment and a number of other factors.
And here digitalization plays a very important role – it simplifies and speeds up processes.
Interest in brokerage, for example, has grown with the emergence of an opportunity to replenish an account through a mobile application and withdraw money in the same way.
Now simpler, everyone knows that it is better to keep money not at home, but in the bank, since they must work and generate income.
Banking organizations offer clients a variety of savings programs that can help not only preserve their savings, but also make good money on it.
Savings and Investments accounts are among the most popular and well-known banking products, but not everyone knows what the differences between these two concepts are.
The savings option is a product for those people who want to deposit money for a long time with the possibility of periodic replenishment and withdrawal of cash.
Bank investments are an important line in the income of a commercial bank, which is of a long-term nature. The objects for investment are assets that bring guaranteed income. Assets include stocks, bonds and other securities of stable states and large corporations, as well as their derivatives.
You can see that even long-term saving accounts can be equal to investing accounts but never beat them.
Currency and other risks for expats.
Anyways if you are still interested in opening a saving account I will try to show all the minuses and pluses. The main advantage of a savings deposit is the ability to safely store money.
The savings that are stored at home can be lost at any time, but if they are placed in a bank account, they will be protected by the state, since bank deposits are insured. In the event of bankruptcy of a bank, the depositor will in any case be able to return his money within the insured amount.
If we talk about the disadvantages, then in order to obtain maximum income, it is necessary to place a large amount for a short period. If the amount of the deposit is small, then you will not be able to get a good profit. If the national average interest rate on a deposit is, for example, 5%, and the inflation rate is 3%, then the profit will be purely conditional.
As we are talking about Emirates NBD bank which offers different currencies to its clients, especially to expat clients, there could be risks connected to currencies.
In the UAE, expats simply have to fight inflation in order to maintain the value of their savings, but this is already a difficult task. The good news is that UAE resident savers do not need to worry about the tax inspector.
Inflation is actually everyone's personal business, as you have to determine for yourself what inflation you want to win.
If you are an immigrant for a long period of time, you are probably worried about inflation in the UAE. If you end up planning to return to your home country, you might prefer to beat the inflation rate in that country.
Remember that you are investing for a specific purpose, and that purpose is specific to you.
If your savings and investment goal is 100% outside the UAE, but you keep any AED-denominated investment, you are effectively betting on a foreign exchange.
It is worth noting that the UAE dirham is pegged to the US dollar, which means you have little foreign exchange risk if you are from:
United States
a dollarized economy such as Panama or Ecuador, or
another country whose currency is pegged to the US dollar, such as Saudi Arabia.
*About overseas investments.
For now, it is best for an expat to invest outside of the UAE. UAE banks are likely to offer a variety of investment products, but they are unlikely to derive their value from the UAE market.
Therefore, if your investment income is actually from overseas, you should consider investing in your own country or in the largest financial centers in the world such as the USA, Canada, Europe, United Kindom, Singapore or Japan.
Since the Emirati dinar is pegged to the US dollar, you are unlikely to be exposed to significant foreign exchange risk on US investments such as stocks, US bonds, offshore savings accounts, etc.
It might be tempting to think that investing in the US is completely like investing in the UAE. But it is not the same at all.
Regulatory differences aside, investing in the US still carries one major risk: you know the exchange rate will not change, but you have no guarantee that interest rates in the US and the UAE will match in the future. For now, the Emirates
NBD bank usually refrains from deviating from the rates set by the US Federal Reserve, but this may change in the future, for example, if the peg to the US dollar causes too much macroeconomic instability in the UAE.
If you want to invest in foreign assets, you need to check a few points:
Financial Transaction Taxes
Any additional regulatory burden that may be placed on international clients, such as checks to combat money laundering.
Money transfer fees, such as for international bank transfers between the United States and the UAE
Inheritance tax issues
Asset liquidity
Brokerage fees (pricing structure can vary greatly from one jurisdiction to another)
Withholding foreign taxes or income taxes
Affordable rate of return on foreign investment
Foreign exchange risk
How to compare to other saving accounts?
The UAE is home to a large number of banks offering savings accounts with attractive interest rates and a hassle-free documentation process.
While this provides us with a variety of options to choose from, there can also be confusion as to which account will bring the sweeter fruits in the future.
Even the bank we were talking about all this time, offers nine different saving accounts for clients with different needs. It is easier to choose a type of account from one bank, but it is more difficult to choose the bank you want to work with.
There are two most important things you should consider while choosing the account, first it is the interest rate and the second is the minimum investment amount required to open a saving account. But to help you with this confusion, below are some of the best savings accounts in the UAE for your consideration.
HSBC Term Deposit Account – the annual return is up to 1.75%. You can save in one, two, three, four, six, nine, or 12 months, and the longer your commitment, the better the interest rate. HSBC Premier Clients who save up to AED 150,000 in one month can receive an annual interest rate of 0.25 percent, rising to 1.45 percent for 12 months. Save between AED 150,000 to AED 750,000 and these rates increase to 0.35% for one month and 1.60% for 12 months. For 750,000 dirhams or more, depositors receive from 0.45% to 1.75%.
FAB's iSave Electronic Account – the annual return is about 3%. Savings rates up to AED 50,000 earn 0.50 percent, increasing across six levels, so those with over AED 500,000 earn 2.25 percent, with a maximum rate of 3 percent paid on balances over AED 5 million. The account can be opened instantly by existing FAB account holders and there is no minimum balance requirement or restrictions on the number of withdrawals you can make.
Standard Chartered XtraSaver Account – about 1% annual return. This simple savings account pays 1 percent for the first two months in Dirhams or 0.8 percent in dollars. This then rises to 2 percent (1.6 percent in dollars). The XtraSaver account offers online banking and mobile banking, as well as access to branches. A minimum initial deposit of AED 3,000 or the dollar equivalent, but thereafter no minimum balance requirement is required. However, you will not receive interest for any month if you make more than one debit transaction, such as ATM withdrawals, standing payments, retail purchases, or loan repayments.
RAKBank F@st S@ver Account – the annual return is up to 1.75%. This RAKBank online account pays 1.75 percent on balance up to AED 200,000. So you get, say, 1 percent on AED 2 to 5 million balances, since again the goal is to attract the middle income market. Savings rates in US dollars are noticeably lower. There are no requirements for the minimum balance and maximum balance of the account on which the interest is calculated.
Now you have about 5 different options in front of you, 5 different interest rates and minimum amounts for every type of investor. So the choice is yours, if you really want to open a savings account in UAE, the banks mentioned above are really good options.
Conclusion
This isn't a bad option in the savings market, but better alternatives exist.
Remember as well that long-term, savings have never beaten investment accounts.
They are just less volatile, which is emotionally easier.