After speaking about some of the cheapest places to live as an expat and expat cost of living in Thailand, this article will discuss the cost of living in Dubai and the UAE more generally.
For any questions, or if you are looking to invest as an expat, you can contact me using this form, or via the WhatsApp function below.
Introduction
If you happen to visit the Emirates, then you know very well that life here is not a cheap pleasure.
The state should be given its due: in just a few decades, they managed to turn the desert into a major tourist center with a developed infrastructure and entertainment for every taste.
The United Arab Emirates is a rather expensive country. Everyone who is going to live here will have to come to terms with this fact, especially if you aim at a normal life, and not a miserable existence in some shack, saving on everything you can.
The leaders in the cost of living in the UAE are considered Abu Dhabi and Dubai. If you want to reduce the cost of accommodation and food, then you should choose other emirates, or at least not the capitals of these regions, but provincial towns.
Later in this article, we will talk about the two most popular but at the same time most expensive cities of UAE: Dubai and Abu Dhabi.
Yes, definitely this type of lux can attract many expats, but everyone should know how much life costs there. Let's start from the most luxurious, expensive, elegant, and gorgeous city – Dubai.
Dubai

Dubai is an attractive emirate to live in in many ways. There is a wide range of vacancies and business opportunities, a dynamic real estate market that generates lucrative offers for residential and office buildings, many ways to have a good rest, a developed public transport system and many other advantages.
In addition, Dubai is practically a tax-free jurisdiction, so you cannot be afraid that government levies will "eat up" the lion's share of wages or income from business.
A few years ago, Dubai occupied only 90th position in the ranking of the most expensive cities in the world to live in.
Everything changed when prices for buying and renting real estate began to skyrocket in Dubai. In just a year, the capital of the emirate of the same name moved to the 67th line of the rating, entering the three most expensive cities in the Middle East, with which only Tel Aviv and Beirut can compete.
It is possible that the crisis that is beginning in the real estate market, which led to a decrease in the prices for rent and purchase of residential and office properties, will lower the cost of living in Dubai, and by the end of 2015 it will drop by several points in the ranking.
In the meantime, this city cannot be called cheap, so expats should look for work with high enough wages or try to squeeze the maximum profit from their business.
Then you will be able to create decent living conditions for yourself and your family, and you will not have to save on everything.
People who can carefully plan their own budget know exactly what they can save on in order to reduce costs. And this skill does not depend on the region in which they live.
And yet, even the thriftiest expats will not be able to deny themselves essential items such as housing, transportation, utilities, clothing, food, etc. Required spending in Dubai includes the following:
Housing
Dubai, unlike Abu Dhabi, can offer expats a wide range of residential properties at a variety of prices.
If you want to save money, then it is worth buying or renting one-room apartments closer to the outskirts of Dubai.
The cost of renting or buying a home in Dubai depends on many different factors: its size, the year the building was built, the area where the property is located, etc.
The most expensive areas in Dubai are Dubai Marina and Jumeirah Beach Residences.
To rent here a small one-room apartment for a year, you will have to pay at least 50 thousand dirhams, an apartment with one or two bedrooms – at least 100 thousand dirhams, a villa for 4-5 rooms – from 250 thousand dirhams. In these elite areas, foreigners have the right not only to rent, but also to buy housing.
If you decide to become the owner of real estate located in Dubai Marina and Jumeirah Beach Residences, then prepare at least 1 million dirhams.
By the way, this purchase will provide you with a resident visa. But renting or buying housing in other areas, for example, Discovery Gardens, International City, Silicon Oasis and others, will cost you much less.
Transport
One of the main advantages of Dubai is that it has good public transport. If you do not want to adapt to the original driving style of the locals, you can use public transport services.
Using the metro, buses and taxis, you can get to any corner of the UAE. The cost of public transport services in the UAE is very reasonable. A single bus ride around the city will cost you from 2 to 5 dirhams, depending on the route.
If you constantly travel by bus around the city, then it makes sense to purchase a monthly pass, which costs about 200 dirhams. Metro services are not too expensive either. The cost of one trip depends on its duration: the minimum price is 1.8 dirham, the maximum is 5.8 dirham.
A taxi ride will cost you more: according to the basic rate (no more than 8 km long), you will need to pay a little more than 30 dirhams.
Many expats travel around Dubai in their own car, especially since the cost of cars in the UAE is good news: you can buy an excellent car for 50 thousand dirhams. But the real delight of immigrants is the price of fuel, because one liter of gasoline costs about 2 dirhams.
Food
There are enough catering establishments in the United Arab Emirates where you can eat deliciously every day without worrying about cooking yourself. Dinner for two in a good restaurant costs 150-200 dirhams.
If we are talking about lunch in inexpensive establishments (the equivalent of a domestic canteen), then the price for one is unlikely to be higher than 30 dirhams, and in McDonalds or other type of fast food you will be fed even for 25 dirhams.
If you cannot imagine life without home cooking, then you can cook yourself, especially since food prices in Dubai are quite acceptable: a dozen eggs cost about 10 dirhams, cereals – from 7 dirhams per kilogram, vegetables and fruits – from 5 dirhams per kilo, bottled water – a little more than 2 dirhams for 1.5 liters, a loaf of bread – from 4 dirhams, etc. But what is really expensive in Dubai is alcohol: you will have to pay about 70 dirhams for a bottle of wine, and about 30 dirhams for 0.5 beer.
Utility rates
In addition to the cost of the housing itself, regardless of whether you buy it or just rent it, you will have to pay utility bills. The public utility in Dubai cannot be called cheap.
For example, if you live in an apartment with a total area of 80–85 square meters, you will have to pay about 600 dirhams a month. This amount usually includes lighting at home, using a gas or electric stove, heating, running water and sewerage, garbage disposal. Those who live in a private house will also have to take care of lawn maintenance, pool cleaning, etc.
Household arrangement
If you bought a house or apartment in Dubai, then you will probably want to equip it to your liking. The city has many salons and shopping centers where you can buy furniture, curtains, bed linen, chandeliers, floor lamps, various accessories that will help you create a cozy atmosphere in your home.
It is rather difficult to talk about the average cost of such products, since a lot depends on the brand, the store, the material from which they are made, and other factors. The extent to which prices for goods in Dubai differ can be judged even by furniture: for example, the cost of a coffee table varies from 200 to 2 thousand dirhams, a dining table – from 1 thousand to 4 thousand dirhams, a bedroom set – from 4 thousand up to 10 thousand dirhams, etc.
Communication services
Dubai is a leader not only in the quality of communication among other regions of the UAE, but also in the cost of these services. Get ready to pay several hundred dirhams for unlimited internet use. Landline telephones in Dubai are not very popular, they are used only for business.
If you wish, then you can lead a telephone to your apartment or house, for this you just need to have a resident visa. But the services of mobile operators are at a premium in Dubai. It is difficult to say how much you will have to spend on mobile communications in this emirate, because it all depends on the operator itself, the tariff plan you choose, the duration of your calls, etc.
The average cost per minute of a call on a mobile phone is 0.5–0.75 dirhams. Please be aware that you cannot obtain a local phone number without presenting a resident visa.
Education
If you moved to Dubai with children of school or preschool age, then get ready for additional (and very large) expenses for their education. There are no free kindergartens, as well as schools, in Dubai.
More precisely, there is, but only for children of locales. Expats have to pay both for kindergartens and schools. The cost of an annual education in a preschool or school educational institution depends, first of all, on the popularity and reputation of the institution, as well as on which country founded it.
The most expensive, but at the same time the best, are kindergartens and schools established by citizens of the United States and Great Britain.
Get ready to pay for a year of staying in a British or American kindergarten for your child from 30 thousand dirhams, while a school that gives knowledge to children according to the curricula of these countries is even more expensive: 50-75 thousand dirhams.
Indian kindergartens and schools are much cheaper: you can find an institution even for 10-15 thousand dirhams a year.
Abu Dhabi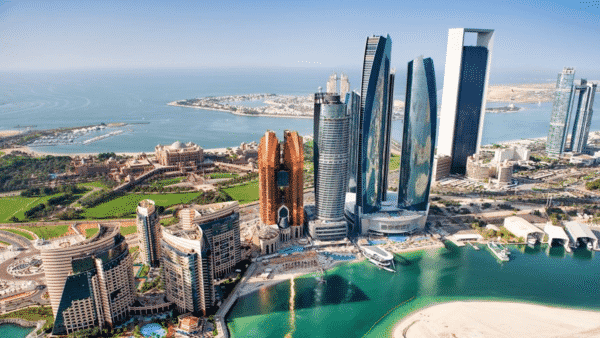 Abu Dhabi is not accidentally called a rich principality – everything here literally screams about luxury. And, of course, the cost of living in such a region simply cannot be cheap.
If you are looking for a budget option for vacation or permanent residence, then it is better to take a closer look at other emirates: Ras al-Khaimah, Sharjah, Fujairah, and the same Dubai are much less intensively emptying the pockets of expats.
If you are offered a minimum wage (from $ 300 to $ 1,000), then you should not agree to work in Abu Dhabi.
Not only will you not be able to live here normally with this money, but you will not be able to transport your family with you to the UAE, because your salary will not allow you.
Life in Abu Dhabi is really expensive, so you shouldn't settle for a move if you are offered to pay less than $ 3 thousand a month in a new place. But foreign entrepreneurs who set their sights on opening a company in Abu Dhabi will probably have enough for a normal living in this region.
In general, you yourself must decide whether the monthly salary offered by the employer is enough for you, or it is better to look for a more attractive option. To make it easier for you to decide, here are some important features of the cost of living in Abu Dhabi:
Housing
Real estate is the most expensive item for any immigrant. Compared to neighboring Dubai, where for an average price you can find quite attractive options or less attractive, but for a penny, in Abu Dhabi you will have to pay a lot for any housing.
If you intend to rent a house (and this is mainly done by immigrants, because they see no reason to buy such expensive real estate, and even without land), then get ready to pay monthly for a small one-room apartment from 5 to 7 thousand dirhams, depending on the area in which it is located.
Expats who come here with their families cannot be content with one room. If you have children, you should take a closer look at three-room apartments.
Their monthly rent ranges from 10-14 thousand dirhams. You can rent a good private house in a good area for 180-250 thousand dirhams.
If you intend to purchase housing, then for each square meter, get ready to pay from 10 thousand dirhams.
Transport
Public transport in Abu Dhabi is not very well established. Buses run here, of course, but using them is not as convenient as in Dubai. A single travel on a city bus costs 2 dirhams, but a travel card for a month is 80 dirhams.
Taxi services are quite cheap here: landing is 3.5 dirhams, every kilometer that you drive is from 2 dirhams, depending on the tariff. If you will permanently reside in Abu Dhabi, it is easier and cheaper to buy your own car.
They are not too expensive here: a new foreign car can be purchased for 60-100 thousand dirhams. Car maintenance will be completely cheap for you: in the UAE a liter of gasoline costs from 1.5 dirhams.
If you have an international license, then you only need to issue a driving license in the UAE, if not, you will have to obtain a license in the Emirates: courses cost from 2900 to 3700 thousand dirhams.
Food
Food prices are different:
fruits and vegetables – from 5 dirhams per kilogram;
meat – from 20 dirhams per kilogram;
bread – from 4 dirham per loaf;
milk – from 6 dirham per liter;
cereals – from 8 dirhams per kilo;
drinking water – 2 dirhams for a bottle of 1.5 liters, etc.
Lovers of resting after a busy day with a glass of wine or cold beer will have a hard time, because alcohol in Abu Dhabi is not only expensive, but also not sold freely.
If you want to save money, then it is worth buying domestic (that is, Emirati) products, they are cheaper than imported ones. There are many restaurants in Abu Dhabi, some of which are inexpensive (like our canteens), so you don't have to cook at home.
You can have a modest lunch for one person for 30 dirhams. McDonald's is available in Abu Dhabi and, the average dinner will fluctuate at 25-30 dirhams.
Utility rates
Depending on whether you are renting or purchasing an apartment, it will depend on whether you pay for utilities yourself or you have already entered them into the rental bill.
If you have to pay for utilities yourself (and in Abu Dhabi this includes mainly electricity, water, gas and garbage disposal), then get ready to give about 250 dirhams a month for an apartment, the area of which is about 85 square meters.
Communication services
There are also landline telephones in the United Arab Emirates, almost all houses and apartments are equipped with them, but mobile communication is much more appreciated here.
The standard price for one minute of mobile communication (excluding different tariff plans) is 36 kopecks. If you need unlimited communication, then the monthly payment for such a package is 300 dirhams.
Internet in the Emirates is not a cheap pleasure: 350 or more dirhams per month will have to pay for limited access, since there is Internet censorship in Abu Dhabi.
Education
If you came to a permanent place of residence in the UAE with your family: wife and minor kids, you will have to take care of preschool or school (depending on age) educational institutions for them.
There are no free schools and kindergartens for immigrants in Abu Dhabi, so you have to fork out for your kids to get a good education.
The payment for education in kindergarten and school largely depends on which country founded this institution, what program is used to teach and what is the reputation of the school or kindergarten.
The most expensive are considered kindergartens and British-style schools: prepare to pay at least 50 thousand dirhams annually. Others may be cheaper (from 30 thousand dirhams), but they also give worse quality of education.
If you decide not to skimp on the education of children and decide to choose one of the best schools in the UAE, then book a place there in advance, since the popularity of some educational institutions leads to a lack of places in them.
So, if you are planning to move to the UAE and settle in the largest emirate of the state – Dubai, then on average, a family of two will spend about $ 3000 per month.
This takes into account rented housing directly in Dubai, the use of mainly public transport, medical insurance, self-catering with periodic visits to inexpensive cafes, a gym and sometimes even entertainment and buying clothes.
To move here alone, you either need to find a well-paid job, or choose an even more modest lifestyle (for example, renting an apartment in the neighboring emirates). But, renting a separate studio in Dubai and living alone, you will need about $ 2000 monthly.
As you can see there are not many differences between living in Dubai and Abu Dhabi, the living cost is almost the same, so both cities are on one level.
UAE is a good place for people with a high monthly income and if you are a good specialist and are sure that the skills you have will bring you about $4000, go ahead to a new luxurious life. But if not, think well before permanently leaving your country.
Conclusion
The UAE isn't a cheap place to live as an expat, despite the huge tax benefits.
In general, Dubai is the most expensive emirates, and significant savings can be made if you go to one of the cheaper places within the UAE.
Ajman, Fujairah and some of the other emirates are much cheaper than Dubai and Abu Dhabi.