Expat Financial Advisors in Guatemala – that will be the topic of today's article.
I will compare some of the options available locally, alongside more portable, online, and international options like what we offer.
It makes sense to have a portable option as an expat, as opposed to a localized one, and that is something we specialize in.
If you want to invest as an expat or high-net-worth individual, which is what I specialize in, you can email me (advice@adamfayed.com) or use WhatsApp (+44-7393-450-837).
Introduction
Guatemala is a destination again little known and little developed, but Guatemala is underrated as it is an exceptional wealth.
Guatemala is a country located in South America. Guatemala shares its borders with Mexico, Belize, Honduras et El Salvador and of course the Pacific Ocean and the Caribbean. With an area of ​​108,890 km2, Guatemala is the fourth most unequal country in Latin America.
Guatemala, a Central American country south of Mexico, is home to volcanoes, rainforests, and ancient Mayan settlements. The capital Guatemala City is home to the majestic National Palace of Culture and the National Museum of Archeology and Ethnology. On Antigua, to the west of the capital, Spanish colonial buildings have been preserved. Lake Atitlan, formed in a massive volcanic crater, is surrounded by coffee plantations and villages.
Guatemala enjoys a tropical climate along the coasts and plains. Indeed, Guatemala is a mountain country and obviously, the higher the altitude, the lower the temperature.
With a topographically diverse and exciting landscape, rich culture, storied history, and warm people, it's no surprise that more and more expats are choosing Guatemala. From tropical jungles and vast plains to towering mountains and mysterious underground rivers, Guatemala has a lot to explore.
Local salaries are generally low, but Guatemala's moderate cost of living allows foreign-currency earning expats luxury accommodations in complexes with 24-hour security and world-class amenities.
Climate in Guatemala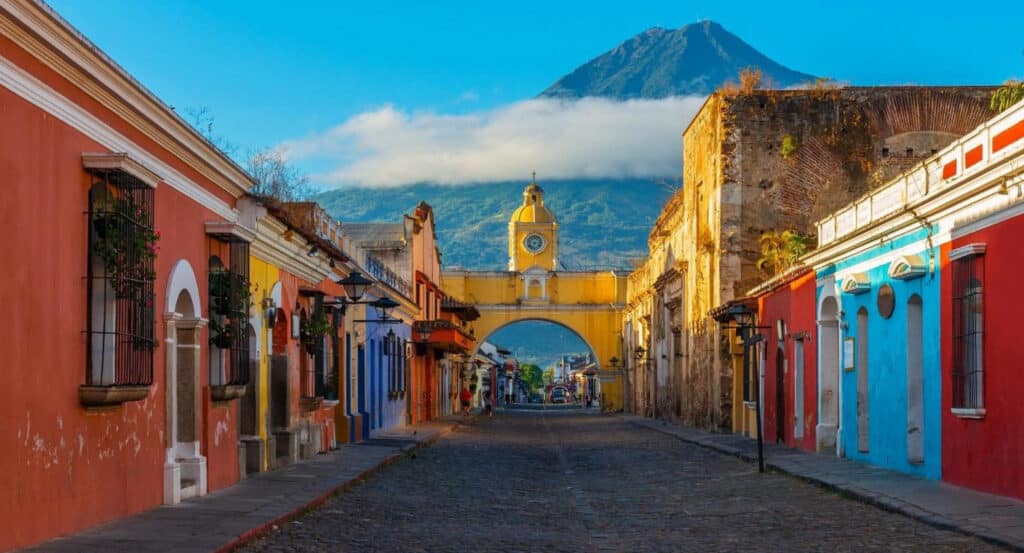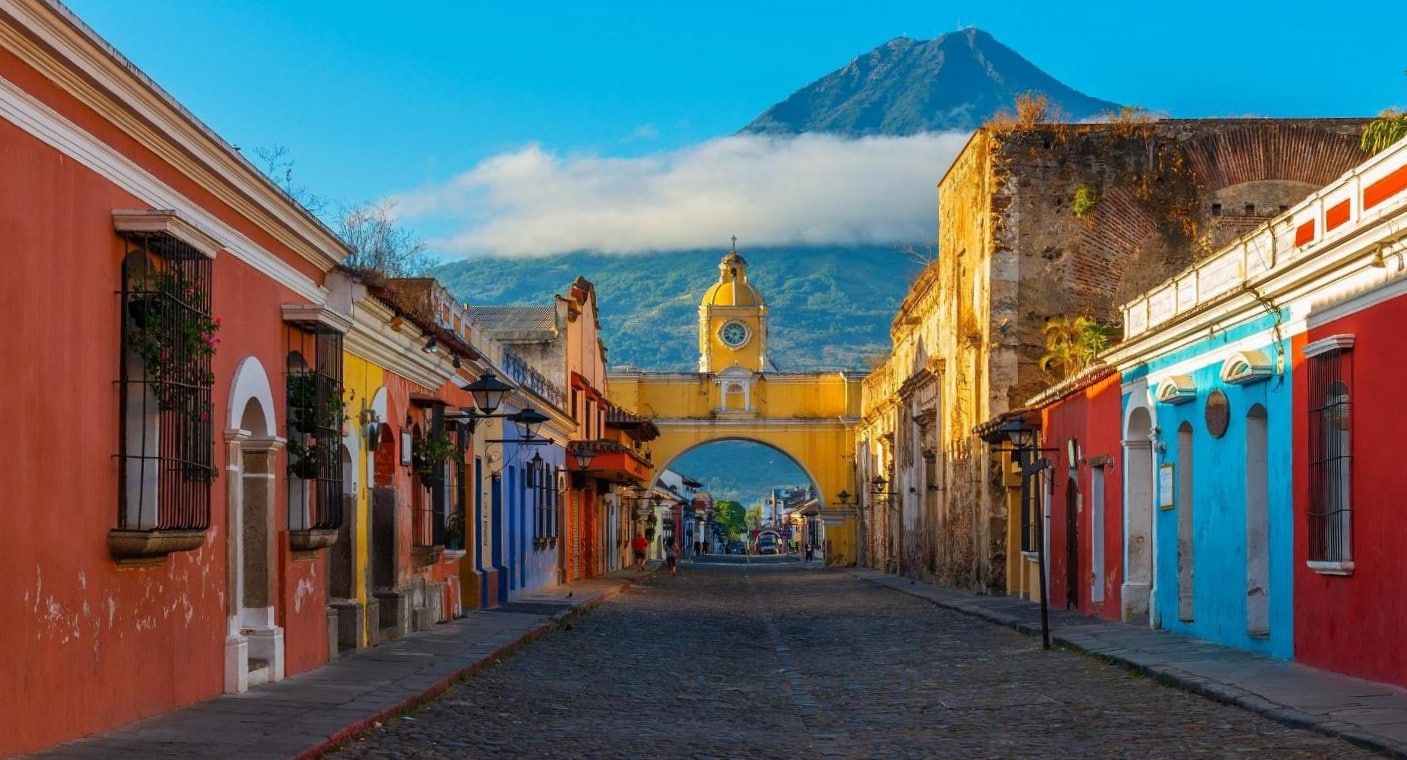 The favorable climate of the country attracts foreigners who want to settle in the country of eternal spring and enjoy the uninterrupted access to fresh organic fruits and vegetables. The country's climate is wonderful all year round and tends to be hot throughout the country. The rainy season usually lasts from May to November with an average temperature of 72°F (22°C).
The climate changes more because of the altitude than because of the season. While Guatemala is still evolving in some respects, it's easy to see why it's growing in popularity as an expat destination. For those who are flexible and open-minded, Guatemala offers a great lifestyle and plenty of opportunities.
Living in Guatemala as an Expat
Guatemala's expat population is relatively small but growing steadily as it becomes a popular retirement destination for North Americans and Europeans. Some travelers stay in Guatemala for shorter periods to work, learn Spanish, and use the country as a base from which to explore the Americas. Most expats moving in Guatemala usually choose to live in the capital – Guatemala City.
Naturally, newcomers may experience culture shock when moving to Guatemala, but it's all about perspective. Guatemalans are known for their kindness and generosity, and although the disparity is conspicuous, the people are generally warm, friendly, and hospitable. Getting to know the culture and at least a basic knowledge of Spanish (and local slang) will make this experience even more enjoyable.
Guatemalans are hardy and hard-working, but expats are likely to find the lifestyle here simpler, with little appetite for the long work weeks and tight deadlines associated with the world's major cities, though the benefits of high salaries and glamorous employment packages may have to be sacrificed. because the incomes of Guatemalans are much lower.
Families and Children
Guatemala, a great place to start a family, has good private healthcare, a selection of excellent international schools (mostly American and German) and endless opportunities for fun weekend getaways. For those interested in history and culture, Guatemala has a wealth of fascinating Mayan archaeological sites, colonial cities, and art galleries.
Expats enjoy living in Guatemala. Digital nomads, young families and retirees love the combination of history, culture and nature. Also, from a practical standpoint, it's a short flight from the United States. For example, Miami is only two hours away, making it easy to get back home to see family and friends. And it certainly does not hurt the fact that the climate of Guatemala is almost ideal. In the southern highlands, one of the most popular places for expatriates to live, the average temperature is 70 F all year round.
Work permit in Guatemala
Expats must find work before moving to Guatemala. Poverty, income inequality and permanent employment are serious concerns. Work permits in Guatemala fall into two categories. Eligible are foreigners who have a spouse or children from Guatemala and who meet other requirements. These requirements include a residence permit or temporary visa, police records, and required marriage or birth certificates. In addition, foreigners who have already been offered a job are eligible for a work permit. Employers usually apply on your behalf.
How much does it cost to live in Guatemala?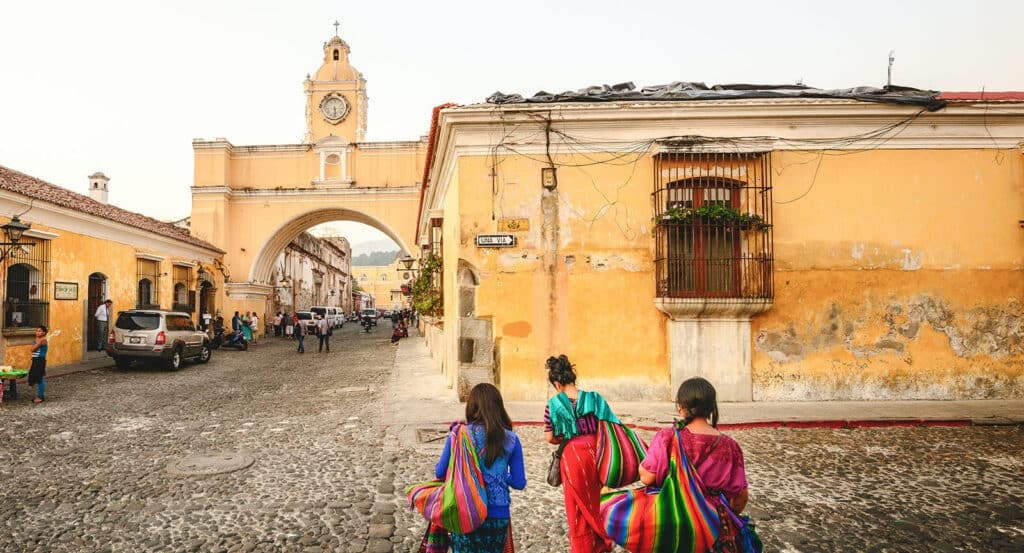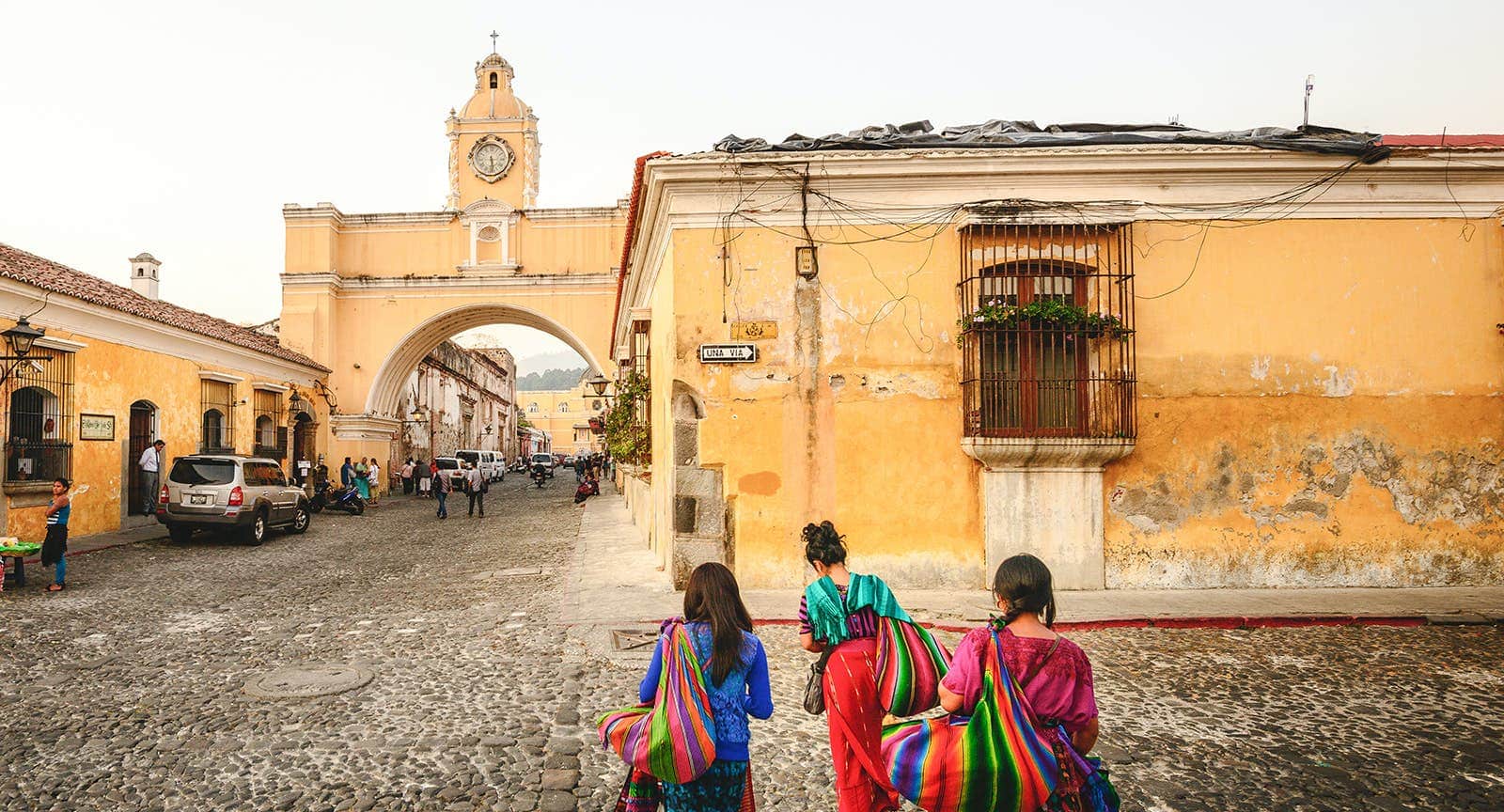 As reported by many foreign nationals, the cost of living in Guatemala depends on your lifestyle. If you buy local produce, shop at local markets, live in a simple environment, and don't spend money, you can give very cheaply. Depending on your circumstances, living in Guatemala is up to 50% cheaper than living in the US or in the United Kingdom.
However, your expenses won't be much less than at home if you eat imported foods, go to European-style restaurants, and live in an exclusive neighborhood that caters to expats. Note that living frugally does not mean living spartan. Maid and gardener services often cost less than $5 an hour. Treats like massages cost as little as $10, while fast food at market cafes can cost as little as $2 per person.
Rents vary widely depending on location, quality, and amenities. I just saw a simple, furnished one-bedroom apartment near the center of Antigua that sells for about $425 a month, not including utilities. However, from $600 you get something much nicer, especially on the outskirts or in nearby villages.
A steak tartare at a French bistro cost about $18.60 and a glass of wine is about $5.80. However, a budget del dia lunch at a regular comedor costs about $2 at the market, or $3 at a better eatery. A local beer or a cup of quality local coffee costs less than $2 each.
A private taxi from Antigua to Guatemala City Airport (about an hour depending on traffic) costs about $28, although many opt for the cheaper $19 Uber or $10 to $15 shared minivan.
Healthcare in Guatemala
There is much room for improvement in Guatemala's healthcare system. Here is an example so you could understand – there is one doctor per 1,000 people, which is about half of World Health Organization's recommendation. Government funding and support is also low. In addition, the country's long civil war has resulted in significant disruption to current investment and facility upgrades.
Most cities and large towns have government services and private facilities such as hospitals and clinics. However, in rural areas there is usually only a small public clinic staffed by either a doctor or a nurse practitioner. While the cost of medical appointments is very affordable through the public system, services can range from basic to very rudimentary. Thus, most expats prefer to have private insurance. Private hospitals and clinics offer more comfortable and private facilities, multilingual staff, and much shorter waiting times.
Education in Guatemala
Six years of education are compulsory for children in Guatemala. However, there are significant barriers to participation, even though education is free and publicly funded. The cost of books, uniforms and transportation is too much for impoverished families.
Thus, while about 90% of children in Guatemala enter school, less than 30% complete it. Unfortunately, the government is doing little to improve the situation or invest in facilities. Given the minimal funding provided by the government, most expats are opting to forego public education in favor of private education. There is a wide range of international schools, especially in Guatemala City, Antigua and Quetzaltenango.
How can a financial advisor help you?
A financial advisor helps a client plan for both short-term and long-term financial goals. These goals may include saving for retirement, attending college, and ensuring that the client has the appropriate insurance plan to ensure a stable financial future. Their main purpose is to advise on financial security issues.
To become a certified financial advisor, a bachelor's degree in finance, economics, accounting, business mathematics, or law is required. The Master of Business Administration will improve your career opportunities. It is highly recommended to take courses in investment and risk management along with courses in tax and estate planning.
Financial advisors help clients with their financial planning. The client's life can also suddenly change, so a financial adjustment will be required. For example, it could be a death in the family, a marriage or divorce, a chronic illness or disability, or a person may receive a large sum of money.
A financial advisor can help plan college preparation for yourself or your children. While most financial advisors work in offices, a quarter of them are self-employed. They may attend conferences and seminars to network and promote themselves to meet potential clients.
The heavy responsibility of investing in personal savings and helping them into retirement requires both financial knowledge and interpersonal skills. Personal financial advisors give advice on investments, property ownership, estate planning and more to help people manage their finances and plan for the future. Personal financial advisors start by identifying a client's financial needs and the degree of risk they are taking, and then help them set short- and long-term goals.
Financial advisors are experts in the benefits and limitations of many different types of investments such as mutual funds, stocks and bonds, real estate and related topics such as insurance and the tax implications of various investments. Marketing their services to potential clients is an ongoing part of the job. To expand their client base, personal financial advisers conduct seminars, participate in networking events, and seek referrals from existing clients. As a rule, advisors meet with clients annually to discuss their investment portfolio and make changes.
Most personal financial advisors work in finance and insurance, while many others are self-employed. They usually work in offices full time, and some may meet with clients in the evenings and weekends.
Personal financial advisors usually require a bachelor's degree; Specialization in finance, economics, accounting, mathematics, or law are all good preparation. Finance is a highly regulated industry: certain licenses are required to sell various investment or insurance products.
Financial advisers cannot be universal. They receive various degrees and certificates. They have different origins.
Simply put, financial advisors can help you with all kinds of financial planning, which means they can help you with any financial activity, from budgeting to retirement savings.
Real estate or investment planners are the types of financial advisors you may meet during your financial journey to Guatemala. To accomplish all these tasks and achieve your financial goals, from small to large investments, as mentioned above, we will try to consider two main types of financial advisors.
What is the difference between a local financial advisor and an online advisor?
To understand this, you should continue reading, we will go through each type and give you a clear idea of ​​what you will need in Guatemala.
Local Financial Advisors
The difference between a local financial advisor and other types of financial advisors is really the difference between a professional service approach and a specific product approach. Of course, rich local experience is an advantage.
Having a local financial advisor has one key advantage. Choosing a local financial advisor allows you to meet someone who will advise you on the rules of a particular location.
National firms cannot afford it. Even if you are comfortable doing business online, there will inevitably be times when you want to meet and have an honest conversation with the person who is giving you advice.
Other financial consulting companies usually distribute their workload among separate departments. Your "consultant" is most likely an account manager who acts as a buffer between you and some other people in the back office who actually do the work.
Your "planning" probably comes from the planning department; your investment analysis most likely comes from an analyst who is far from what really matters in your life, and those who actually implement the strategy usually see you as just a set of "buying" and "selling" that they make every trading day. You simply won't be able to meet a real "advisor" because these responsibilities are divided among several people in different offices.
On the other hand, you should be able to meet with a consultant if you choose an independent service-oriented consulting firm. Again, hiring a local financial advisor is optional, but in most cases, there are many benefits to having face-to-face meetings.
Most "consultants" at large financial companies such as banks receive some or all of their remuneration for selling you a product, be it stocks, bonds, mutual funds, insurance policies, or annuities.
This creates an inevitable conflict of interest. The securities laws in this country recognize this fact and require these "advisors" to be at a lower level. This is called the "fitness" standard, which means they only need to consider whether the products they sell are suitable for your broad investment profile.
The highest standard is the "fiduciary" standard. An independent consultant, online or local, who agrees to abide by this standard must by law always put your best interests first.
These consultants never sell products, charge commissions, or do anything else that could create a conflict of interest. They weigh all the factors in your situation before making any recommendations. Their advice is 100% objective. Whether you hire a local financial advisor or not, it's really important that they be objective and put their clients first. Speaking of online financial advisors, let's talk a little about them.
Online Financial Advisors
Online or virtual financial advisor is the new concept of this century. The online consultant helps clients choose investments and develop short- and long-term financial planning strategies.
In this role, you don't usually meet with your clients in person; you communicate with customers through phone calls, email, video conferencing and chats.
The job of a financial advisor involves assessing your clients' current financial health by reviewing their assets, investments, and other financial decisions they make, such as pension plans and life insurance policies.
Once you have assessed their finances, you determine an investment and budget plan to achieve your client's financial goals.
The plan might include making regular savings deposits to increase your emergency funds, opening college accounts for your kids, or investing in retirement plans.
How to choose a financial advisor?
Below are a few tips to help beginners make the right decision before entrusting their funds to a financial advisor.
Learn about different financial advisors
What is a financial advisor? This job description includes more responsibilities than you might think, so make sure you know a little more about what you're looking for.
Some financial advisors are like coaches. They can help you make major financial decisions and teach you how to spend, save, and borrow properly. Other financial advisors provide high-level investment management for the richest individuals and businesses.
Determine why you need financial advice
Finding the right financial advisor will be easier once you decide why you need one. Are you at the very beginning of your career and want to know how much and how to save for your financial goals? Are you paying for your child's education or handling finances during a divorce? Chances are there is an advisor for your particular situation.
Meet potential financial advisors or brokers
Once you've identified a few potential consultants in your area or city that match your needs, start calling and making appointments.
An advisor makes money in a variety of ways — such as commissions on product sales, an annual percentage of an investor's assets, or an hourly rate — so don't be afraid to ask for details.
"Different pay structures can create different incentives," Rosca says. "If someone is only paid to sell investments, that means if they don't sell you anything, they won't make money."
If the consultant doesn't want to discuss these details, don't be afraid to move on to someone else. The most important thing is that you understand what is happening in your financial life and feel free to ask questions until you understand the details.
How can we help you?
First of all, if you are sure that you want us to help you, please read this form and apply if necessary. There are many benefits you can get from working with a financial advisor, as well as an online financial advisor that will be available when you need it. Let's look at some of the benefits:
Save your time
How can working with an online financial advisor help you save time? Meeting a financial advisor online means you don't have to drive to their office in traffic. You can meet them during your lunch break at work, on the couch at home, or even on vacation. If you have a device and internet connection.
Save your money
How can working with an online financial advisor help you save money? You don't have to take time off from work or hire a nanny to meet with online financial advisors who don't work strictly 9-5 hours. You can meet them at any time convenient for you, wherever you are, and save on gas and parking.
Freedom to work with your financial advisor
Does it matter where you live when you work with an online financial advisor? Many online financial planners have lived in many states over the years, as have their clients. More than 40% of clients have moved to a new city since they started working with their consultants. But both were able to "move" together and remain constant to each other.
When you move to the Guatemala on vacation, you can find a great online financial advisor there and not worry about losing your precious job when you return home. You can still work together from anywhere in the world.
By "financial advisor" we mean someone you trust completely and with whom you can discuss your financial situation, plans and how you manage your money. By no means are we talking about banking or brokerage employees – at least not most of them. In conclusion, it is worth noting that financial advisors play a key role in the life of every investor, regardless of how much free money you have and whether you control your business.
Pained by financial indecision? Want to invest with Adam?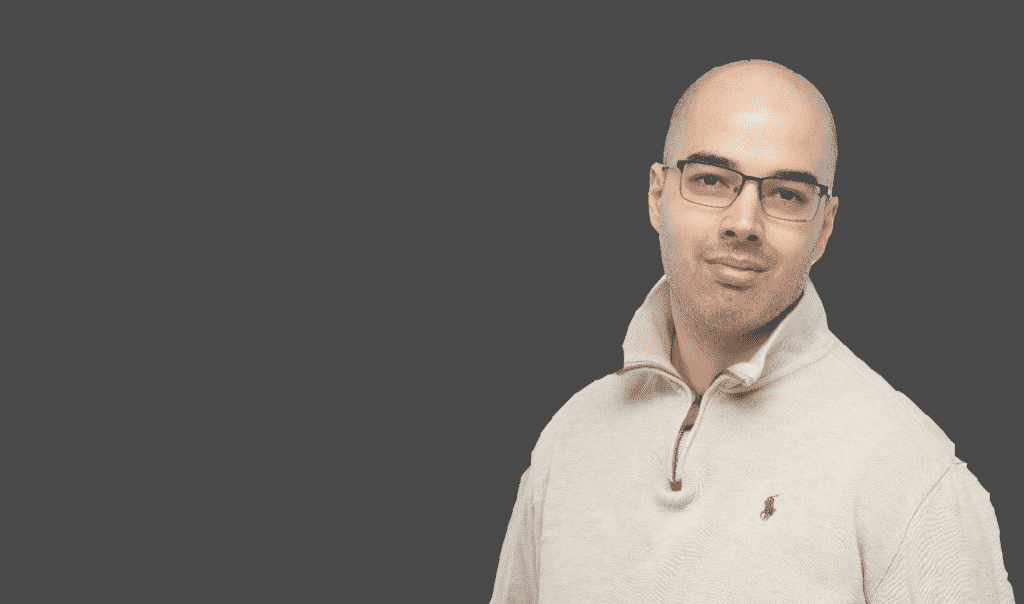 Adam is an internationally recognised author on financial matters, with over 693.5 million answer views on Quora.com, a widely sold book on Amazon, and a contributor on Forbes.