This article will look at some of the leading news stories of the last few days
Gold prices hit nominal record – Courtesy of CNBC
Gold prices climbed higher to a record on Wednesday after the Federal Reserve officials left their benchmark interest rate unchanged near zero.
"Spot gold gained 1% to $1,979.53 per ounce, while U.S. gold futures rose 0.4% to $1,953.4 per ounce, a new record close.
A Reuters tally showed more than 16.62 million people were infected with COVID-19, including 655,583 deaths. Cases continued to surge in the United States, with four states in the South and West reporting one-day records for virus-related deaths on Tuesday.
Underscoring the economic impact from the virus, data on Tuesday showed that U.S. consumer confidence fell more than expected in July.
Gold tends to gain when interest rates are low, which reduces the opportunity cost of holding non-yielding bullion. Gold is also seen as a hedge against inflation.
SPDR Gold Trust, the world's largest gold-backed exchange-traded fund, said its holdings rose 0.7% to 1,243.12 tonnes on Tuesday.
Meanwhile, Republicans in the White House and the U.S. Congress were in disarray over their own plan for providing $1 trillion in new coronavirus aid, as negotiations aimed at reaching a compromise bill with Democrats also sputtered.
Asian equities pulled backed on Wednesday as an impasse in U.S. economic stimulus negotiations pushed global stocks lower"
Analysis of article 1
People shouldn't read too much into the gold price for the following reasons:

Most importantly, long-term gold only holds its value It doesn't tend to increase adjusted for inflation.
In other words it has only matched inflation for over 2,000 years! This is a very poor performance compared to other assets: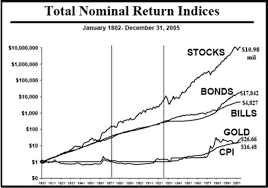 Also it is important to note:
Its real terms price is far below 2011 and especially during certain periods of the 1980s, when it was trading at over 3,000 adjusted for today's prices.
Government bonds outperformed gold in 2008-2009 and March 2020 so it isn't a safe heaven asset.
We have heard these arguments about the Fed, QE and 0% interest rates before. Think back to 2008. Gold had a great 8 year run, after an awful period in the 1990s. Central banks around the world poured in with 0% interest rates and QE after Lehman Brothers Collapsed.. What happened to gold? It fell during the worst of the crisis (2008-2009), hit nominal record highs in 2010 and mid 2011, before falling for years. It only started to go up again in around 2017-2019 when QE was stopped and the US increased interest rates. That bull run was briefly ended by…….the March crash!
Gold doesn't pay any dividends.
The Nasdaq has outperformed gold, and unlike gold it has hit both nominal and real terms highs + paid out dividends. Oil has also done better in the last few months after hitting lows. So there doesn't need to be a grand reason why gold is going up. Moreover, if gold is going up due to QE, 0% interest rates and more geopolitical tensions, then rationally it should have gone up after 2011 when QE was extended.
That doesn't mean gold won't go up this year. It might go up, down or stay stagnant. Nobody really knows what will happen.
The point is gold is stagnant long-term relative to markets and nobody can time the best time to get into the gold markets consistently.
I have yet to meet a 50 year old who sold gold in the mid 1980s, bought during 2000, sold in 2011and bought again in 2016!
So gold will have its good and bad times and might even hit record real terms highs in our lifetimes.
I don't expect many people to profit from it though!
2. Hong Kong launches share index of technology giants  (courtesy of the BBC)
A new share index focused on China's technology giants has been launched by Hong Kong's stock market.
"The Hang Seng Tech Index went live on Monday and includes internet giants such as Tencent, Alibaba and JD.com.
It will feature 30 of the largest tech firms listed in Hong Kong, which are among the world's biggest companies.
The new index comes as Chinese tech firms face greater scrutiny in the US, with many looking at listings in both Hong Kong and China.
Jack Ma, the billionaire founder of Alibaba, recently announced plans to list its affiliate financial arm Ant Group in Hong Kong.
Alibaba, NetEase and JD.com are three tech giants that have recently listed in Hong Kong amid growing tensions between the US and China. They are included in the new Hang Seng Tech Index.
The Ant Group is described as the world's most valuable unicorn – a start-up that has grown to a value of more than $1bn (£778m).
Once publicly listed, it should also move into the index.
Ant Group, a financial technology (fintech) firm, also wants to list on China's tech-centric Star stock market as it shuns a US stock market listing.
Analysts say the Hang Seng Tech index will attract investors to other Hong Kong tech stocks and look beyond the more well-known Hang Seng Index which is dominated by banks, property firms and energy companies.
"The new index aims to rival and beat the Nasdaq in the US market for Chinese tech giants," said Bruce Pang, head of macro and strategy research for China Renaissance Securities.
The Hang Seng Tech Index will track Hong Kong-listed companies that have high business exposure to selected technology themes, including the internet, fintech, cloud, e-commerce and digital activities.
"The Chinese government wants its technology companies to be able to access foreign capital. Thus, an index in Hong Kong would be better to suit that purpose," added Tianjun Wu, deputy economist at the Economist Intelligence Unit.
What does it mean for investors?
Investment experts say it will be more convenient for investors who want to buy Chinese tech companies listed in Hong Kong now they have their own index.
There is a huge appetite for technology stocks like Alibaba and Tencent, which have generally performed well during the coronavirus pandemic as more people go online for shopping and entertainment.
The new index could trigger the launch of specialised investment funds tracking these 30 tech stocks, which are known as Exchange Traded Funds (ETFs).
"This is a great and positive new addition, marking the continued growth in China's technology space and its mind and portfolio share of local and international investors alike," added Andy Maynard, managing director at China Renaissance investment bank.
Analysis of Article 2
What is interesting about this story is there appears to be many conflicting things going on in the China-US relationship.
Many people and businesses are trying to get money out of Hong Kong, and demand for second citizenship and residency services is going through the roof for many agencies.
Amid this context, there was a lot of speculation that countless firms would look to IPO outside of Hong Kong and this might still happen.
Despite this, there is a force pulling many Mainland Chinese firms away from the US.
As I reported about a month ago, changes in the US laws could delist Chinese firms from the major US indexes, unless they comply with these new rules.
Therefore, some big Chinese tech firms could decide to list in Hong Kong or the Shanghai Composite.
Shares in the new index have been mixed these days just like most of the indexes in the US, which have been relatively flat across the board this week.
3. Dow Jones Lags As Nasdaq Rallies; These 2 Top Growth Stocks Break Out – investors.com
Article two neatly leads us to this summary from investors.com
Stocks rallied on earnings ahead of the Fed's monetary policy decision, though the Dow Jones Industrial Average lagged midday.
The Nasdaq rose 1.1%, the S&P 500 gained 0.8% and the Dow Jones industrials climbed 0.3% in the stock market today. Small caps tracked by the Russell 2000 rallied 1.4%. Volume was higher on both major exchanges vs. the same time Tuesday.
In addition to the Fed statement, CEOs from Amazon, Apple, Facebook, and Google parent Alphabet (GOOGL) are set to testify before Congress.
The Fed's policy statement is scheduled for 2 p.m. ET, followed by comments from Fed Chief Jerome Powell. No change is expected in the target interest rate.
Despite last week's volatility, the U.S. stock market uptrend remains intact. A resurgence in tech stocks has lifted the tech-heavy Nasdaq to a 16% year-to-date gain through Tuesday's close, while the S&P 500 is now flat and the Dow down 8%. The Russell 2000 remains 12% underwater this year.
Covid-19 Update
While the stock market has been in a confirmed uptrend since the April 2 follow-through day for the S&P 500, it's had hiccups as Covid-19 cases proliferate. (Read The Big Picture for a detailed analysis on daily market action.)
Worldwide coronavirus cases have now topped 16.9 million, with over 664,000 deaths, according to worldmeter. In the U.S., confirmed cases climbed past 4.5 million, with the death toll over 152,000.
Since the U.S. economy started to reopen, several states have experienced record levels of new Covid-19 cases and hospitalizations as case counts rise. Texas, Florida and California are among the hardest-hit states.
UnitedHealth Group led the Dow Jones index with a 2% gain in volume slightly higher than usual. Shares are about 2% away from a 315.94 buy point of a cup with handle.
Apple Up Ahead Of Earnings
Dow Inc. and American Express advanced about 1% each, while Apple rose 1.3% ahead of its earnings report due Thursday.
Apple stock is well extended from a 288.35 buy point of a cup with handle. It's made a successful test of its 10-week moving average. The iPhone maker is an IBD Leaderboard stock.
But Boeing, Intel and Raytheon Technologies gave up more than 1% each. Boeing sank 4% in fast trade after a much wider than expected Q2 loss. Shares are 58% off their 52-week highs.
Visa down more than 1% earlier, pared its loss to 0.4% midday. Late Tuesday, the credit card giant reported fiscal Q3 results. The credit card giant's earnings and sales fell sharply on a year-over-year basis, though less than expected. Visa withheld guidance due to the coronavirus pandemic. The stock is working on a base with a 202.28 buy point.
Growth Stocks To Watch
Over in the IBD 50, Advanced Micro Devices gapped up and surged 13% to a new high. The chip designer late Tuesday delivered Q2 results that topped views and guided higher for the current quarter and full year. Shares are sharply extended from a 58.73 buy point of a cup with handle.
The Innovator IBD 50 ETF rose 1.2%, as Futu Holdings and Innovative Industrial Properties also weighed in with solid gains. Veeva Systems and PayPal added over 3% apiece.
In other earnings news, IBD Leaderboard stock Shopify gapped up and soared 10%, on track for a new closing high. The e-commerce website provider delivered Q2 results that beat forecasts by a wide margin. Shares are well extended from a 784.40 alternate entry and from support at its 10-week line.
Scott's Miracle-Gro surged 12% in heavy trade to a new high. That sent shares gapping up past a 151.13 buy point of a shallow 10-week cup base.
The lawn care products maker reported fiscal Q3 earnings that topped views and raised its full-year sales guidance. It also announced a special dividend of $5 a share and boosted its quarterly dividend by 7% to 62 cents a share.
Wingstop soared 15% in fast turnover after the restaurant chain's Q2 earnings and sales flew past estimates. It also increased its quarterly dividend. The stock cleared a 146.23 entry and remains in potential buy range, which goes up to 153.54.
Analysis of Article 3
It doesn't make sense for individual investors to analyse the short-term moves of individual sense or to worry about the indexes.
Every dog has its day in investing, so it is natural that the Nasdaq, S&P500 and Dow Jones will have their periods of over-performance.