This article will speak about how to get Estonian e-residency. For any questions, or if you are looking to invest as an expat, you can contact me using this form, or use the WhatsApp function below.
Introduction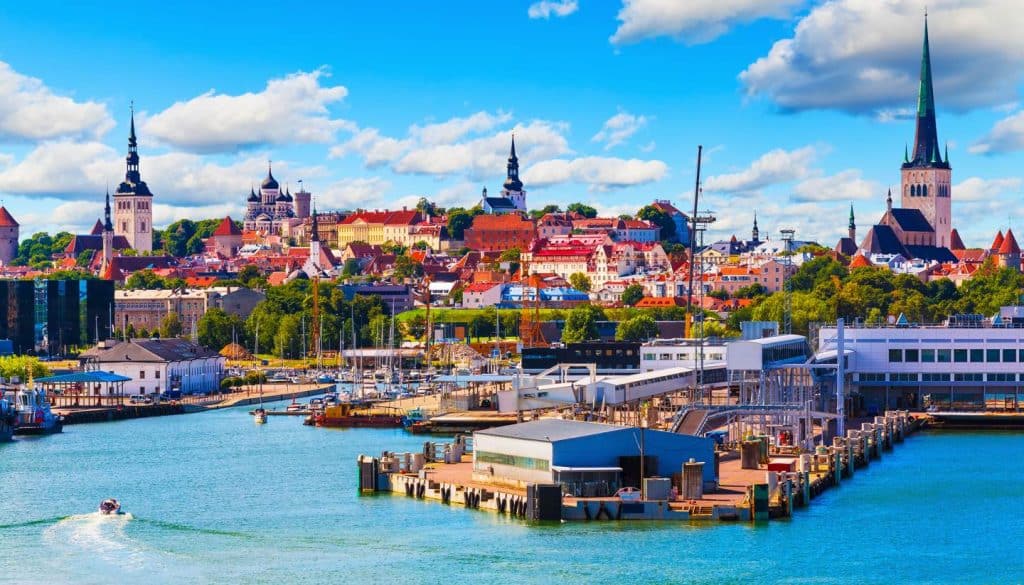 In terms of basic economic indicators and the standard of living of the local population, Estonia is considered to be the most prosperous country in the Baltic States.
Moreover, today this small country is competing successfully with countries such as Poland and the Czech Republic.
The information technology sector is developing successfully in Estonia, with about a third of citizens speaking Russian and an average salary of more than EUR 1 000 per month.
Estonia in 2020 is considered to be the leading country in terms of the number of new company openings per population given that the State authorities have established a simplified system of private business.
This has been basically the only opportunity for the Russian-speaking community to remain in Estonia, since they are employed for civil service only with knowledge of their national language and passport.
Living in Estonia for Russians, Ukrainians, Belarusians, and other foreigners will enable them to obtain Estonian citizenship in the future and to remain in the European Union forever.
Since Estonia joined the European Union in 2004 and became a member of the Schengen Agreement, all residents of the country have the opportunity to travel within the EU and several Western countries without restrictions.
The number of immigrants in the state is very small. Approximately 30 foreigners come to Estonia for permanent residence every year.
Thanks to advanced technology, Estonia is sometimes referred to as the European Silicon Valley: there has been an electronic population census, parliament can be elected via the Internet and digital citizenship is granted to foreigners.
At the same time, the main attractions of the country's capital, Tallinn, are linked not to the technological future, but to the past. Thousands of tourists come here to see the medieval Old Town, its castles and cathedrals.
Benefits of living in Estonia
According to the World Health Organization, after Finland, Estonia has the best air quality in the world. It is a very spacious and safe country.
The clean environment comes with an added bonus: natural and organic foods are Estonia's priority. This means you'll always know what you are eating and will feel good.
A stable economy with an advanced information and innovation sector makes it possible to conduct successful business in Estonia. According to the Doing Business Agency, in 2020 the Estonian state ranks 16th out of 190 countries in the world in terms of accessibility and ease of business.
There are many galleries and theaters in Estonia and many cultural events are taking place, including fairs, concerts, and festivals.
Estonia boasts the largest number of digital services in the world. Most ost everyday tasks are carried out digitally. From online banking to e-school and digital prescriptions, our public services run efficiently and smoothly.
Cost of living in Estonia
Accommodation: Compared to most Western European countries, living in Estonia is quite cheap. Housing and food prices are quite reasonable even in Tallinn. Renting a one-room apartment in Estonia in the central part of the city will cost around EUR 495 and in remote areas around EUR 340. The price of one square meter of real estate in the center is 2,415 euros, and of the city 1,460 euros.
Food: In Estonia, food, consumer goods and services prices in settlements are very similar to those in Moscow. Many city dwellers have acquired personal properties, which will allow them to slightly improve their financial situation in 2020. There are not many stores with cheap goods in Estonia, food is more expensive than in Europe, but of the highest quality. Most of the goods and products sold in Estonia are manufactured in the EU.
Taxes: Estonia has a clear and efficient low-cost tax system. Almost all banking and financial transactions in the country are conducted online, including the payment of taxes. Approximately 95% of all tax returns in Estonia are filed electronically every year.
The company registration procedure can be carried out literally within a few hours with the help of a special ID-card. Estonian corporate tax is levied on dividend payments only.
Job opportunities and salary: A fairly high quality of life is ensured in Estonia, including through wages that are higher today than in some developed European countries. According to the local statistical office, the minimum wage for Estonia in 2020 is EUR 584 per month. The average salary is € 1,404 per month and € 1,160 after taxes. Depending on the region, salaries in Estonia range from EUR 996 to EUR 1.546 per month.
The unemployment rate in Estonia is 3-4%. You must have a high level of qualifications, sufficient experience, relevant education and knowledge of the Estonian language to find a successful job. Knowledge of Russian and English alone significantly reduces the chances.
Local citizens and residents of the European Union have the primary right to work in Estonia. Applicants from third countries, including Russia and Ukraine, may take up vacancy in the Estonian labor market only if the required specialist is not available in the categories mentioned above.
Another condition is to obtain a work permit in Estonia. There are rare exceptions, for example, for university teachers, athletes, seasonal agricultural workers and some other professions. In Estonia, programmers, builders, drivers, doctors and technicians are in demand.
Education: The Estonian higher education system consists of 25 educational institutions, including 6 public universities, 8 public professional universities, 1 private university, 8 private professional universities and 2 public professional institutions.
Tartu and Tallinn are among the best universities in Estonia. The requirements for the admission of international students depend on the specific educational institution. Exams, tests and interviews are often provided in addition to language skills and a high school diploma. The average cost of studying at the Estonian university varies from EUR 1.7 to EUR 7.5 thousand per year.
Healthcare: Estonia has a health insurance system that allows everyone to use the services of a family doctor free of charge. For home visits only, there is a symbolic fee of about 5 euros. The family doctor gives advice on the prevention of diseases, takes preventive measures and, if necessary, refers to other specialists.
E-residency in Estonia
Estonia is often called a "technological miracle", as this country is actively developing its IT sector.
Advanced electronic technologies allow Estonian residents to vote online, draw up documents over the Internet, register a business remotely. 95% of all document flow is stored in electronic format, which significantly reduces the likelihood of bureaucratic hiccups and corruption.
The e-residency program allows almost anyone who wants to become an electronic citizen of the country. This offer is currently the only one of its kind. Many countries, having looked at the successful experience of Estonia, are just preparing to implement an identical program.
The Republic of Estonia was the first to develop and actively use digital technologies for personal identification in all state structures around the world.
As a result, the population receives almost all services via the Internet. It has been available to foreigners for more than 6 years under the Estonian e-residency program, giving them this opportunity.
In 2014, Estonia announced its decision to give users from all over the world the opportunity to apply for electronic citizenship of the country or virtual residence (e-residency).
It should be noted at once that an ID card relying on electronic residents is not equivalent to a normal Estonian passport, does not grant the right to enter Estonia or other EU countries, does not grant the right to a residence permit to a tax resident.
Despite this however, more than four tens of thousands of people from one hundred and fifty countries around the world have already received an e-residency digital card.
So, what is this ID card about? It is a digital ID that reflects the biometric data of the holder (fingerprints, retinal scans), no photo. The document is issued in the form of a plastic chip card.
E-residence is a secure digital identity card issued by the Estonian Government to a person who is not an Estonian citizen and whose place of residence is not Estonia. It is the first such project in the world to provide online access to the country and its services.
Any adult citizen of another country willing to pay about one hundred euros for the service may become an electronic citizen of Estonia. All processes for issuing an ID-card are carried out online, but the applicant will still have to visit the Estonian Embassy to submit the biometric data and to receive the document itself.
Today, Ukraine is leading the way among the countries whose citizens have used e-residency, followed by Finland, Russia, Japan, China and South Korea.
Application procedure
To get an e-resident card, you will need to contact the Estonian police, which makes a decision on granting the required status, for which:
you will need to submit an application with an appropriate motivation letter and attach the necessary documents to it, which include:
– copy of the passport,
– photo of established sizes,
– biometric data to be submitted to the nearest Estonian representation.
You will need to pay a fee of one hundred euros.
Install a program for reading. The starter pack includes a USB reader and a computer connection. The software for reading and scanning the received digital card must be installed.
The decision will be made within 30 days provided for by Estonian law. After you have received and checked the ID-card, you can enjoy all its benefits.
The Estonian authorities hoped to attract foreign investors, representatives of international organizations, foreign specialists, students, lecturers, and applicants interested in foreign digital services by introducing the e-residency program.
The applicant will be refused if:
There is a criminal record.
Estonian representatives did not reveal motivational or economic ties that are the basis for obtaining e-resident status.
The characteristics of the applicant that are at the disposal of the Estonian police or provided by the state where the person lives are negative.
The state duty has not been paid, which, as mentioned, is almost 100 euros.
If the applicant gets a refusal, it does not mean that in future he or she will not be eligible to apply again.
Since you need to prove your right to become an e-resident, you need to do everything right when you apply to the Estonian state authorities or you will receive a negative answer.
There are lots of companies which specialists with sufficient experience in preparing documents which appeal to the necessary government agencies, help individuals to apply for an e-residency by minimizing all existing risks.
Benefits
The secret of such popularity of the program is a number of advantages that ID-card holders get:
The ability to open a company in Estonia via Internet. Such an enterprise receives a European residence permit, the opportunity to enjoy all tax benefits on an equal basis with resident companies.
By the way, if the company does not distribute its profits, but reinvests it, then the amount of income tax will be equal to zero. At the same time, there is no need to pay the authorized capital – it is enough to fix its size on paper.
Access to many state portals is opened, which allows you to submit applications and declarations online. E-residents can log in with their ID-card in electronic banking to make payments, monitor the movement of funds.
Sign documents electronically, conclude contracts, undergo secure digital identification. A digital signature in Estonia has the legal force of an ordinary signature. The smart card has a built-in chip with security certificates. In addition, PIN1 and PIN2 are also provided.
The ability to obtain licenses via the Internet.
E-residents of Estonia in most cases are entrepreneurs who thus decide to acquire an Estonian company and receive all the benefits of such solution, and there are many of them.
After all, a businessman has the opportunity to conduct all business remotely, sign the necessary contracts, submit declarations and reports, look for partners/ investors without personally visiting Estonia.
The government of the country strongly supports foreign business, offering investors attractive tax rates and other benefits.
Security
Data security is a priority for e-Residency and Estonia in general. If the services are not protected, the business is under a high risk.
Estonia suffered a major cyber-attack in 2007. Then banks, government services and even media sites suffered. After that, the Estonians strengthened their cyber security and started using the KSI blockchain technology at the national level. By the way, the Pentagon is now using it.
As a result, not a single successful hacking attempt has been made over the past 12 years. Given that the country records the attacks of hackers every day.
Business security is a concern for all entrepreneurs, and even more so when it's online. The cost of hacking is too high, because attackers can do anything if the data is not secure enough: make a few payments through your company, steal money from others, make you bankrupt, or all of that together.
All services for companies, citizens, and e-residents work in a single X-Road system which uses a unique public key infrastructure (PKI). A multi-level authorization system will simply not give you access without the right key. In addition, the data are transmitted in ciphers so that it cannot be intercepted and decrypted.
Why should you give preference to an Estonian company?
For those living outside the EU, this is the best opportunity to remotely manage a firm in the single European market. Estonian companies have access to global payment service providers such as Stripe, PayPal, as well as the Google Play and App Store mobile app stores.
An Estonian company is a reliable and recognized legal entity that can subscribe to most services around the world. Estonia also has a simple and fair tax system with a zero annual corporate income tax rate if you keep profits in the company or reinvest them.
A reliable national digital ID is required to provide online services to EU residents. Having an Estonian digital ID could potentially mean having a valid online ID in all EU country.
It currently gives you full access to all of Estonia's publicly available online services, such as business register, tax office, etc. But it's important to note two important points:
E-residency does not grant you any right to reside or travel
The Estonian e-residency card cannot be used as a travel document. It also does not grant you citizenship, tax residency, residence permit or the right to enter Estonia or the rest of the European Union.
The Estonian e-residency program gives you the opportunity to apply for a secure digital ID from the Estonian government, which you can only use online. On the face of the ID card is printed "for electronic use only" in Estonian.
If you have been granted permission to obtain a digital identity card, your right to visit or reside in the EU is a separate issue that is governed by various procedures and regulations. Estonia has a startup visa program that gives you the opportunity to move to Estonia with your startup.
E-residency does not make you a tax resident of Estonia
Obtaining the status of an Estonian resident in Estonia does not mean that you become a tax resident of Estonia.
To become a tax resident individual, you must reside in Estonia or stay in Estonia for at least 183 days within 12 consecutive calendar months.
There may be situations where you qualify as a tax resident in more than one jurisdiction and therefore may be a tax resident in more than one jurisdiction.
The most common reason for applying to become an Estonian e-residence is to open a company in the EU. Here is an interesting fact: even residents of EU countries apply for Estonian e-residency.
They use the best Estonian online services, for example, to open and run a company, which are much faster and easier than those offered in many other EU countries.
Despite the above stated, Estonia has its own Golden Visa program for entrepreneurs who have invested more than 65,000 euros in Estonia. The next threshold for large investors will be € 1 million.
A major investor is a non-resident who has made direct investments of at least 1 million euros in a company registered in Estonia that invests mainly in the Estonian economy, or in an investment fund, in accordance with the investment policy of which the fund's instruments are invested mainly in companies registered in Estonia.
Overall, obtaining an Estonian e-residency will be beneficial to entrepreneurs who want to get a European company in a prestigious jurisdiction with favorable taxation.
After all, Estonian companies are not obliged to pay tax on retained earnings. If the profit of the enterprise is used for the development of the company (equipment is purchased, for example), then the tax in this case will be equal to 0%.
The owner of an e-resident ID card has the opportunity to register a business in Estonia via the Internet with minimal costs.
In addition, an electronic citizen of Estonia gets online access to state portals for submitting reports, declarations, and filing applications. The e-residency program allows participants to sign documents, conclude contracts using a digital signature, and obtain the necessary licenses remotely.
To apply, you will need to fill out an online application and attach a photo, scan of your passport and an explanation of the reasons why you want to apply for e-residency. The Estonian government will charge a fee of 100 euros for processing your application.
After submitting your application, you will have to wait 4-6 weeks for the data verification to be performed and the card issued.
Then you can get your digital e-resident ID card in Estonia, at the Estonian embassy abroad, Consulates, as well as at other points of issue of documents, the number of which is constantly growing. Please note that card issuance fees may apply outside Estonia.
To summarize, we can say that the e-resident program is unique in its kind and offers its members attractive conditions. An e-resident will be able to establish a company in Estonia, open a bank account, access state portals, sign documents and conclude contracts online.
Tags
can i travel to estonia with e residency
,
e residency countries
,
e residency estonia tax
,
estonia e residency benefits
,
estonia e residency cost
,
estonia e residency validity
,
estonian e residency pros and cons
,
estonian e residency reddit
,
Estonian e-residency
,
How to get Estonian e-residency
,
How to get Estonian e-residency 2021