This article was updated on January 4, 2022
RBC wealth management review/reviews. That will be the topic of today's article.
This article will review RBC. After speaking about some good investment options for Canadian expats before, this article will look more closely at one of Canada's largest banks which also services the expat community.
It will explain why RBC aren't bad for pure banking solutions, although many challenger online banks will undoubtedly take market share in the coming years, but far better options exist for wealth management.
If you are looking to invest especially in expat-focused solutions, or have any questions in general, you can contact me on this page, or email me – advice@adamfayed.com.
Introduction
Wealth management is an investment advisory service that integrates other financial services to meet the needs of wealthy clients.
This is a consultative process in which the consultant collects information about the financial goals of the client and develops an individual strategy using appropriate financial products and services.
A wealth management advisor or asset manager is a type of financial advisor that uses a range of available financial disciplines such as financial and investment advice, legal or property planning, accounting and tax services, and retirement planning to manage wealthy client's assets for one established contribution.
Wealth management practices vary by country, for example, if you are in the United States vs Canada.
Wealth management is something more than just an investment advice, as it can cover all parts of a client's financial life.
The main idea is that instead of trying to combine financial advices and different products from a number of professionals, high-income people extract from a holistic treatment in which a manager coordinates all the services essential to operate their funds and plan their own or current and the future needs of their family.
Although the use of a money manager is based on the theory that he will be able to provide services in any aspect of the financial sphere, some prefer to specialize in certain areas. This may be set up on the experience of the wealth manager under consideration or in the core business of the wealth manager.
*Some short points.
Wealth Management is an investment advisory service that integrates other financial services to meet the needs of their wealthy clients.
A Wealth Management consultant is a qualified professional who operates the wealth of a high-net-worth client for one set fee.
Wealthy customers benefit from a holistic approach in which a manager coordinates all the services needed to operate their funds and plan their future.
This service is mostly suitable for wealthy people with a big investment and a wide range of various needs.
In this article we will review one of the largest and powerful companies, called RBS Wealth Management, which provides high-quality services, high-level advices and try to show an individual approach to every client they work with. Let's go!
RBS Wealth Management Overview.
RBC Wealth Management is a division of RBC Capital Markets, LLC, which is a branch of Royal Bank of Canada.
The company manages about $ 348 billion of private customer assets in the United States and they are the biggest bank in Canada on some measures as per the stats below: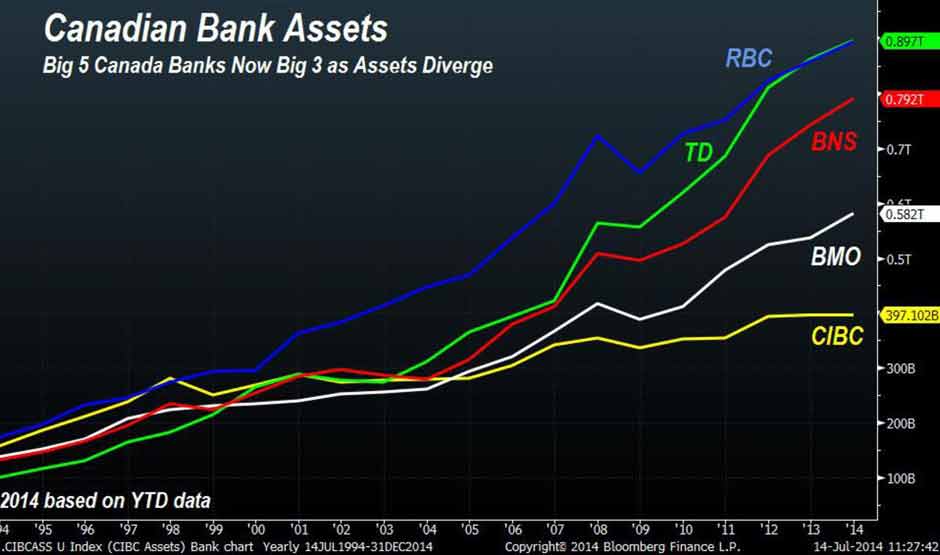 It employs 1,800 financial advisors and works in 200 locations in 40 states. The division offers financial services for all kind of individuals and families, senior citizens, business owners, as well as corporations and institutions. Minimum company bills vary by program and service and start from $ 2,500.
RBC Wealth Management provides a full range of banking, investment services, in addition asset management services through its own business and with the help of third parties.
RBC in Canada, the US and offshore are often separate entities.
*About third-parties
As noted above, some RBC Wealth Management programs can be operated by a third party.
In particular, the company's RBC Total Portfolio is a unified managed account controlled by Envestnet Asset Management, which can also oversee RBC's unified portfolios.
Various programs include various investment managers or overhead management fees, in addition to the RBC Wealth Management fee, which applies to all accounts.
RBC Wealth Management has been in its present form since 2008. The firm initially was spreading its activity under the name Dain Rauscher until it was obtained by the Royal Bank of Canada in 2001.
The firm comes from numerous regional firms in the U.S. that come together to form an asset management company, which is currently the fifth largest asset manager in the world by asset, according to a 2017 Scorpio Partnership on Global Private Banking review.
Royal Bank of Canada and its branch offices work under the main RBC brand.
It is one of the largest banks in Canada and one of the largest banks in the world based on market capitalization. RBC is one of the leading diversified financial companies in America, which provide personal and commercial banking services.
The company has about 79K full-time and part-time employees who work with more than 15 million individuals in Canada, in the United States, and 44 other countries.
Pros:
Offers personalized investment advice.
Includes tax planning and estate planning.
Wide range of wealth management services.
Competitive investment cost ratios.
The World Economic Forum has called RBC one of the most sustainable large organizations in the world for investing in the communities where they live and work.
High-quality financial advisors.
Cons:
Minimum amount of about $2500 to open an account.

Fee schedule is not multi-level, which may not always work in favor of customers with higher prices.
High fees in general. Much cheaper and better options are out there.
Often they are actively managing accounts rather than buying ETFs
They often make it very difficult for customers to leave and try to delay the process. I have spoken to numerous people who claimed that the bank delayed once they told them they were joining another wealth management company, with coronavirus being one of many excuses made.
They are trading on brand name.
How RBC chooses its clients?
RBC Wealth Management is a global organization. The business model is based on building relationships in the long run.
The company calls itself aimed on customer finance growth. Beginning in 1910, they began a steady expansion in 2000 and the opening of the London office really marked the beginning of their global journey, meanwhile the company moved from the American continent to Europe.
Actually, this spurred their further journey around the world. Diversification of knowledge and deepening of understanding are the company's key points to success.
They strive to attract investors with a global exorcism to superiority. Judging by the investor satisfaction index of 2013, they are among the best "players". Thus, as of 2013, the level of investor satisfaction exceeded the industry average.
The question is what served as the basis for this view. How or what led to this kind of performance? Well, in this context, you need to understand the business model. Their approach to investors is super crucial.
As already mentioned, RBC Wealth Management is working with individuals and families, as well as with retirees.
The company's services for these customers include cash and credit solutions, insurance solutions, trust services, retirement income planning, financing education, gift and charity decisions and responsible investment.
It also specializes in working with business owners, offering many of the above services as well as retirement plans.
Corporations and Institutions are also included in the client base of The RBC Wealth Management. For these clients, RBC can provide pension plans, corporate and executive services, as well as fiduciary support through institutional advisory services.
However, a bigger issue is that RBC often cross sells people between bank accounts and wealth management accounts, taking advantage of their position in the market.
RBC Accounts.
Such as many huge and powerful asset management companies that offer a wide range of account types and services, RBC Wealth Management has minimum account demands which are varying by the chosen program. Individual consulting services provided by the company have the following minimums:
RBC Unified Portfolio: $2,500
Portfolio Focus: $50,000
RBC Advisor: $25,000
Consulting Solutions: $100,000 for accounts using RBC Wealth Management as the manager may have another account minimum. These minimums depend on the model portfolio selected and can range from $2,000 to $250,000, for fixed income accounts.
Managed Account Program (MAP): $100,000
RBC Total Portfolio: $250,000 for accounts utilizing model portfolios and $25,000 for accounts utilizing only mutual funds
However, the minimum for the company's Institutional Consulting program is about $5 million.
*Accounts for high-net-worth individuals.
For affluent investors, RBC has a special offer called 'The RBC Private Wealth' program, available exceptionally to customers who have invested at least $ 5 million in RBC.
This program aims to meet financial needs arising from vital wealth. The program has three main areas of activity; the accumulation, the protection and the distribution of wealth during your life and after you die.
Wealth accumulation includes investment management, stock options trading strategies, and limited interests in stocks and businesses.
The coverage of the areas such as insurance and power of needs is the responsibility of wealth protection part, while material distribution extends to donations to family members and charities.
For rich families, RBC also has a special offer, the idea is a group of asset management professionals. It provides the clients with wider access to experts through the RBC global network who are experienced in fields such as wealth protection and real estate planning.
How to open a RBC account?
There is actually nothing difficult in opening an account, to open it with RBC Wealth Management, you will have to sign a consultative agreement before registering with any of the available programs.
This agreement gives you a allowance to make several transactions in your own account and update it when needed. But for opening accounts called Consulting Solutions, MAP, Portfolio Focus, RBC Advisor or RBC Total Portfolio, you need to sign a separate client agreement; Single Program Agreement.
This is literally the same agreement as in the previous one, but it may have slightly other conditions. The firm offers potential customers two ways to start this process and talk with a consultant: the first option is when they provide their contact information so that RBC could contact them, or the second one is that they just fill in a short survey to find a consultant that suits their goals and desires. Also you can find a local advisor, with the help of the provided special page in their website.
RBC Wealth Management sponsors a range of specialized counseling programs. In each RBC program, managers work with clients to determine their goals and needs, which will determine their investment strategy. Let's see what kind of programs the company offers:
RBC Unified Portfolio: Customer accounts are unified, and are managed by RBC or a third-party manager, in this case the third-party manager is Envestnet Asset Management.
RBC Total Portfolio: Another single managed account in which the accounts are uniquely managed by Envestnet Asset Management.
Consulting Solutions: Customers can choose an investment manager, an investment strategy and a model provider.
Managed Account Program (MAP): The accounts are being managed by a single or more investment managers, according to their risk profile.
Portfolio Focus: The accounts are operated by RBC according to their risk tolerance and an assessment of their goals and expectations.
RBC Advisor: Customers receive non-discretionary advice on appropriate securities, and an investment strategy according to their risk profile.
RBC Investing Fees.
RBC Wealth Management practices a fee-only payment model.
The principal privilege of this model is that clients do not need to worry about the fact that their money managers are affected by commissions when providing financial recommendations.
Paid consultants have a fiduciary responsibility towards their clients, which means that they are legally obliged to put the interests of their customers in the first place and cannot sell them a product that they do not need or that runs counter to their goals or risk tolerance.
The company may charge its customers a percentage of wealth under management, fixed fees and usually other commissions for its investment advisory services. Customers who have accounts registered in the advisory program pay an annual asset-based commission due on a quarterly basis.
The precise fees differ depend on the program, and also on the size of the account, the time during which you have a RBC account, the total amount of activity that you build with RBC, plus the types of security services provided.
Anyways, RBC Wealth Management claims that the maximum annual fee is usually less than 3%. Company's schedule of commissions shows the annual rate for accounts up to $ 25 million is 2.50%.
For higher value accounts, the commission rates are negotiable. Differently, clients having Managed Accounts Program have an option to choose between a fee method and a commission method.
Besides the program fees, clients can pay management fees to investment managers and model suppliers, tax fees, and overhead management fees.
Let's see more detailed how you have to pay for financial advices according to your invested amount.
As already mentioned, for investments up to $25 million you will be charged only 2.50%. If you want to invest an amount of $500.000 the fee for advices will be 2.50%, which is equal to $12.500. If you invest $1.000.000, you'll have to pay $25.000, etc.
Please note also that RBC in Canada, America and other locations might charge different fees.
*Commissions and other fees.
The correspondence between commissions and direct fees is crucial. This often helps you understand the final payouts. Usually, this is a key factor in determining the type of commission.
It is the 5th global wealth management company in terms of revenue. It offers high-level services and is proud of deep customer relationships. In the end, the company must do something right in order to become one of the best global companies. Surely, the fee structure plays the most essential role.
Regardless of commission or direct fees, clarity is crucial and the transparency is also becoming very important. Typically, commissions are determined as a percentage of the service suggested.
The structure of direct commissions has a fixed payout schedule. As in every kind of business the more you sell, the better you earn. Paid structure is relatively more expensive than other wealth management companies.
More about services provided by RBC.
There exists several wealth management companies that suggest a full range of services, to compare there are others with a limited service profiles.
But all services provided by RBC have its costs. As a rule a full-service company processes a full package of services, in this way, they help you create trusts and operate portfolios.
Certainly, these full-service firms should also hire high quality staff. It is this quality of staff that determines the success of their investments, and only they help the company to grow and include investors.
When the growth is between better investments and higher rates, you will choose the first one.
Compared to this, lower level specialists often work in a limited service company, they are software based and rely heavily on automation.
In fact, the growth prospects are completely different, but possibly in the context of RBC Money Management, this is a key factor.
Before taking vitality into account, you need to consider quality and usually, the wider the service, the higher the fee.
So if you see the structure of expensive commissions, study the services the company suggests you and everything will be understandable.
It is very important to describe in detail the scope of services they offer, investors should conduct an in-depth study of RBC's asset management, and transparent documentation of their services will help investors make better decisions.
This is what will help you to determine the possible success you can expect. In many ways, this is the biggest factor.
Plausibility of the company.
The wealth management company you are interested in must also be properly audited. It is important to know that you invest your funds in safe hands.
The privilege of a full-service company is that they hire qualified and certified accountants, which means that experienced professionals take care of your assets.
In contrast, you will see that a limited service company also offers some general services.
According to some public reviews RBC was one of the best asset managers and this type of public reviews can also enhance recognition.
This shows the relative popularity of the company that you decide to choose. In this context, it is important to mention that RBC Wealth management is not an accredited any of the reviewers. This is usually the accreditation that companies are looking for by themselves.
If RBC's wealth management is not accredited, this may mean that they have not submitted an application. This may not reflect directly on the aspect of trust. This helps people figure out what the business situation is, this is more like an investigative exercise.
So in this context, the idea is to identify a potentially strong player. So accreditation is certainly a big advantage, but at the same time, his absence cannot be connected to failure.
Conclusion
RBC is fine as bank account facilitator. Using them in this way has many advantages for expats, especially those who are Canadian expats in nearby locations like the United States.
On the wealth management front, there are much better options than RBC.
Their fees are too high, they have been known to make withdrawals difficult and they often actively trade clients accounts.
Many people using them have complained of a lack of transparency and not sharing the details of their portfolio.
Clarity and transparency are critical when dealing with your investments.
In the future, excellent challenge banks like Monzo and Revolut might take more market share from these traditional providers.
On the expat front, people need speedy and portable advice no matter where they go in the world.
In some ways, covid and the lockdown has also exposed how outdated many banking models are.
Most of the banks were slower to adapt to service client requests compared to digital providers.
Further Reading
The article below asks if there will be new expat taxes on the horizon due to the huge government deficits.