Saxo Bank Trading Platform Review
If you are looking to invest as an expat or high-net-worth individual, which is what I specialize in, you can email me (advice@adamfayed.com) or WhatsApp (+44-7393-450-837).
Introduction
Here's a review of the Saxo Bank trading platform.
Online trading and investment services are offered by Saxo Bank, a Danish investment bank established in 1992.
The company is governed by a number of financial regulatory bodies around the world, including the UK's Financial Conduct Authority and the Danish Financial Services Agency (FSA) (FCA).
Being a global service provider, Saxo Bank runs a number of distinct legal entities in various parts of the world. The services provided by the various entities may vary slightly, particularly in terms of costs and product selection. In this review, Saxo Markets UK was put to the test.
Saxo Bank's safety is enhanced by its long track record, banking background, and regulation from top-tier financial authorities.
What is Saxo Bank
Danish-based Saxo Bank was established in 1992. We have more evidence that a broker has successfully weathered prior financial crises the longer the broker has been in business. A track record of about 30 years in business is considered to be strong.
Saxo Bank is subject to stricter regulations than brokers without a banking background because it holds a Danish banking license.
Saxo Bank conducts business in a transparent manner; it releases reports on its financial performance and provides specifics about its ownership structure and management group. It was incredibly transparent that, despite not being listed, it occasionally publishes in-depth financial information.
Additionally, Saxo has committed to monthly publication of key metrics pertaining to its activity, including retail assets under management as well as daily average and monthly trading volumes.
Saxo's banking license, supervision by top authorities, and routine financial data disclosure are all excellent indicators of Saxo's security.
How to Open a Saxo Bank Account
Account opening with Saxo is entirely digital, user-friendly, and accessible in most countries. However, the minimum deposit can be high and the verification process can be drawn out in some nations.
With a few exceptions, Saxo welcomes clients from all over the world. For instance, if you reside in the US, Iran, Cuba, Sudan, Syria, or North Korea, you are not eligible to open an account.
Saxo Bank Account Types
For UK residents, Saxo Bank offers three different account types (types of accounts may vary internationally):
Classic: minimum deposit £500
Platinum: minimum deposit £200,000
VIP: minimum deposit £1,000,000
You can benefit from more affordable pricing structures with Platinum and VIP accounts, and Platinum account holders have a specific point of contact.
You may also create tax-advantaged ISA/SIPP accounts if you are a UK resident.
Additionally, Saxo offers corporate accounts.
After the approval, you must fund your account in order to activate it. Depending on the method of deposit, funding can take 1 to 5 business days.
How much does Saxo Bank require as a minimum deposit?
A Classic account with Saxo Bank must have a minimum deposit of £500.
Depending on where you live and the type of account you choose, different minimum deposits apply. Customers from the Middle East or Central Europe, for instance, must pay a minimum of $2,000, but customers from Denmark must pay nothing.
Look at the following for information on the minimujm deposit needs for Classic accounts in various nations:
Saxo Bank minimum deposit
UK: £500
Denmark: No minimum deposit
Norway: No minimum deposit
Switzerland: CHF 2,000
France: €2,000
Netherlands: €2,000
Australia: AUD 3,000
China: $2,000
Hong Kong: $2,000
Singapore: SGD 3,000
Other countries: $2,000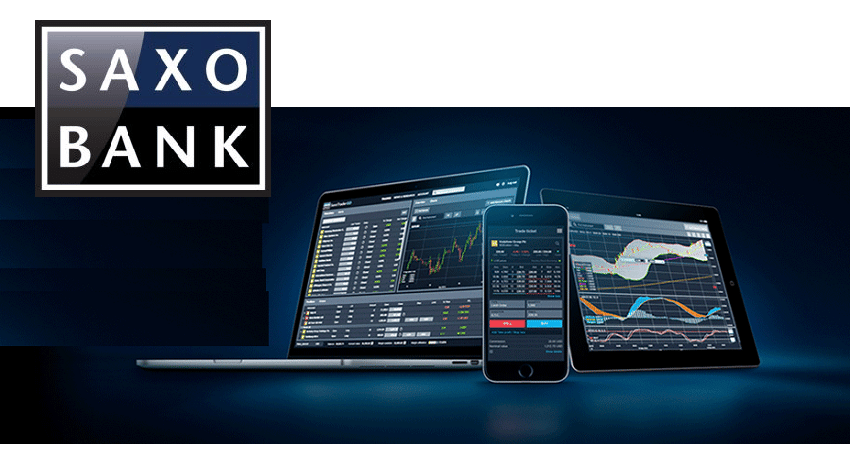 Pros and Cons of Saxo Bank
A top-notch and thoughtfully created trading platform powers the Saxo trading experience. The Saxo research team continuously offers trading ideas as part of their excellent research services. Even heavy traders' needs are met by Saxo's broad product portfolio.
On the downside, Saxo charges high trading fees for bonds, options, and futures. Depending on your residency, the minimum deposit can range from $600-$2,000. There is also no round-the-clock accessibility or live chat customer support.
Pros of Saxo Bank
Exceptional trading platform
Outstanding research
Broad product portfolio
Cons of Saxo Bank
High fees for bonds, options, and futures
High minimum deposit
No live chat or and 24/7 accessibility
Saxo Bank Trading Fees
Trading fees at Saxo Bank are generally average. Although the fee structure varies depending on the type of account, it is transparent and you can easily figure out your costs. Pricing is more palatable for Saxo's Platinum and VIP accounts.
It is advised to use Saxo if you want high-quality service and are willing to pay a little bit more for it. Discount brokers are most likely a better choice if you're looking for a deal. Let's examine Saxo's fees for various asset classes in more detail now.
Saxo Bank Stocks and ETFs Fees
Saxo Bank charges average commissions for stocks and ETFs.
Saxo Bank stock and ETF commission of a $2,000 trade:
US stock: $10.0
UK stock: $11.2
German stock: $12.0
Saxo Bank Forex Fees
Overall, Saxo Bank charges low foreign exchange rates, which compare favorably to those of a few of its chosen rivals.
The calculation of forex benchmark fees for popular currency pairs is provided below so that you can see the fees in detail. Commissions, spreads, and financing costs for all brokers are included in this all-inclusive benchmark.
Saxo Bank forex benchmark fee of a $20,000 30:1 long position held for one week:
EURUSD benchmark fee: $6.9
GBPUSD benchmark fee: $4.7
AUDUSD benchmark fee: $5.1
EURCHF benchmark fee: $5.1
EURGBP benchmark fee: $8.3
Saxo Bank Fund Fees
Low mutual fund fees are offered by Saxo. Saxo does not charge a fee when you trade mutual funds, but the fund manager, not the broker, is the one who levies an annual maintenance fee on these assets.
Only a few nations, including Germany, Denmark, and Poland, do Saxo offer mutual funds. The fees for Saxo's UK product selection were examined throughout this review; however, since mutual funds are not offered in the UK, the benchmark comparison that follows only provides a broad comparison.
Saxo Bank Bond Fees
Bond fees at Saxo Bank are typically very high.
Saxo Bank commission of a $10,000 government bond trade:
US Treasury bond: $96.0
EU government bond: $96.0
Clients pay a minimum charge and a commission of 0.2% based on volume. At €80, the minimum cost is very high.
Lower fees apply to Platinum and VIP accounts (0.10% and 0.05%, respectively, with a minimum of €60 and €50).
Saxo Bank Options Fees
In general, option fees are high.
Saxo Bank, in contrast to most brokers, levies a holding fee for long positions kept overnight. The first 30 days of any position are exempt from holding fees, though.
The Saxo Offer Financing Rate is the basis for the funding rate used to determine the carrying cost, plus a markup (150 bps).
Saxo Bank stock index options commission of 10 contracts:
US stock index options: $30.0
UK stock index options: $35.0
German stock index options: $48.0
Saxo Bank Futures Fees
Like options, Saxo Bank imposes steep commissions on futures. With the exception of CHF, where the fee for futures is CHF 8, which is double the rate charged for options, futures fees are largely the same as options fees.
Saxo Bank stock index futures commission of 10 contracts:
US micro e-mini stock index futures: $40.0
UK stock index futures: $42.0
German e-mini stock index futures: $48.0
Saxo Bank levies a carrying fee for overnight futures positions, in contrast to the majority of brokers. For positions held over night, the carrying cost is determined based on the daily margin requirement. If you keep the contract for a longer period of time, this sum can become quite significant.
The relevant interbank rate is used as the base for the funding rate, which is then marked up (250 bps for Classic accounts).
Saxo Bank CFD Fees
Although Saxo Bank offers low stock index CFDs, its stock CFD fees are high.
To clearly understand CFD fees, a benchmark CFD fee for a few particular products are provided below. All brokers' commissions, spreads, and financing costs are included in this all-inclusive benchmark.
Saxo Bank CFD benchmark fees for a $2,000 long position held for one week:
S&P 500 index CFD fee: $1.2
Europe 50 index CFD fee: $1.6
Apple CFD fee: $21.7
Vodafone CFD fee: $24.5
Saxo Bank Crypto Fees
At Saxo, you can trade cryptocurrencies using Crypto FX and exchange-traded products (ETPs) (coin crossed with a fiat currency). Visit our article on how to invest in Bitcoin for more information on crypto ETPs.
ETPs are priced similarly to stocks and ETFs and traded on various exchanges. For instance, 0.1% of the trading volume plus a minimum fee of SEK 65 for a Saxo Classic account make up the trading cost of ETPs listed on the Stockholm Stock Exchange.
Spreads are used to determine the price of cryptocurrency FX. As an illustration, the BTCUSD spread on the Saxo Classic account is 160.
SaxoSelect Fees
With SaxoSelect, a robo-advisory service, you can choose an investment theme and have Saxo create your portfolio.
Depending on where you live and the strategy you choose, the average fee for this service ranges from 0.75 to 0.95% of the investment value. The fee consists of:
an annual service fee
a performance fee
a trading fee
a conversion fee if your account is in a different currency than your portfolio
a financing fee for CFD portfolios
Similar to mutual funds, SaxoSelect is only offered in a select number of nations, such as Germany, Denmark, and Poland. UK customers are not permitted to use it.
Saxo Bank Non-trading Fees
Non-trading fees at Saxo Bank are average. Although the broker does not charge for accounts or withdrawals, there is a significant inactivity fee.
The inactivity fee varies according to where you live:
For UK clients, inactivity fee is known as a platform fee and is £25 per quarter. If all of the funds in your account are cash, a fee is assessed. You won't be assessed the platform fee if you've already paid a custody fee (more on that later).
For non-UK clients, the inactivity fee is $150 after six months (180 days) of inactivity. Inactivity in this context refers to failing to complete at least one trade.
You will be assessed a custody fee if you keep bonds, ETFs, or stocks in your account:
This amounts to a minimum of €10 per month for UK residents and an annual 0.12% of open positions. Despite being deducted monthly, fees are calculated daily.
It is an annual 0.25% of open positions for the majority of other nations, but the minimum is €5 per month. The custody fee is decreased to 0.12% and 0.20 percent, respectively, for Platinum and VIP customers. As a service subject to Value Added Tax (VAT), the custody fee is also subject to VAT. The Danish VAT rate of 25% is applicable to investors who live in the EU, while there is no VAT for investors who live outside the EU.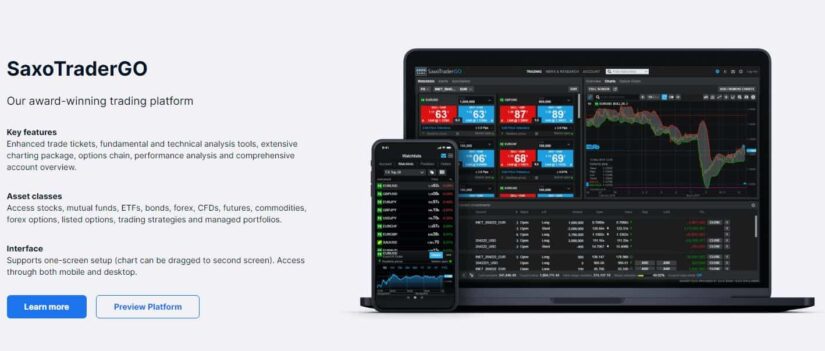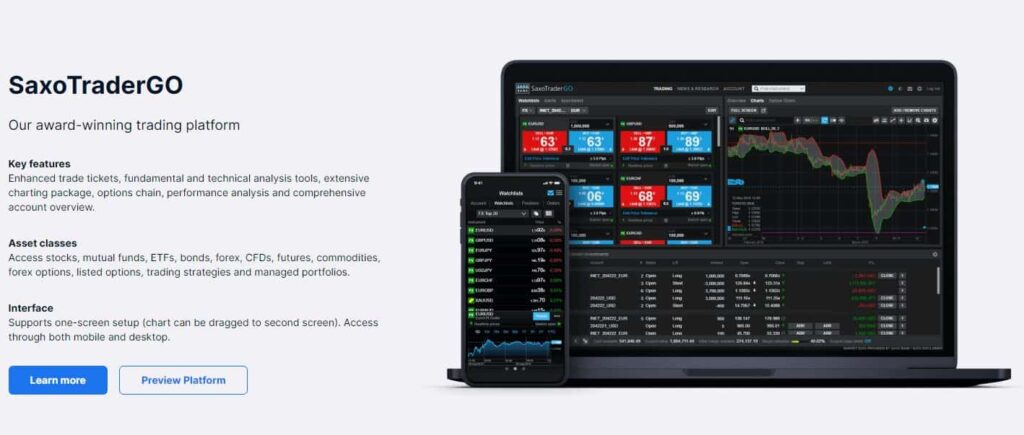 Saxo Bank Trading Platform – Web Version
The web trading platform provided by Saxo Bank is among the best available. The platform is simple to use and offers professionals-only features like an advanced order panel.
Saxo Bank's desktop trading platform is known as SaxoTraderPRO, while its web trading platform goes by the name SaxoTraderGO. Saxo is the creator of both. For trading or portfolio management, you can also use other, external platforms.
The web trading platform supports an incredibly wide range of languages: Arabic, Bulgarian, Chinese, Croatian, Czech, Danish, Dutch, English, Estonian, Finnish, French, German, Greek, Hungarian, Italian, Japanese, Latvian, Lithuanian, Norwegian, Polish, Portuguese, Portuguese-Brazil, Romanian, Russian, Slovakian, Slovenian, Spanish, Swedish, and Turkish.
SaxoTraderGO Platform
SaxoTraderGO is a fantastic platform, but two aspects in particular stand out to us: its contemporary aesthetic and user-friendliness.
The platform can be easily customized to suit the needs of both new and experienced traders. Customizability, however, has some restrictions. For instance, you can alter the size of some tabs but not their relative positions.
SaxoTraderGO Login and Security
Saxo Bank offers an optional, safer two-step login process.
SaxoTraderGO Search Functions
The search functions on Saxo are excellent. Relevant search results are displayed, and they are organized by asset class. The results of a search for Apple include Apple stocks, CFDs, and options.
The right side of the search box has a drop-down button for results filtering. For instance, you can filter forex search results for popular currency pairs or restrict stock search results to particular nations.
Placing Orders on SaxoTraderGO
There are numerous order types and order time limits available.
The list includes:
Market
Limit
Stop limit
Stop
Trailing stop
One-cancels-the-other (OCO)
Additionally, a number of order time limits are available:
Good-till-canceled (GTC)
Day Order
One week
One month
End of week
End of month
End of year
Good-till-date (GTD)
Immediate or cancel (IOC)
Saxo offers excellent fee transparency. You will see a "Trade Ticket" when you open the order panel, which contains a wealth of useful details like costs or margin requirements.
SaxoTraderGO Notifications and Alerts
You can use a variety of alerts, including:
Price alert
Position closing/opening
Portfolio change
Margin call, etc.
Platform notifications are accessible via email or pop-up messages.
SaxoTraderGO Reports on Fees and Portfolios
Reports on the portfolio and fees are open. Under the 'Account' tab, reports can be viewed and downloaded. Your historical profit/loss total and costs incurred are visible and simple to follow.
Saxo Bank Trading Platform – Mobile App Version
The user-friendly mobile app from Saxo Bank has a similar look and functionalities to the web platform.
The mobile trading app from Saxo Bank is available for both iOS and Android devices.
The app has the same search capabilities, order types, and alerts as the web trading platform. It is also available in the same languages. Two-step authentication is offered.
However, the platform's usability falls short of that of the web trading platform. The sleek, contemporary design was appealing, but you could be a little let down by the menu's convoluted layout, which made it occasionally challenging to locate what you are looking for.
Saxo Bank Trading Platform – Desktop Version
One of the best desktop trading platforms available is from Saxo Bank. It is well made, simple to use, and highly customizable.
The desktop version of Saxo Bank trading platform, SaxoTraderPRO, resembles its online counterpart.
In addition, the desktop version offers more sophisticated customizability in keeping with the "PRO" tag. You can set up your own trading environment and run up to six windows at once. The size and placement of each window can be changed.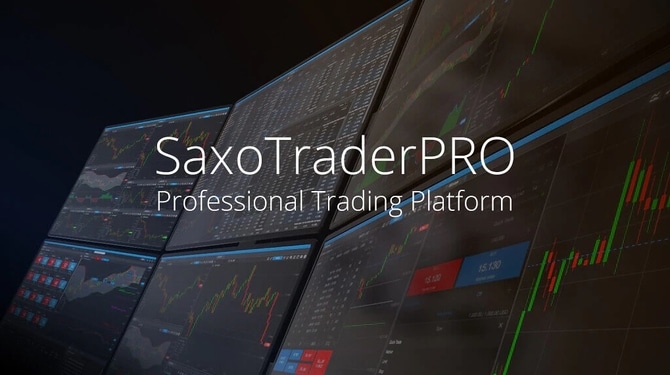 Saxo Bank Trading Markets and Products
All asset classes and a wide range of international markets are included in Saxo Bank's product portfolio. The selection could only be made better for mutual funds.
The product line-up at Saxo Bank is outstanding. Everything is available, including stocks and CFDs.
It offers a broad range of products for more complicated assets like FX swaps, options, futures, and CFDs. Its selection of products in more conventional asset classes like bonds, ETFs, and stocks is competitive but not the best. Saxo's offerings for cryptocurrency and mutual funds are inferior to those of its rivals.
ETFs and Stocks
Customers of Saxo have access to numerous stock markets. You can trade on both larger markets like the Deutsche Börse or the US stock exchanges as well as smaller ones like the Warsaw or Prague stock exchanges.
Saxo has 50 stock selections and 6,400 ETF selections
Forex
Among all brokers, Saxo has one of the best selections of currency pairs. Customers at Saxo Bank can also trade Forex Swaps (FX Swaps). Saxo has a total of 190 currency pairs.
Funds
Mutual funds are a relatively new addition to Saxo's product line and are only offered in a small number of nations, including Germany, Poland, and Denmark.
There are fewer mutual funds than equivalent competitors. Saxo offers mutual funds from many well-known companies, including BlackRock, Franklin Templeton, Pinebridge, and Janus Henderson.
There are 17 mutual fund options at Saxo Bank.
Bonds
Saxo offers 40,000 bonds selection. Bonds from both governments and corporations are included in the product portfolio.
Options
At Saxo, there are many options markets available. There are well-known stock exchanges like the Euronext and Chicago Board Options Exchange (CBOE) where you can trade, but there are also lesser-known ones like the Hong Kong Stock Exchange (SEHK).
Options on currencies, stocks, indices, interest rates, futures, and commodities are all available for trading.
Saxo Bank offers 20 options selection.
Futures
Similar to options, Saxo Bank offers extensive futures market coverage, 28 in total.
You can trade futures using Saxo Bank on the following underlying asset types:
Commodities
Stocks
Equity indexes
Bonds
Currencies
Saxo Bank CFD selection:
Stock index CFDs: 29
Stock CFDs: 8,800
ETF CFDs: 675
Commodity CFDs: 20
Bond CFDs: 8
Futures CFDs: None
Cryptos
Cryptocurrency can be traded using ETP or Crypto FX (coins are crossed with fiat currencies). Visit our article on how to invest in Bitcoin for more information on crypto trading.
As of January 6, 2021, the FCA has prohibited the sale of crypto-derivatives to retail customers in the UK. Additionally, Singaporean citizens cannot access the cryptocurrency selection.
SaxoSelect
SaxoSelect combines a robo-advisory service with mutual funds. If you don't want to manage your investments on your own or just need to boost your confidence in investing, it is advised.
Depending on your risk tolerance, you can select from a variety of trading strategies and portfolios. Although the minimum investment typically starts at $20,000, fees can range from 0.5% to 1% of the invested amount. Comparatively speaking, this fee is quite high for robo-advisors.
Saxo Rewards
Saxo Bank also offers a loyalty program called Saxo Rewards, which is somewhat unusual among the brokers we reviewed. After each trade, you may earn points (between 30 and 110), depending on the asset you traded and the volume. You can upgrade to a Platinum or VIP account after earning a predetermined number of points. For a Platinum upgrade, you'll need 120,000 points, and for a VIP account upgrade, 500,000 points.
Saxo Bank Trading Research Services
The research services of Saxo Bank include recommendations and comprehensible interactive charting, as well as highly developed tools for both fundamental and technical analysis.
The majority of Saxo Bank's research tools are available on its website and various trading platforms.
Trading Ideas
There are numerous analyses and suggestions on Saxo Bank trading platforms.
Fundamental Data
Saxo offers extensive information on stock fundamentals. Only a select few, like Apple, Microsoft, and Barclays, are offered without charge; in order to access data on other stocks, you must be a subscriber.
Both recent and past data are available. You can create your own benchmark analysis in addition to data such as ownership structure, financial statements, valuation, or peer group comparison. Information on the target price and analyst consensus are also available.
Charting
The interactive chart feature is excellent and simple to use.
You can add numerous editing tools, such as trendlines or Fibonacci tools, and there are 50 technical indicators available.
A trading signal tool is also available; it provides buy and sell signals based on technical indicators. An independent research firm called Autochartist provides the power behind this feature.
News Feed
You can also find a news feed and an economic calendar on the Saxo Bank trading platform. You can't filter news by assets, which is a minor drawback.
You can read more news, daily commentary, articles with long-term outlooks, and professional opinions on the Saxo website under the 'Inspiration' menu.
Other resources for research you might like
A fantastic stock screener allows you to filter stocks by nation, industry, and financials.
To find US tech companies with a P/E of less than 15 and a market cap greater than $1 billion, for instance, requires only two clicks on the screener.
Podcasts, quarterly outlooks, and outrageous predictions
Saxo Bank offers extra resources for your research.
Quarterly outlooks offer a thorough examination of potential market changes. Both of these are broader forecasts or are related to global events like the US midterm elections or pandemic developments.
Different from outrageous predictions, these are predictions for the current and following year that intentionally break the consensus.
You can learn more about current market trends by listening to the daily podcasts.
Saxo Bank Customer Service
Numerous languages are supported along with phone and email support that, despite minor hiccups, functions effectively. Cons include the absence of live chat and the 24-hour accessibility.
Saxo Bank can be reached by phone or email.
Saxo offers a wide range of languages for customer service as well as for its trading platforms. Even obscure languages like Hungarian were included in the supported languages.
Saxo's customer service is good overall. On the phone, relevant responses are expected, but the connection was slow. Email replies took a day to arrive, but they weren't always accurate.
A chatbot, which functions like a knowledgeable FAQ, is another option. It can respond to general inquiries like "what is the inactivity fee," but it cannot respond to specific questions. This issue could be resolved by having a live chat option. Additionally, they have a Support portal that functions very similarly.
In 16 offices around the world, Saxo's phone customer service is only accessible Monday through Friday from 9:00 am to 5:30 pm local time.
Saxo Bank Education and Tutorial
Saxo Bank has a lot to offer if you want to increase your financial literacy. You can watch instructional videos, participate in webinars, or use a demo account.
You can educate yourself at Saxo Bank in the following ways:
Demo account
Platform tutorial videos
General educational videos
Webinars
A demo account can be used to get acquainted with the platform. It is, in our opinion, the best way to become familiar with the Saxo Bank Trading Platform.
You can also join Saxo experts' webinars or enroll as a "student" at the Saxo Academy, where you can pick from a huge selection of online instructional videos. These videos are of exceptional quality.
Saxo Bank Security and Safety
Saxo Bank has a bank license, is subject to the oversight of several financial regulators, including the top-tier FCA, and provides negative balance protection. It is not, however, listed on any stock exchange.
Is Saxo Bank regulated?
Yes, it is regulated by a number of financial regulators, including the Swiss Federal Banking Commission, the UK's Financial Conduct Authority, and the Danish Financial Services Agency (FSA), among others.
Is Saxo Bank safe?
We strongly suggest that you verify the following two facts to determine whether a brokerage is secure:
how you will be protected if something bad happens
what the broker's background is
Through various entities, Saxo Bank operates internationally. This is significant because the level of investor protection you are entitled to varies depending on the entity. The protection threshold in the majority of European nations is €100,000 for cash and €20,000 for securities.
Only retail customers from the European Union and a few other MENA nations are eligible for Saxo Bank's negative balance protection for forex spot and CFD trading. The protection against negative balances does not apply to professional clients.
Final Thoughts
Saxo Bank is a fantastic broker that offers a sophisticated and helpful service.
It provides a user-friendly trading platform that is well designed and supported by solid research. The product line includes a wide range of assets and global markets.
However, it has some shortcomings. Bonds, options, and futures carry expensive fees. For some nations, the minimum deposit requirement is also high. Finally, there is no live chat or round-the-clock customer service.
Saxo Bank is generally regarded as one of the top online brokers. You can get a wide-ranging, highly developed service that is constantly tailored to the needs of customers by opening an account.
Pained by financial indecision? Want to invest with Adam?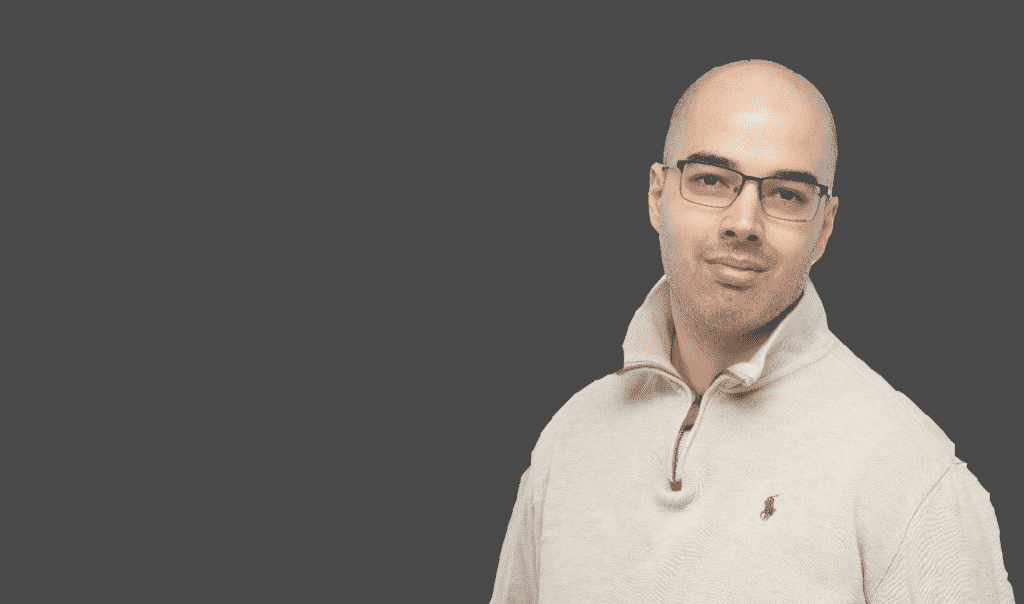 Adam is an internationally recognised author on financial matters, with over 584.6 million answers views on Quora.com and a widely sold book on Amazon and a contributor on Forbes.
Tags
Cons of Saxo Bank
,
How much does Saxo Bank require as a minimum deposit?
,
How to Open a Saxo Bank Account
,
Is Saxo Bank regulated?
,
Is Saxo Bank safe?
,
Placing Orders at SaxoTraderGO
,
Pros and Cons of Saxo Bank
,
Pros of Saxo Bank
,
Saxo Bank Account Types
,
Saxo Bank Bond Fees
,
Saxo Bank CFD Fees
,
Saxo Bank Crypto Fees
,
Saxo Bank Customer Service
,
Saxo Bank Desktop Trading Platform
,
Saxo Bank Education and Tutorial
,
Saxo Bank Forex Fees
,
Saxo Bank Fund Fees
,
Saxo Bank Futures Fees
,
Saxo Bank Mobile Trading Platform
,
Saxo Bank Options Fees
,
Saxo Bank Security and Safety
,
Saxo Bank Stocks and ETFs Fees
,
Saxo Bank Trading Fees
,
Saxo Bank Trading Markets and Products
,
Saxo Bank Trading Platform
,
Saxo Bank trading platform review
,
Saxo Bank Trading Research Services
,
Saxo Bank Web Trading Platform
,
Saxo Rewards
,
SaxoSelect
,
SaxoSelect Fees
,
SaxoTraderGO Login and Security
,
SaxoTraderGO Notifications and Alerts
,
SaxoTraderGO Platform
,
SaxoTraderGO Reports on Fees and Portfolios
,
SaxoTraderGO Search Functions
,
What is Saxo Bank