Food is one of the best ways to experience a new city. Whether it's a five-star restaurant or street food stall, the food you eat in a new place can tell you so much about the culture and history of that place.
If you're traveling in Asia and want to try some amazing dishes, here are ten cities for foodies where you'll find some of the most delicious things on Earth.
If you are looking to invest as an expat or high-net-worth individual, which is what I specialize in, you can email me (advice@adamfayed.com) or WhatsApp (+44-7393-450-837).
Bangkok, Thailand
Bangkok is a great place to eat and drink. The food here is fantastic, and there are countless restaurants and markets where you can try new things.
Bangkok is a huge city, so it's not surprising that there are many different types of restaurants here. If you're looking for something specific, you'll probably have no trouble finding it.
The best way to enjoy Bangkok's cuisine is by eating street food. You'll find vendors selling everything from pad thai noodles to grilled pork skewers at every turn in this city of more than 12 million people–and they're all competing for your attention with their bright colors and tempting smells!
Thai street food is famous around the world for its flavorful combinations of ingredients like ginger, lemongrass, and fish sauce. Sweet and savory flavors, like coconut milk and kaffir lime leaves, are combined in the region's cuisines.
Pad Thai may be the most well-known Thai dish, but tom yum goong (a spicy hot and sour soup) and mango sticky rice (a traditional Thai dessert) are also excellent choices.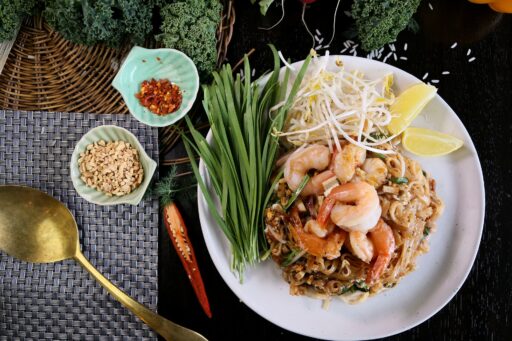 The cuisine of Thailand is widely regarded as among the best in the world. Bangkok is at the epicenter, with tens of thousands of eateries ranging from cheap stalls to five-star hotels. This culinary paradise has everything a foodie could want, from fried noodles and pad thai to sweet coconut and tropical treats.
Because of its location on the coast, the city receives daily deliveries of fresh seafood and a wide variety of exotic goods from all over Asia.
A city bursting at the seams with restaurants, floating markets, and a population eager to try the latest in delicious sustenance, Bangkok benefits from its central location in Thailand to receive the country's other food specialties.
So, if you're curious about Asian cuisine, Bangkok is one of the best cities for foodies in Asia to visit. Every corner is home to a family restaurant advertising their delectable wares, and the streets are teeming with vendors selling handmade delicacies.
The city is filled with the sound of sizzling woks and the heady scent of freshly ground spices as you stroll through the streets.
Chinatown, located near the Chao Praya River, is an excellent place to experience the Thai people's genuine enthusiasm for their cuisine. In the evening, you can take a guided tour of the area's street eats with the help of a local expert.
If you're looking for something more formal, Bangkok also has plenty of upscale restaurants serving modern takes on traditional Thai dishes or international favorites.
Many of Bangkok's fine dining establishments have been awarded coveted Michelin stars, and they serve up gourmet fare alongside breathtaking panoramas of the city and river.
Raan Jay Fai, led by the legendary street food chef Jay Fai, who is known for her own spin on popular Thai dishes, is just one of the many restaurants in the city.
Others include Nahm by chef Pim Techamuanvivit; Sorn, which offers southern Thai cuisine mixing forgotten recipes with modern practices; and R-Haan, which aims to exemplify how food has influenced Thai people and culture.
Tokyo, Japan
Tokyo has a long history of food and dining, dating back to ancient times. The city's culinary landscape is diverse, offering everything from traditional Japanese cuisine at restaurants like the Michelin three-star Sukiyabashi Jiro and local favorites like takoyaki (octopus dumplings) from street vendors.
As the capital of Japan, is one of the best cities in Asia for food, with options ranging from street vendors to Michelin-starred restaurants.
Incredible Japanese fare and one-of-a-kind dining experiences can be found all over the city, from humble street stalls to the world-famous Tsukiji Market to sushi restaurants with moving belts and upscale dining. Foods like ramen, yakitori (grilled chicken skewers), and seafood are all big in Tokyo.
Tokyo is widely considered the best place to eat in Asia, and for good reason: it has more Michelin-starred restaurants than any other city in the world.
As far as famous chefs go, there are many chefs who have made their mark on Japanese cuisine including: Nobu Matsuhisa (who opened Nobu Restaurants), Masahiro Yoshitake (owner of Sushi Yoshitake), Kazunori Nozawa (owner of Sushi Nozawa), Jiro Ono (of the aforementioned Sukiyabashi Jiro), and Kei Koyabashi (owner of the Michelin three-starred Kei restaurant in Paris).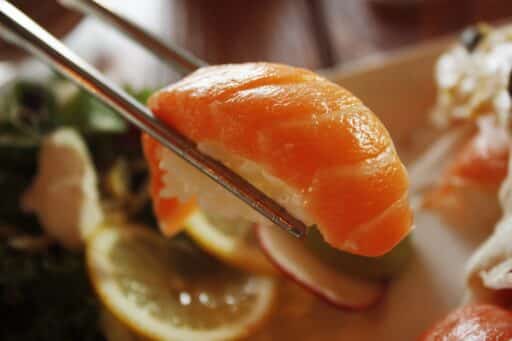 Kaitenzushi restaurants are also a great and less expensive alternative to those, however, as patrons can choose their own meals from a moving conveyor belt that passes in front of their seats. The server will tally your used plates by color to determine the final bill (green for 300 yen, red for 500 yen, etc.).
Tokyo is the epicenter of one of the world's most distinctive cuisines, which can be found all over Japan. Tokyo, like Hong Kong, is a massive metropolis with a wide variety of dining options.
Tokyo restaurants are known for serving some of the most expensive Kobe and wagyu beef in the world, with individual plates often costing more than $1,000.
However, in Tokyo, you can find delicious food for a fraction of the price. Tsukiji Market, widely regarded as the best seafood market in the world, is where many of the fresh fish ingredients for sushi in Japan are imported.
Horse meat, squid, and unusual vegetables are among the more exotic options, and sauces like wasabi add a uniquely Japanese twist to the usual fare. You can have a truly memorable dining experience in Tokyo by trying something completely different, like the traditional Japanese dining style of sitting on the floor.
There are restaurants in both bustling downtown Tokyo and tranquil Japanese gardens. The best local eateries are, of course, the ones that are off the beaten path and out of the way of tourists.
In fact, many of the best ramen restaurants in the world can be found in the underground food courts and street corners, encouraging foodies to adventure and try new places.
The Japanese way of life as it relates to food and produce will astound you with its seriousness, precision, and reverence.
You can trust that the food you order at any establishment, from five-star to hole-in-the-wall, has been prepared with the kind of love and care that will leave you feeling completely satisfied. Even simple egg sandwiches from 7-Eleven are known for their quality in Japan.
In conclusion, a visit to Tokyo isn't complete without sampling some of the local street fare. From sweet crepes to savory Takoyaki, there is no shortage of food options to try.
Mumbai, India
Mumbai is a city of food. It's been said that Mumbai's cuisine is a combination of all its neighbors, which means you can enjoy the best of Indian, Chinese, Middle Eastern, and European food all at once. And that's just the beginning!
Mumbai is famous for its street food. The street food vendors are everywhere in Mumbai—you can find them lined up on sidewalks or selling their goods directly out of trucks parked along busy highways.
There are plenty of vegetarian options as well as meat dishes if that's what you prefer. Most restaurants will also offer vegan meals upon request. In fact, it's rare to find an establishment where this isn't possible.
Mumbai has a rich history when it comes to food and culture. Many local restaurants have been around for decades or even centuries!
Even for first-time tourists, the wonder and allure of Mumbai can be a bit much to take in. The greatest strategy in Mumbai, a city with a population that exceeds 20 million, is to go with the flow. The regulation extends to the street fare as well.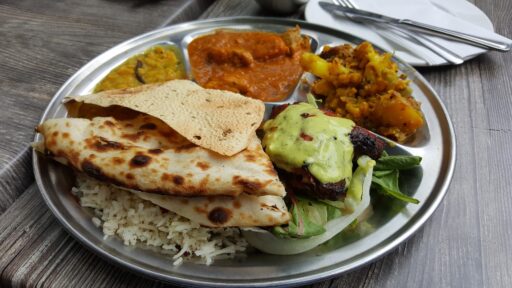 You can eat well in Mumbai even if you leave the established eateries. The city's street fare reflects the expanding diversity of its resident population by drawing inspiration from a wide range of cultural traditions.
Some of the best seafood delicacies in town, like pomfret fry and crab curry, are crafted by talented chefs just for the regular city crowds.
In the evenings, the food vendors on Nagdevi street, just over from Crawford market, serve up melt-in-your-mouth exquisite seekhs and payas cooked in a large steel furnace, and it's well worth your time to check them out. The nalli nihari is a specialty, while the harisa is the vegetarian option.
Old-school jewelers and street vendors have packed the city's diamond district, Zaveri Bazar, to capacity. Yet, this area is also home to vegetarian kachoris, chaats, and samosas.
Chai time is the perfect opportunity to try Mohanbhai Pudlawala's inventive pudlas, which are a popular Gujarati snack consisting of gram flour or chickpea flour and mixed with veggies. Do not leave without sampling the gram flour and 56 spice khichiya papad.
In Mohammed Ali Road, you can immediately find some seriously decadent non-vegetarian gourmet food like bhuna gosht, or spicy mutton curry.
You may chat up the regulars at the world-famous Minara Mosque and fill up on anything from sizzling tikas and fluffy pattis to juicy kebabs and mouth-watering malpuas.
Mumbai, often called "the city of dreams," is a fantastic destination not just for ambitious travelers but also for foodies. The city's gastronomic wealth is a perfect reflection of the variety of cultures that call it home.
You may find a wide variety of cuisines in Mumbai, from the Muslim and Gujarati to the South Indian and Parsi, and even the Maharashtra cuisine. Without breaking the bank, one may sample the authentic flavors of Mumbai's finest cuisine.
Seoul, South Korea
The popularity of Korean culture has only increased in recent years, and not just due to K-Pop. People have discovered a cuisine of spicy rice cakes and kimchi stews, bibimbap and kimchi hotpot, and bossam (pork wrapped in lettuce with kimchi).
There is always something to suit any taste, and all of these options are readily available in the capital of Korea.
While kimchi, bibimbap, and Korean barbecue are undeniably some of the most iconic dishes to try in Seoul, the city has much more to offer.
Try teokbokki rice cake rolls with chili sauce, kimbap seaweed rice rolls, and dakkochi grilled chicken skewers at one of the many popular markets in Gwangjang, Namdaemun, or Myeong-dong. Banchan are traditional Korean appetizers, while gogigui refers to grilled meats of all kinds.
Seoul is a huge city, so there are many different options. With a large and diverse population, there are many different types of food available. If you're looking for something more traditional, try visiting one of Seoul's many hanok restaurants or street stalls.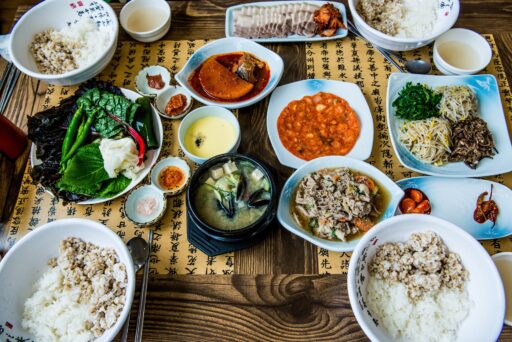 But if you're looking for authentic Korean food, there are many options. If you want to sample some of Seoul's best street food, head to Myeong-dong's popular food market where vendors sell everything from fried dumplings and fish cakes to spicy octopus tentacles.
Another popular place for locals is Insadong, which boasts a variety of restaurants serving up traditional Korean cuisine like bibimbap (mixed rice) and kimchi (spicy fermented cabbage).
If that you're feeling more global, Seoul also has modern restaurants with innovative menus featuring fusion cuisine from around Asia and even Europe.
You can find just about any type of food in Seoul, including Italian, American, and French. The city has a large expat community, so there are many Western restaurants that cater to foreigners.
Hanoi, Vietnam
Hanoi is a city of contrasts. The city has preserved its old-world charm and culture, while at the same time becoming a modern cosmopolitan hub.
The best way to appreciate the many facets of Hanoi is to spend some time exploring its many neighborhoods: from the Old Quarter with its narrow streets and colonial architecture to the tree-lined avenues of Hoan Kiem Lake.
From delicious street food sold from vendors on bicycles, to elegant French cuisine served in stylish cafes – there is something for everyone here!
However, Hanoi is a city that is known for its street food. The best part of this city is that you can find Vietnamese food in almost every corner of the city. If you love Vietnamese cuisine, then you must visit this city at least once in your lifetime.
Vietnamese cuisine has many different types of dishes that are popular across the world. Some of them are pho (noodle soup), bún riêu cua (crab and tomato vermicelli soup) and bánh xèo (sizzling pancake).
The first thing that you should know about Vietnamese food is that many are spicy and sour at the same time. This means that if you do not like spicy food, then it will be difficult for you to enjoy this cuisine completely.
Another thing that makes Vietnamese food unique is its taste and texture. Most people who try this cuisine find it very interesting because it tastes different from other Asian cuisines like Chinese or Thai food.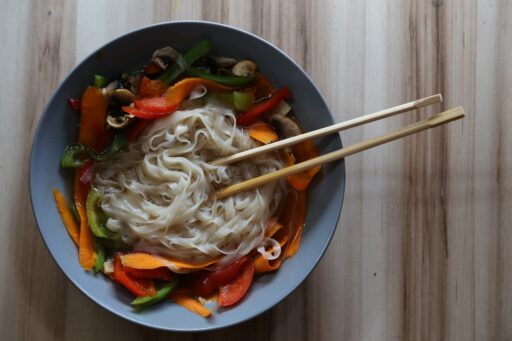 Hanoi is famous for its excellent street food because it is the birthplace of many traditional Northern Vietnamese dishes like pho and bun cha.
Fish sauce, lemongrass, chilies, and other fresh herbs are used in many of the dishes sold on the sidewalks of Hanoi, making it home to some of the best street food in all of Asia. The streets are teeming with vendors and markets, so there is no shortage of delicious options.
Bun Cha Ta in the Old Quarter serves the best bun cha (grilled pork with noodles and dipping sauce); bánh cun (steamed rice rolls with pork, shrimp or chicken, mushrooms, shallots, and dipping sauce); bánh canh (thick noodles with crab meat, crab cake, chili, lime juice, and coconut dip); and, of course, pho from the Ph Bát àn restaurant.
Hanoian people have set such high standards for street food, and the vendors are so specialized, that you can get delicious food at practically any hole-in-the-wall stall.
Vietnamese culture revolves around food. There are markets on practically every block, and the entirety of daily life in Vietnam revolves around the act of preparing and sharing food.
At any time of day, Hanoians can be found indulging in a banh mi sandwich, a fresh spring roll, or a steaming bowl of pho, all of which are typically washed down with a strong, thick coffee made in the Vietnamese style and topped with condensed milk.
Manila, Philippines
One of the best places to experience Filipino culture is Manila, the capital city. The food here is a mix of Chinese, Spanish and American influences. There are many restaurants and food stalls that offer a wide variety of cuisines; from street food to fine dining establishments.
In addition to its rich culture and diverse cuisine, Manila also has some great shopping options for those looking for souvenirs or just something unique to take home with them. If you're looking for snacks, there are plenty of stores that offer dried mangoes, a variety of packed seafood, and many more.
There are also plenty of malls in Manila which offer more upscale shopping options, and where many of the country's most innovative restaurant brands can be found.
While the City of Manila is already a great destination for foodies, one would be remiss not to go beyond into the larger Metro Manila, of which Manila City is but one of the 17 cities that comprise it. Metro Manila as a whole is home to a wide variety of eateries serving up both classic and innovative takes on Filipino cuisine.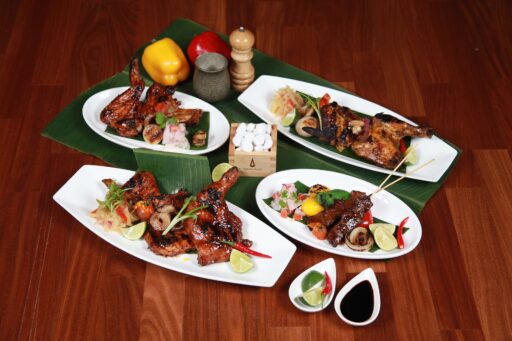 For nearly twenty years, Sentro 1771 has held the title of first restaurants to introduce modern Filipino cuisine, thanks to its dedication to elevating Filipino flavors without losing their traditional authenticity.
For instance, Sentro's fillet of galunggong, a fish typically just pan fried, is fried in garlic oil and topped with roasted garlic bits. Hito, a type of catfish, has been transformed into a fillet that is glazed with ponzu sauce.
Filipino classics like sinigang na bangus sa miso (milkfish in tamarind-miso broth) and lechon kawali (roasted suckling pig) are also on the menu (crispy, deep-fried pork belly).
There is also the iconic Manila restaurant, Aristocrat, which began in 1928 by Lola Asiang, later known as the "Mother of Filipino Cooking". The restaurant is famous for its inexpensive but delicious barbecue and Filipino staples like mechado (braised beef dish), kalderetang baka, bistek Tagalog, and more.
Aristocrat also features an in-house bakery stocked with an assortment of exquisite cakes and pastries. Most Aristocrat locations have bookable spaces for your convenience.
Kuala Lumpur, Malaysia
Malaysia's food scene is a melting pot of influences, with Chinese dishes like Malay fish head curry and Indian curries like masala dosa being popular. The country also has its own unique cuisine, which is heavily influenced by the neighboring countries of Indonesia and Thailand.
Malaysian food often involves lots of coconut milk, chilies, and spices like turmeric—the latter two ingredients help give Malaysian cuisine its distinct yellow hue. These flavors are found in dishes such as roti canai (flatbread), nasi lemak (coconut rice) and rendang (braised beef).
Malaysia is also known for its street food, which can be found in hawker centers across the country. These are open-air markets that specialize in certain dishes, such as laksa (noodle soup), satay (meat on a stick) and nasi lemak.
The street food in Kuala Lumpur is among the best on a continent known for its variety and quality. If you happen to call Kuala Lumpur home, you'll have ready access to some of the world's finest cuisine.
Tourists can choose from a wide variety of fish, seafood, meat, and vegetable dishes served atop tiny kebabs at one of the many "steamboats" in the Bukit Bintang area.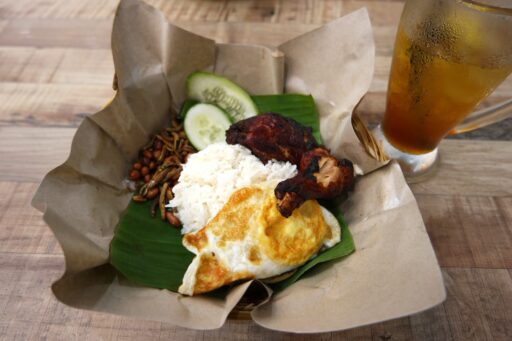 Chinese, Indian, Middle Eastern, and, of course, Malay all coexist peacefully in Kuala Lumpur. In Singapore, the government has shut down food carts and relocated vendors to give way to more sterile food halls, so the hawker stores here do Singapore street food about as well as they do in Singapore.
Kuala Lumpur is one of the best cities in Asia for food, with delicious options like steamed crab, doner kebabs, and chicken vindaloo. You can sit at a table in one of the many fine restaurants, or you can grab a plastic stool and eat on the sidewalk because the city is so advanced.
Kuala Lumpur, best known for local delicacies like nasi lemak, laksa, and roti canai, is undeniably a great destination for fans of exploring different cultures and cuisines, with most visitors only scratching the surface when given a list of must-try dishes.
To name just a few examples, consider the yee sang served during Chinese New Year, the rendang daging and various kuih-muih served during Hari Raya, the bak chang served during the Dragon Boat Festival, and the murukku served during Deepavali.
Malaysia is home to Michelin star restaurant Dewakan, which is ranked on the World's 50 Best Restaurants list for 2022. Still other casual eateries draw on regional traditions; the ulam rice at Table & Apron, a popular neighborhood cafe, is to another destination.
The café industry in Kuala Lumpur is also booming, and many eateries now specialize in serving sourdough bread and artisanal coffee.
Malaysians can now shop local and eat healthily thanks to the proliferation of companies producing chocolate, granola, kombucha, and nut butters.
Kuala Lumpur is a foodie's paradise thanks to its wide variety of dining options, from a steaming cup of Kopi-O and kaya toast at your favorite kopitiam to a crispy, buttery croissant with mouthfuls of cold brew.
Hong Kong SAR
Hong Kong has a rich food culture and is known for its dim sum. The city is also a melting pot of cultures, with influences from Cantonese to Portuguese to British.
It is easy to find a diverse range of food choices here, from Michelin star restaurants to street food stalls that serve up traditional favorites like congee (rice porridge) or sweet pastries filled with egg yolk custard called egg tarts.
There is a good reason why people refer to Hong Kong as a "food paradise"; the city is home to everything from 50-year-old cha chaan tengs to trendy speakeasy bars and fine dining establishments, not to mention street vendors selling steaming bowls of siu mai and curry fish balls.
Even if limiting the choices to classic Hong Kong fare, there are plenty of options. There's the renowned dim sum served at yum cha establishments, the Michelin-recommended bowls of Chinese noodles at dai pai dongs, and the silk stocking Hong Kong-style milk tea, French toast, pineapple buns, and smooth egg sandwiches served at cha chaan tengs.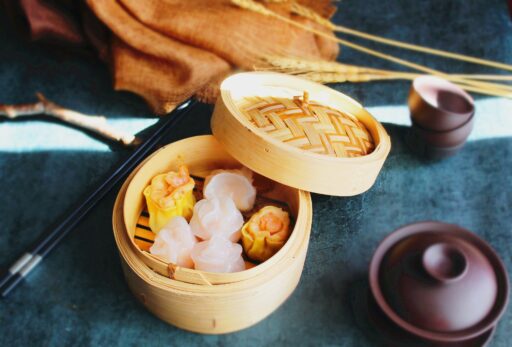 However, this comes at cost. Hong Kong has a reputation for being one of the most expensive places in the world to eat out. It's not just high-end restaurants that are pricey: You can expect to pay extra for everything from soft drinks and bottled water to simple dishes like noodles or rice porridge.
The good news? You can find cheap eats around town if you look hard enough.
The trick is to go where the locals go. And there are plenty of cheap eats in Hong Kong that will leave you feeling full and happy without breaking the bank.
Dim sum is a staple of Hong Kong celebrations. The ubiquitousness of dim sum has made it a representative icon of southern Chinese cuisine.
Dim Sum is not a single dish, but rather a variety of small, individually prepared dishes, such as dumplings, buns, and more, traditionally served in bamboo steamers for communal consumption.
Maxim's at City Hall and Lin Heung Tea House are two of the most well-known dim sum restaurants in Hong Kong, though each district undoubtedly has its own favorite spots.
Dumplings and shrimp are essential, so get some har gow and some siu mai (dumplings). If you're feeling brave, order some chicken feet with the savory-sweet sauce.
The Chinese term for roasted meat is "siu mei," and this style of cooking necessitates elaborate marinating and roasting procedures. If you're in Hong Kong and you see chickens hanging from the ceiling by their legs, you've found a siu mei restaurant.
There isn't a more filling 40 HKD (5 USD) lunch in town, and it comes with a plate of white rice. Joy Hing in Wan Chai and Yat Lok in Central are two inexpensive dining options.
Beef brisket noodles are also a popular type of noodle in the city of Hong Kong. Fresh, springy noodles are topped with strips of tender beef brisket and served in a bowl of beef bone broth that has been simmered for hours.
Sister Wah in Tin Hau and the ever-popular Kau Kee in Sheung Wan both serve excellent bowls, and Kau Kee's curry version of the dish features perfectly tender beef tendon.
Taipei, Taiwan
Taipei is a great city for foodies to try out, with many good local dishes and a wide variety of international cuisines.
Taipei, Taiwan is a foodie's paradise, home to some of the best street food in all of Asia. Pork sandwiches, fried chicken cutlets, braised-beef noodles, grilled fish, dumplings, and more are all available for very low prices from street vendors.
The street food in Taipei takes its cues from Chinese cuisine but adds a Taiwanese spin. The city is teeming with fantastic cafes, food courts, fine dining establishments, and teahouses.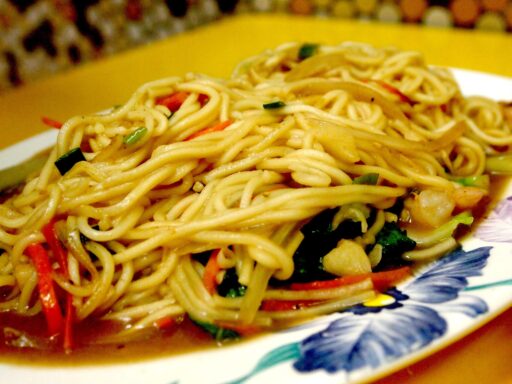 Taipei's night markets are a great place to try some of the local cuisine. They are where you can sample many different dishes as the street vendors sell snacks like deep fried squid and octopus balls, while the sit-down restaurants offer more traditional fare such as oyster omelettes or Taiwanese beef noodles.
There are many different stalls selling different things, so you can get a good idea of what's available. The best way to experience the markets is to go with someone who knows the area well and can point out the highlights!
Small local restaurants and even the food courts at the malls in Taipei serve authentic Taiwanese cuisine, though they are not as popular as the night markets for local food at low prices.
You can sample a wide variety of Taipei's culinary offerings in a single weekend due to the city's convenient location and low prices.
Try Tonghua or Raohe night market on your way home and save room for some of the local specialties sold there. You can take the cable car up to Maokong, where green tea is the order of the day.
Also try the tea oil noodles at Yao Yue Teahouse, and then fill up on dumplings from Taiwan's own Din Tai Fung and bubble tea from one of the many boba stores. Mume, a top Taipei restaurant, is known for serving local ingredients with a European twist.
But the best part about Taiwan's capital city is that you can always find a great restaurant, cafe, or night market to visit. There is always something tasty to try, what with the city's bustling restaurant scene, traditional delicacies, and extensive night markets.
Jakarta, Indonesia
Jakarta is the capital of Indonesia and home to a diverse food scene. It has a large Chinese population, who have brought their cuisine with them; and it also boasts a large Indian population that has contributed to its culinary landscape.
Not only that, you can find Arab dishes here as well, as well as European influences from Dutch colonists in the 19th century.
Food options in Jakarta are plentiful and varied, from street food to fine dining. If you have time, visit the Pasar Baru market for a taste of local produce like durian fruit and mangosteen.
You can also try out some traditional Indonesian dishes from classic Javanese cuisine such as gado-gado (cold vegetables with peanut sauce) and soto ayam (chicken soup).
In Jakarta, you can find a wide variety of cultural foods and one-of-a-kind creations at the city's bustling street food scene, which is a reflection of Jakarta's diversity and adaptability.
There are many dishes that trace their ancestry back to Javanese, Balinese, and Minangkabau peoples as well as Chinese, Dutch, and other foreign influences. A wide variety of high-end and casual dining options, as well as food halls, can be found in this Indonesian metropolis.
Jakarta's food scene is a reflection of, or perhaps an exaggeration of, the city's role as a cultural crossroads for all of Indonesia. The best restaurants in town cater to the city's active, forward-thinking souls by providing a memorable dining experience that satisfies more than just the appetite.
Bandar Djakarta takes full advantage of Jakarta's proximity to the coast by offering a wide selection of freshly caught seafood, including crabs, lobsters, and fish. The restaurant's success has led to the opening of multiple locations in and around Jakarta, but the Bandar Djakarta in Ancol, by the water, is the most picturesque.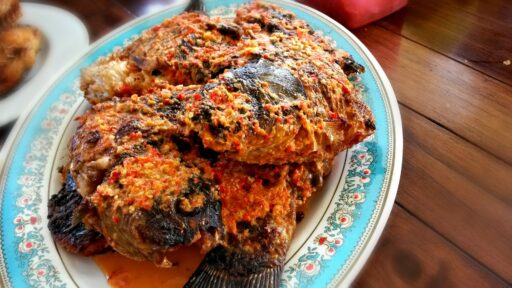 There is Plataran Dharmawangsa, a restaurant managed by the well-known Plataran group, so you can expect the usual high standard of elegance and sophistication.
The building itself is a picturesque traditional Javanese joglo house, and the luxurious contemporary interior design fits in perfectly with the environment. Imagine a room with intricate wood carvings, batik tiles, glittering chandeliers, and floor-to-ceiling windows overlooking a lush garden.
The menu features traditional and modern Indonesian dishes, as well as sweets, and refreshing drinks.
Lara Djonggrang, taking cues from the ancient folklore princess of the same name, creates a magical, ethnic, and romantic ambiance to complement the traditional imperial feasts. Artifacts, materials, and monumental statues found inside are just as old as the building themselves.
You can find a royal feast here, made from centuries-old recipes and presented theatrically with authentic, luscious taste, and you'll really feel like a Javanese king or queen.
For more adventure, Namaaz Dining, as Indonesia's first molecular gastronomy establishment, intrigues and confounds many foodies. The menu rotates every few months, but no matter the season, you can always expect to find some Indonesian dish that has been radically reimagined.
There is traditional soto disguised as a pencil and paper, or a donut filled with rawon beef soup. The restaurant welcomes only a small number of patrons each day, ensuring that those who do dine there have an exceptional, private experience.
Bunga Rampai meanwhile offers beautiful colonial architecture of the restaurant itself, alongside a rustic interior and dishes from all over the archipelago. Bunga Rampai is well-known not only for its elaborate and delicious full courses but also for its high tea and shindigs.
Bottom line
Cities can offer an amazing variety of foods and culinary experiences. Food is the best way to experience a city. It's often an important part of culture and identity, and it can be an excellent way of learning more about a place.
Food can also be used as a means of making friends with locals–and if you're looking for somewhere to go on your next vacation, having some local friends will help ensure that you have someone to show off your new city to!
The first step is to make a list of the places you want to visit. You can do this by looking at websites like Yelp or TripAdvisor and seeing which restaurants have the most positive reviews. If there are any specific dishes that you want to try, look those up as well.
Whether you're looking for a place to explore on your own or planning a trip with friends, these Asian cities for foodies have something special to offer everyone.
To ensure that your trips abroad go as smoothly as possibly, we also recommend consulting a trusted financial planner for hassle-free travel that falls in line with your financial goals.
Pained by financial indecision? Want to invest with Adam?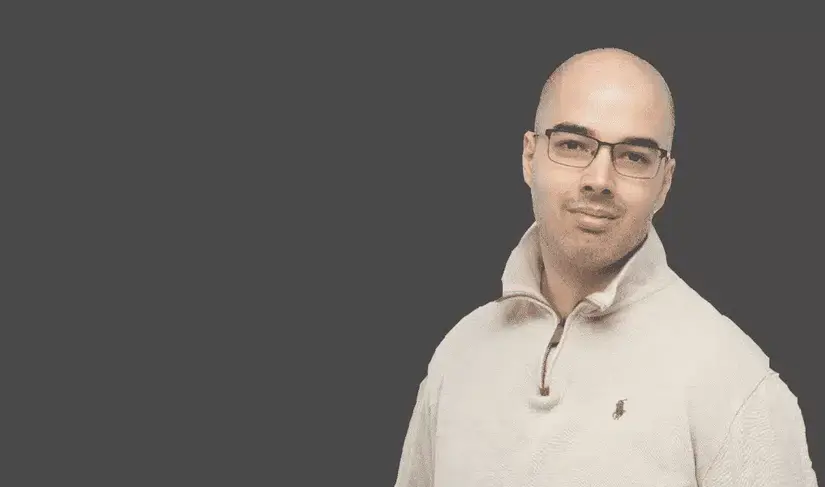 Adam is an internationally recognised author on financial matters, with over 622.7 million answer views on Quora.com, a widely sold book on Amazon, and a contributor on Forbes.