This article will review Trading 212, which is one of the larger brokers in the UK.
The article will explain why it can be an excellent solution for beginner investors that have self-control, but isn't so good for those with larger amounts of money or for people with specific needs such as expats.
The article will also explain why statistically speaking, very few DIY investors do well compared to the market.
If you want to invest and are confused by all the options out there, you can contact me using this form, or use the chat function below.
Introduction
Trading and investments have never been so common as they are today. When the internet became part of our life, so did brokers expanded to a wider segment of the population with apps and websites.
In the past, if you wanted to have the quotation of the day, you had to call banks and in most cases they were not updated in real-time. If you wanted to enter or exit the market you had to pay huge commissions.
Nowadays, wherever you look on the internet, you will find some guy that tells us how he became a millionaire just with some clicks and invites you to his course just for £29.99 or £49.99, and it's always a limited time offer, remember it, until you refresh his page or just wait for it to expire.
Trading 212 is a global CFD and FX broker founded in 2004 and now based in London and It is regulated by the UK Financial Conduct Authority.
A quick word on DIY investing
On January 1, many people try to meet their resolutions for the new year.
Gyms are busy. People are on diets. Let's face it though, most people fail.
Studies show that using gym instructors and trainers work. They are an extra cost, but their knowledge and more importantly motivational qualities can help us get in shape.
Let's face it, it is harder to not workout if you have somebody holding you to account, and is due to come to your home everyday at 8am!
Likewise, for investing, the vast majority of studies show that do it yourself (DIY) investors get bad returns as they are emotional.
They buy high (1999) and sell low (2008 and March 2020). It is easy to say you "aren't going to be that person that panic sells during the next market crash" but that is easier said than done.
I met countless people who panic sold in March 2020, despite claiming they wouldn't, because they thought 'this time is different'.
Such actions explain results like this: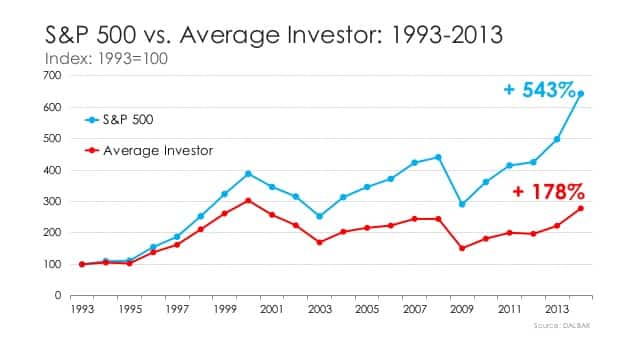 So probably the biggest benefits of a human advisor (and the least widely cited advantage) is the ability to stop you doing silly things with your money during crashes.
It is less likely you will sell during the next 2008 or March 2020 if you have somebody calmly telling you otherwise.
What brings people to Trading 212? People can join Trading 212 from more than 160 countries worldwide and there are several languages supported such as:
English
German
Dutch
Spanish
Polish
French
Italian
Russian
Romanian
Arabic
Chinese
The first thing that everyone sees once they sign up to this platform is the headlines of zero fees and zero commission for buying and selling stocks. Now, not all shares have 0 commissions, some do have them, like Easyjet that asks you 0.5% of each transaction you make, but it represents an exception to the rule.
Also, there's no fee charged if you:
Are inactive
Withdraw money
The minimum deposit is $10, £10 or €10 respectively
There's no fee for deposit and it's immediate
Free demo account
How do you open an account on Trading 212?
The account opening process takes only a few minutes. In 2019 the account was usually verified within one business day, today you don't need to verify your account except when you decide to connect a bank account on which you want to withdraw your money.

If you don't have the right documents that prove your address and fiscal residence, it may take longer as you need to get these documents and handle them to the Trading support team.
The account opening requires you to:
Provide your country residence and add personal details
Add tax information, like your social security number or your tax ID.
Select the account type, but later you can choose both CFD and Invest.
Select the currency you want to operate with.
Answer some questions about your financial status, employment and trading experience.
In order to verify your account, you will need to identify yourself and, as stated before, you will have to send Trading 212 your:
Passport, National ID card, and also the driver's licence are accepted in order to prove your identity.
Bank statement, State documents or utility bills issued in the last three months to prove your address.
It often happens that it is difficult to prove your address as their software doesn't work properly, but if you contact the support, they will reply within some hours.
Deposit and Withdrawal
Trading 212 offers 9 base currencies, GBP, EUR, USD, RON, PLN, CHF, NOK, SEK and CZK. Among them, only 2-3 account base currencies, usually the local currency plus USD. That is actually outstanding because most brokers offer 1 single base currency or the major ones.
If your country has one of these currencies, you don't have to pay any fee conversion, therefore, it is more convenient to use Trading 212 than other brokers. If your country uses a different currency, you could use Swapsy and exchange your currency with other people with tight spreads so as not to lose too much money in the process.
There are no deposit fees. And besides bank transfer, you can also use credit/debit cards and electronic wallets:
PayPal
ApplePay
Skrill
Dotpay
Google Play
Giropay
Carte Bleue
Direct eBanking
iDEAL
A bank transfer may take several business days, but credit/debit cards are instant and you can deposit only from accounts that have your name.
Differently from eToro where you have to pay 5$, here on Trading 212, there's no fee for withdrawal. If you plan to withdraw your money for an emergency, you should take into consideration that it might take up to 3 days. If you want to withdraw your funds, log into your account, click on manage funds, enter your password, select the amount you want to withdraw and confirm.
If you want to transfer your current Trading 212 balance from CFD to Invest it's actually possible in the settings and it's instant, so if you make some additional money on the CFD consider to deposit it on the Invest platform and make it run!
Financial instruments offered
Trading 212's web and mobile trading platforms are really straightforward and well-designed both for investments and CFDs. One drawback is the limited quantity of ETFs and the lack of popular asset classes, like options or bonds that are completely missing.
But what can you expect for free? That's already most of what you need for good investments. You can compensate with bonds and other options on other brokers that exchange them or just wait, Trading 212 is continuously adding new financial instruments!
Trading 212 CFD as of 2020 offers:
1.650 shares (Apple, Tesla, Amazon…)
50 indexes (S&P 500, FTSE100, CAC40…)
10 cryptocurrencies (Bitcoin, Dash, Etherum, Litecoin…)
185 currencies (7 main currencies and over 150 exotic ones, like Turkish Lira etc)
15 commodities (Gold, Silver, Copper, Oil…)
The CFD platform of Trading 212 concentrates mostly on the Western Market. There are few shares, ETFs and currencies that have been allowed so far to join in, also for safety reasons, out of the 1.650 shares offered, half of them are from the US, 200 from the UK, 50 from Canada, 80 from France, and so on.
Trading 212 Invest as of 2020 offers:
2.120 shares and new IPOs weekly or monthly
395 ETFs.
The Invest platform of Trading 212 concentrates again mostly on the Western Market but this time only on 7 countries and these are:
Germany, 203 shares
The UK, 512 shares
The USA, 1,238 shares
The Netherlands, 68 shares
France, 40 shares
Spain, 34 shares
Switzerland, 25 shares
The Invest platform of Trading 212 offers popular ETFs such as:
Vanguard ETFs
iShares
Invesco
Lyxor
Xtrackers
REITs and similar options are available, but only in a few numbers. More REITs are expected to come in the near future as the demand in the Invest platform is growing at a fast pace.
A good broker for beginners
This is a strong broker for beginners who don't have any niche needs.
Their videos on YouTube educate beginners to the world of trading both short and long term. They are not the typical boring banking or financial videos you see online, but there's always some form of active human interaction between the customers and the teacher that brings you from the book to the reality.
All books or courses, in fact, present the same ideas and analysis concepts, but no content online brings it into reality, shaped by statistics and probability.
Their app is available for both iOS and Android. The simplicity of the web platform and app make it easy for beginners to grasp everything in the first hour or so. Moreover, if you do not have sufficient capital to buy a share in its entirety, you can still buy fractional shares, meaning you can purchase as little as 0.0001 of a share.
Tools for analysis
The tools for technical analysis that Trading 212 offers are quite numerous, it offers a wide array of tools, 2 types of candles, HLOC, line and areas, and at least 10 between oscillators, volume, volatility and trendline tools.
You can also use Fibonacci circles, draw triangles, draw the impulsive lines of Elliot and write text on your screen as notes for your analysis.
The research tools for fundamental analysis is quite average and if you want to have a better overview of what is happening currently in the market, it's better if you integrate it with the Investing app you can download from Google Play.
Charting
Along with the 60 tools it offers, the charting design is one of the best strengths of Trading 212. Almost everything you need is available on the chart.
Though, you cannot go back in time more than 5 years, so, if you want to open long term positions, it is better if you use Tradingview to have a better perspective of what happened in the past.
Moreover, you can choose between a white and a black theme and this makes it way more ''fancy''.
Trading fundamental analysis data
As we stated before, Trading 212 focuses mainly on CFDs and therefore, also the news are quite basic and limited. Trading 212 doesn't have its own market analyst team.
On the other hand, the economic calendar it offers is quite simple to interact with and to understand. It is helpful to see the most important events. Also great that you can filter by impact and currency pairs.
So, if you want to use Trading 212 and also read the news, it is better if you download Investing from the App Store or Play store.
Daily report and annual report
Trading212 sends you every day the report of the day containing all the movements or transactions of the day, summarizing losses and earnings.
Moreover, Trading212 every 31st of December of the same year sends you an email with the annual report that you have to handle your account for tax declaration.
Customer support
Although Trading 212 does have a chat option, it is impossible to chat with the support team in real-time because of too many inquiries.
The best way to contact Trading 212 is therefore by email and phone. In both cases you receive quick answers and also without too lengthy unnecessary messages. The customer service is available 24/7.
Reviews from their customers
Trading 212 in 2019 had only 450 reviews on TrustPilot, today almost 3000 with an average of 4.3/5 stars and you can find them here: https://www.trustpilot.com/review/trading212.com. As they are mainly positive, we will bring you 5 positive and 1 negative that are worth mentioning and recent.
5-star review: One free share for referral! I have been using Trading 212, Hargreaves and Lansdown as well as Fineco. They have by far the most friendly phone app. It is easy to use and they also offer fractional shares. Stocks are slightly more limited than with others but the exemption of fees compensates. As I signed up clicking a referral link, I got an American Airlines share for free upon sign-up!
5-star review: I've used many trading platforms and…Trading 212 I was reluctant to use real money on other trading platforms but I feel so comfortable with Trading 212. It is so easy to use. I have recommended it also to some friends of mine, but as they were using it already I couldn't get shares for free with the referral link.
5-star review: Learn, Trade and Make Money… I'm not an expert, I'll admit that, but Trading 212 is a professional platform that allows me to learn, trade and make money all in one place. I'd suggest it to everyone that doesn't want to rely on the poor interest rate that banks offer! Don't forget to Use the stop loss!!
5-star review: I've tried all others including IG I have tried them all, including CMC Markets, Capital spread and IG. But none is more transparent, easy to use, and straightforward as Trading 212. They are governed by the FCA so hopefully, we won't have any problems.
5-star review: Excellent platform for beginners For those who are getting started on trading it is an excellent platform. Loads of training videos, all short and sweet. Plenty of options to keep you aware of what you're doing. Results, orders and logs are nicely grouped. No commissions and very low exchange fees. Top class experience.
1-star review: not compatible with my long term strategy My account is still not activated. I faced issues placing long term orders. It says that price is too far from market price. My strategy is either to buy or sell and hold in order to achieve my goal. You say you don't interfere with a client's positions, yet I'm reading on several posts that you're stealing their profits.
Conclusions
Advantages +++++
Trading 212 is a good broker for beginner investors that don't have much money to invest.
Trading 212 has been growing also mainly due to its YouTube channel where experts continuously instruct their viewers and Trading 212 users on how to achieve their goals and all the tricks they can use to make more money both short and long term.
They help you progress from the book to reality and teach you that reality, quite often, is way more different than what you see in academic books.
Trading 212 has no hidden fees or commissions in any of the actions you could make on the platform. The profits Trading 212 is currently making are really meagre but their goal is to satisfy the customer for free the best they can.
On TrustPilot, when a negative review is placed, Trading 212 always tries to clarify what the problem was explaining from the beginning to the end why they took an action or why they couldn't do it differently.
It is rare to see active support that tries to clarify your doubts, most of the time, other brokers just spam a robot message that they are sorry and the email to contact them.
You can buy fractional shares, meaning that if you don't have £2,000 for a share, you can still buy 0.0001 of it, meaning £0.20. This is widely non-existent in most brokers.
Disadvantage –
Although Trading 212 offers real stocks and ETFs, it is considered to be primarily a CFD and forex broker and this shouldn't be as sponsored as their investment part when you take into account how many people come from YouTube hoping to make enormous amounts of money.
You may face difficulties in getting verified immediately as their software cannot detect properly your address from the bills you're handling them.
Being a CFD and Forex broker, mainly, it doesn't have but a basic news feed as it lacks its own market analyst team. Therefore if you need more data, it's better if you download more apps and combine them.
For those who love leverage, it is limited to 30:1 for safety purposes, if you want to unlock it, you have to become premium, but it is reserved to people with trading certificates or huge portfolios of hundreds of thousands of dollars.
Moreover, the biggest with all DIY accounts isn't the finer details but the "behaviour gap" as explained here.
The bottom line
Firms like this are good for beginner investors who have the self-discipline to do it yourself (DIY) invest.
However, they aren't good for people that either have specific needs like expats and high net worth individuals, or can't DIY invest.
In reality most DIY investors struggle in the same way that the majority of people get better results with a gym instructor than doing it themselves.
We once again saw that in March 2020. Countless investors panic sold from the DIY brokerages, just as they did in 2000 and 2008.
During the worst of the crisis, billions were withdrawn from the main brokerages.
Whilst some of those outflows might have been to cover unexpected emergencies, it is a sign of fear on the part of investors.
Advisor-lead brokerages saw fewer outflows.
Further Reading
Could the US delist Chinese firms from the Dow Jones, S&P500, Nasdaq and other main indexes?
If this happens, could this have widespread ramifications for the markets?
That is the topic of the article below.