Western Union is one of the most famous brands in financial services but is it worth it in this day and age?
I have already spoken about sending money out of China via Western Union , but can it be good in a broader sense?
For any questions, or if you are looking to invest, you can contact me using this form, or use the WhatsApp function below.
Often times, especially for expats, it makes sense to invest money in a portable way, as opposed to sending money home to invest.
Introduction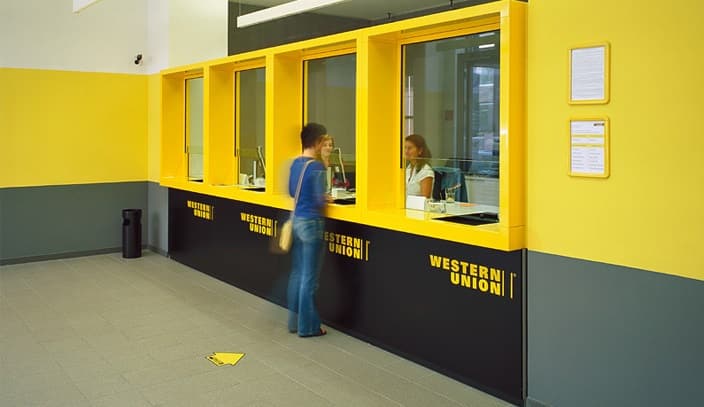 Western Union is a household name in the financial services industry, especially in the money transfer industry. Based in Denver, Colorado, it has operations in over 200 countries and territories.
As a brand, Western Union is synonymous with excellent bank exchange rates, innovative remittance tracking and multi-channel availability.
Depending on the country from which you are sending money, some channels may not be available and some transfers may cost you more. With that said, Western Union still remains a money transfer operator that customers can easily identify with.
Western Union, in fact, invented money transfers and is by far the largest service of its kind. For over 100 years, millions of customers have relied on it to send money to friends and family around the world.
Despite the huge network of Western Union, the situation with international money transfers is changing rapidly. Each year, the service is getting closer to being disrupted by younger and more technologically oriented competitors.
Western Union has been around for a long time and dates back to the mid-1800s and has developed a number of money transfer options over the years to keep up with the times.
While it still retains the old-style infrastructure that made it attractive to many people in the olden days, Western Union's latest incarnation is very relevant.
In this review, we'll take a look at fees and rates, transfer times, the types of transfers you can make with Western Union, and much more.
Western Union Overview
Western Union is one of the oldest, largest and leading money transfer providers in the industry with over 550,000 locations in over 200 countries and territories. Unlike many providers, Western Union offers both domestic and international transfers; the ability to send and receive cash abroad quickly is his specialty.
Customers can also send money online via the Western Union website and mobile app to bank accounts, agent offices and mobile wallets.
But Western Union has a complex pricing structure and its FAQs lack guidance for some key customer situations, such as canceling a transfer before delivery.
In addition, the company has failed to protect consumers in the past. He agreed to pay $ 586 million in a 2017 settlement with the Department of Justice and other government agencies for failing to prevent electronic fraud on his platform.
With Western Union, money can be received in more than 125 currencies and in several ways (the options for sending and receiving depend on the country): in cash from an agent or through an ATM, to a bank account or to a mobile wallet.
Money is often available within minutes of being sent. You can pay by money order in cash, debit or credit card, or from your bank account. For some countries there are also bill payment services.
Money transfer limits vary depending on which service you choose and your transfer history, as well as the location of the sender and recipient, payment and payout methods.
Western Union is currently embarking on a massive digital expansion to expand the number of countries that provide digital money transfer services, such as sending money from or to a bank account, mobile wallet, or through the Western Union app.
They are also expanding the number of countries in which you can use their mobile app. Digital capabilities are already widespread in the US, Canada, most of Europe, Australia and New Zealand, but they are rapidly expanding their digital reach in Latin America, Asia and the Middle East.
More recently, they have expanded their digital reach in several countries, including Mexico, Brazil, Jamaica and Panama in Latin America and the Caribbean; Singapore and Malaysia in Asia; and Bahrain, Kuwait, Qatar and Oman in the Middle East.
Western Union allows millions of people to send money to family members for basic living expenses, education, healthcare, or starting a business. Western Union also serves businesses through its Western Union Business Solutions division.
Pros
Great option for people who need to send or receive physical cash.
Best for people sending to places not widely covered by other providers, such as prisons and U.S. military bases overseas.
Low minimum transfer amount of $1.00.
Option to send money in minutes.
Transfer to a wide range of countries.
Western Union supports 200+ countries and has over 550,000 agents on its network.
24/7 customer service.
Cons
Not the cheapest option depending on transfer location.
Not all channels are available in every country.
Exchange rate margins are not transparent.
Difficult to compare costs because the fee and exchange rate can vary significantly.
Maximum transfer limits, which is $2,999.99 per online money transfer.
Using the online platform is frustrating and inconsistent.
Company profile
Western Union was founded by Ezra Cornell in 1851, originally as a telegram service. (Telegrams were the way people sent short messages over long distances before telephones.) Over time, the company expanded its range of services to allow customers to make personal transfers through its retail outlets and then over the Internet.
The telegram aspect of Western Union's business was discontinued in 2006, but money transfer services are largely the company's core business.
Western Union is by far the largest money transfer service provider in the world, transferring over $ 300 billion on behalf of its customers in 2017 alone. That's far more than even its closest competitor, MoneyGram, which transfers an estimated $ 25 million annually.
Western Union is currently headed by Hikmet Ersek as CEO. He is supported by Raj Agrawal, Acting CFO, and Odilon Almeida, President of the Global Money Transfer Business Unit.
Sheri Rhodes oversees all the technical aspects of the company as Chief Process Engineer and Caroline Tsai as Group General Counsel. Jacqueline Molnar completes a distinguished executive team as Director of Compliance.
The head office is located in United States, Englewood, on East Belford Avenue.
Types of Western Union transfers
You can make three main types of transfers on the Western Union platform. However, their availability varies by country. The transfers can be:
Cash pick-ups
Bank transfers
Mobile wallet deposits
You can make transfers by phone, in person with an agent, or online via the Western Union website or app.
Transfers processed through Western Union can take anywhere from a few minutes to a couple of days depending on several factors, some of which are listed below.
Cash withdrawals and transfers via mobile wallet usually arrive in minutes. The bank deposit will be delivered within 2 days. If correspondent banks are involved, this can take much longer.
Paying for a transfer using a debit or credit card provides faster delivery times than paying by bank transfer.
Where you send money, determines the delivery time of the transfer. Greece and India are good examples. When transferring money to Greece via a bank deposit, it takes up to 4 business days. The same transfer to India takes 0-1 business days.
Pricing
The Western Union website has a useful tool called the Price Estimator, which seems to be a practical way to find out how much a transfer will cost you. Enter the destination of the money, amount and currency.
Then you can choose online, in-store or mobile app as your chosen transmission medium. Various options change their settings depending on the selected country, allowing recipients to collect money from Western Union branches or transfer it directly to their bank account.
For example, sending $ 500 to Jamaica you will get a commission of $ 7 for a debit card, $ 21.50 for a credit card, $ 5 for a bank account option, and $ 9 for in-store pay. The transfer will take a few minutes and can be received at a Western Union branch.
In addition, a bank account option offers a $ 2.99 transfer fee and took up to 1 business day to receive funds. In other words, there are many variables involved in calculating individual costs, although the estimate tool is great at helping you navigate those costs.
Explanation of Western Union fees and exchange rates
Western Union charges different fees for almost every country it ships to. These fees also depend on how you pay for the transfer and how it will be received. Agent location fees are not usually posted online, but Western Union fees are based on the following:
Location. The fee you pay will be different when shipping to different countries in the world.
Payment. There are different fees when paying by credit card versus debit card or bank account. In addition, you may be charged a fee when paying with a credit card.
Method of obtaining. Receiving cash is usually more expensive than transferring money directly to a bank account.
Variable exchange rate. Western Union applies different exchange rates to different types of transfers. It also uses stronger or weaker exchange rates depending on the currency you are transferring.
Western Union Features
Flexibility
Flexibility is a key feature of Western Union, offering many ways to transfer money, albeit at very different fees depending on how you move the funds and where you are sending money.
If necessary, you can do everything online by sending money directly to bank accounts using the Western Union app.
Cash pickups
Receiving cash is also an option preferred by many, while an increasing number of users are choosing to use the mobile wallet feature available in selected countries.
Using the Western Union app also includes additional features and convenience features such as one-touch fingerprint login, instant access to the contacts you regularly send money to, and the ability to dynamically track your transfers.
Ease of use
When you use Western Union, you at least benefit from a huge company with countless outlets around the world. Add to that the wide range of currencies it can handle, over 125, and you have a service that's fast and convenient.
Another bonus is the many different ways to send money from the Internet and using the application to bank accounts, mobile wallets and other points around the world.
Support
With something the size of a Western Union transaction, you would be entitled to count on an unbreakable support structure. Thus, there are many options for help. If you are looking for basic information and FAQs, the Western Union Help Center is your obvious first aid.
However, it is also possible to speak to a representative, send an email request to Western Union and naturally call them on the phone if you prefer to speak to someone in person.
There is even a postal address for postal inquiries and correspondence. It is also possible to track the status of transfers, which is often the first thing many of us want to do if we are concerned about the whereabouts of our funds. The app is suitable for this kind of thing.
Safety
Western Union is regulated by FinCEN in the United States. Its international subsidiaries are regulated by the relevant authorities in their jurisdictions, such as the Financial Markets Authority in Europe and ASIC in Australia.
In accordance with standards set by government regulators, Western Union customer funds are held in segregated accounts and kept separate from the company's own operating accounts. This ensures the safety of clients' funds in case Western Union encounters financial difficulties.
The Western Union website is protected with TLS encryption, which prevents the interception of sensitive data during your visit. You can confirm that this is indeed the case by recognizing the green padlock next to the website URL in your browser.
Additional Western Union services
Western Union Business Solutions
Western Union also serves businesses under the Western Union Business Solutions brand. The service, which the company launched in 2010 following the purchase of Canadian foreign exchange firm Custom House, allows companies to leverage Western Union's global payment network and cross-border platform.
Use cases include paying suppliers, employees and partners worldwide, accepting payments from foreign customers, and sending bulk payments around the world.
In 2016, Western Union Business Solutions launched WU EDGE, an innovative online platform for small and medium-sized businesses to make and receive international payments, hold foreign exchange, track your accounts payable and receivable, and manage cash flow and foreign exchange risk.
Consumer for business
Western Union's consumer-to-business services are a fast and convenient way for consumers to pay bills from utilities, auto finance companies, mortgage companies, financial service providers, government agencies and other businesses.
Bills can be paid by debit or credit card, bank transfer or cash at a Western Union dealership. This service is currently only available in the United States under the Speedpay brand, in Argentina under the Pago Fácil brand, and in Peru and Panama under the conventional Western Union brand.
Prepaid card
The Western Union NetSpend MasterCard prepaid card allows consumers in the United States to store funds on a prepaid card and use it to make and receive Western Union money transfers.
You can use your Western Union prepaid card to shop online, buy groceries, pay bills, or withdraw cash from an ATM.
You can receive a direct transfer of your salary and receive government benefits directly to your Western Union NetSpend Prepaid MasterCard, giving you a faster, more convenient way to receive and use money.
How to use Western Union?
Western Union offers several ways to send money. At a minimum, you will need:
Western Union account. As part of the translation, it is necessary and easy to create a free account.
Valid payment method. You can pay for the fastest and cheapest Western Union transfer with a debit card, or use a credit card or bank account. You can also pay in cash at the agent's office.
Recipient's contact information. When sending to a bank account, you will need the bank name and account number. If you are sending a prepaid card for home delivery, you will need an address and phone number.
Your contact and billing information. Card number or account number, as well as security information for the account from which you are transferring.
If your recipient picks up cash in person, please let them know to bring with them a valid ID that matches the name you are transferring to.
Before sending funds over the Internet, you need to create an online Western Union profile. Registration is free and relatively quick. If you do not want to register online, you can contact Western Union by phone and provide the required information.
If you prefer the security of your personal transactions, visit one of the 42,000 Western Union branches in North America to transfer funds by cash, credit or debit card.
Steps to Send Western Union Transfer Online
Step 1. You can register and send money via Western Union online, in person or through a mobile application.
Step 2. Create a free account using your name and contact information.
Step 3. Confirm your account by email and the provided phone number.
Step 4. Provide the required identifier if required.
Step 5. Start the transfer by clicking Send money.
Step 6. Enter your transfer details, select payment methods and click "Submit".
Step 7. See Receipt for tracking details.
Useful tips for international money transfers
Compare the cost of a transfer from several providers.
There are two types of costs: down payment and exchange rate markup. Find a provider that offers the cheapest combination of low fees and the best exchange rate you can get. Usually, non-bank online providers offer cheaper transfers than banks.
Know how exchange rates work (and how to find the best one).
The exchange rate is the price of one currency in relation to another currency. For example, if you want to convert US dollars to Euros, you should check how much one US dollar is worth in Euros.
Most translation providers won't provide you with the exchange rate you find on a currency exchange platform like Bloomberg.com (or when you exchange rates on Google), but a currency platform can be a useful starting point to find out what the best rate looks like in this minute.
When checking the exchange rate for international transfers using services such as Western Union, focus on the foreign currency amount. The higher it is, the more money your recipient will receive.
Avoid paying by credit card.
This is an option for some providers, but there may be a higher down payment and your credit card issuer may be responsible for costs such as interest and cash down payments. If you need fast money delivery, use a debit card. A transfer paid directly from a bank account is usually much slower.
To conclude
Western Union is a very large global company, which means that it can help you with money transfer tasks practically wherever you are and in what currency you want to move. There is also the flexibility to transfer money both domestically and internationally.
However, there are some drawbacks, one of which is that pricing can be quite confusing as a price estimator is a useful tool on the Western Union website for measuring costs.
As with any money transfer tool, you also need to keep an eye on your security settings, but the ability to make transfers quickly, as well as the ability to let someone pick up the cash at the other end, may appeal to many.
The main advantage of Western Union is that it allows you to get money almost anywhere. However, there are other money transfer services that can help reduce overhead costs.
For that matter, if you're sending cash to a fairly common destination, the best advice is to look at what competitors are offering alongside Western Union.
Conclusion
In many countries far better options exist. In the digital age, faster, cheaper and more-efficient options can definitely be found.
With that being said, Western Union still has a place, with their huge network around the world.
In particular, they service many developing countries well, and can be competitive on smaller amounts of money.
For that reason, Western Union will remain competitive.