You might be wondering, where do British expats live in Abu Dhabi? What's it like to live in the city? How is the cost of living? We got you. We will list the places in the United Arab Emirates capital where you can find not only Brits but other expats too.
If you want to invest as an expat or high-net-worth individual, which is what I specialize in, you can email me (advice@adamfayed.com) or use WhatsApp (+44-7393-450-837).
This article is here merely for informational purposes, and some of the facts written here might have changed since we first wrote it.
Certain Basics of Living in Abu Dhabi from the UK (and other places)
Living in Abu Dhabi may provide you with a rich and varied exposure to many cultures. The city is noted for its contemporary infrastructure, rich cultural legacy, and diversified expat population. It offers a high standard of living with excellent amenities and services, as well as minimal crime and a strong judicial system that helps people feel safe overall.
How's tax in Abu Dhabi?
One notable aspect of living in Abu Dhabi from the UK is the favorable tax environment. The UAE has no personal income tax, which means residents can enjoy the benefits of their earnings. This can contribute to a higher disposable income and allow individuals to enjoy a comfortable lifestyle.
However, the country taxes multinational corporations like oil firms and international banks. Certain products that pose a threat to public safety or the environment are subject to an excise tax as well, while most products and services are assessed a Value Added Tax.
Is there entertainment and night life in Abu Dhabi?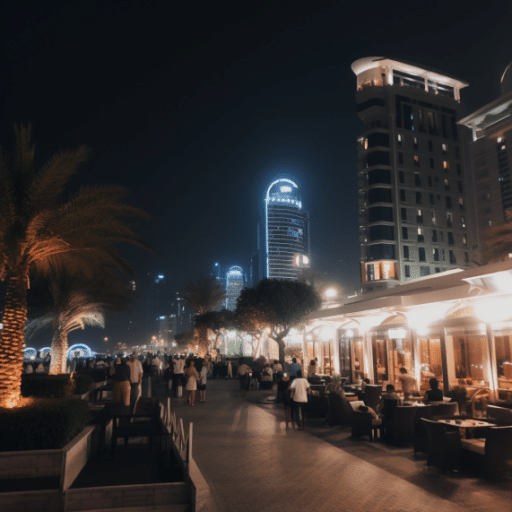 Abu Dhabi is known for its relatively reserved lifestyle. The city offers bars and clubs where foreigners may buy alcohol, but they require official permission to keep it at home.
The process of obtaining an alcohol permit involves submitting an application to the relevant authorities, typically through authorized liquor stores or online platforms. The license lets the possessor purchase and drink alcohol legally.
This permit requirement reflects the cultural and religious norms in the United Arab Emirates, where the consumption of alcohol is regulated to ensure responsible and respectful behavior. Expats should be aware of and abide by these requirements to prevent any legal woes.
Other recreational opportunities also abound throughout the city. Expats can explore the stunning coastline with beautiful beaches or indulge in water sports such as snorkeling and diving. Museums, galleries, and theaters in Abu Dhabi are among the best in the world, making it a mecca for cultural junkies.
Saadiyat Island appears as a viable alternative for people seeking energetic and active locations inside the city, since it is undergoing substantial construction to provide top-notch entertainment opportunities. Meanwhile, Emirates Palace is well recognized as a premier location to see impressive exhibits and watch engaging performances.
Is healthcare in Abu Dhabi good?
Modern facilities and well-trained doctors make Abu Dhabi's healthcare system excellent. The city provides a combination of public and private healthcare options, ensuring accessibility and choice for individuals seeking medical care.
Public healthcare is available through the Abu Dhabi Health Services Company or SEHA, which operates various hospitals and clinics across the city. SEHA facilities offer a wide range of medical services and specialties, providing quality care to the community.
Aside from the government-backed medical care system, the city's private hospitals and clinics often offer a broader range of specialized services and provide options for individuals who prefer private healthcare or have specific medical needs.
What about education?
Abu Dhabi also has a number of prestigious international schools that provide a variety of educational programs. This provides expat families with options for their children's education and ensures a smooth transition into the education system.
What's the cost of living in Abu Dhabi?
In Abu Dhabi, the cost of living can vary based on factors such as family size and lifestyle choices. For a family of four, the estimated monthly living expenses amount to around 11,118 UAE dirhams or 3,028 US dollars per Numbeo. For single individuals, the estimated monthly expenses come to approximately 3,257 dirhams. Do note that these figures exclude rental costs.
When it comes to renting an apartment, the monthly prices for a one-bedroom apartment can range from 4,423 dirhams to 5,410 dirhams. The specific cost will depend on the location, whether it is within the city center or in the outskirts.
As for dining out, the cost of a meal at an inexpensive restaurant in Abu Dhabi can start from a minimum of 9.5 USD. However, dining costs can change depending on the type of restaurant, cuisine, and location.
How is commuting in the city?
Getting about Abu Dhabi is easy and cheap thanks to the city's many taxis and ride-sharing services. Be aware, however, that traffic conditions may be hectic due to continuous, huge roadwork projects that never ever seem to get halfway finished. Due to the complicated grid layout, several lanes, clogged back roads, and aggressive driving attitudes, navigating the streets during rush hour may be extremely difficult.
It's possible that you'll encounter even more congestion if you opt to live near tourist hotspots like The Corniche or the central business district. Since the worst traffic is concentrated in the area of the Shangri-La Hotel and Khalifa City, many foreign residents choose to settle there.
The typical commute in Abu Dhabi takes around 45 minutes. Sadly, many of its population gets stuck in traffic for two hours every day during commute. This suggests that for a sizeable percentage of the population, using public transit may be a hassle.
Are there expat communities in Abu Dhabi?
Abu Dhabi's multicultural environment fosters a diverse and inclusive community. Meeting individuals from all around the world and all walks of life can help expats build a diverse and exciting social network.
While Abu Dhabi embraces modernity, it also celebrates its traditional roots. Expats can immerse themselves in Emirati culture through visiting historical sites, experiencing local customs, and participating in traditional events and festivals. Besides, British expats in Abu Dhabi will find a seamless transition as English is widely spoken, making communication and everyday life more convenient.
Where do British expats live in Abu Dhabi?
Khalidiya
If your preference is to reside among fellow British expats, the ideal destination for you would likely be Khalidiya, a renowned suburb situated around Sheikh Zayed.
Gated villas and high-rise flats house a diversified expat community in this neighborhood. These areas provide pick-up and drop-off services for local school bus services.
Living in Khalidiya offers the advantage of having a wide variety of culinary options at your disposal. Many restaurants provide international cuisines to suit every taste. Within close proximity, Abela Supermarket is a well-stocked grocery store that caters to all your household needs.
For avid shoppers, the top city malls are just a leisurely stroll away, offering a wide array of retail outlets and entertainment venues.
Khalidiya is also an excellent neighborhood for those who value fresh air and outdoor spaces, as it features numerous parks and squares where you can enjoy recreational activities or simply unwind in a tranquil environment. You can easily access the beach, providing a refreshing escape from the intense desert sun.
Moreover, Khalidiya is home to shisha restaurants and Internet cafes that attract teenagers and young people from across the city, providing them with places to meet and socialize.
Al Markaziyah
Residents can quickly go about Abu Dhabi owing to the Al Markaziyah neighborhood's central position. The apartment buildings in this area, right in the middle of Abu Dhabi, put inhabitants within walking distance of the city's best stores, cafés, and restaurants. This bustling neighborhood provides a diverse range of products, from carpets to holy water, making it a vibrant shopping destination.
Al Markaziyah also has many dining and retail options as well as various schools, which adds to the convenience for families with children.
For expats working in central Abu Dhabi, residing in Al Markaziyah offers the advantage of a short commute to work, provided that they plan their journeys carefully.
One aspect that can present a challenge to residents is parking, as it is known to be limited in Al Markaziyah. Taxis may not be readily available too. And traffic, well, it can be crazy.
Nevertheless, that shouldn't be much of a turn off for individuals who thrive in vibrant and hurried environments, as the busy streets contribute to the lively atmosphere.
Mangrove Village
When expats relocate to Abu Dhabi with their children, many choose to settle in the serene and family-friendly enclave of Mangrove Village. This residential complex offers a tranquil atmosphere and features luxurious villas, often surrounded by lush settings and situated near a peaceful stretch of beach.
Nestled on the outskirts of the city, Mangrove Village is bordered by Maqta Creek and the Arabian Gulf, providing residents with picturesque waterfront views. The community primarily attracts foreign nationals from Europe and North America, creating a diverse and welcoming environment for expat families.
The properties in Mangrove Village predominantly consist of three to four-bedroom homes within a secure gated community. Outdoor and indoor pools, tennis courts, children's play areas, and a well-equipped fitness club are available to residents. This ensures that families have plenty of recreational options right at their doorstep.
For those who have a passion for water sports, the nearby port offers fantastic opportunities to indulge in weekend adventures. Additionally, expat parents with young children who are not yet enrolled in school can benefit from the presence of a nursery and daycare service within the village, providing convenient childcare solutions.
Parking within Mangrove Village is abundant, providing ease and convenience for residents and their guests. The community is safeguarded by 24-hour security measures, ensuring a safe and secure living environment. The complex's grocery and café make it easy for residents to get groceries and coffee without leaving home. While Mangrove Village may not offer a vibrant nightlife scene, the area benefits from lighter traffic compared to the city center.
The Corniche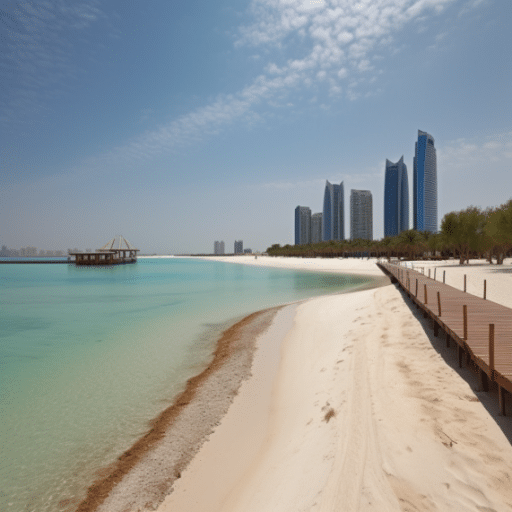 The Corniche, known as one of the most stunning areas of Abu Dhabi, boasts a picturesque stretch of white sandy beaches that have undergone significant redevelopment. The area offers a multitude of activities, including the renowned Abu Dhabi Formula One race, which adds to its appeal.
Located at one end of The Corniche is the Al Mina Port, while the other end is marked by prominent landmarks such as the Emirates Palace and Marina Mall. As a result, The Corniche becomes a bustling and highly popular destination, particularly during weekends, attracting a large number of visitors.
The family-friendly beaches provide showers, washrooms, and eateries for visitors and locals. The presence of boardwalks and numerous cafes provides additional options for leisurely strolls and delightful dining experiences.
It's important to note that living near The Corniche, like any high-demand area in Abu Dhabi, tends to come at a higher cost compared to less popular neighborhoods. Albeit, after years of sharp growth, local rental costs seem to have leveled out.
Consider your commute while choosing a home. While living costs may be lower in outlying areas, it is crucial to evaluate whether a 90-minute commute twice a day on the Sheikh Zayed Road justifies the potential savings in monthly expenses.
Al Bateen
Al Bateen predominantly consists of UAE locals, although a significant number of expats also call this neighborhood home. In contrast to the residential complexes specifically designed for expat professionals, Al Bateen has a distinct ambiance and character.
The housing options in this area mainly consist of villas and townhouses, offering residents a spacious and comfortable living environment. For those seeking affordable shopping opportunities, Al Bateen Mall is a convenient destination within the neighborhood. Additionally, Al Bateen Marina provides a vibrant atmosphere with its nightclub, restaurant, and sports club, offering residents leisure and entertainment options.
While Al Bateen may not be among the suburbs in Abu Dhabi with the highest expat population, it is an exceptional place to live if you prefer a tranquil and peaceful neighborhood. The area has garnered increasing popularity among foreign nationals who seek a residential setting that provides a glimpse into the more traditional aspects of Abu Dhabi's way of life.
Madinat Zayed
Madinat Zayed, located in downtown Abu Dhabi, holds a prime central position and offers modern residential units, predominantly comprising high-quality apartments. Its strategic spot provides for easy access to the neighboring seaside, making it excellent for beachgoers.
Furthermore, Madinat Zayed provides a relatively affordable living option, complemented by numerous parks, malls, schools, and supermarkets in close proximity.
Architecturally, Madinat Zayed showcases contemporary designs, with a mix of mid and high-rise buildings dotting the skyline. These buildings have gyms, pools, and private parking for residents' convenience.
The presence of parks provides opportunities for leisurely walks and recreational activities, while the nearby malls cater to residents' shopping needs. Parents may be sure their children will get a decent education with local schools. Moreover, daily grocery shopping is hassle-free with supermarkets within the area.
Al Wahda
Al Wahda, situated in midtown Abu Dhabi, is located a bit further out from Madinat Zayed. While there may not be many schools in the immediate vicinity, this district benefits from its central location, meaning travel distances to other areas of the city are relatively manageable. However, it's crucial to plan around the city's traffic patterns.
Al Wahda Mall, an iconic shopping destination, has garnered numerous accolades as Abu Dhabi's premier shopping mall. It offers a diverse range of attractions, including a cinema for movie enthusiasts, a variety of international brands, and a massive hypermarket catering to all essential needs.
Living in Al Wahda provides residents with convenient access to a plethora of shopping options and entertainment activities within the mall's premises. This makes the area lively and convenient for people who desire fast access to shopping and recreational activities.
Pained by financial indecision? Want to invest with Adam?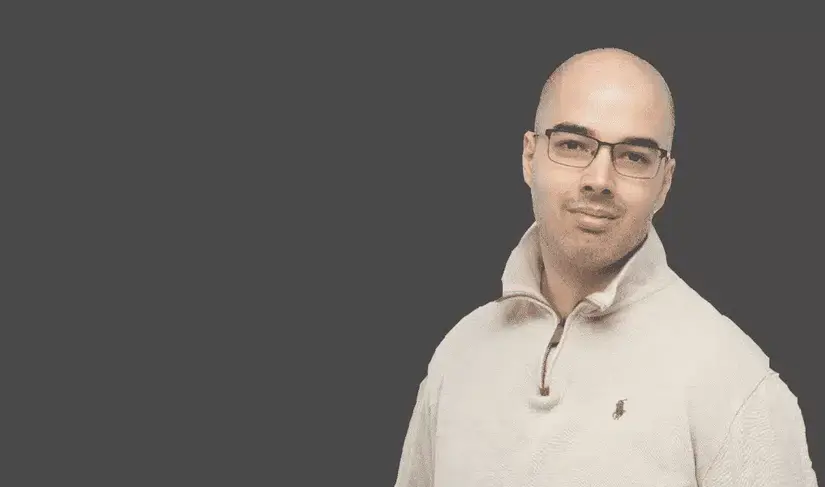 Adam is an internationally recognised author on financial matters, with over 694.5 million answer views on Quora.com, a widely sold book on Amazon, and a contributor on Forbes.