XTB Trading Platform Review
If you are looking to invest as an expat or high-net-worth individual, which is what I specialize in, you can email me (advice@adamfayed.com) or WhatsApp (+44-7393-450-837).
Introduction
Here's a review of the XTB trading platform.
XTB was established in 2002 and is a multi-national CFD broker with offices in London and Warsaw.
Several financial regulators oversee the business, including the prestigious UK Financial Conduct Authority (FCA). Additionally, XTB is required to regularly disclose its financials because it is listed on the Warsaw Stock Exchange.
XTB is regarded as secure because of its established track record, listing on a stock exchange, and transparent publication of financial statements.
What is XTB
XTB started out in 2002. The longer a broker's track record, the more evidence there is that it has successfully weathered previous financial crises.
A major benefit of XTB's listing on the Warsaw Stock Exchange is that it regularly and transparently releases its financial statements, which increases security.
Being regulated by financial authorities, being listed on a stock exchange, and providing financial statements are all excellent indicators of XTB's security.
Pros and Cons of XTB
Low-cost forex CFD fees are charged by XTB, and up to €100k in monthly trade volume, stocks and ETFs are offered without commission. Credit/debit cards and electronic wallets are just a couple of the many options available for quick, usually free deposits and withdrawals. Additionally, opening an account is simple and quick.
On the down side, XTB only offers a small selection of products, primarily CFDs, though some European clients can also access real stocks and ETFs. XTB also assesses an inactivity fee.
Pros of XTB
Low forex CFD fees, commission-free stocks/ETFs for some
Free and fast deposit and withdrawal
Easy and fast account opening
Cons of XTB
Product portfolio limited mostly to CFDs
Inactivity fee charged
XTB Fees
Low forex fees, frequent withdrawal fee waivers, and free stock and ETF trading are all available to some customers. There is, however, an inactivity fee.
Opening an XTB Account
Opening an account with XTB is a simple, hassle-free, and entirely digital process. On that day, your account will be ready to trade.
Customers are welcome at XTB from all of Europe and the majority of the world's nations.
What is the minimum deposit amount at XTB?
Individual accounts at XTB don't need to make any deposits at all. However, corporate accounts have a high minimum deposit requirement of £15,000 per account.
Types of XTB Accounts
You can only select one type of account by default, and it is referred to as a Standard account. A Swap-free/Islamic account may also be opened if the account is opened from outside of Europe. This account type doesn't impose swap fees and complies with Islamic law.
There is also a corporate account available.
How to Open an XTB Account
The process of opening an account at XTB is simple and straightforward, and it shouldn't take you longer than 15-20 minutes.
The steps for opening an XTB account are as follows (may differ by country):
Type in your email address and the nation where you live.
Add a few details about yourself, like your address and birthday.
Choose your trading platform and base currency for your account.
Give details about your employment situation, financial situation, and trading history.
Verify your identity and address to activate your account.
A fantastic feature for some European customers is the ability to confirm their identity via video chat. The photo or scanned copy of your photo ID, passport, or driver's license must be uploaded if video verification is not possible. Proof of residency can be provided by utility bills or bank statements.
XTB will verify your account as soon as you have uploaded your supporting documents.


XTB Withdrawals and Deposits
Deposits and withdrawals on XTB are quick and generally cost-free. Credit/debit cards, electronic wallets, and bank transfers are all acceptable methods for deposits and withdrawals.
XTB Account Base Currencies
There are a total of 5 base currencies available on XTB. The available base currencies for XTB accounts are USD, EUR, and GBP. Accounts are available in HUF and PLN in addition to these popular currencies.
In comparison to some close competitors, this choice of account base currencies is regarded as average.
Why is this relevant? For two factors. You won't be charged a conversion fee if you deposit money into your account using the same currency as your bank account or if you trade assets using the same currency as your base currency.
By opening a multi-currency bank account at a digital bank, you can conveniently avoid paying currency conversion fees.
Digital banks provide free or inexpensive international bank transfers as well as bank accounts in a variety of currencies with excellent currency exchange rates. On your phone, creating an account only takes a short while.
XTB Deposit Fees and Options
Bank transfers are free of deposit fees at XTB. Depending on your country of residence, there may be a fee for deposits made with credit/debit cards and electronic wallets, which is typically 1% to 2%. For UK customers, for instance, Skrill charges 2% of the deposited amount.
Numerous electronic wallets are also accepted for deposits in addition to bank transfers and credit/debit cards:
The types of electronic wallets you can use depend on where you live. For instance, Sofort deposits are only available to German customers.
Compared to credit/debit cards and electronic wallets, bank transfers can take several business days to complete. Only funds from sources where your name is involved may be deposited.
Recent comments regarding deposit and withdrawal – If you decide to use a bank (wire) deposit, be sure to read the information under Deposit funds -> Bank transfer on XStation 5.
XTB Withdrawal Fees and Options
If the amount is greater than a predetermined threshold ($50–$200 depending on where you live), XTB does not charge withdrawal fees.
Bank transfers are the only available method of cash withdrawal.
UK customers must pay the following withdrawal fees (when withdrawing an amount below the threshold):
< $100: $20
< €80: €16
< £60: £12
< HUF 12.000: HUF 3.000
What is the time frame for XTB money withdrawals? Withdrawals via bank transfer took one business day. The withdrawal will arrive the same day if you start it before 1 p.m.; otherwise, it will arrive the following working day.
Only accounts with your name on them are eligible for withdrawals.
How to Withdraw Money from XTB
Open a trading platform account.
Then select "Deposit and withdraw funds" in the bottom right.
Enter the information for your bank account and the amount you want to withdraw.
start the withdrawal process.
XTB Web Trading Platform: xStation 5
The xStation 5 platform from XTB has a good search feature and is user-friendly and adaptable. However, there is no two-step login option.
Use xStation 5, XTB's own trading platform, at XTB.
The following languages are supported by xStation 5: Arabic, Armenian, Bulgarian, Chinese, Czech, English, French, German, Hungarian, Italian, Japanese, Korean, Polish, Portuguese, Romanian, Russian, Slovenian, Spanish, Swedish, Thai, Turkish, and Vietnamese.
XTB Web Trading Platform Design
When you start using xStation 5, even if you are a beginner, you will find that it is well-designed and user-friendly, despite the fact that it initially seems like a platform for professional users.
The web trading platform is simple to customize.
XTB Web Trading Platform Login and Security
There is only one login option available. It would be safer to use a two-step login.
XTB Web Trading Platform Search Functions
The XTB search feature is excellent. By selecting "Market Watch," you can perform various asset searches:
Enter the product's name in the search field.
Browse through various product categories. To trade a US stock CFD, for instance, simply click on the stock type and choose the US.
Placing Orders on XTB Web Trading Platform
These order types are available for use:
Market
Limit / Stop
Stop-loss / Take profit
Trailing stop
Also available is the Good 'til Time which is a one order time limit (GTT).
The trader calculator, a helpful tool on the platform, makes it easy to figure out the margin, commission, and other crucial factors for each trade.
XTB Web Trading Platform Notifications and Alerts
Users will surely enjoy how simple it was to set up alerts and notifications. For important events like margin calls, deposits and withdrawals, your closed/open positions, and other features, you can set up email, SMS, and push notifications.
XTB Web Trading Platform Reports on Fees and Portfolios
The platform provides transparent fee and portfolio reports that show the profit or loss for each of your positions. They are accessible through the "History" tab. Additionally, daily email reports are available.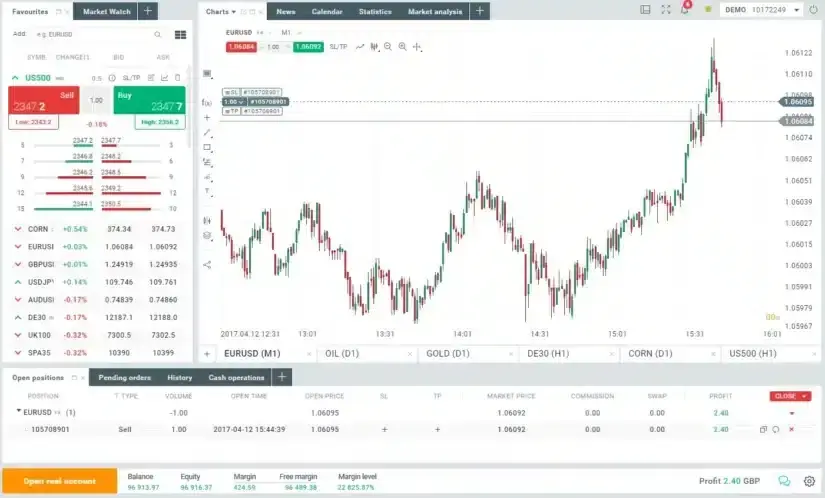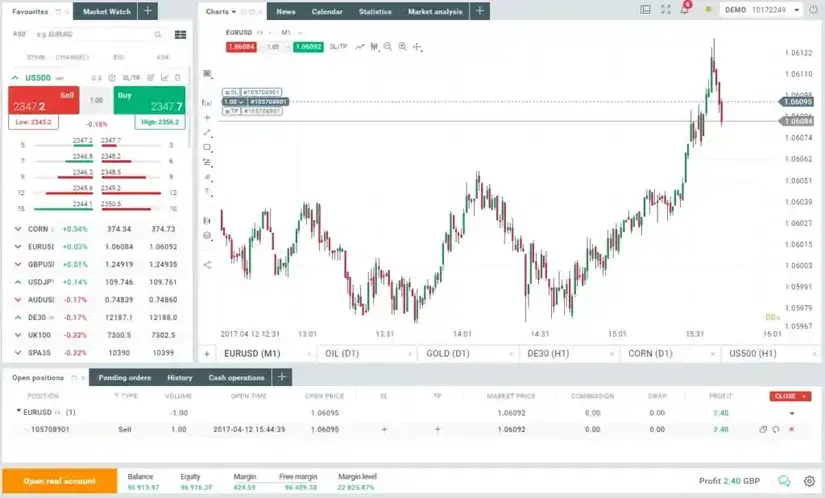 XTB Mobile Trading Platform
The XTB mobile trading app has a sleek design and an effective search feature. On the other hand, two-step authentication is absent.
Both iOS and Android users can access the mobile version of xStation 5, which is XTB's own platform. An Apple Watch is an additional option.
The languages that are supported by the web trading platform are also supported by the mobile trading platform.
XTB Mobile Trading Platform Design
The mobile trading platform of XTB is well-designed and easy to use. Every significant feature is simple to locate.
XTB Mobile Trading Platform Login and Security
Only one-step login is available in the application. A two-step login would be safer.
On compatible devices, fingerprint authentication can be set simultaneously. This is a wonderful and practical feature.
XTB Mobile Trading Platform Search Functions
The xStation's mobile search feature is excellent. The product's name can be entered in the search bar, or you can simply browse the different categories.
Placing Orders on XTB Mobile Trading Platform
Similar order types to those available on the web trading platform are available here:
Market
Limit / Stop
Stop-loss / Take-profit
Trailing stop
You may also use the Good 'til Time (GTT) which is one order time limit.
XTB Mobile Trading Platform Notifications and Alerts
There are many different alerts and notifications that can be set, such as price alerts and notifications of significant market news.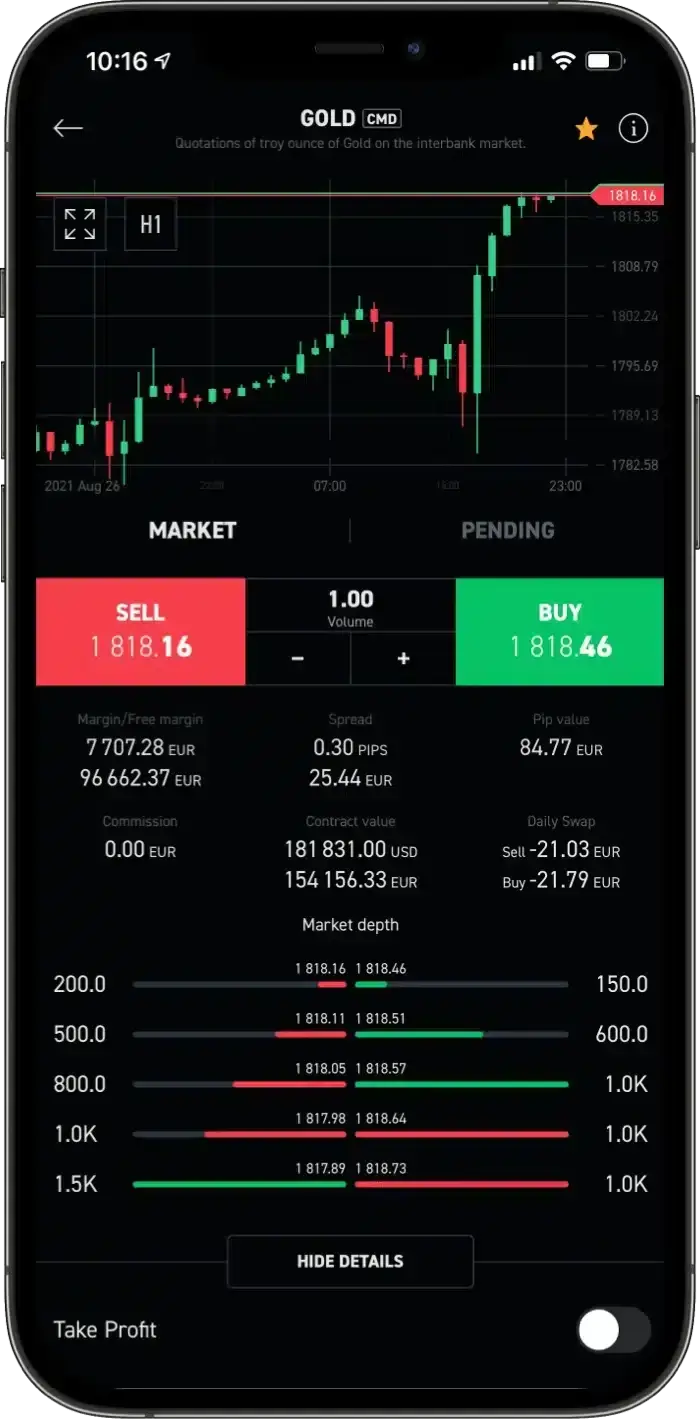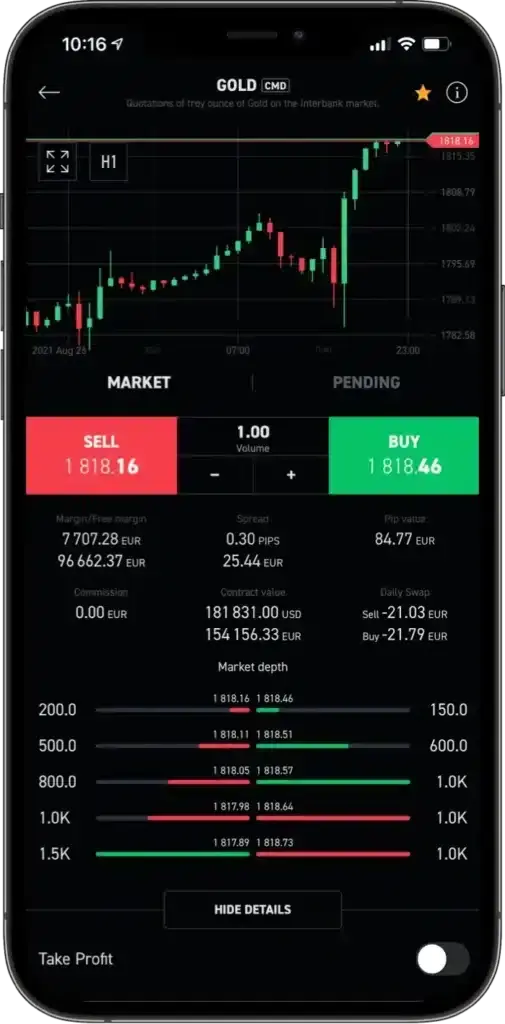 XTB Desktop Trading Platform
There is a desktop version of the xStation 5 platform from XTB. It is identical to the web trading platform in terms of both functionality and aesthetics.
The desktop and online versions of xStation 5 are identical.
XTB Trading Markets and Products
The only CFDs available by default are on XTB. Real stocks and ETFs are also available for trading for some European clients. Bonds, mutual funds, options, and futures are popular financial instruments that are not offered.
XTB is a CFD broker.
Given their complexity and high potential for rapid loss of capital due to leverage, CFDs are risky financial instruments. Trading CFDs with this provider results in losses for 76% of retail investor accounts.
You ought to think about whether you are aware of how CFDs operate and whether you have the financial wherewithal to assume the high risk of financial loss.
Overall, eToro's and Trading 212's CFD selections are comparable to those of XTB.
XTB product selection
Currency pairs: 57
Stock index CFDs: 36
Stock CFDs: 1,900
ETF CFDs: 140
Commodity CFDs: 21
Cryptos: 14
The sale of crypto-derivatives to UK retail customers was prohibited starting on January 6, 2021, by the Financial Conduct Authority (FCA) of the UK.
The products' initial leverage level cannot be changed. This is considered to be a crucial factor that you ought to be able to control, so this is a disadvantage.
When you want to decrease the risk of your trade, the ability to change the leverage manually is a very helpful feature. Because preset leverage levels may be excessive, exercise caution when trading forex and CFDs.
ETFs and Real Stocks
EU clients can trade real stocks and ETFs, with the exception of Cyprus and Hungary. The variety of stock products is excellent, but there are not many ETFs. There are 17 stock market selections and 270 ETF selections at XTB.
XTB Trading Platform Research Services
The research tools provided by XTB, which include a news flow with some trading suggestions, are easy to use and beneficial.
Two places offer XTB's research resources:
The xStation 5 trading platform.
The 'Market Analysis' section of the XTB website.
Many languages, including English, Arabic, and Chinese, are supported by research tools. Expect to continue to receive news commentary in your native tongue even after changing the platform's language setting to English.
Trading Ideas
A few trading suggestions are offered by XTB and can be found in the news flow. These trading suggestions are typically brief and based on technical analysis.
These trading concepts, however, are poorly organized. For instance, it can be difficult to find the appropriate trading idea when there are many search results for a particular asset.
Fundamental Data
A fantastic economic calendar can be used. You can see upcoming events on the economic calendar. You can review historical information and read a brief summary when you choose an event.
The P/E ratio and the debt-to-equity ratio are two examples of the limited equity fundamental data that are available. Financial and operational metrics, however, are inaccessible.
Charting
XTB offers effective charting tools. Charts can be easily edited and saved. When compared to other brokers, your 39 available technical indicators are about average.
News Feed
The research team at XTB provides the news. Recommendations, data releases from the economic calendar, live "Traders Talks," and brief messages about recent changes in the market make up the news flow.
Other research tools you might like
The "Stocks screener" filters stocks based on 15 different variables, including market capitalization, P/E ratio, beta, and debt-to-equity ratio. The "Heatmap," a different tool, displays winners and losers.
The "ETF scanner" is another practical tool. With 10 filters, like cumulative return or asset value total, it is very similar to the stocks screener.
Finally, XTB offers a forex heatmap that displays changes in all currencies.
XTB Customer Service
The phone and live chat support services offered by XTB are dependable, quick, and multilingual. On the negative side, European customers can only access customer service 24/7.
You can reach XTB by way of:
Numerous languages, including less common ones like Hungarian or Romanian, are available for customer service.
Live chat on XTB is efficient. It was tested across several nations and in a variety of languages. Expect to receive timely responses and helpful information.
Expect to have a great time when you try out the phone support of XTB. Expect to receive timely responses when they immediately answered the phone.
If you request assistance from XTB via email, you can expect to receive a call in response. Customer service was able to respond to all of our follow-up questions during the call in addition to the email question they had already addressed.
Outside of Europe, customers can contact XTB's customer service team at any time. However, customer service is only always available for clients in Europe.
XTB Trading Platform Education and Tutorial
The education section of XTB is well-structured and unambiguous; it provides written and video materials as well as tutorials for trading platforms.
The high-quality, diversified educational resources offered by XTB include:
Demo account
Platform tutorial videos
General educational videos
Webinars
Quality ebooks and educational articles
XTB Trading Platform Security and Safety
Globally, XTB is governed by a number of financial regulators, including the FCA. Despite having a stock exchange listing, it lacks a banking license.
XTB has offices in Warsaw and London. It is a global broker founded in 2002 that serves clients all over the world and has locations in more than ten different nations.
Is XTB regulated?
Several financial authorities regulate it:
the UK's Financial Conduct Authority (FCA)
the Cyprus Securities and Exchange Commission (CySEC)
the Polish Financial Supervision Authority (KNF)
the National Securities Market Commission (CNMV) of Spain
the Dubai Financial Services Authority (DFSA)
the International Financial Services Commission of Belize (IFSC)
Is XTB safe?
It is strongly suggested that you verify how you will be safeguarded if something bad happens.
Around the world, XTB employs five distinct legal entities. You should take note of this because different entities have different levels of investor protection and different regulators. The investor protection threshold in the UK is £85,000.
The maximum compensation for investor protection is €20,100, with 100% protection up to €3,000 and 90% protection up to €22,000
Negative balance protection is offered by XTB.
Final Thoughts
A top-notch CFD broker is XTB. The company is listed on the Warsaw Stock Exchange and is subject to oversight from numerous financial regulators around the world, including the UK's FCA.
In contrast, many European clients can trade stocks and ETFs commission-free up to a monthly trade volume of €100,000 thanks to XTB's low forex CFD fees.
It is commendable how quick and generally cost-free the deposit and withdrawal processes are. The process of opening an account is simple, quick, and hassle-free.
However, XTB has some shortcomings. Although some European nations offer real stock and ETF trading, the product selection is primarily restricted to CFDs. The last charge is an inactivity fee.
For customers who prefer forex or CFD trading and who also want to benefit from fantastic deposit and withdrawal options along with quick account opening, XTB is highly recommended. Feel free to use a demo account to test it out.
Pained by financial indecision? Want to invest with Adam?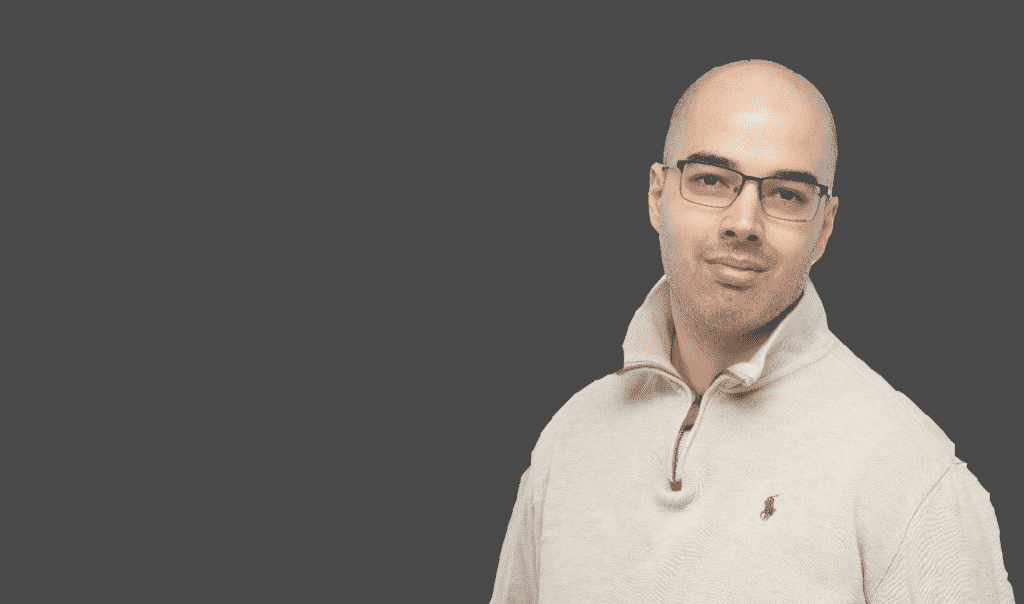 Adam is an internationally recognised author on financial matters, with over 584.6 million answers views on Quora.com and a widely sold book on Amazon and a contributor on Forbes.