Article last updated – February 29, 2021

Due to demand from readers, I have decided to continue my review articles, focusing on investment and insurance providers.
Today I will review AXA PPP healthcare, which is one of the most widely sold healthcare packages in the world.
It is especially popular in places such as Dubai, Qatar, Singapore and other locations with considerable expat populations.
As a quick aside, I have been asked whether AXA PPP and AXA Global Elite insurance in Hong Kong are the same insurance policies.
They are different insurance policies, but there are big commonalities between them.
So most, but not all, of the pros and cons discussed in this article, apply to all of the international AXA policies.
For people interested in international coverage, including discounts on the stated website quotes, please email me on advice@adamfayed.com or use the chat function below.

What is the main features of the insurance?
It is a solution for both businesses and individuals. They do cover expats via AXA PPP International.
Like most insurance firms, AXA offers different benefit levels with co-pay/deductibles.
The highest package is prestige. Comprehensive and standard levels of coverage are also used.
What's the difference between the three packages?
On the basic packages, you are essentially being covered for the most serious illnesses.
On the more comprehensive plans, you are being covered for things which aren't emergencies, such as medical check-ups and access to home nursing.
There is a difference between AXA PPP for the international market and the one for the UK, but the fundamentals are the same.
How do the deductibles work?
If you have a $5,000 yearly deductible and your medical procedure costs $10,000, you will need to pay $5,000 out of your own pocket. With a $0 deductible, you would be reimbursed the whole $10,000, but the premium would be higher.
What are the pros and cons?
The main benefits are:
On the higher deductible options, the premiums are reasonable in terms of price
You can do things online, including buying the policies online
The plans are portable if you move from country to country. This doesn't make AXA unique in the international market. Countless other insurers offer the same feature, with a few exceptions.
Evacuation can be included, which can be an excellent benefit in many countries without outstanding medical care.
The cons are:
It doesn't typically cover pre-existing conditions although exceptions do exist, such as if you can be covered as part of a group.
In many ways, AXA is trading on its brand, like other big insurers. Many people make the mistake of assuming a big brand is "safer". The fact that AXA services 50m+ clients around the world isn't always a good point.
As a huge firm, you are merely a number to AXA. A great example of this was when somebody I know wanted a receipt for his company accountant. It took them 3 months to provide it!
AXA has a list of approved hospitals and you usually can't pick your doctor and clinic, unless you go through a long process to get them added onto the approved list.
The coverage level isn't that high. According to the AXA website, the highest package (Prestige) only has a $2m ceiling for coverage. Many other insurers, including cheaper alternatives, have higher ceilings.
How about for families?
AXA PPP do offer family health insurance options. Features of this plan include access to:
New-borns being covered for no extra cost
Access to more comprehensive family coverage
24/7 support
Support from nurses, including over the phone and in-person
Again, this all depends on your benefit coverage and which package you pick.
How do I claim?
There is a set procedure for claiming. You can call the AXA PPP helpline for assistance if you need medical treatment, and they will confirm if your procedure is covered under the terms and conditions.
This is called "pre authorization". This makes the process simple as you can show the hospital on the authorized list your membership card.
However, in certain situations, if emergencies happen, you will need to pay out of pocket and claim back.
The claim forms look similar to this: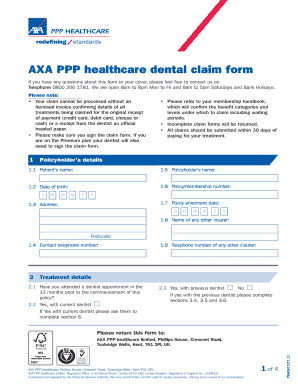 What's direct billing?
Direct billing is where AXA settles the bills directly with the hospital, rather than you needing to pay and get the costs reimbursed.
This option is typically only possible on a $0 deductible. AXA Hong Kong, with their Global Elite health insurance, is well known for offering the direct billing option.

Is dental included?
On some packages, dental coverage is included, depending on the benefits package you pick. These treatments include:

routine dental procedures
Emergencies worldwide
Crowns and fillings
What is the typical cost of the insurance?
That depends on your age, the quality of coverage and whether you pick a high-deductible option.
So costs can vary from $400 a year (if you are young and pay a high deductible) all the way through to $10,000 or more if you are older and choice the most expensive packages.
What things aren't included on all packages?
The following treatments aren't included on all packages:
Pregnancy
Charges that are applied in hospitals which are outside AXA's directory of hospitals, unless they are covered by some "extended option"
Usually pre-existing conditions although some exceptions apply.
How about for expats groups?
Currently, AXA makes a differentiation between groups of 3 and 50, and above 50.
Discounts do apply, depending on the size of the group, as is the case with most other insurers.
Some pre-existing conditions can be covered for groups larger than 10.
Conclusion
For people who just want the very cheapest packages, the high deductible options aren't bad.
It isn't the best option in the world, but meets the basic requirements many people are looking for.
I personally prefer other insurance options, but AXA PPP is a reasonable option.
AXA, perhaps due to their size, are also incapable of offering personalized services.
Further reading
The following article looks at one of the main competitors of AXA In the insurance market: