Dominican Republic Expat Guide (Part Two) – that will be the topic of today's article. You can find Part One here.
Introduction
In our previous article, we discussed certain aspects of the Dominican Republic such as:
• Currency
• Banking
• Taxes
• Insurance
• Financial Advice
Today, we are going to shed some light on topics related to the Dominican Republic such as:
• Education
• Crime Rate
• Safety Measures
• Cost of Living
• Visa
• Retirement
Without any delay, let us get into our topic for today, i.e., "Dominican Republic Expat Guide".
Let us start by discussing the education system in the Dominican Republic.
Education
There is no denying the fact that the Dominican Republic has the least effective education system in the world.
Don't let the 93.78% literacy rate in the Dominican Republic fool you. Because even those who graduate secondary school have the reading ability of sixth graders.
Despite that, the country is making consistent efforts trying to enhance the education system.
Let us have a look at the different types of education levels in the country.
Primary Education
After attending preschool for one year, it is mandatory to attend primary school for six years.
Free primary education is provided in the DR which abides by western standards. Both private schools, as well as state schools, follow western education standards.
Middle Education
Those who complete primary education study another two years before attending secondary education.
As the subjects are academic, students from underdeveloped areas fall back.
Secondary Education
Only a handful of poor people manage to complete the four years of compulsory secondary education.
Secondary education primarily concentrates on wealthy or middle-class people. Only such people get attention and will be sent to tertiary education.
Students who complete secondary education in the DR receive a "bachillerato degree". This is equivalent to a high school diploma in other countries.
Vocational Education
National Technical Vocational Training Institute came into effect in the DR in 1980. Since then, it is trying to enhance vocational preparation consistently.
This institute offers benchmarked vocational training programs to cooperating training centres. The primary objective of the institute is to train trainers.
Tertiary Education
The oldest university for higher education in the new world is the university of Santo Domingo. It was founded in 1538.
This is the main state-owned tertiary institution in the Dominican Republic.
Students who get elected to pursue their education here don't have to pay anything.
There are certain private alternatives to this such as Pontifical Catholic University Madre u Maestra.
Only a handful of people are successful in completing tertiary education in the Dominican Republic.
General Education-related Information
Teaching is not a profession that lets individuals earn a sustainable income. Due to this fact, teaching remains Annan appealing profession in the Dominican Republic.
Because of the very few teachers, student to teacher ratio is quite irregular.
Those few teachers cannot pay attention to all the students attending the school. Some teachers do not even understand the content, which they teach to children.
In the Dominican Republic, free public schooling is offered to children of up to 14 years. This applies to the children of expats as well.
It has been estimated that only 53 out of every 100 students in school complete eighth grade.
The most common cause of students dropping out of school in the DR is because of financial issues. Some students don't even have enough money to buy uniforms, backpacks, books, notes, pencils, etc.
Even though the literacy rate is higher, the quality of education in the DR is poor.
Crime Rate
According to the world population review, the Dominican Republic has a crime rate of 61.02%. This makes the country in the 22nd place among the countries with the highest crime rate.
Yes, the nationals of this country are indeed welcoming and friendly. Remember that high crime rate is something that isn't to be ruled out of consideration.
The crimes in the Dominican Republic include bag snatching, pickpocketing, and even violent crimes.
Petty crimes such as pickpocketing and robbery are all over the country.
As an expat, it is wise to avoid carrying expensive jewellery or large amounts of cash. You might also want to reconsider carrying valuable items on the street.
Try not to leave your bags or other positions unattended at restaurants or bars.
Always keep electronic devices out of sight and use a safe whenever possible.
There are even instances where drive-by robberies have occurred in the Dominican Republic. In such situations, thieves on motorcycles snatch bags or valuables from pedestrians.
Sometimes, they can even snatch belongings out of victims' hands through car windows.
Violent crimes as well as armed robberies are also common, especially with foreigners as victims.
According to various reports, they've been instances where expats have been mugged. Such people were mugged at gunpoint or knifepoint in large cities like Santo Domingo.
Adding to that, most of such incidents took place in broad daylight in residential districts.
Having said that about daytime, you might understand the situation during the night.
If you ever come into a situation such as this tray avoid resisting. This would only increase the chances of you getting hurt.
Don't resist even if you don't see a weapon as the attacker might be armed.
Steer clear of unregistered taxis are opting for a taxi on the street. If you need a taxi, go ahead with an authorised airport or hotel taxi service.
Make sure that you book a taxi from reliable providers in the Dominican Republic.
There have been incidents of assault, rape and sexual aggression against foreigners. Even at beach resorts.
If you are a victim of any of the crimes in the Dominican Republic, report immediately.
You can contact your country's embassy, and they might even help you report the incident.
Criminal investigation stops once you leave the country. Therefore, it is wise to report a formal complaint before leaving the country.
If you lose your passport, you should contact the police authorities b for contacting the embassy.
Safety Measures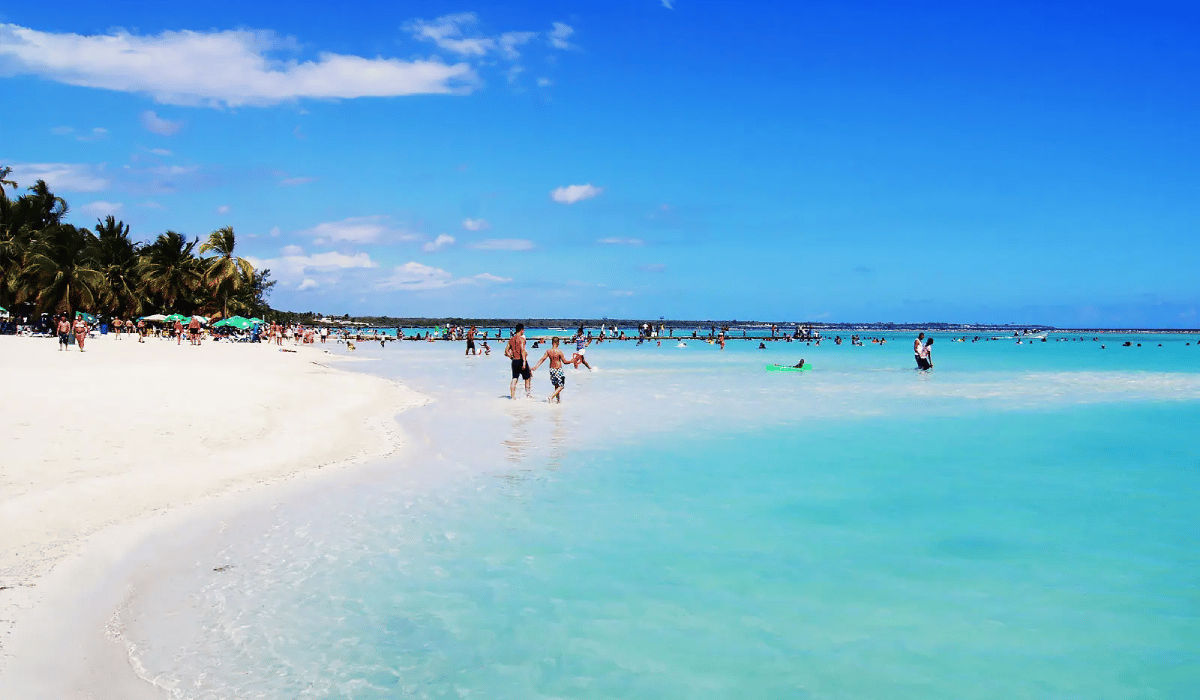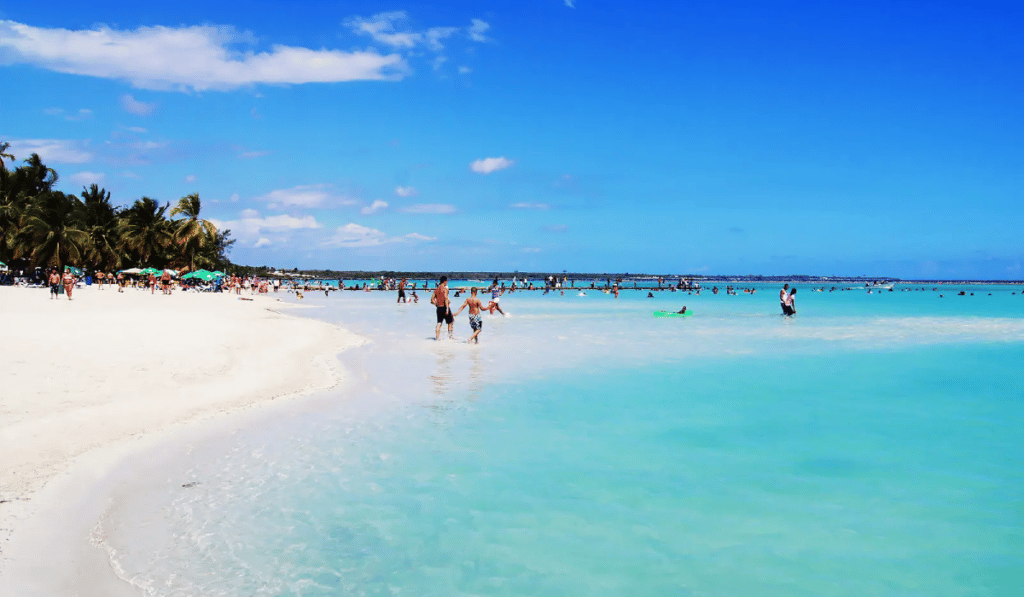 You should remember that lifeguards are not present at swimming pools or beaches. Furthermore, you may not even get access to safety or rescue equipment.
During the hurricane season (June to November), the sea can be extremely dangerous.
Consider local advice regarding sea conditions as well as the warning systems. Always follow instructions.
Try avoiding the beaches (swimming), if you are under the influence of alcohol.
Recreational and adventurous activities do not follow the safety standards of many countries.
The taxis are cheap, but the chances are likely for crimes to happen. There have been various incidents of theft involved with taxis.
Always keep valuable items and cash out of sight while in the DR. Even though expensive, opt for a tourist taxi as it is safe and reliable.
Apps related to rides such as Uber are available and frequent.
The motorbike taxis or motorbike ride-hailing apps are of poor quality. You may not even be provided with a helmet while using those services.
For safety and security reasons, avoid public buses and shared cars. Private buses offer good services between cities and are much more reliable.
Pedestrians should be extremely careful while crossing roads in the Dominican Republic.
In general, drivers do not signal while making a turn, which is inconvenient. Most of the motorbikes might appear to be disregarding the traffic lights.
There are various international car hire companies available in major cities and airports.
you can rent a car with the help of a driving licence from countries such as the UK. The rental periods should not exceed 3 months.
For longer rental periods, you must acquire a local driving licence in the Dominican Republic.
The Dominican Republic is one the countries that have the highest death rates in the world for traffic accidents.
Road accidents can be much more frequent during holiday periods such as Christmas and Easter.
Most vehicles are in a state of disrepair and don't have proper headlights or mirrors.
Always try to avoid driving outside the main cities, especially during the night times. This is ideal because of varied reasons such as:
— Animals on the road
— Pedestrians
— Other cars without headlights
Keeping these general aspects aside, always be cautious regarding political demonstrations. Never get caught in a situation where you are against the local authorities.
Since 16 February 2022, Dominican authorities withdrew all COVID-19 measures. This includes mandatory mask-wearing, social distancing, vaccination, etc.
Yet, you should always remember that there is no such thing as being too safe. Therefore, do the following.
— Always wear a mask
— Avoid large gatherings
— Avoid overpopulated events
— Frequently clean our hands. If possible, a hand sanitiser.
— Practice social distancing
If you are from the United Kingdom, their government website has some good information. This can be particularly helpful for people who want to travel to the Dominican Republic.
To access that information, click here.
Cost of Living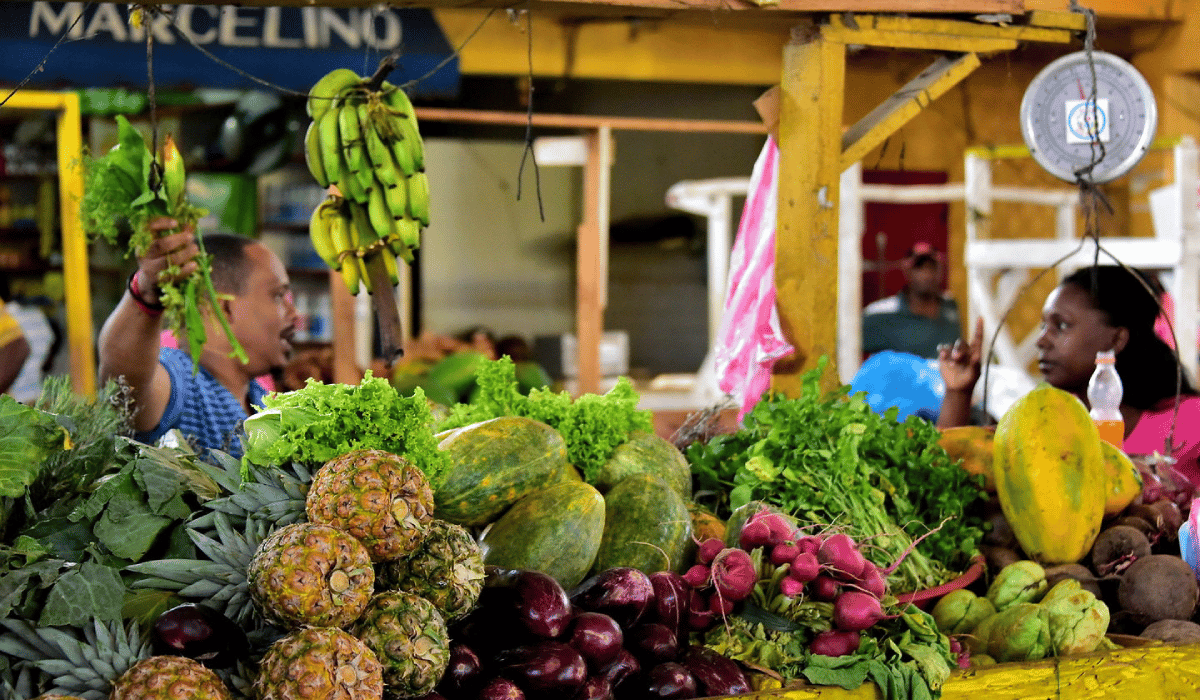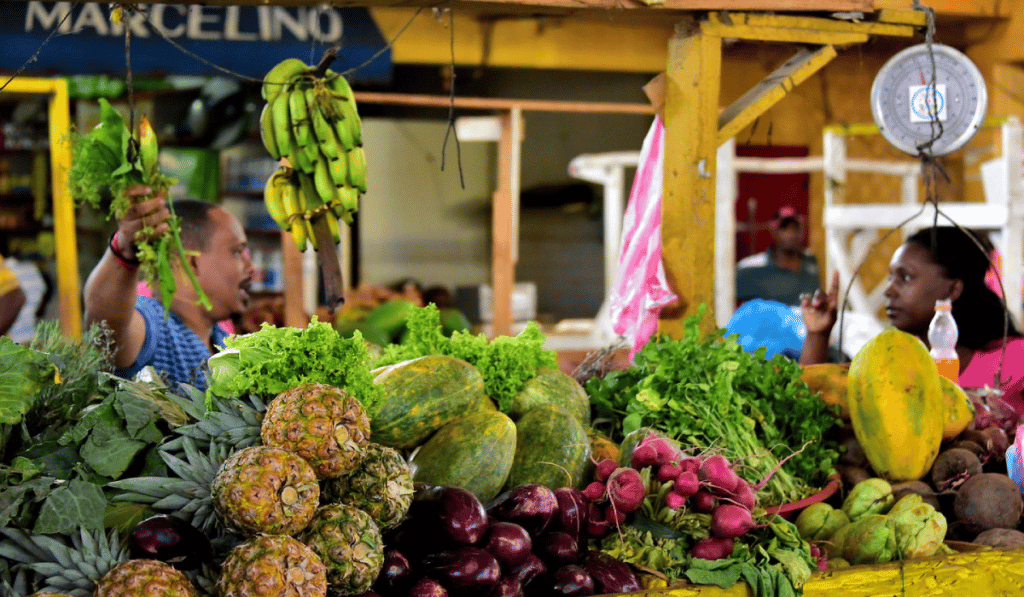 The cost of living in the Dominican Republic is 1.18 times less expensive than the old average.
However, there is a lot of discrepancy between the average cost of living and the average salary.
It has been estimated that the average salary cannot even cover a month's expenses. Only 0.5% of the monthly expenses can be covered by the average salary in the Dominican Republic.
The average monthly costs of a single person living in the DR are around RD$45,000 to RD$60,000.
The average monthly cost of a family of four people living in the DR is around RD$122,000 to RD$165,000.
Given below are some of the average costs in the Dominican Republic.
Daily Expenses
Milk (one litre) – RD$64 to RD$66
A loaf of fresh bread (500 grams) – RD$47 to RD$91
Rice (one kg) – RD$69
Eggs (12) – RD$92 to RD$160
Cheese (one kg) – RD$430 to RD$720
Chicken (one kg) – RD$270 to RD$340
Beef round (one kg) – RD$420
Apples (one kg) – RD$130 to RD$140
Banana (one kg) – RD$44
Tomatoes (one kg) – RD$63 to RD$73
Potatoes (one kg) – RD$69 to RD$74
Onions (one kg) – RD$125
Water (1.5-litre bottle) – RD$40
Wine bottle (mid-range) – RD$450 to RD$1,200
Domestic beer – RD$100 to RD$120
Imported beer (0.33-litre bottle) – RD$170
Marlboro 20s pack – RD$250
Transportation
A one-way ticket for public transport – RD$35
Monthly pass – RD$2,000 to RD$3,200
Gasoline (one litre) – RD$105
New cars such as Volkswagen Golf 1.4 90 KV – RD$1,053,000 to RD$1,300,000
Utilities
Basic utilities in the Dominican Republic cost around RD$1,580 to RD$2,580. These include heating, electricity, cooling, garbage, water, etc.
Costs related to the basic utilities might differ depending upon:
— The number of persons
— Size of the apartment
— Quality of the utilities
— Location
Internet in the Dominican Republic costs RD$1,480 to RD$2,800. This depends on the Internet speed, service provider, and location.
Rent
A single-bedroom apartment in a city in the Dominican Republic will cost RD$23,400 to RD$26,400.
A single-bedroom apartment outside a city of the Dominican Republic will cost RD$13,100 to RD$14,450.
A three-bedroom apartment in a city in the Dominican Republic will cost RD$44,000 to RD$46,000
A three-bedroom apartment outside a city of the Dominican Republic will cost RD$22,150 to RD$22,500.
Buying a property
Foreigners have the same rights as residents when it comes to buying property in the Dominican Republic. This has even been declared in the Dominican Republic's constitution.
For statistical purposes, title registry offices keep a record of purchases made by foreigners.
The price per square metre in a city has been estimated to be around RD$72,200. Outside a city, it will cost around RD$45,600.
Disclaimer: In this section, all the costs have been provided in the form of approximate values. The information has been gathered from Numbeo and Expatistan.
All the information is reliable, yet, it cannot be considered to be bulletproof.
Even though the values might be accurate as of now they might change while you read this.
These values are to be considered estimates for reference purposes rather than actual data.
Visa
Foreigners from several countries do not need a visa to enter the Dominican Republic.
Steps to apply for a Dominican Republic visa
Given below are the steps to apply for a Dominican Republic visa.
— Book an appointment at the embassy or consulate of the Dominican Republic.
— Fill out the application form.
— Submit the necessary documents.
— Wait until the processing time has been finished.
Required Documents
Usually, the following documents are required while applying for a Dominican Republic visa.
• Valid passport
• Duly filled application form
• Passport sized photo
• Health insurance
• Accommodation proof
• Letter of invitation
• Criminal record
• Flight itinerary
• Civil status documents
Marriage certificates, birth certificates, rental agreements, etc., come under civil status documents.
General Information
There are two types of visas in the Dominican Republic which are as follows.
A short-stay visa will allow you to stay in the Dominican Republic for 90 days. You cannot apply for a residence permit with the help of this visa.
By obtaining a long-stay visa, you are good to go for a year. You can apply for a residence permit with the help of this visa If you want to stay longer.
The following types of visas come under the category of long-stay visas in the Dominican Republic.
• Work
• Study
• Investment
• Retirement
• Family Reunion
To get access to the list of documents needed for each type of visa in the DR, click here.
Retirement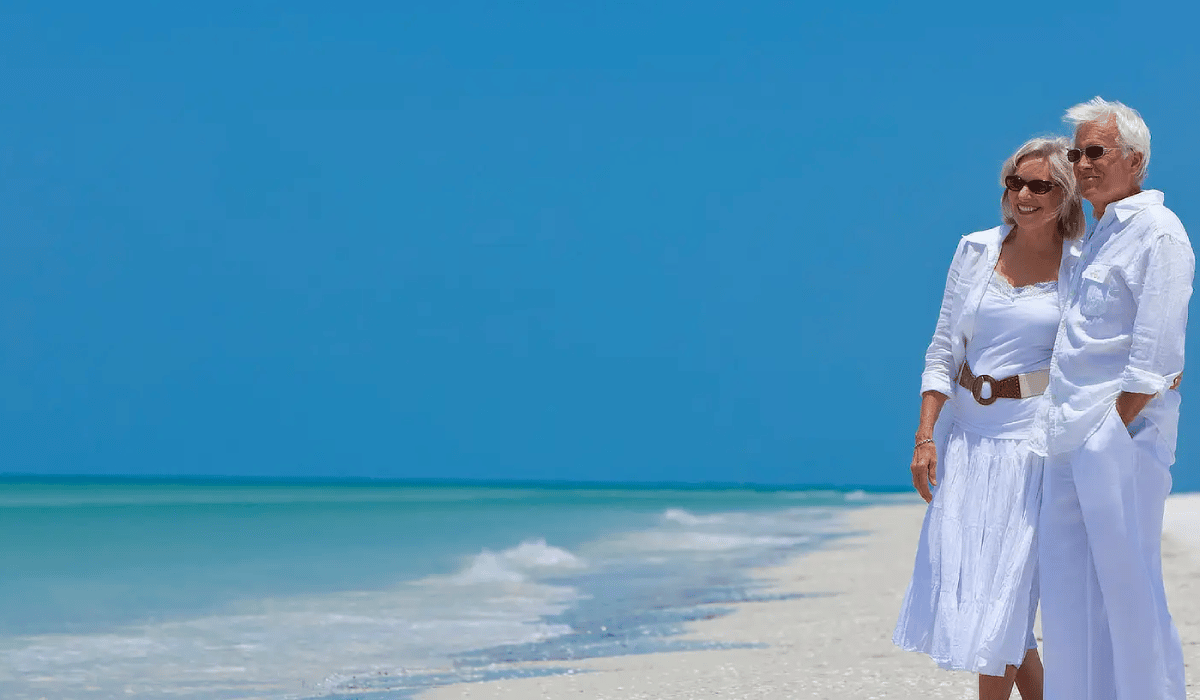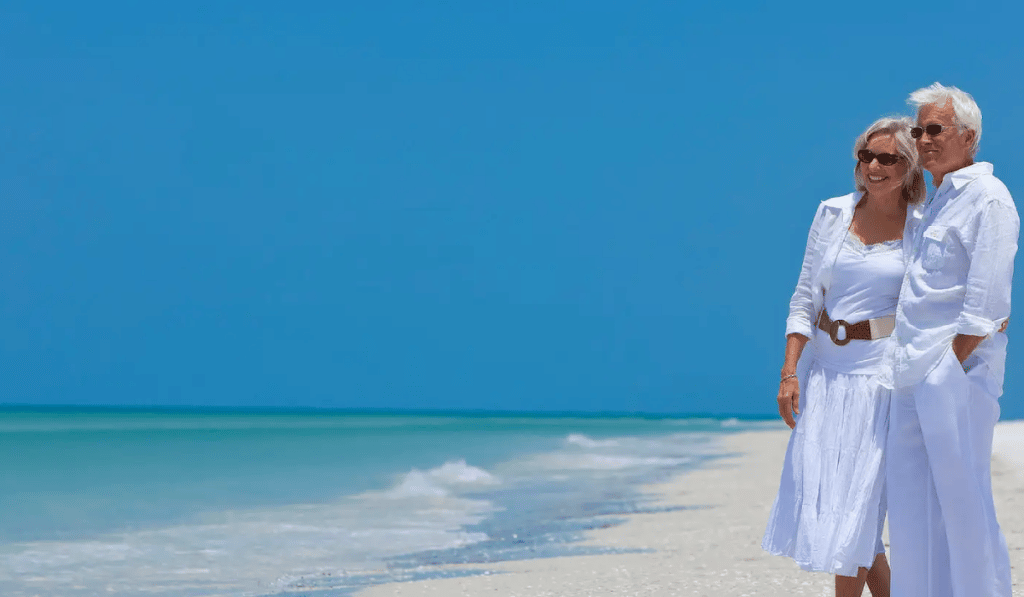 The Dominican Republic is a popular retirement destination due to various reasons. Ranging from the inexpensive cost of living to the sceneries of nature.
There is a dedicated visa for people who choose to retire in the Dominican Republic.
You can even visit on a tourist visa and apply for a retirement visa once you are in the country.
Some people may not be aware of the process regarding your retirement visa application. If you belong to such a category, we can hire a lawyer or relevant professional.
They will guide you in organising the required documents and applying for the retirement visa.
This process is known to take months before getting successfully approved.
Documents such as birth certificates, evidence of income, background check, etc., might be necessary.
A person must have a monthly income of at least USD 1,500 to retire. Following that, for every additional person, an additional USD 500 shall be required.
Given below is a checklist of documents required for a resident visa by retirement in the DR.
• Your passport with a minimum validity of at least 18 months.
• A visa application has been duly filled out and signed by you.
• A recent passport-sized photograph, which should have a white background. The size of the photograph should be 4*5 cm, and it should be pasted on the application. Do not staple.
• A cover letter is also necessary, which should be signed by the applicant. Please cover letter is to be addressed to the respective consular office. The cover letter should contain the following details.
— Name
— Nationality
— The place of residence
— Productive activity
— Income source
— Investment activity and details
This letter doesn't need to be apostilled or legalised
• Birth certificate, which is duly apostilled by the ministry of foreign affairs. A translated copy of the birth certificate is Spanish is also mandatory.
• A police clearance certificate (PCC) from the ministry of foreign affairs. This PCC must be apostilled if necessary and should not be older than one year. A Spanish-translated copy of the PCC is also mandatory.
• Pension-related information should be produced in the form of a certificate. This certificate can be provided by the government, an official entity, or a private company of foreign origin. It is mandatory to produce a Spanish-translated copy of this certificate as well.
• A proof of income declaring that the pensioner receives at least USD 1,500. This should include another USD 500 for each dependent.
• A medical certificate, which consists of the general health-related information of the applicant. This is to be obtained from:
— health authority
— medical laboratory
— clinic
— hospital
The above-mentioned medical authorities should be registered with the ministry of public health.
• Finally, a copy of other visas related to the applicant must also be provided. Either valid or expired.
After receiving the visa, applicants must appear before the General Directorate of Migration (DGM).
This should be done within 30 days of receiving the residence visa for retirement.
This is done in order to formalize the procedures of residence and temporary permits.
Once after receiving this visa, you can even apply for permanent residency after five years.
There is even a permanent residency through an investment program in the Dominican Republic.
If you opt for residency through investment, there is no necessity for obtaining temporary residency.
Under this program, you can obtain residency by doing the following.
— Making an investment
— Bringing your pension into the country
— Bringing your regular passive income into the country
We will discuss more on the residency through investment program in the Dominican Republic in another article.
After two years of permanent residency, you can apply for citizenship in the Dominican Republic.
To become a citizen, it is mandatory to speak fluent Spanish and attend an official interview.
In this interview, you will be asked why you want to be a citizen of the Dominican Republic.
You might even be examined on your knowledge of the country's values, traditions and culture.
Some of the best places for retirement in the Dominican Republic are given below.
• Las Terrenas
• Las Galeras
• Puerto Plata
• Cabarete
• Luperon
• Sousa
• Barahona
• Punta Cana
• La Romana
• Santo Domingo
• Satiago de los Caballeros
• Samana
• Jarabacoa
• La Vega
• Huguey
Given below are some useful links for people who wish to retire in the Dominican Republic.
Retiring in the Dominican Republic in 2022
Best Places to Retire in Dominican Republic
Bottom Line
The Dominican Republic has been getting a lot of reputation among expats recently. Especially among the people who want to retire in a beautiful location.
However, you must also consider the facts such as low average salary and high crime rate.
If you are trying to seek employment in the country, then we suggest you reconsider your thoughts. Why? Because the country's national average salary does not even meet up to half of the average monthly expenses.
For retirement, it's okay. For employment, not so good. Alternatively, if you are a digital nomad and are earning from foreign sources, then you can pull it off.
Another benefit for digital nomads is that the country has a territorial tax system.
That being said, I strongly hope that you enjoyed knowing this information.
Are you looking for an expert who can take care of your wealth management needs? Are you in search of a financial planner to help you achieve financial freedom?
Well, you are in luck. We offer the best in class financial/investment services, especially targeted towards expats.
If you are among the people seeking financial advice, wealth management services, or investment-related services, then feel free to contact me.
Pained by financial indecision? Want to invest with Adam?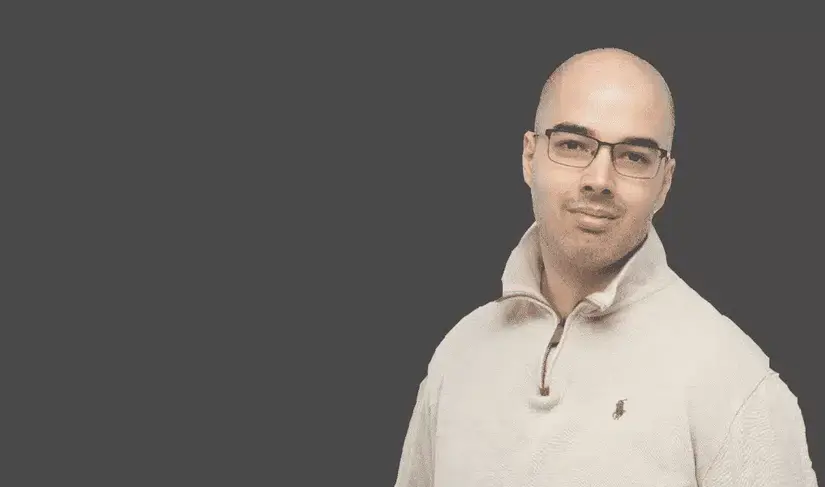 Adam is an internationally recognised author on financial matters, with over 631.2 million answer views on Quora.com, a widely sold book on Amazon, and a contributor on Forbes.