After speaking about expat financial advisors for people living in Saudi Arabia and Shanghai, this article will speak about Taiwan.
We will compare and contrast local options vs a portable and online option like our own.
Ultimately, the biggest positive about doing financial services online is that it is cheaper and you don't need to change anything if you move home or to a third country.
In comparison, localised solutions often need to be closed down if you move countries.
In this article we will also speak about some of the financial and other considerations for expats in the city, including banking and the benefits of living there.
For any questions, or if you are looking to invest as an expat, you can contact me using this form, via the WhatsApp function below or email (advice@adamfayed.com).
Introduction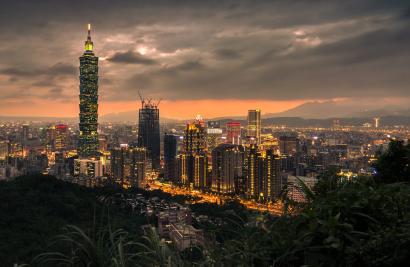 Taiwan has achieved strong economic development over the last five decades and has effectively transitioned from a rural society to a technology-oriented urban society.
As a result, the financial system has experienced a transformation in the process of economic growth, and the government's efforts have been focused on introducing policies conducive to financial liberalization and internalization over the last 20 years.
Effective financial changes at the right time will help ensure the functioning of a stable financial system and equip Taiwan's financial institutions with the potential to deal with the increasing competition of the financial climate.
Taiwan's financial reform took place in 2001 with the goal of protecting the stability of the financial system and promoting the sound growth of financial services.
Many researchers state that Taiwan's economy is in excellent condition and is not going to give up its positions. This positive trend attracts foreigners – despite the specter of the global crisis, it is more than realistic to find a job on the island, but – subject to a sufficient level of education.
All this information in total gives a rather attractive picture and suggests that the standard of living in Taiwan is extremely high, and, importantly, it is available even to ordinary citizens, regardless of the remoteness of the settlement from the center, and, therefore, makes Taiwan very tempting for moving to permanent residence.
When moving abroad for permanent residence or even for a short term one, expats tend to make some valuable input in their lives by making investments, starting businesses, attending local universities or even opening YouTube channels and creating their local audience.
Sometimes even their life goals are the main reason for them moving abroad. The goals for moving to an X city may differ depending on individual's age, preferences, interests and the picked location, of course.
Here are 3 reasons why Taiwan is considered one of the best places for living.
Taiwan is indeed a country that never sleeps, particularly in any of the major cities. You will find all manner of spots that are available either very late or 24 hours a day.
Taiwan is a perfect place to either save money or live a very exciting lifestyle, or even a combination of both. Compared to the West, the cost of living here is much cheaper. From food, to lodging, to transportation, all is considerably cheaper than what you will spend back home. Therefore, many individuals come to Taiwan to pay off student loans or other obligations and can do so reasonably easily.
The great part about Taiwan is that most people can earn a comfortable living and decide exactly what to do with their money.
Taiwan must be one of the safest countries in the world in terms of theft and violent crimes. Unlike most other cities around the country, there are very few "bad neighborhoods" that residents tend to avoid because of safety issues.
In fact, safety here is something most people don't even think about, because it's just too natural not to have to worry about theft and violent crimes.
In this article we will dive into the financial sector of Taiwan focusing on the financial advisory, we will also discuss the various areas for expats to start or strengthen their financial game with the help of the financial advisors in Taiwan.
Planning finances is just as important as planning your own business or your future life. How many people carefully plan, for example, a vacation, but it never occurs to them to plan their own finances for the long term, in order to reap the benefits of this planning after a while.
Meanwhile, using the "pay yourself first" rule, each person can create a financial flow for himself that will bring tangible results.
The main mission of a financial advisor is to offer optimal solutions in the field of personal savings and investments.
First, a financial advisor will help you draw up a personal financial plan or investment plan. Thus, a visual representation is obtained of whether there is a correspondence between income and expenses, at what moments there is a surplus or shortage of funds.
In addition, a personal financial plan can be used as a personal finance management tool, because it allows you to see a possible temporary shortage of money in the future, and therefore to prevent it. Financial planning will help to reduce possible risks, the likelihood of unpleasant, overhead situations.
Second, a financial advisor will help you formulate your own investment goals. Everyone knows that it is better and much safer to live according to the principle of "rely on yourself.
In addition, life has taught us to constantly remember about inflation. In such conditions, it is quite natural that everyone begins to think about the need for savings and profitable investment of funds. Fortunately, there is a choice: stocks, bonds, government and municipal securities, etc.
To understand this diversity and make the right choice, you need to know and take into account the differences in taxation regimes, in the ratio of profitability and risk, legislative regulation and development prospects.
All this is within the competence of a financial consultant, since this profession obliges you to be a universal specialist in a wide range of modern financial services: from the basics of financial and tax legislation to solving the financial problems of each specific family.
Investments in Taiwan
Today, investors are increasingly diversifying their portfolios by investing in foreign markets.
If you are looking to invest or start a business in emerging markets, Taiwan (Republic of China) is the right place.
Foreign capital that is required to set up or invest in a company in Taiwan can be divided into two categories: capital of foreigners or foreigners of Taiwanese origin. "Taiwanese foreigners" refers to Taiwanese citizens living overseas. When investing, both of these groups must follow certain rules. There are three forms of investment in Taiwan:
Shares in a Taiwanese company or investment in a Taiwanese company; investments can be divided into the following two types:

Tangible assets such as cash, equipment, raw materials, etc.
Intangible assets such as intellectual property rights.

Individual company or partnership.
Provision of loans for more than one year to any of the above organizations.
These types of investments have different requirements. When foreign investors set up a company in Taiwan, there is no minimum capital cap unless the company falls within the scope of a sensitive industry. In this case, it is necessary to consult the relevant authorities.
There are restrictions on the areas of business in which you can invest. It is prohibited to invest in organizations dealing with military ammunition and weapons, banned on the basis of government announcements or adversely affecting national security, public order, customs and human health.
In addition, some investment companies require permission from the competent governing bodies (agriculture, forestry, fisheries, livestock, telecommunications, etc.) before applying.
All the above stated may seem confusing and raise lots of questions especially when you are investing abroad and may not be familiar with the local market, with the rules of the particular country, its infrastructure and workforce, and due to the lack of an important information you may not be able to do an accurate risk management and fully understand all the pros and cons as well as the further consequences of your investment.
So, in order to avoid all the possible financial losses and to be wise in terms of the time management, expats should turn to the bank financial advisor, who will guide them through the whole process very smoothly and lead to the most efficient result.
If expats intend to stay in Taiwan long term, a bank account will be essential for all their financial needs.
What expats may need when investing abroad is a saving account? Bank financial advisors are the perfect consultants when it comes to choosing the best one for you.
Let us first off understand what a savings account is and why do expats need them in Taiwan. As the name implies, it is intended to earn interest for the deposited amount.
Although, this account offers unlimited deposits and withdrawals, the interest rate is little higher than the checking accounts yet lowered when compared to the fixed deposits or money market account.
The customers get a passbook and ATM card. If requested, they may also get a check book for easy transactions.
The Citibank Taiwan allows fund transfer and withdrawals through the credit card, around the world, for its savings and checking account.
Though it is very much akin to the checking account, a penalty is charged if the balance amount falls below the specified minimum balance amount.
Below we will list a couple of Taiwanese savings accounts, along with their benefits.
Foreign Currency Savings Account – HSBC bank
A single account that gives you access to up to 13 different currencies.
Account benefits:
Exclusive Manage multiple currencies with a single account
Available foreign currencies include USD, EUR, GBP, AUD, NZD, HKD, CAD, SGD, CHF, JPY, SEK, ZAR and CNY
Foreign Currency Savings Account opening documents:
Individuals with personal identification cards and secondary identification (such as driving license)
Foreigner with Alien Resident Certificate and Passport
Additional document(s) shall be provided upon request in special circumstances, please contact any HSBC (Taiwan) branch for details.
New Taiwan Dollar Savings Account – HSBC bank
The main goal of the account is to meet your needs globally.
Account benefits:
Automatic payment service to manage your payments more efficiently
Cash ATM card with overseas withdraw (subject to application)
Access your account with your ATM Card, mobile banking, or HSBC online banking
New Taiwan Dollar Savings Account opening documents:
Individuals with personal identification cards and secondary identification (such as driving license)
Foreigner with Alien Resident Certificate and Passport
Additional document(s) shall be provided upon request in special circumstances, please contact any HSBC (Taiwan) branch for details.
MultiMoney Savings account – Citibank
Citibank MultiMoney account provides the best tools for investing your money in foreign currency. You can switch your investment between US Dollar, Renminbi, Japanese Yen, British Pound, Canadian Dollar, Hong Kong Dollar, Australian Dollar, Swiss Franc, Swedish Krona, New Zealand Dollar, Euro, Singapore Dollar, South African Rand and ThaiBath. You have diversified currency choices to make your investment more efficient.
Account benefits:
Make profits from both – interest rate and currency exchange rate
Easily switch your investment among 14 currencies
Instead of opening separate accounts to handle 14 currencies, Citibank MultiMoney account will do it with just one and make money management easier. The 24-hour CitiPhone Banking and CitiDirect allow you to:
Transfer funds freely among these 14 currencies, to make the best investment with no delay.
Check the most updated interest rates, exchange rates, and your account balance. These features make it easier to manage your money and earn higher returns.
Choose between savings account and time deposit to fit your investment plan.
The minimum balance for every time deposit is US$5,000 or equivalent of other foreign currencies.
Postal Saving
Post offices in Taiwan provide multiple banking services which includes the provision of different types of savings accounts. Let us highlight a few of them.
Integrated Postal Savings account
The integrated postal savings account combines savings and fixed deposits into a single savings account. Deposits and withdrawals can be made as previously arranged by presenting the corresponding account book.
For account holders who have applied for automatic pledge services, all fixed deposits under the integrated postal savings account are pledged by default. If the savings account has insufficient funds, a loan can be automatically drawn on the pledged fixed deposits to cover the savings account; loans drawn will be automatically repaid once deposits are received in the savings account.
According to the Section 19 of the Postal Remittances and Savings Law, "Savings accounts are limited to one per person or per organization only".
For account holders who have already opened a savings account and wish to open an integrated postal savings account, please present your account book, authorized seal, and ID to change the savings account into an integrated postal savings account. The opening of additional accounts is not permitted.
Passbook Savings account
Branch-unlimited Account
The account holder must create a 4-digit passbook password when opening an account and affix a seal in the "Authorized Seal" column of the passbook. The account holder can make deposits or withdrawals at any network post office in Taiwan, by presenting the passbook together with the authorized seal.
Branch-limited Account
The account holder does not have to create a passbook password when opening an account and is allowed to use a signature instead of a seal. Deposits can be made at all network post offices, but withdrawals must be made at the branch where the account was opened, by presenting the passbook together with the authorized seal.
Features of the operation
High and tax-free interest
Convenient to deposit and withdraw in the on-line post offices in Taiwan
Individual account can apply for ATM card for withdrawing and transferring in ATM machines.
Non-passbook savings
Transfer between passbook accounts
Agential services for charges of public utilities and taxes
Remittance directly to passbook accounts
Payroll deposit service
School passbook savings account
This savings account is providing you with the most convenient and reliable way to save and manage your finances.
For getting consistent with the government's policies of promoting saving, cultivating students' habit of saving and planning for future earlier, 10 NT dollars is the minimum amount required to open an account.
After graduation, the accounts can be transferred into passbook savings.
Money transfer system in Taiwan
China recently began to work with international payment systems, the operations of which it had previously prohibited on its territory.
This led to the appearance of a mass of proposals on the market. Buyers of Chinese online stores and businessmen who purchase certain goods in China are well aware: additional costs and payment terms will depend on the amount and method of transfer, and they, in turn, depend on the legislation.
Currently, there are many different options for transferring money to Taiwan, which you can use both in the offices of specialized companies and directly from home through online services.
Bank transfer
Money transfer services to China by bank details are now available in almost any large bank using the international SWIFT system (analogous to our BIC).
Without opening an account – up to USD 5,000, full bank details of the recipient are required. For amounts over USD 5,000, the bank details of the sender are also required.
Procedure is the following: You need to come to the bank where you have an account with a passport and pay for the transfer by filling out a receipt, or fill out a form in online banking, if you have such a service activated.
Commission consists of two parts: one is taken by the bank from which the money is transferred (the correspondent), and the second is taken by the bank where the money is transferred (the recipient). Both parties appoint a commission at their own discretion, this point must be carefully clarified.
Transferring funds to Taiwan through international money transfer systems
Western Union and MoneyGram systems are major players in the Chinese market. They have a huge number of partners around the world, including Russia, China and other countries. Also, the Contact system offers the service of sending money transfers with crediting to UnionPay cards.
In addition to a regular transfer, Western Union service points accept cash for transfer to a bank account.
Translation methods are the made through Internet banking or the offices of payment system partners, through the Qiwi payment system.
In different cases, it may be necessary to indicate the bank or passport details of the recipient and, as a rule, the passport details of the sender. The money will go to the specified bank account or directly to the service point of the payment system, where it can be received in cash.
Commission is usually a fixed amount. For example, when transferring USD 1000–3000, the Contact system takes a commission of USD 20, for smaller amounts – USD 15.
Commission-free transfers using cryptocurrency
At first glance, the cryptocurrency provides its owners with complete freedom since the transfer of funds is carried out without commission and restrictions. On the other hand, cryptocurrencies are in the last place in the FATF (Financial Action Task Force) rating.
However, they have an unstable exchange rate. In addition, the cryptocurrency currently does not even have a clear status. Thus, according to the National Bank of China, bitcoin is not the currency of an official financial institution, in other words, it is not fully controlled and cannot be considered a real currency.
Bitcoin, emphasizes the National Bank of China, is a type of virtual commodity, and users transact with it at their own risk. At the moment, no state has yet granted bitcoin the status of a real currency.
As stated, money transfer methods are quite different, and they all have their own advantages and disadvantages. In order to choose the most efficient method, you will need to consult with local financial advisors.
Personalized advice in the Digital age
As society becomes more dependent on the Internet, more and more people conduct their daily activities on the Internet. The Internet has provided a convenient way for people to bank, shop and even work from the comfort of their own home.
Some financial advisors are taking advantage of this trend and are starting to offer their services through paid virtual financial advice.
Online financial advisors are interested not so much in selling a specific financial service as in meeting your needs, as they do not depend on any organization and work individually with their clients from different parts of the world.
The focus of an independent consultant on client requests allows him to represent the client's interests, successfully cooperating with several banks, insurance companies at once, choose the most suitable one, contact the best mutual funds and pension funds, taking into account the most important thing – your interests.
The main advantages of virtual financial consulting that expats in Taiwan can list are the flexibility and convenience that the service offers. In traditional financial consulting, clients and consultants must coordinate the time of the meeting, with one or both parties traveling a certain distance.
If the customer is using a virtual financial advisor, travel is not required and the meeting can be held via video conferencing anytime, anywhere throughout the day. It is attractive to clients who travel frequently, not just businessmen and women.
Clients looking forward to retirement often spend time visiting family and spending seasons in different climates. Virtual Financial Advice provides these clients with the convenience of knowing that they can always contact an advisor and receive investment management advice whenever they want.
To conclude, financial advisors play key role in the lives of individuals aiming to do a wise budget management and because of the variety services they offer and the several destinations you can connect with them gives expats lots of opportunities to meet a financial advisor that meets their convenience, interests and of course – aims.