Living in South Korea can be a dream come true for many, especially to fans who were hit hard by Halyu – everything from K-pop, food, dramas, clothing, movies, etc.
If you want to invest as an expat or high-net-worth individual, you can email me (advice@adamfayed.com) or use these contact options.
Is South Korea a good place to live?
Weather in South Korea
The region experiences distinct seasonal weather patterns. Summer is hot and humid, while spring is moderate and pleasant. July and August are monsoon season, with heavy rain and floods. Fall has moderate, dry weather and colorful leaves from late October to early November. Winter brings cold, dry weather and snow to northern and mountainous places.
South Korea culture
South Korea's culture is diverse and unique because of the country's long history and strategic location. Customs such as extending a formal and respectful welcome to an elderly person are reflections of the centrality of Confucianism in this society, which emphasizes regard for ancestors, age, and seniority.
During traditional celebrations, people frequently dress in their finest hanbok and partake in rituals and foods unique to the culture, such as various types of rice cakes. Harmoniously integrating ancient traditions with modern influences, South Korea's cultural tapestry spans a spectrum of artistic manifestations, from music and art to literature and dance to architecture and fashion and cuisine.
The country also has a famous drinking culture, where drinking heavily is seen as a mark of strength and success. The elderly, in particular, are held with high esteem in South Korean culture. It is polite to enter a Korean home without wearing shoes, and punctuality is highly valued.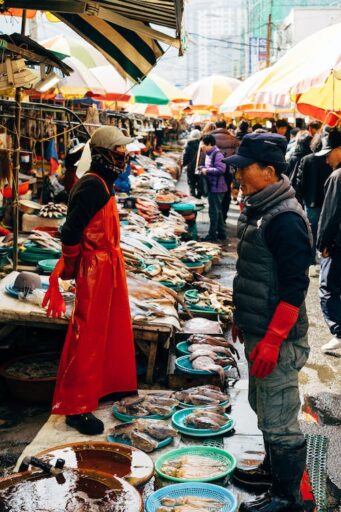 Do you tip in Korea?
Tipping is not a usual etiquette and can be seen as rude or insulting by South Korean people. Some residents may even return a gift since they consider it rude. But there are situations where it is appropriate to leave a tip, such as in more upmarket restaurants where a 10% gratuity is customary. Tour guides, who tend to make less money than the average worker, are another group for whom it is customary to leave a tip.
What is South Korea famous for?
South Korea has a large cultural heritage. First and foremost, K-pop, the nation's popular music genre, has a global fan base. Bibimbap, bulgogi, kimchi, and Korean fried chicken are among highlights. Ancient temples showcase the country's Buddhist past. Some South Korean festivals have been celebrated for generations, highlighting the country's cultural diversity.
South Korea's tech industry, cosmetics, as well as fashion trends make a global impact too. The country's beaches, national parks, and mountains make it a perfect destination for nature lovers.
Is South Korea safe?
Due to its low crime rate, South Korea is considered a safe place to live. Nevertheless, be wary in major cities like Seoul and Busan, where small crime can occur. Protecting passports, credit cards, and money in crowded places is wise. When going alone at night, remain vigilant and choose reliable taxis or public transportation.
Public demonstrations in South Korea are peaceful and well-managed by law enforcement. Foreigners in Korea cannot participate in politics, though.
South Korea is one of Asia's most law-abiding nations, giving expats in urban and rural areas a sense of security.
Is South Korea expensive?
Based on city and lifestyle, the cost of living in South Korea varies. A four-member family in the country spends around 5 million won or 3,687 USD each month, whereas a single person spends around 1.4 million won.
In Seoul, the capital, the cost of living is higher than in other cities. South Koreans' food, housing, transportation, and leisure costs add up. Delicious dinners can be had for under 10 USD, but dining out is pricey. A one-bedroom apartment in the city center costs 782 USD.
Public transportation one-way tickets cost about 1 USD. Also, gym memberships average 58 USD a month, making sports and fitness expensive.
The excellent standard of living in South Korea makes these costs more acceptable.
City-to-city average income in South Korea per month is projected to fluctuate due to infrastructure and economic activities. July 2023 CEIC Data showed South Korea's monthly earnings at 3,090 USD.
South Korea cost of living is a major factor to consider when relocating.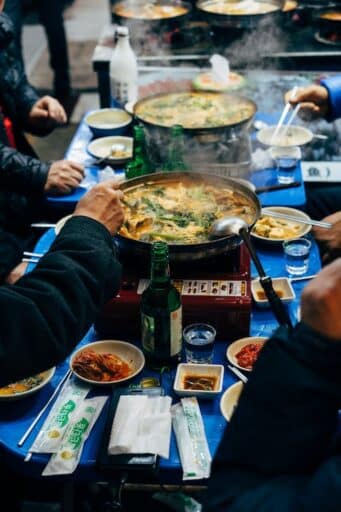 What language does South Korea speak?
Both North and South Korea speak Korean formally as the official language. South Korean schools teach English as a second language, yet few people are fluent. Korean, Japanese, and Mandarin are spoken in the country as well. South Korea's standard language is Seoul dialect, spoken in Seoul, Gyeonggi, and Incheon.
What South Korea rules for foreigners should I know of?
Foreign nationals are not permitted to participate in political processes when moving to South Korea.
If a man holds dual citizenship, he may be required to serve in the military even if he is already a US citizen. The Korean Military Manpower Administration or a nearby Korean Embassy or Consulate can provide information on citizenship requirements for those with South Korean ancestry planning to visit the country.
Firearms, narcotics, prescription medications, over-the-counter health supplements, radio equipment, gold, and things deemed indecent or subversive are all subject to strict regulations when entering or leaving a country due to customs laws.
Jobs in South Korea for foreigners
Opportunities for international workers in a variety of fields are abundant in South Korea. Expats in the country can choose from various high-demand professions, including:
English Language Instructor: Many international students start their academic careers by teaching English to speakers of other languages. This will help you become more familiar with the locals and their language.
Jobs in Information Technology: South Korea's flourishing tech sector offers plenty of chances for non-native speakers of the language.
Translation: People who are bilingual in Korean and another language are in high demand for freelance translation work.
Business and Finance: Jobs in the commercial and financial sectors are plentiful in the prosperous South Korean economy.
Hospitality and Tourism: Since South Korea is a well-liked vacation spot, it is no surprise that the hospitality and tourism sectors are always hiring.
Finding work in South Korea as a foreigner requires physical presence there for the sake of in-person interviews and to show that you have adapted to the local culture. Attending networking and job fair events can also be helpful for finding employment. Keep in mind that many occupations necessitate a bachelor's degree as a bare minimum qualification and that a work visa is required before you can legally find work in the nation.
Is health insurance mandatory for expats living in South Korea?
Expats in South Korea are required to carry medical insurance. Regulations stipulate that non-citizens must join the National Health Insurance (NHI) system for medical coverage. Participation in the NHI is mandatory if your stay in South Korea will last more than half a year.
Majority of the population is covered by this system; the remainder receives healthcare through the Medical Aid Program for those with low incomes.
While many people benefit from the public healthcare system's extensive reach, some expats prefer the private healthcare system's shorter wait times and more cultural comfort.
However, it is highly recommended that expats get South Korea expatriate health insurance to provide rapid access to medical care in an emergency. In addition, expats can purchase foreign health insurance packages that grant them access to private healthcare services and worldwide protection.
Are there international schools in South Korea?
South Korea has 47 international schools in 12 cities, mostly in Seoul and Incheon. Foreign schools, where at least 70% of pupils are foreign, and open-access international schools exist.
International schools must limit Korean enrollment to 30% to comply with Ministry of Education requirements. This keeps these schools multinational and ensures they serve expats for their new life in South Korea.
Expat banking in South Korea
While opening a bank account in South Korea as an expat may seem difficult, it's vital to manage your funds abroad. Expats need a copy of their working visa, Residence Card, passport, and, in some situations, a certificate of employment to create a bank account in South Korea.
Banks in South Korea are open from 9 am to 4 pm on weekdays and some on weekends to serve customers.
Private banking and priority banking are provided to wealthy families. Exclusive banking services offer customized financial services, benefits, and attention. South Korean bank KEB Hana is famous for its specialist financial services.
Where to live in South Korea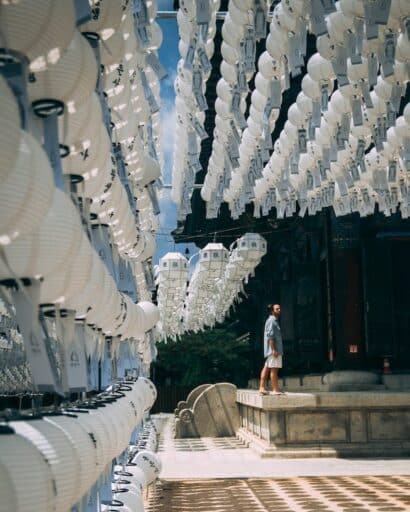 In a previous article, we listed the best places to live in South Korea, but we'll add certain South Korean cities for expats and digital nomads:
Consider Daejeon, a city in South Korea with a lower cost of living than Seoul, for digital nomads and expats. Professionals in science and technology will love its strong scientific and technology sector. However, Daejeon has a smaller expat community than large cities and air pollution issues.
Consider Ulsan, located on the southeast coast of South Korea, for its traditional Korean lifestyle and cultural immersion. The beaches and scenery of this coastal city are famous. Compared to Seoul, Ulsan has a lower cost of living too. Attention to the smaller expat community and periodic air pollution is crucial.
While Suwon is close to Seoul, it offers easy access to the bustling capital. Visitors seeking South Korean history and culture should visit this city. The cost of living in Suwon is lower than in Seoul, and traffic is less. Residents should be aware of air pollution and a smaller expat community.
How to move to South Korea
In South Korea, there are several paths for obtaining a residence permit, permanent residency, and even citizenship:
Residence Permit and Permanent Residency:
Professional immigration
Marriage with a South Korean citizen
Family reunification
Ethnic Korean origin
Investing in the South Korean economy and registering a business
Studying at a South Korean university
Additional methods of immigration
After living in Korea for five years, foreigners can apply for permanent residency, which is a prerequisite for citizenship.
Long-term Residency Visas:
Foreigners can obtain permanent residency in South Korea through specific long-term residency visas, such as the F-2-7 and F-2-99 visas.
Alien Registration Card (ARC):
Within 90 days of arrival in South Korea, foreigners must apply for an Alien Registration Card at the Immigration Office.
Citizenship:
Foreigners can become naturalized Korean citizens. The most common way is through general naturalization, which typically requires living in South Korea for more than five consecutive years, having no Korean family relations, meeting language proficiency and financial stability criteria. Another route is through marriage to a South Korean citizen.
Investment Visa:
South Korea offers an immigrant investor program that provides a two-year resident permit, renewable, with eligibility for permanent residency and citizenship after five years. Investment options include public business risk-based investment, public business guaranteed investment, and real estate investment.
Pained by financial indecision? Want to invest with Adam?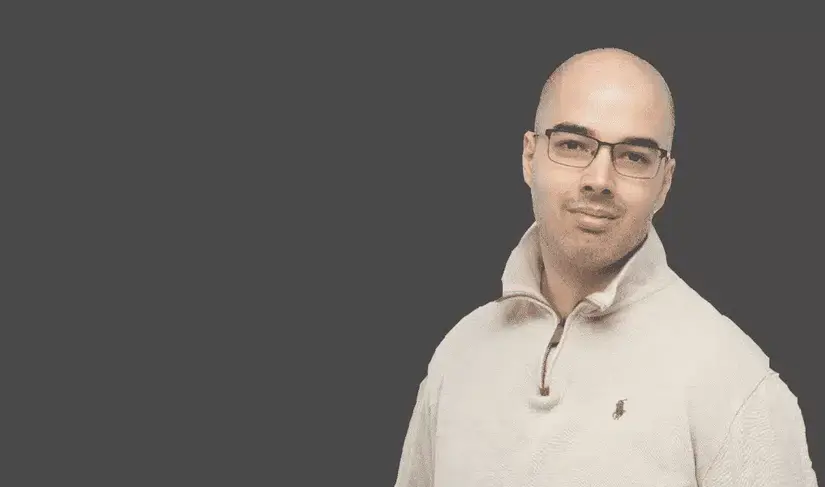 Adam is an internationally recognised author on financial matters, with over 694.5 million answer views on Quora.com, a widely sold book on Amazon, and a contributor on Forbes.