I'll take you through the process of how to open a bank account in Thailand as a foreigner.
Opening a Thai bank account as an expat is important for several reasons. It provides convenient banking services, allowing expats to manage their finances efficiently in the local currency. It enables direct salary deposits and helps save money on foreign transaction fees.
Having a local bank account is often necessary for setting up local services and utilities and establishes a financial identity and credibility. It provides safety and security for funds and facilitates better financial planning and budgeting.
If you want to invest as an expat or high-net-worth individual, which is what I specialize in, you can email me (advice@adamfayed.com) or use WhatsApp (+44-7393-450-837).
It is our suggestion that expats also have an offshore bank account.
Banking in Thailand
The Thai banking system is often praised for its accessibility and ease of use. Customers of Thai banks have convenient access to their money because of the banks' widespread branch network and the availability of internet and mobile banking services. Many financial institutions now provide assistance in English and provide special services for international clients.
The Bank of Thailand is in charge of regulating local banks, which helps maintain the reliability and safety of the nation's banking system. Customers may be certain that their money is safe with Thai banks since deposits are often insured.
Thailand requires in-person bank account openings. It's best to call before you visit and check branch operating hours. Thai banks typically operate Monday through Friday from 10:30 am to 4:00 pm. Bangkok Bank, for example, has micro branches in Big C supermarkets that provide daily service with longer hours but a more restricted variety of services.
Not all bank offices, particularly those outside expat or tourist districts, have English-speaking employees. After opening an account, you'll get a debit or ATM card for self-service banking like checking balances or depositing at ATMs. Most banks provide convenient internet banking, but you must register for it. You must indicate how frequently and how you want bank statements during account creation.
What makes Thai banking unique?
It is typically sufficient to have a savings account, as expats in Thailand rarely use checks and the process of opening a current account can be more complicated. Additionally, it is worth noting that bank branches in the country operate independently, and their policies can vary. Therefore, it is essential to choose a branch that is expat-friendly and offers English language support, especially in expat and tourist areas.
While online banking and mobile apps are available, physical branch visits are still common in Thailand, particularly for tasks such as account opening as discussed above plus more complex transactions.
Moreover, in Thai banking practices, signatures hold great importance, even for simple tasks like cash withdrawals. It is customary to provide multiple signatures, including copies of your passport.
In terms of card usage, Thai ATM/debit cards may not always be accepted for online payments by international retailers. To overcome this limitation, some banks offer virtual credit cards or applying for a credit card can provide wider acceptance for online purchases.
What documents are needed for opening a bank account?
Opening a Thai bank account depends on your documentation. In most cases, a passport and a valid non-immigrant B visa for business or employment, an O-A long-stay visa, or a valid 3-year non-immigrant business visa are required to set up an account.
For foreigners without valid work visas, opening a bank account in Thailand may be a lengthy process. Most banks won't allow you establish an account without a work permit or one of the visas listed. Although, certain banks like those in tourist locations will allow you to create an account with just your tourist visa.
Some banks may ask for proof of Thai residency, which can be demonstrated through a Thai residence permit, utility bill, or rental agreement. A utility bill, bank account, or driver's license may be needed to prove residence in your native country. Additionally, some banks may request proof of property ownership in Thailand or a letter of reference from your embassy, home bank, or a Thai educational institution.
Such required paperwork can vary depending on the particular bank you're applying to, so always double-check with them first.
Opening an account with a traditional Thai bank from abroad is generally not possible. Even if banks offer non-resident accounts, it is usually necessary to visit a branch in person to initiate the account setup process and have your documents verified. Remote account opening options are limited, and physical presence at the bank is typically required to ensure compliance with regulatory procedures and verify the authenticity of the provided paperwork.
Planning ahead for the specifics can ensure that your application goes off without a hitch. When establishing an account at a bank, it's good to come prepared with a list of the required papers and credentials, since bank workers may not always be aware with the qualifying requirements for expats. The procedure usually involves the bank making copies of your paperwork and having you fill out a number of papers.
What bank account types are available?
Opening a bank account in Thailand becomes relatively straightforward once you are in the country. Several different types of accounts are available to suit your individual requirements and preferences.
Resident Account
If you are a long-term Thai resident, you will have numerous options to choose from among different banks and specific account products. Thai banks offer a range of services similar to high street banks in other countries. Remember that fees may differ from your own country. Before signing up for a product, read the terms and conditions.
Non-Resident Account
Some banks provide non-resident accounts that enable you to keep foreign currency and convert them to Thai Baht as required. For instance, Bangkok Bank provides a non-resident account that requires a minimum deposit of 1,000 USD or its equivalent in one of the 14 supported currencies. To apply, you would need to visit a branch with your passport and a supporting letter from a recognized organization, such as your home country bank.
Student Account
Another type is a student account, which is available from select Thai banks for students enrolled in eligible institutions in Thailand. These accounts typically require confirmation of your student status.
Savings Products
Savings products are also available, including easy access accounts, fixed-term deposits, and foreign currency deposit accounts. These options cater to individuals looking to save money and earn interest on their deposits.
An easy access account facilitates ease of withdrawals. They don't have any time limits on deposits or withdrawals, so you may do either whenever you choose. You may use these accounts for your day-to-day banking requirements and for saving for the short term. Easy access accounts often provide lower interest rates than other account types, such as fixed-term deposits.
Money is deposited for a certain length of time in what are called fixed-term deposits. This savings type is sometimes called fixed deposits or time deposits. You will lose any interest accrued or face penalties if you remove the money before the end of the stated period, usually between several months or a few years. If you're hoping to earn more on your savings over a set time, a fixed-term deposit may be a good alternative since interest rates are often greater than those offered by easy access accounts.
Meanwhile, foreign currency deposit accounts let you store money in other currencies. Foreign currency traders and multi-currency earners benefit from these accounts. They enable currency exchange and exchange rate hedging by holding and managing money in many currencies. Thai banks' foreign currency deposit account terms and availability may vary.
Current Account
A current account, also dubbed as a checking account, shares similarities with a savings account as it provides a debit card for ATM usage. However, the key distinction lies in the fact that a current account offers a checkbook instead of a passbook.
This type of account is particularly useful for day-to-day banking transactions, such as making payments through checks and accessing funds conveniently through the provided debit card. It provides flexibility and accessibility for managing your finances, allowing you to withdraw money, write checks, and use electronic payment methods as needed.
What banking fees are assessed?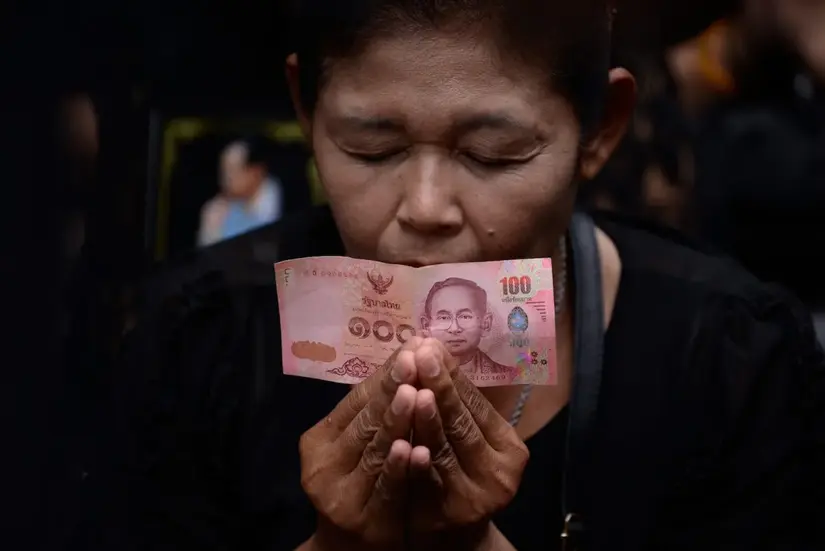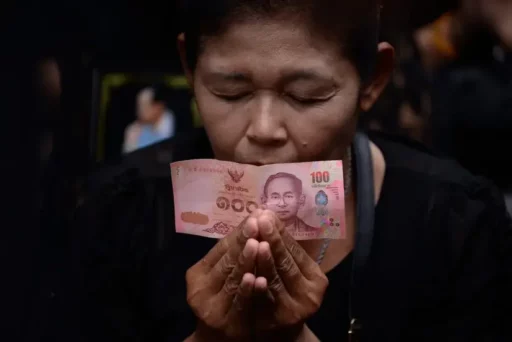 Here are certain fees to keep in mind:
Card and card transaction fees. Some banks may charge a card entrance fee of around 100 baht when you initially receive your debit or ATM card. Additionally, there might be an annual fee of roughly 250 baht or more for maintaining the card. Transferring funds between accounts in the same banking area or across regions with different banking regulations could result in various card transaction costs.
Overseas ATM withdrawal and conversation rate fees. If you make ATM withdrawals from overseas locations, you may incur a fee of around 100 baht imposed by the bank, in addition to any operator fees charged by the ATM provider.
Foreign and Domestic transaction fees. Banks charge 2.5% of the transaction value for foreign transactions. Meanwhile, local transaction costs depend on service speed and amount transmitted.
International transfer fees. International money transfers can incur substantial charges depending on how much is being sent and what country it is being transferred to. It is essential to inquire about the international transfer fees imposed by your bank to assess the cost-effectiveness of such transactions.
What are the best Thai banks for expats?
If you've had a negative experience at one branch of the same bank, you may wish to try your luck at another. It's likely that the level of service offered to overseas customers might vary between branches.
Bangkok Bank
Bangkok Bank stands out among the popular banks in Thailand for foreign customers. It has over 1,100 bank branches along with more than 9,200 ATMs, and it provides a broad variety of banking and investing services, including those designed especially for its international clientele. While account features and fees are typically provided in Thai only, you can inquire at the branch to obtain more information in English.
As the largest bank in Thailand, Bangkok Bank is known for its customer-friendly approach and warm reception towards foreigners. It also boasts the largest network of Thai banks abroad, making overseas money transfers convenient and providing favorable exchange rates. Positive customer service experiences reported by expats make Bangkok Bank a recommended choice.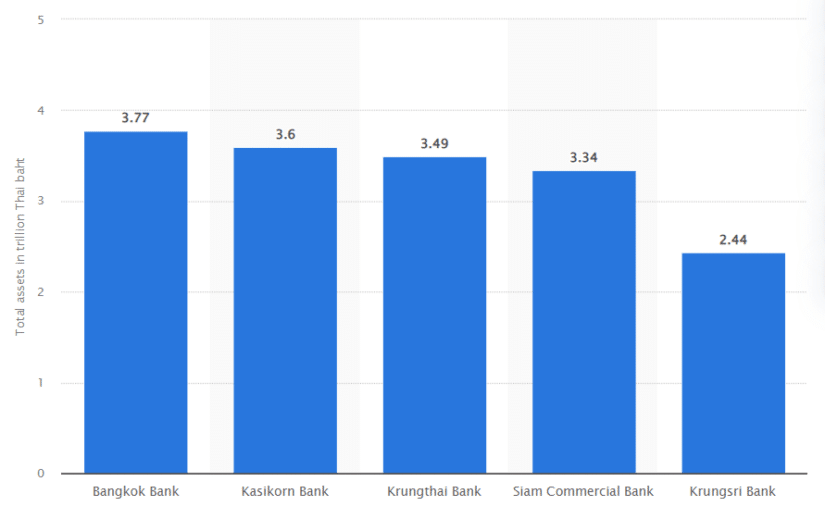 TMBThanachart Bank (TTB)
Another popular bank in Thailand for expat clients is TMBThanachart Bank. With over 600 bank branches and more than 2,365 ATMs, TTB offers a selection of account and card services, as well as business banking and related services.
When considering TTB, it is important to be aware of the fees associated with different accounts and transactions. The fees may vary depending on how you utilize the bank's products and services.
Kasikorn Bank
With over 800 bank branches, including retail branches, international service locations, and business banking locations, Kasikorn Bank offers a wide range of personal, SME, corporate, and world business services. The bank is the second largest in Thailand in terms of assets, according to Statista.
The bank boasts a large network of ATMs, with over 9,349 machines available for convenient cash withdrawals and other banking transactions. Kasikorn Bank is known for its user-friendly mobile banking app and efficient international money transfer services, providing customers with convenient and intuitive banking experiences.
Opening an account with Kasikorn Bank is typically considered easier compared to some other banks in Thailand. Savings accounts, checking accounts, foreign currency deposit accounts, cards, loans, insurance, and investments, are just some of the products and services offered by the bank to its clients.
Take note of the transaction and service fees associated with your Kasikorn Bank account, as they can vary depending on your usage. Additionally, if you need to make outward remittances, it's worth considering the flat rates charged, which may be pricey for certain payment values.
Considering the wide range of services, convenient mobile banking, and extensive branch and ATM network, Kasikorn Bank is a popular alternative for foreign customers seeking banking solutions in Thailand.
Krungsri Bank
Krungsri Bank is a prominent banking option in Thailand, offering an array of personal, business, and wealth management services. With 626 branches, including retail bank branches and business centers, and a network of over 5,311 ATMs, Krungsri Bank provides convenient access to banking facilities across the country.
Customers can benefit from various products and services, including deposit accounts, loans, cards, insurance, and more, catering to their personal and business banking needs. Be aware of the fees that may apply to specific transactions and services. For instance, using the debit card overseas may incur a 2.5% foreign transaction fee.
Krungsri Bank is known for its excellent digital banking services, providing customers with convenient online and mobile banking platforms. Additionally, the bank offers easy international transfers, facilitating seamless and efficient cross-border transactions.
As the fifth-largest bank in Thailand, Krungsri Bank has established a wide branch network throughout the country, ensuring accessibility for customers in various locations. With its comprehensive range of services, convenient digital banking options, and extensive branch presence, Krungsri Bank is a popular choice among expats and foreign customers seeking reliable banking solutions in Thailand.
UOB Bank
UOB Bank provides various financial products and services to both personal and business customers. With 150 branches and over 1,200 ATMs, UOB Bank offers accessible banking facilities across Thailand.
Customers have access to a products like checking and savings accounts, accounts denominated in foreign currencies, loans, credit cards, insurance, and investment options. Whether you need basic banking services or more specialized financial solutions, UOB Bank caters to diverse banking needs.
Like other banks, there are associated charges when using UOB Bank's services. Depending on the account you use, you may incur additional costs for transactions, ATM withdrawals, and other services. Additionally, a dormancy fee may be assessed if a current or savings account remains inactive for a year and holds a balance below 5,000 baht.
UOB Bank focuses on delivering comprehensive banking services while ensuring convenience and flexibility for its customers. Through its network of branches and ATMs, individuals and businesses can access the necessary banking services to manage their finances effectively.
Pained by financial indecision? Want to invest with Adam?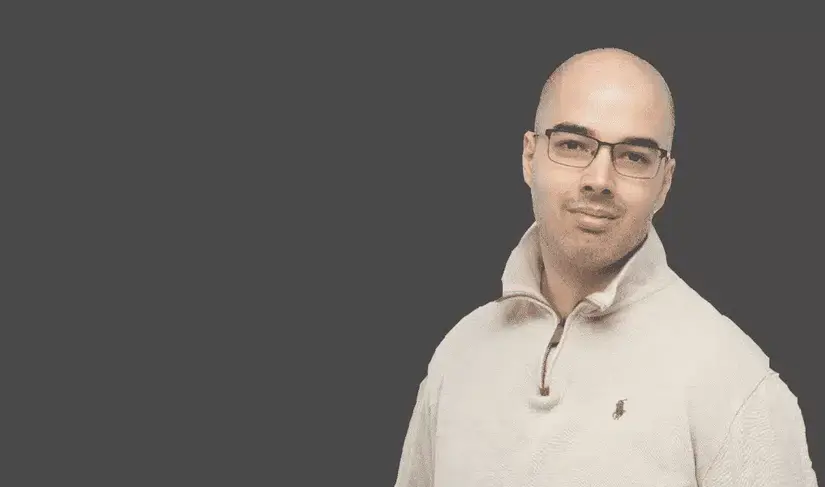 Adam is an internationally recognised author on financial matters, with over 623.1 million answer views on Quora.com, a widely sold book on Amazon, and a contributor on Forbes.