(This article was last updated on March 16, 2023.)
Let's talk about how to send money out of Taiwan. Previously, I have also discussed how getting money out of China works.
In everyday life, many of us often face the need to send money abroad or get money from there. They can be transferred to a supplier, a partner, a child studying abroad, or parents. Some urgent transfers are executed in case of unforeseen circumstances.
For whatever reason, the money transfer should be completed quickly and as profitably as possible. How do you do this and what options are the most convenient and safe? This article will explain some of the best ways to do it from Taiwan.
Before we tackle the ways, let's first get a glance of the country and its financial system.
If you are looking for portable investment solutions adapted to the expats in which I specialize, you can contact me in this form or use the Whatsapp function below.
A brief history of Taiwan
Taiwan's origins are shrouded in prehistory, but archaeological evidence suggests that humans first inhabited the island as early as 30,000 years ago. These early inhabitants were Austronesian peoples, who are believed to have originated in what is now Taiwan and spread throughout the Pacific Islands.
In the 16th century, Portuguese sailors were the first Europeans to visit Taiwan, but it was the Dutch who established a foothold on the island in 1624. The Dutch East India Company used Taiwan as a base for trading in East Asia, but they were later driven out by the Chinese Ming Dynasty.
In the late 17th century, the Qing Dynasty gained control of Taiwan, which was then ruled as a prefecture of Fujian Province. During this time, Han Chinese migration to Taiwan increased, leading to a significant demographic shift on the island.
In the late 19th century, Taiwan was surrendered to Japan as part of the Treaty of Shimonoseki. This came after China's defeat in the First Sino-Japanese War. Japan ruled Taiwan as a colony for the next 50 years, during which time they modernized the island's infrastructure and industry, but also imposed harsh colonial policies and suppressed Taiwanese culture and language.
After Japan's defeat in World War II, Taiwan was returned to Chinese control, but the nationalist Kuomintang government, led by Chiang Kai-shek, fled to Taiwan after losing the Chinese Civil War to the communist forces led by Mao Zedong. The KMT government established martial law and reigned Taiwan as a one-party state for several decades, until democratic reforms were introduced in the 1980s and 1990s.
Taiwan Financial System
The financial system in Taiwan is well-developed and modern, with a wide range of financial institutions and services available to individuals and businesses.
The Central Bank of the Republic of China (Taiwan) is the country's central bank and plays a crucial role in managing monetary policy, regulating the financial industry, and maintaining financial stability. The central bank issues and regulates the country's currency, the New Taiwan Dollar, and manages its foreign exchange reserves.
Taiwan's banking system is dominated by a few large banks, including state-owned banks such as Bank of Taiwan and Land Bank of Taiwan, as well as private banks such as Cathay United Bank and E.Sun Commercial Bank. These banks offer a wide range of financial services, including deposit-taking, lending, and investment services.
In recent years, Taiwan's financial industry has been focused on promoting digital and fintech innovation, with the government introducing various policies to encourage the growth of the industry. As a result, Taiwan has become a hub for fintech startups, with a growing ecosystem of companies specializing in areas such as digital payments, blockchain, and artificial intelligence.
How is banking for expats?
Banking in Taiwan for expats can be relatively simple, as many of the major banks offer services and accounts specifically designed for non-Taiwanese residents.
To open a bank account in Taiwan as a foreign national, you will generally need to provide a valid passport, an Alien Resident Certificate (ARC) or visa, and proof of income or employment. Some banks may require additional documentation, such as a rental agreement or utility bill, to verify your address in Taiwan.
Once you have opened a bank account, you can access a range of services, including debit and credit cards, online banking, and international wire transfers. Many banks also offer English-language services and customer support, making it easier for expats to navigate the banking system.
It is worth noting that some banks may have restrictions or requirements for non-residents, such as higher minimum balances or transaction fees. Furthermore, expats may need to be mindful of currency exchange rates and fees when making international transactions or transferring funds between accounts in different countries.
Can you send money from Taiwan via banks?
One of the most popular options for sending money from one country to another uses the services offered by local banks. This is due to the trust of citizens in banking structures, as well as with the habit of conducting cash transactions through banks.
To send money via bank transfer, you will need to have a bank account in Taiwan. You can either visit your local bank branch or use online banking to initiate the transfer.
Typically, transfers from an account to another are used by those citizens who constantly make transfers or payments abroad.
You can open a bank account in Taiwan for free or for a minimum deposit amount. Then, the transfer can be made in the branch of a credit institution or via online banking.
Transferring funds via bank branch
To do this, you need to:
present a valid passport
provide the recipient's bank account details, including their name, account number, and routing number (if applicable)
depending on the bank, you may also need to give additional information, such as the recipient's address or phone number
indicate the amount to be sent and the currency
Before the transfer of funds, you must make sure that you have sufficient money in your account.
When transferring in a bank branch, you need to immediately clarify the fees you must settle, if any. In some banks, it must be paid separately and in advance, while in others it can be deducted from the transfer amount.
Transferring funds via internet banking
This procedure is convenient because money transfers abroad can be completed without leaving home. To do this, for a small fee, you need to connect the Internet banking service and check the hotline of the credit institution about the possibility of transferring money abroad.
Here are the general steps to follow:
Login to your online banking account: To transfer money online, log in to your online banking account using your username and password. If you do not have an online banking account, you can usually sign up for one through your bank's website.
Select the transfer option: Once you have logged in to your account, look for the option to transfer funds. Depending on your bank, this may be located on the main dashboard or in a separate menu.
Enter recipient's account details: Then input the recipient's bank account details, including their account number and the name of the bank. If you are transferring funds overseas, you may also need to provide additional information such as the recipient's SWIFT code.
Enter transfer amount: After you have entered the recipient's details, you will need to enter the amount you wish to transfer. Be sure to double-check the amount to ensure it is correct.
Review and confirm transfer: Once you have entered all of the required information, review the transfer details to ensure they are accurate. If everything is correct, confirm the transfer to initiate the process.
Wait for confirmation: After confirming the transfer, you will usually receive a confirmation message that the transfer has been initiated. Depending on the bank and the type of transfer, it may take several minutes to a few days for the transfer to be completed.
How many days does an international bank transfer take?
The exact processing time for transferring funds from Taiwan to another country can vary depending on several factors, including the specific banks involved, the type of transfer, and any additional security or compliance requirements that may be in place.
The amount is usually credited to the beneficiary account within one to five working days.
Bear in mind that transfer times can be affected by factors such as bank holidays, weekends, and time zone differences between countries. Additionally, some transfers may be subject to additional processing time for security or compliance reasons.
How do bank transfer fees in Taiwan look like?
Fees for international bank transfers can vary depending on the bank and the country you are sending funds to. Banks may charge a flat fee, a percentage of the transfer amount, or a combination of both.
Additionally, banks may charge an exchange rate markup, which can affect the amount of money that the recipient ultimately receives. This option is expensive, so people are looking for other ways to send money.
How to Send Money out of Taiwan: Money Transfer Service Providers
There are several money transfer service providers in Taiwan that allow users to send money overseas.
To determine the best supplier for your needs when sending money from Taiwan, the main things that you must consider is the current New Taiwan dollar – the country's exchange rate, the time required to provide funds, and the level of the commission that you will pay when transferring.
Companies of online money transfer, in general, provide the fastest way to send money out of Taiwan. Regardless of the reason you transfer funds, you must always compare suppliers of money transfers.
You can search, read reviews of previous customers, and after that select the company that you want to use in your future transactions.
What should you note before you send money out of Taiwan thru your chosen money transfer firm?
The amount you want to transfer
It is likely that the more money you send, the more cost you will pay for. This is due to the fact that any fixed fee is a lower percentage of your transfer amount, as well as because many suppliers allow you to agree on higher brands of the exchange rate when sending large sums.
The margin of the exchange rate
Suppliers of money transfers charge a small percentage above the average exchange rate on the market for income. Make sure you have found a supplier with the lowest margin so that your money reaches your intended recipient.
Hidden commissions and fees
Before sending money, make sure that the service provider you use does not charge any hidden fees. Our reviews and comparisons will tell you how much you will be charged with each provider.
Discounts and offers
Various companies will offer various benefits when sending money thru them, so it is useful to look at them and see if any companies have any particularly convincing deals.
What documents are normally requested to transfer money from Taiwan?
To send money out of Taiwan, you generally have to provide a few basic documents to the financial institution or money transfer service you are using. The specific requirements may vary depending on the institution and the details of your transaction, but you will likely need:
A valid form of identification: This can include a passport, national ID card, or driver's license.
Proof of address: You may need to provide a utility bill or other document that shows your current address.
Details of the recipient: You will need to provide the recipient's name, address, and other identifying information, such as their bank account number or other financial details.
Payment information: You will need to provide details of the payment method you will be using to transfer the funds, such as a credit card, debit card, or bank transfer.
Purpose of the transfer: In some cases, you may need to provide information about the purpose of the transfer, such as whether it is a personal gift or a business transaction.
It's important to note that the specific requirements for sending money from Taiwan can vary depending on the financial institution or money transfer service you are using, as well as the destination country and the amount of money you are transferring. Before initiating a transfer, it's always a good idea to check with the provider to understand their specific requirements and ensure that you have all the necessary documents and information.
How should you compare money transfer companies?
Exchange Rates
Compare the exchange rates offered by each supplier to see if you can get a bet close to market value.
Transfer Fees
Look for a company that charges low fees or no fees at all. Some companies may charge a percentage of the transfer amount or a flat fee. Lower fees are usually better, but perhaps you should pay a higher fee if it means that you get the best exchange rate.
Transmission Methods
Look at options for how you can place your order. Will you need to visit the agent's office, or can you complete the deal without leaving your own home?
Time of Turnover
Some companies offer instant transfers, while others may take several days to process the transaction. It will be best to select a provider who can transfer cash on the same day, especially for emergency situations.
The Minimum Transfer Amount
If you need to send a small amount, make sure that the money transfer company has not set the minimum amount.
Payment Options
Consider whether the company offers the payment options that you need, such as bank transfers, credit card payments, or mobile payments.
Pickup Methods
Can your recipients get their funds directly from their bank account, or do they have to visit the agent's office? Are there a lot of accessible pickup partners for cash transfers?
Security
Look for a company that uses encryption and other security measures to protect your personal and financial information.
Customer Service
Check the availability and quality of customer service, as you may need assistance with your transfer. They should be available for contact via phone, email, or chat support.
Below are some money transfer services you can choose from to send money out of Taiwan:
Wise (former TransferWise)
Wise, formerly known as TransferWise, is a money transfer service that offers a fast, secure, and cost-effective way to send money internationally. It was founded in 2011 and has since become one of the leading players in the online money transfer industry.
In Taiwan, Wise provides a variety of services for customers who need to send or receive money from abroad. First and foremost, it offers international money transfers at competitive exchange rates, which can be up to 8 times cheaper than traditional banks. Customers can make transfers in over 50 currencies, including US dollars, Euros, and British pounds, among others.
Wise also offers a multi-currency account that allows customers to hold and manage funds in multiple currencies. This can be useful for businesses that operate in different countries or individuals who frequently travel abroad. The account comes with a debit card that can be used to withdraw money in local currencies at ATMs around the world.
One of the key features of Wise is its transparency. Customers can see the exchange rate, fees, and estimated delivery time upfront, so there are no surprises. The company charges a low, upfront fee that is clearly displayed, so customers know exactly how much they are paying.
Wise is also committed to security, using advanced encryption technology to protect customer information and transactions. The company is regulated by the Financial Conduct Authority in the UK and is licensed and authorized by financial regulators in every country where it operates.
Below is a sample exchange rate comparison Wise generated on its website: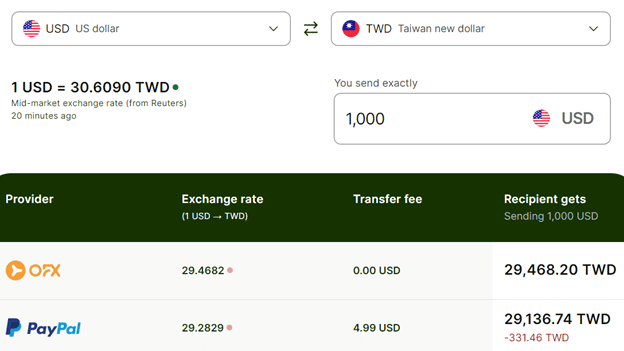 How are Wise fees determined?
Quantity
The more money you send, the higher your commissions. This is due to the fact that the commission is based on a predetermined percentage. Each currency uses a different percentage.
Payment method
You can pay using your Wise balance, ACH bank account, Wire transfer, debit card, credit card, Swift transfer, and card. The exact charges will depend on how much you are sending and which payment method you are utilizing.
If you use a credit or debit card, you will pay more commissions, but your money can go directly to the recipient's bank account. Your cards can charge an additional fee for cash, which further increases the cost of your transfer.
You can see all of these fees reflected on Wise's app or website as you prepare your transfer.
Wise offers you 6 simple steps to send money:
Register for free
If you don't already have an account with Wise, you'll need to create one by signing up on their website or mobile app. You'll need to provide some basic information such as your name, email address, and a password.
Start a new transfer
Once you're logged in, you can start a new transfer by clicking on the Send Money button. You'll need to enter the amount you want to send and the currency you're sending from and to. They will show you their fees in advance and tell you when your money arrives.
Add recipient details
Next, you'll need to add the recipient's details such as their name, bank account details, and address. Wise will automatically detect the country you're sending to and provide you with the correct information you need to input.
Confirm your identity
To comply with anti-money laundering regulations, Wise may ask you to verify your identity before you can complete your transfer, especially for some currencies or for large translations. You can do this by uploading a copy of your ID or passport.
Pay for your transfer
Once you've confirmed all the details, you can make payment using a bank transfer, debit card, or credit card, etc. Wise will show you the total cost of the transfer upfront, including the fees and exchange rate.
Monitor your transfer
You can track your transfer on the Wise website or mobile app. Wise will also notify you via email or SMS when your transfer is complete.
How long does it take to transfer your money through Wise?
The speed of Wise transmission depends on how much you are sending and the bank account you're sending it to. The fastest one can be completed in less than 10 minutes (again, depending on your recipient's account). It can also take up to five business days for some transfers.
You can always follow up with their customer support if it's taking quite long.
World Remit
WorldRemit is an online money transfer service that enables individuals to send and receive money globally. It was founded in 2010 and has since expanded to offer services in over 130 countries, including Taiwan.
In Taiwan, WorldRemit provides a variety of services that cater to the needs of people who want to send or receive money from overseas. The company offers fast and reliable transfers, with competitive exchange rates and low fees.
WorldRemit is committed to security and has implemented various measures to ensure that customers' personal and financial information is protected. The company uses advanced encryption technology to safeguard data and complies with relevant laws and regulations in each country where it operates.
The money transfer service provider enables customers to send money from Taiwan to other countries through airtime top ups. Customers can also use the service to receive money from friends and family living abroad.
One of the unique features of WorldRemit is that it offers a mobile app, which makes it easy for customers to send money from anywhere, at any time. The app is available on both iOS and Android platforms and can be downloaded for free.
What are airtime top ups?
An airtime top-up is a service offered by WorldRemit that enables customers to recharge the mobile phones of friends and family in other countries. The recipient will receive a notification on their mobile phone once the top-up has been completed.
Airtime top-ups can be a great way to help friends and family members who may not have access to traditional banking services or who may be unable to purchase mobile airtime due to financial constraints. The service can also be useful for people who are traveling abroad and need to recharge their phones while they are away.
How can I send money from Taiwan thru WorldRemit?
Sign up for an account
Visit the WorldRemit website or download the mobile app and create a new account. You will need to provide some basic information about yourself, including your name, address, and contact details.
Begin your transaction
Choose the country in which you recipient is present, input the currency and the amount you are sending, and choose the receive method. For Taiwan, airtime top ups are supported.
Provide recipient details
Enter the recipient's valid phone number.
Pay for the transaction
The money will reach the receiver's account within a few minutes.
Track the transfer
Once you have made the payment, WorldRemit will provide a tracking number or reference code that you can use to track the transfer online or through the mobile app. You will also receive a notification when the transfer has been completed.
WorldRemit will display the fees upfront, so you can see exactly how much you will pay. You can then pay for the transfer using a debit card, credit card, or pre-paid card.
Below is a sample airtime top up transaction from Taiwan: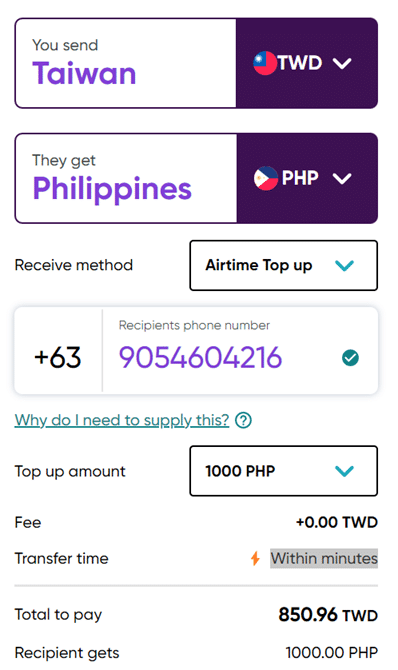 While the amount you send will arrive in less than 10 minutes, do note that to send money out of Taiwan via WorldRemit using the local currency, New Taiwan dollar, is very limited with just airtime top up transfers available. Meaning, you cannot send money in the local dollar for cash pickups or bank transfer, which otherwise would have been used by the recipient for something else.
MoneyGram
MoneyGram is a global provider of money transfer and payment services, with a presence in over 200 countries and territories worldwide.
It was founded in 1940 as Travelers Express Company, a subsidiary of a large insurance company called St. Paul Fire and Marine Insurance Co. The company initially provided money orders and traveler's checks, primarily for the travel industry. In 1998, the company changed its name to MoneyGram International Inc. and expanded its services to include international money transfers
MoneyGram offers a range of convenient and secure services, including cash transfers, online transfers, and bill payment options. Their services are designed to help individuals and businesses easily and quickly send and receive money across borders.
When it comes to Taiwan specifically, MoneyGram does operate in the country, with a network of agents and locations that allow individuals to send and receive money easily. MoneyGram's services in Taiwan are designed to meet the needs of customers in the country, with a focus on providing fast, reliable, and affordable transfer options.
You can send money out of Taiwan in person at a MoneyGram agent site.
But what are the steps involved to transfer funds?
First, you'll need to find a MoneyGram location using their website or app. Once you've located a location, bring a valid government-issued ID and complete the MoneyGram money transfer form with the required information, including your name and contact details, the recipient's name and contact details, the amount you wish to send, and the destination country.
Next, pay for the transfer in cash at the MoneyGram location in Taiwan or use a debit or credit card if the location accepts card payments. After completing the transaction, you'll receive a reference number that you should keep safe. You'll need this number to track the progress of your transfer and for the recipient to collect the funds.
Inform the recipient that you've sent them money via MoneyGram and provide them with the reference number. The recipient can then go to any MoneyGram location in their country to collect the funds, as long as they have the reference number and a valid government-issued ID.
Finally, you can track the status of your transfer online using the MoneyGram website or app.
You also have the option to send the money directly to your receiver's bank account or mobile wallet, following the same steps as discuss above.
What are the fees for MoneyGram?
MoneyGram fees for sending money from Taiwan can vary depending on a few factors, including the amount of money you are sending, the destination country, and the payment and delivery methods you choose.
The costs typically start at around 150 New Taiwan dollar (approximately 5 USD), but can increase based on the factors mentioned above. You can use the service provider's fee estimator tool on their website to get a projection of the fees for your specific transaction.
It's worth noting that in addition to MoneyGram's fees, there may be additional costs charged by the recipient's bank or other financial institution. Such add-ons are not controlled by MoneyGram and may vary depending on the institution.
How long does a MoneyGram international transfer usually take?
The transfer times for MoneyGram can vary depending on the destination country, payment method, and other factors. In general, MoneyGram offers fast and reliable transfer times, with many transfers completing within minutes or hours.
For international transfers, the transfer times can vary depending on the destination country and payment method.
MoneyGram's online and mobile transfer options can be especially fast, with many transactions completing within minutes of being initiated. This is because online and mobile transfers don't require the recipient to physically go to a MoneyGram location to collect the funds, which can speed up the process significantly.
Western Union
Western Union is a global money transfer service that has a presence in Taiwan. It allows individuals to send and receive money from around the world quickly and securely.
There are several Western Union locations in Taiwan, including in major cities like Taipei, Taichung, and Kaohsiung. Customers can visit these locations to send or receive money, or they can use the Western Union website or mobile app to initiate a transfer.
You can choose to send money online or in person.
How can you send money out of Taiwan online thru Western Union?
Log in or create an account
Have you registered yet? Create an account on the King's Town Bank (KTB) website.
Validate your profile
Enter your complete name, birthdate, postal address, email, mobile phone number, and ID issued by the government.
Check if the name on your ID corresponds to the name on the profile you have created online.
For authentication, submit a front-and-back image of your National ID and front copy of your Health Insurance Card.
Your identification and cell phone number will be validated online.
Your registered email will receive a confirmation email, which you need to click on to activate your profile.
Check your bank account
Find your bank's name and code by browsing the list of banks.
Enter the bank account information necessary to initiate the money transfer.
Online verification will be performed for your bank account, ID, and cellphone number.
Your bank account will be registered once these details have been confirmed.
Input your receiver's information
Include your recipient's information – their complete name and address, the recipient's country, and the sum that you wish to send.
Execute the transfer of funds
Transfer the funds using the bank account you provided when registering.
The name, bank code, and account number of your recipient's bank are required.
Define your recipient's payout option: cash or bank transfer.
Pay and send
Verify every aspect of the payment. Mention the specified payment reference number in your correspondence.
Make your transfer payment.
An email with a confirmation specifying the Money Transfer Control Number (MTCN) will be sent to you. It will be used to trace the transaction and only provide money to your intended recipient.
How can you transfer funds in person?
Go to the money transfer service provider's over 60 agent sites in Taiwan, show your valid ID, give your and your recipient's full details, select the payout method, settle the payment and get your MTCN.
What are the fees and exchange rates?
Below is a table showing the amount bracket and the associated charge for transfers from Taiwan denominated in euros. Please note that the data used is from 2017. Though it could give you an idea about the costs, you can visit the Western Union website or use their mobile app to check the fees for your specific transfer to get a more accurate estimate.
Alternatively, you can also visit a Western Union agent location in Taiwan to inquire about the charges and other details related to your transfer. Fees may change over time, so it's a good idea to double-check before making a transfer.
In terms of exchange rates, the firm bases their exchange rates calculations on the market-available interbank rates in Taiwan plus a margin of up to 6%.
How long does a Western Union transfer take?
Typically, your money transfer will reach its recipient in a matter of minutes. Nevertheless, some transfers may take longer to process, particularly if they involve bank transfers.
Do you have to pay tax to send money out of Taiwan?
There is no specific tax on sending money from Taiwan to overseas, but there may be other fees and charges that apply.
For example, if you are executing an international transfer from Taiwan, you may need to pay a foreign exchange fee to convert your New Taiwan dollar into the recipient's local currency. This fee can vary depending on the exchange rate and the financial institution you are using for the transfer. Some providers place a markup on exchange rates.
It's a different case for your recipients, though. They may be required to pay taxes or other fees in their home country, depending on the specific regulations and laws applicable.
In many countries, there are no taxes or fees imposed on incoming money transfers, especially if the transfer is a personal gift or payment. However, in some cases, the recipient may need to pay taxes on the funds received, particularly if the transfer is a business transaction or involves a large sum of money.
It's important to note that the taxes and fees associated with an international money transfer are typically the responsibility of the recipient, not the sender. As the sender, you should be aware of any fees or charges that may apply to the transfer, but it is ultimately up to the recipient to handle any tax or regulatory requirements in their territory.
Pained by financial indecision? Want to invest with Adam?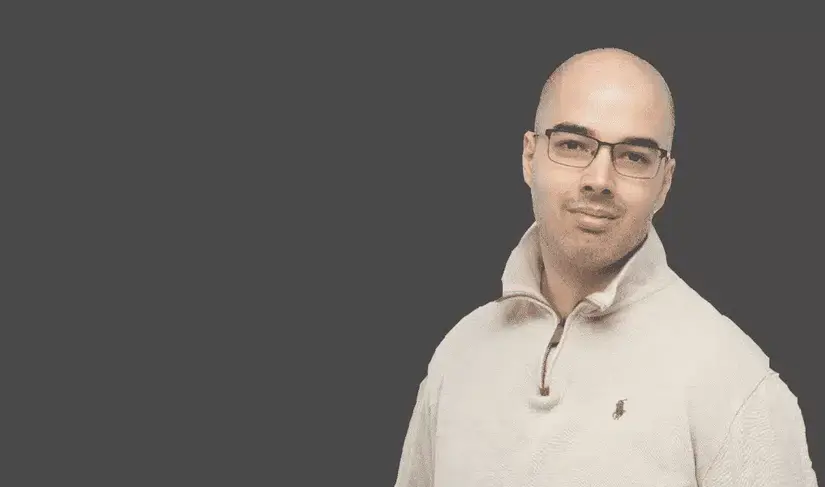 Adam is an internationally recognised author on financial matters, with over 622.8 million answer views on Quora.com, a widely sold book on Amazon, and a contributor on Forbes.