Good spending habits are one of the keys to sound financial planning.
I have previously spoken about budgeting apps such as Emma and the best budgeting apps online.
In this article, I will list the best budgeting apps available in Canada.
If you want me to review another budgeting app, or you are looking to invest, please contact me using this form, or by using the WhatsApp function below.
Introduction
Do you often think about how important money really is? While money isn't really talked about during regular social gatherings, you probably know some friends or family members who always seem to be struggling with their finances.
Without getting into a deep philosophical discussion about money and spirituality, the fact is that you need money to afford the essentials. Money affects all of us, and our decisions affect our finances.
Living from salary to salary can be a very stressful lifestyle. While you may have a job that pays bills, an emergency or an unexpected large medical bill can take a toll on your life.
Financial literacy is like learning any other language. You must use and apply your knowledge to stay professional. There are certain terms and concepts that you need to be aware of, and practice will help you achieve excellence as you raise awareness about money matters.
Regardless of your age, occupation or income level, having a solid understanding of your financial situation will help you to be held accountable for how you distribute the money you earn. You also need to be honest with yourself so that you know how much money you need to lead a lifestyle that makes you happy.
Financial planning helps you identify your short and long term financial goals and create a balanced plan to achieve those goals. Here are a few reasons why personal finance is important and why you won't regret improving your hands-on knowledge of the matter.
Income: You can more effectively manage your income through planning. Income management helps you understand how much money you need to pay taxes, other monthly expenses, and savings.
Cash flow: Increase your cash flow by carefully monitoring your spending and spending. Tax planning, reasonable spending, and careful budgeting can help you save more of your hard-earned money.
Capital: An increase in cash flow can lead to an increase in capital. This allows you to consider investing to improve your overall financial health.
Family Safety: Keeping your family financially secure is an important part of the financial planning process. Having the right insurance coverage and policies can provide peace of mind for you and your loved ones.
Investment: The right financial plan takes into account your personal circumstances, goals and risk tolerance. It acts as a guide to help you choose the right investment types to suit your needs, personality and goals.
Living Standards: Savings from good planning can be beneficial in difficult times. For example, you can make sure there is sufficient insurance coverage to cover any lost income if the breadwinner loses his job.
Financial Understanding: Better financial understanding can be achieved when measurable financial goals are set, the implications of decisions are understood, and the results are analyzed, by giving you a whole new approach to your budget and better control over your financial lifestyle.
Assets: A good asset cushion is desirable. But many assets have liabilities attached. Thus, it becomes important to determine the real value of the asset. Knowing how to settle or write off obligations comes with understanding your finances. The overall process helps to create assets that will not become a burden in the future.
Savings: This used to be called rainy day savings. But sudden financial changes can still lead you astray. It is good to have investments with high liquidity. These attachments can be used during emergencies or for educational purposes.
Thanks to advances in modern technology, you can use smartphone apps that allow you to perform all the mentioned points above.
Top benefits of using budgeting apps
When it comes to apps, one of the most valuable is the budget saving app. With an app like this, you can better manage your money and stick to a tight budget. Since financial management is critical to your income, using budget-saving apps is one of the most useful resources available.
There are some very good reasons why you need to plan your money with a financial planning app:
Gives you control over your money
A budget is a way to purposefully determine how you spend and save your money. They say that when you budget, you control your money, not your money controls you. Budgeting saves you the stress of suddenly having to adjust to a lack of funds because you didn't initially plan how to spend it. It will also help you decide if you want to sacrifice short-term expenses like buying coffee every day in exchange for long-term benefits like a cruise vacation or a new HDTV.
Helps keep track of the prize
A budget helps you define your long-term goals and work towards achieving them. If you're just wandering aimlessly through life, throwing money at every beautiful, shiny object that catches your eye, how will you ever save up enough money to buy a car, travel to Aruba, or make a down payment on a house? A budget forces you to plan your goals, save money, track your progress, and make your dreams come true.
Helps get rid of credit card debt
Getting out of debt can be frustrating, intimidating, and ultimately impossible. Fortunately, it doesn't have to be if you learn to control the situation. Debt repayment is not only about finding the right financial instruments, but also the right psychological ones. You need to understand why you are in debt and then take action.
Assists you to build wealth
Fortunately, after you have solved your personal debt problems, you will already be in the habit of investing a certain amount of money each month in debt. So instead of changing this habit, you simply redirected these funds to your savings.
As your savings and investments grow, you will be able to generate passive income from interest payments and capital gains while using actively generated income to budget for your monthly expenses. In other words, you can increase your total income simply by using your regular salary more wisely.
You probably already want to download a budgeting app and use it to save some money and reach your financial goals, let us help you in the choice. Here in this article you will find some of the best budgeting apps for Canadians, and we will try to fully present each of the application's advantages and disadvantages, their functionality and more information. According to our researches, we will mainly focus on these budgeting apps in this article:
KOHO
Mylo/Moka
Spendee
Wally
Goodbudget
KOHO
The first option on our list is Koho, Rather than having one app for budgeting, another for savings, and one for rewards, KOHO bundles all of these financial commitments into one app that can be used like a prepaid payment card. To better understand what KOHO is, let's first clear up a few things.
KOHO is not a bank. KOHO is a prepaid and rechargeable VISA card available in Canada. In other words, it is similar to a VISA debit card in that you load your own money onto it (without borrowing funds), with the added benefit of getting cashback like with a regular credit card. This is best described as a digital spending bill that comes with a physical card and an app.
KOHO's budgeting features allow you to easily refer to the categories you spend the most of your money on, and its new Early Payroll feature allows you to access $ 100 of your paycheck 3 days prior to deposit without paying interest, just to set up a direct deposit to your account KOHO.
Savings can start with RoundUp – if, for example, you spend $ 3.25 on coffee, KOHO can round that payment to $ 4 and move the $ 0.75 difference towards your savings goal. And the KOHO prepaid card brings you 0.5% or 2% cash, depending on whether you use the free or premium version of the card.
The combination of a financial app and a prepaid card is rare, but not entirely unique as KOHO has a closest competitor, Stack. KOHO and Stack offer similar budgeting features, but they have other significant differences in commission structure and reward rates that may make one app / card more suitable for you than the other.
Product advantages
There is no activation fee or any other fees to open or maintain a KOHO account.
KOHO cards are issued by People's Trust, a federally regulated trust company.
You can lock your card through the app if you've lost it or it's stolen to prevent someone else from using it.
You can connect Apple Pay to your KOHO account.
Early Payroll can be a lifesaver — Access up to $100 of your paycheque up to 3 days early at no cost.
Product disadvantages
You will be charged a 1.5% foreign transaction fee on purchases outside of Canada.
You can have up to $20,000 in your account.
Daily limit of $3000 on purchases and $600 on ATM withdrawals.
No RRSP, TFSA, or RESP accounts.
Mylo/Moka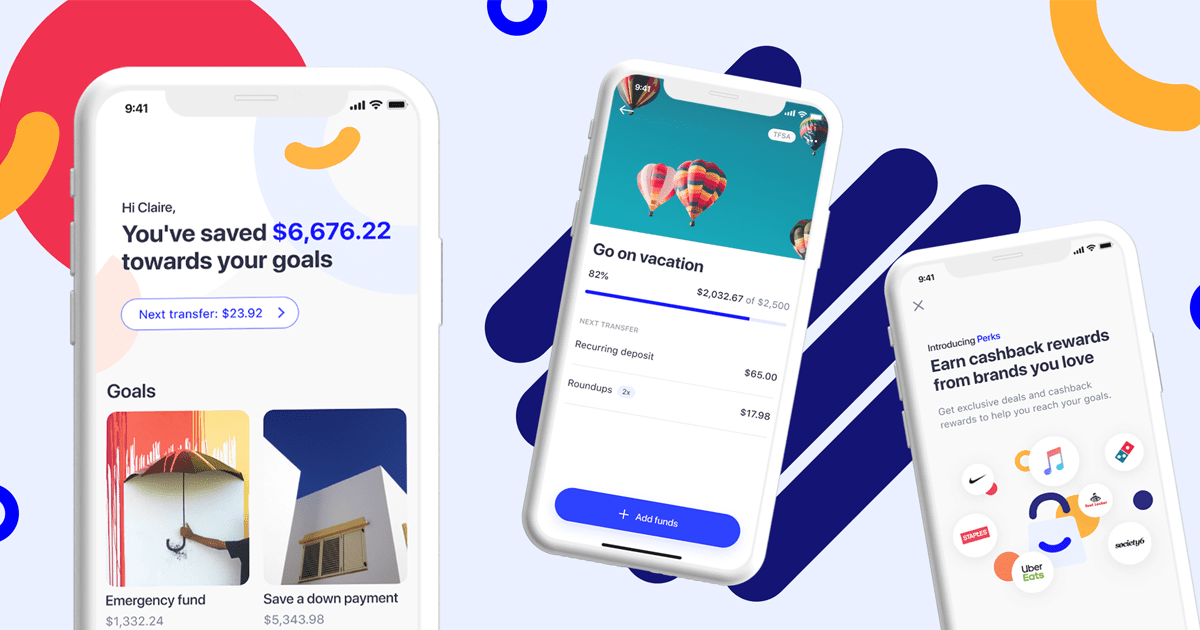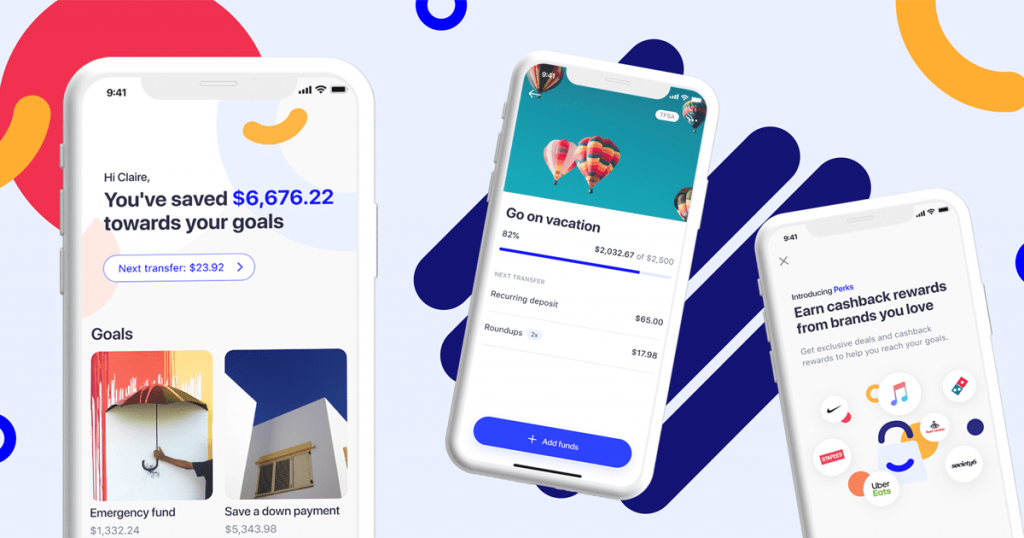 Next on our list is Mylo, sometimes known as Moka. The Mylo app (now rebranded as Moka) is the Canadian answer to other automated savings and investing apps such as Acorns and Digit in the U.S. and Moneybox in the U.K.
Canadian finance company Mylo launched the app of the same name in July 2017, and it has already caused a stir. This innovative application works in the background, discreetly transferring excess change to an investment account, which gradually grows without any effort on your part.
The app rounds everything you spend to the nearest dollar and then deposits that money into your Mylo investment account. For example, if you spend $ 50.25 on a debit or credit card at a grocery store, Mylo will round that amount to $ 51 and place the additional $ 0.75 in your account.
The money in your Mylo account is invested by an experienced portfolio manager (Mylo uses Tactex Asset Management) in an inexpensive ETF (Exchange-Traded Fund). It's like turning on autopilot when investing. The app is available for both iOS and Android and has a monthly fee of just CAD $1.
The Moka app is the first automated goal-based savings and investing app to give Canadians the opportunity to easily invest their spare change and grow their wealth.
In 2020, Mylo rebranded as Moka after expanding internationally to Europe and launching in France. More than 750,000 Canadians have downloaded the Moka app and it holds a 4.4/5 rating on the App store.
Product advantages
There's no minimum amount required to start investing with Moka.
Your portfolio is based on your personal risk preferences.
You can invest in an RRSP, a TFSA or a non-registered account.
Accounts are protected by bank-level security.
Product disadvantages
Your money is invested in stock and bond markets, not a savings account. This means that your money will grow or shrink depending on market fluctuations.
If there's only $10 in your bank account and you withdraw $20, you may be charged. This charge is called a non-sufficient-funds fee (NSF).
Spendee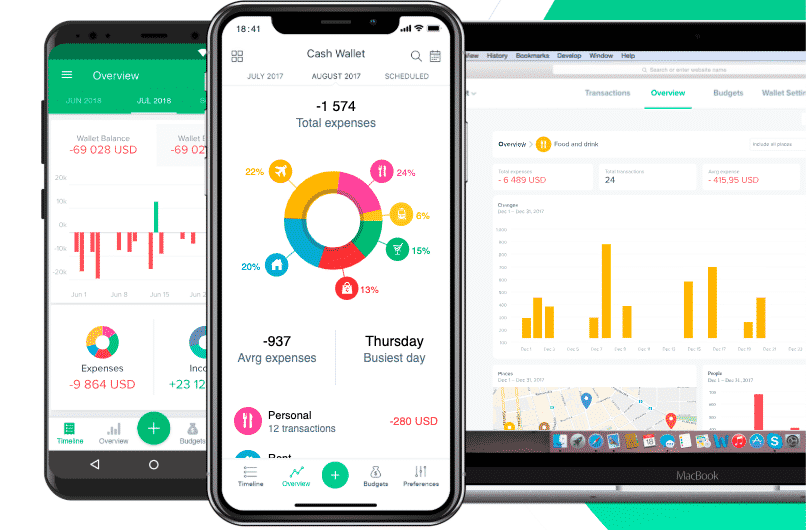 Spend is arguably slightly less known than the first two apps. Yet it is one of the most popular financial management apps available today.
Spendee, a full-service financial application that gives you all the financial tools and resources you need to be successful. With a focus on ease of use, wide range of features and tiered membership, Spendee is changing the way consumers manage their money and track their spending.
Spending has never looked so beautiful. Spendee is a graphic designer's dream come true with vibrant colors and lush aesthetic designs that make you tune in and see what you're spending your money on. But this is not just a pretty face.
You can also set budget goals and manage bill payments, as well as track your crypto wallet and e-wallet. Like more advanced apps like Mint, YNAB and others, the paid version will also link to your bank accounts and provide a complete view of your financial activities.
First of all, the Spendee core directive gives you a perfect insight into your spending habits with beautiful charts, charts and colorful columns. It's intuitive and even lets you upload photos along with the budget items you're trying to save on.
It wants the user interface to be as pleasant and accessible as possible, so that even the most financial hardships of us understand our financial situation. Spendee is also available for iOS and offers a free basic version. The paid versions cost either $ 14.99 or $ 22.99 per year and include additional features such as the ability to link bank accounts.
Product advantages
Connect your accounts at over 2,000 banks across the world in just seconds.
A wide range of intuitive financial tools is available.
You can easily track your cash flow by linking your bank accounts to your Spendee account.
Spendee will analyze your spending and provide you with a detailed snapshot of your account.
Multiple currencies are available.
Product disadvantages
Spendee offers only a 7-day free trial, after there are 3 price tiers, that provides different financial features.
Tracking is less reliable, the Spendee team should work on it.
Wally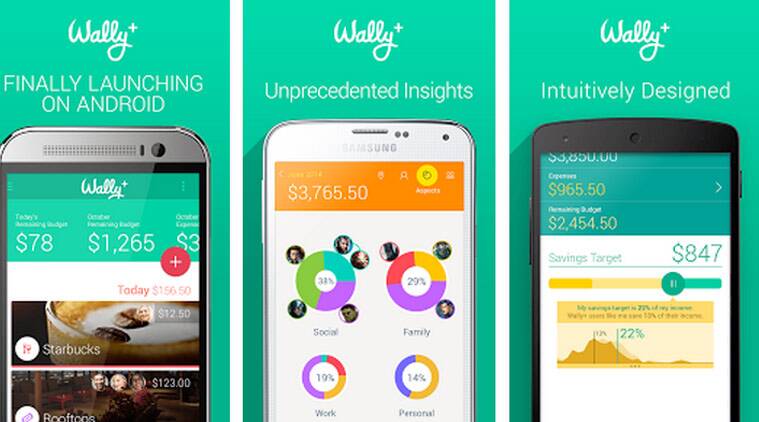 Next up on our list is Wally. Wally is a budgeting app that helps you keep track of your bank accounts, cards, and expenses so you know exactly how much you can afford to spend on purchases you plan for next week.
It was launched in 2013 and is now available in 18 different languages. India, USA and China are the countries where it is most popular, but you can use it in Canada too.
Wally may have one of the most unusual nicknames in the software industry, but this fun personal finance app is smarter than you think. Available for iOS, it is already in high demand and has received a lot of media praise.
This is not surprising as it is a great way to keep your finances up to date, especially when you are on the go, and even more so with the arrival of the coronavirus.
Wally can keep track of all your bills and payments, it will sync with them to get a good rating, and in addition, Wally is available in 70 countries. Wally is compatible with 15,000 banks and can handle 60 different currencies. Unsurprisingly, it became a hit with iOS users.
In its basic version, Wally is free to use. There is also a Wally Gold option, which costs £ 25.49 per year or £ 3.29 per month and adds a number of additional features like a currency converter and customizable budgets and categories. In the US and Canada, you can also link Wally directly to your bank account for an additional fee.
Product advantages
You have total control over what you put in and how you organize it.
Good range of budgeting features.
Safe and sound – doesn't go anywhere close to your bank account.
The app is slick and looks good.
Product disadvantages
You have to manually insert all the data, which can be really time-consuming.
Some features that allow further flexibility are to be paid for.
Goodbudget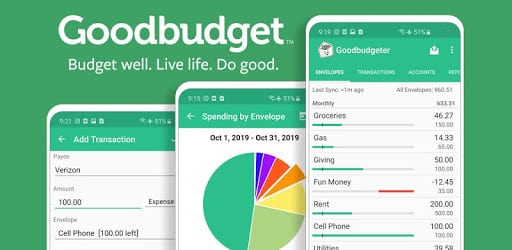 The last app on our list is the appropriately named Goodbuget. This handy app will appeal to those who like to set boundaries on what they can spend each month and who prefer saving methods that are easy to visualize.
Unlike many other financial apps, Goodbudget is more focused on planning and limiting your spending rather than mapping the entire financial universe.
It is based on the "envelope method" for saving money, which was popular in the days when cash was king, not credit cards. While cash is becoming an obsolete trading method, envelope budgeting principles are still sound.
Every month, Goodbudget lets you put the maximum amount of "cash" in virtual envelopes, each designed for things like groceries, gas, and entertainment.
During the month, you only spend what is in each envelope; if anything else remains, you can save money. This is a great way to get rid of rash spending, but its effectiveness depends on your commitment to renewing envelopes rather than increasing the amount allocated.
It doesn't have access to your real financial records, which can be a plus or minus depending on your cyber security concerns. The basic app is free for both Android and iOS. For $ 6 / month or $ 50 / year, you have perks like syncing envelopes across multiple devices.
Product advantages
The whole family can use Goodbudget thanks to its ability to sync across all devices.
If you overspend in one envelope, you can move money from another envelope to cover the extra cost — just as you would in real life.
Dive into the nitty-gritty by running reports in Goodbudget to see how much you spend per month, per payee, per envelope and more.
Goodbudget has a robust forum where you can get feedback from community members.
Product disadvantages
Those with more than one financial account or complex budgets may need to pay for the Plus version of the software.
You'll have to manually enter transactions or import CSV bank transaction files from your financial institution.
You can track debt repayments, but you can't add any retirement or investment accounts to Goodbudget.
Sometimes we are too busy to regularly check our income and expenses, and try to keep track of them, in these cases budgeting apps are in a role of first aid.
Here were some of the best budgeting apps that work in Canada and those who are searching online financial advisors who can help them with saving and properly spending their funds, you can easily choose one of the listed budgeting apps.
Further Reading
For Canadian expats living overseas as expats, investing options seem confusing. In this context, the article below compares and contrasts different options available to Canadians overseas.
It especially explains why portable, third country options, are usually the best route to take, compared to sending money back home.
Tags
apps like mylo
,
best budgeting app canada reddit
,
best budgeting apps in canada
,
best budgeting apps in canada 2020
,
best budgeting apps in canada 2021
,
budget planner app canada
,
goodbudget app
,
goodbudget vs ynab
,
how does wally app make money
,
how to cancel mylo
,
is spendee free
,
koho
,
koho budget
,
Moka review
,
mylo app
,
mylo app reviews
,
mylo moka
,
mylo reddit
,
mylo vs wealthsimple
,
Spendee
,
Spendee app
,
spendee premium
,
spendee review reddit
,
spendee vs wallet
,
spendee vs ynab
,
wally app pros and cons
,
wally app review
,
wally vs mint
,
What Are The Best Budgeting Apps in Canada 2021