Good spending habits are one of the keys to sound financial planning.
In this context, I have previously spoken about budgeting apps such as Emma.
In this article, I will list the best budgeting apps in the UK more generally.
If you want me to review another budgeting app, or you are looking to invest, please contact me using this form, or by using the WhatsApp function below.
Introduction
When we talk about personal finance, the term is usually used to refer to the financial management of individual or family resources. It includes how you manage your money through expenses, investments and savings, taking into account various life events and risks. Other aspects of personal finance include banking, budgeting, retirement planning, insurance, estate planning, and more.
This term can refer to the entire financial industry in a person's life. This includes all institutions offering financial services to individuals. Personal finance is primarily focused on meeting the needs of an individual and serves both long-term and short-term financial goals. If you have enough money to pay your basic monthly bills or want to plan for retirement, that's all personal finance.
Financial literacy helps a person distinguish between financial decisions that will be beneficial and that may harm their financial future. Having a financial plan will help you meet your short and long term needs without going beyond your income. And finally, personal finance teaches you how to manage your financial situation and how you can build a rich life in the future. Be able to achieve your goals!
The sooner you start planning your finances, the better. To ensure that all your assets, income and expenses are covered, you can use helpful tools such as budgeting apps that cost you nothing. Here is what we are going to touch in this article, and also review some of the best budgeting apps which are shining due to their great features.
Personal finance is important because it takes into account the various activities associated with your finances and how they are managed. These activities can help you become more financially responsible and develop financial discipline.
Budgeting
The most important thing is budgeting. Everything from your income, your savings and spending habits to retirement planning is taken into account when making a budget.
You can use a simple Excel sheet on your laptop which will be updated monthly. It gives a really good overview, shows where the money is going and helps you focus on your personal goals. But, it needs a lot of time, which many of you don't have, so there are apps that can become your financial assistants and calculate everything instead of you.
Understanding your total income
When it comes to personal finances, the two starting points are income and expenses. You won't be able to do progressive and life-changing financial planning if you don't understand your income and spending habits.
Income is the money you make from your job, and possibly also from a part-time or part-time job, but also the return on your investment. Usually, your income is lower in the early stages of work. Later it will increase until your retirement. At the time of retirement, your income will consist of the return you receive from your investment.
However, this does not mean that it should be so. This is the typical way for most people. Knowing your total income (including fluctuations) will help you make more informed budget decisions. You will then have an overview in terms of the amount of money you save and invest, how much you spend on things and how much debt you can afford, and whether you need debt at all. It can help you take back control, make your own plan, and build the life you want.
Track your spending habits
This is difficult for many people, but if you do not control your spending, you may find yourself in a situation with serious financial problems and great insecurity. Spending habits can be very detrimental to your financial health and end a more enjoyable life.
Spending all or most of your monthly income is very negative for you because you will not have the money to cover unexpected expenses, unforeseen activities or investment opportunities. The worst case is if you start accumulating debt due to the habit of spending money. Then you have a major problem that needs to be addressed with a strict budget but also personal support.
So you already understood how finance management and budgeting is an essential part not only for business people, but also for every employee. That's why below you will see some of the best budgeting apps online with their details and features. And to start here is a small list of the apps that we will talk about:
Personal Capital
Mint
PocketGuard
YNAB
Clarity Money
Every Dollar
We have chosen these ones among hundreds of budgeting apps, due to their good reviews, helpful features and comprehensive interface. Let's go.
Personal Capital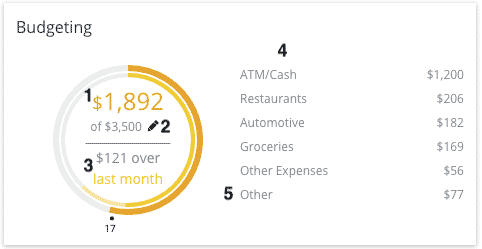 Personal Capital is an investment management service that combines the algorithms used by robo-advisors with access to human financial advisors. While Personal Capital is primarily an investment tool, its free app includes features useful for budget workers who want to track their spending.
You can connect and monitor current, savings and credit cards, as well as IRAs, 401k, mortgages and loans. The app provides a snapshot of expenses, listing recent transactions by category. You can customize these categories and see what percentage of your total monthly expenses this category represents.
Personal Capital also serves to track net worth and portfolio breakdown. Even if you have no intention of using Personal Capital for budgeting, the free version will provide valuable investment support.
The dashboard serves primarily as a financial aggregator where you can include all of your accounts. This includes investments, savings, checks, loan accounts and credit cards. This allows you to collect your entire financial life on one platform.
You can even include any employer-sponsored retirement plans, which is actually a feature of the free version. Here are some features and tools you can enjoy while using Personal Capital budgeting app:
Budgeting. You can use the free version to track your cash flow and spending structure. You can also analyze your expense categories and individual transactions. You will receive monthly summaries to help you know exactly where your money is going.
Cash flow analyzer. This tool creates a budget for you. Once set up, it will track your income and expenses from the various financial accounts that you have linked to the platform. Then you can set financial goals, such as preparing for retirement or paying off debt. The analyzer will help you develop strategies to achieve your goals.
401k Analyzer. Millions of people participate in employer-sponsored retirement plans. But few people know about the investment fees that are hidden in these plans. The analyzer will tell you exactly how much each fund in your plan is costing you.
Pension plan. The planner uses a series of "what if" scenarios to help you determine if you are meeting your retirement goals. You can adjust to changes in your situation, such as changing jobs or careers, having a baby, or even saving for college. It takes into account external factors that can affect retirement.
Net Worth Calculator. By tracking your assets and liabilities, you can quickly determine your net worth. This is important because your net worth is the most important metric in determining your overall financial strength.
Pros:
Budgeting and investment management on one platform
Free financial dashboard
Tax optimization
Financial Advisors
Socially responsible investing
Cons:
What is better than 2 in 1 app, you can both invest and manage all your finances in one platform. This is one of the best finance related applications that is super easy to use and comprehensive for beginners.
Mint
Mint's budget app has attracted over 20 million users, and it's easy to see why: First, it's free. It also automatically syncs with bank cards, credit cards, and investment accounts, extracting data effortlessly on the part of the user and providing credit ratings for free.
Mint is great for creating and keeping track of your budget, goals, and credit score. Email alerts are a useful and welcome feature. Unfortunately, the Mint's investment space is very weak for everyone but major investors. In fact, the investment space is so weak that they don't list it on their website as one of the top reasons for using Mint.com.
Mint sadly lacks investment and asset allocation tools like Personal Capital. If you have investments of over $ 100,000, Personal Capital is much better for you.
Where the Mint shines?
Financial Center. One of the best things about Mint is that it collects all of your financial information in one central location. Once users are signed in and linked their accounts, they can view almost every aspect of their financial life through the Mint dashboard such as credit card and bank balances, investment performance, credit score, and even home value.
Automatic sync. Mint makes it easy to get a quick snapshot of your spending. To set up, all the user has to do is select an account provider, such as Bank of America, and sign in through the Mint website or mobile app. The service then retrieves all of the account information to quickly view account balances, transactions, and even due invoices. Mint automatically starts categorizing transactions.
Review of trends. The Trends tab gives users the ability to quickly see where they are — how much they've spent in various categories such as shopping, grocery, food and restaurants, and entertainment. Users can easily refine the time frame by choosing from options such as this month, last seven days and last 14 days, or create a custom window and view month by month, or compare to the same time last year.
Alerts. Mint alerts can keep users out of trouble. The service can send a notification if budget is exceeded, billing is due soon, too much has been spent on ATM fees, or unusual spending activity has been detected to prevent identity theft.
Mobile app. The majority of Mint users use mobile devices, and the service's mobile applications are quite effective. Users can quickly view recent purchases, receive alerts and updates, characterize transactions, and view an overview of costs, trends and cash flows.
Pros:
Weekly summaries via email
Alerts via email or SMS
Budgeting and goal setting
Automatic downloaded transactions
Credit score tracking
Two-factor authentication
Cons:
Lack of investing features
Synchronization issues
Lack of report generation
No bill pay
PocketGuard
For those looking for a simple, easy-to-use budgeting app, PocketGuard is worth a look. The interface is clean, you get a wide overview of your finances, and the free version has some great features.
PocketGuard is clearly geared towards millennial users, with hashtags and emojis used to categorize your spending. Some people will love these things, but not everyone. And if you want your personal finance app to help you plan for retirement, there are better options, such as Personal Capital, which makes a great companion to PocketGuard.
PocketGuard reduces the budget to one thing many users want to know: how much they have to spend. It processes the numbers to show how much money is available after accounting for bills, expenses, and earmarked savings. All users can see how much money is left "in my pocket" for a day, week or month. Those looking to score more can keep track of specific categories of expenses – for example, groceries, clothing, or eating out.
PocketGuard works in five steps:
See the big picture. You link your bank accounts, credit cards, investment and loan accounts, so your entire financial life is centered in the app.
Be aware of your expenses. Transactions are updated and characterized in real time, giving you the opportunity to see where your money is going and how you can save.
Know what is safe to spend. This is the "pocket" part of PocketGuard. It allows you to find out how much money is left after paying all the bills and put it aside for savings.
Put your budget on autopilot. The app automatically creates an individual budget based on your income, expenses and goals you set.
Discover easy ways to save money. The app works to save you money through steps like negotiating lower bills and finding savings accounts with high interest rates.
Pros:
PocketGuard is free to use, though there is a premium version if you want or need additional services
The 'In My Pocket' feature focuses on what you have available for free spending
The 'Spending Limits' tool will help you to stay within budget, alerting you when you're close to going over
PocketGuard Plus allows you to track cash transactions
Cons:
No phone support
PocketGuard uses your financial information to generate offers for financial services and products. That means ads and email solicitations.
The referral program is weak
Currently available only in the mobile app version (the web version is still being worked out).
YNAB
YNAB – which means "You need a budget" – has grown into one of the most popular budgeting software packages available. If you are looking for an efficient budgeting system, then YNAB may be the application you were looking for.
The app not only offers mechanisms for monitoring income and expenses, but also provides training support to help you deal with the root causes of financial distress. This is an example application that does one thing and does it very well.
YNAB is without a doubt designed for the dedicated user. It is based on a zero budgeting system, and users must plan for every dollar they earn. It also requires a financial investment of $ 84 per year or $ 11.99 per month after a 34-day free trial. (Students who provide proof of enrollment receive an additional 12 months free of charge.)
Those who pay this price can take advantage of many of YNAB's features. You can connect bank accounts, set goals, contribute to savings and customize expense categories. You can also access resources such as app user guides, budget tips, and free seminars.
YNAB lets you automate your budget and is now available online. The newest version allows you to take online courses to learn how it works. Here are some great features that YNAB has to offer:
Seamless sync. You no longer need Dropbox access to use YNAB; it is now completely web based.
Direct import. You can now import transactions from your bank to YNAB; You no longer need to go to your bank's website first to start the process.
Goals. YNAB will now provide budget guidance to help you achieve your goals, whatever the goal may be.
Category Inspectors. This includes more color codes to help you see when a category is underfunded or when there has been an overshoot. This will help you quickly visualize potential bottlenecks in your budget.
Inspector. This feature allows you to see a summary of your budget and also provides quick options. For example, he will tell you if you have budgeted enough for upcoming expenses or not.
Pros:
Syncs with over 12,000 banks
Syncs with multiple devices
Easily track spending
Free for 34 days
Cons:
No investment tracking feature
Costs $11.99 per month
Customer service only available by email
No bill tracking or bill pay features
Clarity Money
Clarity Money is a comprehensive budgeting and saving app. Users can link financial accounts from thousands of institutions, organize expenses, track expenses, and categorize their expenses. There are other features such as unsubscribing and credit monitoring that provides a more complete financial picture beyond transactions.
Overall, Clarity Money is a solid option for budgeting and finding ways to save money. However, it is lacking when compared to more reliable apps like Personal Capital, but still remains in the top best budgeting app list. However, Clarity is a useful and convenient service and is especially attractive if you are already a Marcus customer and prefer to work with a familiar brand.
Where does Clarity Money shine?
Cost. You can't beat for free, and the absence of registration fees and users makes the app available to anyone looking to improve their budgeting habits today. Markus' High Yield Savings Account is also affordable in terms of cost as there is no minimum deposit requirement. But you must add some amount, even if it is only $ 1, within 60 days for the savings account to remain open.
Ease of Use. It takes less than a minute to create a Clarity Money account, although linking financial accounts takes a little longer. However, the process is simple and intuitive. You can also set up notifications for spending updates, upcoming bill payments, and low current account balances to stay on top of what's happening with your money.
Unsubscribe. Monthly subscriptions can eat up more of your budget than you think, especially if you've forgotten about them. The app informs you of how much you are spending each month and makes it easy to cut your expenses by canceling your subscription for you.
Product recommendations. When you are used to paying high interest rates every month, you may forget that there are ways to ease the burden of payments. The machine learning algorithm behind Clarity Money can analyze your spending and recommend loans to help you consolidate or reduce your debt payments. For example, he may note the high monthly payments associated with high interest debt and then recommend a loan that may have a lower interest rate.
Track your credit score. Knowing your credit score can help you understand if you can qualify for funding and how likely you are to get a competitive rate. The app allows you to subscribe to monthly updates of your Experian credit score. While this does not reflect the exact number of lenders that will be seen when you apply for a loan, it will provide some insight into how your use of the loan and behavior affects your overall financial stability.
Here are the best budgeting apps that you can rely on, that are safe to use and offer unique and helpful features to its customers. Remember that your personal finances are very important part of your life and you definitely need to keep track and follow all the ins and outs, and to help we suggest using budgeting apps that will be your financial advisors.