Southeast Asia is a paradise for retirees. The region's low cost of living, warm weather, and beautiful beaches make it the ideal place to retire.
While the area has always been popular with tourists, there is a sizable and growing population of people who have chosen to make it their permanent home.
And it is not hard to understand why, what with the ever-increasing connectivity, constantly-improving digital infrastructure, and irresistible way of life.
The best places in Southeast Asia are where you can live comfortably on a budget of $1,000 per month or less.
In this article, we will cover some of the best places to retire in Southeast Asia and how much they cost to live there. We will also discuss some things you should consider before moving abroad as well as other things to think about after relocating abroad.
If you want to invest as an expat or high-net-worth individual, which is what I specialize in, you can email me (advice@adamfayed.com) or use WhatsApp (+44-7393-450-837).
Why you should retire in Southeast Asia
Southeast Asia is a region rich in culture and history. It is home to many of the world's most beautiful beaches, biggest cities, and most exotic locations.
But it is not just the beauty that makes retirement in Southeast Asia so attractive; there are plenty of other reasons to consider moving here after you retire.
The cost of living is low.
One of the biggest reasons you should retire in Southeast Asia is because of how affordable it is. The cost of living in Southeast Asia is significantly lower than it is in North America, Europe, Australia, and New Zealand.
In fact, if you were to compare two cities with similar climates (like Bangkok vs Los Angeles) then you could expect your monthly expenses to be about half as much.
So what does this mean for your retirement? It means that if you want to live comfortably on a fixed income then retiring abroad makes sense since it would allow you to stretch that monthly income much further than if staying at home.
It is beautiful, with weather that is warm and sunny
Southeast Asia is a beautiful place to retire. From the tropical climate to its beaches, mountains and volcanoes, waterfalls, and forests, there is plenty to see and do in this part of the world.
It is also a great place for adventure seekers who want something different from their daily routine.
You can expect sunshine and warm weather most of the year. There are no snow storms or flash freezes to worry about, and tornadoes are virtually unheard of.
Earthquakes and tsunamis are also virtually non-existent in Southeast Asia–and if they do happen, they are rarely devastating. However, you do need to watch out for typhoons and tropical monsoons, which are common throughout the year across the region.
People are friendly
The people in Southeast Asia are friendly and welcoming. They are also helpful, kind and open-minded. The local culture is relaxed and easygoing; mistakes are tolerated more easily than in Western cultures. This makes for a great place to live if you want to avoid stress and enjoy life.
And because of the region's mostly colonial history, you can expect most cities you visit are fluent in English and even have traces of Western cultural heritage. Things like afternoon siestas are common in the Philippines, for instance, as are Dutch-style bread in Indonesia.
There is incredible food.
Southeast Asian cuisine is well known for being healthy, diverse and affordable. The food can be found on almost every street corner and the ingredients used in many dishes are super-fresh because they come from local markets that open early in the morning.
The variety of regional cuisines will keep you intrigued as you travel around Southeast Asia—you will never get bored eating the same thing twice.
Food plays an important role in Southeast Asian culture; eating together with family members has long been considered an essential part of daily life here.
Cost of living is very low compared to more developed countries
Southeast Asia is the perfect place to retire, if you are looking for an affordable and beautiful place to live.
The cost of living in Southeast Asia is much lower than that of Western countries or other parts of Asia. In fact, it is often so low that some retirees find themselves with extra money in their pockets at the end of each month.
There are many beautiful places in Southeast Asia where you can retire, whether it is on a beach or by a waterfall, there is something here for everyone's taste.
What are the best places to retire in Southeast Asia?
Thailand
Thailand is one of the most sought-after destinations for expat retirees in all of Asia.
If you are seeking for a peaceful and diverse retirement destination in South East Asia, consider Thailand. Retirement in Thailand has the potential to become very affordable.
Prices in the North of Thailand are often substantially lower than those in the South, making it an attractive option for retirees.
Thailand is one of the best retirement destinations in the region, and it will continue to be for many people. Despite the country's many transformations throughout the years, Thailand still ranks among the top retirement destinations in Southeast Asia.
The Kingdom of Thailand is a popular retirement destination because of its attractive price point, quality healthcare at a reasonable cost, and welcoming attitude toward tourists from other countries. The beaches, delicious food, and friendly folks are just the tip of the iceberg.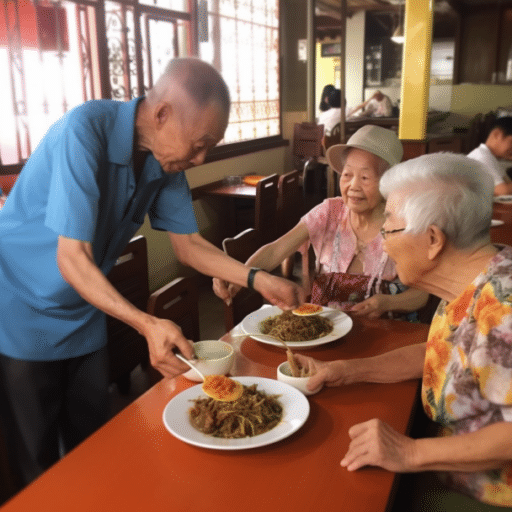 The cost of living in Thailand's most hospitable cities allows retirees to keep up with the Kardashians on an Archie Bunker income, and the international, JCI-accredited hospitals in Bangkok and Phuket provide access to world-class medical care at a fraction of what it would cost in the West.
Chiang Mai, for instance, has rates for necessities that are over 60% lower than in Boston; and beyond Chiang Mai, there are a variety of senior-friendly hotels all around the country.
Obtaining a "O-A" long-stay non-immigrant visa is necessary before retiring in Thailand. You must be 50 or older, have a clean criminal record and medical history, and have deposited THB 800,000 in a Thai bank before applying, or show proof of a monthly pension of at least THB 65,000 to qualify.
This "O-A" visa lasts for a year and can be renewed annually. Visa holders have a 90-day reporting requirement to immigration officials. Visit the Thai Ministry of Foreign Affairs website for further information.
Thailand is a great place to retire because of the climate, the food and the people. Thailand has a very good healthcare system, it is relatively safe for expats, and there are plenty of activities for you to do in your free time.
The weather in Thailand is warm all year round with little rain from May until October, except some parts of southern Thailand. The temperatures vary from 22C/72F at night up until 36C/97F during daytime which makes it perfect for most retirees who want to stay active without being too hot or cold.
There are plenty of beaches where you can go swimming as well as many other activities such as golfing or hiking through forests or mountains if those are not to your liking.
Thailand also has a renowned food culture. The local food is mostly spicy and delicious. What's more, you can find almost any type of cuisine from around the world here, including Italian and Japanese.
Malaysia
Malaysia's beaches and rainforests help to draw tourists, but the country's culture is what really sets it apart.
It is true that there are less expensive places to retire in Southeast Asia than Malaysia, but the region as a whole is hardly the most expensive place in the world. Statistics show that native English speakers in Malaysia outnumber their counterparts in all of Southeast Asia.
If you are seeking for a one-of-a-kind retirement experience in Asia, Malaysia may soon become your top choice.
Malays, Chinese, and Indians all coexist peacefully in Malaysia, and the country is proud of its diversity. Kuala Lumpur and Penang, for example, are epicenters of both Malay and Chinese culture, with several temples, excellent shopping, and mouthwatering street food.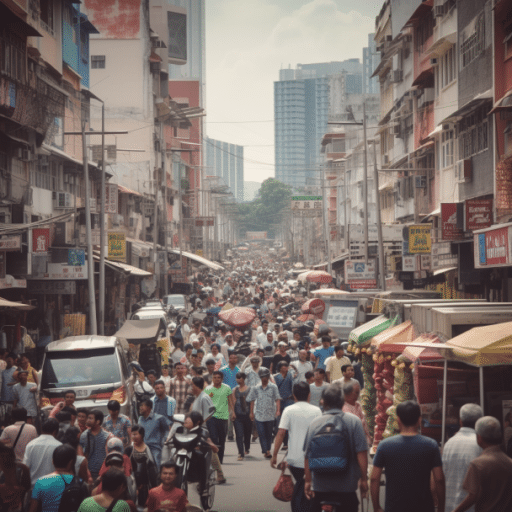 Most people here will be able to communicate with you just fine if you speak English. In addition to sharing a border with Thailand, this country's varied landscape provides beaches, mountains, rainforests, and caverns that are ideal for the adventurous retiree.
For those who qualify financially, the government of Malaysia offers a renewable 10-year, multiple-entry visa under the "Malaysia, my Second Home" long-term residency policy.
To begin, all MM2H members over the age of 50 are required to open a fixed deposit account with any local bank in the amount of at least MYR300,000, and can only withdraw half of that amount after one year. They can also provide confirmation of a pension that is at least MYR 10,000 per month.
Members of the military can take their spouses and unmarried children under the age of 21 with them into the Military Spouse and Dependent Care Program (MM2H), as well as take advantage of other government incentives. Learn more at the official website for Malaysia My Second Home.
Malaysia offers a great place to retire. With a low cost of living and government-provided health care, Malaysia is an ideal place for retirees who want to live on a budget.
In addition, Malaysia is also one of the best places in Southeast Asia for expats who want to experience both modern urban life and traditional Malay culture.
The country's tropical climate makes Malaysia a great place to retire and enjoy the outdoors. The country also offers plenty of opportunities for entertainment and travel.
The Philippines
The Philippines is a growing nation that has benefitted from an uptick in tourism in recent years.
However, even with its development, the Philippines still receives up to five times less tourism than neighboring countries like Thailand.
Because of its cultural diversity, the Philippines has been suggested as one of the best places in Southeast Asia for an American to retire.
The quality of life for seniors in the Philippines is among the highest in Southeast Asia, the standard of English is strong, and the cost of living is low.
The Philippines is less expensive than neighboring Malaysia and Thailand and has a cultural affinity with the West that is rare in Southeast Asia.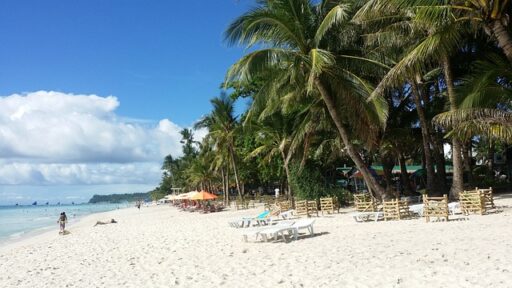 As a former American colony, the Philippines still flaunts its American love in many ways, from the widespread English proficiency of its people to the right-side driving that makes the American visitor feel at home.
You get what you pay for; the Philippines' infrastructure is not on par with neighboring countries like Malaysia or Thailand, but if you plan to spend your golden years in one of the country's less populated areas, your dollar or euro will go a long way.
Retirement requirements in the Philippines are very low compared to other Asian countries. There are four tiers of the Special Resident Retiree's Visa (SRRV), and they all provide excellent value for retirees compared to other Southeast Asian countries.
Multiple entries and exits into the Philippines, duty-free importation of up to USD7,000 in household goods, exemption from travel taxes, and the ability to operate a business or work in the nation are all available to those with an SRRV.
There are four distinct SRRVs, each with their own set of advantages for retirees in the Philippines; for more details, read up on the subject at this link.
The Philippines is a great place to retire, with a relatively good healthcare system and low cost of living. The weather is warm all year round, making it easy to adjust to living there.
In addition to these benefits, retirees can also enjoy the high quality of life in the Philippines.
The Philippines is also one of the most beautiful countries in Southeast Asia. It has a diverse landscape and culture, with plenty of places to explore. If you are looking for a tropical paradise with beaches, sunshine, and great weather all year round, then the Philippines is definitely worth considering.
Cambodia
Cambodia is located in Southeast Asia and borders two other countries that are considered top retirement destinations: Thailand and Vietnam.
Cambodia is well-known for its scenic mountains and rich cultural heritage. While visitors may be surprised by the proficiency of locals in English, it remains in high demand throughout Cambodia.
If you are seeking for a more affordable retirement in Southeast Asia, Cambodia may be your best bet. The weather in Cambodia is wonderful all year round.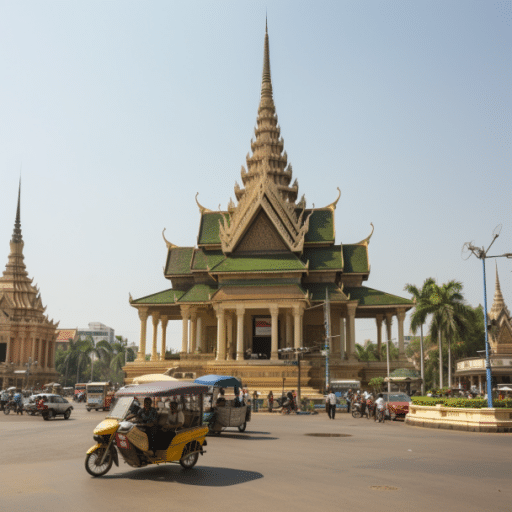 People looking for a place to retire that offers a laid-back atmosphere, welcoming locals, affordable living, and minimal government oversight should consider Cambodia.
One-bedroom apartments in Phnom Penh cost between USD $150 to USD $500 per month to rent, which is roughly 70% less than the going rate in Boston.
Many retirees in the Phnom Penh, Siem Reap, and Sihanoukville areas have turned their modest pensions into successful businesses.
While some services may be lacking due to poor infrastructure (such as the need to travel to Thailand for certain medical procedures), others may surprise you. To begin, urban areas typically have access to lightning-fast Internet speeds.
Cambodia is the only country on this list without a specific visa program for retirees. Any tourist, however, can apply for a business visa valid for one year and renewing annually without providing evidence of financial stability or work.
Cambodia is an excellent country to retire to if you want to live on a budget, but still have access to luxury amenities. The cost of living in Cambodia is low compared with other Southeast Asian countries, and the infrastructure here continues to improve.
If you are looking for adventure and excitement when you retire from work, then Cambodia may be just what you need. It has plenty of natural beauty as well as historical sites worth exploring by foot or bike through remote areas where few tourists have ventured before.
What should you consider before retiring in a foreign country?
You may be curious about the typical cost of living in your new nation and the kind of lifestyle you might anticipate in Southeast Asia.
Finding an appropriate environment for your family, distant employment, and maintaining relationships with old pals may all be on your mind.
Or maybe you have already settled into your retirement destination of choice and are just finishing up a few loose ends.
Although there is much to think about before making such a major choice, the following questions may prove helpful.
How would you like the weather?
Your choice of retirement locale should be influenced by the weather there. Retirees' quality of life may be impacted by climate factors such as temperature, precipitation, and humidity.
Moving from a place with hot summers and humid winters to a place with cooler temperatures during those months may be an option worth considering.
The average annual precipitation must also be taken into account. For instance, if you currently reside in a region that receives significant snowfall during the winter months, you may wish to relocate to an area that receives far less precipitation overall.
Remember that your body is more sensitive to the effects of weather change now that you are older.
How are your healthcare options?
Chronically ill patients should think about how difficult it will be to get to medical appointments.
Some nations' public transportation systems are not as well developed or widely available as those in others. Many foreign retirees decide against buying a car because they do not want to deal with the hassle of maintaining it, paying for insurance, and paying local taxes.
When deciding where in the world to spend your golden years, it is important to factor in access to affordable public healthcare. When sickness or injury strikes, will you have access to public healthcare services? Do you require a separate policy, instead?
The cost of international health and life insurance is another factor to think about when deciding where to retire.
Insurance premiums are high, especially if you want a plan with international coverage, but this may not be a major concern for expats who are still working and saving for retirement decades from now.
How secure do you feel in your new homeland?
There are several dangers that you must be aware of in your new nation.
Is there any war or significant political unrest? Is there a record of violence, and how do people generally respond to confrontation? Is there was a high crime rate or do people feel comfortable going out at night?
Information about the safety and stability of nations can typically be obtained from the United States Department of State's Bureau of Consular Affairs.
The United States government issues travel advisories and bans on entry and stay in specific foreign countries on occasion. The information is updated often or as needed.
How much does it cost to live there?
Cost of living varies widely between nations. The cost of living tends to rise along with a country's level of development.
So, if you want to retire abroad but keep your living costs low, picking a developing nation over a developed one is your best bet, provided you do not intend to settle down in a major city.
It is possible that you will be pleasantly pleased to find that some underdeveloped countries provide a high standard of living at a fraction of the expense of the developed world.
Is the standard of living up to par with what you had hoped for?
It is crucial to consider your goals for your new home country before making the leap of moving there. Where would you rather live, a tropical climate or a temperate one? Do you prefer city life or one that allows you easy access to nature and outdoor activities?
Everyone has their own personal criteria by which they evaluate the quality of their lives. Many factors come into play when determining what matters most in a retirement location.
How long would you end up staying in the country? Can you get language lessons in the area to feel more included in the community?
When you move, how much time will you have to explore your new country and the surrounding areas? How much disposable income will you have while living overseas, and will the costs of travel and entertainment go up or down as inflation and/or favorable currency rates affect your budget?
Your standard of living will be precisely proportional to the standard of living in your new country. If you are pleased and fulfilled in your current living situation, you have a high quality of life. Whether or not you can successfully relocate abroad for work depends greatly on the quality of living there.
An expat financial counselor can be a valuable resource if you plan to live abroad for a lengthy period of time.
A knowledgeable advisor will be able to assist you in making wise financial decisions and will be aware of the special difficulties that come with living abroad.
Hiring one can be something you want to think about if you are having problems managing your money. It might be beneficial to look for a financial advisor who specializes in expat-related difficulties if you do not already have one.
You may get settled into your new home with the assistance of a seasoned expat financial counselor, who can also make sure that everything is in order in terms of international taxes.
Additionally, they will take the time to comprehend your particular circumstance so that they can suggest solutions that are customized just for you.
For someone who is residing abroad, a qualified financial advisor may be a priceless resource, particularly when it comes to issues of international tax planning and compliance.
Conclusion
Southeast Asia is a great place to retire. There are many reasons why this is the case, but the main one is that it offers retirees everything they need in life and at an affordable price.
In Southeast Asia, you can live comfortably on less than $1,000 per month–and sometimes even less than that.
Where in Southeast Asia is the best place to retire? That depends on your retirement priorities. If you are considering retiring in South East Asia, each of the countries on this list have many cities that can accommodate your needs.
A country like Cambodia may be the best place to retire in Asia for you if you're seeking for a quieter, less touristy environment, according to the data we gathered. But if you prefer a more urbane lifestyle, places like Thailand might be more your speed.
But if you want to visit a country where the people are warm and welcoming and who speak English well, you might want to consider the Philippines.
You should also consult a financial planner who specializes in international retirement planning. It is important that they understand the ins and outs of retirement planning and the local legislation in your new home nation.
As an added bonus, they should be well-versed on the healthcare, insurance, and tax regulations of your new country, as well as any others that may have an impact on your finances during this transition.
Finding a tax advisor who is familiar with the repercussions of living abroad and can advise you on the best way to file your taxes in your new nation is crucial for effective tax management.
A financial planner is a flexible choice since they can assist you in developing a strategy that is unique to your situation. If a customer needs a second opinion, they can be sent to the most qualified expert in their field.
A good financial planner will know who to put you in touch with if you need help with things like taxes, managing your assets, or planning for your retirement. The very finest of them will do all of these things for you.
The finest advisors will even offer guidance on the best schools for your children and assist you in organizing your retirement and health care coverage.
One thing to keep in mind when you consider where in Southeast Asia would be ideal to retire is that you do not have to stay there forever.
Many retirees who settle in Southeast Asia have a home base but also travel extensively throughout the region. In this way, they can avoid overstaying their visa and return to the nation of their initial entry.
It is recommended that before settling on a country to retire in Asia, you first travel to all of the potential destinations.
You can get a real sense of the atmosphere of each country by visiting it. Retirees have varying preferences when it comes to the nations they choose to call home. The best places to retire in Southeast Asia will ultimately depend on what kind of lifestyle you are hoping to achieve.
Pained by financial indecision? Want to invest with Adam?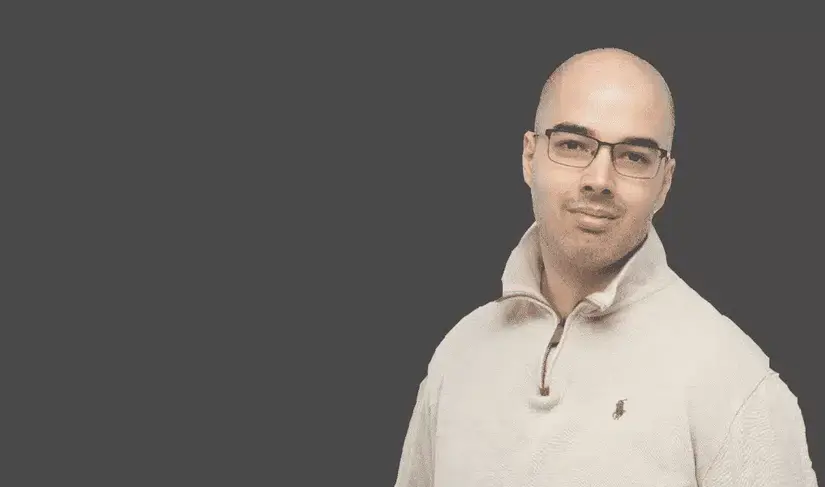 Adam is an internationally recognised author on financial matters, with over 622.7 million answer views on Quora.com, a widely sold book on Amazon, and a contributor on Forbes.