After previously speaking about the cost of living in Thailand the UAE, Qatar, China, Hong Kong, Costa Rica and Mexico this article will focus on Panama.
Our staff have also looked at some of the other aspects of living in Panama, such as visas, housing and taxes, alongside the positives and negatives of living in the country.
Some of these factors might be affected by the ongoing pandemic in 2020, especially when it comes to visa processes and costs.
For any questions, or if you are looking to invest as an expat, you can contact me using this form.
Introduction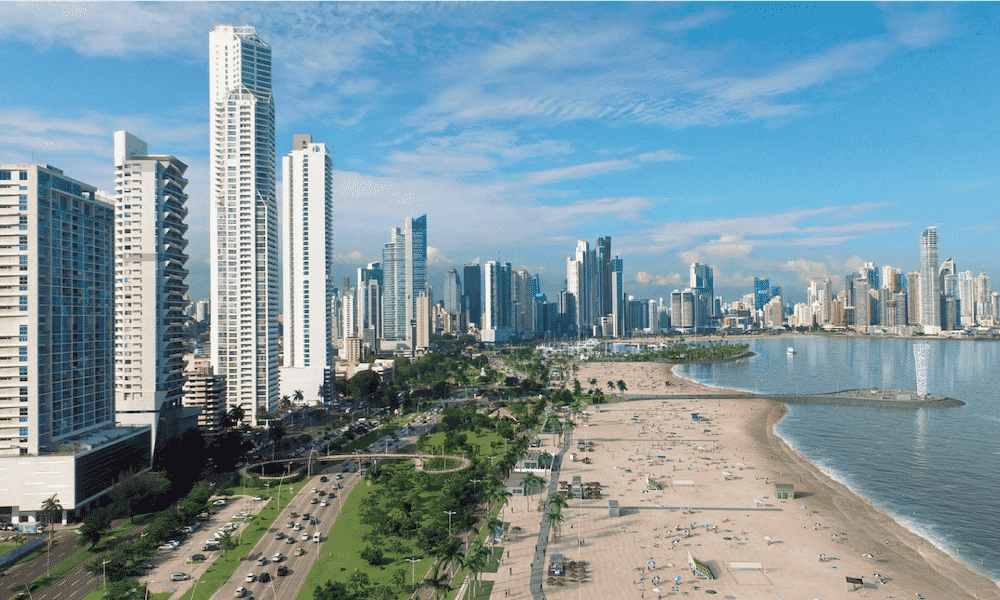 This is an exotic country, in which most of it is tropical forests. Flora and fauna amaze travelers with their diversity and uniqueness.
Mountains and volcanoes, lakes, rivers and forests – all this makes the country attractive to tourists. More than two million people come to enjoy the amazing nature and local exotic every year. Tourists from Europe can often be found here. But they were not in a hurry here for permanent residence.
But moving to Panama, which is located on the isthmus between the two American continents, has recently become more popular not only among wealthy retirees, but among the young and middle generation.
In fact, Panama is one of the most amazingly beautiful countries in all of Central America, and it is unfair to reduce the idea of ​​which only to the Panama Canal and as a center for money laundering.
Panama is a democratic country with a progressive economy and hardworking people that deserves respect.
Panama has a population of just over 4 million people, most of whom are mestizos, a mixture of indigenous peoples with Spanish (65%), Africans (9%), Afro-Spanish (7%), up to 10% with Asians and about 7% with Europeans.
The country has long attracted international investors and specialists in the field of trade and logistics, who, in the wake of the country's development, want to receive maximum business benefits.
Panama's climate is tropical with high humidity, with an average annual temperature of 28 ° -30 ° C, which may not suit everyone. At the same time, there are cooler mountainous regions in the country, located in the western part of Panama, where the average air temperature throughout the year is around 21 ° C.
The Republic of Panama is so small that it can be placed in USA 140 times, but the economy is developing at such a pace that the most developed countries of the world will envy it. The main sources of income are the Panama Canal and the most extensive offshore zone.
The entire economy and business life is concentrated in the capital, Panama City. Most of the country's population lives here, there are factories and factories, financial institutions, trade and educational institutions.
Life in the capital is boiling and gaining momentum, which cannot be said about other regions. Now let's start exploring the expat cost of living in Panama from moving expenses and see Panama's lifestyle.
Moving to Panama
If 30 years ago the regions of Panama were the same, and everyone considered it a "third world country", today it is a completely different country.
Thus, the capital, Panama City, has become a world-class metropolis with modern infrastructure, tall skyscrapers and easy access to high-speed Internet.
For those people who radically decided to change their lifestyle and move to Panama City, all the temporary difficulties of moving are ultimately compensated for by the noisy and lively atmosphere, warm climate and warm hospitality of local residents.
Panama is a country where there is a calm and measured lifestyle, typical for the peoples of warm "southern" countries, where the locals are never in a hurry.
When moving to Panama, everyone must decide for themselves what lifestyle they want to lead, since living expenses will depend on what a person wants to get in a new country.
Americans, for example, when moving to live in Panama, note the advantage of Panamanian prices for food and various services over prices in the United States.
Panama among the countries of Latin America, especially in recent years, is not considered the cheapest country to live in.
Due to the increased business attractiveness of the country, the cost of living in Panama has increased significantly.
However, Americans moving to permanent residence say that at the same costs as in the United States, they can afford much more and live more luxuriously in Panama.
Much of the cost of living in Panama will depend on whether you will be living in Panama City or a provincial city, as well as in a gated community of expatriates or a community among indigenous Panamanians.
Working in Panama
Although Panama is considered one of the richest countries in Central America, a quarter of the population lives in poverty and poverty.
The average income in dollars is $ 870, the minimum wage is about $ 300. Foreign qualified specialists can receive up to 3 thousand dollars a month, they can also claim various bonuses in the form of bonuses, paid vacations, and so on.
In the 17th century Panama was called the "Golden Cup", but the pirate Henry Morgan devastated the country and burned the capital. It took many years to eliminate all the disasters.
Today migrants strive to get to the country to work. Although few people come here from Europe, you can still meet specialists. Typically, Europeans work for large financial or export companies.
Recently, the laws have been tightened and now it has become more difficult to obtain a visa. The main document for employment in Panama is a work permit. To obtain it, you need a temporary residence permit or a resident visa.
It is issued under the following programs:
Investor visa. It can be obtained if you purchase real estate in the amount of 300 thousand dollars, or open a deposit in a local bank for the same amount.
Business visa. It is issued to foreigners starting a business in Panama. To do this, it is necessary to register a company and hire five local residents, as well as open a deposit in the name of the company with a deposit of 160 thousand dollars.
Marrying a Panamanian citizen.
Student visa. It is issued to all students enrolled in state universities. Such a visa should be renewed every year until the end of the training.
Visa for a foreign specialist. This is the easiest way. For this, it is necessary to translate the diploma of education into Spanish and transfer it to the state university of the country. They must confirm that the state needs specialists in this profession. But there is a list of specialties for which foreigners are not taken in the country.
After issuing a visa, you should decide on a work permit program. There is also a whole list of them: "10%", when 10% of foreigners can work at the enterprise; a program for attracting specialists from other countries; the "city of knowledge" is a center for scientists, teachers, which is located at a former military base.
Any work permit must be renewed annually until citizenship of the country is obtained. There is practically no unemployment in the republic. New jobs appear regularly.
The professions that are popular are required in companies related to Internet technology, architecture, medicine, design, customs, and engineering. The infusion of foreign specialists is welcome.
Medicine
According to expatriates, health care in Panama is one of the best in all of Latin America.
But the availability and quality directly depends on the region of the country. The most developed and qualified medical institutions are located in Panama City. But in other areas, hospitals are opening, which are able to provide effective medical care.
The Johns Hopkins Hospital, which is located in Panama, is considered the best not only in the country, but throughout Central America and the Caribbean. It uses modern equipment and the latest technological developments. The qualifications of doctors are constantly being improved, there is an exchange of experience with leading specialists in this field.
All foreigners who come to live in Panama are guaranteed, if necessary, medical assistance. There is medical insurance, which covers a wide range of services, and is cheaper than in other developed countries. Over the past few years, the republic has developed "medical tourism", this is when people from other countries go to Panama for treatment.
Medical care is divided into several systems:
National health care. This program serves local residents and low-income citizens. In subordinate hospitals, the provision of medical services is cheap or completely free.
Social security health care. This system is used by working people with a social security policy. By law, all citizens with a job must pay taxes to the National Social Security System. In this case, medical services are cheaper, but due to the insufficient number of personnel, long queues are created, the quality of service is far from ideal.
Private healthcare system. In this case, Panamanians with medium and high incomes, as well as visitors are served. In a private clinic, doctors are more qualified and the equipment is better.
Transport
The civilized part of Panama city is relatively small, except for the remote area for the wealthy residents of the Costa del Este. Typically, seven minutes by Uber will cost an average of $ 2-3 per trip.
The most popular and cheapest transport is diablomobiles. These are American military buses left over from the last occupation. Well, and there are thousands of minibuses.
Travel on diablo without air conditioning costs from $ 0.1, for air-conditioned vehicles – from $ 1. And also dablomobiles earn extra money by discos on wheels, so don't be afraid of sudden disco music under your window.
The further from the ocean, the poorer the area, as elsewhere in the world. Ordinary people get up at four to five o'clock in the morning and get to work for two or three hours due to huge traffic jams. There is no rail transport, and ordinary two-lane roads often lead from the suburbs.
Air travel is very expensive due to the monopoly of the local airline. A flight between Panama and Dominican Republic costs an average of $ 350 per person round trip.
Other expenses
Agriculture is well developed in Panama. The plantations grow coffee, sugar cane, rice, corn, fruits. The fishing industry for catching a variety of fish, shrimp and other aquatic delicacies is well developed.
Despite all this, prices are quite high here. The cost of living in the republic is much higher than in neighboring countries.
If the traveler lives frugally, then the cost per day will be about $ 25. When you want to have a good rest, you will have to spend up to 70 US dollars.
Panama's currency is called the balboa, it is roughly equal to the US dollar. But throughout the country, the latter is officially used, local money is here only in the form of small coins.
Real estate prices are relatively low, even in resort towns you can buy a cozy house for 50 – 70 thousand dollars. Rent in the capital will cost from $ 300 to $ 2,000.
Although Panama cannot be called a country with a low cost of living, but when compared with the countries of Europe or the United States, living here is more economical.
Education
There are public schools, private international and local educational institutions in Panama. Public education is divided into two levels: primary and higher.
The initial includes:
A kindergarten that is attended voluntarily. Babysitting services are often used.
Primary school for children from six to twelve years old.
A high school attended by students from twelve to fifteen years old. Upon completion, they receive a certificate.
High school. Children study for another three years.
Higher education is obtained at universities, according to the chosen profession and own skills. Upon completion, the student receives a bachelor's degree. Most of the universities are located in the capital.
The quality of teaching in public schools does not guarantee excellent knowledge.
There are not enough teachers and classes are usually overcrowded.
Those who want to get a good education attend private international educational institutions.
They offer a variety of training programs that can be changed and improved. The cost of studying at a private international school is much higher than at a local one. Lessons are taught mainly in English and Spanish.
There are also private schools of faith in Panama: Christian, Catholic, Muslim and others, in which a high level of teaching.
You can send your child to a school with a sports bias or a school for gifted, talented children. If parents enroll more than one child at school, a system of tuition discounts is in effect.
Permanent residence in Panama and business opportunities for residents
Foreign residents who have moved to Panama City residence can take advantage of the country's vast business opportunities.
On the national market, there are a number of unused niches for activities, so there is an opportunity to register a company in Panama and open a successful business.
Of course, when choosing a type of activity, you first need to conduct market research and determine the direction.
At the same time, most foreign residents of Panama, in order not to pay taxes, prefer to conduct international business, earning income outside the jurisdiction of Panama.
The fact is that in Panama, only the profit that is obtained through activities within the country is taxed. Also, a foreign resident, receiving dividends or interest payments of foreign origin in Panamanian banks, does not pay taxes in Panama on these funds.
In this regard, the Panamanian Free Economic Zones have enormous potential, which provide foreign investors with a number of advantages and tax benefits.
If the main goal is to protect international assets, then you will not find a better structure than a Private Panama Fund. It is also worth considering whether it will be beneficial for you to become a tax resident of Panama in order to protect yourself from the potential risks of the government of the country of your citizenship.
Some details everyone must know before moving to Panama
Panama grants retirement visa. Anyone over 18 years of age and with a permanent income of more than 1000 USD can get a Retirement Visa. There is a condition for reducing the inflow of funds to 750 USD: buying a house worth more than 100,000 USD.
Such a visa provides for a residence permit, discounts on hotel accommodation, cinema tickets, medical services, etc.
Panama accepts foreigners openly. The locals treat expatriates well – they are welcoming and friendly. Many people speak English, but Spanish is still recommended in order to better understand the people and culture of the country.
Also, a large number of expats from different parts of the world already live in the country: Russia, Brazil, America, England, France, Germany, Canada and others. People will be happy to support the newcomer, because they themselves have gone through something similar not so long ago.
Country security. Panama, with a small population and stable government, is the safest country in Latin America. The main reasons for this: an open political system and international interests in maintaining security for investment in the country.
Security isn't just about your money: the police on duty are numerous here and everyone is keeping order.
No taxes on income abroad. Panama has a territorial tax system. This means that if you are a resident of a company in Panama, no taxes will be charged on any income coming from overseas. It's not surprising why so many people are trying to migrate to this country, or at least open a business here.
Low income tax rates. This country has one of the most favorable tax systems. Entrepreneurs who earn less than 11,000 USD are not subject to income tax. Self-employed people, whose income is from 11,000 to 50,000 USD, pay 15% tax. Those who receive more than 50,000 USD pay 25%. Income earned overseas in Panama is not taxed.
Growing economy. Panama's economy is an example of stability and independence. Despite the economic crises of recent years, production growth continues and is gradually increasing – the country's GDP has grown by an average of 8%.
The Panama Papers scandal, while short-lived, showed that the local economy has strong foundations.
Easier to start a business. Labor legislation is designed so that the average wage is lower than in many European countries or the United States. The cost of renting premises is also relatively low. Such conditions allow you to open your own company with less investment. And all the bureaucratic procedures here are relatively simple and predictable.
An opportunity to get an investment visa. Panama has a policy to improve and support its economy. That is why there is a possibility of obtaining a residence permit if you invest enough funds in one or another area of ​​the state's economy – buy real estate worth more than USD 300,000 or invest at least USD 60,000 in reforestation. You help the country's economy, and the country supports you with legal status.
Safe place for foreign investment. All foreigners are given equal rights in all aspects of doing business. Any citizen of another country can dispose of his investment profit as he wants – for example, withdraw his monetary resources from the state.
A constant sense of celebration. With a tropical climate, fresh air, stunning ocean views and good-natured people selling mangoes on the street, with all of this, you can work and feel like on vacation. The atmosphere of calm and measuredness is one of the best reasons why you should move to live in Panama.
Panama is a beautiful, exotic country. Different peoples get along well in it. This is a state in which hundreds of foreign companies work comfortably. The wonderful climate and friendly locals will not leave anyone indifferent.
Conclusion
Panama can be a great country to live in, with relatively easy visa processes and good cost of living.
The country isn't without its challenges though, and people need to be prepared for that.
Further Reading
What should people look out for when they are investing as an expat?